7 Best Train Rides in Colorado Through the Rocky Mountains
This website may contain affiliate links and we may be compensated (at no cost to you!).
Are you looking for the best train rides in Colorado? Look no further than these top railways and scenic routes.
Since the first tracks were laid in the 1860's Colorado railroads have been a popular means of both transportation and tourism.
And many of the original train tracks and railway stations are still in operation today.
In addition to enjoying scenic train routes through the Rocky Mountains, some trains feature fall foliage tours, wine-and-dine events, mystery dinners, and themed wintery rides.
There is something for everyone and these train rides make great family adventures.
Hop aboard some of the best train rides in Colorado to experience the epic views and picturesque landscape this beautiful state has to offer.
1. Durango and Silverton Narrow Gauge Railroad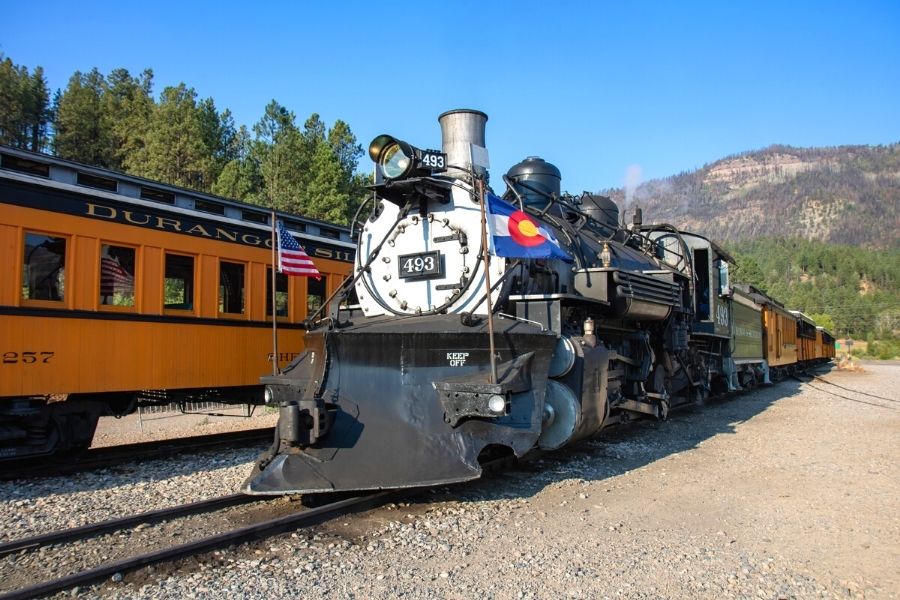 The Durango and Silverton Narrow Gauge train is one of the top trains in Colorado for many reasons.
The ride starts in Durango and travels for 3.5 hours one-way through the mountains to Silverton.
This steam-powered engine runs on coal and rides 200 feet above the Animas River.
This same journey was once traveled by miners and settlers who came to Colorado during the Gold Rush days.
On this route, you'll see breathtaking views of the San Juan National Forest and wind in-and-out of the Rocky Mountains.
The train follows the Animas Gorge and passes through several remote canyons.
During the train ride passengers can stop off for fishing, hiking, or backpacking to reach areas that are usually difficult to access by car.
Or spend an afternoon in Silverton during the 2 hour layover before heading back to Durango.
2. Royal Gorge Route Railroad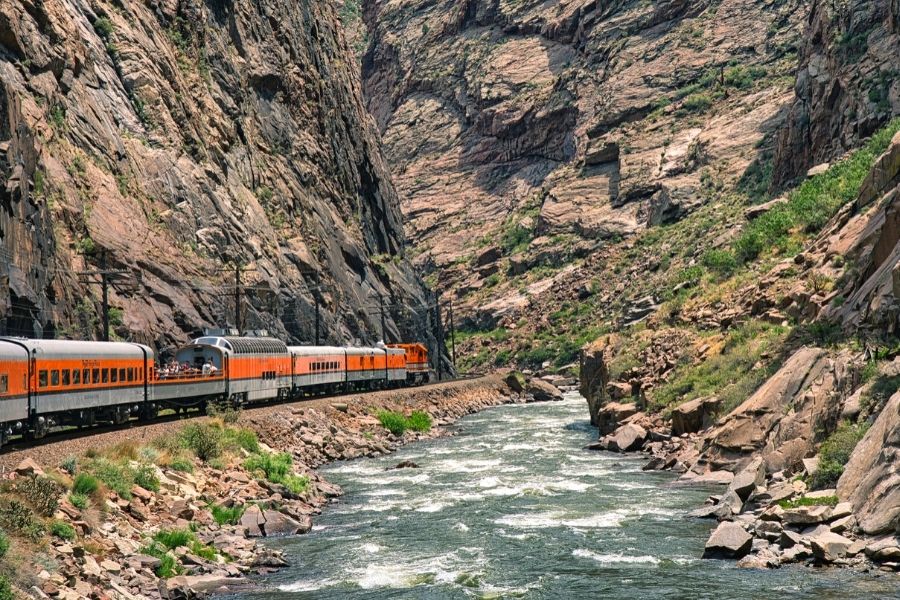 The Royal Gorge area, near the town of Canon City, is one of those local destinations that keeps on giving.
In addition to hosting one of the world's tallest suspension bridges, it's home to the Royal Gorge Route Railroad.
Grab your camera for epic views as you drive through towering canyon walls that can get up to 1,000 feet high.
The Royal Gorge Train offers a one-of-a-kind train experience with three-course dinners, wine tastings, and special event train rides like the Santa Express.
Not to mention that during the entire trip you are traveling alongside the beautiful Arkansas River.
The train ride starts in Canon City and continues for about an hour to Parkdale, Colorado.
Pair this epic train ride with a day trip to the Royal Gorge to walk across the Bridge or spend a day at the amusement park nearby.
3. Pikes Peak Cog Railway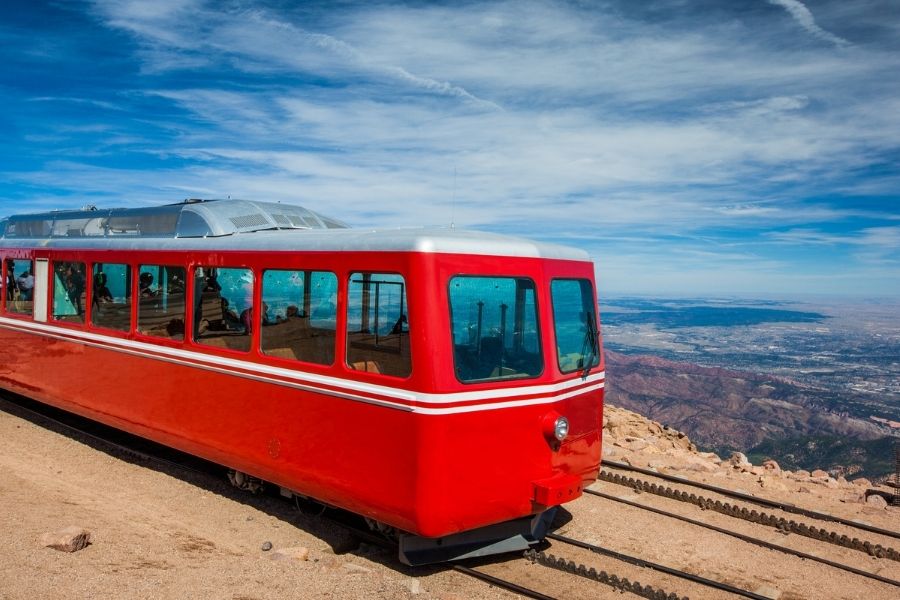 As America's Mountain, Pikes Peak sits at 14,115 feet high which makes the Pikes Peak Cog Railway one of the highest cog trains in the world.
After a lot of renovations, and some setbacks, the railway is back on track (ha!) for 2021 and open for business again.
This must-ride experience is not for the faint of heart and offers majestic views of the Rockies and valleys below.
On a clear day, the views can extend as far as neighboring states near Colorado.
The Pikes Peak Railway starts at Manitou Springs and continues up and down the mountain for about 3.5 hours roundtrip.
We recommend getting your tickets in advance as this train ride is very popular, especially since the grand reopening.
On your journey up-and-down the mountain, be prepared for some of the most expansive views you've ever seen.
Plus, there's lots of wildlife, birds, foliage, and fauna to be seen.
4. Georgetown Loop Railroad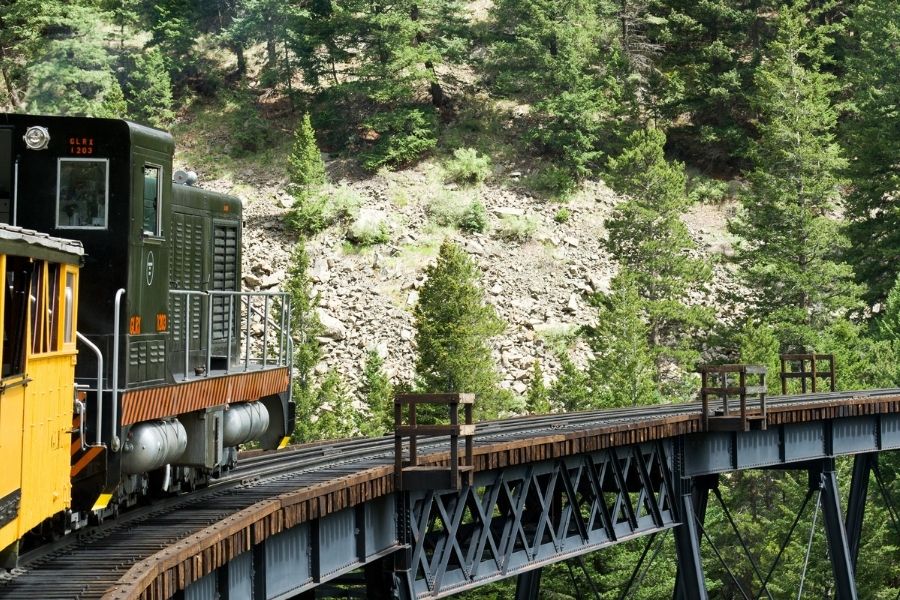 Situated high in the Rocky Mountains, the Georgetown Loop Railroad is a Colorado train ride you just can't miss.
And it's centrally located just 45 miles from Denver.
True to its name, the train starts in Georgetown and loops around for an hour and 15 minutes to Silver Plume, Colorado.
This historic train was built in 1884 and is an engineering marvel to this day. It continues to be a popular Colorado train ride thanks to the picturesque views from all angles.
Unlike the other train rides listed, the Georgetown Loop travels through green forests and across towering cliff sides.
It passes over four bridges, two loops, and travels through Clear Creek Valley.
Throughout the year there are several themed train rides, specifically during the fall and winter months.
Some of the most popular themed rides are the fall colors train tour and Santa's Lighted Forest.
5. Cripple Creek & Victor Narrow Gauge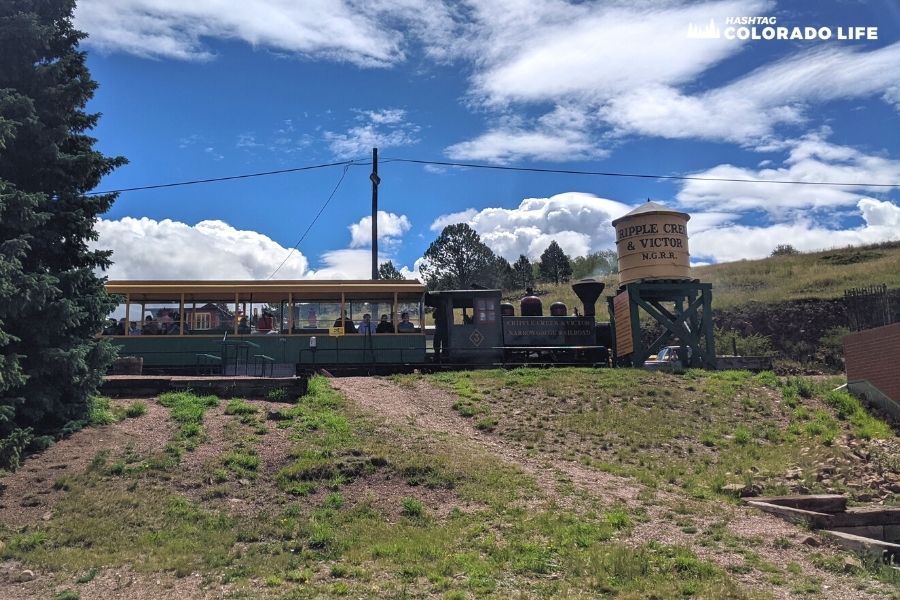 Cripple Creek is one of our favorite places to visit, especially this time of year. One of activities that's always on our list is riding the Cripple Creek & Victor Narrow Gauge Railroad.
Compared to the other train rides on this list, this one is a shorter but still gorgeous ride through the Rocky Mountains.
This historic steam engine powered by coal leaves the station every 70 minutes from 10am to 5pm daily.
Board the historic 15-ton steam locomotive and sit in one of the open air cars. Take in the sights and enjoy the Colorado weather.
This 4-mile ride starts in Cripple Creek and continues for about 45 minutes, making several stops along the way.
It's a great spot for photo opps so be sure to bring your camera.
Along the way, listen in as the train conductor shares stories of old mines, native townsfolk, and the history of the town.
Plus, when booking your ticket in advance online via the Cripple Creek & Railroad website, you can save $1.00 per rider up to 4 tickets in total.
6. Leadville Colorado & Southern Railroad
Climb aboard the Leadville Colorado and Southern Railroad and get ready to see some stunning Colorado scenery.
This 2.5 hour train ride travels to the famous Continental Divide and meanders through the San Isabel National Forest.
Throughout the summer and fall months you can expect to see gorgeous colors thanks to brilliant wildflowers and autumn colors.
You'll also travel through the Arkansas River Valley while seeing sights like Mount Elbert, the tallest mountain in Colorado.
Train tickets for the Leadville Railroad are only available from May through October. However, it's become increasingly popular as the premier train ride for fall leaf-peeping.
There are also a variety of themed rides if you're looking to spice things up from the traditional train ride.
7. Colorado Amtrak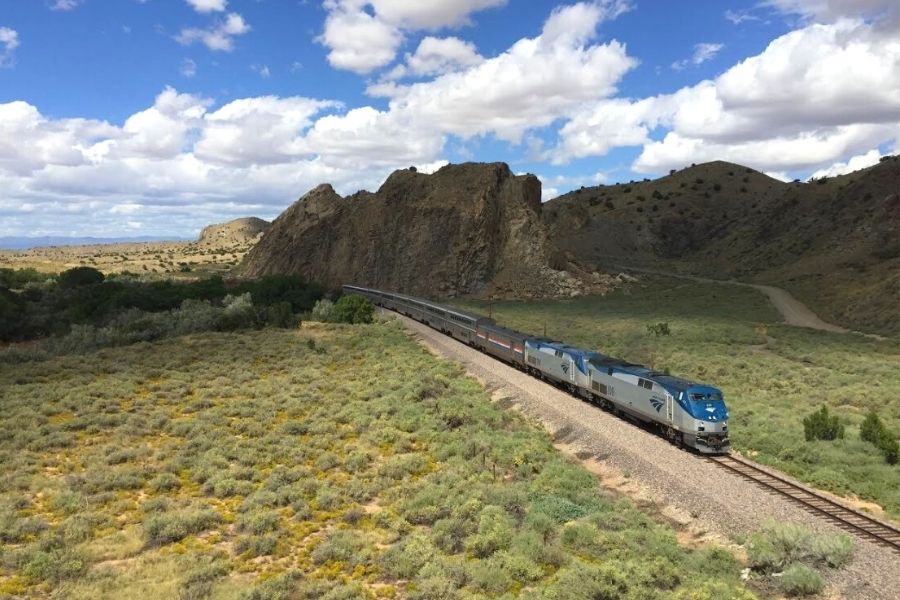 In addition to the Colorado train rides listed here, Amtrak has multiple ways to get from one part of the state to the other.
Thanks to two main railways, Amtrak offers stops in Colorado in towns like:
Grand Junction
Glenwood Springs
Fraser
Denver
Granby
The California Zephyr is a high-speed train ride from Chicago to San Francisco with six stops in Colorado. The most popular boarding location is at Denver's historic Union Station.
The Southwest Chief also travels through Colorado, mainly focusing on the southwest region, including a few stops in New Mexico.
The train provides access to Colorado cities and historic sites like:
Bent's Old Fort
Lamar
La Junta
Trinidad
The Southwest Chief Amtrak train ride starts in Chicago and travels to Los Angeles and back.
When it comes to scenic train rides in Colorado, the state does not disappoint. From open-air cars to historic railways, there is something for everyone who likes trains in Colorado.
Not only are the routes some of the most scenic, with panoramic views, but you may even have a chance to see some of the local wildlife, like bighorn sheep.
We hope this list of the best train rides in Colorado gives you an idea of where to plan your next trip!
You can also check out the Colorado Railroad Museum anytime you want to learn more about the state's wild west and gold mining heritage.
We hope this list of the best train rides in Colorado gives you an idea of where to plan your next trip!