13 Best Ghostly Haunted Tours in Denver to Book Now
This website may contain affiliate links and we may be compensated (at no cost to you!).
Walk on the dark side this month with the best haunted tours in Denver around.
If you're into Halloween, ghost stories, and historic haunted mansions then Denver is the perfect place for a tour.
Denver's history is steeped in the ways of the wild west and gold rushes of days gone by.
As a Colorado native, I find it fascinating how rich and unique the history of both the entire state and Denver is. And a ghost tour is the perfect way to uncover it!
In this guide, you'll discover some of the best true stories of paranormal events as well as historic walking tours.
What are the best haunted tours in Denver right now?
✔️ Twilight Ghost Walking Tour: Best for history lovers
✔️ Best of Denver Ghost Combo Tour: Best for two-in-one deals
✔️ Haunted Denver Pub Crawl: Best for small groups
From hidden tales of Denver to ghostly activities, here are the top haunted tours you can book in 2023.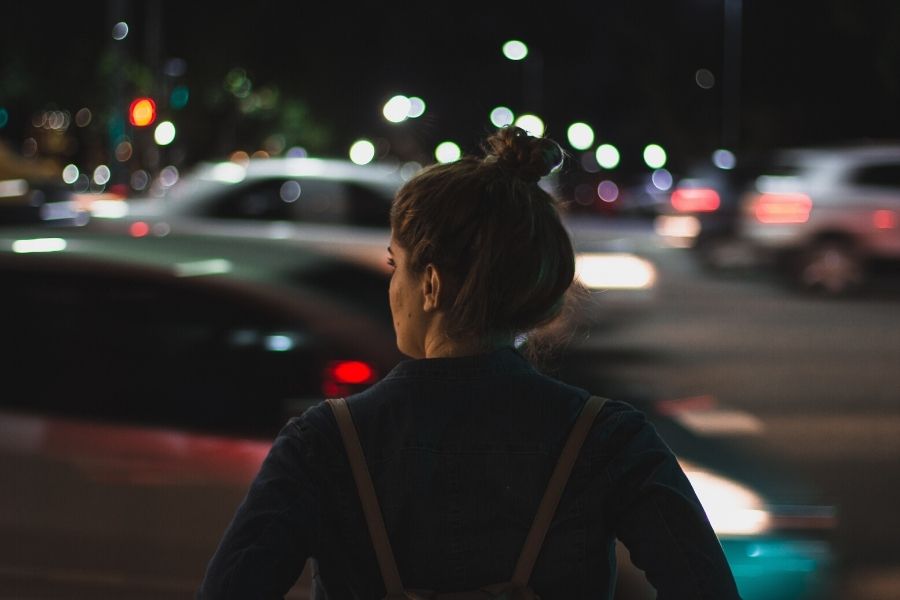 Would you rather visit Denver's most haunted areas at night? Then sign up for the Twilight Ghost Tour.
This 2-hour venture will take you through the dark streets of the Capitol Hill neighborhood where you can explore Denver's most haunted neighborhood.
You'll be able to stop and see some of the most famous haunted mansions and apartment rows including:
The Crawford Hill Mansion
Poets Row
Molly Brown House Museum
Pennsylvania Street (aka Millionaire's Row)
Capitol Hill Mansion
Plus, there are many more stops and historic sights to see along the way. And with more than 800 five-star reviews this Denver Twilight Tour is likely to sell out fast.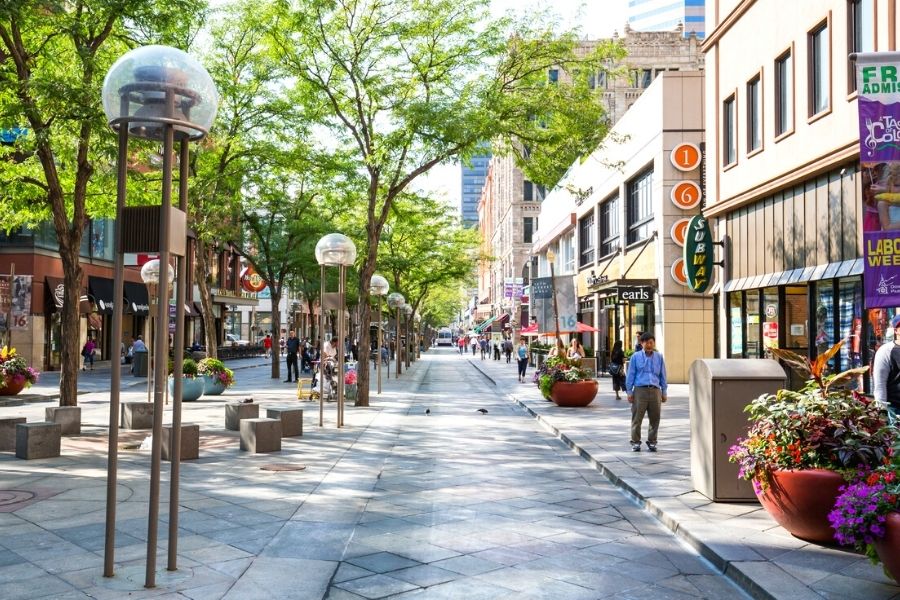 If you're interested in an in-depth tour of the city as well as a Denver ghost tour, check out this budget-friendly combo tour.
In 3 hours you can get two unique tours, giving you the chance to fully immerse yourself in the culture and rich history of Denver.
The theme of this tour is to give you the best of both worlds including history, haunted stories, and scandals.
Get ready for a fun tour starting at the Denver Firefighters Museum where you'll meet up with a local tour guide.
Then it's onto more than 20 different stops including the Denver Mint, the Colorado State Capitol, and 16th Street Mall.
This combo tour includes some historic Denver sights along with fascinating stories from long-time residents.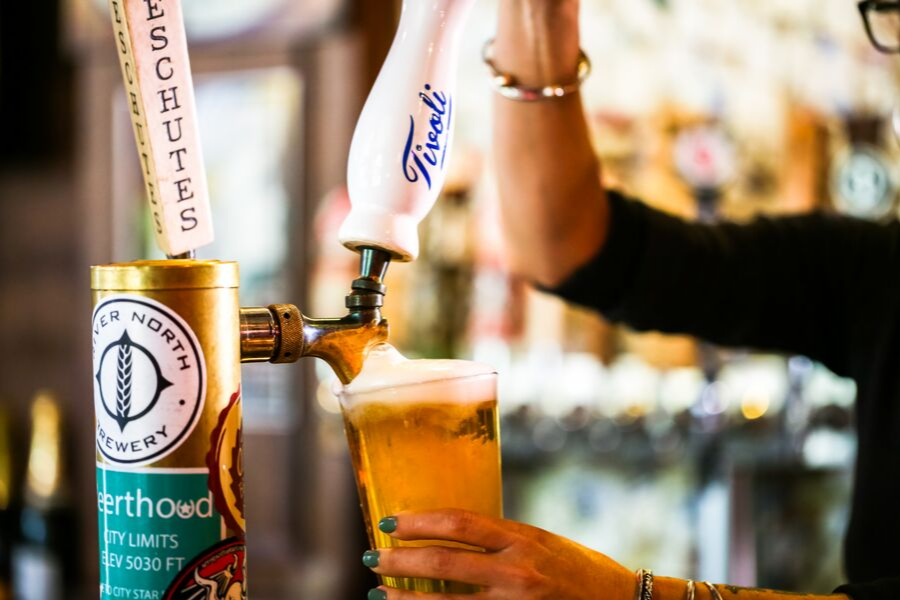 Spice things up right now with a with this Haunted Denver Pub Crawl and walking tour.
This unique tour combines a ghost tour and a pub crawl to create an epic haunted experience.
For nearly 2.5 hours you can join a costumed guide to hear some of Denver's creepiest haunted stories.
Get ready to explore this hip neighborhood while discovering some of the area's oldest bars and historic buildings in Lower Downtown (LoDo).
You'll have a fun time enjoying a delicious walking pub tour while learning about the spooky happenings in the Mile High City.
If you're into beer and scary stories, this Haunted Denver Pub Crawl is for you. Plus, this small group tour is capped at just 10 people for a more personalized experience.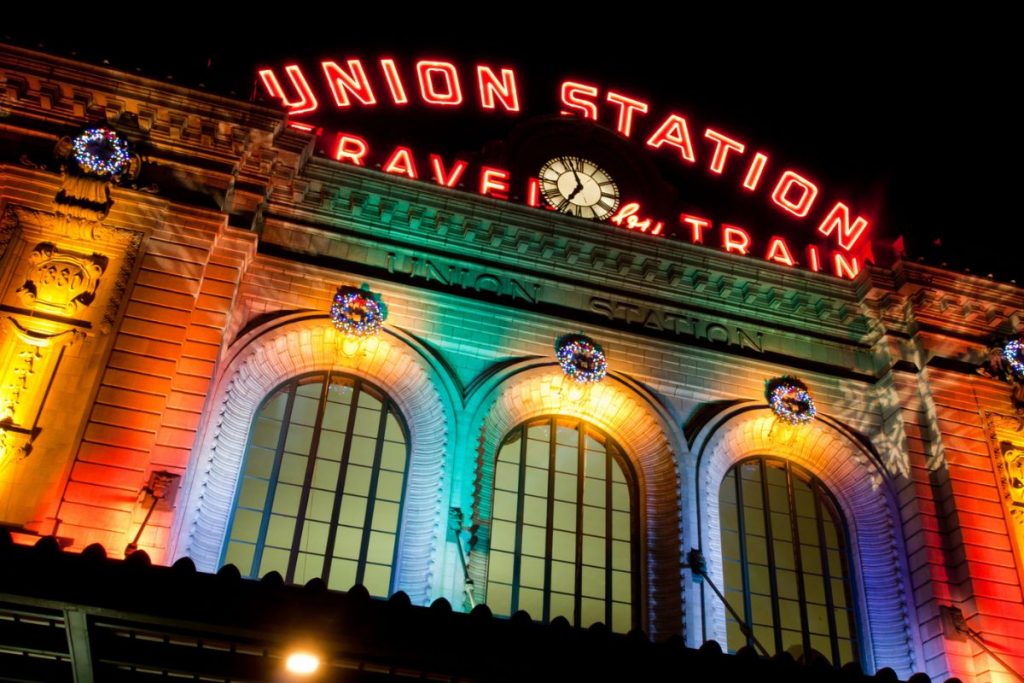 Explore Denver's spooky side on this adults-only After Dark Walking Tour of the city.
This 1.5 hour dark side of Denver ghost tour is wheelchair accessible and perfect for any fitness level.
A live tour guide will take you to some of Denver's most well-known landmarks, like Union Station and the Ice House.
Listen to the notorious tragedies of the former red-light district all while learning about the past horrors that haunt the area.
You'll make your way to the famous Crawford Hotel and learn about its haunted history. Then it's onto Market Row as well as many more additional stops.
Be sure to bring comfortable walking shoes and get ready to hear some spooky ghost stories about Denver's past history.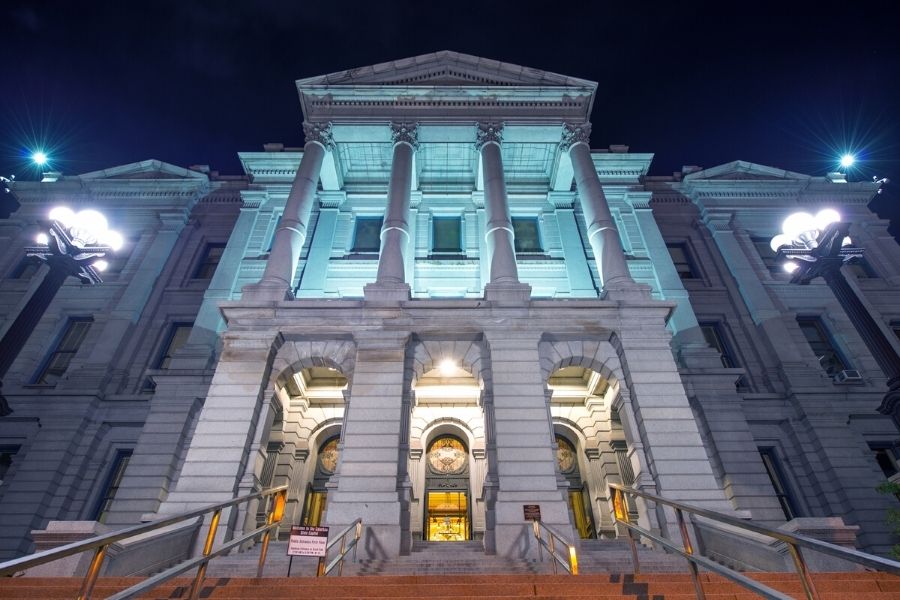 Grab your comfy walking shoes and enjoy a casual walk through Denver's most haunted neighborhood.
Join a local expert for a fun tour anytime of day on a unique adventure of this Capitol Hill History & Ghost Tour.
You'll spend about 2 hours walking through the streets learning about the most haunted dwellings and buildings in the Capitol Hill area.
You'll make stops at Crawford Hill Mansion, Poets Row, the Colorado State Capitol, and the Haunted Molly Brown House to name a few.
Along the way, listen in to Victorian history, haunted stories, and paranormal activity. This guided ghost walking tour in Denver is perfect for a small group or family.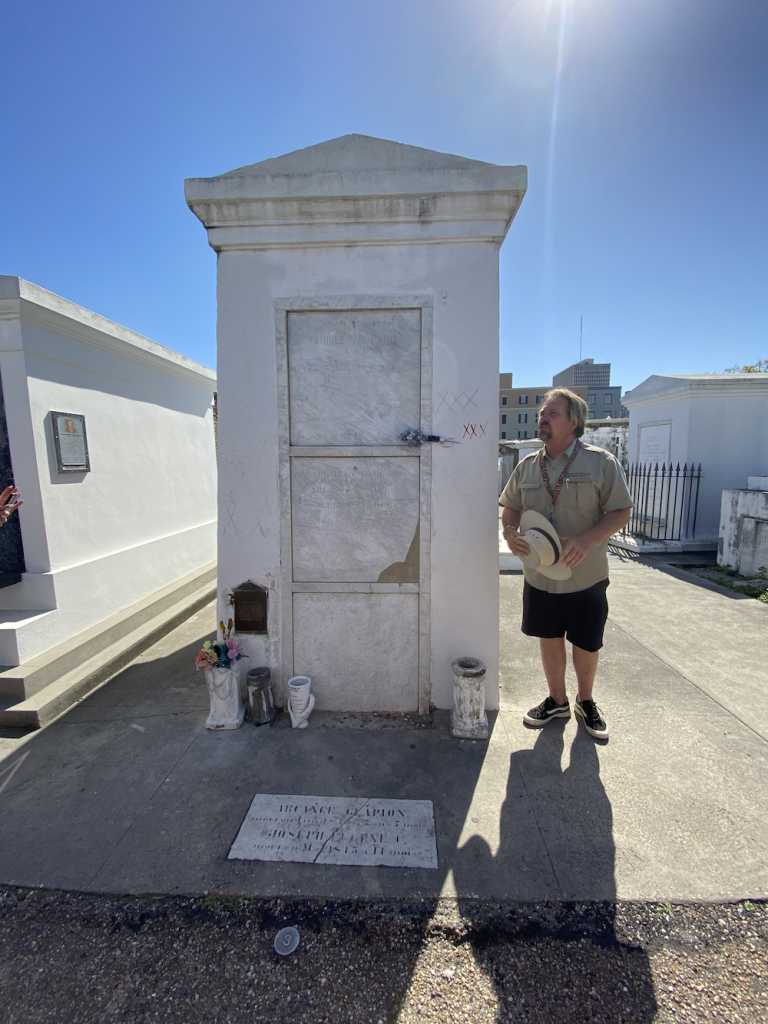 On this historic walking ghost tour of Capitol Hill you'll hear the dark history of Denver's elite and the mansions of Millionaire Row.
Get ready to discover paranormal activity and ghostly apparitions. Listen in to spooky stories of murder, scandals and betrayals.
This 90-minute walking tour includes a stop at the Molly Brown House, the Peabody-Whitehead Mansion, and Colorado's Capitol.
During this small-group walking tour you can enjoy about a 1-mile stroll through the dark streets of Denver's most haunted mansions.
Plus, check out some unique architecture and the history behind these historic buildings.
This unique tour of Denver's Millionaire Row is easy for all fitness levels and is both stroller and wheelchair accessible.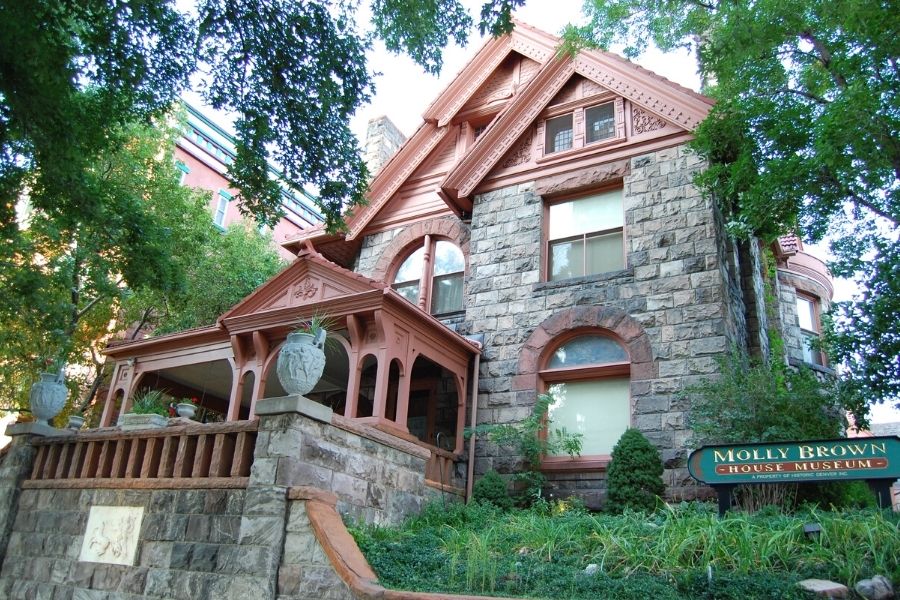 Get your ticket to the Molly Brown House Museum and enjoy a self-guided tour of this historic estate.
Learn about the life of Margaret "Molly" Tobin Brown and her history as one of the few survivors of the Titanic.
In addition to becoming known as the "Unsinkable Molly Brown" she was also an activist and philanthropist.
The Molly Brown House features amazing architecture and of course, ghost stories, chilling tales of surviving the Titanic, and more.
Or book a Haunted Walking Tour of the Molly Brown House and Capitol Hill at twilight for a ghostly experience.
This downtown Denver haunted walking tour is not only family-friendly but perfect for uncovering the city's shadowed past.
Get ready to uncover the scandals, secrets, and a cast of unsavory characters once roamed freely.
Led by a knowledgeable guide, the tour conveniently begins on Market Street. You'll traverse the streets of downtown Denver, venturing into its most haunted locations for a spine-chilling night out.
As you walk, you'll be introduced to the ghosts that linger within The Oxford Club and beyond, immersing yourself in their eerie tales.
This hands-on experience includes the opportunity to test ghost-hunting equipment, adding an extra layer of excitement to your downtown exploration.
With a limited group size of 10 travelers, you'll enjoy a personalized and engaging adventure, ensuring an unforgettable evening.
Stops along the way include Denver's Union Station, Daniels and Fisher Tower, The Oxford Club Spa & Salon, Larimer Square, and The Celtic on Market.
Immerse yourself in the historic downtown of Denver, Colorado. Traverse its first historic district and explore the remnants of the former red-light district, brimming with captivating history and ghostly legends.
Prepare for an evening that will send shivers down your spine as you navigate Denver's haunted landscape.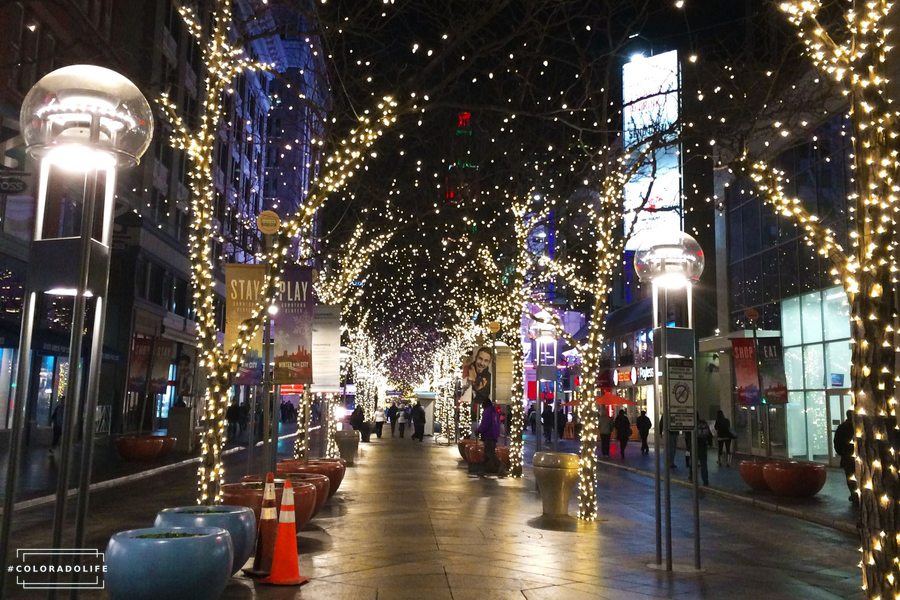 Sit back and relax inside a heated or air-conditioned vehicle as you enjoy this private driving ghost tour.
Take in the epic Denver sights and stories of Denver's paranormal activity in a private car.
This tour passes by and stops at 9 different famous Denver mansions including Molly Brown House Museum, Grosvenor Arms, and the Patterson Inn.
Since this tour is inside a vehicle you can book it any time of year, even in icy or snowy weather.
Take impressive photos and learn about Denver's haunted history while staying warm, dry and comfortable.
This private driving ghost tour is perfect for first-time travelers to Colorado's capital city.
For a haunted walking tour in that has both boos and booze, check out this unique Denver Terrors Pub Crawl.
A local, professional guide will meet you to share some well-researched and authentic ghost stories.
Then it's off to some of the most famous pubs in the city. There are 9 different stops as well as places you'll pass by along the pub crawl.
The meeting time is 6pm daily and the entire tour lasts for about 2 hours.
For some heated outdoor seating and delicious bites, you'll love Bar Nun Denver. They also have some inventive cocktails on the menu.
Or check out Bang Up To The Elephant! which is a quirky bar and one of Denver's newest hot spots for drinks and food.
This Terrors Boos & Booze tour is wheelchair accessible but is meant for adults over the age of 21.
Get ready to venture out into one of Denver's oldest neighborhoods on this small-group walking tour.
As you delve deep into the city's haunted past you'll have the chance to encounter chilling tales that surround its ghostly landmarks.
This intimate walking tour, limited to a small group, guarantees an eerie and personal experience.
Choose between the standard duration or opt for an extended adventure, both offering an exploration of the historic Capitol Hill neighborhood.
Prepare to witness captivating highlights, including the famed Molly Brown House, spine-chilling hotels, and ominous apartment blocks.
As you traverse the streets, your knowledgeable guide will unravel the city's supernatural myths and legends.
You'll pass by the iconic Colorado State Capitol, the Acacia Apartments, and the Molly Brown House Museum.
Along the way you'll also stop at Grosvenor Arms, an exquisite apartment house modeled after an English Art Gallery. This place is said to harbor countless ghostly activities and eerie apparitions within its walls.
Continuing this tour of Denver, you'll encounter the Newhouse Hotel, a former speakeasy notorious for illicit activities in the early 1900s.
Finally, pass by the WeWork Office Space & Coworking building, a prominent structure in Denver's skyline, notorious for its association with the Father's Day Massacre in the 1990s.
Brace yourself for a spine-tingling adventure on a fun tour of this haunted urban landscape.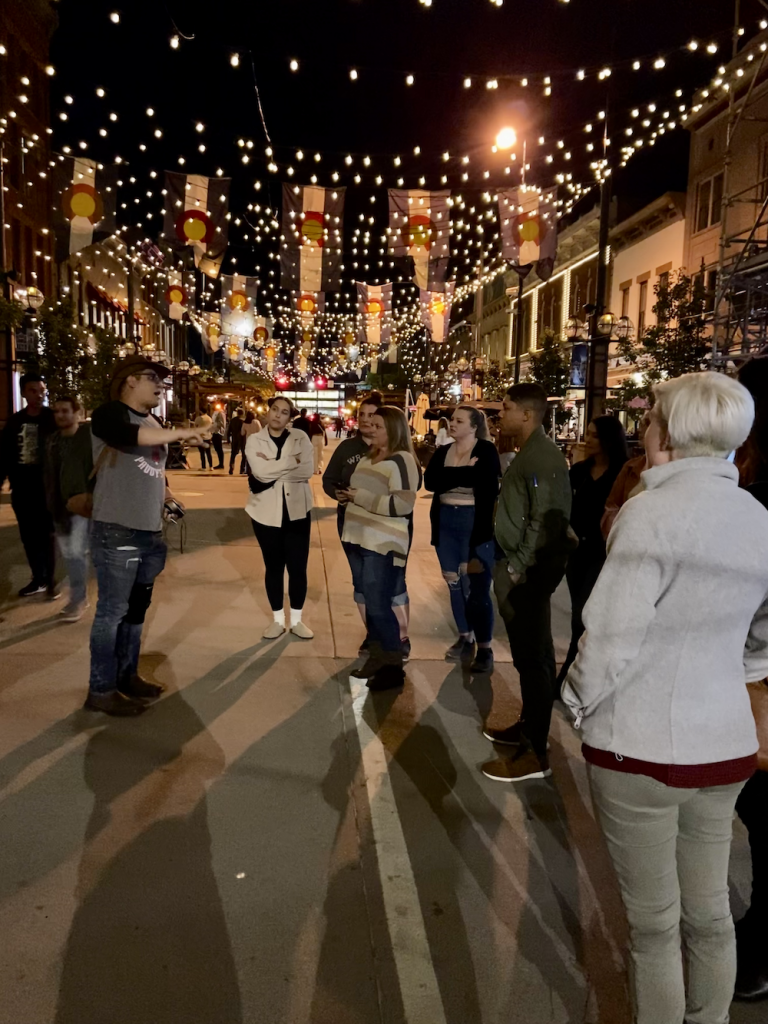 Conquer your fears and find out what Denver is hiding by signing up for this amazing Ghosts of Capitol Hill tour experience.
As Denver's first city cemetery, this park is said to have an eerie history as well as some haunting tales.
Enjoy a 2-hour walk through the park and listen to a local talk about how bodies used to be removed from the park.
By the end of the tour you may even see some paranormal activity for yourself.
The main stops along this tour include the now demolished site of Henry Treat Rogers mansion and the famous Cheeseman Park.
But you'll also come across the Peabody-Whitehead Mansion and the Molly Brown House just to name a few.
Join the Zombie Scavengers for a walk around Denver while trying to survive a zombie apocalypse.
Book the tour for yourself or a small group and earn points for completing challenges and solving clues.
This unique scavenger hunt will start on Colfax Avenue, one of Denver's most famous streets.
The tour will continue for about 1 hour while you explore the city. You can even show up dressed like a zombie or any other costume of your choice.
Related: How to Book the Best Tours in Denver [Guide]
Whether you're finalizing Halloween plans or simply want a spooky tour to check out, we hope this list of the best haunted Denver ghost tours gives you some good options.
If you're not into ghost tours or scary stories, check out our top picks for traditional walking tours in Denver for small groups instead.