Planning a Denver Botanic Gardens Trip in 2023 [local tips]
This website may contain affiliate links and we may be compensated (at no cost to you!).
The Denver Botanic Gardens are a fantastic place to spend an afternoon in Colorado.
It's the perfect place for an educational experience, a romantic destination, or a break from the urban jungle.
The Gardens are a fun and floral place to explore throughout the year, and offer so much more than just a stroll through the garden.
Read on to find out how you can make the most of your visit to the beautiful and historic Denver Botanic Gardens.
Visiting the Denver Botanic Gardens in 2023
Visiting the Denver Botanic Gardens will look a little different this than previous years. To ensure the safety of all the visitors and their staff, new guidelines have been implemented.
But there are still awesome events happenings and amazing things to do at the Denver Botanic Gardens.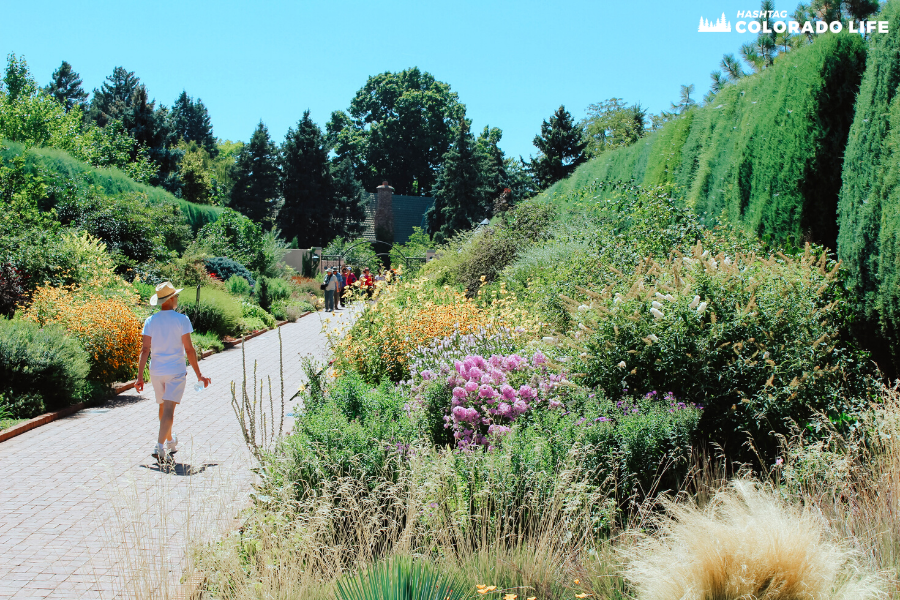 Purchase tickets in advance
Tickets to the Denver Botanic Gardens must be made in advance either online or over the phone. Tickets are available two weeks at a time and will not be available to purchase onsite.
Access is limited
Many of the buildings are currently closed with limited access only to the restrooms. Visitors capacity is limited with entry being timed in 30-minute blocks.
Masks are required
If you want admittance to the Gardens, masks are required to enter and must be worn at all times. This rule is being enforced for anyone over the age of 2 years old except while eating and drinking only.
Bring your own…
Plan to bring your own water as the outdoor drinking fountains are out of commission. In addition, plan to bring your own strollers or wheelchairs as the checkout for these items is temporarily closed.
For full details of the Denver Botanic Gardens phased reopening plan, head over to their website.
What are the Denver Botanic Gardens?
In 1951, the Colorado Forestry and Horticulture Association formed the Denver Botanical Gardens.
The Gardens were originally located on 100 acres in City Park, but in 1958 they were moved to York Street, where they remain today!
Planting began at the new location in 1959. This is the same year that the Waring York Street Mansion was donated, which now houses the administration for the Gardens.
The Denver Botanic Gardens were among the first to practice many waste prevention techniques, such as water conservation and biological pest management.
The Gardens currently occupy a 23-acre site comprising 43 unique gardens.
You can stick to the main, wide paths connecting each garden, or wander through the meandering paths within each garden.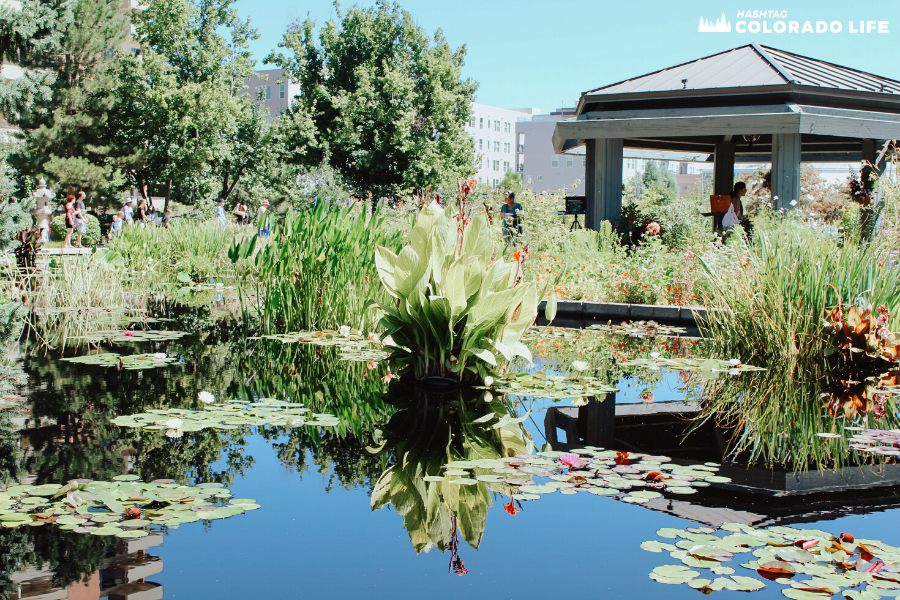 Among the notable themed gardens are the 7 gardens featuring plants from Colorado and neighboring states.
These include the Japanese Garden called Shofu-en, the Garden of Wind and Pines, and the Dryland Mesa.
The Dryland Mesa in particular is a garden based on the 7 Principles of Xeriscape which include drought-tolerant plants from the arid West and Mediterranean areas.
Also featured in the Gardens is the Boettcher Memorial Tropical Conservatory, a massive concrete structure designed in 1964.
This became a Denver Landmark in 1973.
In addition to the Denver Botanic Gardens, the organization also owns two larger facilities at Chatfield Farms and Mount Goliath.
Membership to the Gardens also includes access to these other locations.
Where are the Denver Botanic Gardens located?
You will find the Denver Botanic Gardens at 1007 York Street Denver, CO 80206.
They are located in the Cheesman Park neighborhood of Denver, just east of Capitol Hill on York Street.
To visit the Gardens, head south on York Street, the Gardens will be on your right.
If you are looking for more things to do near the area, the Denver Botanic Gardens are also 10 blocks south of the Denver Zoo and Denver Museum of Nature & Science.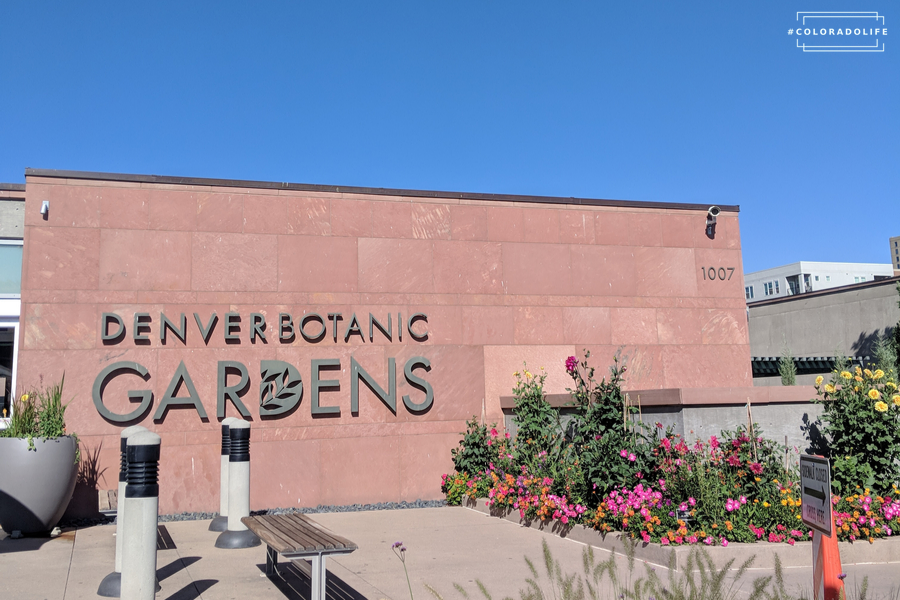 What time does the Denver Botanic Gardens open?
The York Street Denver Botanic Gardens are open daily from 9am to 7pm with the last admission at 6pm. Only pre-purchased tickets or member passes will be accepted.
Chatfield Farms hours are from 9am to 5pm daily with last admission being 4pm.
The gift shop at the gardens is open from 10am to 5pm daily. The Gardens are closed for holidays like New Year's Day, Thanksgiving and Christmas Day.
It's important to know that on certain days the Gardens will be closing early due to special events or maintenance.
You can check their website for early closure dates.
Where can you park at Denver Botanic Gardens?
Limited free parking is available in the parking complex between York and Josephine streets during regular operating hours.
This parking is only for Gardens' visitors. Street parking is also available in Cheesman Park or Congress Park, where posted.
Be sure to follow all posted traffic and parking signs!
Note: RVs and other large trailers are not permitted in the parking complex.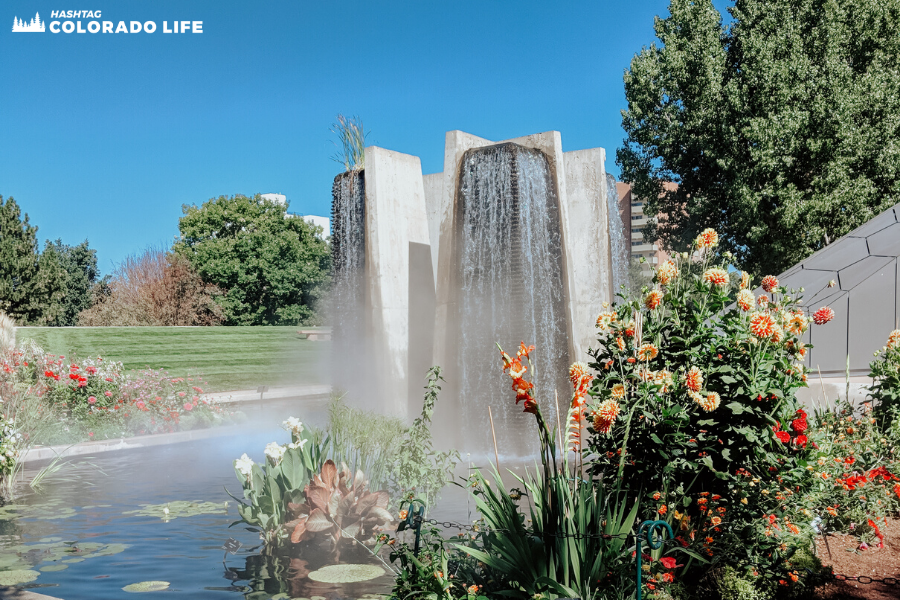 How much are tickets to the Denver Botanic Gardens?
As you begin planning your trip to Denver, we highly recommend including a trip to the Denver Botanic Gardens!
While members can enter free with a current membership, tickets for a one-time visit to the Gardens are pretty affordable too.
At the time of this writing, adult tickets are $15 each and child (ages 3-15) and student tickets (with ID) are $11.
Discounts for seniors and military or veterans tickets (with ID) are available.
Denver Botanic Gardens Free Days
Denver Botanic Gardens also hosts free days throughout the year. No ticket is required for admission to Free Days events but they are only available during regular hours.
On these specific days you can expect the Gardens to be extra crowded, but they are still a fun and frugal way to explore!
Click here to find the next scheduled free day.
Note: Due to COVID-19 concerns, Free Days have been temporarily suspended.
How to get discounted ticket for Denver Botanic Gardens
If you are visiting from out of town, and plan to visit multiple attractions during your stay, you may want to invest in a Denver CityPASS.
This customizable ticket offers discounted admission to 3, 4, or 5 major attractions around Denver. It includes access to the Downtown Aquarium, Denver Zoo, and of course, the Denver Botanic Gardens.
Create your perfect tour around Denver and choose among the 8 available attractions.
The CityPASS is valid for 7 consecutive days, and is delivered instantly to your phone for an easy-to-use mobile ticket to the city!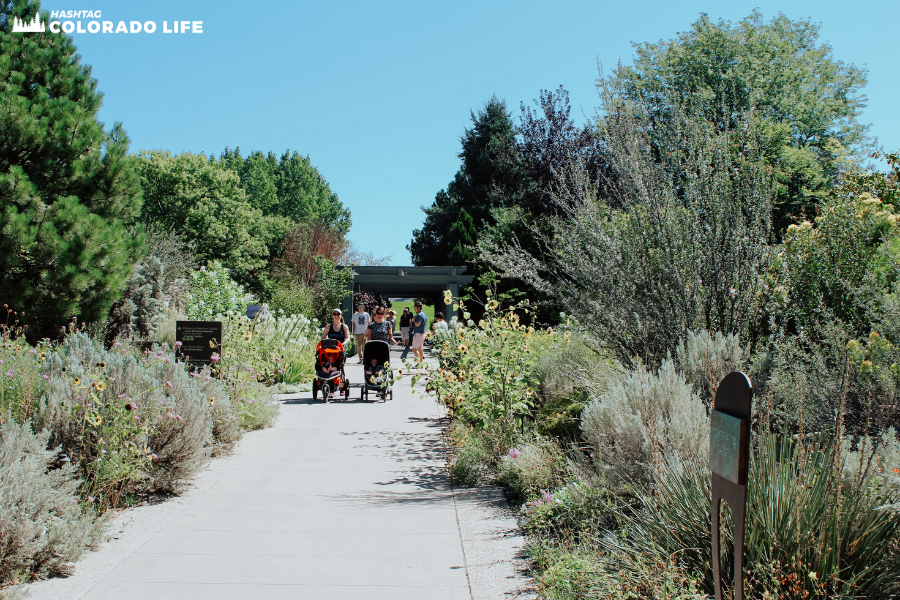 How to get a Denver Botanic Gardens membership
For Colorado locals looking to save some money while visiting the Gardens multiple times in a year, consider buying a membership!
This is a great way to support the core programs including horticulture, education, research and conservation.
We have purchased a membership every year since moving here, and we enjoy using our free admission often!
There are multiple membership levels suitable for any size family or group.
1. Individual membership
Individual memberships cost $55 per year and include 1 membership card and 1 person admitted per visit.
This tier comes with 3 one-time use guest passes, entry to the Members Mornings, quarterly magazine subscription, and monthly newsletter.
2. Individual Plus membership
Individual Plus memberships cost $65 per year and include 1 membership card with 2 people admitted per visit.
This is a great option for a young couple with no kids.
This tier comes with 3 one-time use guest passes, entry to the Members Mornings, Garden's magazine subscription, and monthly Botanic newsletter.
3. Friends & Family membership
The Friends & Family membership includes 2 membership cards and up to 6 people admitted per visit.
Like the previous tiers, this membership comes with 3 one-time use guest passes, entry to the Members Mornings, quarterly magazine subscription, and monthly Botanic newsletter.
If you are passionate about supporting the Gardens, become a Supporter or Patron!
All members can claim guest passes, get advanced ticketing for Summer Concert Series and other special events, and are invited to Member Mornings on select Saturdays and Sundays.
4. Corporate gift matching
Ask your employer if they will make a matching gift for your new or renewed membership!
Denver Botanic Gardens also has reciprocal memberships with over 300 participating gardens, arboreta, and other cultural sites around North America.
The Denver Botanic Gardens membership also makes a fantastic gift. Consider giving the gift of nature to the ones you love!
If you are already a member somewhere else, you can review this list of participating gardens and guidelines to see if yours participates in the Reciprocal Admissions Program.
Special events hosted at the Denver Botanic Gardens
The Gardens host multiple events and have special programs going on throughout the year.
From spring to summer through fall and winter there is usually something fun happening at the Denver Botanic Gardens.
Music at the Gardens Concert Series
Another popular event is the Music at the Gardens concert series. Members get advanced ticketing to music inside the Botanic Gardens' amphitheater.
Enjoy music from local artists and bands, connect with small business sponsors, taste yummy food, and enjoy a gorgeous outdoor setting.
The concert series is hosted on various evenings from June-August in 2022.
Glow at the Gardens
In the fall, we highly recommend attending the Glow at the Gardens, a nighttime festival of pumpkins and Halloween delight!
There are hundreds of carved pumpkins, gourds and jack-o-lanterns that line the walkways.
In addition, every year there are massive sculptures made completely out of pumpkins.
Last year there was a pumpkin sculpture made into the style of "Blucifier" in honor of the statue that can be seen from the Denver International Airport.
Setup, carving and volunteering opportunities start getting underway as early as August every year.
This is a great activity for kids and families in October! And don't forget to wear your Halloween costume.
Tickets to Glow at the Gardens costs about $40 for non-members but adult members can get access for just $32 each.
Important: this event sells out every year so grab your tickets early!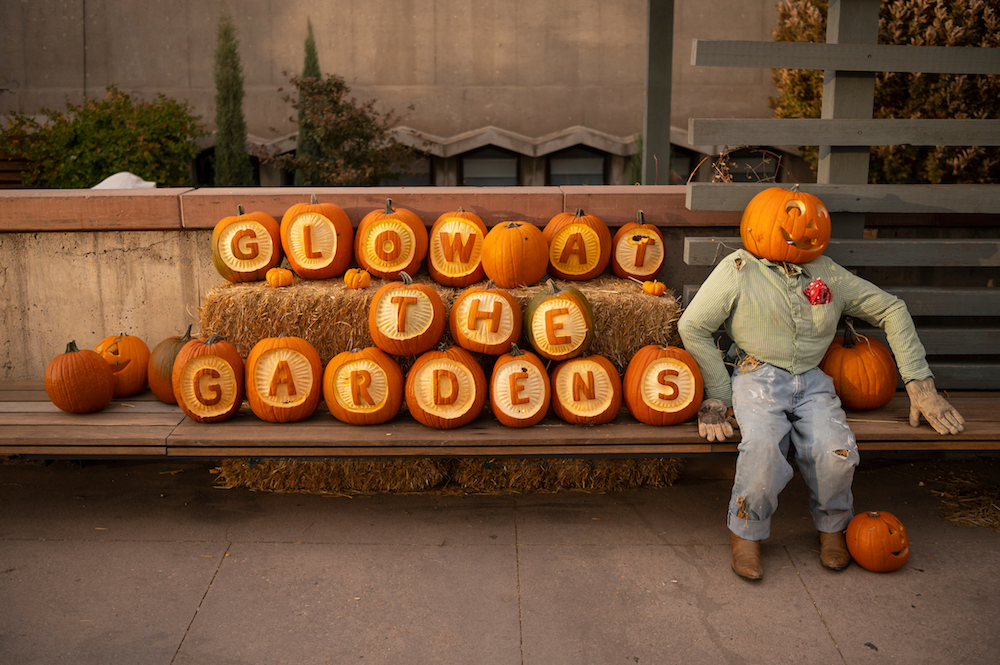 Educational programs
In addition to these special events, the Gardens offer a range of educational programs for visitors of all ages.
From hands-on workshops to certificate courses, to lectures for the public to professional development, the Gardens focus on programs for science and research.
These classes make this a fantastic destination for homeschool families, school field trips, and adult education as well!
Learn more about their programming here.
Blossoms of Light
Every winter, we make it a point to attend the Blossoms of Light.
The event starts after Thanksgiving Day and continues through the New Year.
It's a beautiful event where you and your family can celebrate the holiday season with a dazzling and ever-changing display of color and lights!
Many of the pathways are lined with thousands of colorful lights and different holiday displays.
One of our favorites is the Solarium which is a glass house tucked away in one part of the Gardens. One year it was decorated like the 12 Days of Christmas.
Tickets to the Blossoms of Light cost about $30 for non-members but adult and senior members can get access for just $24 each.
Important: this event sells out every year so book your tickets early!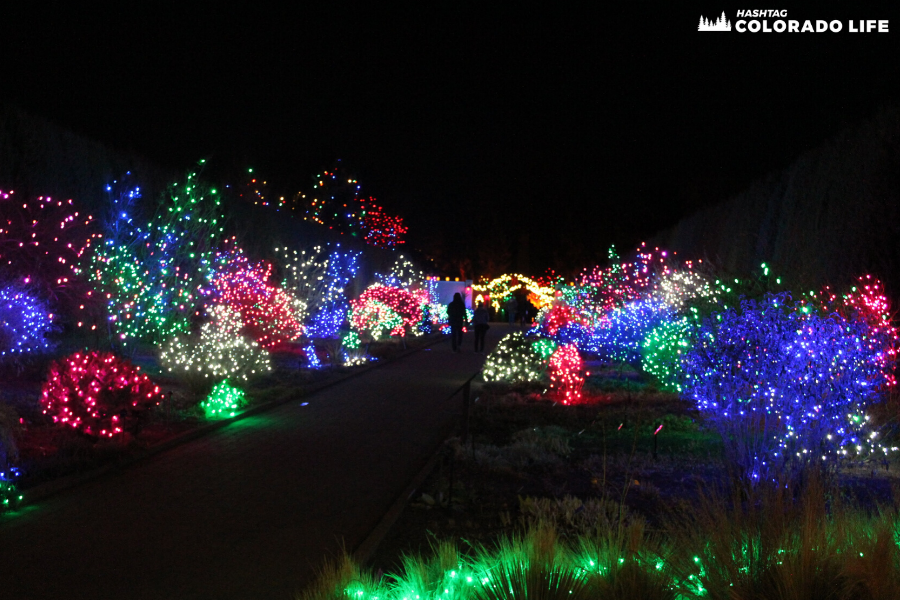 Trail of Lights at Chatfield Farms
A new feature that started in 2021, is the Trail of Lights at Chatfield Farms hosted by the Denver Botanic Gardens.
And it's actually an event that we like to attend every year! This event takes you along a winding path that's illuminated with hundreds of lights along the Colorado countryside.
Holiday music plays while tunnels and pathways sync up with the sound to make a unique lighting display along the trails.
Check out the website for ticket details and times.
Chatfield Farms is located at 8500 West Deer Creek Canyon Road, Littleton, Colorado 80128.
Members-only events
If you want to visit the Gardens while avoiding crowds of people, Member Mornings are the perfect solution.
This is a day when only members are granted early access to the Gardens starting at 8am every Saturday and Sunday through Labor Day.
Tickets are in limited quantities so reservations are required. Secure your ticket online via their website or by calling customer support at 720-865-3500.
We hope this guide to the Denver Botanic Gardens is helpful in planning your next Colorado vacation or staycation.