Are the Ice Castles Coming to Colorado for Winter 2023?
This website may contain affiliate links and we may be compensated (at no cost to you!).
The Dillon Ice Castles was a popular winter destination that quickly became one of Colorado's most popular family adventure.
This unique experience doesn't come to Colorado every year. But when it does, it is only in the coldest winter months and has been hosted in Dillon, Colorado.
This winter (2023-2024) will see the Ice Castles return to Colorado at a whole new venue and new feel in Cripple Creek! Just west of Colorado Springs.
And fear not. You can be sure it will be like nothing you have ever experienced and is a truly awe-inspiring attraction!
In fact, we have visited the Ice Castles every year it has been available and it's one of our favorite newest winter Colorado traditions.
If you are thinking of visiting the Ice Castles soon, here is everything you need to know to make the most of the experience.
Update: The Ice Castles are indeed coming to Colorado this year! But instead of coming to Dillon, the host city will be Cripple Creek, CO. No dates are yet announced on the opening of the Cripple Creek Ice Castles. But in the past has run from mid Dec to Feb.
What are the Ice Castles?
The Ice Castles are an award-winning frozen wonderland for both kids and adults of all ages.
These ice sculptures are made up of walls, archways, crawlspaces, and towering ice blocks.
The experience is built using hundreds of thousands of icicles hand-placed by professional ice artists.
Each castle is over 20 million pounds of ice and snowy goodness. And over 12,000 icicles are grown every day for this extraordinary event.

Each castle attraction includes breathtaking LED-lit icicles, frozen thrones, ice-carved tunnels, slides, and much more.
Founded by Brent Christensen in 2011, these icy fortresses are currently available in 6 cities across the United States.
And the Colorado city of choice for 2023/2024 winter season is none other than the historic and quaint mining town of Cripple Creek.
Getting your tickets
Tickets are only available for a limited time on each day, and weather permitting. Start by going to IceCastles.com and picking your location.
The Ice Castles attraction usually opens right before the Christmas holiday and is available through February.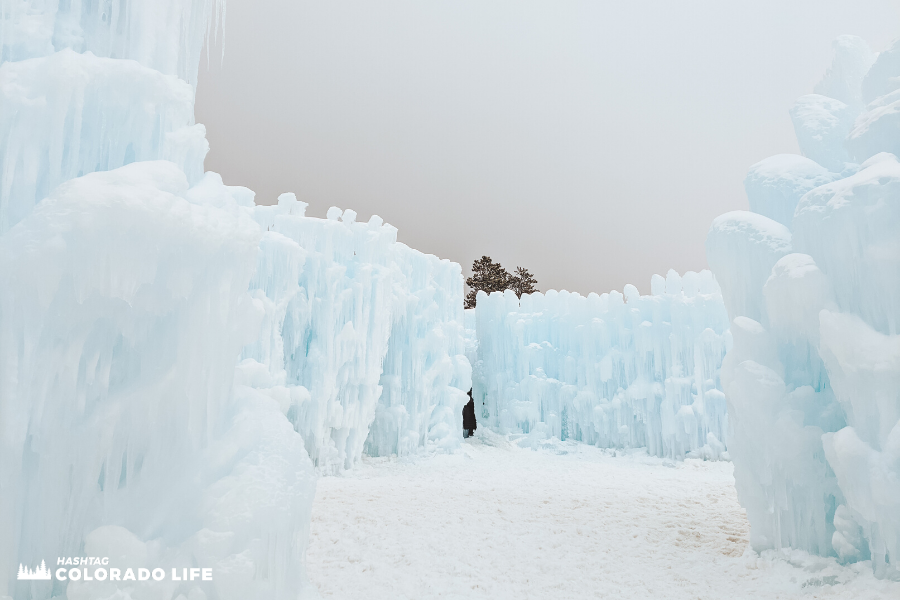 Sometimes the attraction is open later depending on weather and popularity. Just check their website for exact dates.
When clicking the "Buy Tickets" and you will be taken to the ShowClix website to complete your purchase. On this screen, you will pick a date and time for visiting the Ice Castles.
Ticket pricing
In past years, ticket prices have included General Admission, Child Admission, and Standby tickets.
It's important to note that holiday prices are the same as weekend prices and standby tickets are not guaranteed.
General Admission (ages 12 and up): $21 Monday – Thursday, $27 Friday – Sunday
Child Admission (ages 4-11): $16 Monday – Thursday, $22 Friday – Sunday
Free Admission (children 0-3 are free and do not require a ticket)
Ticket sales are final, however, you can change your ticket to a different day / time as long as it is done with at least 24 hours advance notice.
Times and availability
In previous years, the Ice Castles have been open on weekdays, Mondays and Thursdays from 4-9pm.
You can also visit on Fridays from 4-10pm but tickets are calculated as weekend pricing. The Ice Castles are also open on Saturday or Sundays from 12-10pm.
Note: As the opening dates for the CO Ice Castles is yet to be announced, the hours of operation are also still undisclosed.
Visiting the Cripple Creek Ice Castles in Colorado
In the past several years the Ice Castles in Colorado have been located at Dillon Town Park, 120 Buffalo St., Dillon, CO 80435.
But for the 2023/2024 winter season the Ice Castles will be in Cripple Creek! Located at 339 E Irene Avenue, Cripple Creek, CO 80813.
However, a drive to Cripple Creek, Colorado is worth it all on it's own. The town is known for being the prime town in the "Pikes Peak Gold Rush" in the late 1800s. The town is crammed full of history, gambling and adventure for the whole family.
Surrounding cities and activities include:
Victor
Eleven Mile State Park
Florissant Fossil Beds
Visit Cripple Creek for the day or make a weekend trip out of it!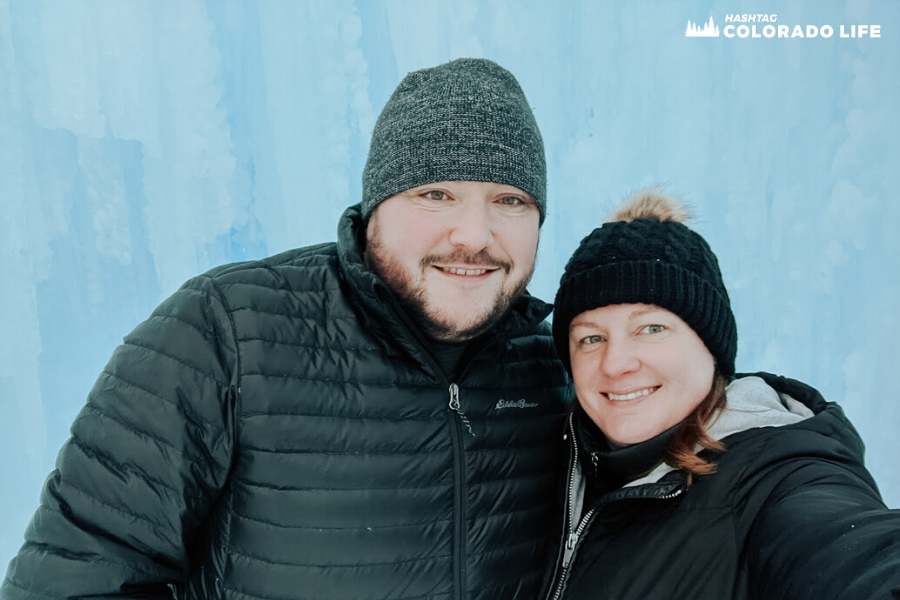 Making the most of your Ice Castles trip
We had a chance to interview founder Brian Christensen, about how to get the most out of your visit to the Cripple Creek Ice Castles.
Here are the questions and answers from our interview to make your trip to the Ice Castles the best one ever.
1. When is the best time to visit the Cripple Creek Ice Castles?
"Weekdays at Ice Castles are much less crowded," explains Brian. "If you are looking for that perfect Instagram photo, or simply want to experience the beauty of Ice Castles with fewer people, we recommend visiting on a weekday."
"If you plan your visit right around sunset you have the opportunity to experience the castle during the day when the ice is its natural glacial blue, and at night when the entire attraction is illuminated with color-changing LED lights," says Brian.
Visiting the Ice Castles during the day is a totally different experience than at night.
You can see the drastic difference in the pictures from day to night!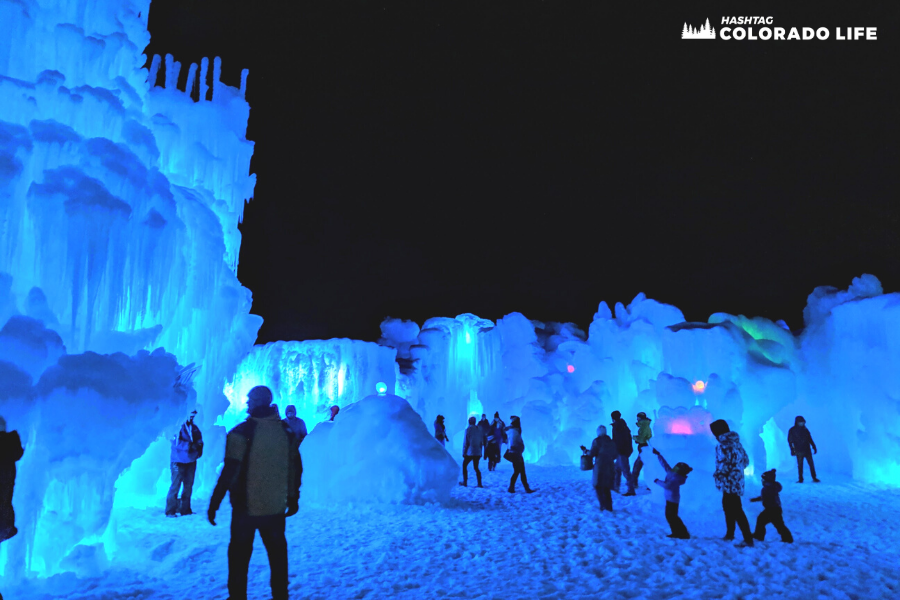 2. What should you wear when visiting the Ice Castles?
This attraction is made out of ice so it's going to be very cold — especially if you visit at night.
It probably goes without saying but you will want to bundle up, wear warm clothes, and dress in lots of layers.
Be prepared to spend about 30-45 minutes in the Castles, so bring coats, gloves, hats, and scarves to keep warm.
And you want to wear the right kind of boots, preferably winter or snow boots, or hiking boots are best.
"The walking surface is a combination of crushed ice and snow. We recommend guests dress appropriately, in warm layers and winter boots," suggests Brian.
"Our staff works diligently to groom the walking surface and monitors it throughout operating hours to try and prevent the surface from becoming slick. However, we recommend guests wear footwear that is appropriate for the walking surface," shares Brian.
3. Where should you park and is it free?
Parking is free for Ice Castles in Cripple Creek and is located on Irene Avenue and 4th Street — just south of Ice Castles.
There are two additional parking lots located on 4th Street. One on the west side of the road and the other the east.
One thing we learned from both years of going to the Ice Castles, you may want to arrive a bit early to get a good parking spot.
Spots fill up quickly and you don't want to feel rushed to get to the gate.
One big upside is Cripple Creek should have plenty of street parking and other attractions and things to do in the town. The town is very walk-able with the main street, Bennett Ave, being just a few blocks away.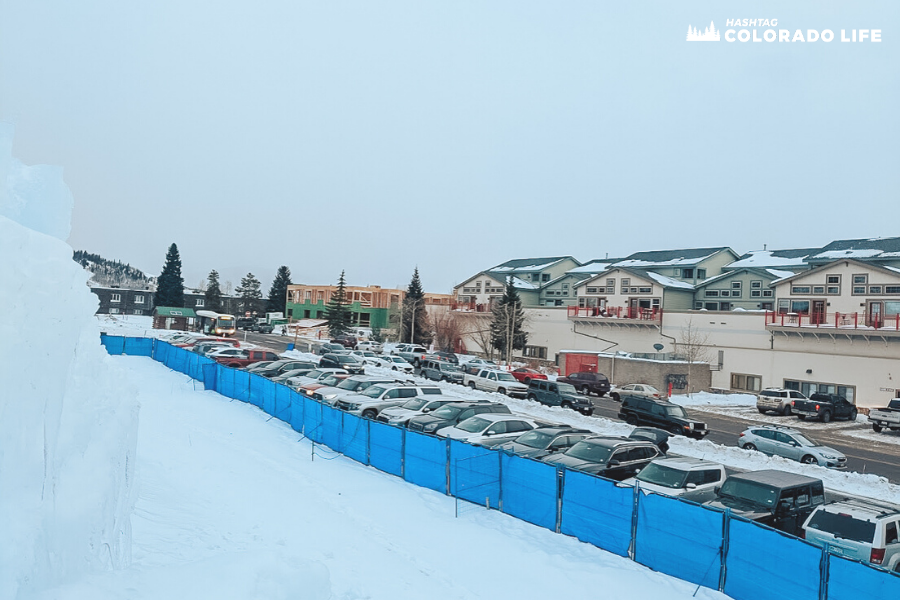 4. What is the most popular attraction at the Ice Castles?
"The ice slides are the most popular feature in Ice Castles," says Brian.
"We have slides available for all ages, from toddlers to adults. The slides are carved from ice and will bring out the kid in everyone."
Based on our personal experience, we recommend that you head to the slides first once you get inside the Ice Castles. Otherwise, the lines can get a bit long and you might be waiting a while to have a turn.
5. What are the top safety tips for visitors?
"Providing a safe and fun winter experience for our guests is our primary mission at Ice Castles," says Brian.
As mentioned, this is an ice attraction so the entire adventure is going to be full of ice and snow. Watch out for the ice sculptures above your head and walk around carefully.
No running is allowed.
"Guests to Ice Castles can help ensure safety by abiding by all posted signage, which prohibits climbing on the ice or going down the slides in an unsafe manner."
It's recommended that you wear a high quality pair of boots that it is going to keep you from slipping around on the ice and snow.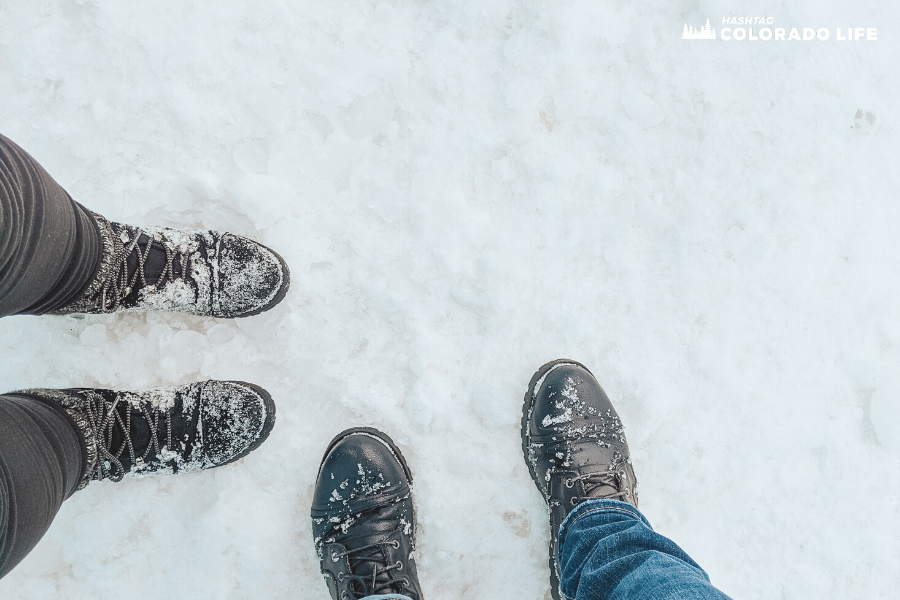 6. Is re-entry allowed in case of bathroom breaks?
No, re-entry is not allowed. So, if you need a snack break or to use the bathroom, you must do so before entering the Ice Castles.
They DO provide Porta-Potties for visitors, but they are outside of the Ice Castles attraction.
Not to mention, that it is very cold outside which makes using them very unpleasant. You are in a mountain town in the middle of winter after all.
There is also NO food or drinks served in the Ice Castles, but there are some nice coffee shops and restaurants within a short walk or drive away.
We suggest eating a snack and going to the bathroom before heading inside to the Castles!
Planning your visit to the Cripple Creek Ice Castles
This is everything you need to know about planning your visit to the Cripple Creek Ice Castles in Colorado this year.
We really hope that the Ice Castles will continue coming back to Colorado in future years.
If you follow these recommendations and tips, we know that you will have the best experience possible.
This is an awesome time to make memories with your friends and family, no matter what their age.
It's the perfect winter date for everyone and we highly recommend it. Enjoy!