Hiking Palmer Park in Colorado Springs: 5 Insider Tips from a Local
This website may contain affiliate links and we may be compensated (at no cost to you!).
Palmer Park is a 730-acre park located in Colorado Springs that is perfect for hiking in the summer or winter.
It spans over 25 miles of hiking and biking trails, a dog park, community playground, picnic areas, and an off-leash dog area.
Basically, Palmer Park offers a little bit of everything for everyone who visits.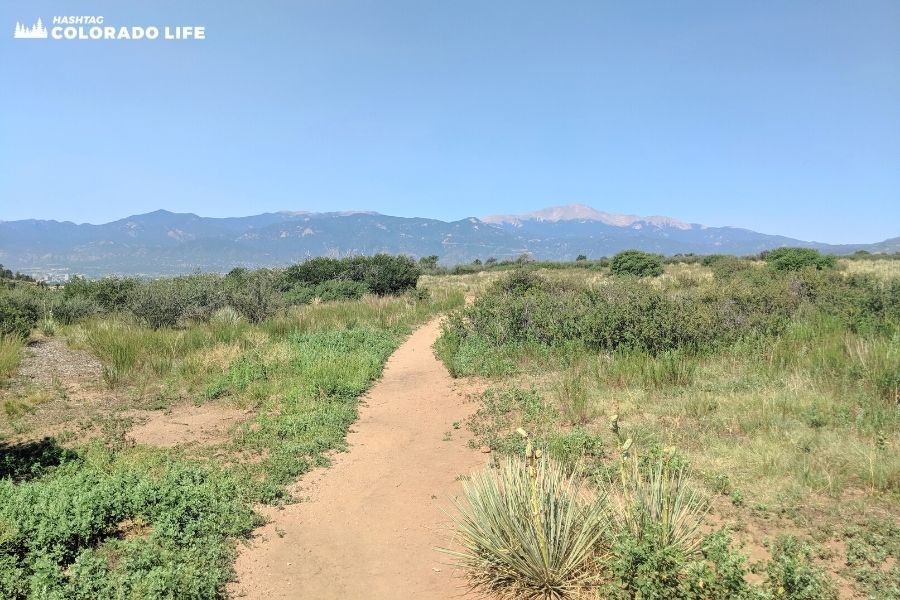 It's an oasis in the middle of the city and is located only a few miles northeast of downtown.
In 2017, Palmer Park was listed as the Best of the Springs Expert Picks and features "the single best views of Pikes Peak in all its stately glory."
While the park is situated in the middle of the city it's surrounded by rugged wilderness.
This makes for an easy escape from the busyness of urban life without ever leaving the city limits.
Keep reading to learn more about hiking Palmer Park and what to expect.
Where is Palmer Park?
Pulpit Rock Park is located at 3650 Maizeland Road in Colorado Springs, Colorado.
If you're coming from downtown Colorado Springs the drive is a short 5 miles or approximately 12 minutes depending on traffic.
Or if driving from Denver, Palmer Park is 70 miles south, making it about an hour drive when traveling on I-25.
The 730 acres in Palmer Park is easy to access no matter which direction you're traveling from.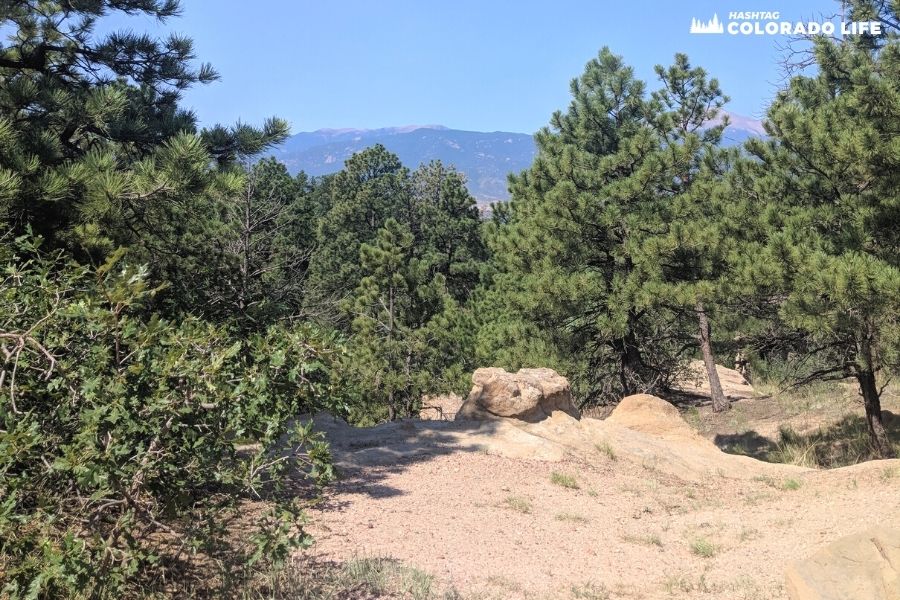 Some of Colorado Springs' busiest roads surround the park, including Austin Bluffs Parkway, North Union Blvd, and North Academy.
The main trailhead starts at the Yucca Flats parking lot, which offers free parking all year round.
There is ample parking here, and at all of the trailhead locations. Or you can park at any of the streets in nearby neighborhoods.
When is the best time to visit Palmer Park?
Palmer Park is open year round from 5am-9pm daily. It is a nice place to hike and visit during the summer as well as the winter.
However, the best time to visit Palmer Park is from April until October when the weather is warmer.
Due to the sheer size of Palmer Park you won't see many people on the trails, and there are few crowds during the summer.
Visitors tend to see more wildflowers during this time, as well as have the chance to see more active wildlife.
1. Hike the Templeton Trail
As mentioned, Palmer Park offers over 25 miles of trails for hiking, running, mountain biking, and even horseback riding.
The most popular trail is the Templeton Trail which is about a 4-mile loop, depending on which paths you take.
It starts at the Yucca Flats parking lot and can be taken in either direction.
The path is best for more advanced hikers, especially during the winter months when the trails are icy or covered in snow.
However, the level of difficulty differs depending on which trails you choose to hike.
Click here for an in-depth map that shows how expansive the park is and all of the trails that can be accessed.
The Templeton Trail is sandy and rocky in some places, with lots of off-shoot paths to explore.
Sometimes the path is hard to find but you'll easily find your way back onto the main trail fairly quickly.
Some easier trails we recommend hiking or biking are the Palmer Mesa Trail or the Grandview Trail.
2. Head to the dog park or off-leash area
One of the great things about Palmer Park is how dog-friendly it is.
Colorado Springs is known for being a very dog-friendly city, and this destination is no different.
Dogs are allowed on all the trails as long as they are leashed.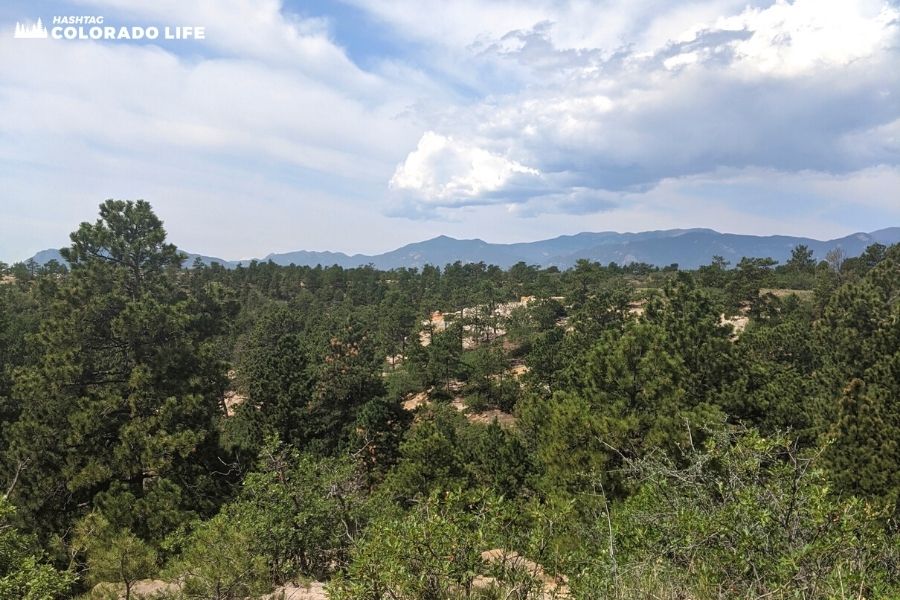 Or they can roam free in the designated off-leash area, which is an old baseball field.
There is also a dog park located inside Palmer Park, which is similar to the Bear Creek Dog Park nearby.
Due to the high number of dogs that visit the park, it's important to clean up after your pet at all times.
3. Pull-off for a picnic
Depending on the direction you arrive, Palmer Park has lots of pull-offs with areas for picnicking.
This is a great spot if you have an RV or camper and want to explore the city for a day.
Just park in one of the small dirt parking areas and enjoy a relaxing picnic surrounded by trees and wildlife.
Picnic tables and benches are abundant throughout Palmer Park so you should easily find a place to enjoy a bite to eat.
Picnic reservations for shelters and pavilions can be made by calling 719-385-5941.
Public restrooms are also sprinkled on the outskirts of the park and near the Meadows area.
4. See unique flora & formations
Inside the park you'll find many tall spires or hoodoos, steep cliffs, and unique rock formations.
Tons of scenic overlooks in the area feature views of Pikes Peak as well as the huge span of the Rocky Mountains on a clear day.
Inside Palmer Park you'll find a geological point of interest called Seven Castles, which is a botanical reserve for Yucca plants.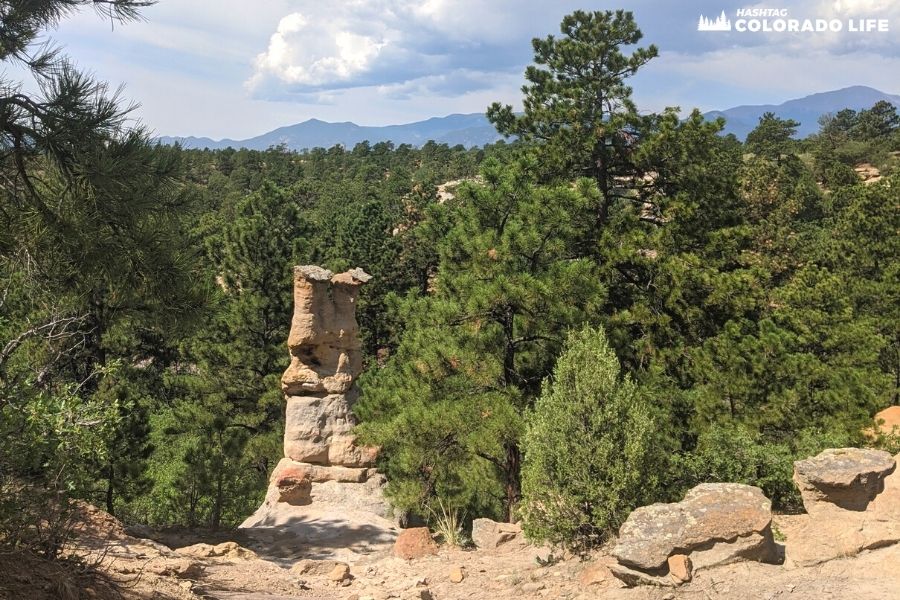 These plants are everywhere in the park and not easy to miss. Yuccas are native to Colorado and are especially prevalent in the park.
One of the more advanced trails is the Edna Mae Bennet Nature Trail which is 2.6 miles with ravines and canyons.
Along this trail, you are likely to see Gambel oak and Ponderosa pine trees.
And keep your eyes open for rabbits, mule deer, foxes, hawks, ravens, and many other types of wildlife.
5. Have a ball on the fields
If hiking or biking isn't your thing, Palmer Park features many other outdoor amenities.
Check out the two baseball/softball fields, community playground, or the football/soccer field.
Three volleyball courts are also available for free to the public.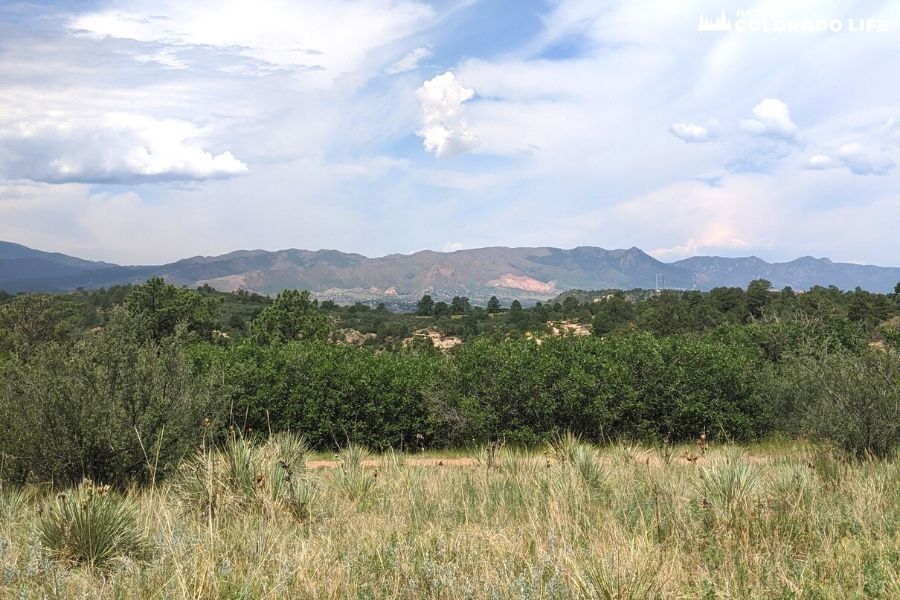 There really is something for everyone and nearly any outdoor activity at Palmer Park.
Not only is there free parking at all the trailheads, but the picnic areas and the dog park are free to visit too.
If you're looking for an urban escape to the wilderness with gorgeous views of Pikes Peaks, we highly recommend Palmer Park.
No matter what trail you end up hiking, you're bound to see stunning views of the Rocky Mountains from every overlook.