Hiking the Manitou Incline: A Step-by-Step Guide to Climb this Epic Trail
This website may contain affiliate links and we may be compensated (at no cost to you!).
Are you thinking about training for the Manitou Incline hike? This trail has more stairs than the Empire State Building.
With an average incline of 41%, the Manitou Incline is one of the most challenging hikes in the Colorado Springs area.
This extreme trail attracts athletes and amateurs alike.
2022 update: The Manitou Incline is now open but requires free reservations in order to reserve a spot. Click here to learn more and grab a reservation for free.
But if you are interested in training for the Manitou Incline continue reading below to learn the best tips and tricks for conquering this epic climb!
The History of the Manitou Incline
The Manitou Incline is one of the most popular, and most challenging, hikes in the Colorado Springs area.
Manitou Mountain, which is home to the Manitou Incline, is just west of Colorado Springs off Highway 24.
It was originally built as a cable car to carry materials for pipelines up to job sites on Pikes Peak and the surrounding mountains.
After the pipelines were finished, the cable car system was turned into a tourist attraction that carried visitors up and down the mountain until it was closed in 1958.
In 1990, a rockslide damaged the tracks (which were later removed), leaving only the railroad ties to form a staggering staircase.
This "attraction" swiftly became a popular destination for hard-core hikers!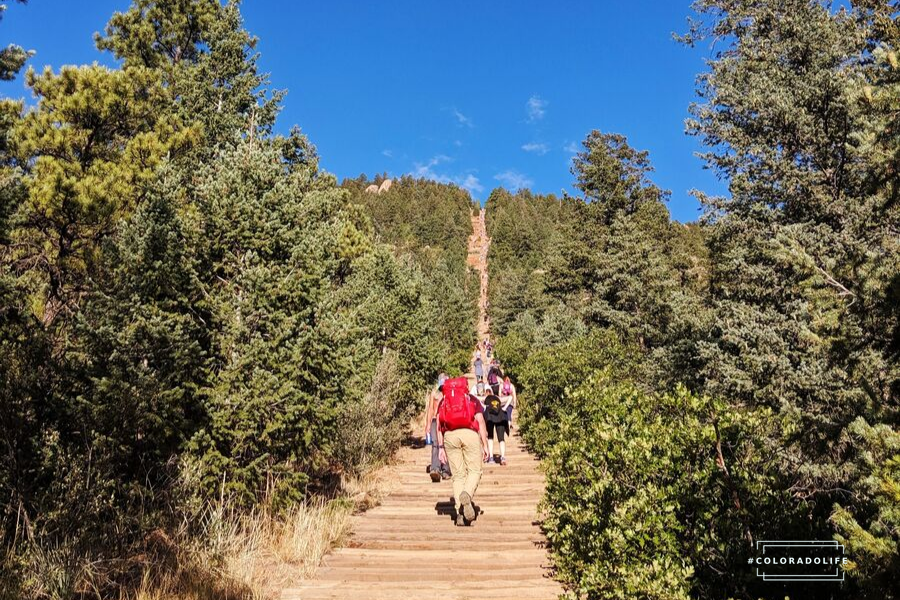 How many steps is the Manitou Incline?
The Manitou Incline has just over 2,700 steps in is less than one mile long. Hikers gain 2,000 feet in elevation from start to finish and the steepest part of the incline is 68%.
Warning! This is an extreme trail and is considered a very advanced hike.
The fastest time up the incline is reported to be 16 minutes, 42 seconds, and athlete Joseph Gray summited in 17:45 earlier in 2015. Allie McLaughlin finished in 20:07.
Want to track your own time? Download the Incline App on iOS and Android.
Why climb Colorado's Manitou Incline?
The Manitou Incline is more than just a local landmark. It's kind of a rite of passage!
For both myself and Stephanie, summiting the Manitou Incline was a way to become a bit more of a local, too.
Like me, Stephanie did not grow up in Colorado, and when she first moved here, she dreamed of one day climbing the incline.
Stephanie reached out to be a training buddy and accountability partner as we trained together to take on this incredible challenge!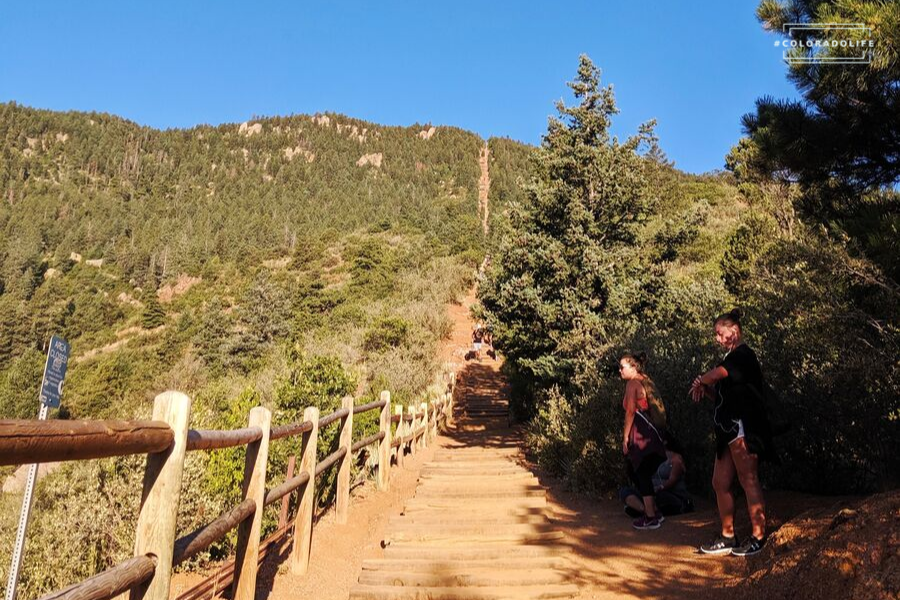 How to train for the Manitou Incline
Stephanie and I planned to hike the incline in August, so in May, we began training together.
We set a "summit date" for when we wanted to climb the Incline and back-dated our training plan from there.
Over the course of our training, we increased the incline and the difficulty level of our hikes in the Colorado Springs area as incline day drew nearer.
Pro tip: We used the AllTrails app and website extensively while training for the Manitou Incline. It's free to join and the app is available on iOS and Android.
It's a great way to find trails, know before you go, download maps, and share your feedback with the hiking community.
Easy practice hikes near Colorado Springs
Here are some of the hikes we took to train for the Manitou Incline, starting with easy and going to advanced.
1. Red Rock Canyon Open Space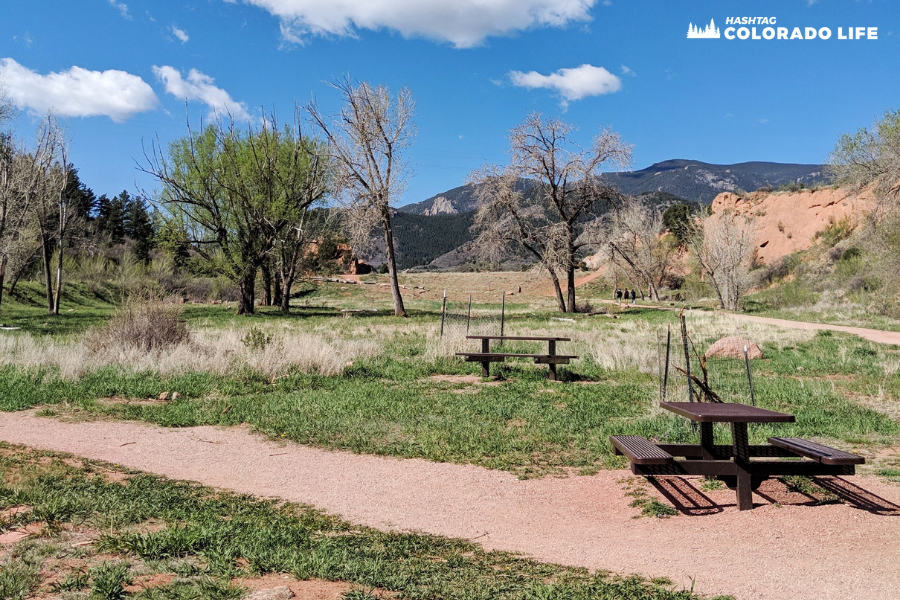 Red Rock Canyon Open Space area offers multiple trails of easy to moderate difficulty, including two off-leash dog friendly trails.
It's located conveniently off highway 24 near Manitou Springs, Red Rock Canyon Open Space is popular among bikers, hikers, horseback riders, and climbers.
2. Pulpit Rock Park Loop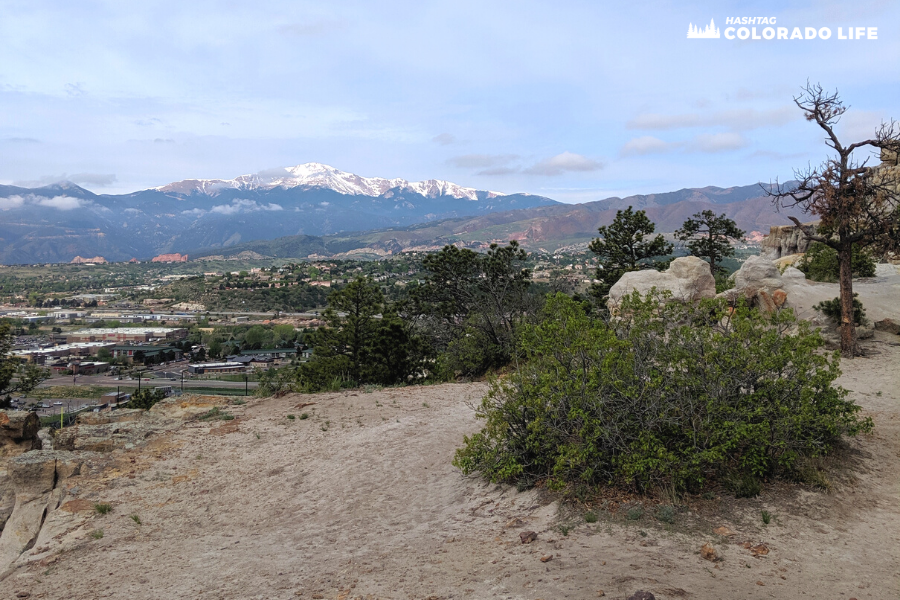 Pulpit Rock Park Loop is a kid-friendly, dog-friendly hiking loop near Colorado Springs.
We love this area because it's nestled in the Rockrimmon neighborhood that sits at the foot of the Rocky Mountains.
So, the views along the trail are breathtaking! This hiking spot is considered moderately difficult, and the climb to the Pulpit Rock ridge line is definitely the highlight of the trail.
3. Ute Valley Park Loop Trail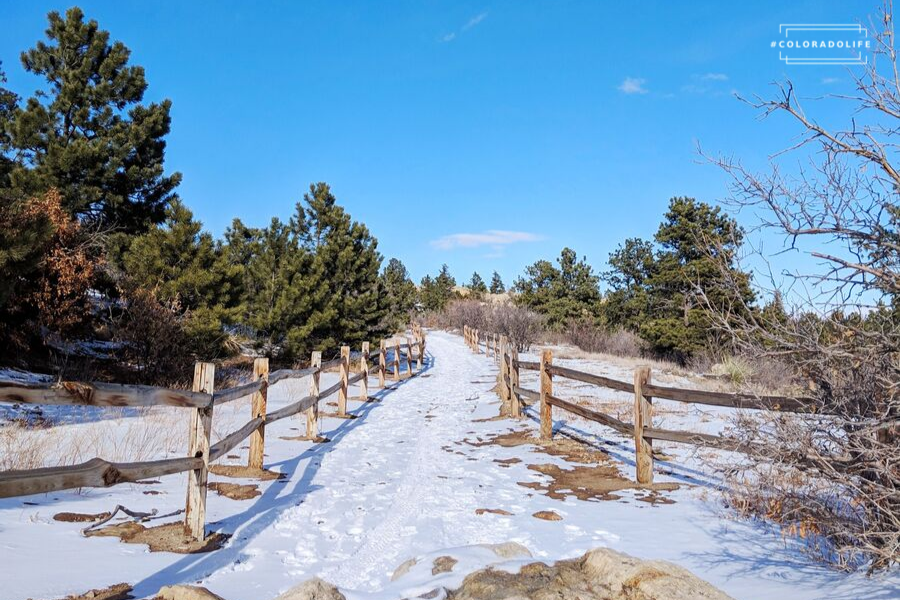 The Ute Valley Park Loop Trail north of Colorado Springs is a moderate hike featuring a river.
Hike the ridge or keep to the bottom of the valley, and always be on the lookout for birds and wildflowers!
Challenging hikes near Colorado Springs
4. Helen Hunt Falls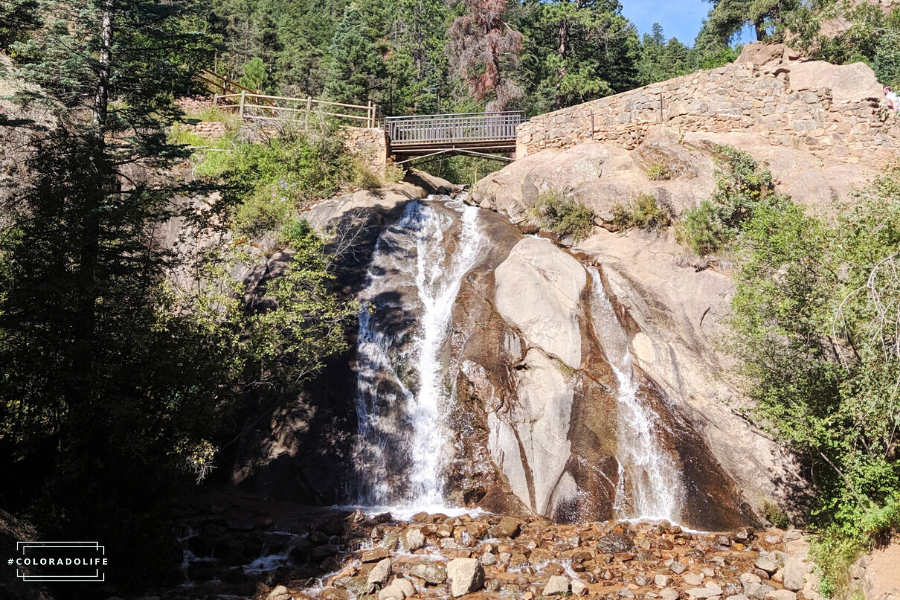 When you're ready for a more difficult hike, follow the Columbine Trail to Helen Hunt Falls.
You can drive to the parking area and take the short walk directly to the falls, which takes about 20 minutes.
The great thing about this climb is that it has stairs that are similar to what you'll be hiking the day of the incline.
For those looking for more strenuous options, you can hike the 4 miles up Seven Falls and gain over 1,000 feet of elevation along the way.
5. Blodgett Peak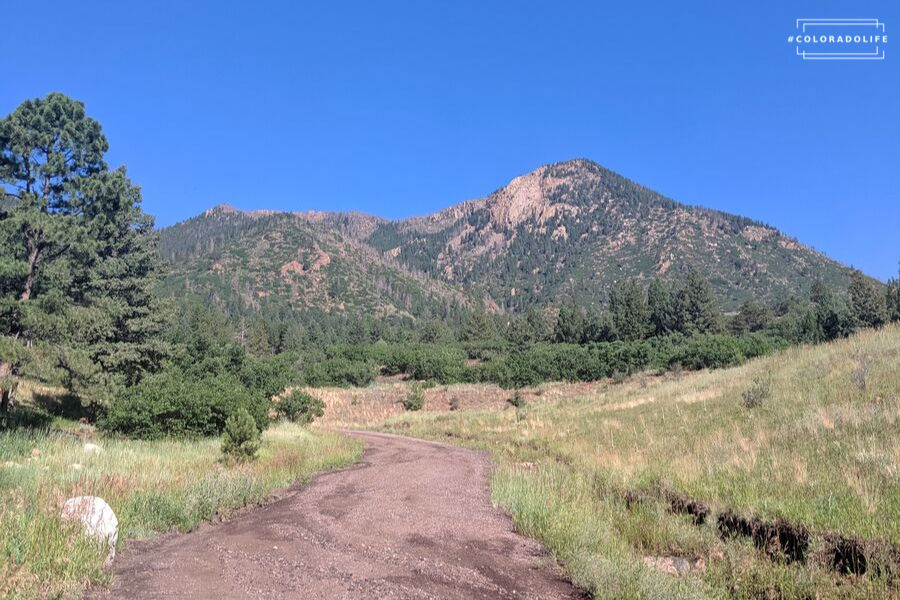 Blodgett Peak is by far the most challenging hike on this list.
We think it may be even more challenging than the Manitou Incline due to the vast amounts of loose gravel along particularly steep hillsides.
In fact, while training, we tried twice to summit it and didn't make it to the top either time.
Special hiking equipment may be helpful to prevent injury on this trail.
Pro tip: If you are hiking in the summer months, get up early to beat the heat! As we trained later into the summer, we started our hikes earlier in the day to maximize time in the cooler morning temps.
Preparing to hike the Manitou Incline
Please take time to acclimate to the altitude, especially if you are visiting from out of town, or are a newcomer to Colorado.
Brace yourself for the fact that you will gain 2,000 feet in elevation during this short hike.
Plus, you may be affected by other factors like the dry air, hot sun, and lower oxygen levels at this altitude.
If you plan to hike the incline during the summer and are often affected by heat, start the incline as early in the day as possible.
A Manitou Incline packing list
Each hiker should pack their own bag of supplies. If your group gets separated along the incline, you'll be glad you have personal snacks and water with you!
Here's a checklist of everything we brought.
Drinks to stay hydrated
Bring more water than you think you'll need! You'll want at least 4 bottles or more (even if you leave a few extra in the car for when you're done).
You may also want to bring electrolyte drinks, such as Gatorade or VitaminWater.
Or consider electrolyte water enhancers, like Revival Energy packets. We HIGHLY recommend this as your body needs replenishing from such an extreme hike.
And you can use code 25REVIVAL at check out to get 25% off your order on Amazon.
Pro tip: The night before your hike, freeze at least one of your water bottles. You'll be so grateful that you did on the way back down!


Snacks to have energy
The best food to grab for your Incline hike are high-energy fruits, like apples, oranges, and bananas.
We also took some protein bars with us and those helped boost our energy too.
We recommend trying protein bars like RXBARS in chocolate sea salt since they have all natural ingredients.
Or check out electrolyte gel squeeze packs, like these from Clif Bar.


Extra clothing and shoes
Consider dressing in layers while hiking the Manitou Incline. If you get started early, you may need a light jacket. But as the hours wear on, you'll shed this in favor of cooler clothing.
You may want to bring an extra pair of sneakers and/or hiking boots — you don't need anything fancy.
We saw many hikers wearing sneakers on the incline, and it can be safe and more comfortable to wear sneakers.
You may want to switch to hiking boots for the trail back down (but we'll get to that in a moment!).


Other Incline essentials
A first aid kit is a must to have with you, just in case. You never know what might happen on the way — or the way down the Incline.
And it never hurts to be prepared!
Apply sunscreen to your face and arms, and even your legs if you're wearing shorts. And don't forget to bring a hat and a pair of sunglasses.
You'll definitely need them as the sun rises throughout the day.
The night before you hike the Manitou Incline
Adequate preparation the night before you hike can significantly improve your experience on the incline. Here are some tips we recommend to make your experience the best it can be.
Drink electrolytes at least one day before you hike. You'll have so much more energy out there on the trail!
Carb load. Go to town on a big spaghetti feed (or other carb-laden dish!) the night before your hike. When you're using as much energy as you do on the incline, you'll be grateful for those quick calories!
Go to bed early. Like, super early. If you aim to get to the incline early in the morning, make sure you allow yourself at least 8 hours of sleep the night before the hike.
How to get to the Manitou Incline [map]
Getting to the Incline the day of and finding parking is pretty easy. Coming from Denver, just head south on I-75 until you get to exit #141 (US 24).
Take this exit towards the mountains to the Manitou Avenue exit.
Park for free at 10 Old Man's Trail in Manitou Springs and take the free shuttle (Route 33) to the trailhead.
The shuttle runs every 15-20 minutes operating at 6am and runs until 8pm daily.
The free shuttle will also bring you back to the parking lot to get your car when you come down off the incline.
If you want to get started climbing the Incline even earlier, you can park closer start to the trail, at the Iron Springs Melodrama for $10 per day.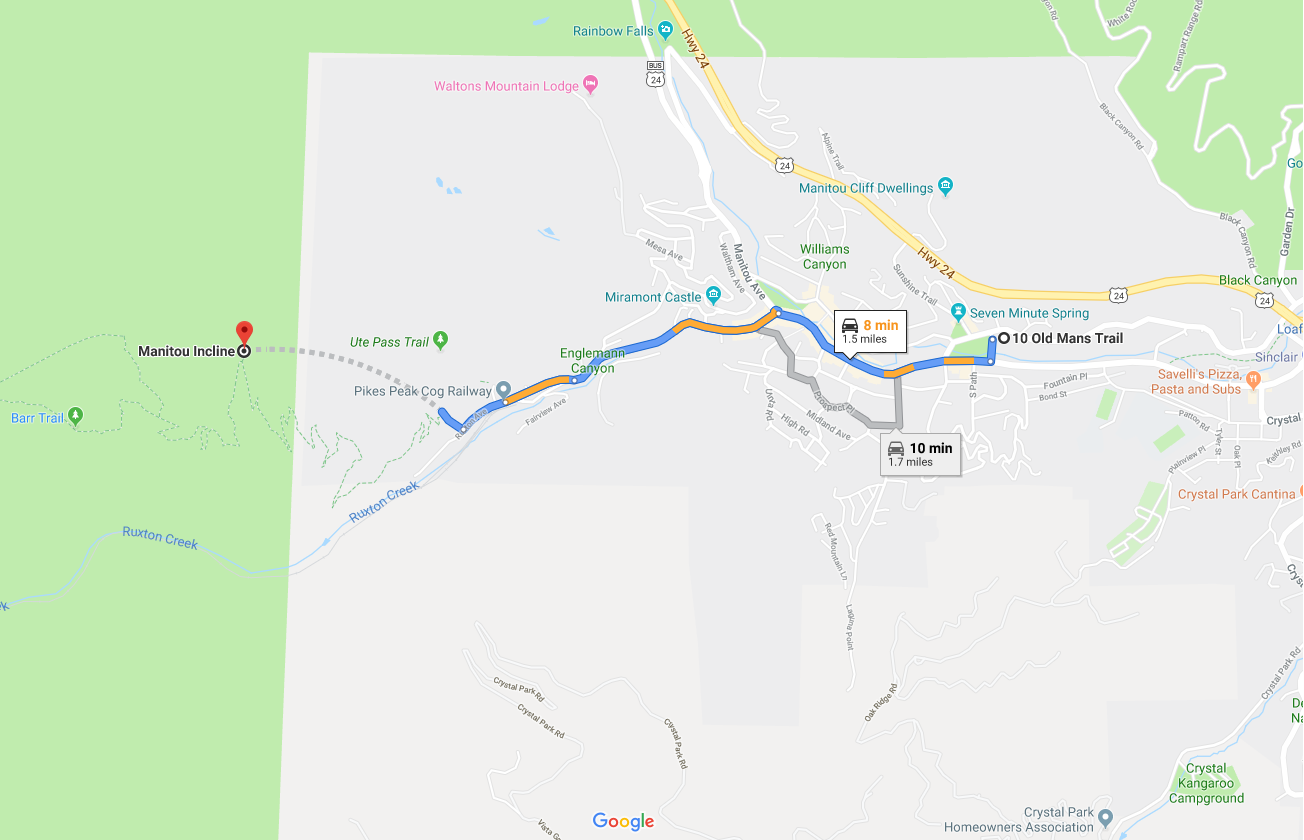 Training & hiking the Manitou Incline
When you arrive at the base of the Incline, be sure to pace yourself. You've got a long way to go and it only gets steeper!
I recommend getting into a good rhythm and switching which leg is leading as you make your way up.
Those with vertigo should be particularly careful looking up or down the trail.
And take breaks often. You'll meet others on the trail who are keeping the same pace as you, and you will not be made to feel bad by others for stopping often along the way.
They will be stopping too!
Pro tip: The railroad ties that make up the stairs are rugged and often very irregular. Be careful with your steps and don't be shy about taking smaller strides so you don't trip.
People of all ages make the attempt on the incline and we saw plenty of ambitious kids and teens along the way. For kids as with adults, be careful with yourself and don't push yourself too hard.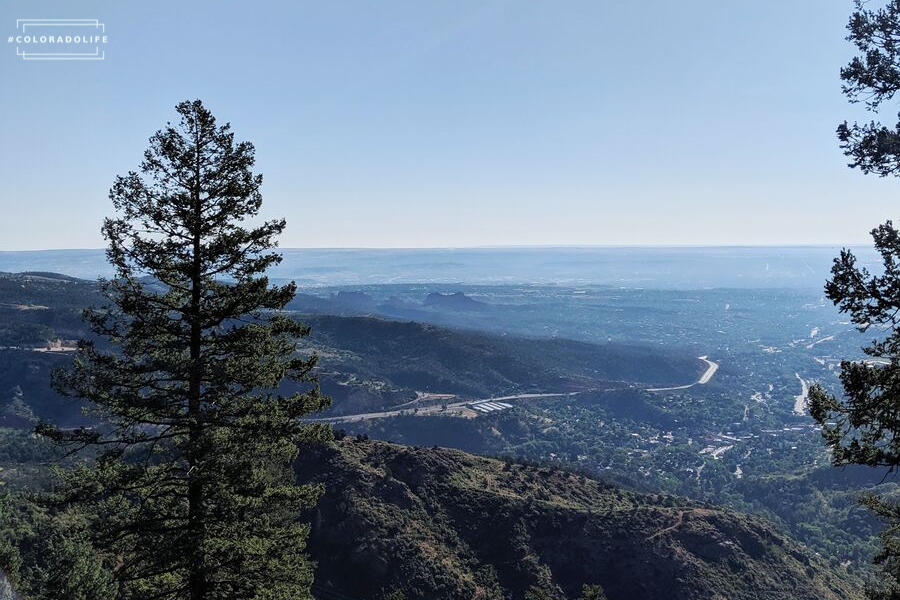 What if you can't make it to the top?
Can't make it to the top? No problem! You still accomplished an awesome physical feat.
If you are unsure that you'll make it all the way to the top AND back down, there are bail out points. In fact, I bailed off the incline at the 1,700 step mark.
There is absolutely no shame in bailing out on the incline. The Manitou Incline is an extremely grueling hike, and most of the people who attempt it don't make it to the top.
As you meet other hikers, you'll quickly see that everyone is struggling, and you will not be alone in bailing.
The important thing is to protect and listen to your body. If you're not sure if you can make it back, it's better to stop than to push yourself too far and get injured or have to call for emergency rescue.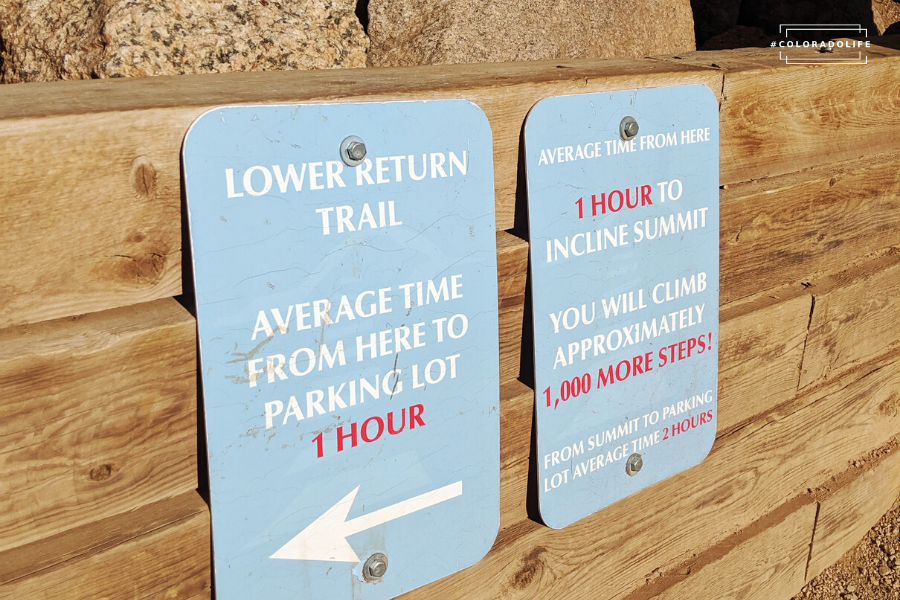 How to get back down the Incline
Whether you make it to the top or leave the trail at a bail out point, you'll return to the base of the incline via the Barr Trail.
You'll follow a 4 mile-long stretch the trail which is beautiful, but moderately difficult.
There are lots of switchbacks and loose rocks, so bear that in mind as you are pacing yourself up the incline. As they say, what goes up must come down!
Pro tip: This would be a great time to switch to your hiking boots to protect your feet and ankles on the rougher terrain.
When you arrive at the base of the incline, reboard the shuttle to return to your car and go home to rest up.
You've done a lot today!
How to recover after the Manitou Incline
Take it easy the rest of the day with cool showers and Epsom salt soaks to ease with any soreness.
Continue drinking water and lots of electrolytes to replenish what you lost on the Incline.
When possible, hike the Manitou Incline when you have an extra day or two off work so you have plenty of time to recover.
You'll likely sleep a lot and be really hungry all the time!
A local's advice for climbing the Manitou Incline
Just do it! Don't let stories stop you from at least trying.
If hiking the Manitou Incline is something you've wanted to do for a long time, and you've been scared or feeling unfit or unprepared — just give it a try.
You might surprise yourself with how much you can accomplish!
Be open to the experience. Try not to put expectations on yourself for what you have to do while on the incline.
Remember to listen to your body and push yourself in a way that doesn't become unsafe.
Don't forget to look around and enjoy yourself! Meet people on the trail and be friendly.
You'll form quite the connection on the Incline. You've been through a lot together!
If you plan on hiking the Manitou Incline, we wish you the best of luck! And remember to have fun.