The Best Airbnb in Crestone, Colorado? Our Luxury Airbnb Experience
This website may contain affiliate links and we may be compensated (at no cost to you!).
Are you looking for a unique place to stay in an Airbnb near the Great Sand Dunes?
We recently had the chance to stay at a custom Airbnb with a private Geodome in Crestone. And it was one of the best experiences we've had in Colorado!
In this guide, we're sharing our personal experience and what you can expect if you book an Airbnb in Crestone, Colorado.
If you're looking for an Airbnb to stay in Crestone, Colorado we highly recommend this Luxury Geodome Retreat. It comes with a main house and a geodome for sleeping under the stars.
Staying in a Luxury Airbnb in Crestone, Colorado
This Luxury Geodome Retreat in Crestone, Colorado is known as Bella Vista, and it's truly a luxurious experience.
It features epic mountain views, a 7-person hot tub, and occupancy for 8 people comfortably with 3 queen beds and 2 twin beds.
Like with most Airbnbs this property is fully furnished and comes with many standard household items.
However, it also comes with extra amenities like EV charging for electric vehicles, a washer and dryer, electric/gas fireplace, and a wide array of spices in the kitchen.
Here is a complete list of the amenities the Luxury Geodome Retreat in Crestone offers:
✔️ Towels, linens, bedding
✔️ Sand boards (for rent)
Yep, if you're visiting the Great Sand Dunes for the day, you can simply rent the sand boards that are available on the property.
Not only that but this awesome Airbnb in Crestone is pet friendly, so feel free to bring your furry friend with you.
How to Get to Crestone, Colorado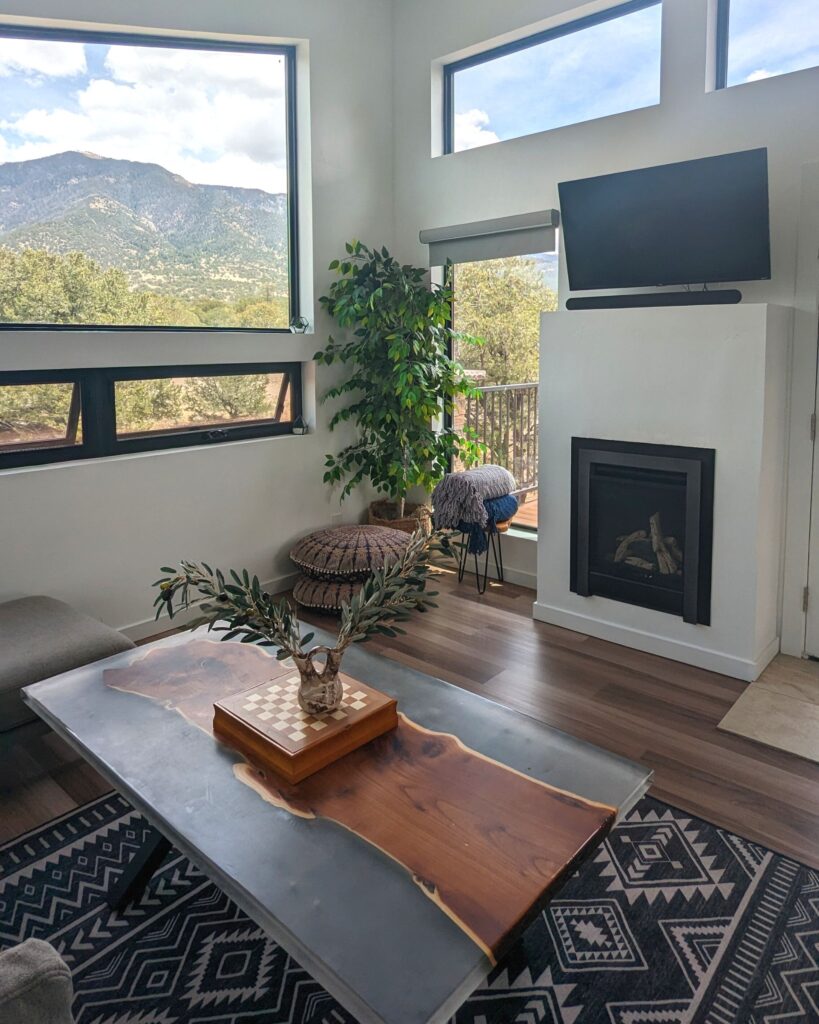 The town of Crestone is a very small and secluded place in southern Colorado. It's located about 2.5 hours west of Pueblo and nearly 3 hours south of Colorado Springs.
If you're coming from Denver, you'll head south on I-25 until you get to Colorado Springs. Then you'll take the route west through Canon City and Salida.
This is the route we took and it's a beautiful drive through small mountain towns, and gorgeous canyons, that only takes a handful of hours.
Public transportation in Crestone is limited so having your own vehicle is necessary to access this Airbnb. If you're flying into Denver, it's recommended that you book a rental car for the duration of your stay.
During the winter, an All-Wheel Drive (AWD) vehicle is a must due to the last mile of the road being dirt and gravel. It can get muddy and slippery during icy and snowy weather.
Why book this custom Airbnb in Crestone?
In addition to all of the amenities that this Airbnb offers, the main appeal is that it's centrally located but still has tons of privacy.
Most guests book this Airbnb to stay near the Great Sand Dunes National Park which is only an hour south from the house.
And the scenic views of this property are like no other. One guest stated that this property offers "billion dollar 360 degree views" and this couldn't be more true!
To the east you can see the San Luis Valley for miles and to the west there are unobstructed views of the Sangre de Cristo Mountains.
This Airbnb in Crestone, Colorado is nestled in a rural neighborhood of this small town. It's very quiet and secluded with rarely a car or neighbor in sight.
This makes for little light pollution at night, so this destination is an incredible opportunity for stargazing at night.
The Perfect Getaway for Couples or Families
Thanks to having multiple bedrooms and plenty of beds, this Airbnb is popular for families with kids. But it's also a great destination for a couple looking for a romantic getaway.
In fact, we celebrated the 10th anniversary of when we met by cooking a yummy dinner, eating on the balcony, soaking in the hot tub, and stargazing to finish the night.
Adults will love how quiet and calm the property is, while kids will love sleeping in the private Geodome.
And there's something to be said about being able to use the private hot tub as many times as you like. We were there for just one night but used it three times! It truly is hot tub bliss.
For cool things to do nearby, there are many nice hiking spots in the area as well as a public "Ziggurat" you can climb that's about a mile from the house.
What to Expect When Book the Crestone Luxury Geodome
This property is exclusively available to book on the Airbnb website. All of the information is listed as well as testimonials from past guests.
The nice thing about this Lux Geodome Retreat is that it's only a few months old and still basically like new. This is actually the first summer it's available for rent.
The property is professionally cleaned and well-maintained before and after guest use.
The grounds are clean with relatively easy paths for walking to and from the Geodome. However, you still feel like you're in the middle of nature thanks to the beautiful Colorado trees and native wildlife.
Once you confirm the dates and finalize your booking, you'll automatically be sent an email with a complete brochure of the property.
This will detail everything you need to know about your stay, including Wifi information, plus check-in and check-out details.
Other info includes the addresses and phone numbers for local emergency personnel, as well as house rules.
A private code will also be sent to you, so you can check yourself in with the smartlock on the door.
About Dan, an Airbnb Superhost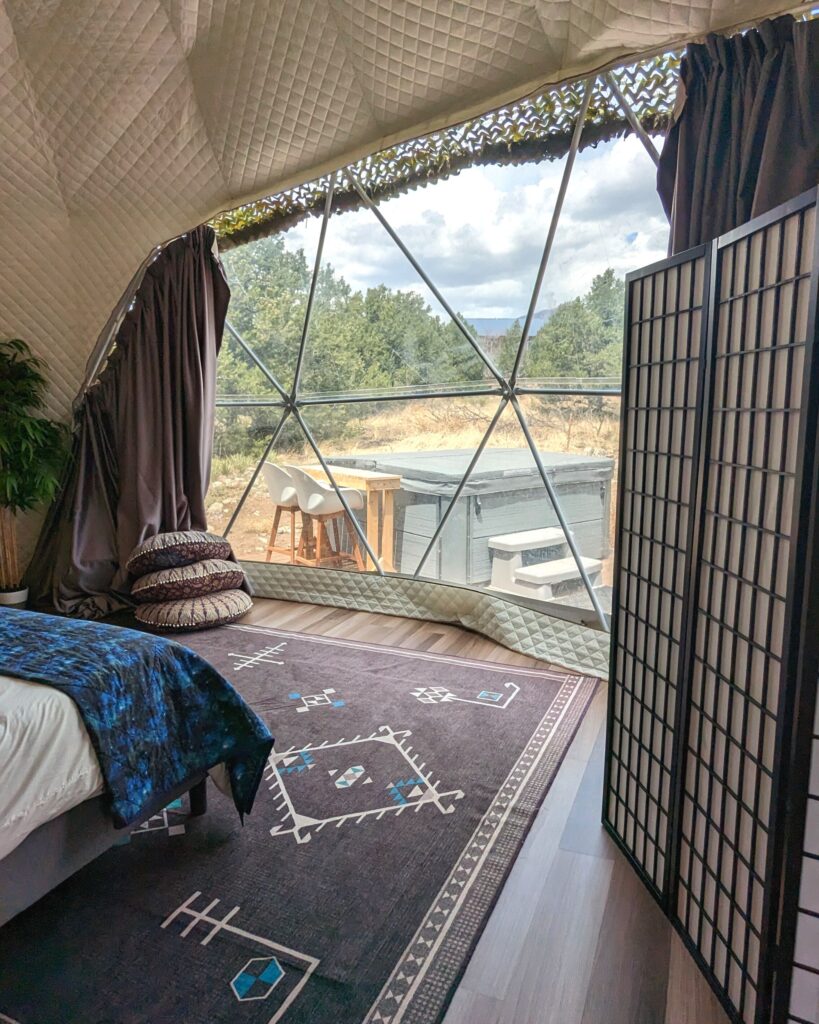 Dan is a professional property manager and the owner of Bella Vista, along with his partner Angeliky.
And this property is actually his second Airbnb in Colorado! You can check out his other property which is a serene mountain cabin in Golden, known as The Lazy Bear Lodge.
So it's safe to say that Dan knows a thing or two about staying in Colorado. In fact, he is a Superhost on Airbnb with an average 4.89-star reviews!
While booking our stay at this Airbnb in Crestone, Dan was in constant communication with us. He helped us make our stay even more comfortable by allowing us to check out a bit later.
After packing up to leave, we forgot to grab the charger for one of our cell phones. So we emailed Dan and he was happy to have anything we left behind mailed to us.
Dan and Angeliky recently spent over a year to create what they call "a labor of love". This Airbnb is one-of-a-kind and completely unique with custom wood and resin dining table and benches.
Near the front door there is a relaxing hanging basket chair that's perfect for taking in the scenic views.
It's these small but custom touches that make this Airbnb in Crestone, Colorado a truly unique experience.
We highly recommend booking a stay at this Luxury Geodome Airbnb Retreat in Crestone, Colorado. It's perfect for a weekend (or weekday!) getaway, or when you're planning to visit the Great Sand Dunes National Park.
If you end up booking a stay, say hi to owner Dan, and tell him that Hashtag Colorado Life sent you! 🙂