Red Rock Canyon Open Space: Best Hiking Near Colorado Springs
This website may contain affiliate links and we may be compensated (at no cost to you!).
Red Rock Canyon Open Space is a true hidden gem that's off the beaten path in Colorado Springs.
Locals love visiting this hiking spot thanks to the wide open space, picturesque architecture, and rustic scenery. The trails are considered easy to moderate levels of difficulty with nothing too hard to climb.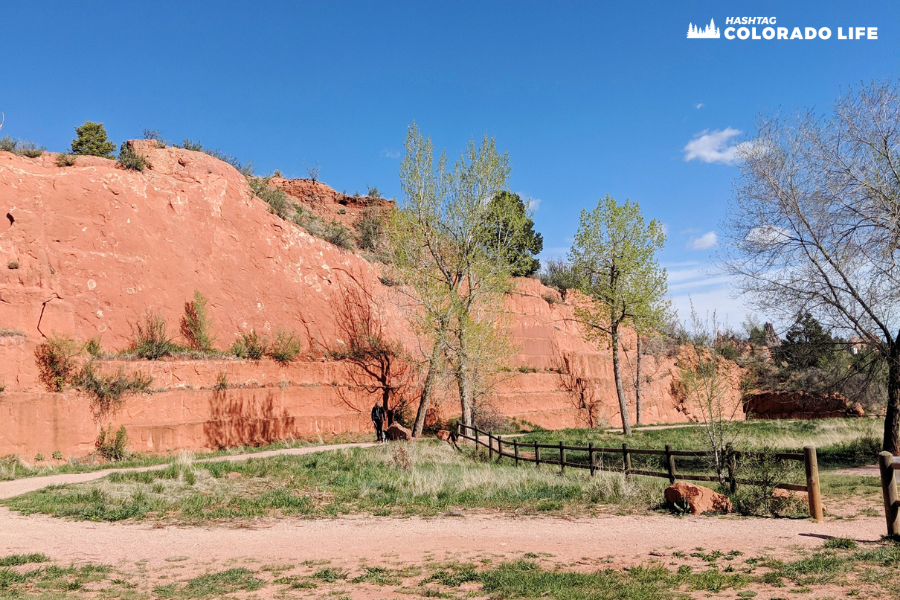 It's a very beautiful hike with gorgeous views that is relaxing for both kids and adults.
On top of the ridge you'll see amazing views of the city below and Garden of the Gods in the distance.
We have personally hiked Red Rock Canyon Open Space many times. And it's one of our favorite day hikes in the Springs.
If you are looking for a unique hike near the Colorado Springs area, that's close to Garden of the Gods, check out Red Rock Canyon Open Space.
The history of Red Rock Canyon Open Space
Red Rock Canyon Open Space is an expansive 1,474-acre city park located in the city, between Manitou Springs and Colorado Springs.
This open space consists of multiple reclaimed sites that were originally used for industrial purposes.
It used to include sites like gravel pits, quarries, a gold refining mill, and a large landfill area.
Throughout the 1920s and 1930s the separate parcels of land were pieced together by John George Bock. Later in 2003, they were acquired by Colorado Springs for recreational use.
Today, there are 11 marked trails ranging from 1.7 to 5.4 miles long and a variety of difficulty levels. Some of the trails are flat and fairly easy while others will really get your heart pumping.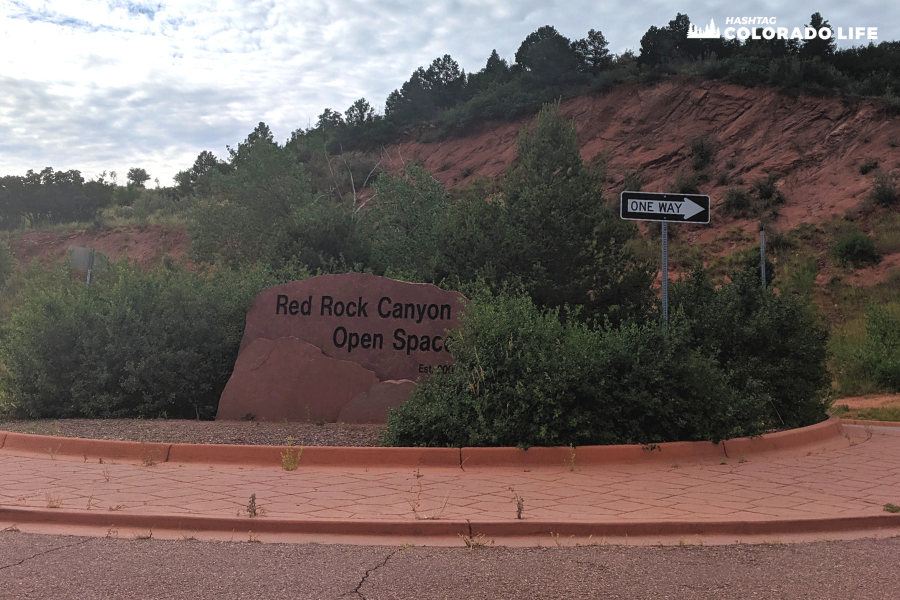 The trails start at about 6,100 feet in elevation and can go as high as 6,800 above sea level.
No matter how many times we hike Red Rock Canyon Open Space we discover a new trail or a new scenic point of view.
The trails are endless and the park is open year round!
How to get to Red Rock Canyon Open Space
Red Rock Canyon Open Space can be found at 3550 W High Street in Colorado Springs, Colorado.
From I-25 take the exit for Highway 24 toward Manitou Springs then travel 3.4 miles west.
You'll see signs for Red Rock Canyon, so turn left onto Ridge Road. Then take the first left at the round-about.
When you first drive by this open space it can be easy to miss it, as there is not much to see from the road. But this is a hiking adventure that's not to be missed!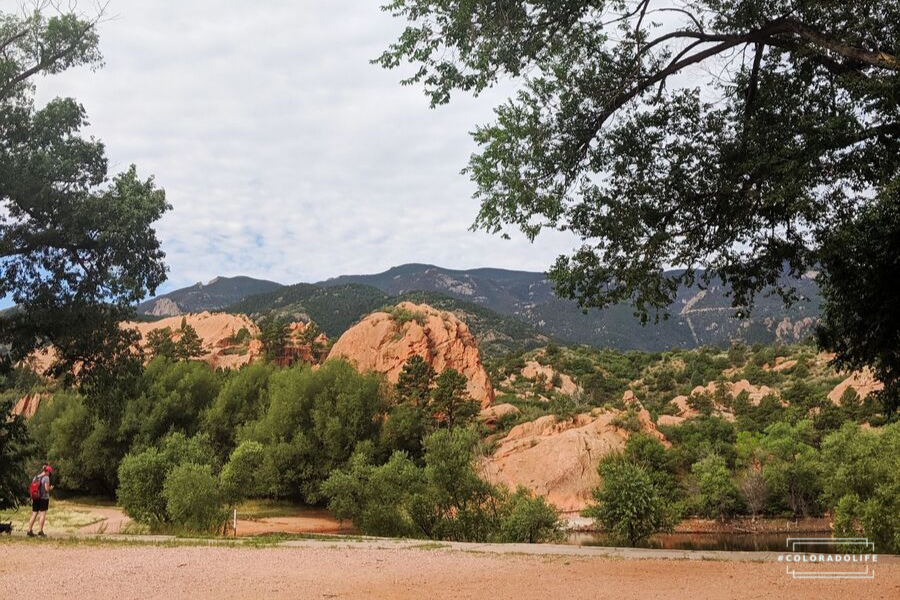 Trail access at Red Rock Canyon can be found from three main parking lots.
The first parking lot is found as you continue through the round-about then taking a right at the stop sign.
Or continue going straight to arrive at the second parking lot. The third parking area is located on 31 Street, just south of Highway 24.
If you are driving from Denver it will take you approximately 1 hour and 15 minutes to reach the park.
Depending on your original location in Colorado Springs the area is a short 15-20 minute drive, and about 9 minutes from downtown COS.
Red Rock Canyon Open Space map and trails
Here is the Red Rock Canyon Open Space map of the trails and where the 3 parking lots are located.
As you can see, we like to park in parking lot two and then make a loop around the entire hiking area.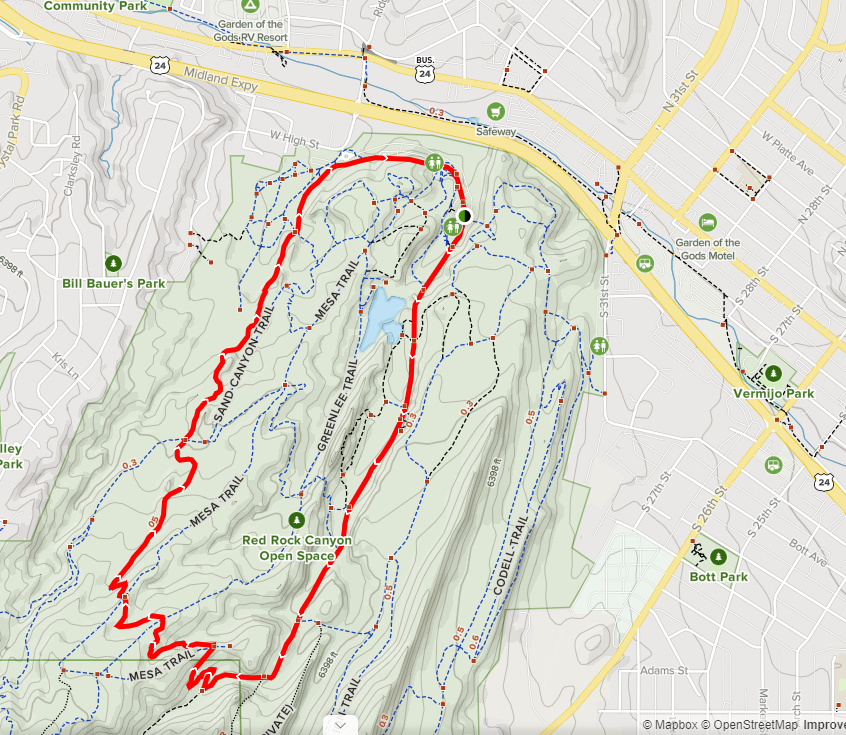 This is a screenshot from when we hiked the Red Rock Canyon, Roundup Trail, Contemplative Trail combination.
This hike is a fairly moderate 3.3 mile loop that starts and ends at the first and second parking lot areas.
Click here to download a PDF copy of the map showcasing the trails and areas to hike.
Tips for Hiking Red Rock Canyon Open Space
Red Rock Canyon is often classified as a "mini Garden of the Gods".
The natural beauty of this outdoor space is thanks to the red rock ridges that line the area (called "hogbacks"), and staggering canyons that have eroded over the years.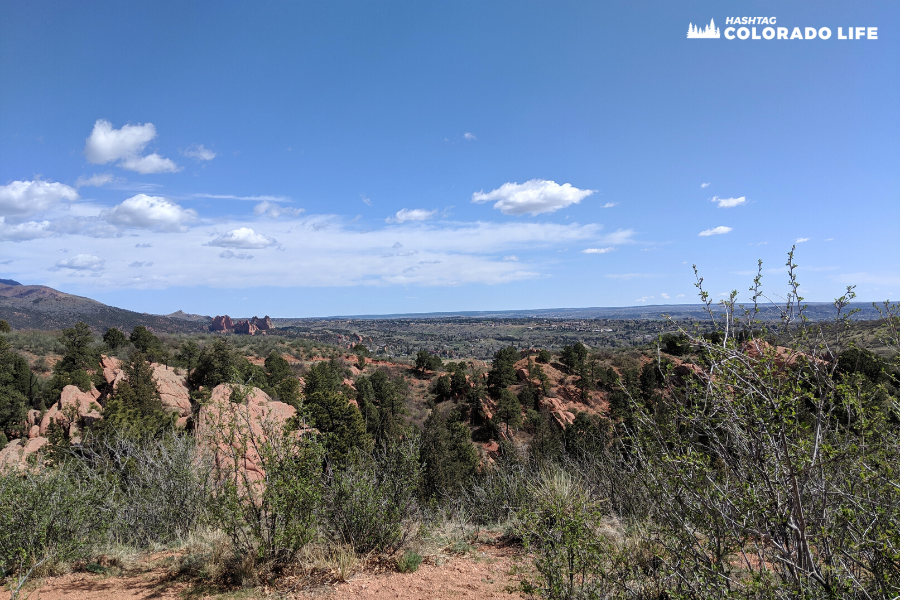 The same sandstone rocks that make up Garden of the Gods, are on display here, including the Fountain Formations that are said to be from the Pennsylvanian Period.
It offers the gorgeous landscape and towering red rocks, but without the amount of people and vehicles.
Here is what you can expect when hiking Red Rock Canyon Open Space for the day.
1. Free parking and hours
Parking at any of the three parking lots is totally free but each closes daily at either 9pm or 11pm.
Between May 1st and October 31st the Red Rock Canyon is open between 5am to 11pm daily. During the rest of the year the park opens at 5am and closes at 9pm.
During peak times, like afternoons or weekends, alternative parking is available across the street near Midland Trail and Fountain Creek.
2. Accessible hiking trails
Red Rock Canyon is made up of two main areas, the Quarry Pass and the surrounding trails, and the space between the hogbacks on the east side.
The Quarry Pass Trail is higher in elevation and is considered an intermediate trail since it's a bit more difficult to climb.
It connects to the Roundup and Mesa Trails creating a 3.9 mile loop with scenic views along the way.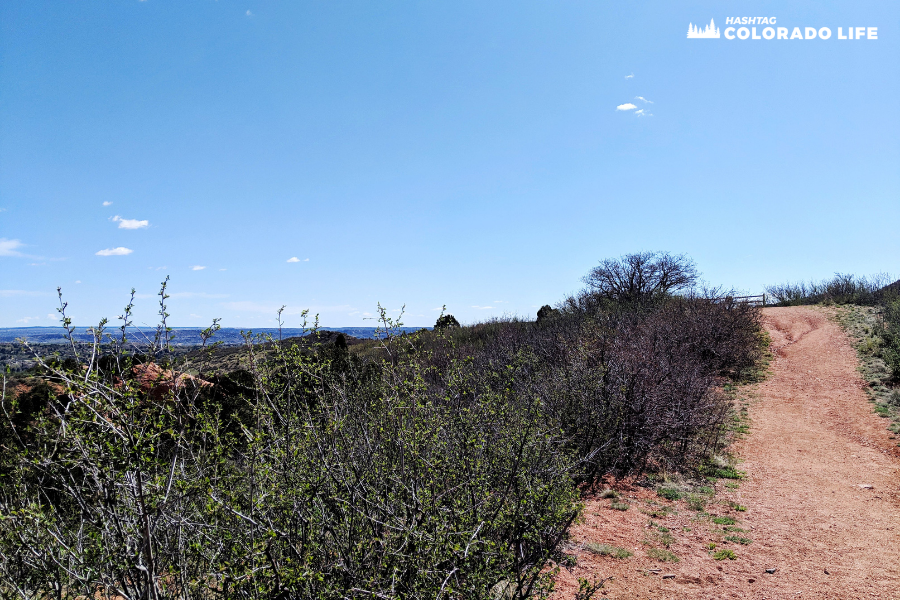 If you are looking for a shorter loop that is easy for young kids and families, we suggest taking the Greenlee Trail that intersects with the Mesa Trail.
This forms a 2.8 mile loop that features a lake at the end of the hike, on your way back to the parking lot.
This trail combo is typically used for nature hikes and is nice for rock climbing as well.
The Red Rock Canyon Trail is a white ADA-accessible trail making it a nice stroll for anyone with disabilities.
This trail starts near the first parking lot location on Ridge Road and continues to the top of the Quarry and then back again.
3. Dogs and horses allowed
Both dogs and horses are allowed on most trails at Red Rock Canyon.
Horseback riding is allowed and there is also an off leash area near Upper Dog Loop that is available for dogs to run free.
You are required to pick up after your dog uses the bathroom, and not leave any trash behind.
4. Kid friendly
As mentioned, many of the trails at Red Rock Canyon Open Space are kid-friendly.
The trails are relatively easy-to-moderate making it a nice place to hike with the whole family.
It offers a good range of hiking terrain that is a great choice for kids and adults of all ages.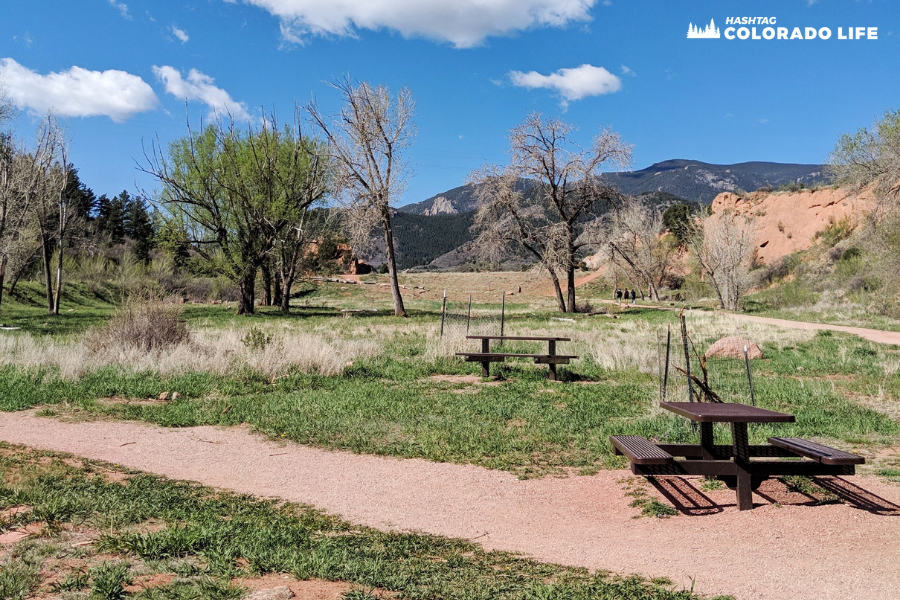 5. Restrooms & picnic areas
There are Porta-Potties that are easily accessible and located at each of the three parking lots.
There is also a restroom building located a bit up on Red Rock Canyon Trail. It is not open year-round though.
The main picnic area is located near the second parking lot as you continue down the path from Ridge Road.
Bring your own food, drinks and snacks to enjoy before or after your hike.
Or grab some food across the street as there are restaurants and bars nearby, as well as a Safeway and Walgreens.
6. Off-limit trails
Some trails within Red Rock Canyon are off-limits to bikes and horses, and are open to hikers only.
A club by the name of "Garden of the Goddesses" helps build and maintain the Contemplative Trail within the park.
They made this trail off-limits to anyone but hikers in order to preserve the meditative quality of the area.
This 1.8 mile long trail is quiet and separated from the traffic and neighborhood noise nearby.
And several benches have been installed to allow for a relaxing, quiet time.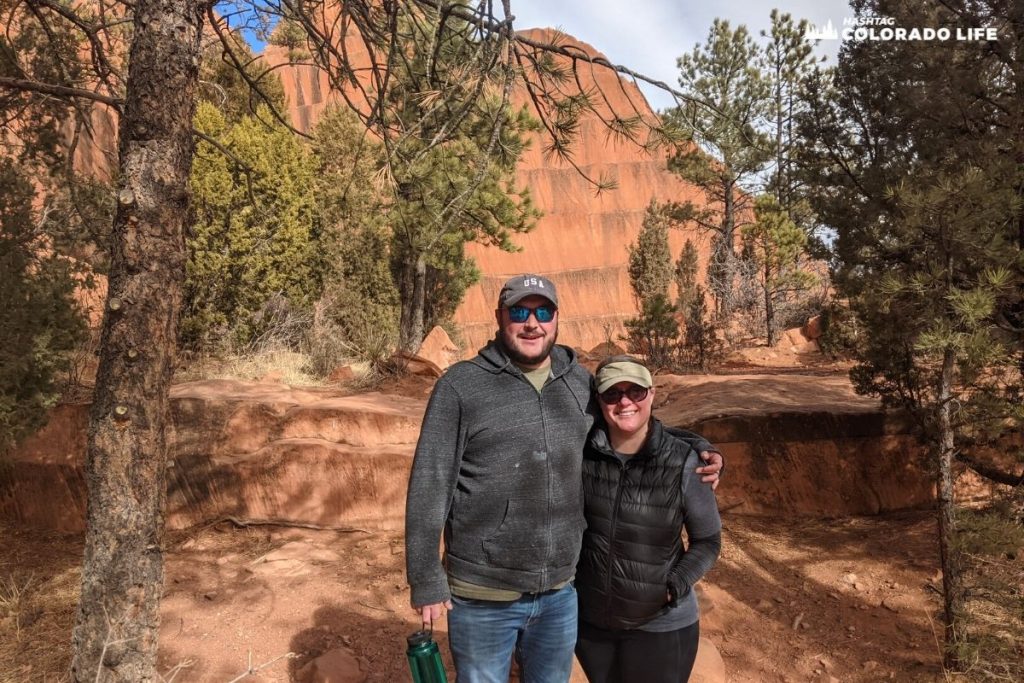 7. Rock climbing allowed
Red Rock Canyon is also a popular spot for rock climbers since climbing is permitted within the park.
There are over 80 technical climbing routes that have been established here. Although, please note that rock scrambling is not allowed.
Climbing is allowed in groups of two or more as long as you have proper equipment.
Any climbing over 10 feet off the ground without a permit is considered illegal at Red Rock Canyon.
Just register at the Garden of the Gods Visitor Center to gain access.
Exploring Red Rock Canyon Open Space
Much like other rocky regions in Colorado, Red Rock Canyon Open Space is rich in archeological features and red rock formations.
The trails are rugged but allow you to traverse them easily. And the park offers views that are stunning from all angles!
This is a hike we highly recommend adding to your bucket list, whether you are a local or just visiting Colorado for a short time.
And with such close proximity to downtown Colorado Springs, Red Rock Canyon Open Space is the perfect day hike destination.
Have you visited Red Rock Canyon Open Space? We would love to hear more about your experience.
Share your adventure or tips with us over on Instagram, @hashtagcoloradolife.