10 Best Natural Hot Springs Near Colorado Springs to Visit in 2023
This website may contain affiliate links and we may be compensated (at no cost to you!).
Want to visit a natural hot springs near Colorado Springs? You're in luck.
There are lots of options for visiting the best mineral-rich waters, without having to drive all day long. In fact, many of the hot springs destinations on this list are just an hour or two away.
There is even one hot spring spa that is just 15 minutes west of Colorado Springs.
Whether you're looking for a relaxing hot springs resort for a weekend getaway, or just want to spend a day relaxing in the mineral waters, this list has you covered.
Keep reading to find out our best picks for the top hot springs near Colorado Springs.
1. Sunwater Spa, Manitou Springs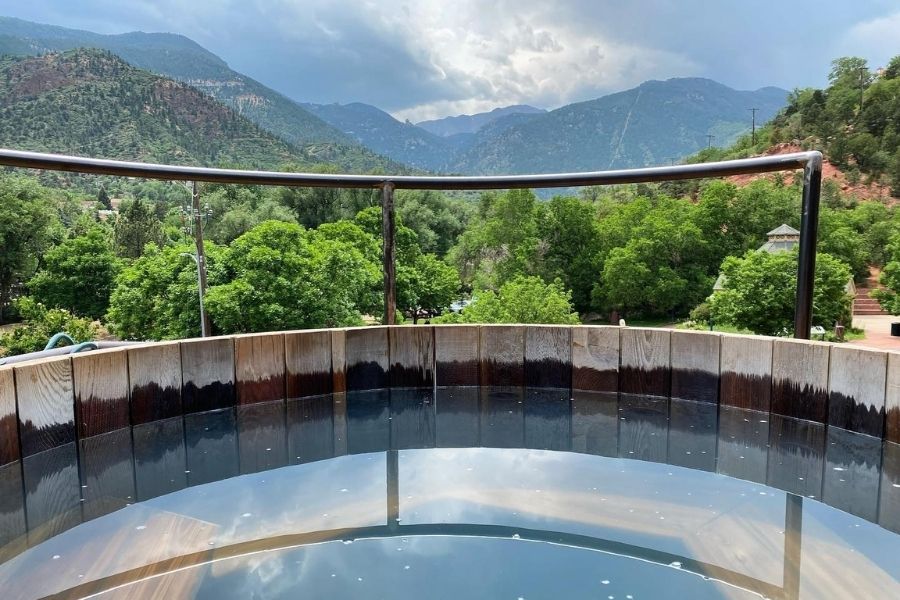 The closest hot springs near Colorado Springs is Sunwater Spa. It's located just 15 minutes west, in downtown Manitou Springs.
(Yep, pretty much every small town in Colorado has the word "springs" or "park" in the name. Lol)
The spa is a local favorite thanks to natural mineral healing waters and unique cedar soaking tubs.
The Sunwater Spa is like most other traditional spa and offers treatments, classes, facials, waxing, and massages to guests.
The hot springs water however, is definitely not traditional. The water that is used at the Sunwater Spa is filled from the nearby 7 Minute Springs which is located in Manitou Springs.
And while this water is not naturally and isn't a typical geothermal spring, the spring water is heated before use.
Sunwater Spa collects the water and heats it at their facility as it fills the cedar tubs for soaking. In fact, the crystal-clear mineral water is heated between 99 to 104 degrees.
Families or couples can book a personal tub for 90-minutes or a private tub for small groups. Or book multiple tubs if you're planning a spa day with friends.
In addition to the cedar soaking tubs, guests get access to the public pools, saunas, and even a cold plunge pool.
After enjoying a day at the Sunwater Spa, take in the sights and shopping available at the nearby city of Manitou Springs.
Taste some delicious food, experience some local shopping, and explore the unique architecture. You can even go on a free Manitou Springs Mineral Springs walking tour!
With views that overlook the Rocky Mountains and city below, Sunwater Spa allows guests to soak away their stress in the naturally hot, mineral water.
Distance: 6 miles
Travel time: 15 minutes
2. Indian Hot Springs, Idaho Springs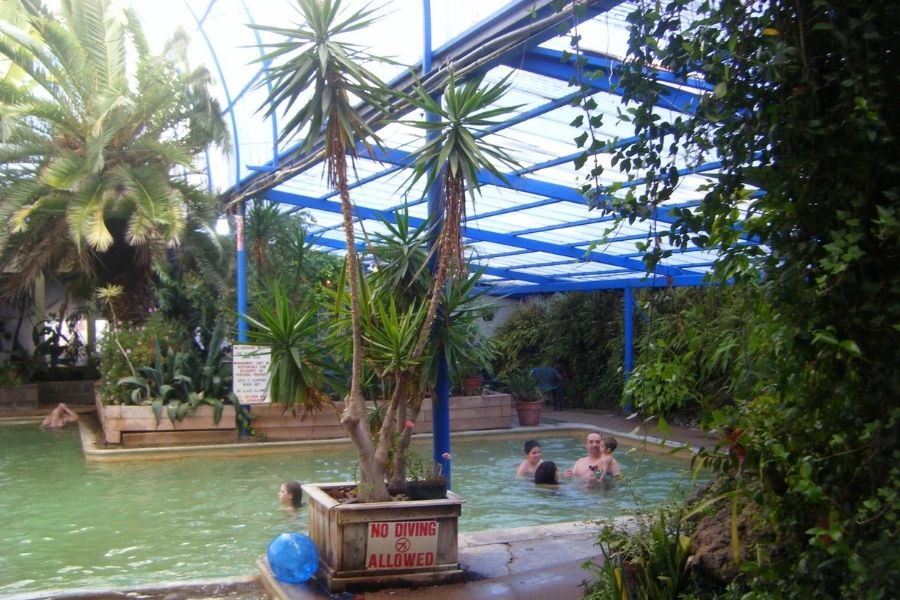 Located very conveniently off I-70 in the town of Idaho Springs, is Indian Hot Springs. This historic hot springs destination is about an hour and half drive from Colorado Springs.
The resort offers a hot springs spa experience that feels like you're escaping to the tropics.
The large bath house is great for swimming or soaking, all of which is indoors under a beautiful glass dome.
It feels like you've been transported to a warm, tropical getaway. The main soaking pool is great for families, couples, and small groups.
At the Indian Hot Springs Resort, guests will also enjoy the outdoor jacuzzis, Roman-style private baths, and geothermal caves that are gender-specific.
The water in the natural mineral springs pools is spring-fed from underground, and stays at a consistent 90-100 degrees.
And if you want something hotter, check out the vapor caves. Inside the geothermal caves the air is very humid and the tubs are kept between 104-110 degrees.
If you're a couple hoping for a relaxing and romantic weekend, or a family who enjoys a hot springs spa, the Indian Hot Springs Resort is the perfect getaway.
Distance: 99 miles
Travel time: 1 hour 32 minutes
3. Cottonwood Hot Springs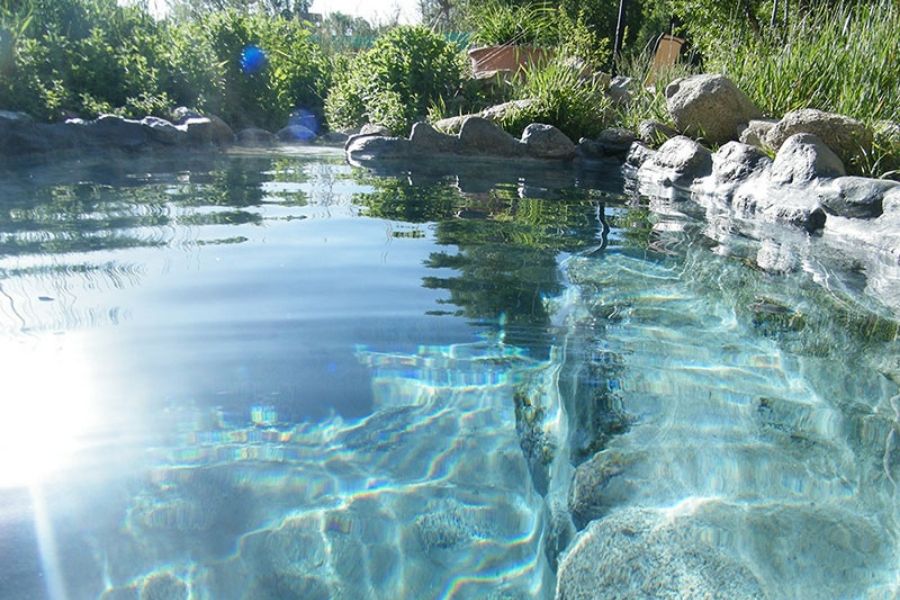 Near the small town of Buena Vista is a wonderful natural hot springs called Cottonwood Hot Springs.
Everything at this resort is natural, there's nothing artificial here!
The design and landscape of the pools and hot springs are made out of natural stone and local rock.
Cottonwood Hot Springs is the perfect place for families or couples to unplug from technology and immerse themselves into Colorado's natural environment.
Guests can stay on site in a Cottonwood Creek-side cabin or lodge with beautiful views of the Collegiate Peaks.
The mineral waters are naturally-fed hot springs pools that are heated between 94-110 degrees.
Choose between quiet soaking tubs or enjoy a personal hot tub in your own private cabin.
Other services featured at Cottonwood Hot Springs resort include facial and body massages, energy scrubs, hydration therapy, and body wraps.
The spa is near the town of Buena Vista which is very near some of Colorado's famous ghost towns.
Not to mention the rolling hills of the San Isabel National Forest. All of which allow for tent camping or dispersed camping in the area.
Distance: 99 miles
Travel time: 1 hour 53 minutes
4. Mount Princeton Hot Springs, Nathrop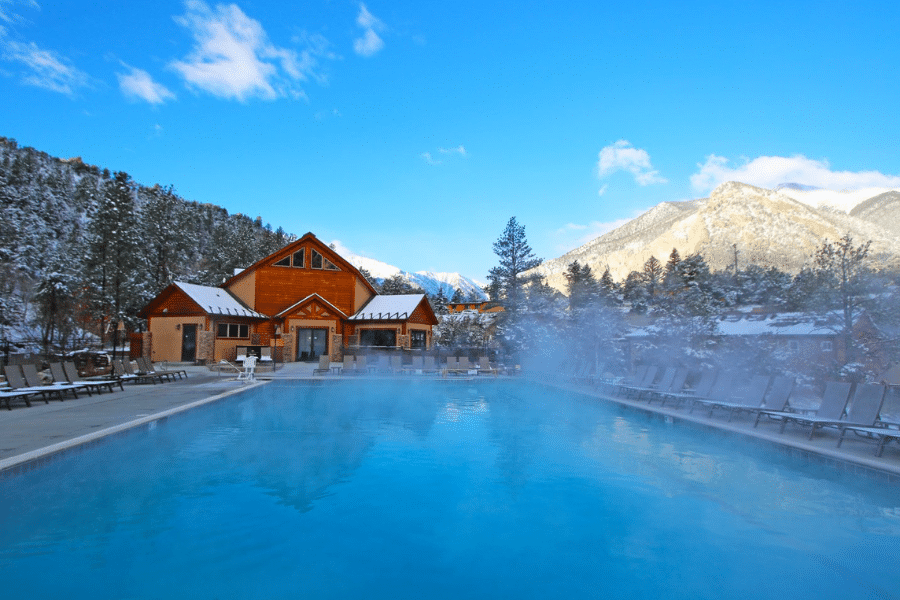 Another hot springs resort located near Buena Vista, in the town of Nathrop, is the popular Mount Princeton Hot Springs Resort.
This is one of the largest and most popular hot springs resorts in the state. And with good reason!
Mount Princeton Hot Springs has a resort-like feel and is the perfect vacation for couples or families to enjoy all year long.
The natural hot springs resort is located next to the Nathrop Chalk Creek Canyon, so the views and experience are unmatched.
One of the main things that sets Mt Princeton Hot Springs apart from the other hot springs near Colorado Springs is for its odorless water.
Most natural hot spring waters have a strong mineral or sulphuric smell, but Mount Princeton is completely odorless.
You and your loved ones can sit back, relax, and unwind in the natural hot springs without having to endure the strong mineral water smell.
Mount Princeton features a wide variety of hot spring pools from creekside soaks and a larger swimming pool.
Plus, you can rent a private hot springs soak along with the other luxury accommodations.
Distance: 101 miles
Travel time: 1 hours 55 minutes
5. Hot Sulphur Springs Resort & Spa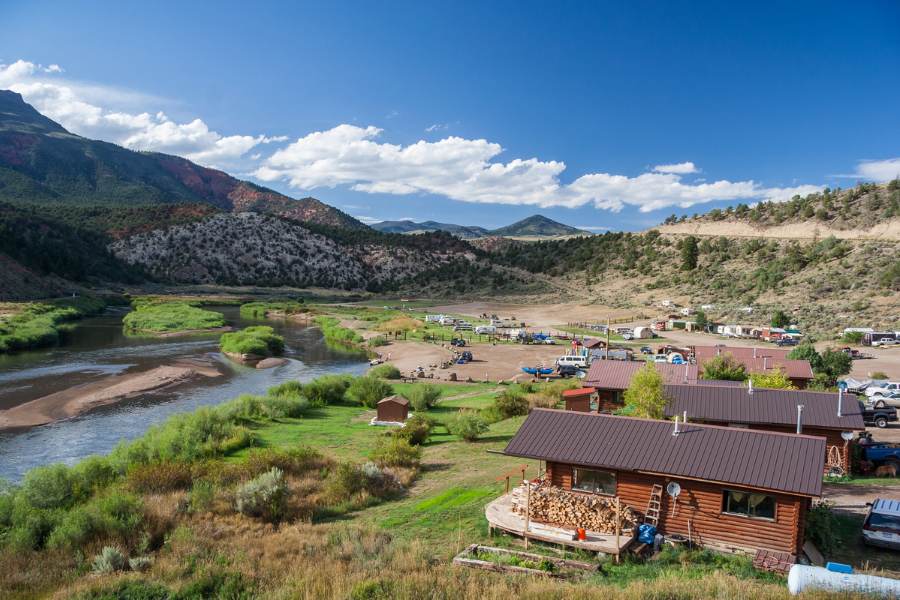 The Hot Sulphur Springs Resort is widely considered one of the oldest and best hot springs resorts in the country. It's located in the city of Hot Sulphur Springs, which is about a 3 hour drive from Colorado Springs.
The seven natural springs have been flowing for hundreds of years and were originally used by the Ute Indians.
These mineral waters bubble up from the ground at a constant 104-126 degrees and keep the resort's twenty-one hot springs pools heated.
Different pools have different temperatures so you can hop from pool to pool until you find the best fit.
In addition to enjoying a hot soak in the hot springs, check out the spa! Here you can book a Swedish massage, body wrap, salt glow, or deep tissue massage for further relaxation.
Guests who book a massage will also receive a free 1-hour session in the hot springs pool.
The one thing to note is that the Hot Sulphur Springs lives up to its name and has some of the stinkiest mineral water in the state.
Still, it's a great hot springs near Colorado Springs that is worth a visit.
Distance: 162 miles
Travel time: 3 hour 9 minutes
6. Glenwood Hot Springs Resort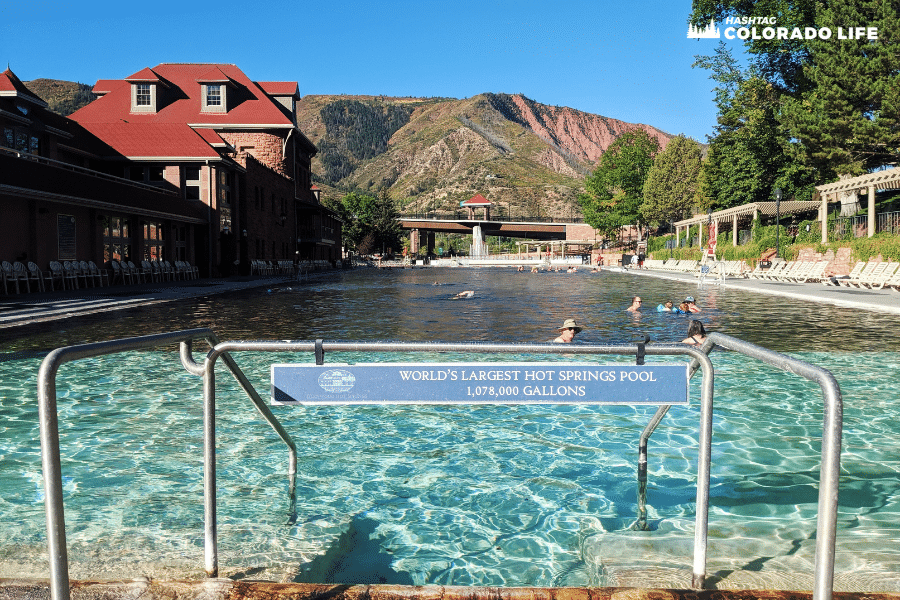 Glenwood Hot Springs Resort is one of the top mineral hot springs resorts in the state. It's a place we visit every year in the fall or winter months, and love it more every time.
The Glenwood Hot Springs is home to the world's largest hot springs pool, which produces over 3.5 million gallons of water every day.
Guests who visit the Glenwood Hot Springs Resort can stay across the street at the Hot Springs Lodge. You'll get access to free parking, and a free hot breakfast made to order.
The large lap pool is perfectly heated at about 90 degrees, while the smaller therapy pool is heated to 104 degrees.
Kids and adults can enjoy a weekend riding on a tube in the lazy river or playing in the Sopris Splash Zone.
Plus, the city of Glenwood Springs is centrally located close to the popular ski towns of Vail and Aspen. This is the perfect way to relax after a long day skiing or snowboarding.
Distance: 202 miles
Travel time: 3 hours 57 minutes
7. The Springs Resort & Spa, Pagosa Springs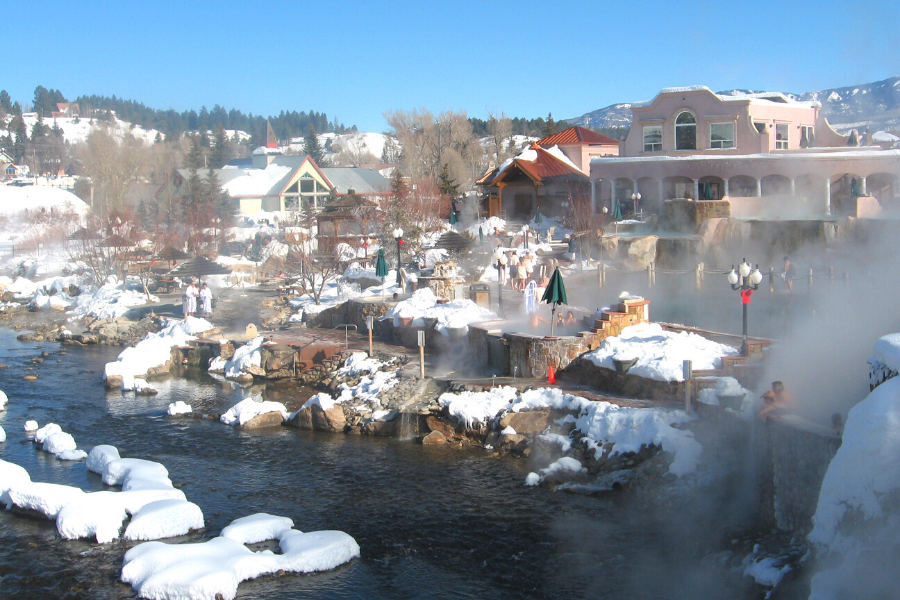 An epic resort that tops most lists is The Springs Resort & Spa at Pagosa Springs. This resort boasts more than 20 hot mineral-filled soaking pools, including the world's deepest geothermal hot spring.
It's also a family-friendly resort with pools that have been a staple in Colorado for over 100 years. The resort and spa is more like a traditional health club with plenty of amenities.
A full-service salon and spa are also on-site and provides guests with every opportunity to relax and unwind in style.
In addition, take advantage of the fitness center, workout classes, body massages, and even free childcare.
The luxury hotel is LEED-certified for its environmentally conscious design. Plus, the Springs Resort & Spa includes sweeping views of the San Juan Mountains from the hotel and the pools.
The naturally hot mineral water is pumped out of the ground at approximately 220 gallons every minute.
There are 8 pools across the entire resort, each with varying temperatures, ranging from an 80-degree lap pool to 103-degree Heart Spring.
Kids of all ages will love the waterfall, water slides, splash pool, as well as the main swimming area.
Distance: 253 miles
Travel time: 4 hours 19 minutes
8. Iron Mountain Hot Springs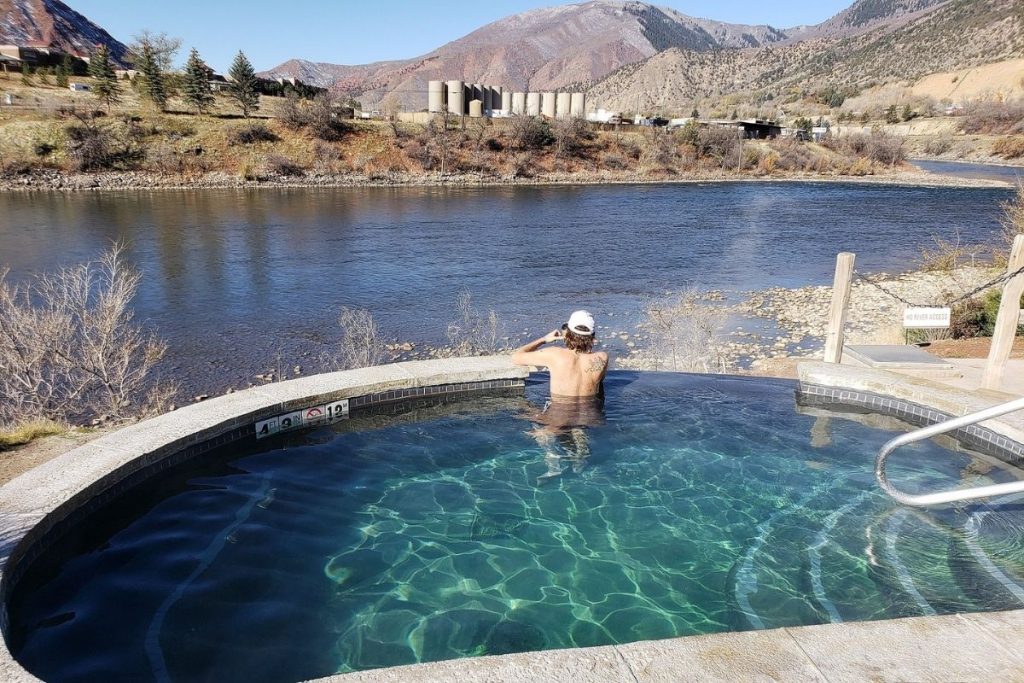 Also located in the town of Glenwood Springs is Iron Mountain Hot Springs. This resort caters more towards couples and adult getaways, versus families like Glenwood Hot Springs does.
The mineral hot springs pools are on the banks of the beautiful Colorado River with scenic views of the Rocky Mountains.
The natural hot springs water is fed from the historic Iron Springs Spa and features 16 mineral soaking pools as well as a larger freshwater pool.
Plus, there are also quiet zones for adults who want to relax and soak away stress. Iron Mountain Hot Springs is a local favorite if you're just looking to relax and unwind.
The main difference here is that there is no on-site lodging so you will have to book a hotel nearby and drive to the resort.
Distance: 203 miles
Travel time: 4 hours 11 minutes
9. Strawberry Park Hot Springs, Steamboat Springs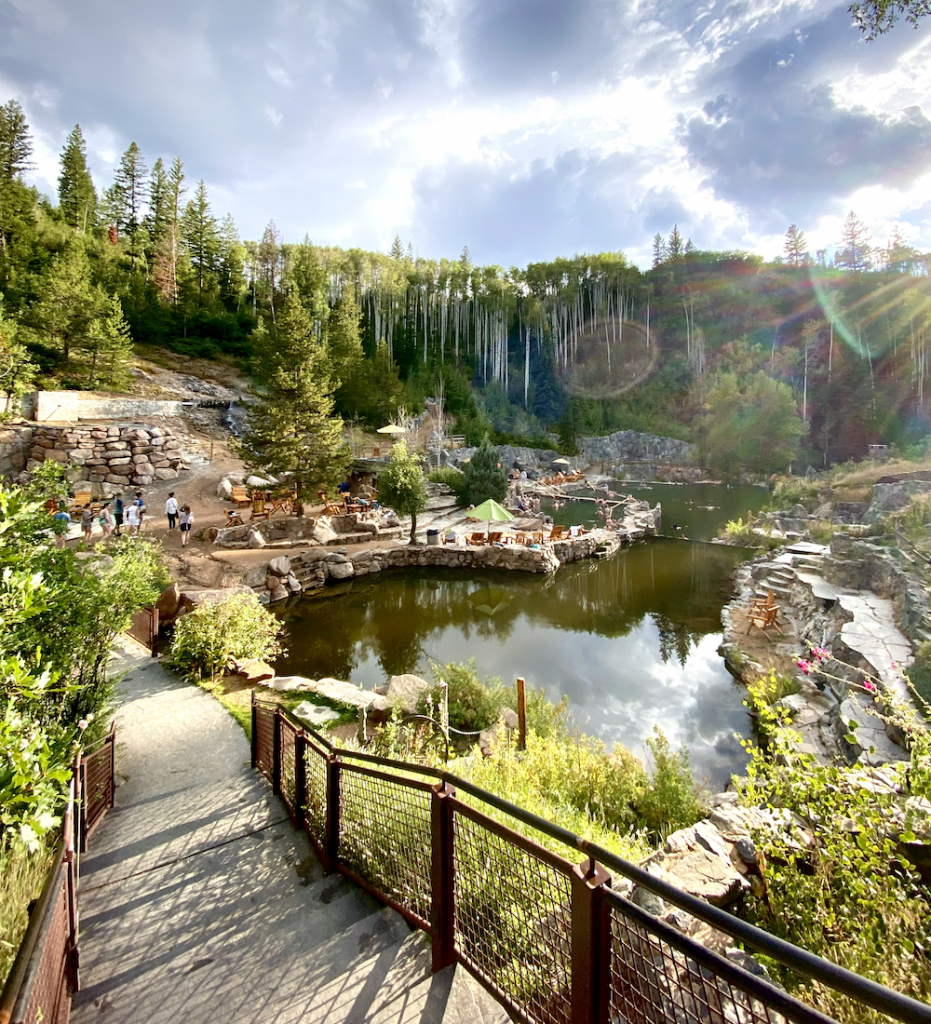 If you want to stay away from the big resorts and are looking for a rustic hot springs experience with natural wonders, check out Strawberry Park Hot Springs.
Located just 7 miles from Steamboat Springs, this hot springs destination doesn't have the amenities the other fancy resorts offer. However, it's a true oasis in the middle of the mountains.
The hot springs are customized thanks to being able to form your own pools inside the nearby Hot Spring Creek.
Control the temperature of the water by mixing in the hot natural springs with the cold river water. And after dark, Strawberry Hot Springs becomes clothing optional.
Stay in a tent or rent one of their rustic cabins and enjoy the naturally occurring geothermal waters. Or you can stay in a hotel in Steamboat Springs and drive to Strawberry Park during the day.
Distance: 214 miles
Travel time: 4 hours 40 minutes
10. Durango Hot Springs, Durango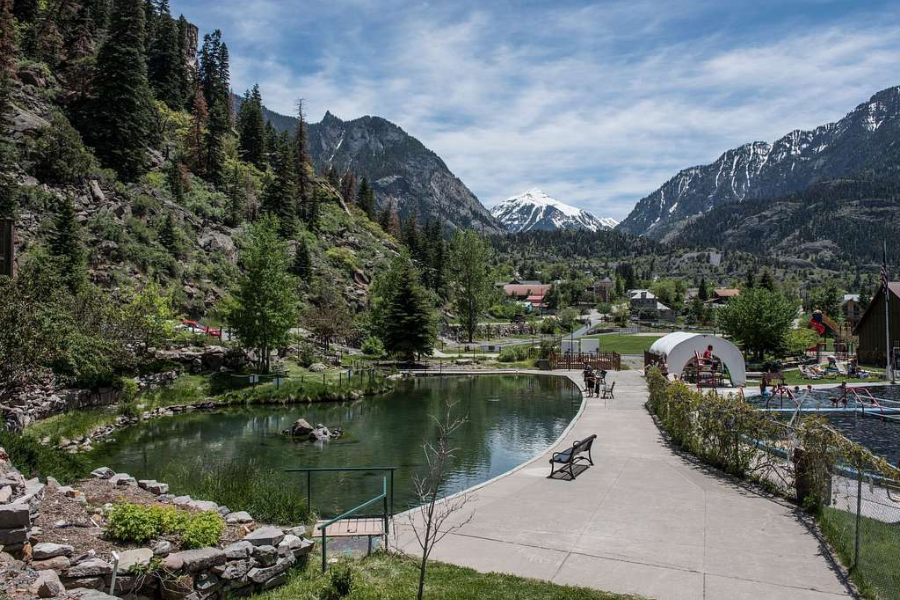 Located in the southernmost corner of Colorado, deep in the San Juan National Forest, sits the luxurious Durango Hot Springs Resort & Spa.
It is the only hot springs in the world to utilize the AquaGen water system to infuse all the pools with micor-meter oxygen bubbles.
The large naturally heated mineral pool is perfect for doing laps or to simply sunbathe poolside.
As of 2022 the Durango Hot Springs Resort has undergone a gorgeous redesign and now offers an even better guest experience.
Guests can enjoy 16 natural mineral hot springs soaking pools, 8 private Japanese-inspired cedar soaking tubs, a reflexology walking path, and a mineral water rain tower.
Other amenities include relaxing body massages, time in the sauna, and a cold plunge pool.
The resort is surrounded by beautiful mountain views, not to mention tons of things to explore in the nearby city of Durango, Colorado.
Distance: 322 miles
Travel time: 5 hours 47 minutes