by Ryan Nicholson
|
Last Updated:
September 24, 2021
The content of this website may contain affiliate links and we may be compensated (at no cost to you!). Thank you for your support!
From scenic drives to epic places to take photos, Colorado has no shortage of beautiful places to see fall colors.
And one of the best ways to enjoy the autumn foliage is via a fall hike.
In this guide we're sharing our favorite fall hikes in Colorado and what makes each one unique.
And the best time of year for hiking these trails is typically in late September or early October.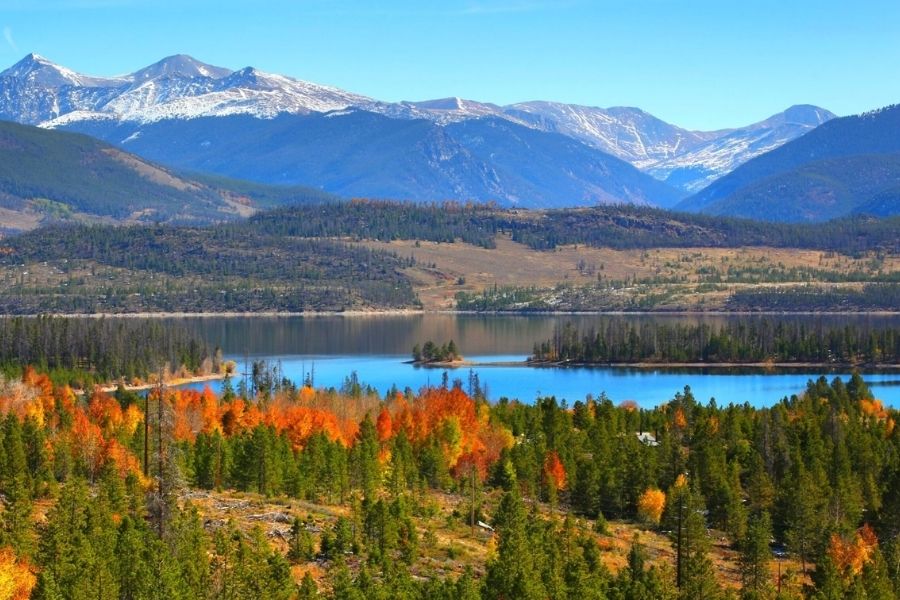 Grab your camera and get ready for cooler temperatures, stunning scenery, golden aspens, and picturesque trails.
Here are the 9 best fall hikes in Colorado to see colors near Denver.
1. First Flatiron in Boulder
If you're looking for a beautiful fall hike near Denver, the First Flatiron trail in Boulder is a great pick.
Hiking the First Flatiron in Boulder Open Space is a challenging hike but it's only a 2.7 mile loop.
And the views at the top are unmatched as you take in the breathtaking fall views of the Continental Divide.
There are two access points to start this route, Chautauqua Trailhead or Enchanted Mesa Trailhead.
Distance: 2.7 miles round trip
Difficulty: Moderate to hard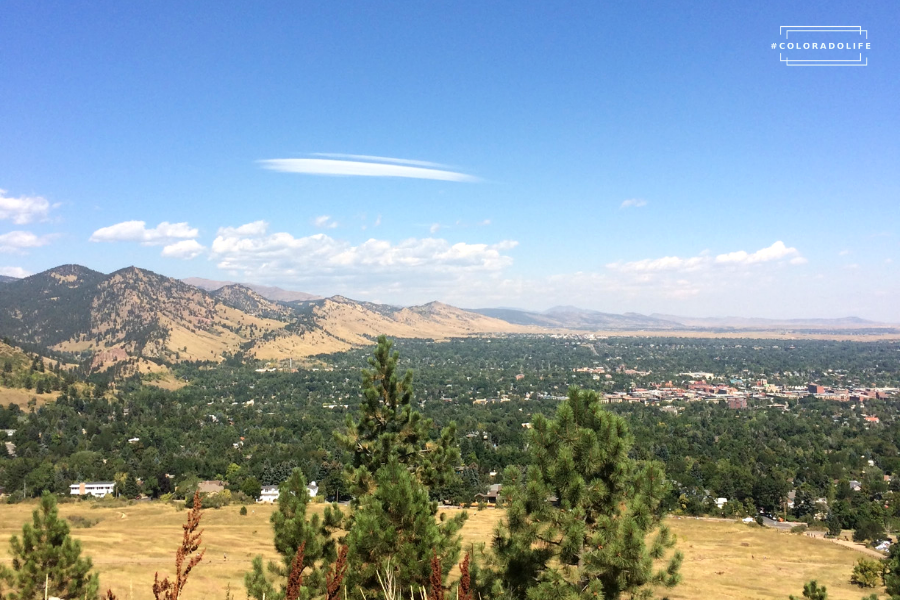 2. Fern Lake Trail in Rocky Mountain National Park
Located in Rocky Mountain National Park, Fern Lake Trail is a 3.4 mile out and back trail that features a gorgeous alpine lake.
Due to the varying lengths of the hike the trail could be fairly easily and short or longer and more difficult for ambitious hikers.
But any length you choose will yield forest views, golden trees, and sparkling water at Fern Lake.
The beginning of the trail is a perfect fall hike for families. And during the summer this trail is a popular backpacking spot in Colorado.
Distance: 7.5 miles round trip
Difficulty: Easy to moderate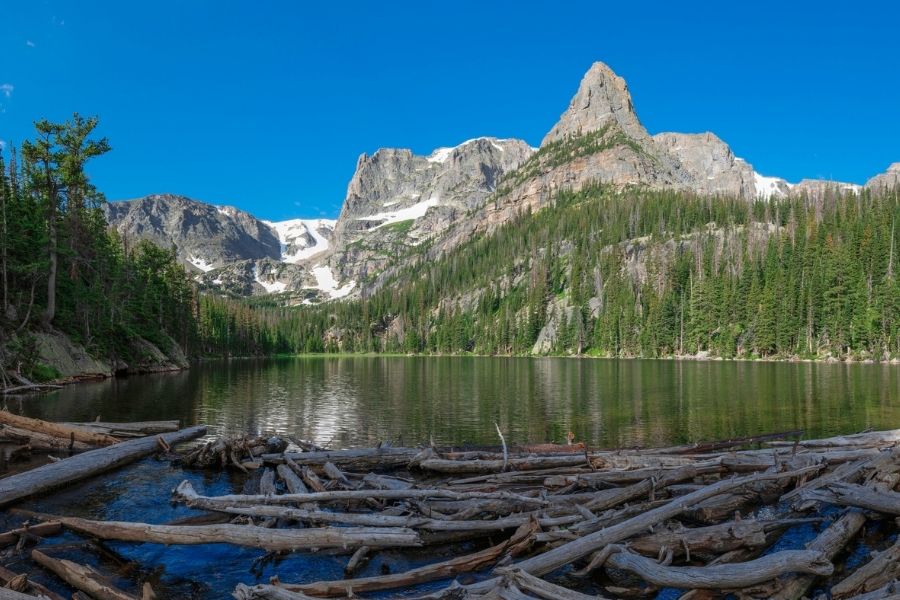 3. Upper Piney River Falls Trail near Vail
If you're looking for a fall hike with open meadows, spectacular views, and a cascading waterfall then check out the Piney River Falls Trail near Vail.
This fall hike has been likened to being Vail's version of the Maroon Bells near Aspen.
And this nearly 6-mile roundtrip hike does not disappoint. Hikers will enjoy views of the mountains, wild animals, green meadows, and a gentle waterfall.
Upper Piney River Falls is one of the best ways to see great views and gorgeous fall colors in Vail.
Distance: 5.9 miles round trip
Difficulty: Moderate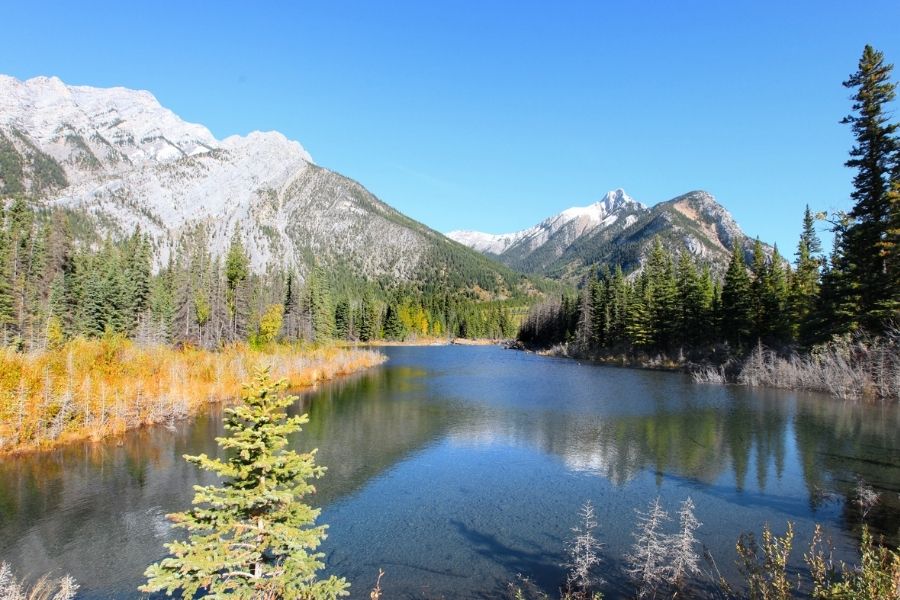 4. Burro Trail in Golden Gate State Park
When most people think of fall in Colorado they think of golden aspen trees and colorful fall foliage.
One of the best places to see both is via the Burro Trail Loop to Windy Peak in Golden Gate State Park.
This 6.7 mile loop trail is located just 20 minutes outside of Golden, Colorado near Boulder.
At the top of Windy Peak you'll see stunning views of the foothills complete with Colorado fall colors.
The trailhead is easy to access via Drew Hill Road with many beginner trails close by with even more stellar views.
It's no wonder this is one of the best fall hikes in Colorado to watch the trees change color.
We recommend going for a hike on a weekday as the weekends can be quite busy since it's a state park.
Distance: 6.7 miles round trip
Difficulty: Moderate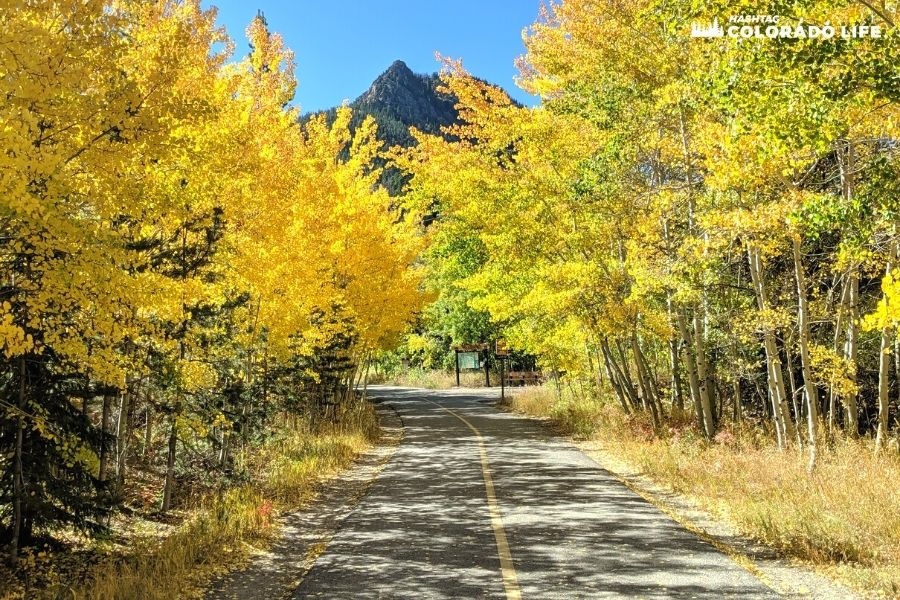 5. Crater Lake near Maroon Bells in Aspen
By far one of the most picturesque views in all of Colorado are the Maroon Bells in Aspen. And the best way to access this area is via Crater Lake.
Crater Lake is nestled in the center of Maroon Valley with sister mountains, Maroon Peak and North Maroon Peak, rounding out the views.
This 3.5 mile trail, located in the Snowmass Wilderness, is a moderately difficult hike.
Crater Lake features beautiful wildflowers in the summer and vibrant Colorado colors during fall.
If you're looking for an easier hiking trail, we recommend the Maroon Bells Scenic Loop Trail.
This 1.9 mile loop is great for families and tourists staying in Snowmass Village. However, this is a very high-trafficked trail and often quite busy.
Distance: 3.5 miles round trip
Difficulty: Moderate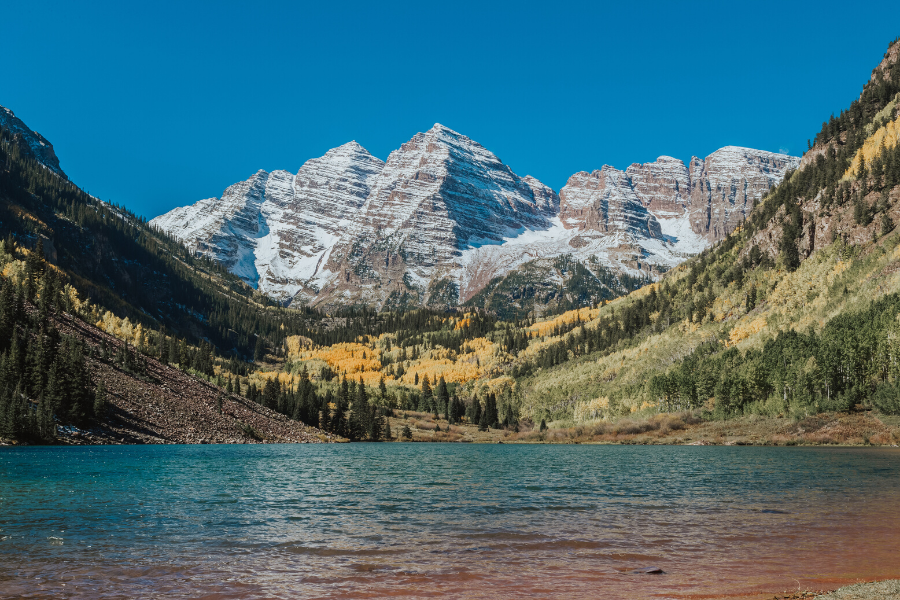 6. Seven Bridges Trail in Colorado Springs
Another superb fall hiking trail for fall colors is Seven Bridges Trail in Colorado Springs.
At the top of the climb, you'll be rewarded with expansive mountain views and a crystal clear waterfall.
Seven Bridges Trail is a 3.5 mile trail located alongside North Cheyenne Creek.
Like the name suggests, hikers will walk over seven small bridges while meandering alongside the creek.
Looking east as you continue hiking the trail offers vivid views of the mountainside and colorful valley below.
There are additional miles of trails nearby with plenty of scenic views of the Front Range.
The trailhead is easily accessed via Upper Gold Camp Road or parking can be found at LOT 18 on weekends.
Distance: 3.5 miles out-and-back
Difficulty: Easy to moderate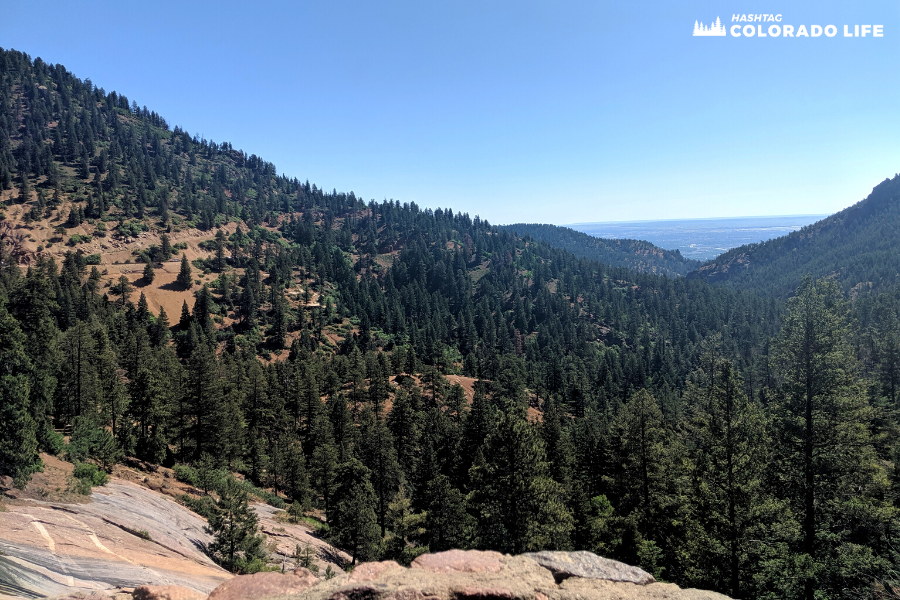 7. Kebler Pass near Crested Butte
Kebler Pass is well-known for offering epic views of fall foliage from the comfort of your car.
But it also offers many different trails that can be hiked on foot. As you're traveling west for about 4.5 miles, stop off and park near the ravine.
There is a small trail on the left side of the stream where you can enjoy some leaf peeping near Crested Butte.
Along the way keep your eyes open for gold mines and avoid any old shafts.
Once you're at the top of Gunsight Pass enjoy the views, then turn back the way you came.
Distance: 4.5 miles round trip
Difficulty: Moderate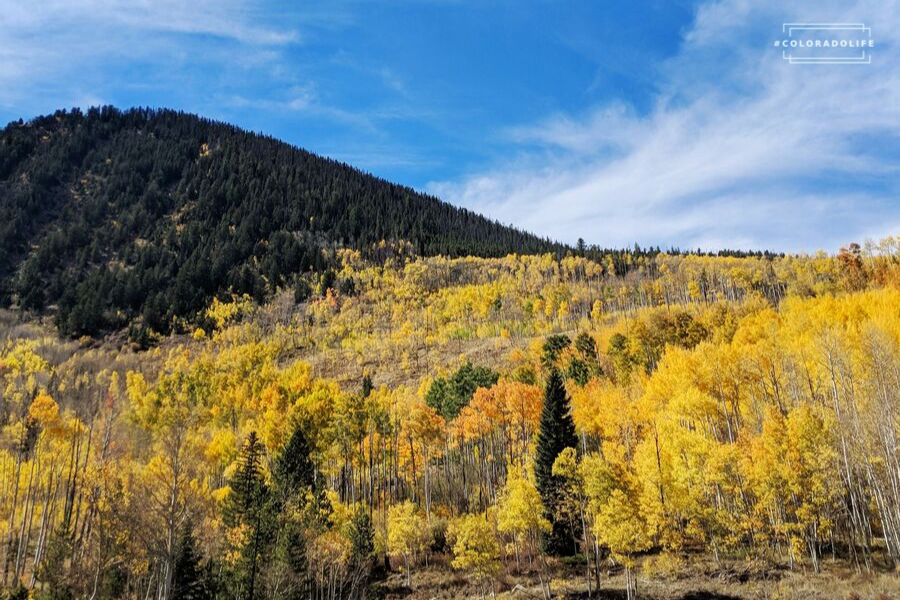 8. Creekside/Flume Loop Trail in Winter Park
The town of Winter Park is one of our favorite vacation spots in the winter.
But it also has some of the best hiking in the fall season thanks to the Creekside and Flume Trail.
Located approximately 10 minutes from downtown Winter Park, this trail is 5.7 miles long and a local favorite.
The Creekside and Flume Trail has everything you could want on a fall day.
Along the path you will find a bridge, an open meadow, great views, golden aspen groves, and a river.
The 5-mile loop is the perfect trail for hikers and mountain bikers. At the top there is a small lookout bench with gorgeous views of Byers Peak in the distance.
Distance: 5.7 miles round trip
Difficulty: Easy to moderate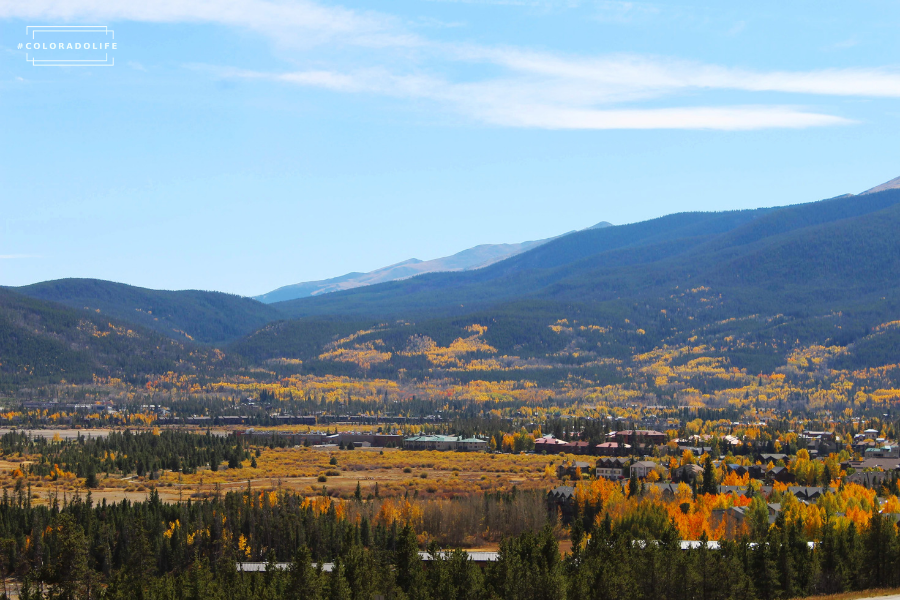 9. Rainbow Gulch in Woodland Park
Rampart Reservoir via Rainbow Gulch is a hidden treasure near Woodland Park. The reservoir is a local hot spot for camping, fishing, and hiking.
This 3.4 mile out-and-back trail features a beautiful lake and is considered an easy hike. In fact, many locals enjoy this hike for trail runs and nature trips.
The path follows a small creek and is surrounded by lush, green woods, aspen forests, and the lake at Rampart Reservoir.
Evergreen trees and wildflowers pepper the area and make for a beautiful hike in autumn. You can expect to see some nice wildlife too!
Distance: 3.4 miles out-and-back
Difficulty: Easy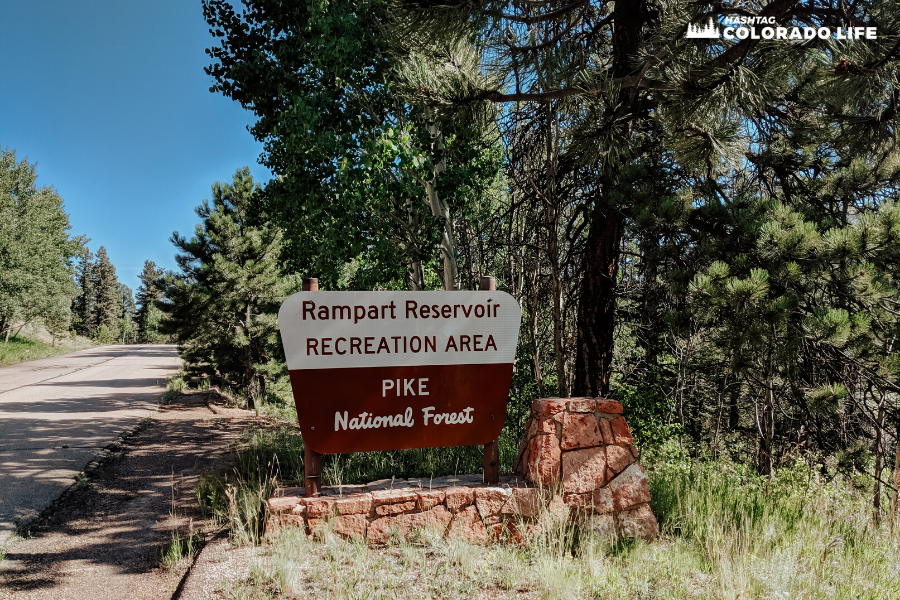 Whether you're seeking pine forests, a dirt road, changing aspens, or just beautiful views right now, these are the best hikes to see the colors change in fall.
Ryan Nicholson is a homegrown born and raised Colorado native. Being a rare unicorn to have grown up in CO, he has a unique perspective on the changes here and knows all the hidden spots to get outside in this state. Ryan's a classically French trained chef so he LOVES to try new foods and places to eat. When he's not experimenting in the kitchen or working as a personal chef along the Front Range, he loves to get outdoors and away from it all hiking, camping and backpacking.