16 Best Small Towns to Live in Colorado as Ranked By a Local
This website may contain affiliate links and we may be compensated (at no cost to you!).
As a Colorado resident, I've spent my life exploring the highways and byways of this beautiful state.
This has enabled me to discover many small and idyllic communities to live in. And many deserve to be considered the best small towns to live in Colorado.
The state is full of surprises, from stunning Victorian architecture to the dusty allure of abandoned mines.
When you settle in one of these small towns in Colorado to live, you'll discover tightly knit communities and a wealth of outdoor recreation.
If there are so many great small towns in Colorado to live in, how can you choose one? I'm going to help you out by sharing the best small towns to live in Colorado.
1. Breckenridge
Breckenridge has a population of just over 5,050 residents and is one of the best mountain towns in Colorado to live in.
As a former mining town, it's perhaps best known for its skiing and small-town charm that is loved by locals.
It is one of the best skiing destinations globally. While the skiing is fantastic, you'll also find plenty of things to do year-round, such as whitewater rafting, hiking, and horseback riding.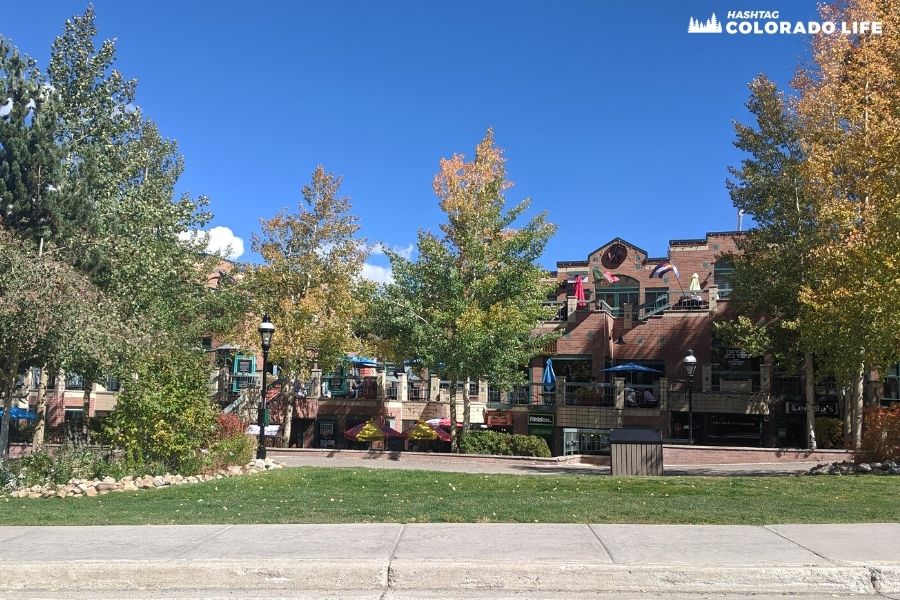 Breckenridge is perfect for anyone who loves art. The town boasts plenty of galleries, studios, and spaces dedicated to creativity and performances.
There are always lots of artistic workshops, such as candle making and sculpture.
Breckenridge also boasts the largest historic downtown area when it comes to small towns in Colorado. You can even tour an old mining site at the Cowboy Mine.
2. Manitou Springs
While Manitou Springs could be considered a suburb of Colorado Springs, I think it deserves a spot on this list of the best small towns to live in Colorado.
Similar to Breckenridge, Manitou Springs has a population of about 5,000 residents. The town is considered a resort city or a destination city within the state.
It's known for its free mineral springs waters, the Manitou Incline Trail, the Manitou Cliff Dwellings, the Penny Arcade, and unique shops and restaurants along main street.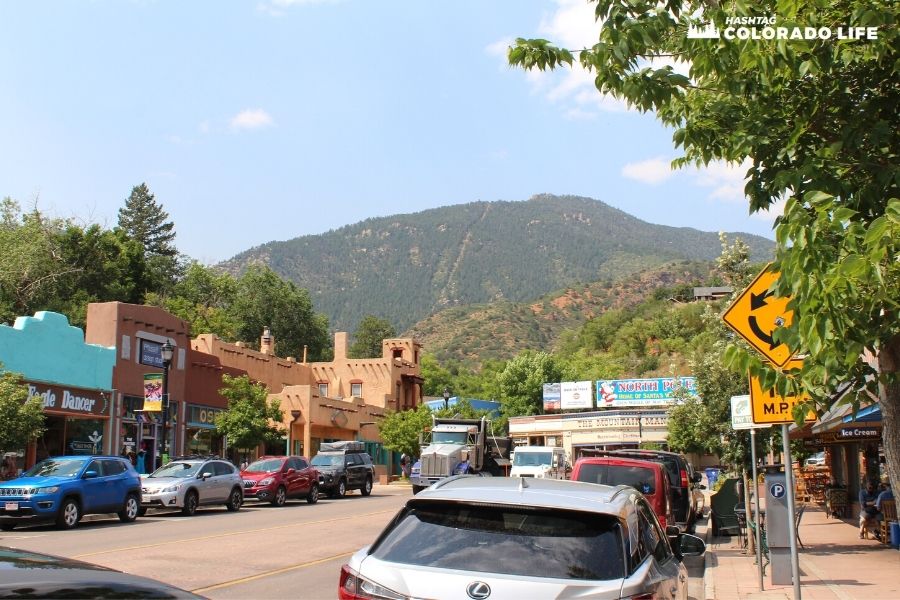 The town is also home to many different art galleries and specialty boutiques and coffee shops.
Due to the town's location, you won't find any housing developments here. Manitou Springs backs up to mountainous landscapes with homes built into the side of cliffs and hills.
All of the character, shopping, and things to do in Manitou Springs make it a great place to call home.
3. Estes Park
Estes Park is a beautiful town, surrounded by the Rocky Mountains and adjacent to Rocky Mountain National Park.
With a population of just over 6,500 residents, Estes Park has a lot to offer those who want to live in a small Colorado town.
With year-round outdoor activities including rock climbing, skiing and hiking, Estes Park is a great place to relax and connect with nature.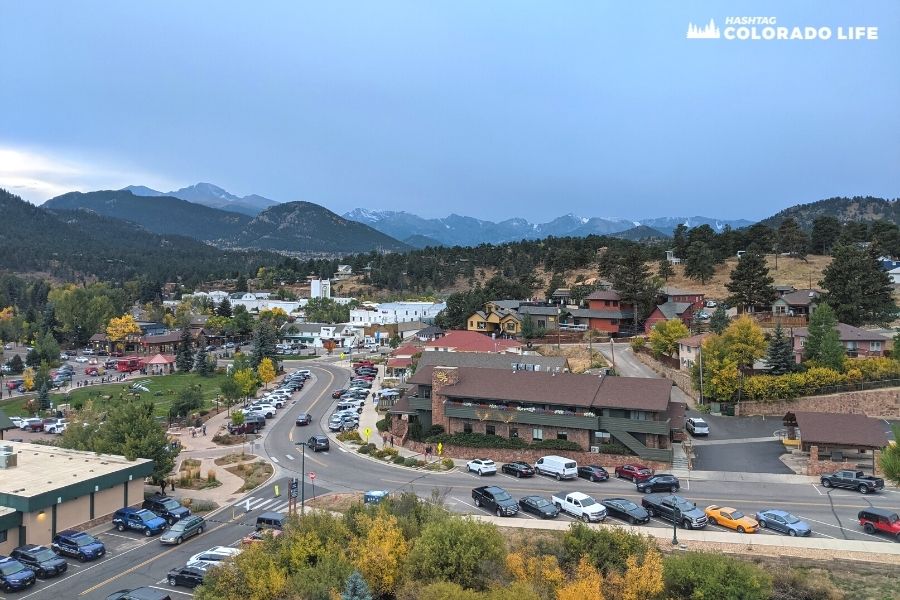 Every October, locals love celebrating Elk Fest and embracing the hundreds of elk that migrate through the area.
The city also has a flourishing art scene and it's a place where artists come to be inspired. There's plenty of shopping, dining, and other entertainment along the Riverwalk downtown.
Conveniently located in north central Colorado, this small mountain town is easily accessible to Denver and Boulder. Estes Park offers the attractions of the big city while still enjoying a rural lifestyle.
4. Trinidad
Trinidad is located in the Purgatoire River Valley, just thirteen miles from the New Mexico border. It is one of the southernmost towns in Colorado and has a population of 8,076 people.
Named one of the most beautiful towns in Colorado by numerous magazines, Trinidad is genuinely one of the top small towns to live in Colorado.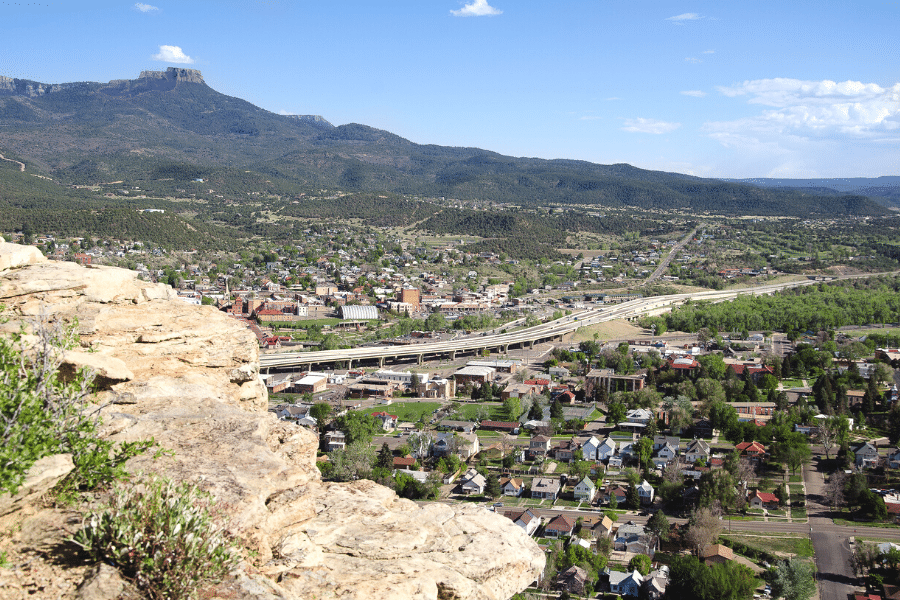 Known as an eclectic town for its artists and hippie culture, Trinidad is designated as a Creative District by the State of Colorado.
It is also considered the cradle of the state's history and is the place to view historical sights and museums alongside art galleries.
The downtown area features attractive Victorian architecture and picturesque red-brick streets that are really quaint.
For outdoor enthusiasts, Trinidad Lake State Park is an excellent basecamp for nature activities. It is a prime fishing spot with plenty of opportunities for camping and hiking, as well.
5. Woodland Park
One of the largest cities on our list, Woodland Park has a population of nearly 8,000 residents. It's known as the "City Above the Clouds" thanks to an elevation of 8,465 feet which gives way to epic views of Pikes Peak.
From the annual Mountain Arts Festival to the Friday Farmers Market, Woodland Park offers a wealth of things to do.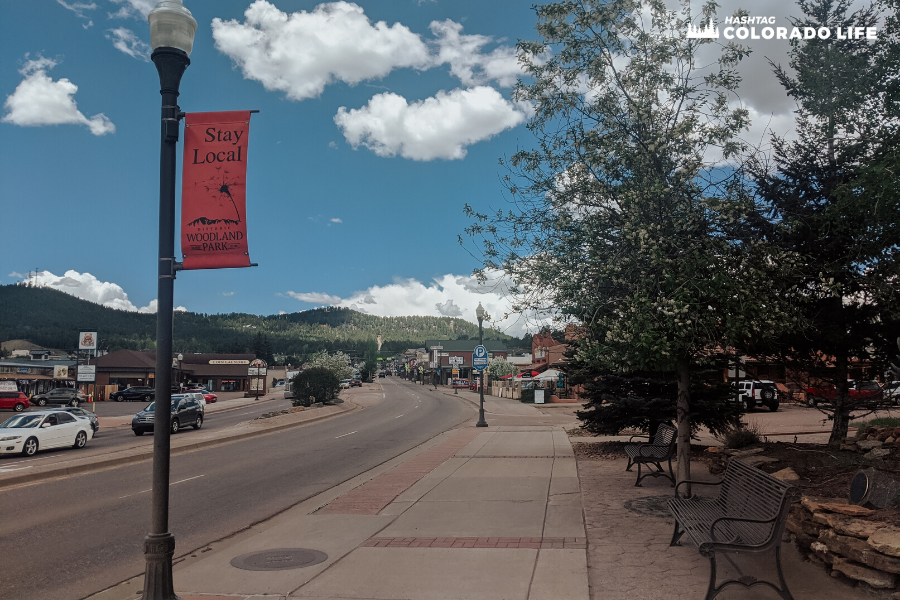 The town is located inside the Pike National Forest and has hundreds of trails to hike, bike, and rock climbing available in the summer.
Rampart Reservoir is located just outside town and is a large body of water perfect for RVing, camping, boating, fishing and mountain biking.
Or check out the smaller Manitou Lake which is popular for picnicking and wildlife viewing.
If you're looking for more open space with campsites and cabins, check out Mueller State Park or Eleven Mile Canyon Reservoir. Both of these state parks are expansive and hidden gems that locals enjoy visiting.
Not only that, but Woodland Park is a short 30 minute drive to Colorado Springs, so you can experience small town living with big city attractions.
6. Buena Vista
Buena Vista has earned a reputation as an excellent escape for those who love outdoor recreation. Along with its neighboring town Salida, Buena Vista is known as the "Heart of the Rockies."
It's located in the middle of the state, alongside the Arkansas River. Buena Vista is close to the amazing mountain range called the Collegiate Peaks, making it a perfect spot for climbers.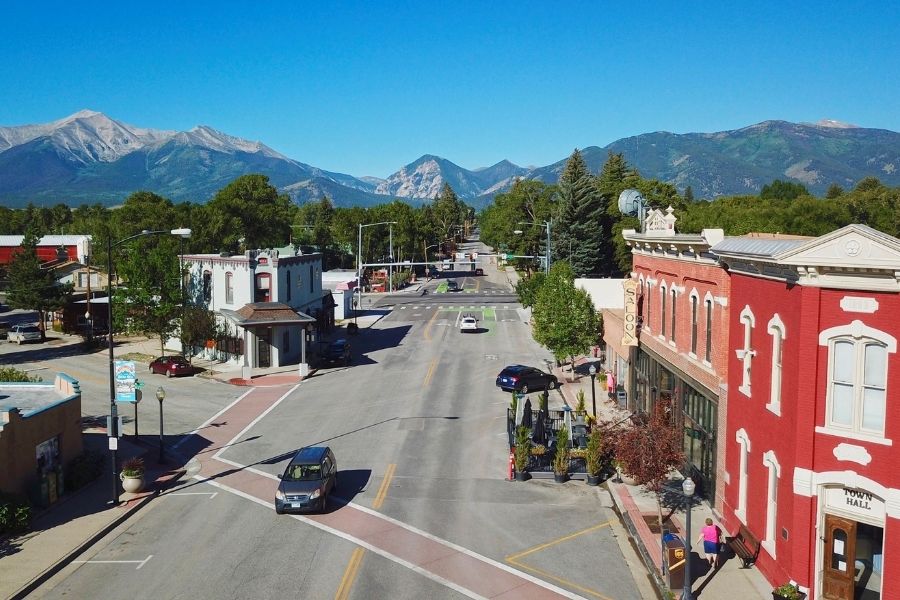 With the Arkansas River running near downtown, tubing, rafting and kayaking are major pastimes. Located just a short drive from Colorado Springs, Buena Vista is one of my top choices.
The city is located near Cottonwood Hot Springs, Twin Lakes Reservoir, and the expansive San Isabel National Forest. Or you can enjoy a scenic drive on the famous Cottonwood Pass.
There are literally endless things to do in Buena Vista if you live here. If you like the idea of living in a quaint small town in Colorado but want a relatively large city within easy distance, check out Buena Vista.
7. Crested Butte
Crested Butte is an incredibly charming ski town located in southwest Colorado. It's nicknamed "The Wildflower Capital" of Colorado, thanks to the explosion of wildflowers in the spring.
This historic mining town has a population of 1,335 residents and has plenty to offer the modern pioneer.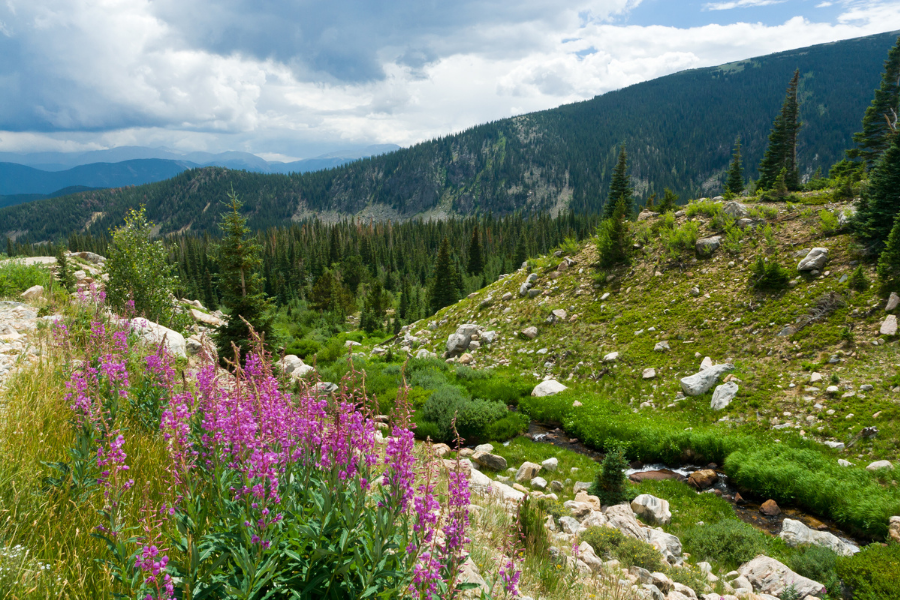 Crested Butte is a highly desirable place to live because of its close proximity to downtown shops and the K-12 community school. Located in Gunnison County, the city's property and land values keep their value over time.
Located about five hours from Denver, this beautiful mountain town offers world-class skiing throughout the winter.
It is home to the Crested Butte Mountain Ski Resort, which has more than 1,000 acres of terrain that ranges from beginner to expert level.
There are plenty of activities in the summer too, including The Wildflower Festival and Bike Week. You'll never run out of things to do with so many options in both summer and winter.
8. Steamboat Springs
This authentic mountain town is off-the-beaten-path yet so close to everything! Steamboat Springs is nestled in the Rocky Mountains about three hours northwest of Denver.
It is most known for its famous hot springs, like Strawberry Park Hot Springs, and small-town charm and character.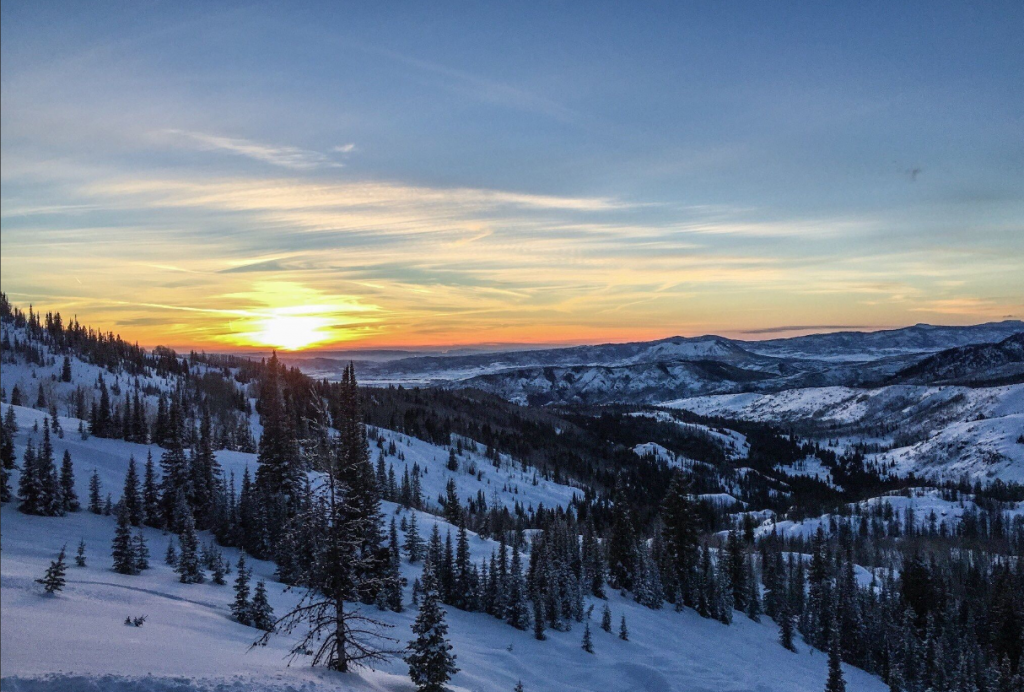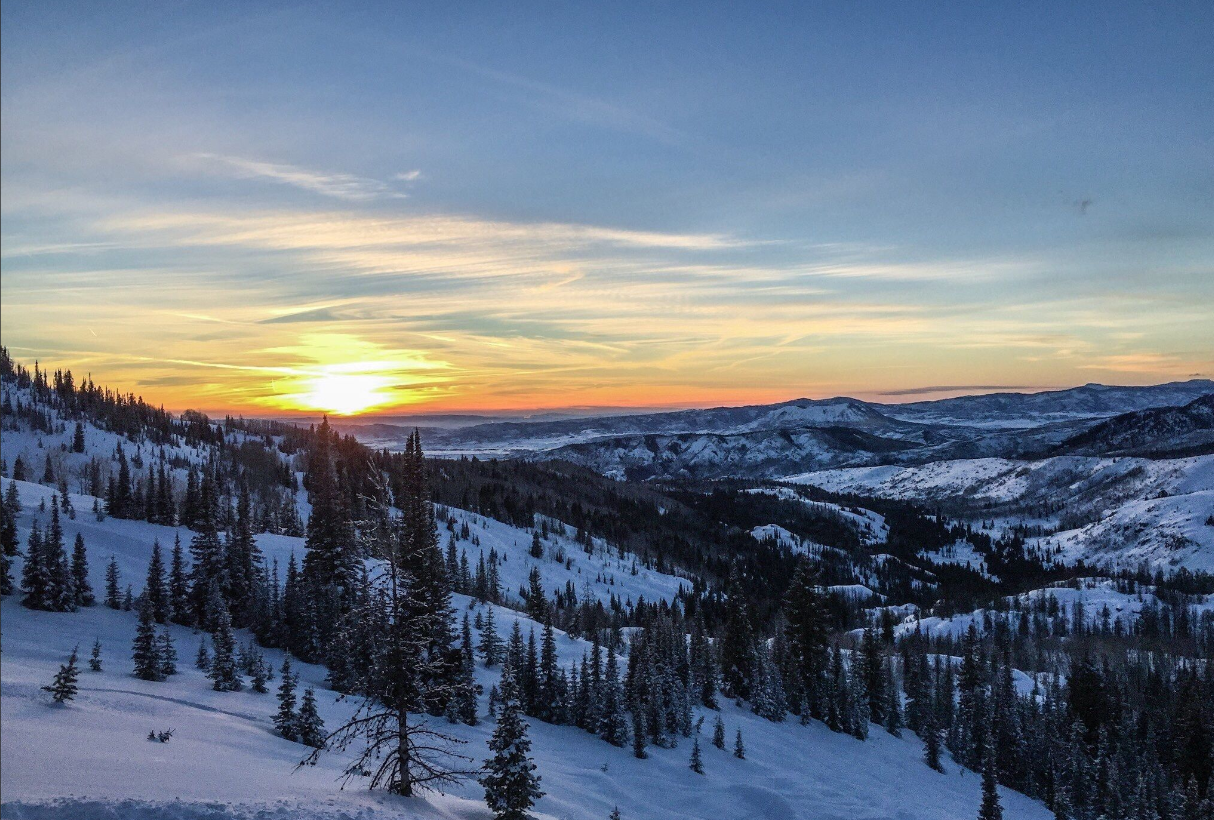 It has a laid-back, friendly atmosphere which is perfect for anyone seeking refuge from big city living.
About 30 minutes outside of Steamboat Springs is the amazing dude ranch called Vista Verde Ranch. We spent a week vacation here last winter and it was one of the best experiences we've ever had.
This resort town in the Rockies boasts an endless list of things to do, including soaking in hot springs, skiing, mountain biking, kayaking, fishing, and hiking.
You can catch an orchestra concert and discover history at the Tread of Pioneers Museum. It's also home to the famous Steamboat Springs ski resort and the golfing is world-class as well.
9. Ouray
Ouray is a historic town that has it all. From extreme sports to relaxing hot springs, there is always something to do.
Surrounded by tall cliffs, Ouray is known as the "Switzerland of America" due to the incredible architecture and mountain scenery.
Named after Chief Ouray of the Ute Tribe, the town was established in the 1870s by miners and prospectors.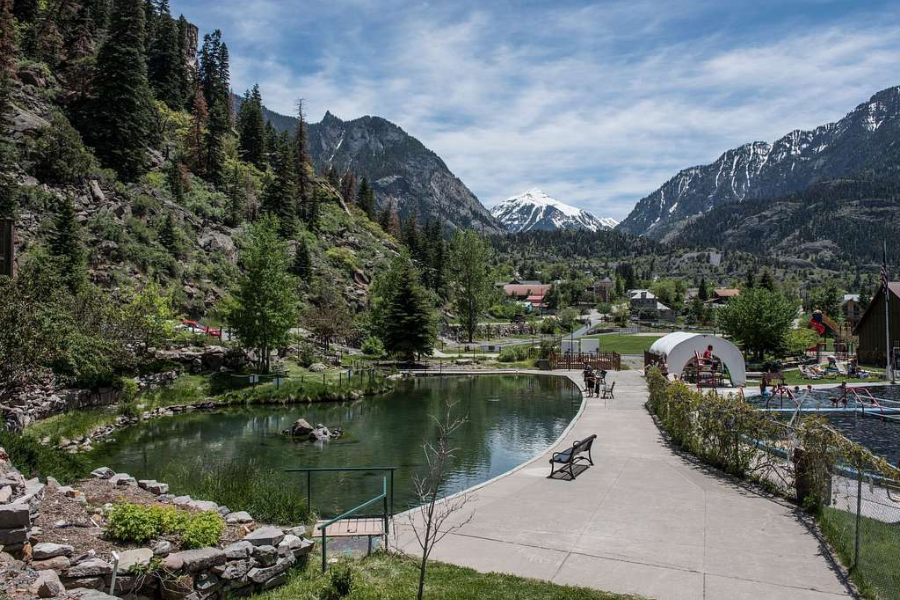 With a population of 1,046 people, Ouray County is considered one of the best places to live in Colorado overall.
The small mountain town is a premier destination for ice climbing and winter activities thanks to the Ouray Ice park and the annual Ice Festival.
It is also well-known for showcasing the unparalleled beauty of the San Juan Mountains, with hundreds of hiking and biking trails in the summer.
If you're looking for a small town in Colorado surrounded by rugged mountains, large canyons, and historic museums, Ouray is a good bet.
10. Paonia
Paonia is a very small town located in Delta County. Named after the peony flower, Paonia has a population of just over 1,528 as of 2020.
Some call this the "coolest town in Colorado" based on its outdoor recreation and arts scene. There is an artist-in-residence program in the town, a theater, and plenty of art workshops.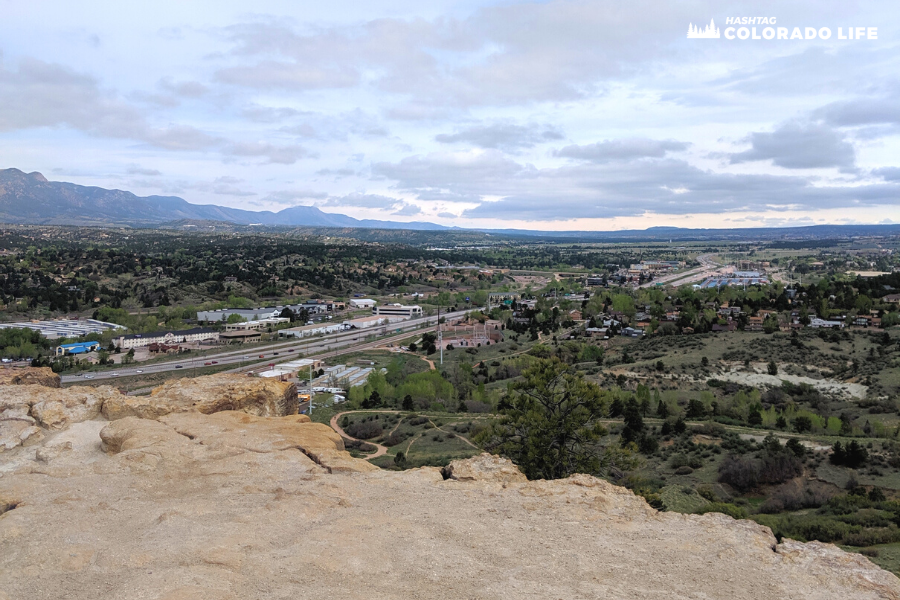 Like other small Colorado towns, Paonia has an abundance of outdoor activities available year-round. Hiking, river rafting, and fishing are all very popular among locals.
What really sets Paonia apart is its agriculture and the area is known for apple trees and peonies. The city produces a very large amount of vegetables and fruits thanks to its lush, fertile landscape.
Abundant fruit harvests set the stage for numerous festivals. Farm-to-table restaurants abound, as do wineries and art galleries.
11. Creede
Creede is a picturesque town that sits at the headwaters of the Rio Grande River. It is one of the most beautiful towns in Colorado due to being in one of the most popular backcountry regions.
One of the best things about Creede is that it is surrounded by breathtaking cliffs.
These cliffs limit the town's physical growth and currently houses less than 400 residents. So, you can bet that this town won't lose its small-town charm.
Whether your pleasure is arts or history, this remote mountain mining town is for you. Creede also features some of the state's finest fishing streams, backcountry trails, and outdoor recreation.
When you're not enjoying a production by the Creede Repertory Theater, you'll want to visit the Underground Mining Museum and the Last Chance Mine.
12. Silverton
This southwestern Colorado community is part of the San Juan Skyway. With an elevation of over 9300 feet, Silverton is one of the highest mountain towns in Colorado.
It is also a famous mining town and a National Historic Landmark that houses around 600 people. Although Silverton is more secluded, there are plenty of activities for residents to enjoy year-round.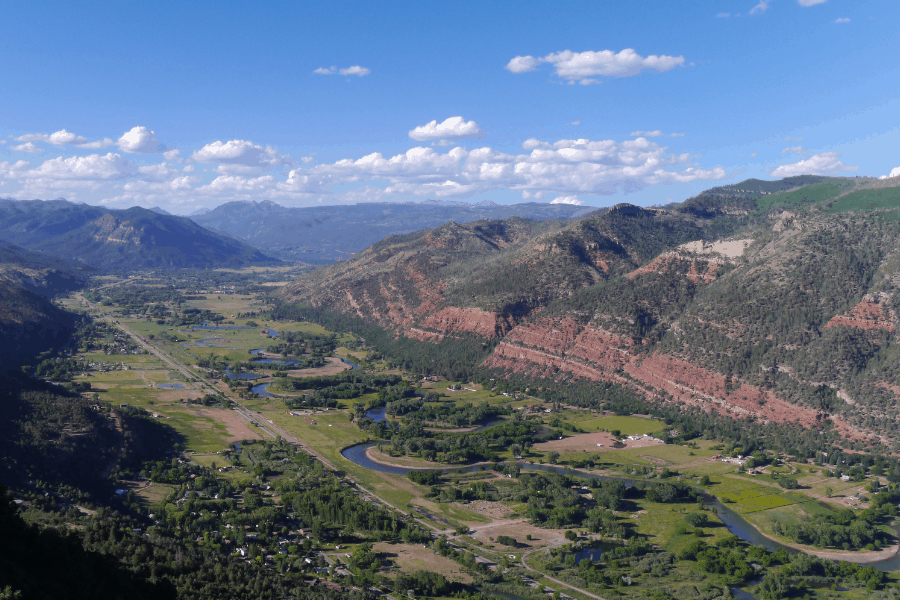 As a resident, you'll have time to explore boundless opportunities for skiing. Stroll along the downtown district to see well-preserved buildings or ride the famous Durango-Silverton Narrow Gauge Railroad.
Other activities include ice skating and snowmobiling in the winter and backcountry touring in the summer.
Silverton is also a premier hiking, camping, fishing, and hunting destination.
13. Pagosa Springs
If you're looking for a laid-back spot to call home, Pagosa Springs is for you. Located in Southwest Colorado, Pagosa Springs is considered one of Colorado's hidden gems.
It's situated at the foot of the San Juan Mountains, which boosts access to more than 2.5 million acres of wilderness and national forest.
The town is the perfect place for nature lovers to call home.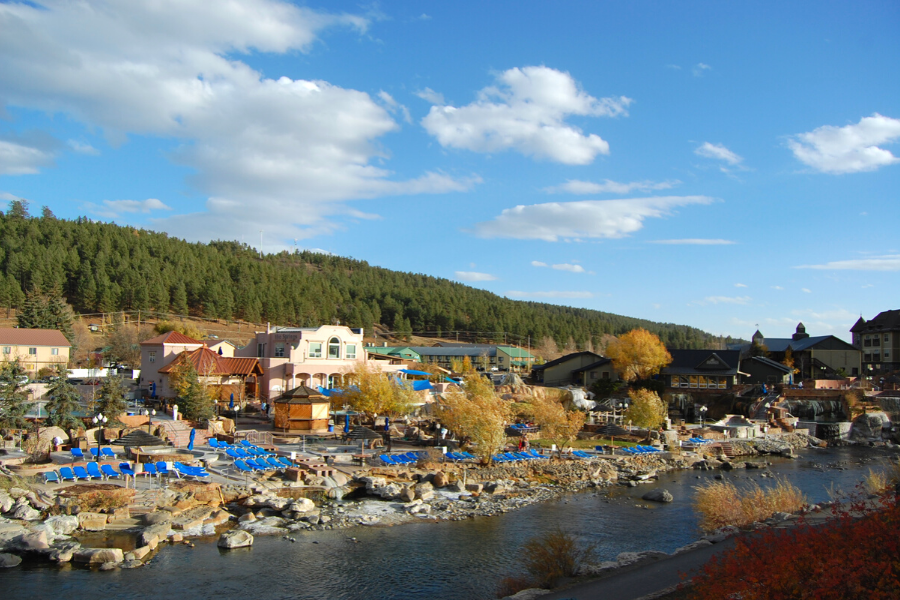 A multitude of natural hot springs along with resorts and a pair of free pools make this community highly desirable, as well.
Measured at 1,002 feet, the spring beneath Pagosa Springs is listed in the Guinness Book of World Records for "Deepest Geothermal Hot Spring."
When you're not soaking in the mineral hot springs you can ski at Wolf Creek Resort, which averages 450 inches of snow each year.
There are numerous art galleries and museums, as well. Music in the Mountains, a classic musical festival, takes place in nearby Durango.
14. Snowmass Village
A short 15-minute drive from Aspen, Colorado is Snowmass Village. Like its neighbor, it is one of the best ski destinations in the country.
The Brush Creek Valley is home to this community, which includes Colorado's second-largest ski area.
Back in 2017, Snowmass Village celebrated its 50th anniversary after having been founded and built by a local Colorado family in 1967.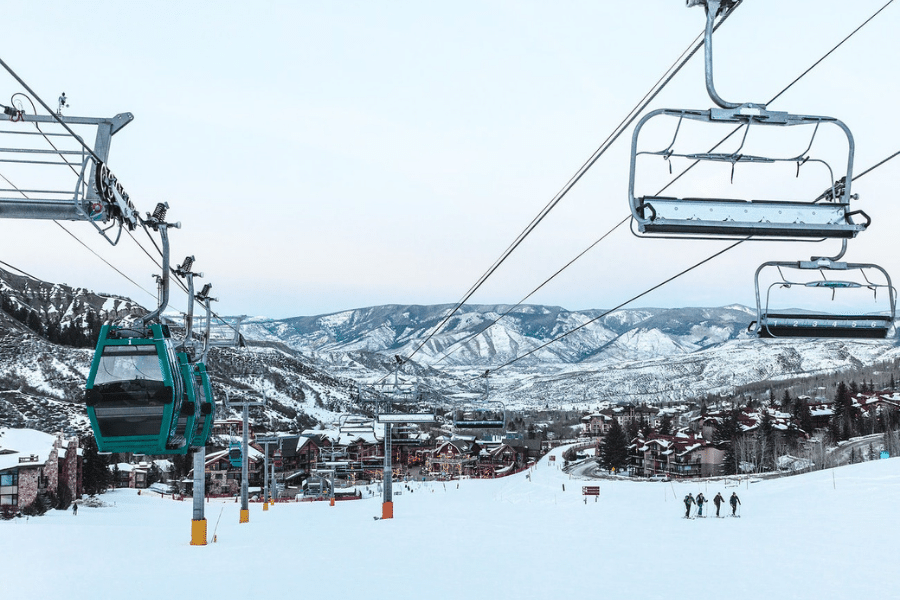 Today the tourist community is going strong thanks to the overflow from Aspen. However, the population of residents remains small and welcoming at 2,700 people.
There are plenty of exciting family-fun activities year-round. When the snow melts, residents indulge in rodeos, whitewater rafting, hiking and biking. Kids will love ice skating, ziplines, and many parks.
15. Marble
If you haven't heard of Marble, Colorado yet you are missing out. This small town of just 200 residents gets its name from the historic Yule Marble quarry.
This quarry unearthed gorgeous Colorado marble that was used for the Lincoln Memorial as well as the Tomb of the Unknowns.
In fact, today you can hike around near the old quarry building and see beautiful, huge pieces of marble laying all over the ground.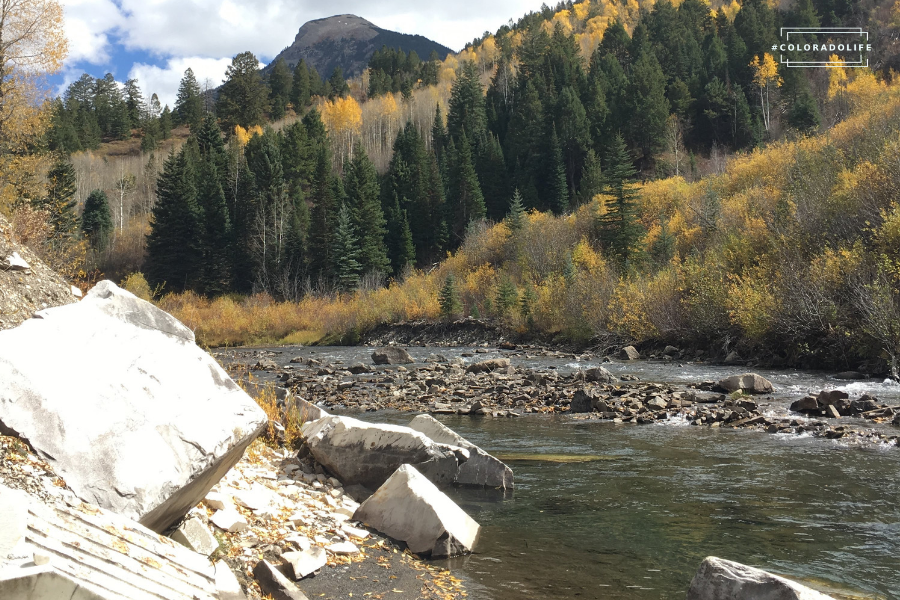 Marble is located in a valley near the Crystal River along the Elk Mountains. If you've ever wanted to hike to see the Crystal Mill, this town is only 6 miles away.
Although a very small mountain town, Marble is about an hour from Aspen and 30 minutes south of Carbondale.
As far as activities in the area, check out the Beaver Lake State Wildlife Area and the Crystal Ghost Town.
The Marble Distilling Co. & the Distillery Inn offers residents a stiff drink and a good night of sleep under one roof. There is also the wildly popular Slow Groovin' BBQ for some yummy eats.
16. Crestone
Tucked away at the base of the Sangre de Cristo Mountains, Crestone is a very colorful community.
It is home to a diverse community of artists and New Age practitioners. The town is committed to sustainable living practices.
Are you a spiritual seeker? If so, then this erstwhile mining town is the place to be.
With a Zen center, Hindu temple, Tibetan center and Carmelite monastery, you can explore the world's religions without leaving home.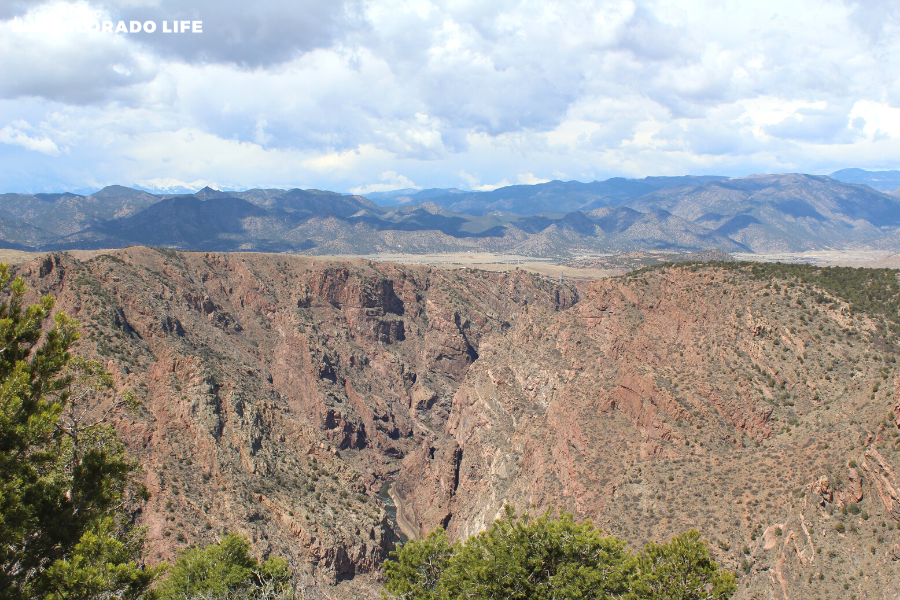 Enjoy a visit to one of the many art galleries or spend time outside camping, fishing, and hiking in the area.
Or for more adventure seekers, try sand sledding at Great Sand Dunes National Park which is just south of the city.
With only 127 residents as of the last census, Crestone is truly a hidden gem. Even if you don't end up moving there, it's definitely worth a visit as it's one of those one-of-a-kind small towns.
There's no debate that some of the best small towns to live in Colorado are the tiny towns that you've probably never heard of.
But thanks to less crowded streets and more room for nature, you will never get bored living here.