11 Most Haunted Places in Colorado to See Ghostly Sightings
This website may contain affiliate links and we may be compensated (at no cost to you!).
A park built on top of a cemetery. Spirits that haunt one of the most historic hotels in Colorado.
A ghostly apparition that plays slots at a casino even when it's closed. These are all unexplained reports of the most haunted places in Colorado.
With a history steeped in gold rushes and ghost towns, it's no wonder that Colorado has some great paranormal activity.
Ghost tours, scary sightings, and haunted stories are reported at numerous locations across the state, both indoors and out!
Here are the most haunted places in Colorado, ranging from century-old mining towns and haunted casinos, to spooky mansions.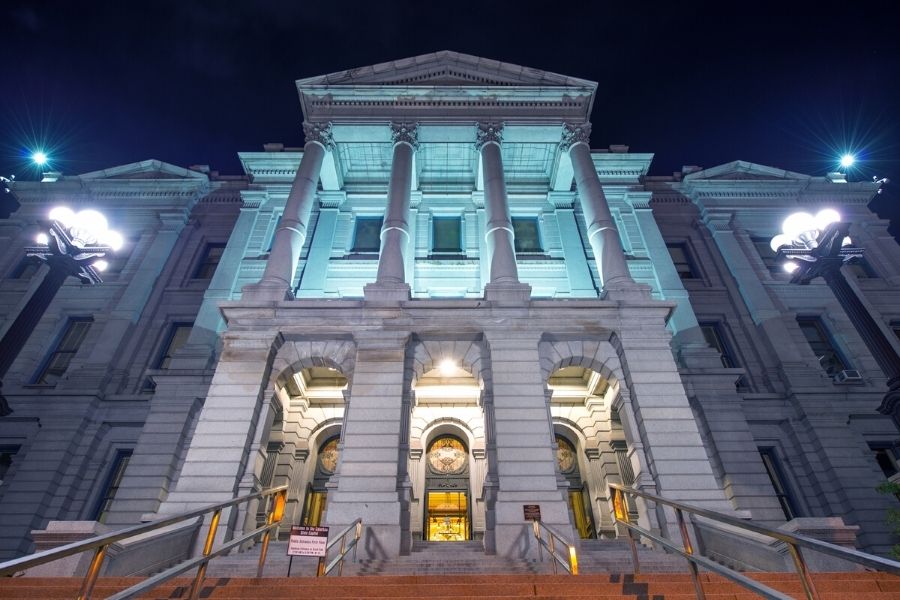 In the popular Denver neighborhood of Capitol Hill you'll find a beautiful city park called Cheesman Park.
It's a great spot for walking, jogging, picnicking and enjoying the sounds of the city. You can even go on a ghostly walking tour of the area, day or night!
However, the park was originally built on top of a cemetery known as Mount Prospect Graveyard.
In the late 1800s, when the graveyard was turned into a park not all of the bodies were relocated. (Like they couldn't think of anywhere else to put the park?!)
And many believe there are still lots of human remains buried beneath the park today.
In fact, Cheesman Park was the inspiration for the movie Poltergeist, turning it into one of the most haunted places in Colorado.
Many of the nearby mansions and houses are said to be haunted with the spirits of people who were buried at the cemetery decades before.
And many people have reported having ghostly experiences or even seeing apparitions when walking the park at night.
This coupled with the fact that the Capitol Hill neighborhood is one of the most haunted places in Denver, makes Cheesman Park a very spooky place.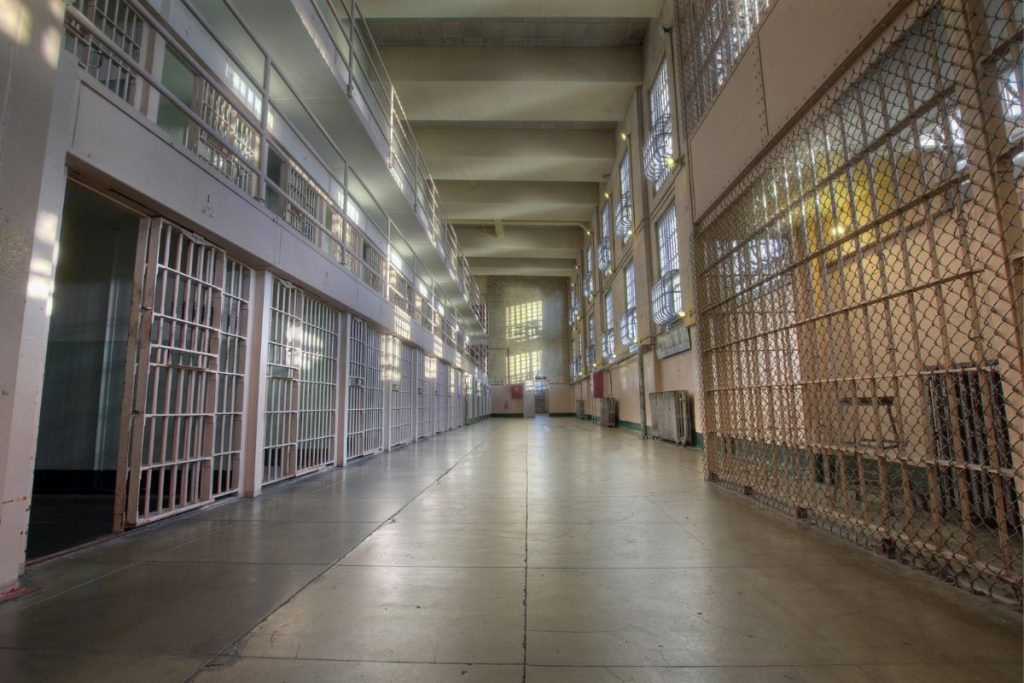 The Museum of Colorado Prisons in Cañon City has one of the most unique facts about it.
The museum shares a wall (including armed towers) with a prison that has been continuously in operation since even before Colorado was a state.
This just adds to the genuine feel and authenticity of a museum such as this.
Many of the exhibits are literal jail cells, dining halls, and archive storage that were used for over the past 140 years.
Prisoners from many decades ago claimed to hear voices from their cells in the middle of the night. And guests now claim the exact thing from inside the same cells!
They have even spotted disembodied orbs floating between cells and explicable scents and chills that are said to accompany the supernatural.

It's not uncommon to spot an all-night ghost hunting event on the calendar at Museum of Colorado Prisons.
Work with experts, learn modern techniques and use the latest equipment in capturing proof of the paranormal.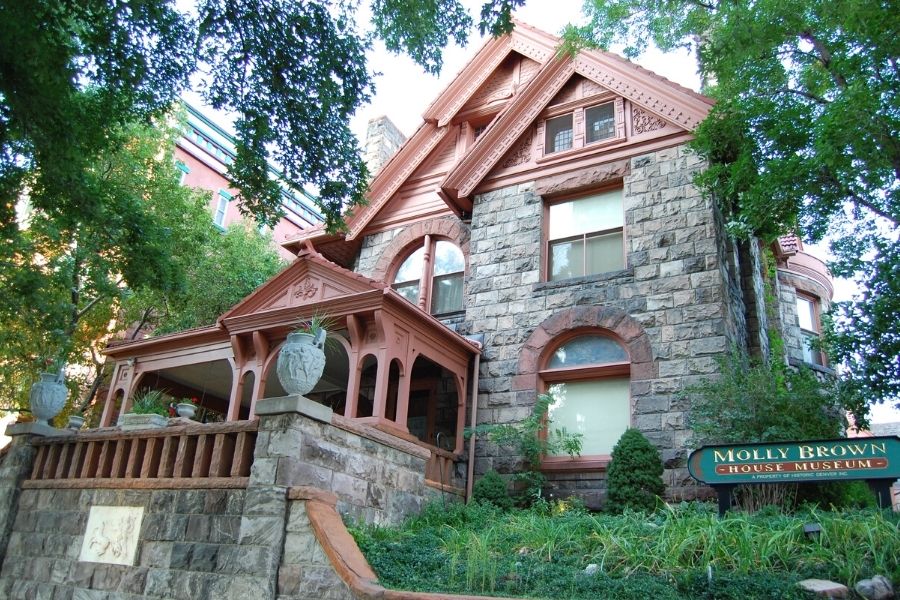 The life of Margaret Tobin Brown, aka Molly Brown, is intriguing to say the least. She was one of the few survivors of the Titanic, and became known as the Unsinkable Molly Brown.
She purchased her new home, located on Pennsylvania Avenue, in 1894 and was a long-time resident of Denver.
This Victorian home, now called the Molly Brown House Museum, features architecture, furniture, letters, and books from the early 1900s.
And you can book a tour of the museum and explore all the history and stories that downtown Denver has to offer.
It's been said that Molly's spirit can be felt in the house and many people have reported her spirits' activity here.
Light bulbs often unscrew themselves, furniture sometimes gets rearranged on its own, and the doors to the kitchen are said to open and close at will.
The Molly Brown House is one of the most popular haunted places to visit in Colorado when looking for paranormal activity.
Book your own tour of the Molly Brown House Museum and check it out for yourself.
Related: The Best Walking Tours in Denver
4. The Stanley Hotel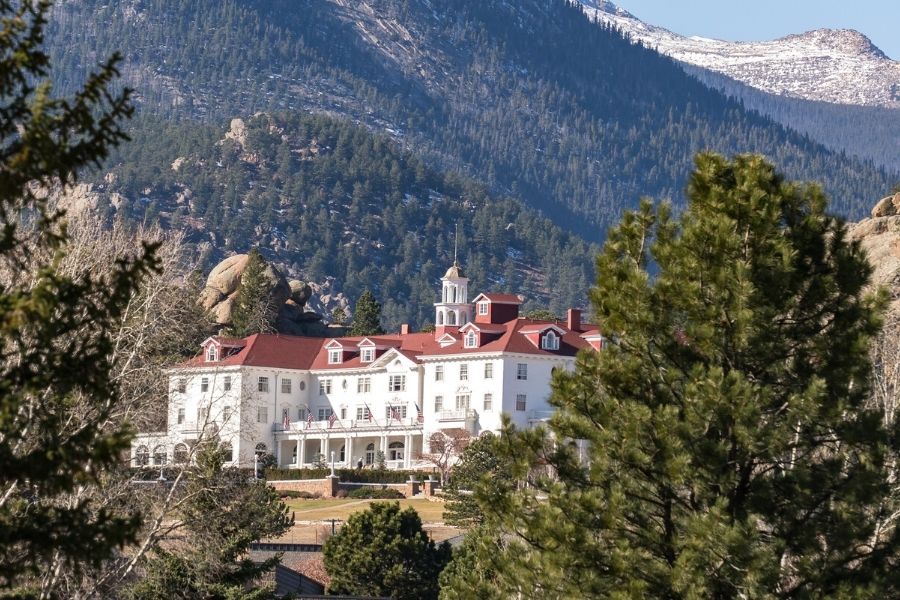 Located in Estes Park, the Stanley Hotel is more than 100 years old. It's full of history and strange happenings.
The hotel is said to be haunted with a history full of ghost stories and creepy events.
In fact, four different spirits are said to occupy the hallways and roam the corridors.
Over the years, guests have said to hear the faint sounds of children's laughter or mysterious footsteps in the passageways.
Lights flicker at all hours of the day, and sometimes piano music can be heard coming from the empty ballroom.
Because of its old and spooky feel it made the perfect place for Stephen King's novel, The Shining.
If you enjoy this sort of thing, you can immerse yourself into the dark history of the Stanley Hotel by booking one of their Spirited Night Tours.
These tours will take visitors on a walk at night through the grounds and darkest areas of the hotel, including an underground tunnel.
5. Colorado Grande Hotel & Casino
The town of Cripple Creek has a murky history of corruption, murder, two-timing and good ol' fashioned debauchery.
In fact, many of the town's casinos are said to be haunted and often have reports of ghosts or strange activities.
These days Cripple Creek is considered a casino haven, and ghostly one at that.
One casino is said to be inhabited by the spirit of a young girl who draws on the walls. Another has bar glasses that fly through the air on their own and crash to the floor.
The building that houses the now Colorado Grande Casino has been standing since 1898.
The Spirits that live here are said to linger on in the Grande Hotel are mostly benign.
Lily and Maggie are the two female spirits that supposedly still walk the halls of this historic landmark and most common apparitions to see.
Also reported within the Colorado Grande Hotel include disembodied singing voices and footsteps dancing to an unheard tune on the 3rd floor ballroom.
Sights of apparitions using the slots, blue floating orbs and a certain proclivity to see purple balloons have all been reported.
6. Outlaws & Lawmen Jail Museum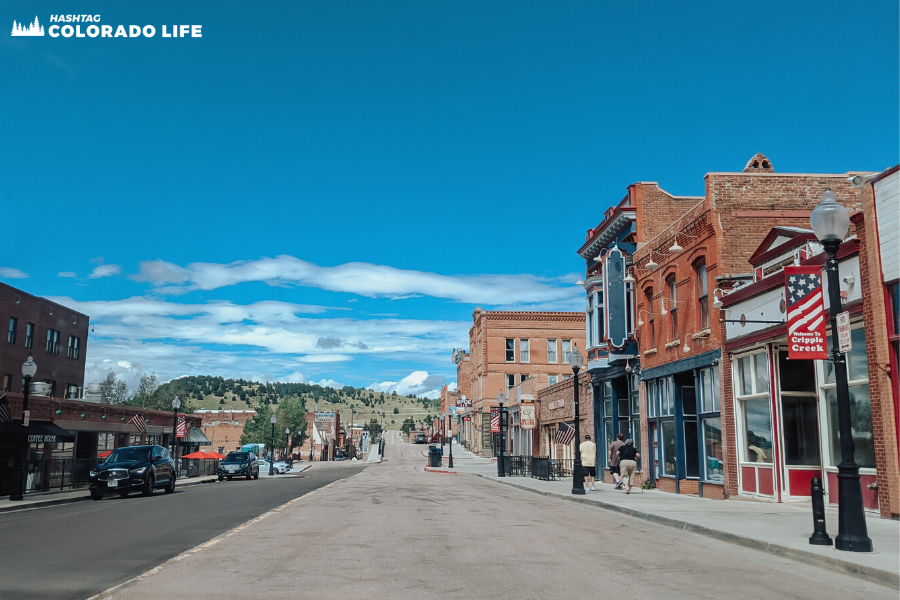 Speaking of Cripple Creek, the town seems to always be featured or mentioned on some sort of haunted list.
It has a history of being a gold mining town with a long storied past.
Not only that but visitors can tour the Outlaws & Lawmen Jail Museum that details the shadier life of the inhabitants of Cripple Creek.
Visitors who tour the jail can read real police reports and newspaper clippings, and check out the jail cells where prisoners were kept.
But BEWARE, you may hear the faint echoes of footsteps going up and down the stairs, or see the ghosts of past guards or prisoners.
The jail actually operated from 1901 until 1991 when it was closed because it doesn't have an exercise yard. This is a modern requirement for a fully operating jail in Colorado.
7. Hotel Colorado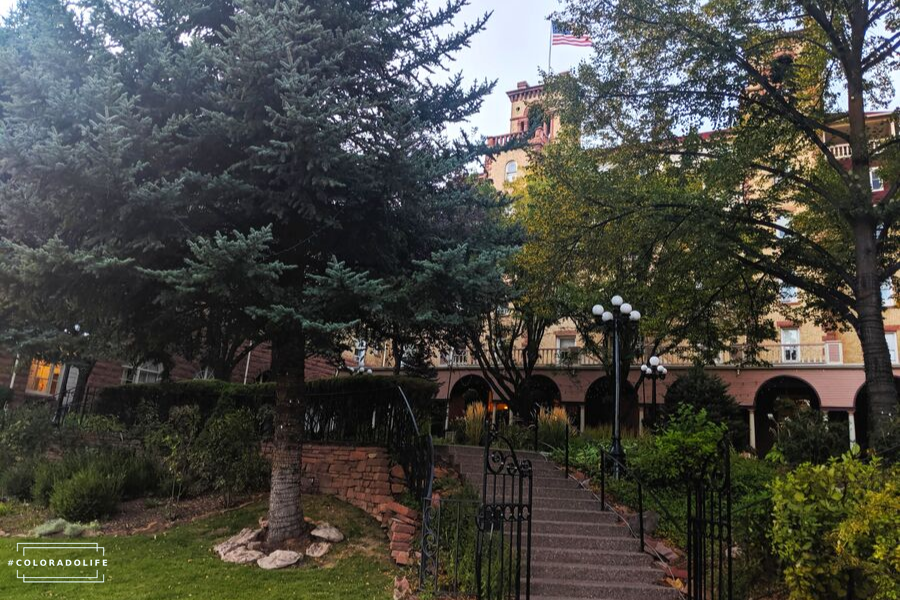 In the heart of Glenwood Springs, you'll find the beautiful and spacious Hotel Colorado.
Historical figures such as Teddy Roosevelt, William Howard Taft, and the Unsinkable Molly Brown have all been guests of Hotel Colorado.
Over the decades, this haunted hotel has a reputation for ghost stories and strange happenings.
During the time of World War II, more than 500 wounded soldiers were housed here.
And giant ovens deep in the basement of the hotel were used to cremate those who didn't survive.
With the horrors that were seen during the war it's easy to understand how this place could be haunted.
Many people who stay at Hotel Colorado have said they heard strange noises, like a woman wailing, and even saw random objects moving on their own.
Other paranormal activity that's often reported includes apparitions and ghost sightings.
Today you can take a self-guided tour through the hotel to check out some of the rooms with the original furnishing, clothing, and books from that time period.
8. Colorado Springs Pioneers Museum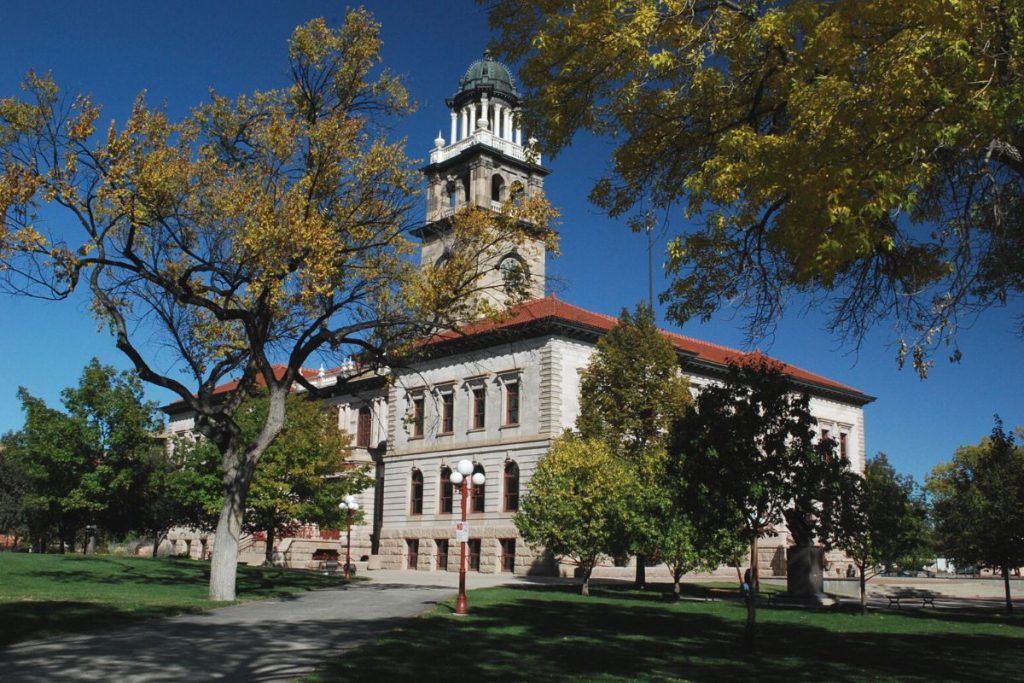 Is there always a correlation between a ghastly murder or other violent act(s) in the past, and the sightings of apparitions or ghosts in the present?
We think so. And the Colorado Springs Pioneers Museum is no different.
From 1903 to 1973, it was the courthouse and administrative building for the entire Pikes Peak region.
As a courthouse, its walls and columns undoubtedly bore witness to the aftermath of heinous events and travesties from the area.
But it was in 1959 when a disgruntled custodial employee shot and killed one of his managers over a check dispute.
Nowadays, the once courthouse has been restored to its former glory. And today it exists today as a museum that hosts an array of exhibits.
These displays detail the history of the area with events and exhibits being held year round.
Although the Colorado Springs Pioneers Museum doesn't actively offer ghostly tours on their event list, you may still experience creepy moments.
It is said that you still get an uneasy feeling or hear faint echoes of the past near the courtroom or in the same area the previous murder happened.
9. Brown Palace Hotel
From presidents to royalty and rock stars to sports stars. The Brown Palace Hotel has hosted guests from every walk of life and from every corner of the world.
Completed in 1892, the Brown Palace Hotel was set to be the crown jewel of Denver.
The building was meant for the upper crust of society and completed to reflect the style of Italian Renaissance on a triangular intersection.
The Brown Palace Hotel set itself apart from all other Denver hotels for its opulence and luxury for socialites.
Its existence was sustained even through tumultuous events in American history like the Great Depression, Prohibition, and many wars.
Which means this hotel undoubtedly has some stories to tell, and a few ghosts too.
Calls from unoccupied rooms or rooms undergoing renovation are said to be the most common spectral occurrence.
Hearing string instruments and spotting the quartet are said to happen in the ballroom.
Hearing babies cry, seeing wait staff walk through walls, old train conductors, and children playing in the halls, are all things that have happened in this historic Denver hotel.
10. Central City Masonic Cemetery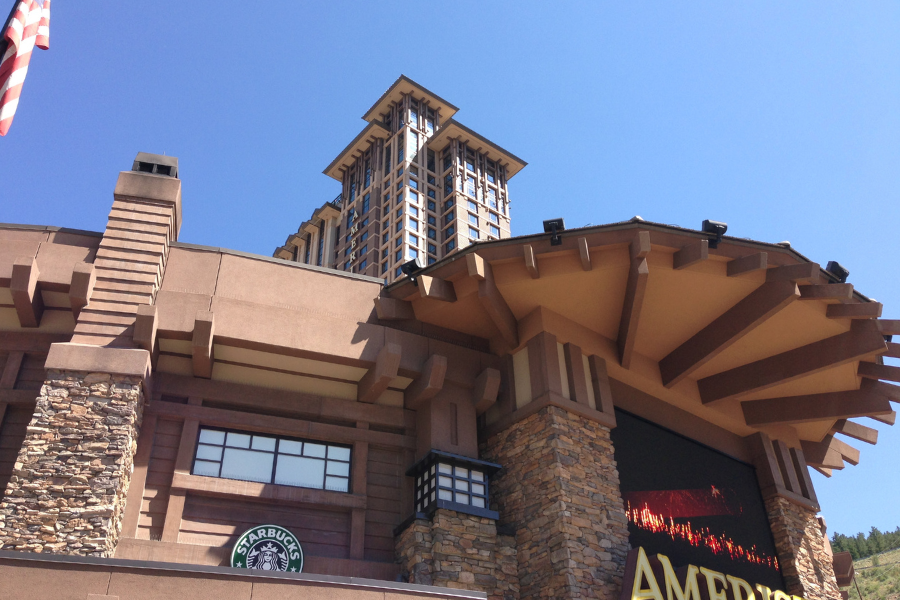 Cemeteries. I mean there isn't really a better place to find some ghosts. Unless you perhaps paired it with an already haunted town with sullied beginnings.

Central City Masonic Cemetery, near the town of Central City and Black Hawk, was once referred to as the "richest square mile on earth".
The town existed before gold was found in the area in 1859, and by 1860 the population had swelled to over 10,000 residents.
The Masonic Cemetery sits above Central City and might be a great place for some sightseeing if it weren't for the creepy vibe.
Keep your eyes and ears open for strange sounds and sightings of the past residents that are still said to walk these grounds.
In April and November, the graveyard is visited by a "Lady in Black". A mysterious figure that, according to legends, appears to lay flowers on the grave of a certain John Edward Cameron.
And if the cemetery wasn't scary enough, Central City is said to be haunted with its own ghosts and specters from the past.
The town itself is already a hotbed of paranormal activity making it one of the most haunted places in Colorado.
11. Denver International Airport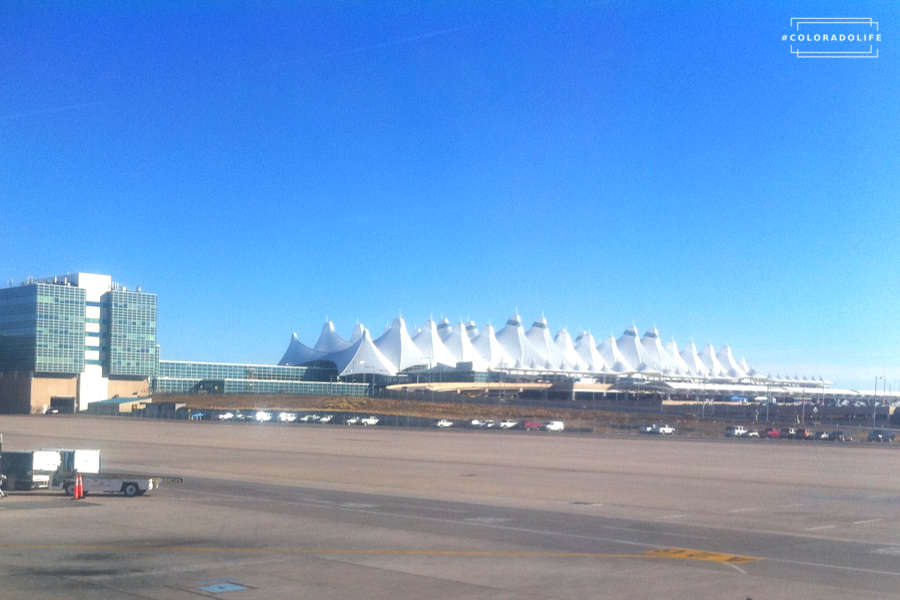 If you are seeking out the most haunted places in Colorado, then there might be none better than the Denver International Airport (DIA).
It's easy to get off the plane and you're in a purportedly haunted place supposedly built on an Indian burial ground.
And I don't just mean being jinxed or cursed nowadays by the inevitably late flights and seemingly phantasmic lost baggage that seems to plague all airports.
DIA seems special in not all the right ways. Starting with the iconic statue "Blue Mustang" (or known by locals as "Blucifer") adorns the entrance as you're driving in.
The statue literally killed its creator and sculptor before it was even installed.
Denver International Airport has been riddled with conspiracy since being built in 1995.
Secret tunnels, Nazi propaganda, Freemason cornerstone, underground post-apocalypse government headquarters, biological weapons; the wild claims that come out of DIA is endless.

So ghosts and haunted areas inside the airport aren't too far a stretch.

Feelings of unease and otherworldly presence is said to be felt in the terminals. Stories of guests taking elevators to only end up in some spooky area of the airport.
Denver International Airport has many secrets and a haunted past that may neve be fully uncovered.
From prisons to epic ghost tours, these are the most haunted places in Colorado that you can visit in the Pikes Peak Region.