GetOutPass Colorado: $40 Discount Code on Tons of Attractions
The content of this website may contain affiliate links and we may be compensated (at no cost to you!). Thank you for your support!
There's a super budget-friendly way to get out and explore all of the venues and attractions that Colorado has to offer. It's called the GetOutPass!
With just one pass you can save BIG on more than 40 venues across the state — some even multiple times per year.
And we've been able to snag an exclusive discount code for $40 off each pass.
Read on to find out more about the awesome savings, how to use the GetOutPass, and what's included in the one-time annual fee.
Please note: We were given free Get Out Passes for our family in exchange for sharing our experience of using the passes. Verdict? We love them!
Is your GetOutPass still valid in 2020?
With COVID-19 and all of the economic changes that happened in early 2020, many attractions and businesses are closed over the summer.
But what if you bought a pass and wanted to use it during this time? Will your GetOutPass still remain active? Yes!
All GetOutPass memberships that were set to expire over the summer, have been extended for an additional 90 days, for no extra cost.
You can log into your GetOutPass account online, click on the "Account" button and view the renewal terms under your profile.
As you can see, our account was set to expire on 6/18/2020 but has now been extended through 9/16/2020.

You can read more specifically about what GetOutPass is doing via their COVID-19 Response letter.
How to get started with GetOutPass
The GetOutPass is very straightforward and easy to use. It can be broken down into these easy-to-follow steps.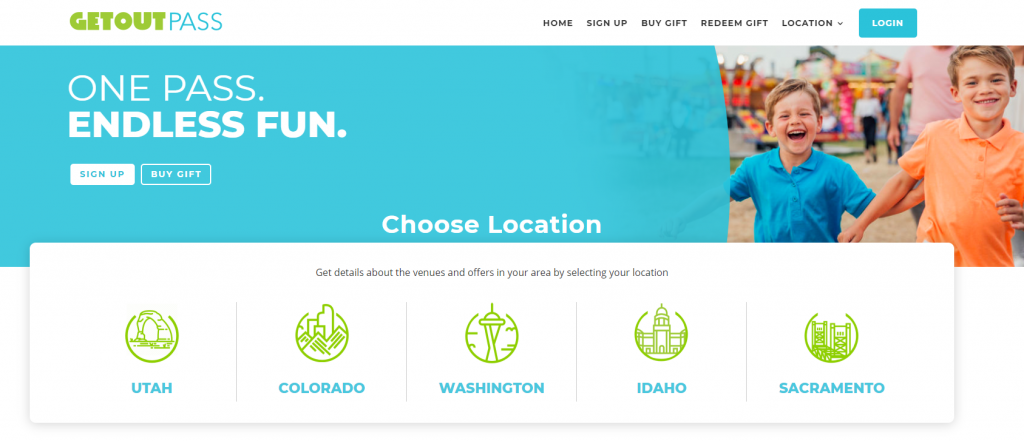 1. Sign up online
Go to getoutpass.com/colorado and click the "Sign Up" button or the link at the top of the website. Choose how many passes you would like to purchase.
You can claim 1 for each member of your family, or buy one as a gift for a friend.
Fill in your payment information and email address. You'll also need to create a password so your account will be created and info will be saved.
2. Save $40 with discount code
Be sure to check ✔️ the "Referral / Promo Code" box. This will bring up a box that you can input our exclusive promo code: coloradolife40.
This discount code allows you to save $40 instantly off the annual cost of each pass.
Click the "Apply" button to apply the $40 discount to your checkout total. The annual cost for each pass will be reduced from $149.95 to just $109.95.
And it works for a single pass or multiple passes!
If you're a family of four, you can save $160 on all of your GetOutPasses. The amount of money you can save is literally endless!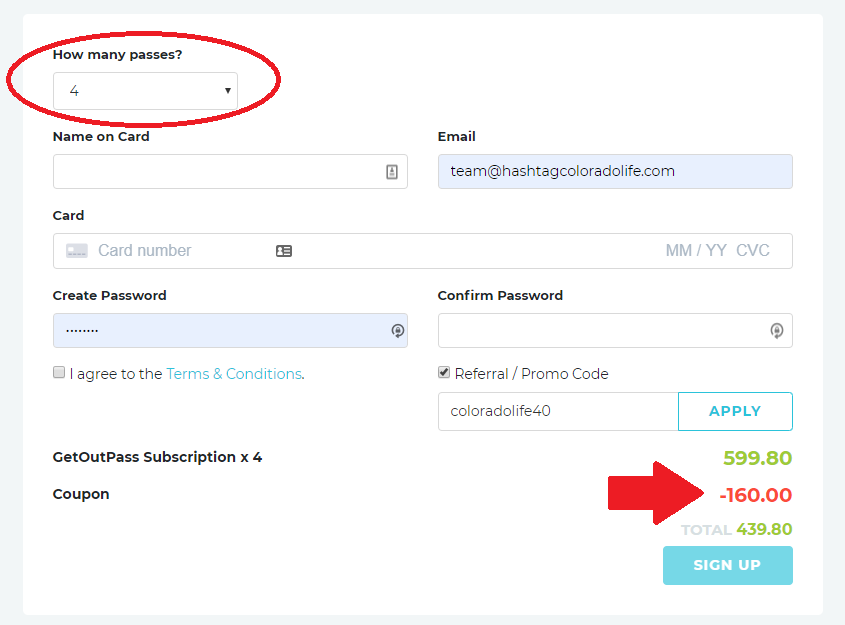 3. Register each passholder
Next, you'll be prompted to fill in the information for each passholder. As the buyer you will be the master account holder for all of the passes.
And the email address you use during registration will be your username.
If you're buying the GetOutPass for a friend or family member you can simply click the "Buy Gift" button or link at the top of the website.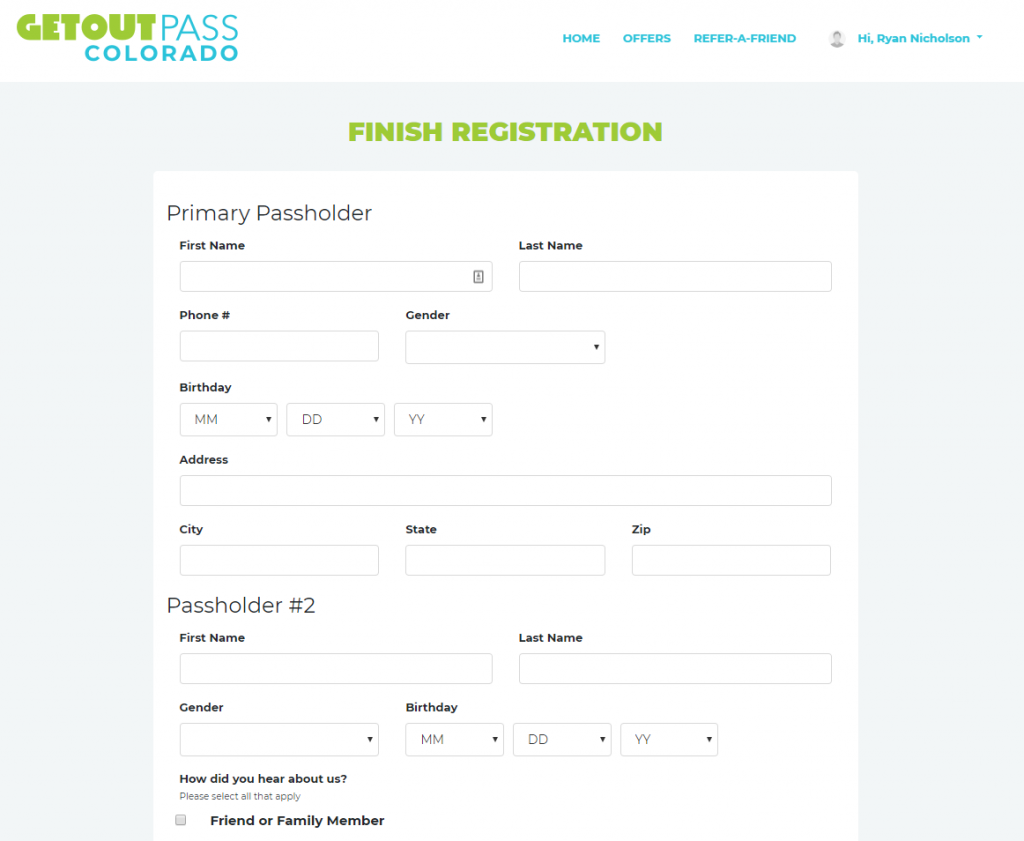 4. Finish registering
Agree to the terms of service and finalize the registration form. This is when your credit card payment will be processed.
Once logged in, you can create a member profile for each family member or friend. You can only use 1 Get Out Pass for each passholder so each family will need their own member profile.
How it works and what's included
After you sign up and log into your Get Out Pass account, you will have instant access to all the venues and attractions in Colorado. There are over 40 featured venues with more being added often!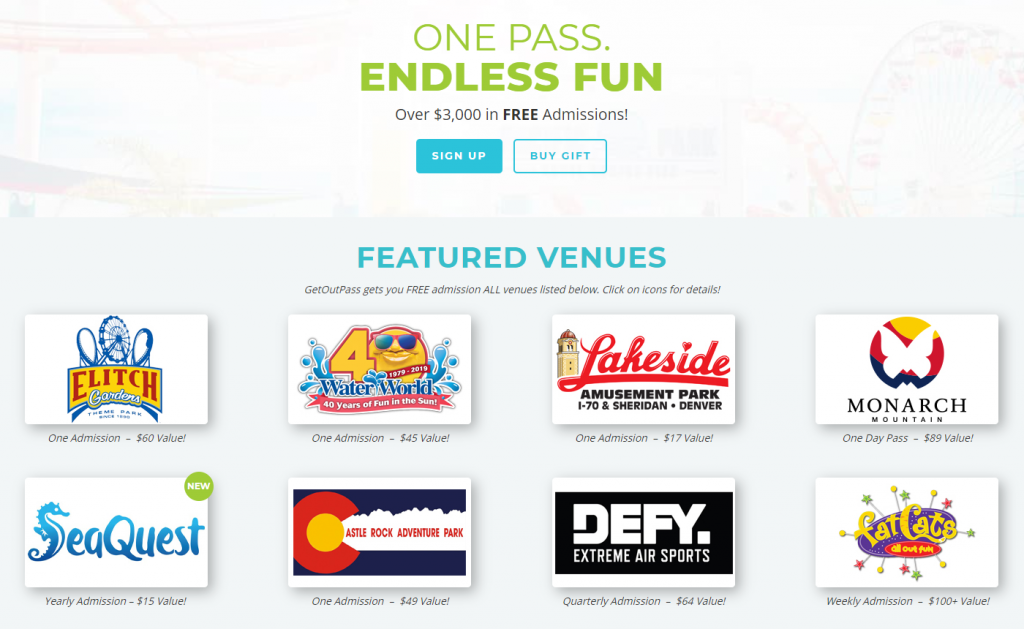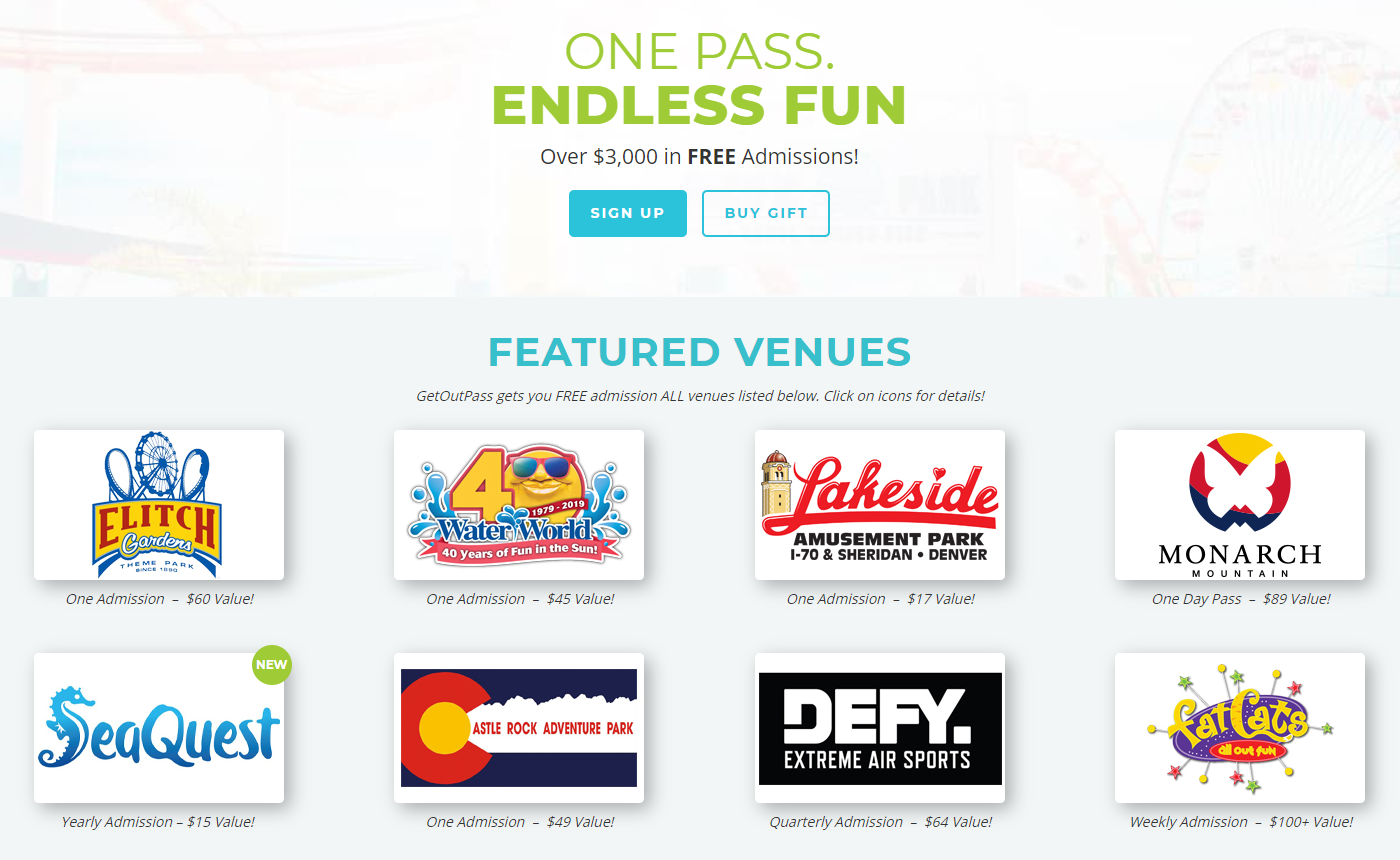 Some offers can be used only 1x per year (like passes to Elitch Gardens or Water World). While other offers can be used multiple times a year, and sometimes even monthly or weekly.
You can search for offers that are available today, or on a specific date. You can also filter by keyword, offer type and location.
Attractions are available in different cities within Colorado:
Colorado Springs
Denver North
Denver South
Fort Collins
Estes Park
The most popular attractions include:
Elitch Gardens ($59.99 regular admission cost)
Water World ($44.99 regular admission cost)
Monarch Mountain ($89 day pass cost)
Total savings: over $3,000 in FREE admissions for attractions in 4 Colorado cities!
We have already visited Water World and Elitch Gardens, and are anxious to check out the Skyzone Trampoline Park, FatCats Bowling and Colorado Mini Golf.
5. Browse offers and select an attraction
Once you've browsed through all of the attractions and offers, simply select which offer you want to redeem.
Be sure to read all of the venue details as some attractions will have limited availability and black out dates.
6. Plan your next adventure
The GetOutPass makes it possible to either plan your next trip in advance, or be spontaneous by redeeming an offer today. Simply search within your member account for offers available "today" or by a "specific date".
Just browsing for some ideas? You can also "View All" and search for any attractions to see if any spark an interest.
This is a great tip for planning a family get-together or birthday party!
7. Redeem your offer
Check ✔️ the box for each family member or friend who is claiming the pass for this day. Then hit the "Redeem" button.
Each offer should be redeemed on the day you would like to visit the attraction. You will only have a 6-hour window to visit the venue and show your pass using your mobile phone or a printed copy of your tickets.
Once your ticket has been scanned your offer will be accepted and you'll get free admission to the venue!
Please note: Once the "VENUE ACCEPT" button has been processed, or the 6 hour clock has expired, you will no longer be able to use that offer until it becomes available again.
Depending on the frequency that the offer is available, this could be an unlimited offer or only available weekly, monthly, or even yearly. So, redeem any offers with caution!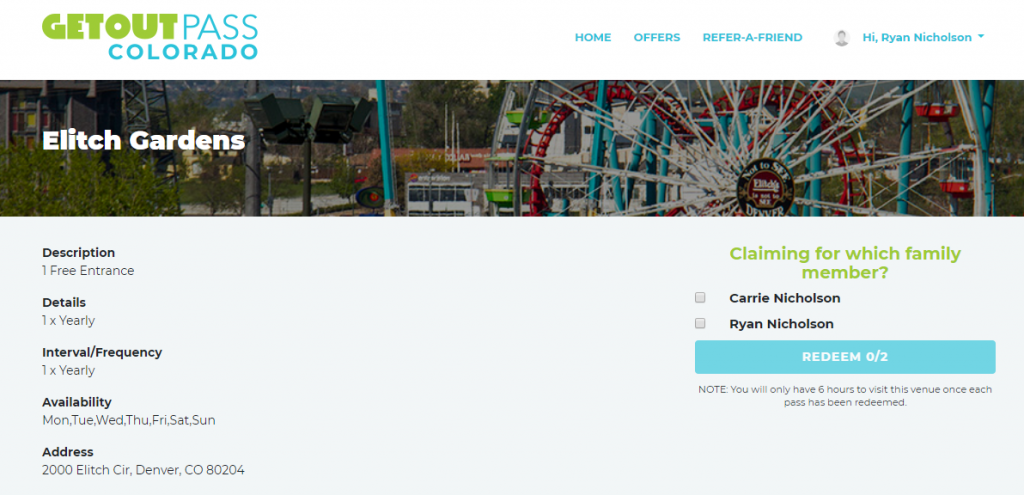 8. Enjoy free admission
What does the pass really cost? Once you pay for a GetOutPass, you'll receive free admission to each attraction. There are no hidden charges, additional fees, or other catches.
Simply pay the one-time fee of less than $110 ($149.95 – $40 discount code = $109.95) and get free admission! That's it.
9. Get out and have fun
One of the best perks about living in Colorado is the fact that it's so easy to get out and have fun. And there are endless places to go and attractions to visit both indoors and outdoors.
Now, you have a super budget-friendly way to get outside and explore this beautiful square state! No more excuses. 😊
Already a GetOutPass account holder?
Here's a quick hack to save on your annual GetOutPass even if you're a current account holder: purchase the pass as a gift.
To save $40 instantly, simply use code: coloradolife40 and the redemption code will be emailed to you. Then, save this code and redeem it once your current pass expires!
Grab your Get Out Pass today!
What are you waiting for? Click here to buy your GetOutPass Colorado and save $40 instantly with discount code: coloradolife40 at checkout.