Breckenridge Snow Tubing: 5 Best Tubing & Sledding Hills Near Breck
This website may contain affiliate links and we may be compensated (at no cost to you!).
In this guide we're sharing the best places in Breckenridge, Colorado for snow tubing or sledding in winter.
While Breckenridge does not officially have its own tubing hill, there are many places with awesome snow tubing nearby. And we're not just talking about a small ski slope that's been turned into a tubing spot.
Resorts like Keystone, Copper Mountain, and Frisco Adventure Park have taken snow tubing to the next level.
Whether you're in Breck looking for an epic tubing adventure, extreme sledding experience, or a family friendly sledding hill, there is something for everyone.
Related: The Best Things to Do in Breckenridge in the Winter
Country Boy Mine Sledding Hill – 2 miles
There are several places within the city of Breckenridge that allow sledding. One of the most common spots is the Country Boy Mine Sledding Hill.
In the winter, this area is turned into Summit County's newest winter attraction for Extreme Sledding in Breckenridge.
If you're looking to take sledding up a notch with some high speed, then this is the activity for you!
The Country Boy Mine's alpine sledding course is just over a half a mile of snow-covered fun.
This extreme sledding experience allows you to soar down the hill three times. For kids, special sized sleds are available at the mini sled park nearby.
You can also enjoy a monster truck sleigh ride to visit places in Colorado with fantastic views that horses normally can't climb. Jump into a 1948 monster truck with snow tracks for wheels.
During the winter the Country Boy Mine turns into an extreme winter experience that's perfect for adults of all ages.
Carter Park Sledding Hill – 1 mile
The sledding hill at Carter Park is one of the only family-friendly sledding locations in Breckenridge. It's completely free but you have to bring your own sled, helmet, and warm clothes.
In the winter this city park is turned into a winter wonderland and makes a great spot for kids of all ages to sled.
Make your own entertainment and there's no limit on how long you can sled. Stay all day if you like!
A covered and heated pavilion with a gas fireplace is available to park guests to warm up. There are also heated restrooms available to the public.
In addition to sledding on the hill, Carter Park offers plenty of winter hiking and snowshoeing options on the trails nearby.
Carter Park is located at 300 S. High Street on the south end of the road across from Breck Elementary School.
Frisco Adventure Park Tubing Hill – 9 miles
The tubing hill at Frisco Adventure Park is like none other in the state. The hill has multiple lanes each with a different experience. Soar down the hill super fast or take a more mellow ride.
The Park makes it easy to get back to the top of the tubing hill thanks to the surface lift. Just jump onto the slow-moving conveyor belt with your tube for a safe ride to the top.
Frisco Adventure Park has a wide variety of things to do besides just tubing. The ski & ride hill is available for beginners and it's home to the Frisco Nordic Center.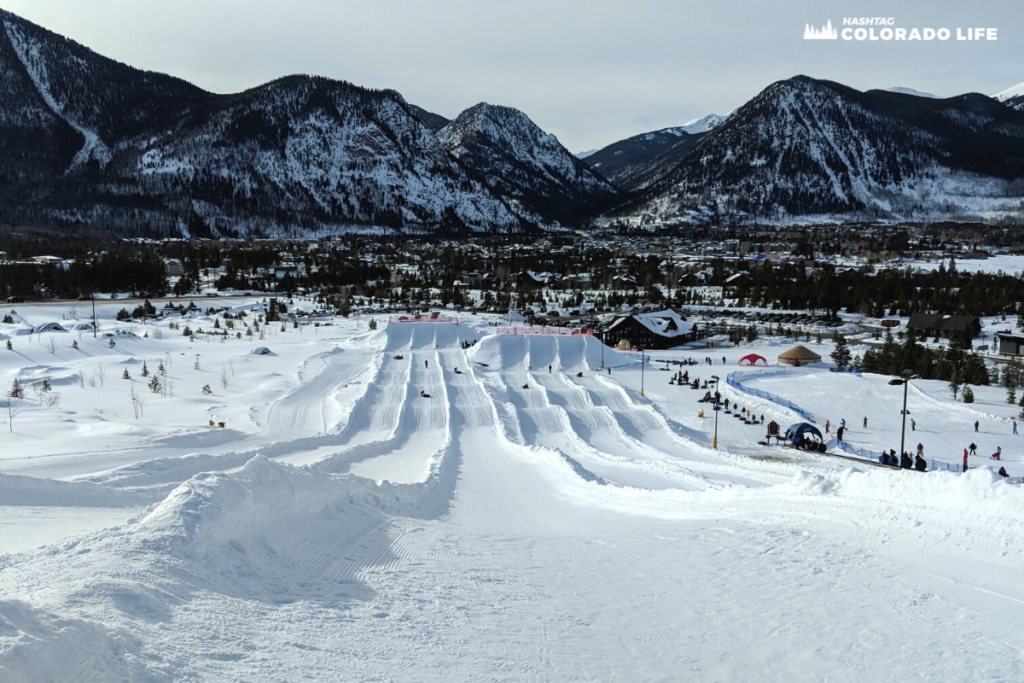 In the summer there is hiking, biking, skateboarding and disc gold available at the Park as well.
Tickets to Frisco Adventure Park are available for purchase and you must have a reservation booked.
For the 2022/2023 winter season the tubing hill at Frisco Adventure Park is closed on Tuesdays and Wednesdays.
Keystone Adventure Point – 15 miles
Keystone Ski Resort is home to two tubing hills in Colorado. Mountaintop is a high-elevation multi-lane tubing hill, while there is a more family-friendly option at the Nordic Center.
The Mountaintop tubing hill at Keystone is perched on the summit of Dercum Mountain, which is 11,640 feet in elevation.
The Nordic Center has a much smaller tubing hill with slower lanes, which is safer for young kids. It's a calmer alternative to the busier tubing hill on the mountain.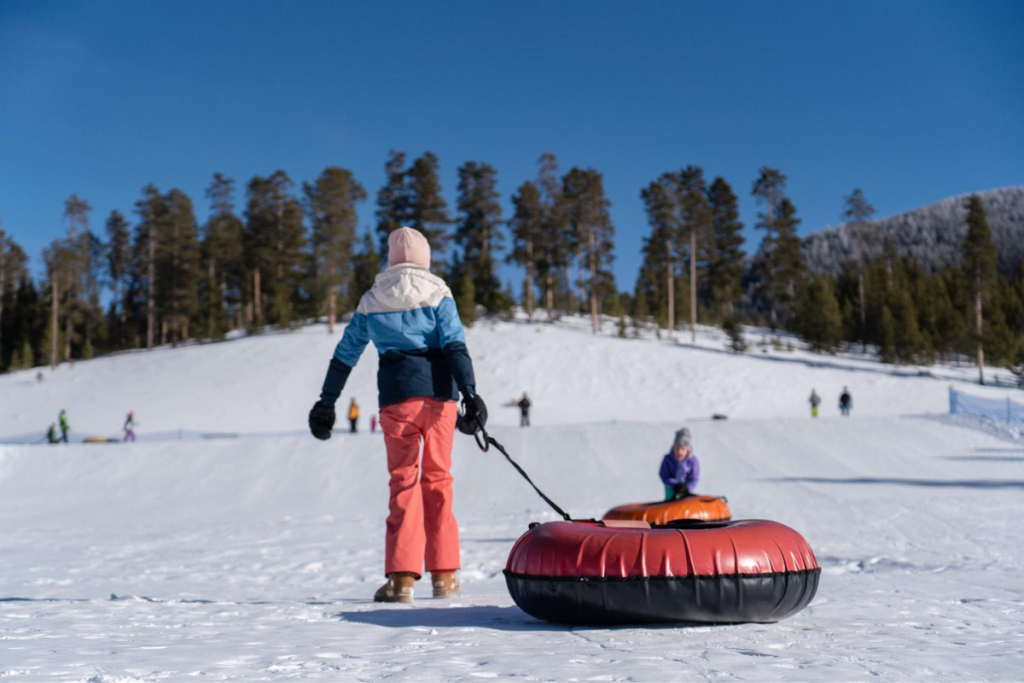 Check-in for the tubing hill at Keystone is located at River Run Village next to the gondola. In order to access the tubing hill you must purchase a lift ticket for the gondola.
On the way up to Mountaintop tubing hill you can make a stop at the Keystone Snow Fort, which is the world's largest snow fort!
Or take a break at the Summit House for a quick snack or drink in between tubing runs.
Copper Mountain Tubing Hill – 18 miles
The final great spot for Breckenridge snow tubing is the nearby Copper Mountain Tubing Hill. Opening in late December 2022, this spot is a family favorite.
Similar to the Frisco Adventure Park, the Copper Mountain Tubing Hill offers multiple slopes for various speeds. One of the lanes even has a large jump to go sailing out there on your tube.
Plus, there is a magic carpet lift system available to get you back up the hill with your tube. So you don't have to worry about hiking back up.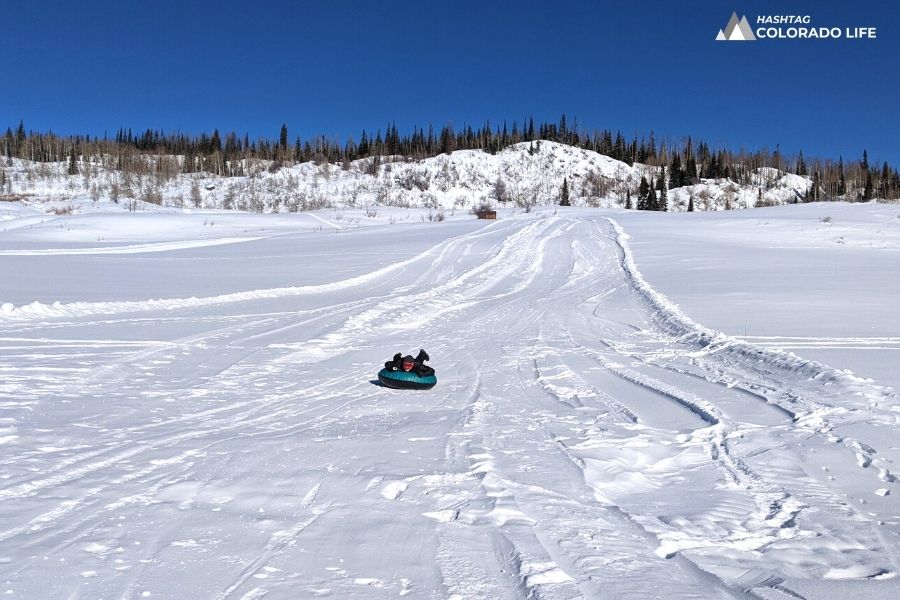 Double tubes are available for large families or couples looking to ride together, so it's a fun winter activity for the whole family.
Snow tubing sessions are available with a purchase of a ticket and last about 1 hour. All ages are welcome but you must be at least 36 inches tall to snow tube at Copper Mountain.
Tickets that are purchased online, in advance, via Copper Mountain's website will get up to a 20% discount.
There are lots of options for Breckenridge snow tubing and sledding when visiting this small mountain. Take your pick of a more adventurous day or go for a calm, chill winter activity.
Bring your kids, teens, and adult friends to make fun winter memories that will last.