by Ryan Nicholson
|
Last Updated:
May 25, 2021
The content of this website may contain affiliate links and we may be compensated (at no cost to you!). Thank you for your support!
Grizzly Creek Trail is 3.5 miles long and a moderately difficult trail that is located very near Glenwood Springs, Colorado. 
If you're looking for a fun summer hike in Colorado, or a place to stretch your legs along Interstate 70, Grizzly Creek Trail is the perfect spot.
This is one of our favorite hiking spots on our annual trip to one of the best hot springs in the area, Glenwood Springs.
Hiking Grizzly Creek Trail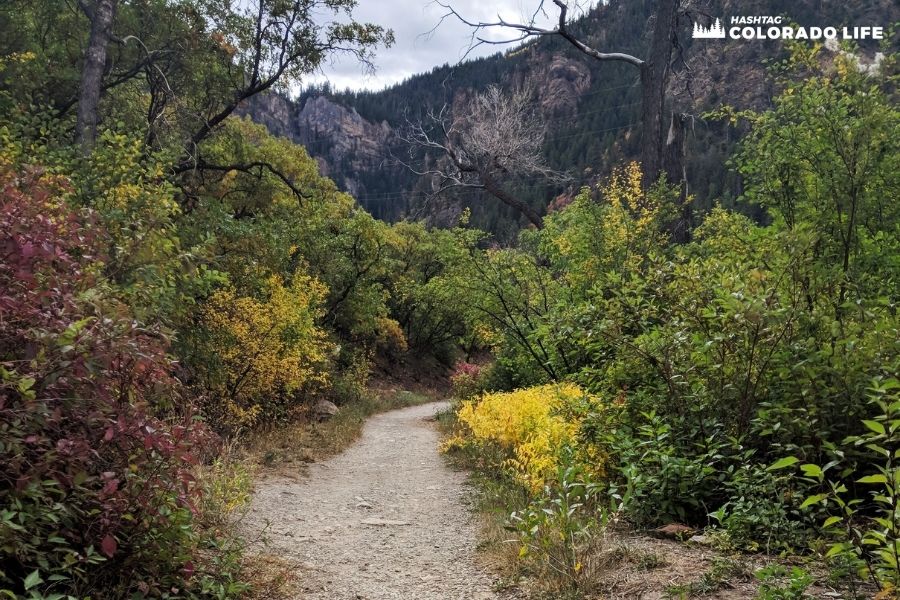 Grizzly Creek Trail was originally named as such by a wealthy game hunter who killed the largest grizzly bear in Colorado in 1881.
The trail starts where the Colorado River meets Interstate 70 and follows Grizzly Creek north.
It is mostly made of dirt and rocks, winding alongside the picturesque waters of Grizzly Creek.
The trail starts at an elevation of 5,900 feet and continues until it reaches about 7,700 feet.
The first half mile is wide and a fairly easy hike, but the trail narrows the further you go, and can become very rocky.
Grizzly Creek Trail is primarily used for running, mountain biking, and nature trips.
Glenwood Canyon is home to a wide variety of wildlife including mule deer, mountain lions, bighorn sheep, and lots of ground animals.
Dogs are able to use the trail but must be kept on a leash at all times.
Where is Grizzly Creek Trail?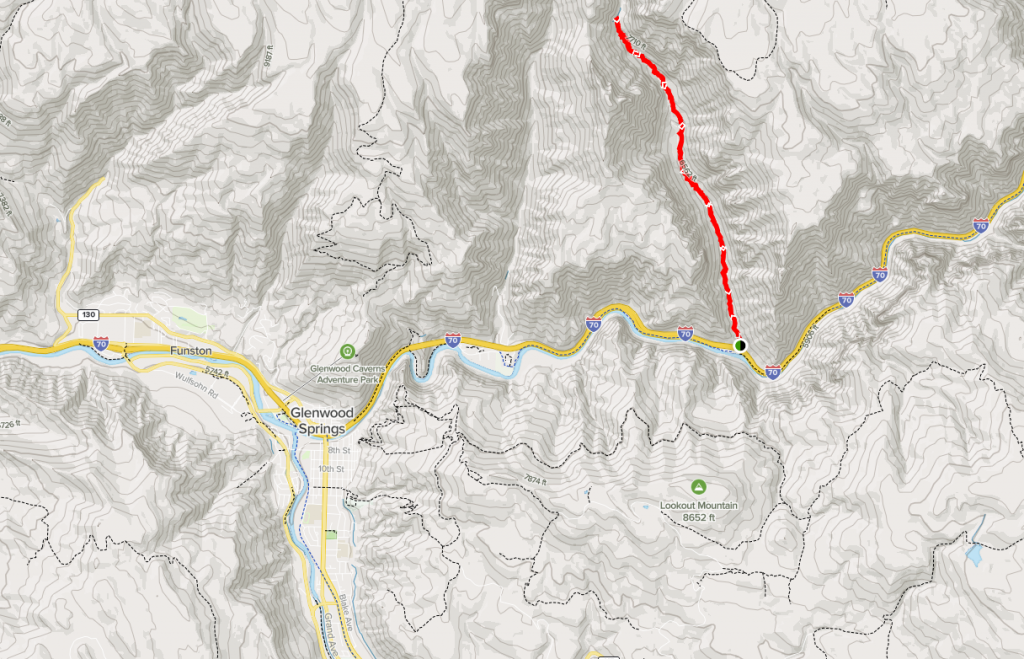 Grizzly Creek Trail is located a short 5 miles east of Glenwood Springs on 1-70.
Take Exit 121 and see the trailhead on the north side of the freeway next to the upper parking lot.
The trail begins in Glenwood Canyon and ends about 3.5 miles north.
At the end of the trail you will see a metal conduit that takes water out of the creek for the city of Glenwood Springs water supply.
Aside from the trail nearby, Exit 121 also has a rest and recreation area and is one of the most beautiful rest stops we have ever visited.
This alone should be on your bucket list of fun and unique places to visit in Colorado.
The area is surrounded by dense vegetation, large trees, and towering canyons on multiple sides.
Glenwood Canyon fire in 2020
Photo credit: Colorado Public Radio
On August 10, 2020 a fire was intentionally set and burned for about a day in Glenwood Canyon.
It started east of No Name and continued running out in many directions, both north and south.
Firefighters and Rangers were fast to respond and had the fire constrained relatively quickly. Only a fraction of the 30,000 acres were burned.
Thankfully, Glenwood Canyon and Grizzly Creek Trail was not completely destroyed.
Remains of the fire and damaged woods are evident, but many trees, shrubs, and wildlife were preserved.
Today, you can hike the Grizzly Creek Trail and enjoy the bubbling waters and take in the gorgeous views.
Be careful when hiking Grizzly Creek Trail since the canyon fire, as there could be falling debri, trees, and sliding rocks due to shifts in terrain.
Visiting Grizzly Creek Trail in Glenwood Springs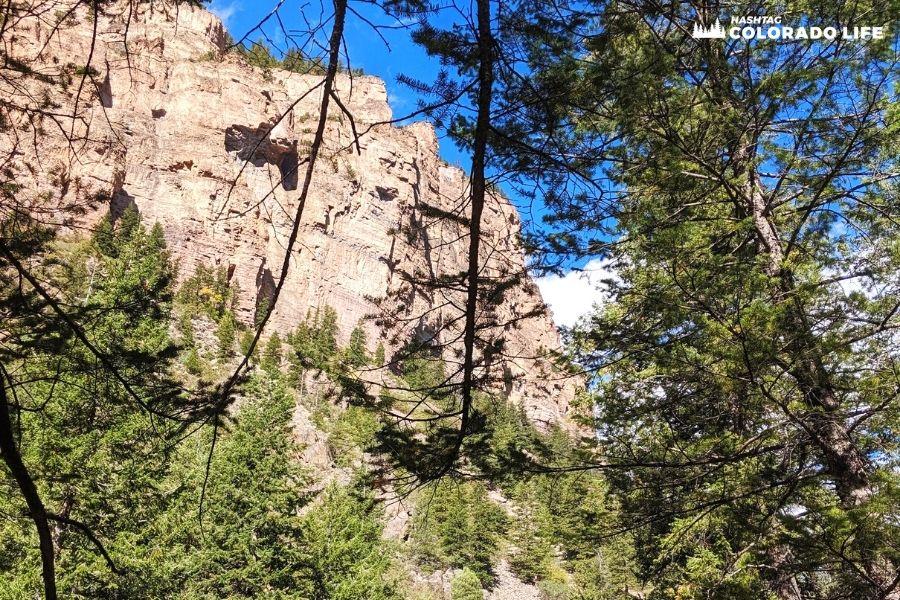 Hiking Grizzly Creek Trail is a great afternoon adventure if you're looking for things to do in Glenwood Springs.
The trail is usually not too crowded and offers some of the best views in the whole state.
Plus, there's nothing like hiking near the calming sounds of water nearby.
Parking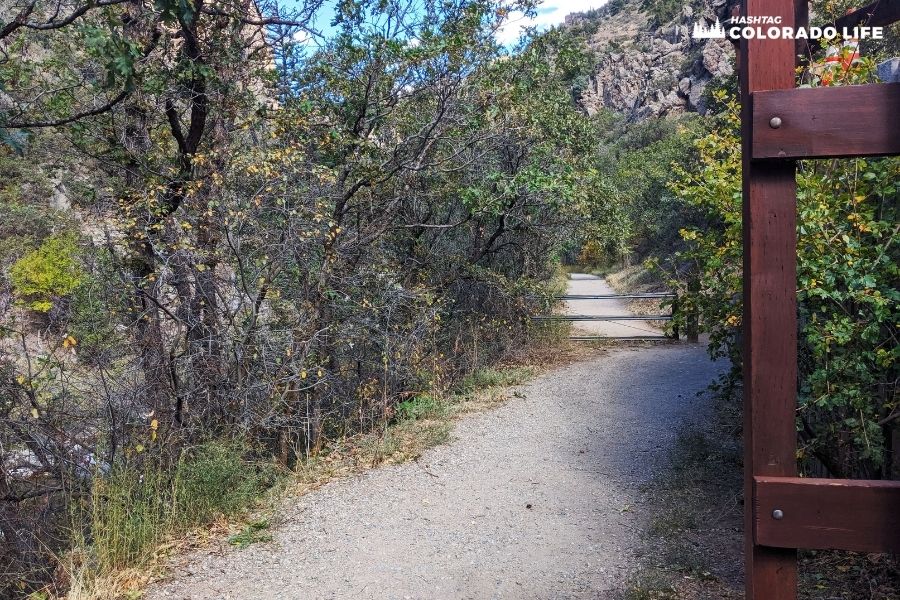 Hiking and parking near Grizzly Creek Trail is completely free. There is an upper parking lot available right at the trailhead entrance.
Access to the trail is granted on an open spot for hikers next to the locked gate. Cars and other motorized vehicles are not allowed on the trail.
The trail is open seven days a week, all year-round, except when closed for maintenance.
Picnicking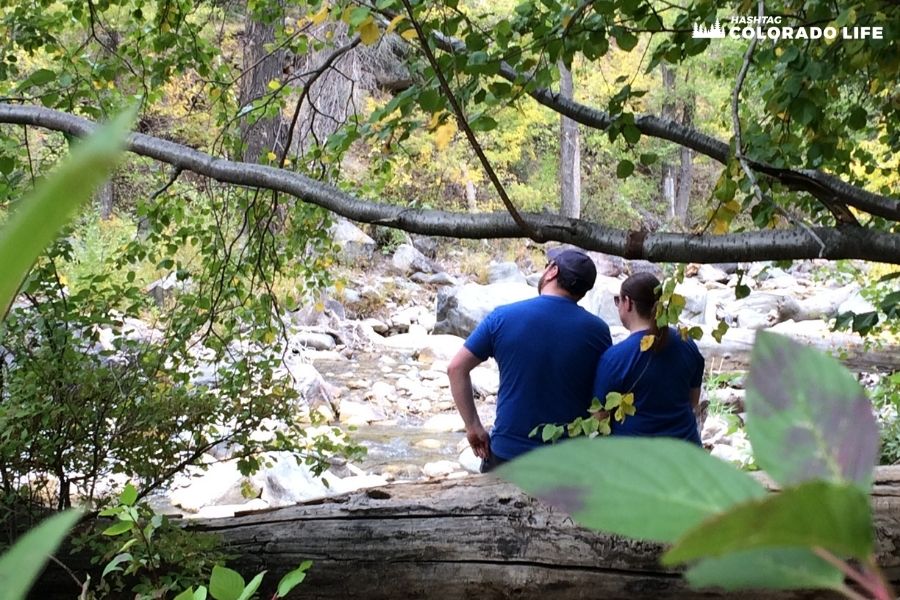 Picnic areas and benches are spread out along the lower part of the Grizzly Creek area.
Further up the trail the large rocks along the river bank, or on the trail, provide natural seats to cool off or take a break.
There are plenty of places to enjoy the sounds of the river and take in the views of Glenwood Canyon.
Bring your kids, friends, and furry companions to enjoy a picnic near the creek. It's a popular spot for a fun summer outing.
Fishing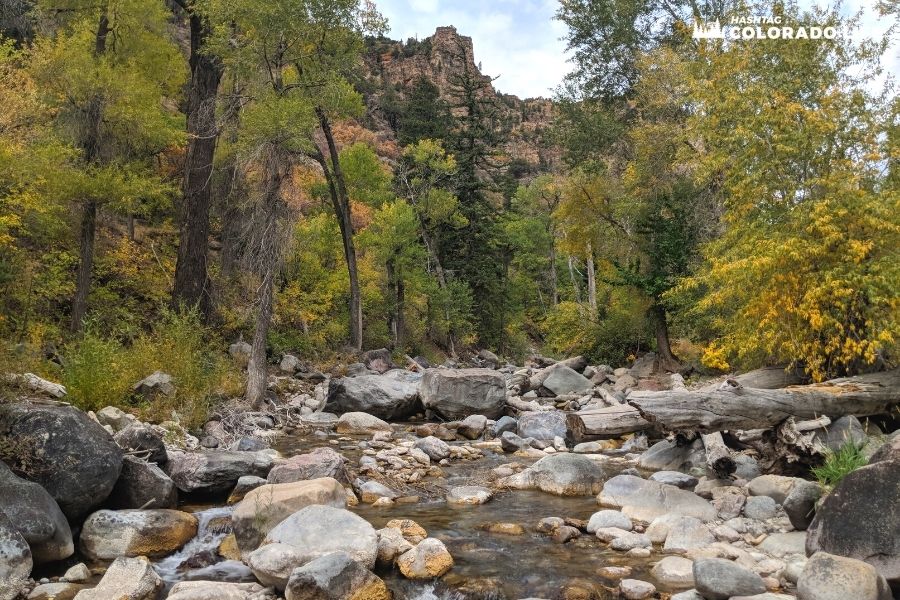 Fishing is also allowed from the banks of the creek, which flows all the way down to the Colorado River, on the other side of Interstate 70.
Those fishing can fish from the bridges at the Exit 121 rest area, or fish from any of the banks near the river along the hike.
When visiting Grizzly Creek Trail, we recommend hiking early in the morning or on a weekday.
This way you avoid the weekend crowds and tourists who may be visiting the nearby Glenwood Springs.
Ryan Nicholson is a homegrown born and raised Colorado native. Being a rare unicorn to have grown up in CO, he has a unique perspective on the changes here and knows all the hidden spots to get outside in this state. Ryan's a classically French trained chef so he LOVES to try new foods and places to eat. When he's not experimenting in the kitchen or working as a personal chef along the Front Range, he loves to get outdoors and away from it all hiking, camping and backpacking.