North Cheyenne Canon in Colorado Springs: Best Hiking & Jeep Tours
This website may contain affiliate links and we may be compensated (at no cost to you!).
Are you planning to visit North Cheyenne Cañon Park this year? You're not alone!
More than 450,000 people visit North Cheyenne Cañon Park each year, and with good reason.
The canyon is home to hundreds of acres, historic roads, natural reserves, unique wildlife, and 50+ multi-use hiking trails. You can even book a guided jeep tour in North Cheyenne Canyon.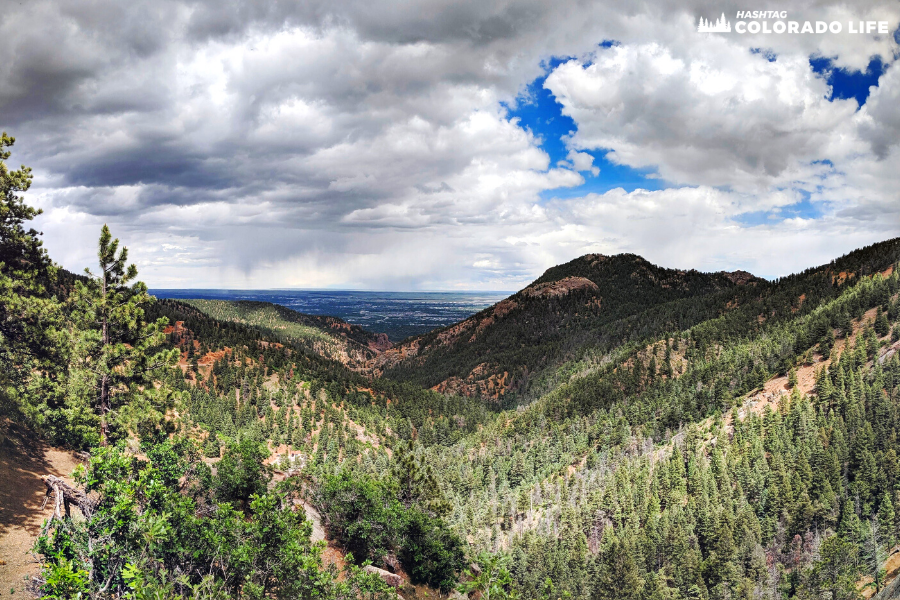 It's a perfect summer getaway for getting outdoors, enjoying nature, birdwatching, field trips, and spring picnics.
There are two visitor centers located in the park, including the Helen Hunt Falls Visitor Center and Museum, as well as the Starsmore Visitor and Nature Center.
If you live in Colorado Springs, or are planning a trip, North Cheyenne Cañon Park is a must visit.
For a unique experience, book a fun 2-hour tour of the North Cheyenne Canon and Broadmoor area.
Tips for exploring North Cheyenne Cañon Park
North Cheyenne Cañon Park is a huge 1600-acre park with 1,000 foot high cliffs, mountains, trails, and large wooded areas.
It is home to many different types of wildlife including owls, black bear, mountain lion, mule deer, and hummingbirds.
Admission to the park is completely free and is open to bikers, hikers and drivers year-round, seven days a week from 5am to 9pm.
Access is strongly enforced starting at 9pm when the gates to the park are closed for the night.
Picnic areas are widely accessed throughout North Cheyenne Cañon Park with a large group shelter available upon reservation.
For a more custom trip to North Cheyenne Canyon, I recommend booking a guided jeep tour or seeing the sights on a Segway tour.
Parking is often limited in many of the main lots, but there are no parking fees. In addition, there are lots of pull-offs along the main road.
We recommend exploring the park and hiking trails on weekdays or in the early morning hours on weekends.
How to get to North Cheyenne Canon Park
North Cheyenne Cañon Park is located at 2120 S. Cheyenne Canyon Road in Colorado Springs, Colorado.
The Park and the North Cheyenne Creek are both located in a large granite canyon southwest of Colorado Springs.
The vast landscape includes Helen Hunt Falls, Starsmore Visitor and Nature Center, and the Silver Cascade Falls.
To say there is a lot to do and explore here is an understatement!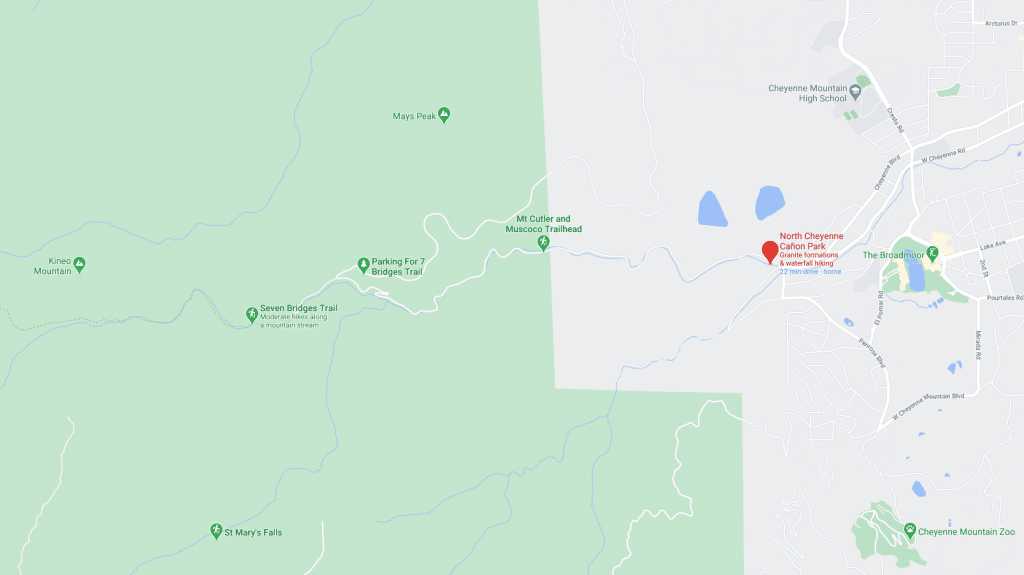 Arriving at the canyon when coming from downtown Colorado Springs is a quick trip.
Just head south towards S Tejon Street then veer right at the roundabout onto Cheyenne Blvd. Take a right at the sign onto North Cheyenne Canyon Road.
It's about a 4.5 to 5 mile drive and should take about 11-14 minutes of traveling time.
If you are coming from Denver, head south on Interstate 25 and take the South Tejon Street exit. Then follow the same instructions listed above.
4 best North Cheyenne Cañon Park trails & maps
As you can see from the map above, North Cheyenne Cañon Park covers a large area near the Rocky Mountains.
There are over 56 miles of trails for walking, hiking, biking, and even horseback riding.
But in this guide we're focusing on four of our favorite multi-use trails for exploring.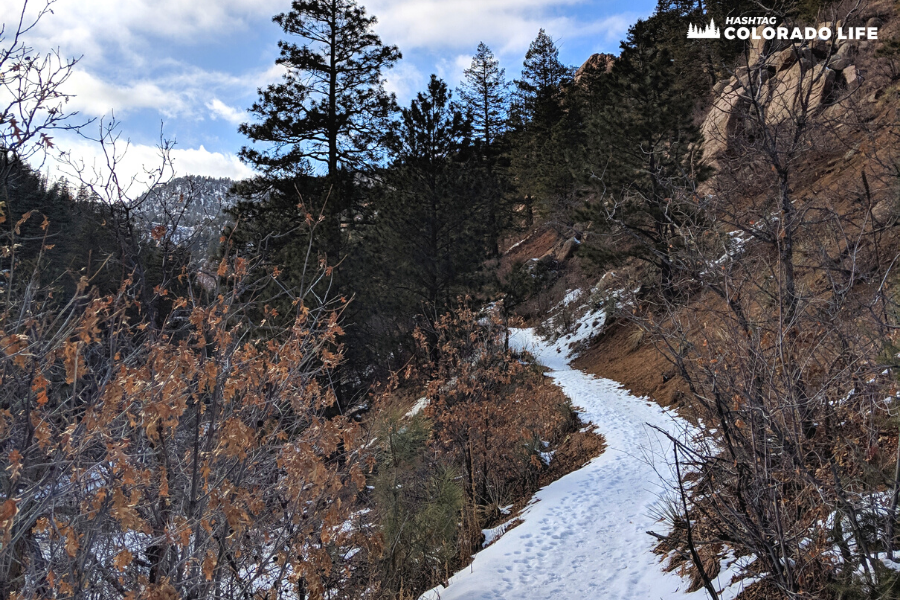 Dogs are allowed on these trails as long as they are leashed.
Click here to download a free map of the North Cheyenne Canyon & Stratton Open Space.
1. Columbine Trail
One of our absolute favorite trails in North Cheyenne Canyon is the Columbine Trail.
The entire path covers 7.6 miles and is pretty popular with locals and tourists. It features a waterfall and is not an easy hike by any means.
But it offers a hiking experience like none other. You can also use the trail for horseback riding or mountain biking.
The path is located on the edge of the mountain and winds around, down and up the cliff side.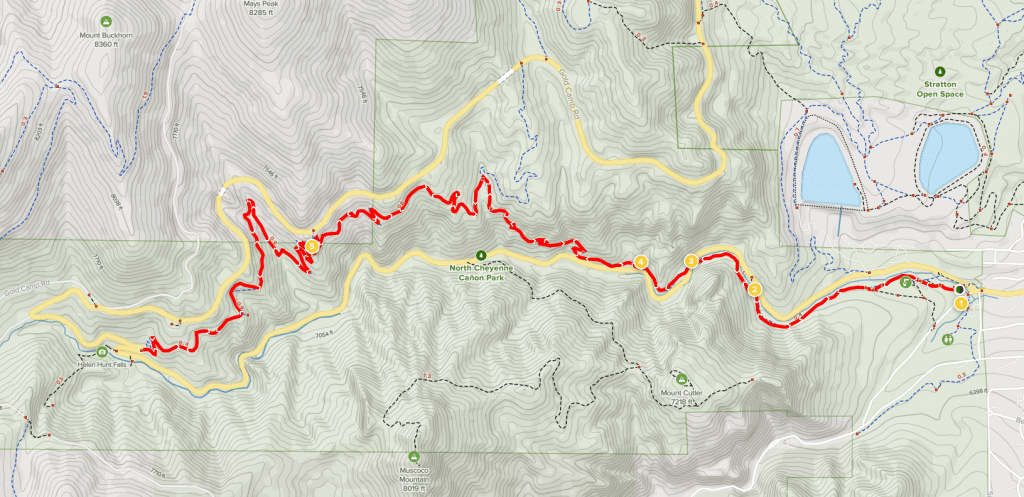 If you don't like heights then you may want to avoid this climb as there are limited hand rails and safety guardrails.
The main trailhead starts at the Starsmore Discovery Center and ends at Helen Hunt Falls.
However, you can pull off at any of the 5 parking areas and climb up the trail at any point.
Gold Camp Road is also nearby so you can choose your own adventure!
The best time of year to hike the Columbine Trail is from May until October. And it's best to avoid hiking on busy weekends and holidays.
2. Mount Cutler Trail
Mount Cutler Trail is an easy 1.7 mile trail that features beautiful wildflowers and gorgeous views for nearly all angles.
This trail goes out-and-back and is good for all skill levels. It's a nice trail for dogs too, but they must be kept on a leash.
The path is named after Henry Cutler who was one of General Palmer's friends and a big supporter of Colorado College.
The trailhead is well marked and the path is well maintained.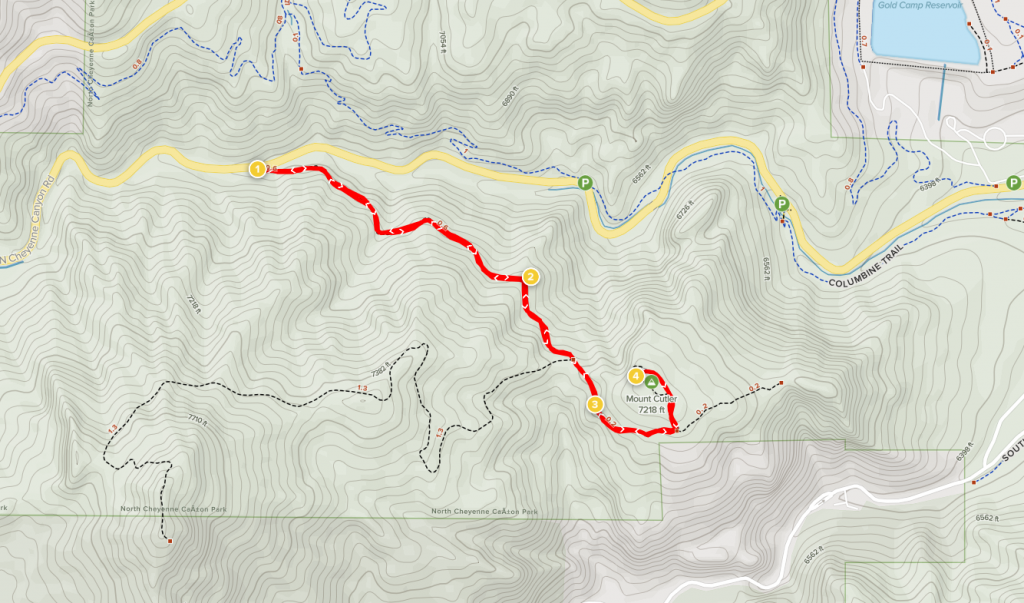 Parking nearby is limited, so it's best to avoid hiking during peak times and on weekends.
After about 1.5 miles you will come to a small bridge, which may be under construction depending on the time of year.
This trail can be hiked on its own or combined with another popular hike called, Mount Muscoco Trail.
The best times to hike Mount Cutler Trail are from spring through fall as the winter months can make the trails icy and muddy.
3. Helen Hunt Falls
Helen Hunt Falls and the nearby Silver Cascade Falls Trail is a very popular spot for locals and visitors during the summer months.
It's a very short, easy trail that is basically from the parking lot to the base of the waterfall.
This trail is used primarily for nature trips, walking, and hiking as well as lots of bird watching.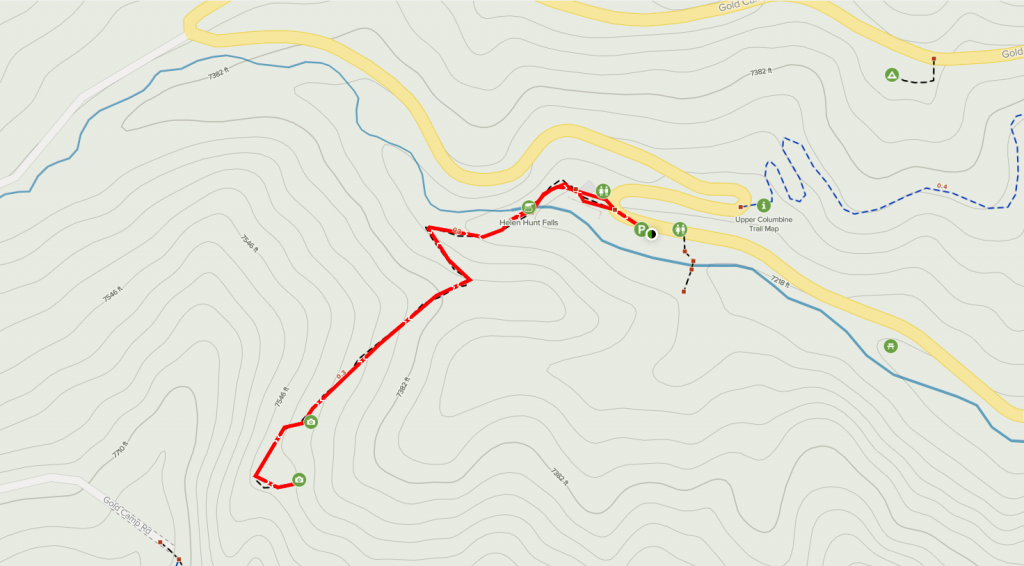 Even though it's only a 0.6 mile path, the Silver Cascade Falls Trail is very difficult as it has many stairs and steep inclines.
This trail is considered very difficult and should only be attempted if you're in good shape and have decent gear.
The climb to the top is worth it though! You will come to the small bridge near the end with a fantastic overlook view that stretches out for miles.
The trailhead begins at the main parking lot located near the Helen Hunt Falls Visitor Center and Museum.
Restrooms area available here plus, snacks, drinks and a map can be purchased.
And be sure to check out the museum which showcases the history of Helen Hunt Falls and the area.
Both of these trails are best used from March until October and dogs must be kept on a leash at all times.
4. Seven Bridges Trail
Our final trail on our list is Seven Bridges Trail, which is a well-trafficked 3.8 mile trail that goes out-and-back.
It features a waterfall and many fantastic views overlooking the city of Colorado Springs below.
The path is rated as a moderate hike that is primarily used for walking, running, hiking, and nature trips.
The elevation gain is over 1,000 feet so beware of this when planning your hike.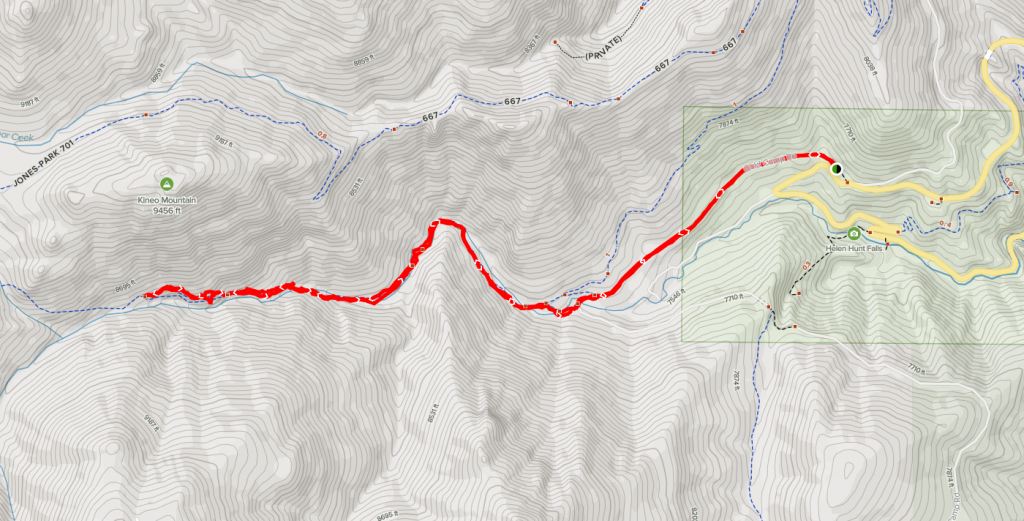 The trail starts at the main parking lot, which is a short drive from the Helen Hunt Falls parking lot.
The lot here is not paved and is simply a wide open space cleared with dirt for cars to park.
The path that leads up to Gold Camp Road from here is blocked to vehicles but can be accessed by hikers and cyclists.
Exploring North Cheyenne Canon Park
North Cheyenne Canon Park is one of Colorado's most popular outdoor destinations for visitors.
While some of the areas are more touristy like Helen Hunt Falls or Seven Bridges Trail, there are 50+ other trails to enjoy away from the crowds.
Admission is always free and the park is open year-round from 5am to 9pm, which is strictly enforced.
Visiting North Cheyenne Cañon Park is always an adventure and we are still finding new paths and hiking trails to explore!