10 Epic Things to Do at Garden of the Gods in Colorado Springs
This website may contain affiliate links and we may be compensated (at no cost to you!).
In this guide, we're sharing all about our own backyard oasis, the Garden of the Gods.
This historic park is located right here in Colorado Springs, and is a place we visit often.
We are so lucky to live so close to this magnificent natural wonder and know that you will enjoy visiting it too.
Read on to learn more about the history of Garden of the Gods and all of the awesome tours available at this iconic destination.
What is Garden of the Gods?
Garden of the Gods Park is a registered National Natural Landmark.
Even though the Park has attracted visitors for hundreds of years, it finally received this designation in 1971.
Garden of the Gods is best known as one of Colorado's most photographed views (and for good reason!).
The towering red rock sandstone formations rise up before the mountainous backdrop of Pikes Peak and the Front Range.
At the park, you won't find slides and swings and jungle gyms, but you will find some absolutely gorgeous geology!
This is a Rocky Mountain playground that inspires a love of rocks in visitors both young and old.
The Garden of the Gods is the perfect place to take a day trip adventure.
You could fill a few hours or a whole weekend just exploring the many trails, wandering the visitor's center, and dining on site.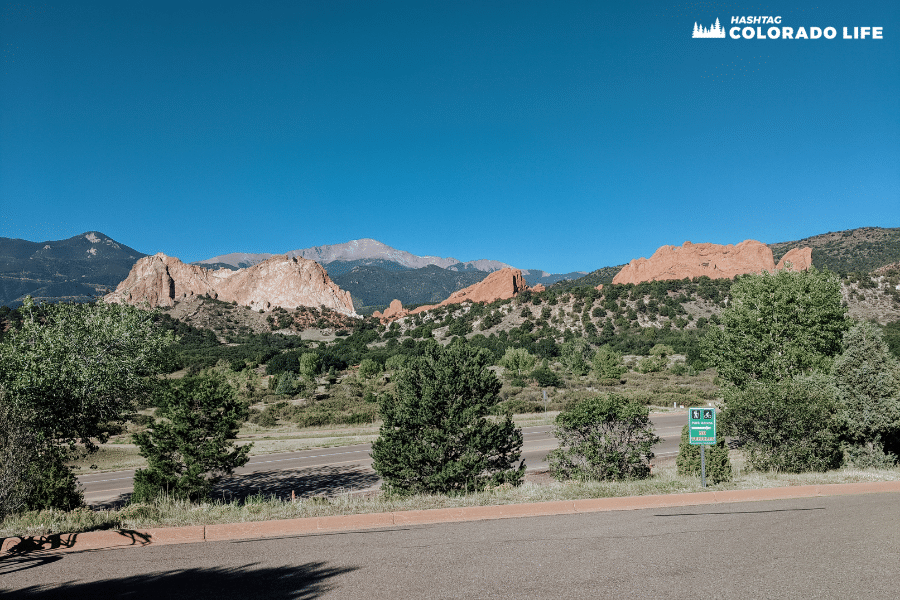 Why is it called Garden of the Gods?
In the 1870s, when railroads were tracing their way across the country, General William Jackson Palmer founded Colorado Springs.
He also encouraged his friend and fellow railroad man, Charles Elliott Perkins, to build his Chicago track to end in Colorado.
Though the railroad never made it to Colorado Springs, Perkins himself visited Colorado Springs and fell in love with the land now called Garden of the Gods.
He ultimately bought 480 acres of land and did his best to keep it in its natural and majestic state. Perkins died in 1907, before making arrangements for what to do with his land.
Throughout his life, Perkins made the Garden of the Gods open to the public for free, so in death, his children continued his legacy.
They conveyed his extensive property to the City of Colorado Springs, on condition that "no building or structure shall be erected except those necessary to properly care for, protect, and maintain the area as a public park."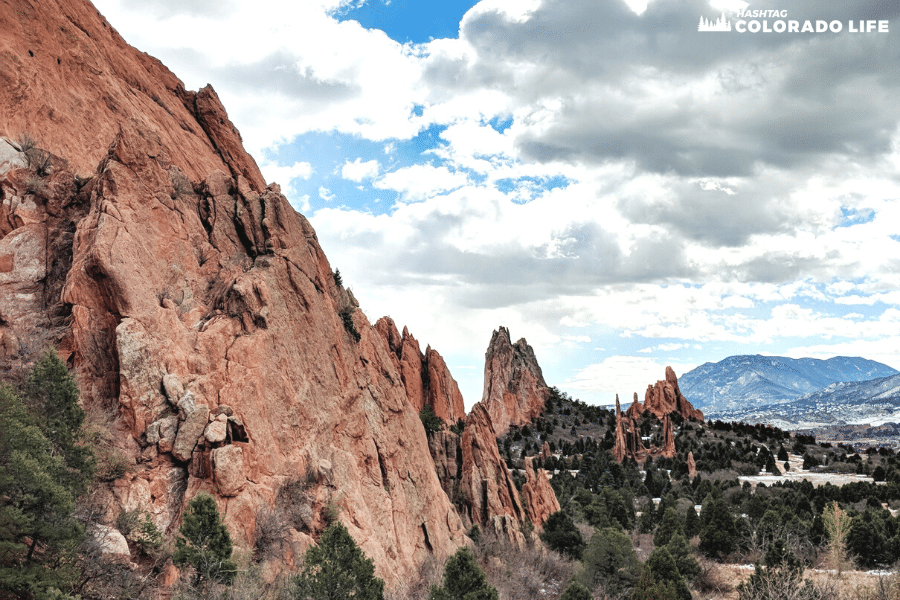 But long before Mr. Perkins, the area was known to many American Indian tribes. It was likely a spiritual destination for the Apache, Cheyenne, Comanche, Kiowa, Lakota, Pawnee, Shoshone, and Ute people.
The area was known by European visitors as Red Rock Corral.
It wasn't until 1859, when some young surveyors visited from Denver City, that the park got its current name.
The story goes that M. S. Beach remarked to his companion that this would be a "capital place for a beer garden" when the country grew up.
Rufus Cable, his companion, then exclaimed, "Beer garden! Why, it is a fit place for the Gods to assemble. We will call it the Garden of the Gods."
Where is Garden of the Gods located?
The Garden of the Gods main entrance is located at 1805 N. 30th Street, on the northwestern edge of Colorado Springs.
The Park itself is a sprawling 1,300 acres of sandstone formations, grasslands, hiking trails, and a visitor center.
It's important to note that Garden of the Gods is located at about 6,400 feet in elevation.
If you're planning a visit and are not well adjusted to high altitude, we recommend that you take precautions to make your visit the best it can be!
Read more about how to prepare for life at high altitude!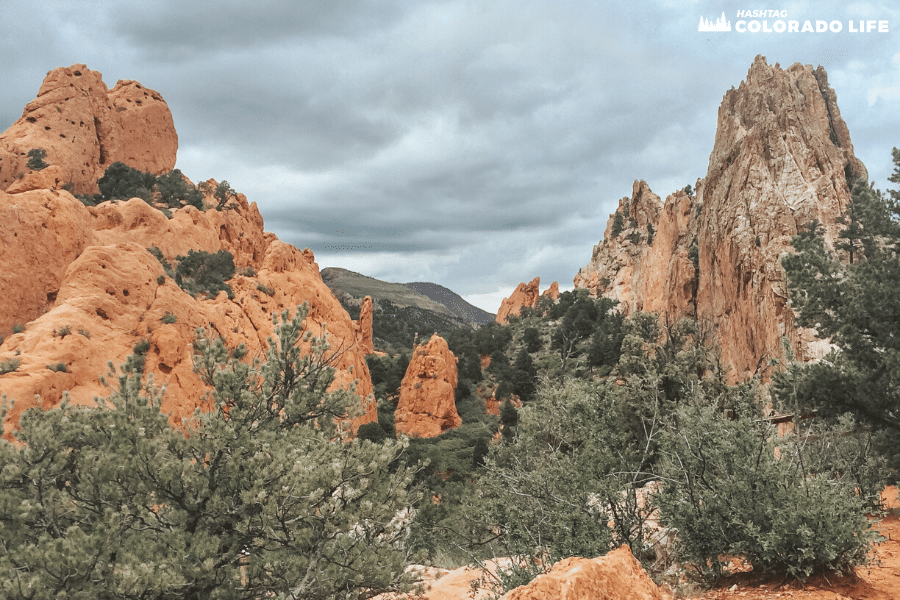 How to get to Garden of the Gods from Denver
To get to Garden of the Gods from Denver, Boulder, or Fort Collins, head south on I-25.
Follow I-25 south to exit 146 for Garden of the Gods Road.
If you are visiting from Colorado Springs, you will take the same exit. Then, just follow signs for Garden of the Gods that are clearly marked along the way.
Garden of the Gods is about 70 miles from Denver, so plan for traffic and weather conditions, as you should expect your drive to last an hour or more.
This destination makes a great day trip adventure from Denver or Boulder (and of course, we love to visit right here in Colorado Springs!).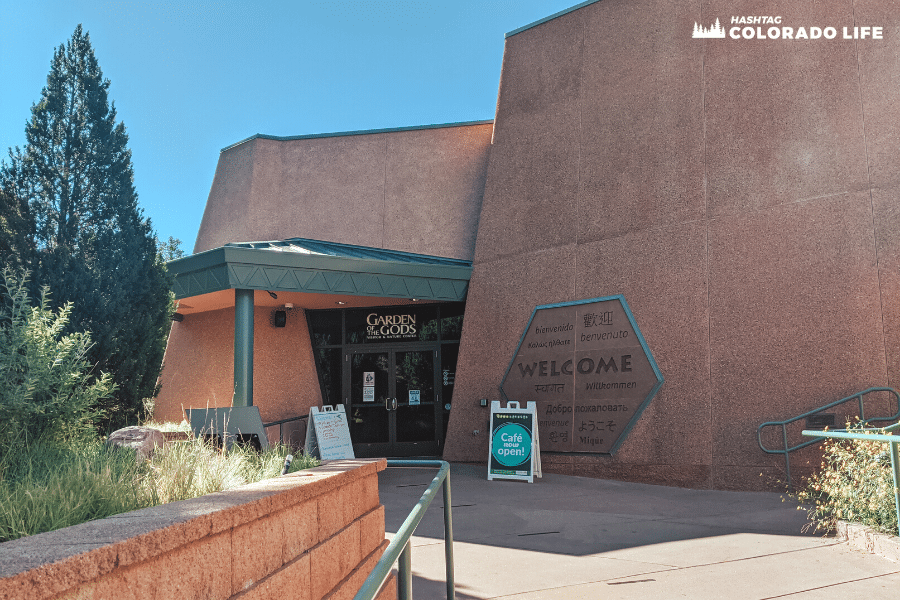 10 things to do at Garden of the Gods
There is so much to see and do at Garden of the Gods. And when we say there's a lot to see and to do, we mean it — for adults and kids too.
In fact, we enjoy visiting this destination regularly, at least every month or so. It's just that awesome!
Bring your camera and get ready some of the most picturesque views of this gem of Colorado!
1. Hike Garden of the Gods on foot
Garden of the Gods has over 12 designated trails in the park. Hiking tours and trails range from the very easy to moderate in difficulty.
Pick up a free full-color trail map at the Garden of the Gods Visitor & Nature Center information desk.
The Perkins Central Garden Trail is a 1.5 mile paved trail that is both wheelchair and stroller accessible, and features guided tours during open hours.
Note: Please be thoughtful and keep to the trails to limit the effects of erosion on the incredible and unique landscape.
2. Rent a bike or go on a bike tour
Thanks to the rolling hills and paved one-way roads, riding or renting a bike is an amazing way for cyclists to explore the area.
You can bike on your own using your own bicycle or book an electric bike tour!
Garden of the Gods offers some of the top-rated bike tours using e-bikes making it an easy way to explore the park, regardless of your age or fitness level.
Standard non-electric bikes are also available to rent.
If you book a bike tour, a friendly guide will lead you and your group to the best locations in the park while explaining all of the features and history.
Tours range from about 1.5-2.5 hours covering anywhere from 5-13 miles, and is easy for most ages and abilities.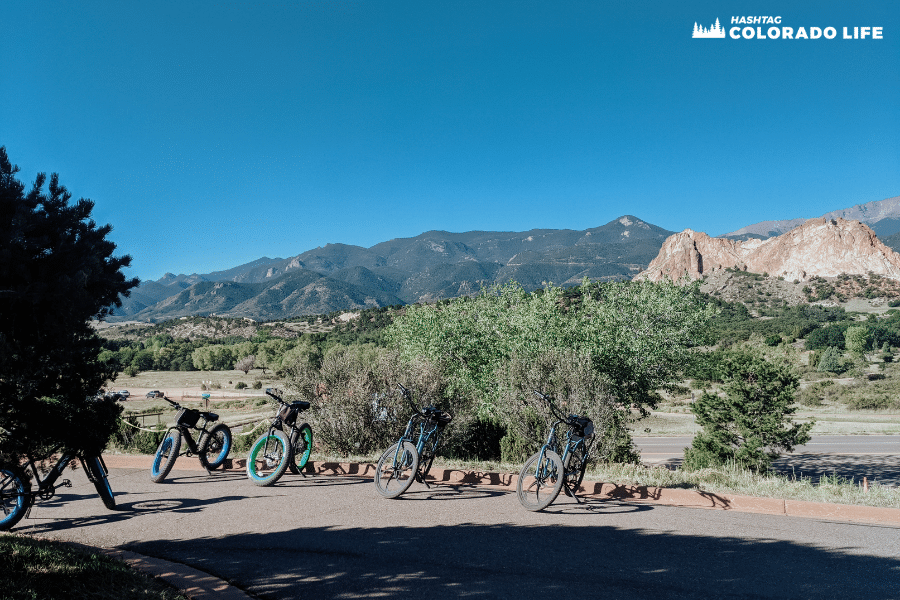 3. Drive around Garden of the Gods
Personally, our favorite way to see Garden of the Gods is to start by driving through and then parking for a hike.
It's a short 20-minute drive through the park, and an awesome way to get familiar with the park before exploring more deeply.
Follow the driving loop through the park and be ready to take in the views. Along the road at High Point, you can catch an incredible view of Pikes Peak.
4. Stop by the Visitor center and overlook
The Garden of the Gods Visitor and Nature Center is worth a stop all on its own. The overlook outside on the balcony offers a beautiful view of the rock formations.
The visitor center is also a good place for a bathroom break. Although, there are a few restroom areas along the trails in the most popular areas of the park.
This is a family-friendly and educational stop for your visit, and can be the hub of your activities, whether you want to eat, learn, shop, or hike.
5. Attend museum classes or programs
Because the Garden of the Gods is a geological point of interest, the park makes a great destination for field trips and homeschool families!
Learn more about the geology, ecology, and history of the park through their many programs and exhibits.
From learning about dinosaurs and erosion patterns to birds and animals, there is plenty for kids of all ages to discover at the park.
Join the Junior Ranger program for kids ages 7-13 and receive a badge and certificate!
We personally enjoyed the Survival Plant Hike with "Cattail Bob" where we learned to identify many edible and medical plans within the park's grounds.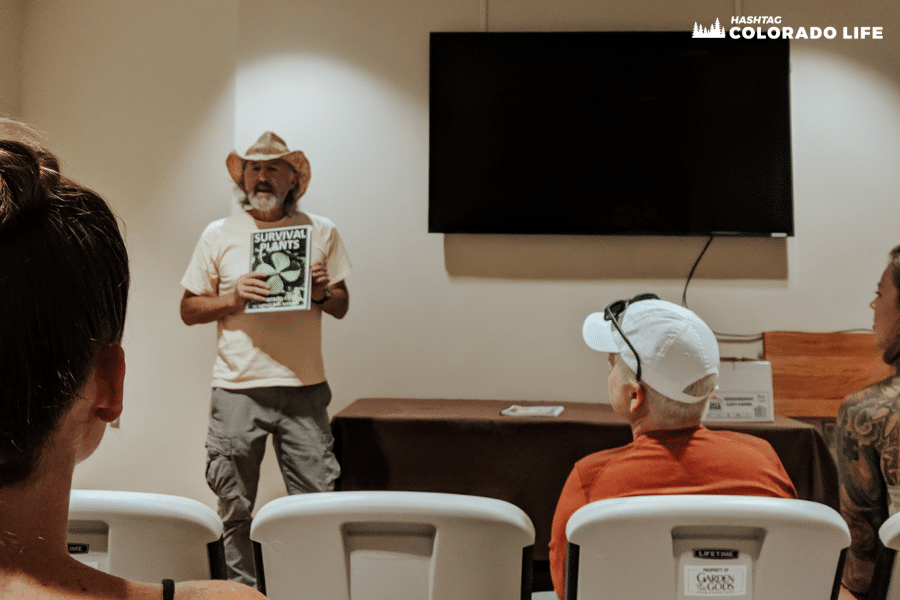 6. Sign up for a Tour of the park
In addition to free guided walking tours that happen daily, visitors to the Garden of the Gods can also book bus tours of the park.
Sign up to take an informative and enjoyable step-on-guide tour. A knowledgeable guide will join your bus for a one-hour tour to share about the incredible Garden and how it was formed.
A tour like this is a good option for large groups, friends and family that are visiting, or homeschoolers.
7. Go horseback riding
See Garden of the Gods the way American Indians and pioneers would have seen it — from horseback!
These relaxing, scenic horseback rides through the park will have you weaving through rock formations.
The trained cowboy guides will tell stories of the park and its history. This is an unforgettable way to learn more about the Garden!
8. Trolley, Jeep or Segway tours
If horseback riding isn't your thing, try open-air Jeep, trolley, or even Segway rides through the Gardens instead.
The 1909 Trolley Tour is operational from 9am-5pm every day. It offers an open-air experience with 14 seats and a custom-built trolley.
The tour provides a way to travel back in time at what the Garden looked like over 100 years ago. You can expect to spend about 45 minutes on the tour.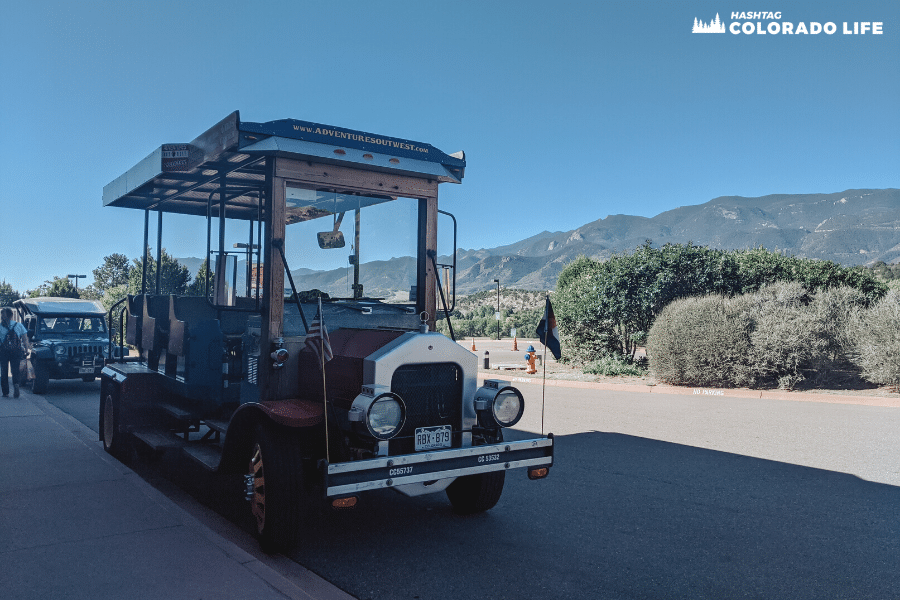 Jeep tours of Garden of the Gods are some of the most popular activities.
With 3 different types of tours to choose from, you will get a narrated tour that stops at waterfalls, a railroad tunnel, Glen Eyrie's Queens Canyon, and more.
The tours last anywhere from 90-120 minutes and can cost between $40-75 per person.
Segway tours of the park are also available as a way to see everything at a slower pace with memorable views.
Tour stops include the history of the area's geology, local plants, flowers, and even wildlife.
Tours are available hourly from 9am-4pm and will typically take about 90-120 minutes to complete.
9. Get hands on by rock climbing
When you're surrounded by massive carved rock, it's no surprise that rock climbing is a popular attraction to the Garden of the Gods.
Make climbing a family fun activity when you sign up for a rock climbing experience.
At $69 per person, this is a more expensive but memorable way to get up close and personal with the geology of the Garden.
For experienced climbers, other routes are available, depending on the time of year and other natural factors.
Find out about which routes are open and how to get a permit to climb.
8. Eat at the Bean Sprouts Cafe
All that adventuring is bound to make you hungry! And thankfully there are a few spots to eat within the Garden of the Gods.
At the visitor center, you can stop into the Bean Sprouts Cafe. We enjoy grabbing a bite to eat here before heading out to those red-colored hills, or to refuel after a day of exploring.
You can also stop for lunch at the Garden of the Gods Trading Post, which is located within the grounds of the park.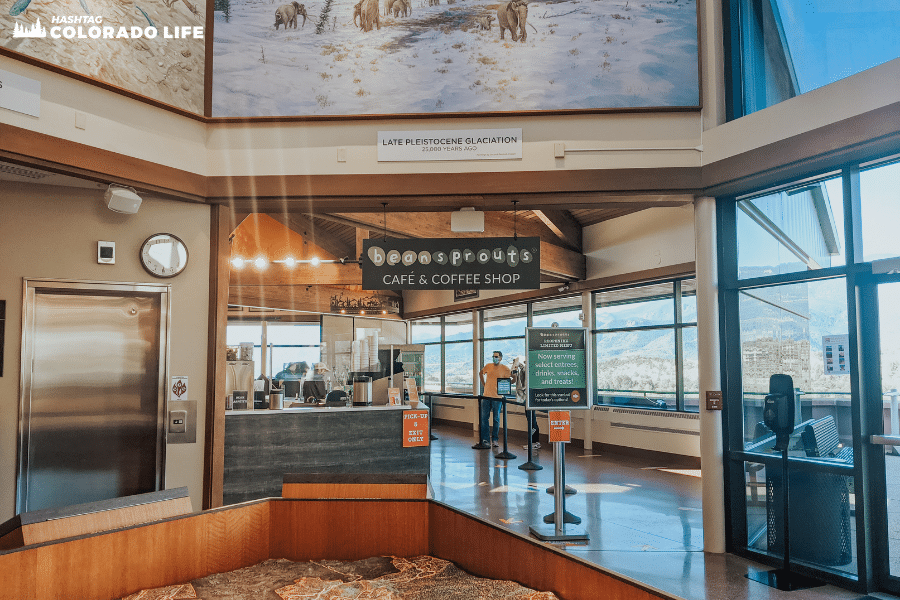 9. Refuel at the Garden of the Gods Trading Post
On the southwest end of the park, you'll find the Garden of the Gods Trading Post.
Featuring such metropolitan amenities as Starbucks coffee and public bathrooms, the Trading Post is a perfect place to find a souvenir to round out your visit.
The Trading Post is a lovely little pueblo style building and has lots for sale. Pick up some fudge or find the right t-shirt to commemorate your exploration.
10. End the trip with ice cream
Finally, end your visit to Garden of the Gods with a scoop of Colorado City Creamery ice cream, served up at the Balanced Rock Cafe.
This traditional cafe serves up burgers, fries, ice cream, and slushies along with beer and wine.
You can also hit up their coffee corner to get your daily caffeine boost.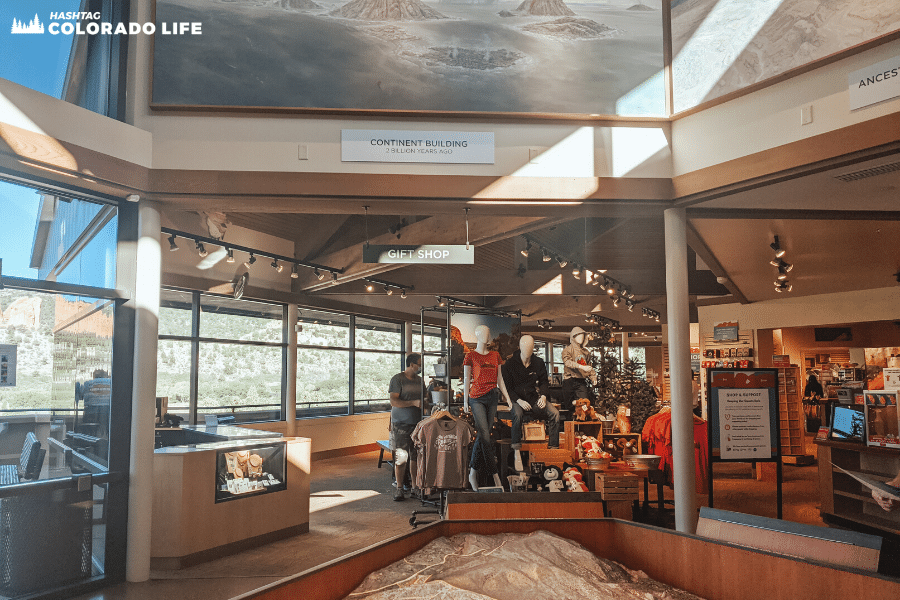 Tips for visiting Garden of the Gods
Garden of the Gods is an iconic destination in Colorado Springs, and there are a few important things you should know before visiting.
Leashed pets permitted
Pets are permitted within the park! But they ask that you please keep them leashed and on the trails at all times.
And clean up after your pet and pack out your poop!
Ample parking is available
Since Garden of the Gods is a car-friendly destination, there are over 300 parking spots within the park. This makes parking generally easy.
If you plan to visit on a weekend, be prepared to do some hunting to find a spot though. The park can get very busy on weekends when there are a lot of tourists visiting.
Because of this, the best time for visiting Garden of the Gods is on a weekday, during the off-season, when there is less traffic.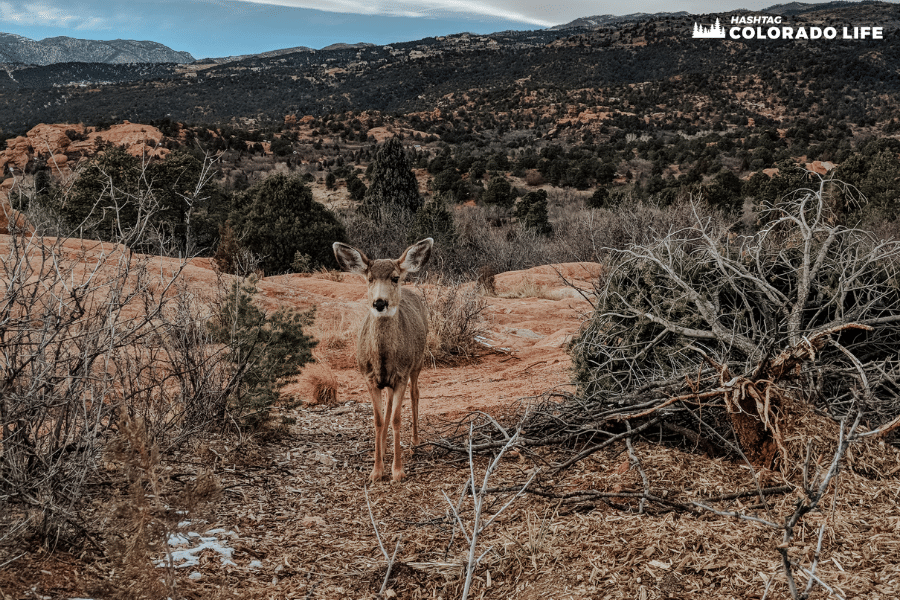 A free shuttle during the summer
If you want to help reduce car congestion during peak season, take the free shuttle.
This 14-passenger shuttle operates from 9am-4pm May though August and on Labor Day weekend. Check here for dates of operation.
The shuttle leaves the Rock Ledge Ranch parking lot approximately every 15 minutes and makes multiple stops within the park.
Visiting the park is always free
Yep, Garden of the Gods is completely free to visit and explore!
When Charles Perkins' children gifted the park to the City of Colorado Springs, it was a requirement that the park remain open and free for visitors.
This makes it a budget-friendly stop and tops most of the Colorado bucket list destinations.
Explore all year-round
Garden of the Gods is open all year round, unless there is severe weather or construction happening.
You can visit this awe-inspiring destination in the summer, fall, winter, or spring and enjoy a completely different season.
Some of the activities change depending on the season, but the Garden is a sight to behold once the leaves start changing during fall.
Plus, different times of year mean the chance to see various wildlife and plants.