9 Fun & Free Things to Do at Sloan's Lake in Denver
This website may contain affiliate links and we may be compensated (at no cost to you!).
Sloan's Lake Park is the second biggest park in Denver and boasts the city's largest body of water.
It's located on the western border of the city and offers a nice reprieve from the hustle and bustle of downtown Denver nearby.
The neighborhood surrounding the lake is up-and-coming but still affordable for young families and professionals to put down roots.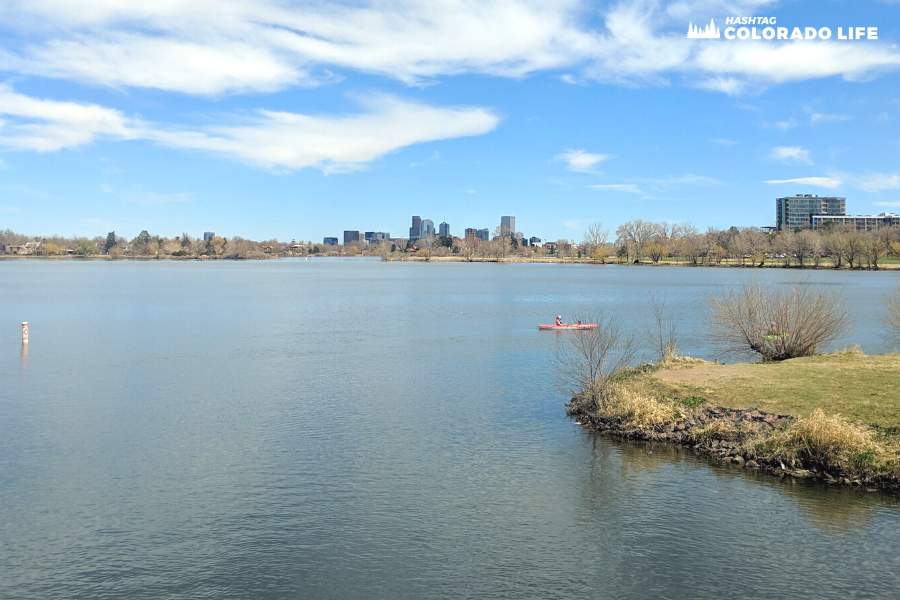 The area is full of architecture from the 1920s brick bungalows to Tudor ranches and modern townhomes.
And with so many local eateries, coffee shops, and boutiques there is never a shortage of things to do here.
In fact, the Alamo Drafthouse Cinema is near Sloans Lake and features live performances, comedy, poetry readings, and live music.
Keep reading to learn all of the fun things to do when visiting Sloan's Lake in Denver.
The history of Sloan's Lake in Denver
The history of Sloan's Lake is a bit of a mystery, surrounded by guesses and incorrect legends.
Even the name gets confused with Sloan Lake, Sloans Lake, and Sloan Lake Park.
One fact though is that Thomas M. Sloan received a patent for the land from President Andrew Johnson in December 1866.
He is said to have used the land for agricultural and farming purposes either before or while the lake was developing.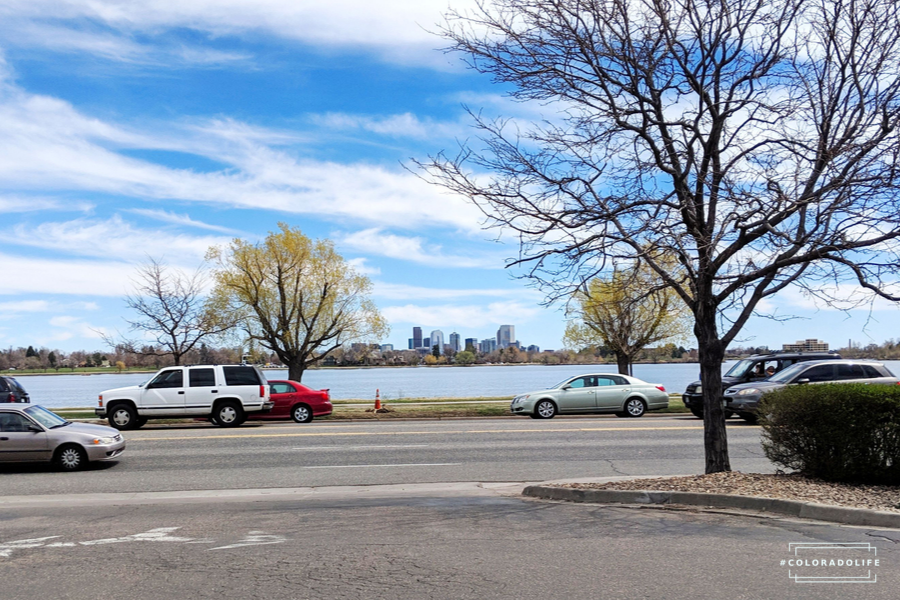 It is unknown if Sloan's Lake is manmade or if it developed naturally due to tapping into an underground water source and flooding the area.
Either way, Sloan's Lake is named after the first land owner, Thomas M. Sloan.
Sloan's Lake itself covers 177 acres thanks to the addition of Cooper Lake. In the 1930s the city of Denver combined these two separate lakes into one body of water.
Today, the lake and surrounding Sloan Lake Park, covers 290 acres of water and green space.
It offers hiking & biking trails, boating, fishing, sports fields, basketball courts, tennis courts and multiple playgrounds.
How to get to Sloan's Lake
You will find Sloan Lake at 1700 North Sheridan Boulevard in Denver, Colorado.
The lake is located on the northwest side of Denver near West Colfax Avenue.
Driving from downtown Denver is a short 4 mile trek. Start by going west through Larimer Square and jumping onto West 26th Avenue.
Or if you are visiting from Colorado Springs, head north onto I-25. Continue driving as you pass through Larkspur and Castle Rock.
Take exit 209A onto Highway 6 then head north on Sheridan Boulevard. Sloan Lake and Sloan's Lake Park will be on the right-hand side of the road.
The lake's location is quite central thanks to being near Interstate 25, which makes it an easy place to visit no matter where you are traveling from.
And the nearby neighborhood offers many delicious places to eat, drink, and socialize with friends.
Parking at Sloan Lake Park
There are numerous parking lots available at Sloan's Lake, all of which are completely free.
Some lots are larger while others only have a few spots available.
If you the parking lots around the lake are full, you can also access street parking in the nearby neighborhoods.
But we are just focusing on the 3 main parking lots available here.

Parking Lot A
This parking lot is one of the largest near the lake and is located at 5162 West Byron Place.
It's located just off the main street of Sheridan Blvd, just northwest of Sloan's Lake, making it a popular spot for people to park.
If you can't find a parking spot at this location, check the North-West Parking Lot.
This lot is directly across from Parking Lot A and typically has plenty of parking spots that are free to park in as well.
Parking Lot B
Continuing east on West Byron Place you will come to Parking Lot B, also known as Sloan's Lake North Parking Lot.
Again, there are ample free parking spots available here.
This lot is also conveniently located right next to the north public bathrooms as well as the main bicycle parking area.
You will also find picnic tables that overlook gorgeous views of the lake, city, and mountains nearby.
Parking Lot C
If you are looking for a southern parking lot, then Parking Lot C is a good choice.
This lot is not as large as the parking lots north of the lake but it is situated right next to many of the basketball and tennis courts.
Parking here is free anytime during Sloan's Lake operating hours.
There are several other smaller parking lots surrounding the lake, although not many are on the eastern side.
You can also find paid parking lots and garages nearby if you prefer.
Sloan's Lake park trail map
The main hiking trail here is Sloan's Lake Loop. It is an easy and flat trail that circles around the entirety of Sloan Lake.
The trail is 2.6 miles long and is primarily used for walking, running, and cycling.
It typically takes about 45 minutes to an hour to walk around Sloan Lake Loop from one end to the other.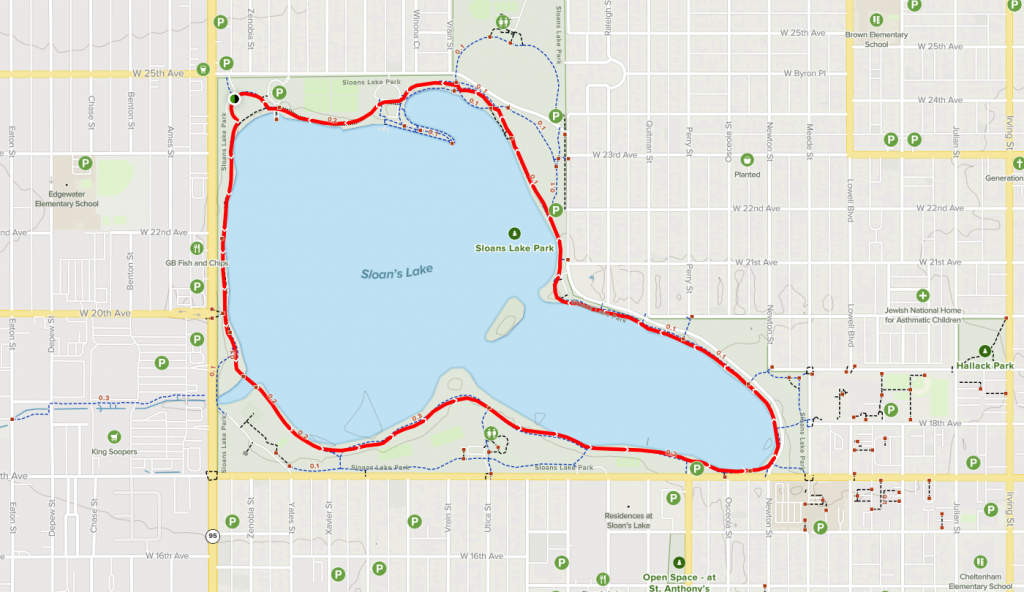 It is accessible year-round no matter what the weather. And since the trail is a paved path, wheelchairs and other mobility equipment, as well as strollers are all welcome.
It is also a popular trail for birdwatching and anyone with dogs or small kids. Please note that dogs must be kept on a leash at all times.
Sloan's Lake Loop is perfect for morning or evening strolls around the water.
It features expansive views of both the Rocky Mountains and downtown Denver.
It can be fairly crowded on weekends so it's recommended to visit Sloan Lake on weekdays if possible.
9 things to do at Sloan's Lake in Denver
Even in the middle of a busy city like Denver you can appreciate nature and the outdoors thanks to Sloan's Lake.
This large body of water offers many activities both on the water and on land.
And all of the amenities are free for everyone to enjoy! Visiting the lake is free, parking is free, and the activities and festivals are free.
What more could you ask for?!
Here are the top free things to do at Sloan's Lake in Colorado.
1. Colorado Dragon Boat Festival
One of the main attractions to Sloan Lake is the Colorado Dragon Boat Festival.
This event is typically hosted in July each year. However, for 2021 the festival will take place on September 25th & 26th.
The two-day event features Chinese and Asian culture with intricately designed boat races across the water.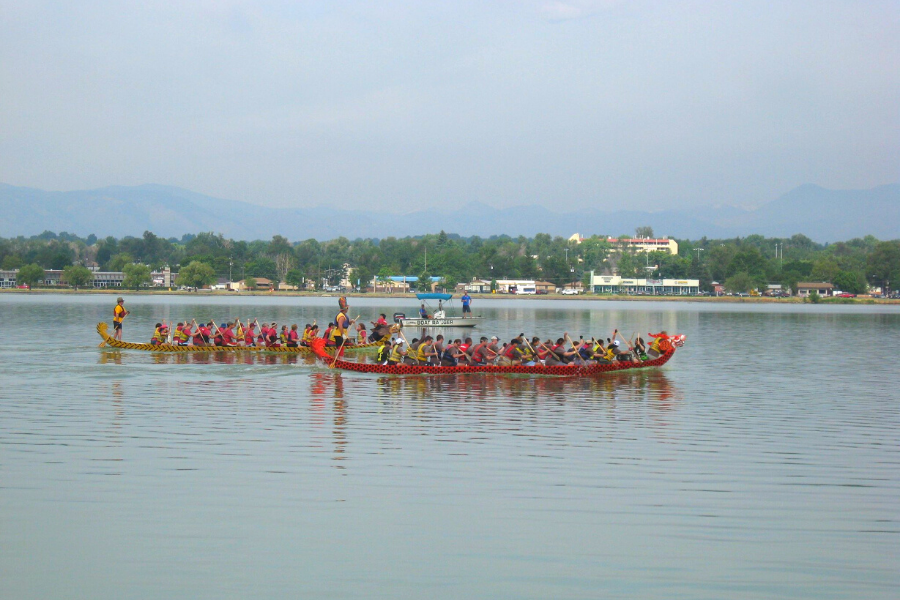 There is also live music, dancing, a "Taste of Asia" food court, and other family-friendly activities to celebrate this culture.
And the best part is that this festival is totally free to attend!
2. Birdwatching
Birdwatching is a big draw to Sloan Lake and the Park due to a large herd of Canada geese who live here.
During the colder winter months, the geese migrate from Canada to Denver to make their winter homes.
There have also been sightings of bald eagles, ducks, seagulls, herons, and other birds-of-prey who hang out near the water's edge.
3. Fishing
Fishing is permitted everywhere on Sloan's Lake except in the channel between the island and the shore.
The Colorado Parks and Wildlife agency has stocked the lake with black crappie, trout, carp and other local fish.
You can fish from the dock near the bicycle parking area, or take your boat out on the water to catch some fish.
4. Boating & water skiing
Speaking of boating, power boats are welcome on the lake. Back up your boat to the marina and bask in the cool water and warm sun.
Please note that the lake is open for non-motorized boats and must be human-powered vessels only.
During the summertime boaters on Sloan Lake can enjoy water sports like water skiing, stand up paddling, water tubing and more.
Boating is allowed, with limited capacity, from April 1st – November 1st every year and boating permits are required before use.
You can purchase a boating permit online via the Denver Parks & Recreation website.
5. Picnicking
There are numerous picnic tables all around Sloan's Lake, as well as a sheltered picnic area to protect you from the elements.
Grab some food from a local eatery nearby and enjoy a dinner outside near the lake.
It's the perfect setting to watch the sunset over the Denver mountains.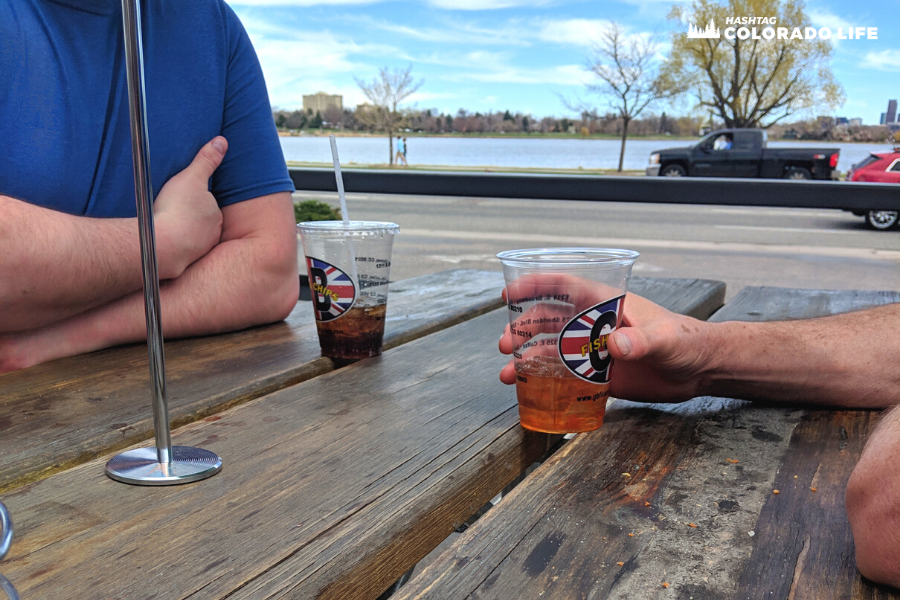 6. Biking & hiking
Since the multi-use trail that circles around the lake is paved, it's a perfect path for cycling, hiking, and rollerblading.
Sloan's Lake Loop Trail, mentioned above, is also a popular jogging spot for avid runners and other athletes.
And the trail is accessible for all kinds of individuals with a variety of skill levels.
7. Public tennis courts
If you've ever wanted to play tennis next to a beautiful lake with views of the Rocky Mountains, then check out the tennis courts at Sloan Lake.
There are four public tennis courts available at the lake, and all of them are completely free to use.
However, you must reserve a tennis court in advance as only 20 active tennis players are allowed on the courts at any one time.
You can play with friends or family members, or get matched with other local tennis players thanks to the Automatic Player Matchmaking service.
Some of the tennis courts are lighted at night while others can only be used during the day.
8. Basketball court
The main basketball court is located south of the lake right next to Parking Lot C.
The basketball court is open and free to the public, but is on a first-come first-serve basis.
Outdoor lights will turn on during the evening so you can play during the day or at night.
9. Sports fields
In addition to the tennis and basketball courts, Sloan Lake also features fields for playing baseball or softball, as well as soccer and football fields.
There is also lots of open green space available for pick-up games with friends or nearby park-goers.
Kids will enjoy the two playgrounds available at the Lake, one is located south and the other is situated more north.
Can you swim in Sloan's Lake? No, of all the things you can do at Sloan Lake swimming is NOT permitted.
The main ways to enjoy the water at Sloan Lake is through boating or fishing only.