Hiking Seven Bridges Trail: A Fun & Easy Hike in Colorado Springs
This website may contain affiliate links and we may be compensated (at no cost to you!).
Seven Bridges Trail is a unique hike in Colorado with wooden bridges, a mountain stream, and scenic overlooks.
As you drive to the trail you will also pass over historic Gold Camp Road in beautiful North Cheyenne Canyon.
Park near Helen Hunt Falls or in Parking Lot 18 for an afternoon of hiking fun.
Seven Bridges is named for the 7 bridges you will walk across during the hike. And the trail features a waterfall and many breath-taking overlooks.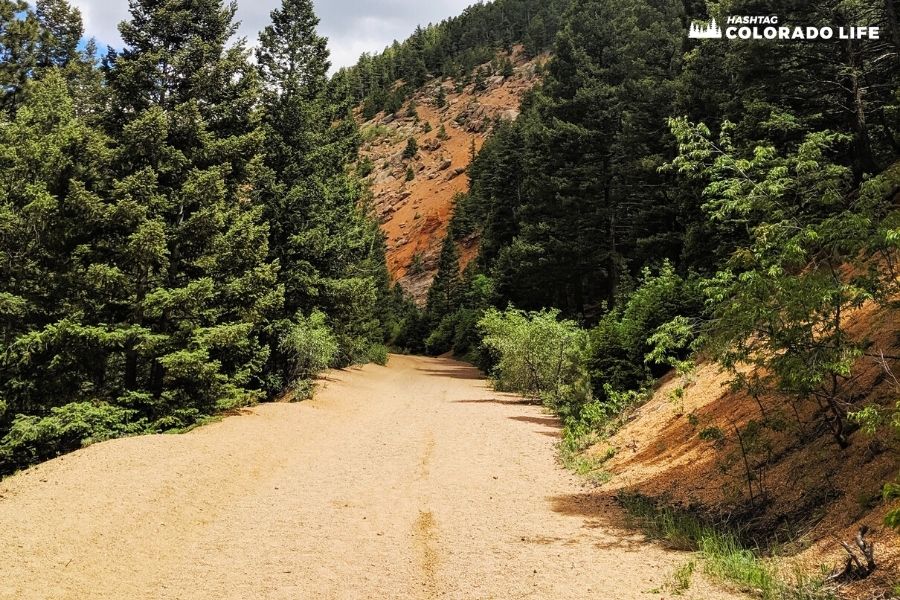 Seven Bridges Trail map
Seven Bridges Trail is a popular hiking spot situated near Colorado Springs and Manitou Springs.
This is a moderately difficult trail located in North Cheyenne Canon, close to the Helen Hunt Falls Visitor Center.
Parking is available for 7 Bridges Trail at 4415 Lower Gold Camp Road in Colorado Springs, CO.
The trailhead starts at the north end of the Parking Lot 18 and goes out-and-back for about 3.7 miles.
Hikers can also park at the Helen Hunt Falls parking lot and walk up the hill to the trailhead.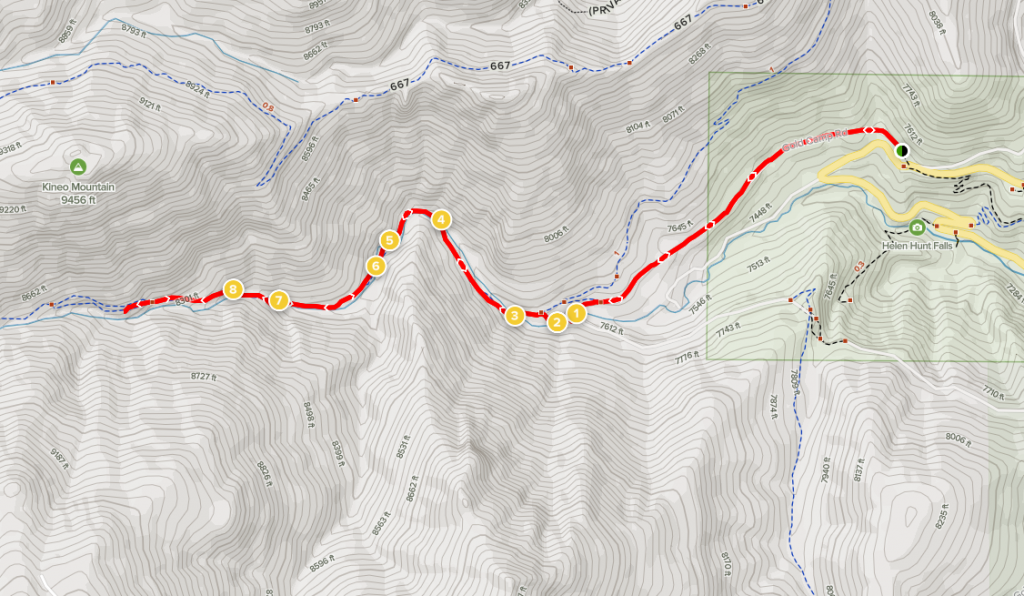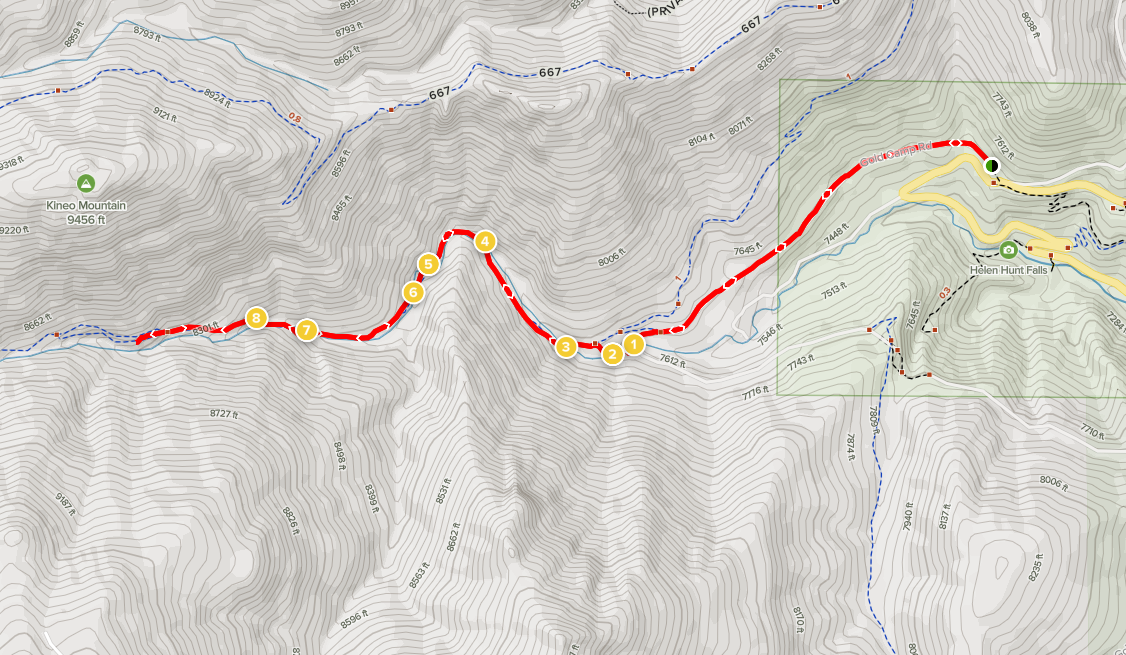 The drive to Seven Bridges Trail from downtown Colorado Springs is about 8 miles and will take approximately 25 minutes, depending on traffic.
Just head south on Interstate 25 and exit onto Cheyenne Blvd, then follow the signs to North Cheyenne Canon.
Continue up the road until it dead ends at the Lower Gold Camp Road parking lot.
Between both parking lots, there is usually plenty of parking space available.
However, it's best to avoid peak times like evenings and weekends, when crowds are most prevalent.
How to find Seven Bridges Trail
To access 7 Bridges Trail head west from the parking lot. Continue hiking past the large metal gate that blocks the trailhead.
At the first bend keep an eye out for Trail Marker 622 on the right and take the path towards the trees.
Even though there is no sign, this is the beginning of the Seven Bridges Trail.
The path is wide and surrounded by wooded forests so it provides a lot of shade in the summertime.
Hiking Seven Bridges Trail
As you continue hiking, you will cross seven wooden bridges, which are in great shape and well-maintained.
Alongside the trail is a crystal clear creek that creates small waterfalls as it cascades down the mountainside.
It really is a beautiful spot to hike near Colorado Springs.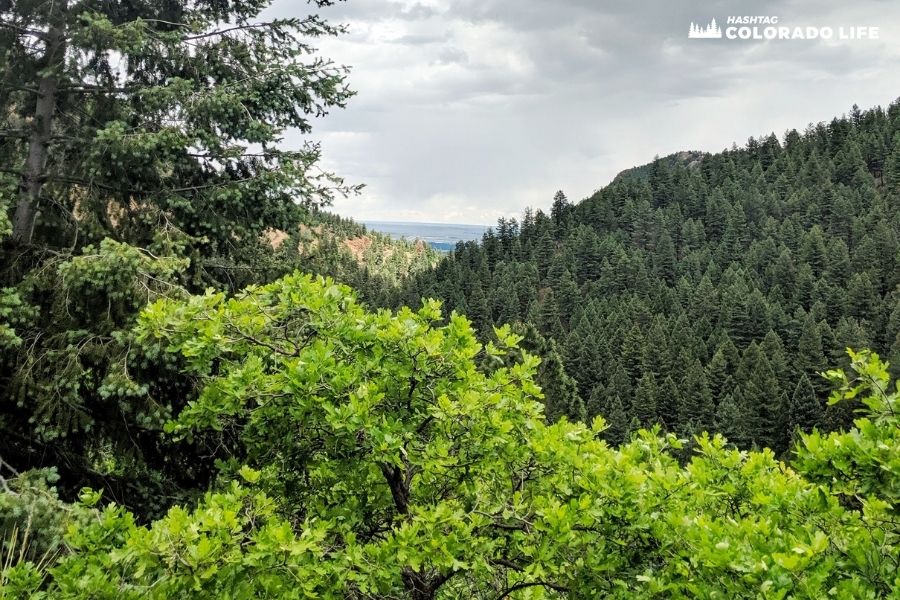 After a few miles you'll end up in Jones Park meadow, where you will find wildflowers in the spring and may even see some local wildlife.
Most hikers choose to turn back after crossing the seventh bridge, which is about 3.5 miles. But there are other connection trails if you choose to continue.
In total the hike can take anywhere from 1-3 hours, depending on how far you hike.
Seven Bridges Trail Overlook
Along the trail you will find many awesome spots to stop and take photos.
Or you can simply enjoy the views overlooking Manitou Springs and Colorado Springs below.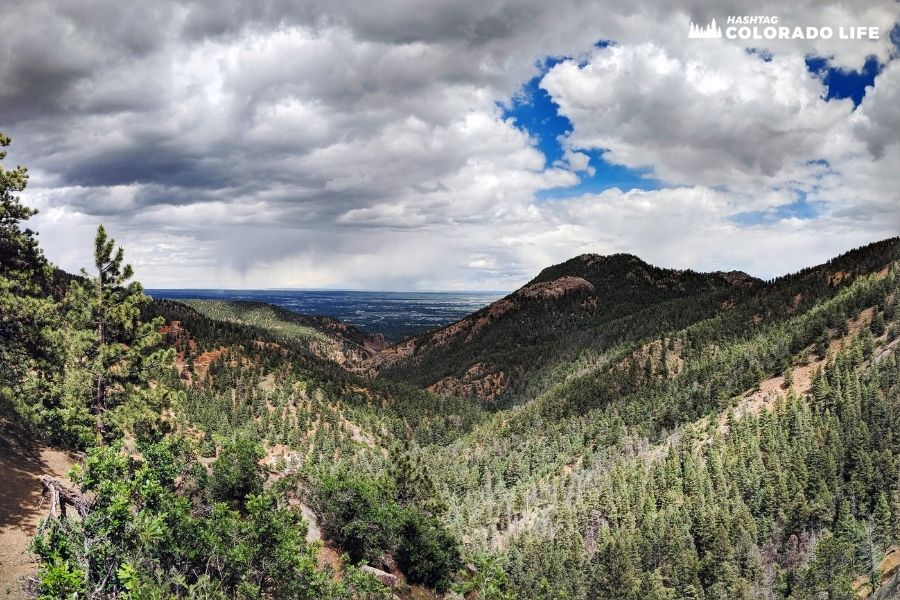 Along with hiking Helen Hunt Falls nearby, Seven Bridges Trail is a local favorite.
It makes for a perfect day trip hiking adventure where you'll see gorgeous Colorado scenery and the Rocky Mountains.