7 Super Easy Winter Hikes in Colorado That Are Totally Safe
This website may contain affiliate links and we may be compensated (at no cost to you!).
Looking for easy winter hikes in Colorado that are completely safe for kids, families, and even dogs?
Winter in Colorado may sound challenging for hiking but there are actually a lot of trails and spots that are completely safe.
Even when covered in snow and ice, these hikes are mostly flat and come with little safety risks. Or at least, that's what we have experienced ourselves!
In this guide you'll find the best winter hikes in Colorado that are short hikes and relatively safe when covered in snow.
But all of them offer gorgeous scenery, stunning mountains, and some of the best views in the state.
1. Palmer & Central Gardens Trail Loop, Garden of the Gods
Garden of the Gods is located in Colorado Springs and is classified as a city park.
But we promise it's unlike any city park you've ever been to, thanks to stunning trails and soaring rock formations.
And when the snow starts falling it turns the entire park into a winter wonderland!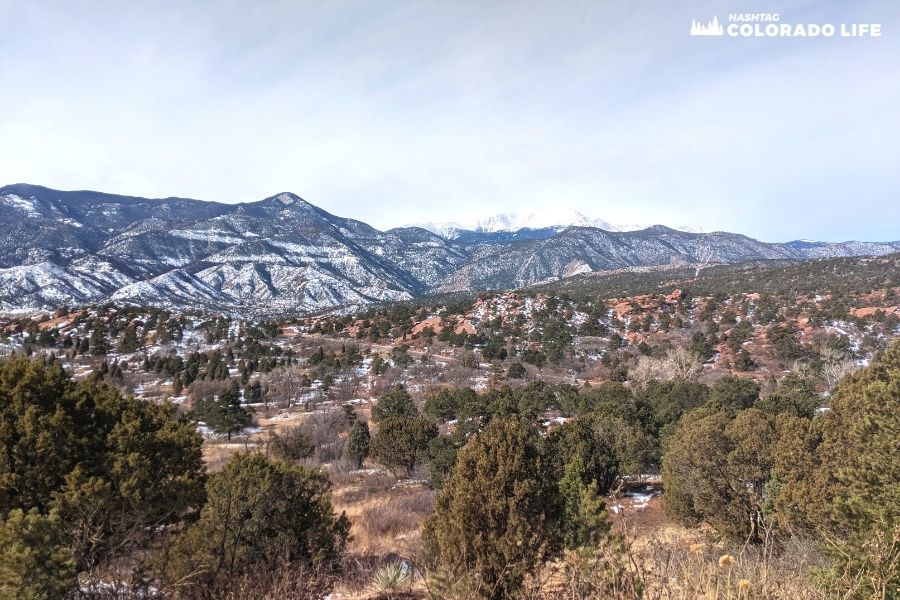 For one of the best winter hikes in Colorado we recommend the Palmer & Central Gardens Trail Loop. This is an easy 4 mile loop that crosses several other trails and is mostly flat.
Due to the paved trails and well-maintained paths the hike is kid-friendly, wheelchair friendly, and stroller friendly.
Dogs are also welcomed as long as they are on a leash.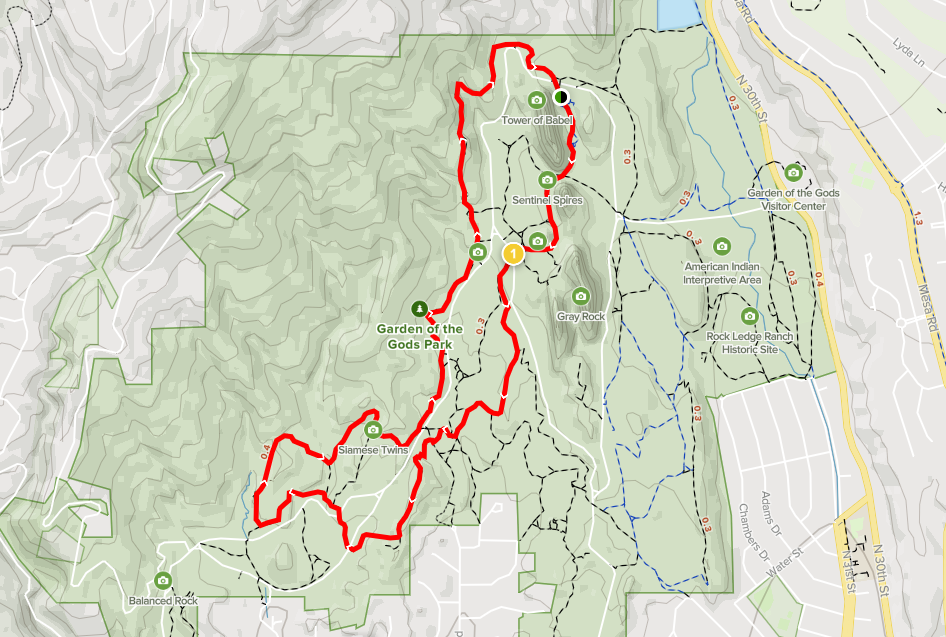 Along the hike you will see iconic rock formations like the Kissing Camels and the Siamese Twins.
Park in any of the free parking lots inside Garden of the Gods and enjoy this nice winter stroll on any snowy day.
Distance: 4 miles
Difficulty: Easy
2. Dream Lake Trail, Rocky Mountain National Park
If you're looking for an easy hike in Rocky Mountain National Park then you have to check out Dream Lake Trail.
This 2 mile out-and-back trail is located near Estes Park and is perfect for snowshoeing in the winter months.
The trail starts at the parking lot near Bear Lake Road and continues along Nymph Lake Trail.
After passing Nymph Lake you'll continue hiking until you come to Dream Lake. The trail is marked and is easy to follow.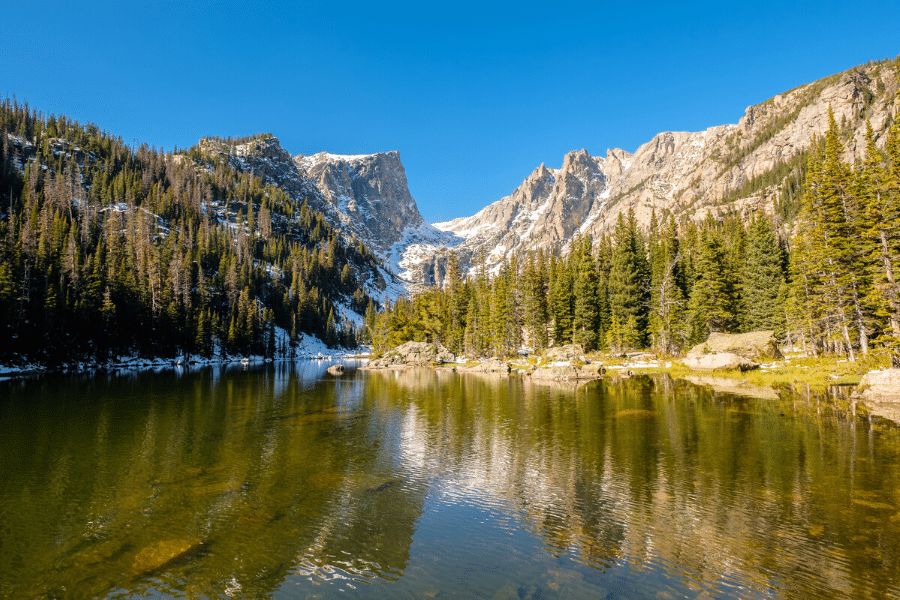 It also comes with amazing scenic views! Make sure to bring your camera as this lake is one of the most beautiful lakes in Colorado.
Depending on the time of year, you will see epic views of the Rocky Mountains, wildflowers, and even some wildlife.
The alpine water in Dream Lake is so clear you may even see some local fish swimming beneath the water's edge.
During the winter, it's even more stunning. Arriving here will feel almost as if you've entered the movie "Frozen".
As you walk around Dream Lake it can be quite windy, so we recommend wearing warm clothes and comfortable hiking boots.
Inside Rocky Mountain National Park you'll find many amazing trails and scenic views. But none are quite as gorgeous in the winter as the Dream Lake Trail.
Distance: 2 miles
Difficulty: Easy
3. Discovery Challenger Trail, Arapaho National Forest
Near Winter Park, Colorado you'll find an easy winter hiking trail called Discovery Challenger Trail. This 1.2 mile loop is perfect for families with kids and dogs.
Located inside the Arapaho National Forest, this winter hike has it all. Plus, it's good for all skill levels.
Along the way you'll pass over a wooden bridge as well as hike next to a beautiful flowing river known as Jim Creek.
This trail is great for nature trips in the summer and snowshoeing in the winter. It's also a less-crowded spot for cross-country skiing.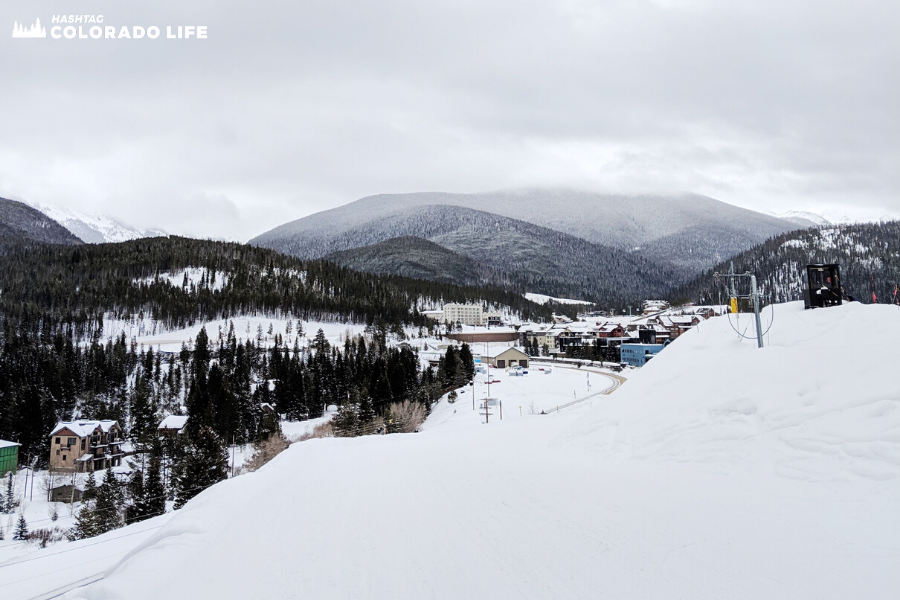 Wildlife such as moose are often seen in the area along with lots of birds and ground animals.
This trail starts at the parking area off Highway 40 just south of Winter Park. It's easy to find as it is directly across from the Vintage Hotel.
Start the hike by going southeast along the clearly marked trail and follow it as it loops around the wooded area.
This trail is a favorite of locals in the winter thanks to easy snowshoeing and cross-country skiing that is available.
Plus, when the river freezes over it makes for beautiful scenic views!
Distance: 1.2 miles
Difficulty: Easy
4. Enchanted Mesa Nature Trails, Boulder Open Space
One of our absolutely favorite winter hikes is the Enchanted Mesa Nature Trails near Boulder.
This 1.9 mile loop hike connects with McClintock Upper Trail and features a river and beautiful views of the Flatirons.
On the way up or down the trail you'll see gorgeous views of the city as well as the Rocky Mountains that stretch out for miles.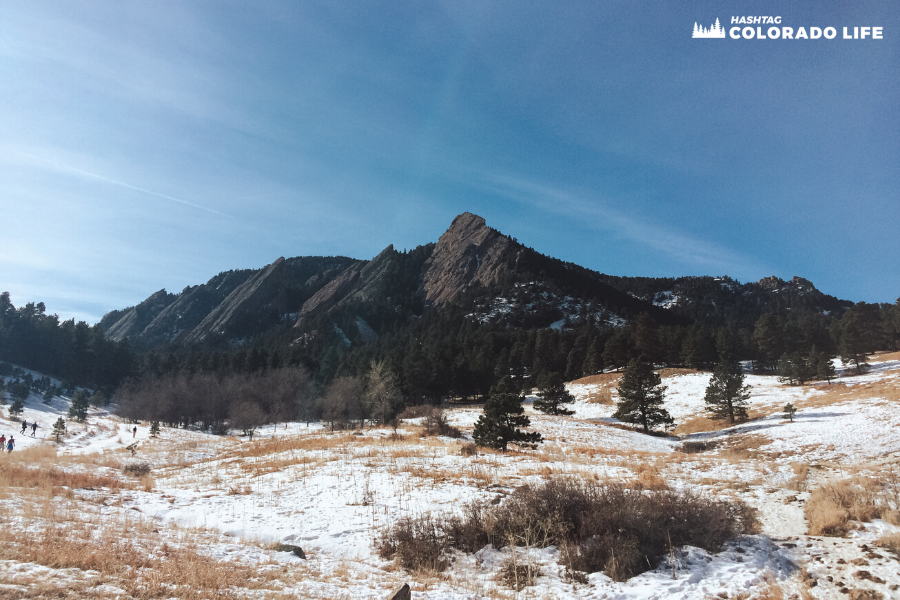 Locals love this trail as it's perfect for nature trips and seeing various types of wildlife.
In fact, when hiking this trail ourselves we saw a mother black bear and her two twin cubs.
Not only that but there are dozens of other amazing hikes, along with scenic photo spots, that you can experience while at Chautauqua Park.
The trail starts at the parking lot off Baseline Road and heads south along the Enchanted Mesa Trail.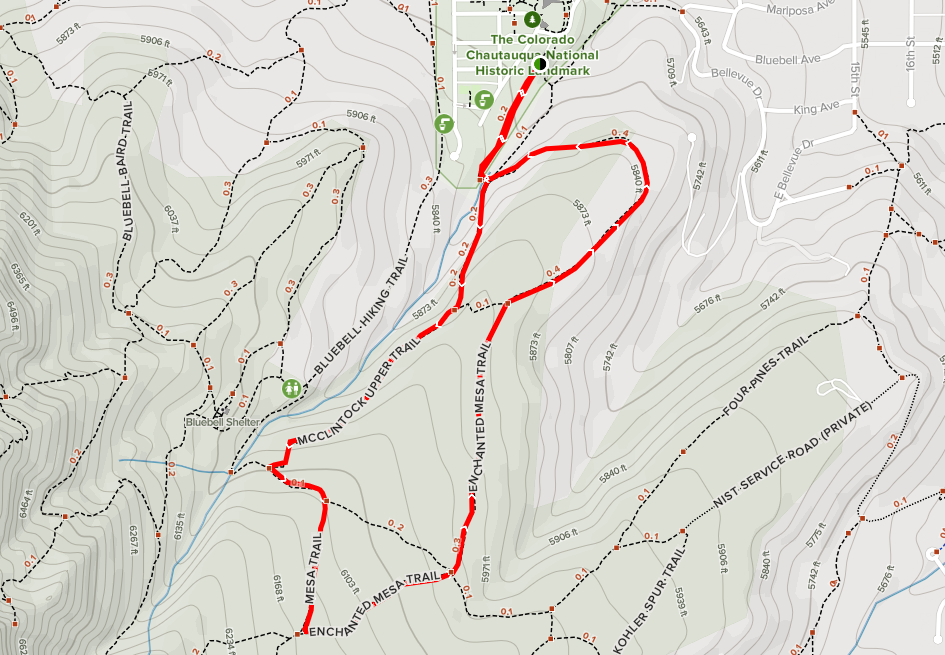 Once at the top you can connect to the McClintock Upper Trail to head back to the parking area.
Or you can continue following the Mesa Trail for a more advanced winter hike.
Whatever you choose, this hike offers breathtaking views of the valley, mountains, river, and maybe even some wildlife.
Distance: 1.9 miles
Difficulty: Easy
5. Buffalo Pass Trail, Mount Zirkel Wilderness
Near the ski town of Steamboat Springs you'll find a super easy winter hike called Buffalo Pass Trail.
Located in Buffalo Mountain inside the Mount Zirkel Wilderness, this trail is more secluded than the other hikes on our list.
It truly feels like you're hiking in the middle of nowhere! Locals enjoy this trail thanks to fewer crowds and the abundant wildlife.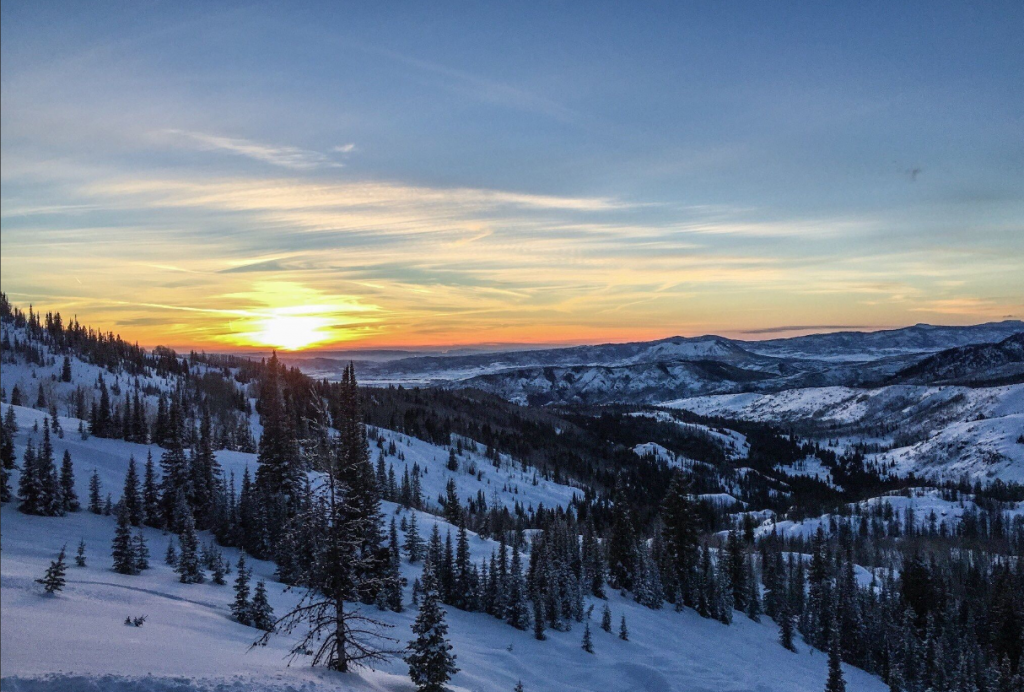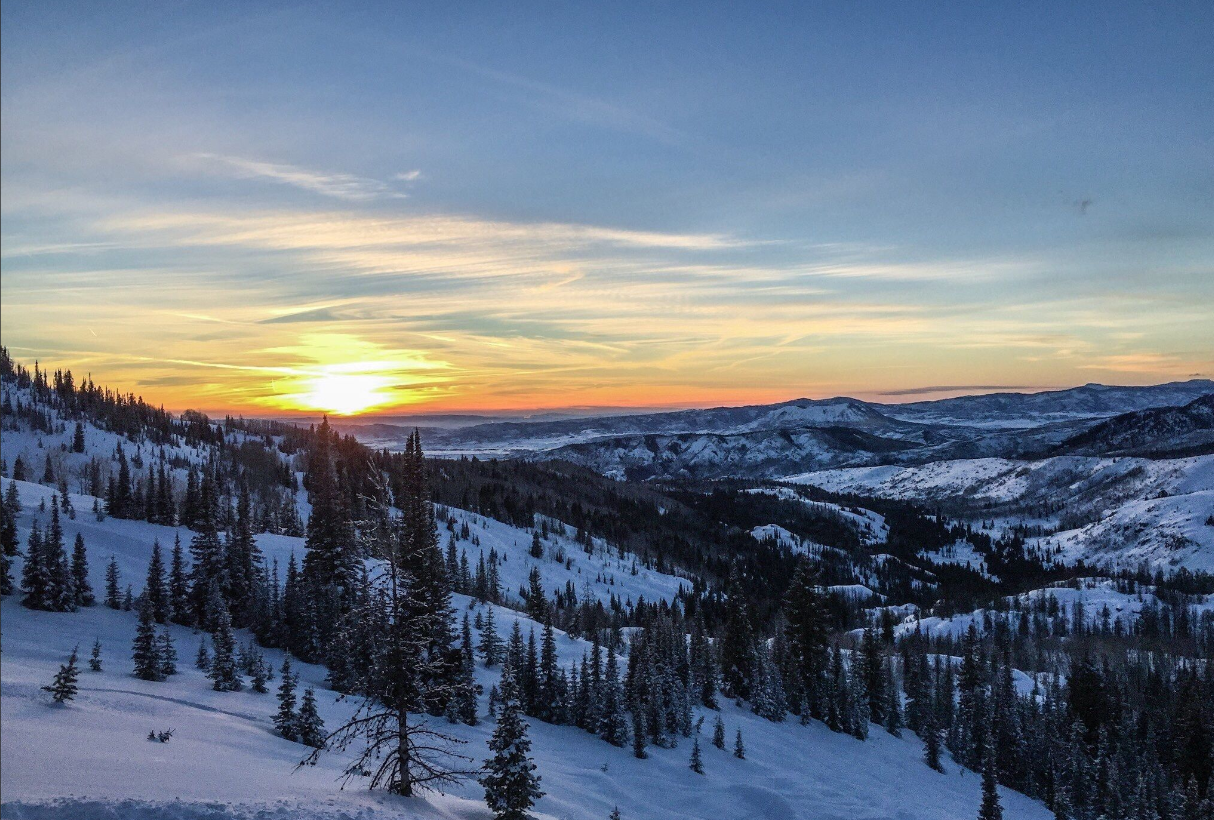 Driving to the trailhead from Steamboat Springs takes about an hour, but is totally worth the trip once you arrive.
We recommend driving a truck, jeep, or other high-clearance vehicle as the roads can be a bit rough in the winter.
The trail starts at Buffalo Pass, where Country Road 60 and County Road 24 connect.
It's also near Summit Lake Campground, if you're camping or RVing for the weekend.
The main hiking trail is called Wyoming Trail and it goes out-and-back for 2.8 miles. And it's important to know that this winter hike is above 10,000 feet in elevation.
So, if you struggle with being at high altitude, you may want to skip the Buffalo Pass Trail.
The views here are unmatched and you'll be able to see for miles into the distance.
Distance: 2.8 miles
Difficulty: Easy
6. Fox Run Loop Trail, Black Forest
Near Colorado Springs you'll find a beautiful 3 mile trail called Fox Run Loop.
It's located in Black Forest and can get pretty cold and snowy during the winter season.
In the summer it's a local hot spot for nature trips, bird watching, and fields of wildflowers.
The trail is easy to follow as it winds in-and-out of the woods. The path is wide, well-worn, and very clean even when covered in snow.
The area is said to be a calming and even spiritual park as there are Ute Indian Prayer trees sprinkled throughout the forest.
The Fox Run Loop starts at the parking lot near Roller Coaster Road and continues in a circle inside the Fox Run Regional Park.
Public bathrooms are available and there is a small kids playground if you have small children or pets.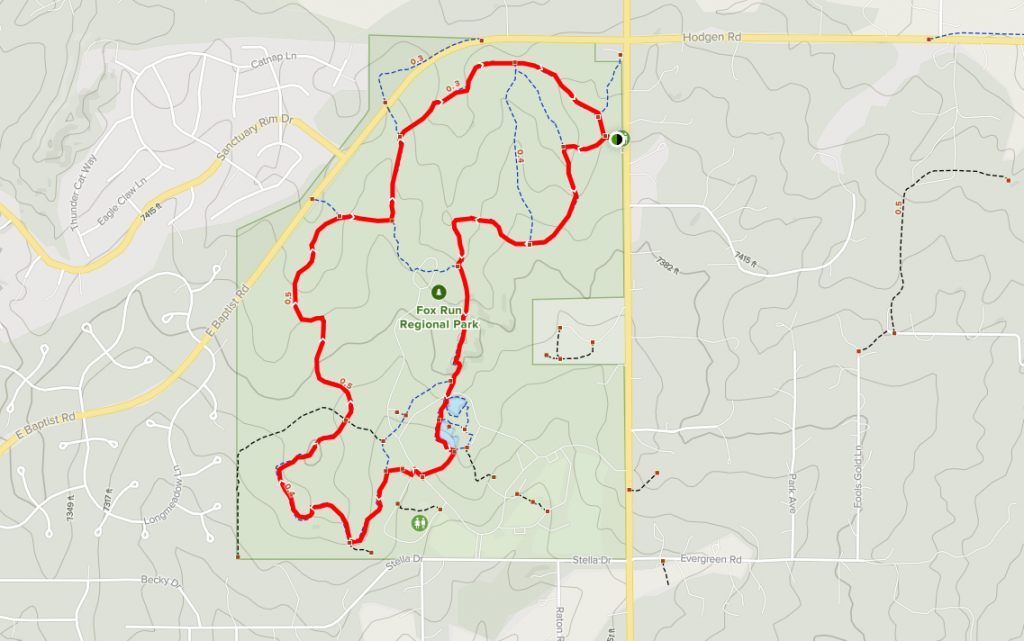 In addition to the Fox Run Loop we also recommend hiking the Section 16 Trail in Black Forest.
It's a fairly easy trail that is great for hiking in the winter, even when covered in snow.
Just be sure to bring warm clothes as most of the Black Forest area is shaded and can get quite cold.
Distance: 3.1 miles
Difficulty: Easy
7. Blue River Trail, White River National Forest
Located near Breckenridge is a beautiful 3 mile winter hike called Blue River Trail.
The trailhead starts near Boreas Pass Road along Aspen Valley Trail and goes out-and-back for 3 miles. You will know it's time to turn around once the trail dead-ends near Indian Creek Road.
And the best part is the scenic view of the freshly snow-capped mountains you'll see in the distance.
The path also connects to the Illinois Creek Trail if you're hiking to see the Breckenridge Troll for the day.
Parking is very limited near the trailhead so we recommend parking for free at the Ice Arena Parking lot near the Troll. Then you can connect to the Aspen Valley Trail from here.
The Blue River Trail follows along near private property lines so be sure to stay on the marked trail during your hike.
Locals enjoy this trail in both the summer and winter time. You can expect to see lots of wildlife and maybe even a moose or two!
Distance: 3 miles
Difficulty: Easy
If you're looking for a fun winter hike that's easy and safe, we highly recommend these 7 Colorado trails.