6 Fantastic Jeep Tours in Colorado Springs to Book In 2022
The content of this website may contain affiliate links and we may be compensated (at no cost to you!). Thank you for your support!
Colorado Springs offers the joys of city living, while being the ideal gateway for a mountain getaway. Spend a day in the Rocky Mountains with a local tour guide on a fantastic jeep tour! 
When Ryan and I went on a Colorado Jeep Tour it was such an amazing and unforgettable experience. 
An informative jeep tour is an epic way to see the Colorado landscape, learn about the history and gold rush days. 
We can't say enough great things about a Colorado Springs jeep tour!
Plus, you will be able to cover a lot of ground, explore different cities and visit some of Colorado Springs' most popular attractions.
Here are the best jeep tours in Colorado Springs as recommended by a local couple who loves adventures. 
1. Foothills & Garden of the Gods Jeep Tour
One of the best jeep tours in Colorado Springs is exploring the foothills and Garden of the Gods. 
Take in the epic landscape with an open-air jeep tour of natural landmarks as well as secluded areas.
This 2.5 hour tour includes a fully-outfitted Jeep Wrangler with thick cushion seats. You'll learn a variety of information about the history and geology of the Colorado Springs region.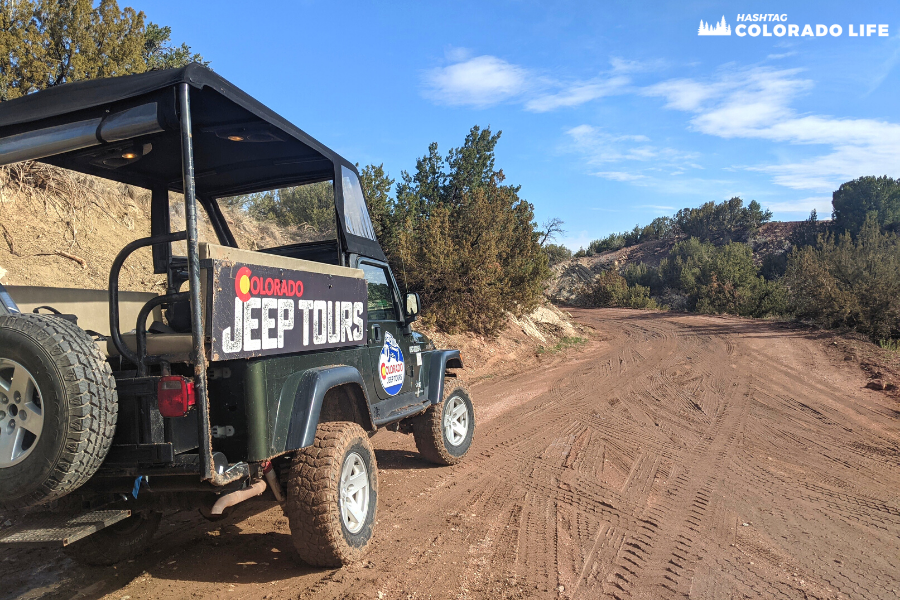 Guests will also enjoy a comfortable ride with an expert local guide including free water, snacks and blankets.
Some of the stops you'll see along the way include the foothills as well as:
Depending on the weather you may want to dress in layers and wear close-toed shoes for added comfort. 
And be sure to bring a camera as these open-air jeeps allow for unobstructed photo opportunities. 
With nearly 300 five-star reviews this jeep tour of the foothills of Pikes Peak in Colorado Springs will not disappoint. 
Plus, you can cancel for free up to 24 hours in advance.
2. Pikes Peak Jeep Tour
If you want to opt-out of an open-air jeep for an enclosed jeep tour no matter the weather, then check out this fantastic Pikes Peak Jeep Tour.
This tour is enclosed and warm so you can enjoy a toasty ride up to the summit of Pikes Peak in Colorado Springs.
Along the way, enjoy fantastic views of the Rocky Mountains with no need to worry about the drive up to the summit. 
An expert driver and knowledgeable guide will tell you about the history of the area, with stops along the way up this massive fourteener.
You'll pass by and stop at these locations:
America's Mountain, aka Pikes Peak
Manitou Springs
Pikes Peak Summit House
Glen Cove
Crystal Creek Reservoir
Bottomless PIt
In just 3-4 hours you could be at the top of Pikes Peak while learning about the best things to do and places to eat in the area.
Bring comfortable clothes and shoes, as well as a camera to capture these gorgeous views.
This Pikes Peak jeep tour comes with free bottled water, snacks and an air-conditioned/heated vehicle.
3. North Cheyenne Canyon Jeep Tour
Discover some of the best canyon views and breathtaking sites on this guided jeep tour of North Cheyenne Canyon. 
Located near Gold Camp Road this area is full of history of the old west and gold mining (hence the name!).
In fact, North Cheyenne Canyon and Helen Hunt Falls are one of our favorite hiking spots no matter what time of year.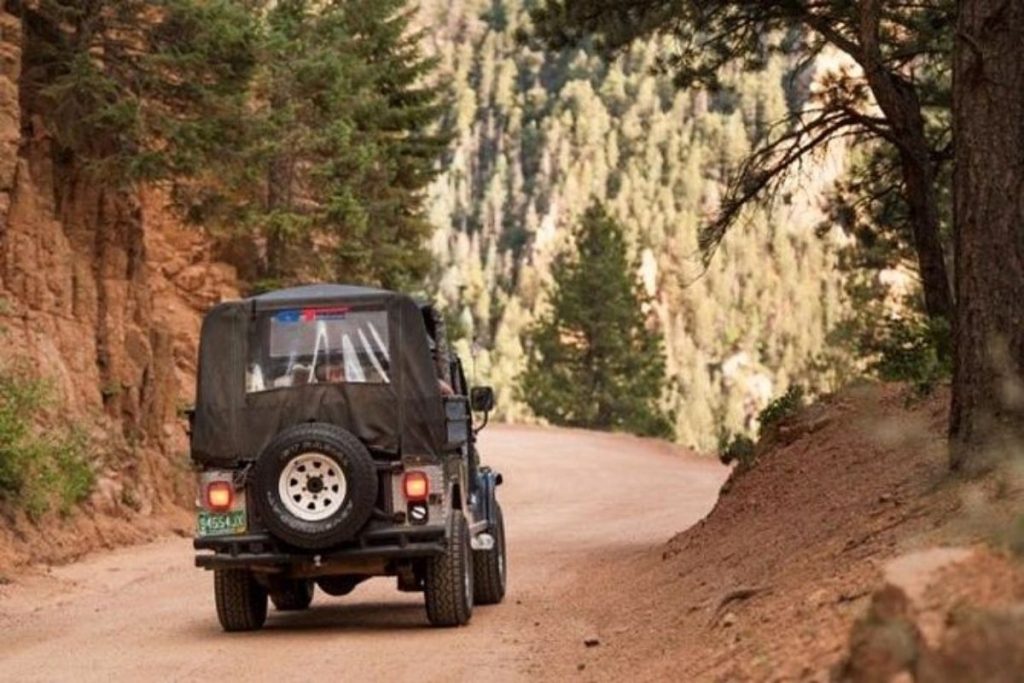 Along the tour you'll learn about the history of this rugged country while taking in the spectacular scenery of the valley and North Cheyenne Canon.
This jeep tour includes stops at:
North Cheyenne Canyon
Garden of the Gods
Helen Hunt Falls
Shortline Railroad tunnels
This jeep tour is mostly on paved roads but about 30% of the drive is on dirt roads that are not well maintained, so dress accordingly.
Included for free with your North Cheyenne Canyon jeep tour is bottled water, soda, snacks and wool blankets to stay cozy on your drive.
If your plans change, no worries you can cancel free of charge up to 24 hours in advance.
4. Old West High Country 4×4 Jeep Tour
Get ready to enjoy the high country and secluded backcountry on this Old West 4×4 Jeep Tour. 
From open fields to thick forests, a local expert will guide as you navigate the geology and history of Colorado Springs.
This 3-hour jeep tour includes stops at popular landmarks and all of the rugged beauty the Colorado Rockies has to offer. 
Plus, you'll explore high into the mountains of Pike National Forest.
Snap some photos and get out of the jeep to admire the breathtaking views of Pikes Peak and national forests. 
Light snacks, drinks and cozy blankets are included with your tour for free. 
But don't wait to get your tour booked for the summer as this Old West High Country 4×4 Jeep Tour sells out quickly.
5. Custom Pikes Peak Summit Tour
If a comfy van tour is more your thing, you can customize your tour with a Pikes Peak Summit Tours. 
This family-friendly company offers exciting tours in a luxury van or a jeep, depending on your preferences for the day.
Sit back and relax in an enclosed vehicle with leather seats and a private tour customized just for you and your family.
Provided with your 3-hour luxury drive are snacks and drinks, along with a local guide.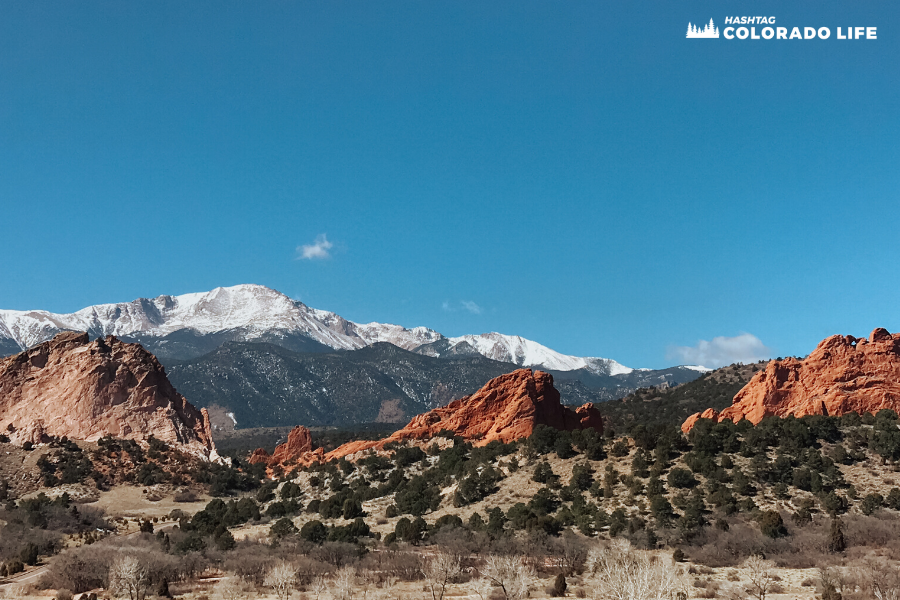 You'll be transported to the top of Pikes Peak Summit for a once-in-a-lifetime experience. 
Not everyone gets to drive along the famous Pikes Peak Highway but you can with this amazing tour. 
Once at the top you'll be able to take photos and peruse the gift shop.
Whether it's a luxury van or a comfy jeep tour, this custom Pikes Peak Summit tour is family friendly and perfect for any time of weather.
6. Half-Day Royal Gorge Region Jeep Tour
A short drive from Colorado Springs is the Half-Day Jeep Tour of the Royal Gorge located near Cañon City. 
Aside from a short ride through Canon City, you are transported to the top of Skyline Drive and see real dinosaur fossils.
And the best part is that this local tour includes a free ticket to the amazing Royal Gorge Bridge & Park ($32 value).
Yep, for the price of a jeep tour you can explore the Royal Gorge area and drive across the famous Royal Gorge Bridge, which is the highest suspension bridge in North America. 
That's a savings of $32 for an adult ticket when booking early!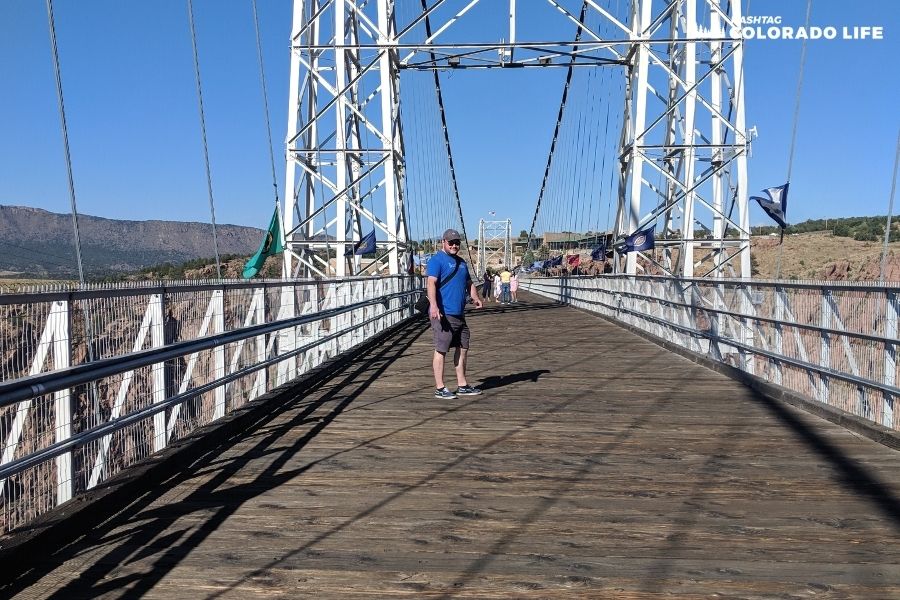 Afterwards, you and your family can spend the rest of the day experiencing all that the Royal Gorge Park has to offer.
Read more about our personal experience of booking a Half-Day Royal Gorge Jeep Tour and what you can expect.
Or if you want a full-day experience or other options like the Red Canyon jeep tour or the Gold Belt tour, they have something for everyone.
If you end up booking one of these Colorado Springs Jeep tours, tell them Hashtag Colorado Life sent you.
Colorado Jeep Tours are seriously our favorite way to enjoy the beautiful nature, take in the breathtaking views, and learn about the history of the state.
If you haven't booked a jeep tour in Colorado Springs yet, what are you waiting for? We know you won't be disappointed with your experience. 
Each Colorado Jeep is outfitted specifically for safety and ease thanks to being a 4×4 vehicle. Plus, you can enjoy the sites no matter the weather. 
Sun, snow, rain and even cold weather doesn't stop these jeeps thanks to open-air windows that can be zipped down, cozy blankets, and air conditioning or heating.