What Winter in Colorado is REALLY Like
This website may contain affiliate links and we may be compensated (at no cost to you!).
For anyone who doesn't live here full-time, there are a few misconceptions about winters in Colorado.
The state sees many more sunny days than cloudy or snowy ones. Thanks to a semiarid climate and low humidity, the summers are mild and the winters are seasonably cold.
Here is what a typical winter in Colorado is really like and what to expect when visiting this scenic state.
When does winter start in Colorado?
Snow usually begins falling starting in late October and continues until April, or sometimes even later months.
After having personally lived here for the past 6 years (and Ryan being born and raised here), we have learned that the first signs of winter can start as early as September.
But typically cooler temps and snowy days start to appear in October. Although in 2022 we have already started seeing snow fall on the mountains starting in August.
Temperatures can get cold earlier in the year and the transition from fall to winter is fast.
And by the time November rolls around it has likely already snowed a handful of times.
What are the winter months in Colorado?
Lighter and drier snow falls during the winter months while heavier and more wet snow falls in the springtime.
Here is what to expect in a Colorado winter broken down by months.
November
November in Colorado is when temperatures begin to drop and the end of fall is near.
Warm days are mixed in with cooler nights with temperatures ranging from 40°- 55°F during the day to well below freezing at night.
Cold fronts in Colorado are common in November, and the average amount of sunny days each month drops from 20 degrees to 18.
Due to Daylight Savings the days become shorter and the sun sets behind the mountains much earlier. It's not uncommon to be eating dinner when it's completely dark outside.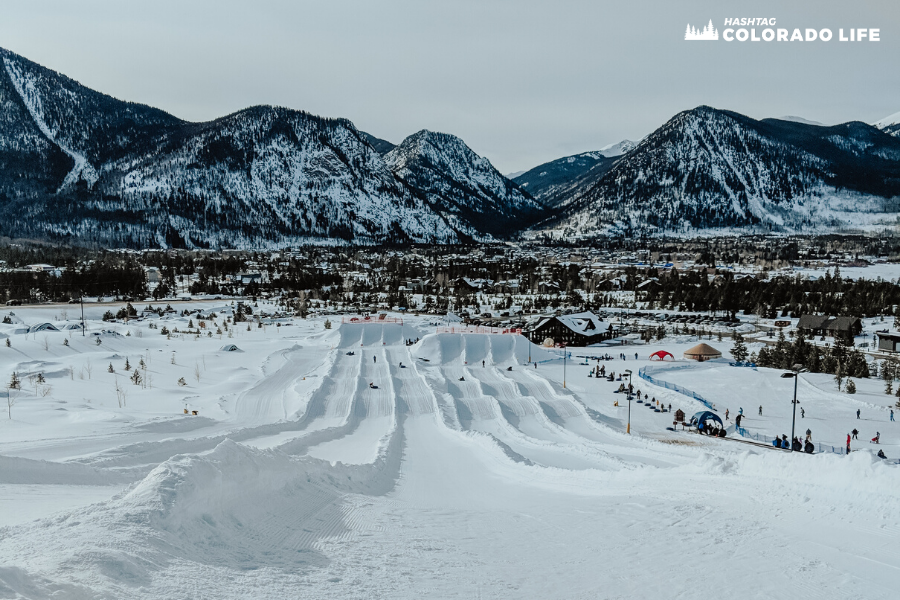 December
December marks the true start of winter in Colorado and typically when ski season is fully underway.
The days become more dreary and cold as the number of daylight hours and warm sunlight continue to dwindle.
In December, the sun's heat output is lessened and only emits 60-70% of it's normal heat.
The position of the Earth's axis makes it so that much of the sun's energy is deflected. And Colorado is at an angle that the sun's rays glances off our location.
Without a blanket of snow, Colorado's scenery in December mostly consists of bare trees and brown, barren landscape. It's not the picturesque landscape we're used to!
During this month, the mountain ranges start gathering snow due to the high elevation and ski towns begin to see a flurry of tourism.
January
The coldest month of the year in Colorado is January and snowfall is often very heavy. The days are short with sporadic sunlight and unbearably cold nights.
January is a very dry month with very little humidity. Average temperatures can reach as low as -8°F and get up to about 25°F during the day.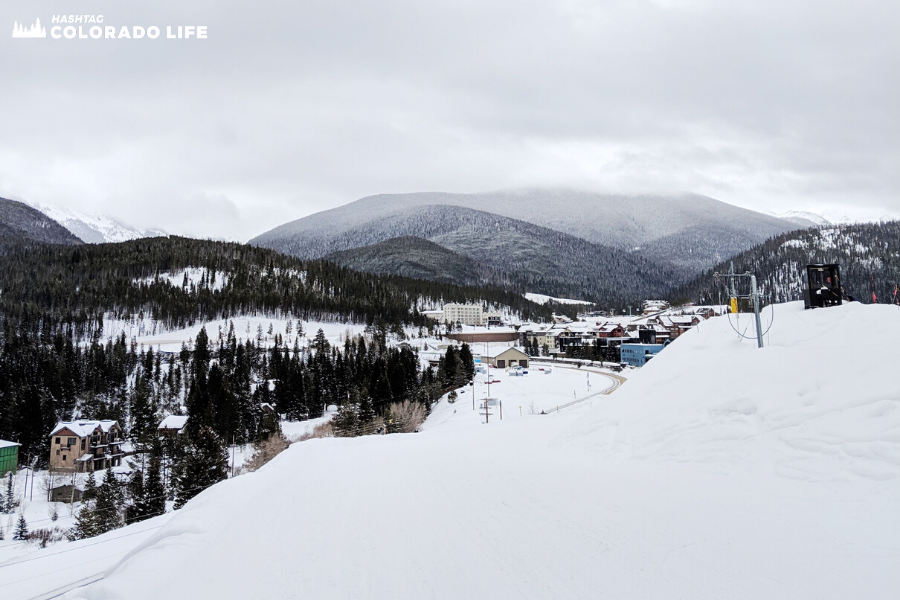 Snow will typically fall much more in January and you will likely see several snow days in a row.
Mountain towns like Aspen and Crested Butte can see as much as 26-38 inches of snow on average in January.
February
February in Colorado means a very chilly month. Humidity is low, nights are still bitterly cold and it rarely gets above 45°F during the day.
The mountains continue to get pummeled with snow and ice as more layers continue to accumulate. Sunny days in February are rare but snowstorms are occasional and usually not too bad.
February is one of the best months for winter activities in Colorado.
Since the snow accumulation is thick, this month is the perfect time for sleigh rides, skiing, snowshoeing, snow tubing, ice skating and more!
March
Yes, winter can continue in Colorado even through March. While most other states in the country are gearing up for spring, Colorado temperatures are still quite cold.
In fact, one of the worst snowstorms that Colorado has ever seen occurred on March 17, 2003.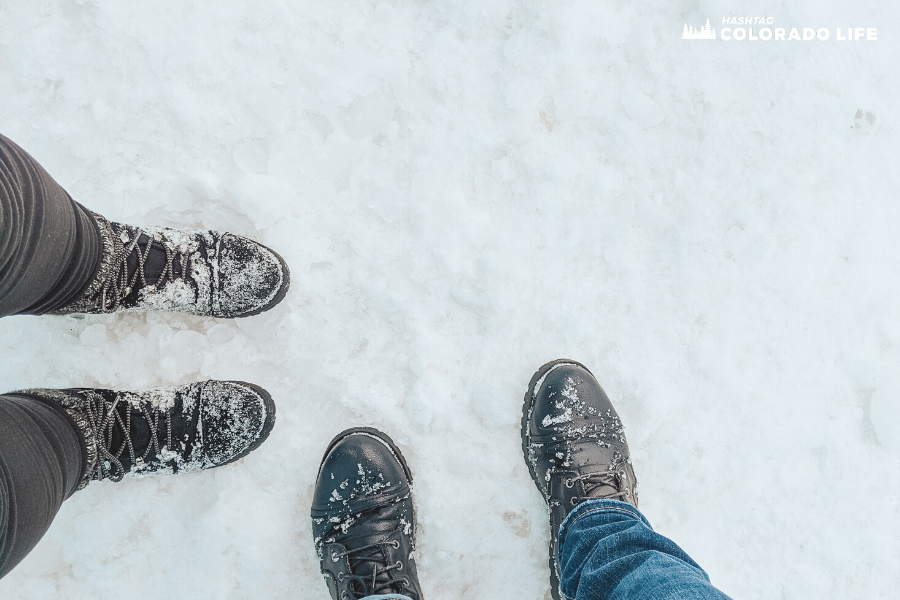 Heavy snow fell for three days and totaled more than 30 inches in Denver with some surrounding areas seeing as much as 82 inches.
Some residents made makeshift snow tunnels to get around the neighborhood, or used cross country skiing to get to stores for supplies.
This snowstorm was considered Colorado's worst blizzard in over 90 years.
How bad are the winters in Colorado?
Depending on where you live in Colorado, winters can actually be quite mild. Yes, of course Colorado does get a lot of snow every winter, especially in mountain towns.
However, when compared to the coldest states in America, the state isn't even in the top ten. The average snowfall ranges from 60-100 inches annually.
And average temperatures in Colorado in the winter are between 16°- 54°F, with colder temperatures the further you go into the mountains.
Aside from avalanches and rock slides, Colorado does experience other natural disasters every year.
In the late spring and early summer the state experiences wildfires, heavy winds, and hailstorms.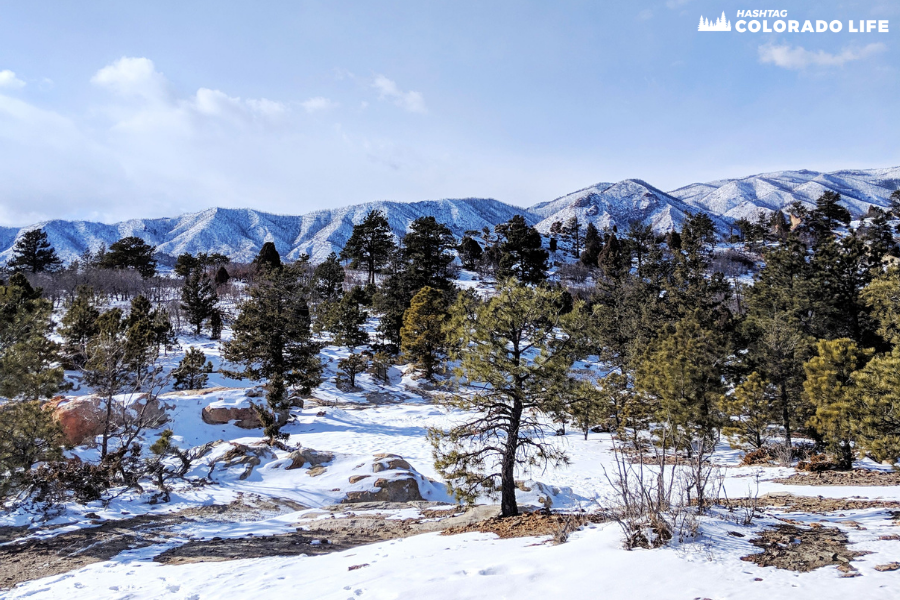 Oftentimes during autumn, you will see Colorado trees and plants changing color with snow already starting to fall.
Or during late spring you will see flowers and trees starting to bloom that get wiped out by a late snowstorm.
Overall though, winters in Colorado are not bad as there are minimal super snowy days.
Otherwise, you can expect normal weather with snow, cold temperatures, beautiful winter scenery, and nothing too extreme.
If you are not accustomed to living in the snow, it doesn't take long to acclimate to the winters in Colorado.
What is a typical winter in Colorado really like?
A common misconception about Colorado winters is that there is always piles and piles of snow on the ground.
But this is not usually true!
While this can be the case in the depths of winter for mountain towns like Breckenridge or Winter Park, it is not the norm in cities along the Front Range.
Colorado actually has a semiarid climate and overall the state gets a lot of sunny days. In fact, with more than 250 sunny days per year Colorado sees more sunshine than Miami Beach.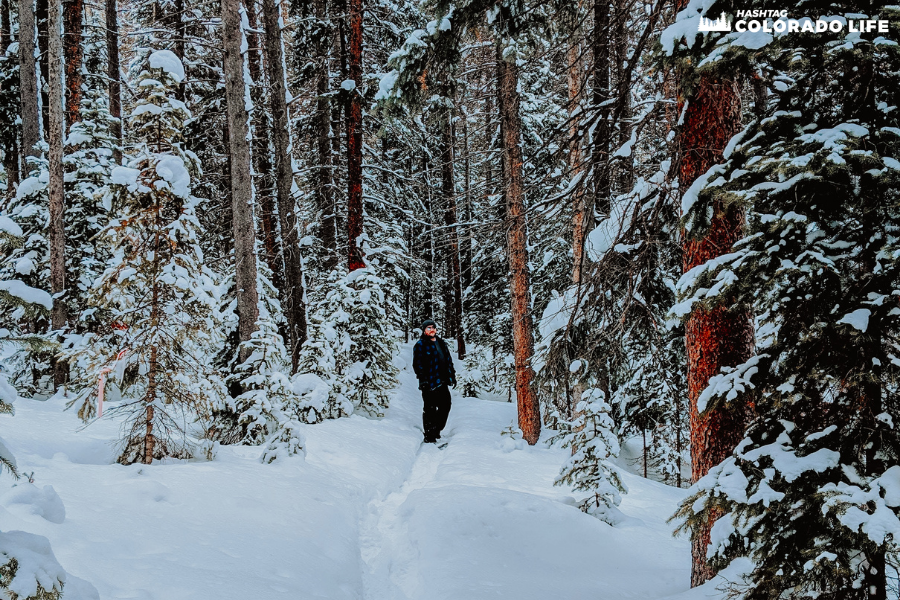 Constant sunny days means that snow often melts as quickly as it appears. Generally speaking, it will snow for a day or two and then the snow will melt a day or two later.
This is true for cities like Colorado Springs, Denver, and Boulder. And for Denver, in particular, snow doesn't stay on the ground long.
If you are looking for a warmer city in Colorado to visit in the winter, Denver is a good pick.
However, if you are hoping to see lots of snow without visiting a mountain town, we recommend visiting Colorado Springs, Fort Collins, or Boulder.
The average snowfall for these cities is between 37-88 inches annually. But the snow melts relatively quickly so you can still have safe and fun snow days.
Despite all of this of course, there can be some extreme weather occasionally. The rare Colorado blizzard can come through with high winds and lots of snow.
The good news though is that Colorado has the infrastructure and the equipment to handle these types of snowstorms. So, there's no need to worry about getting stuck on a snow day!
5 tips to prepare for Colorado winters
If you are like me and didn't grow up with regular snowfall, there are a few important things to be aware of.
Whether you are just visiting or are a resident, here are some expert tips for experiencing winter in Colorado.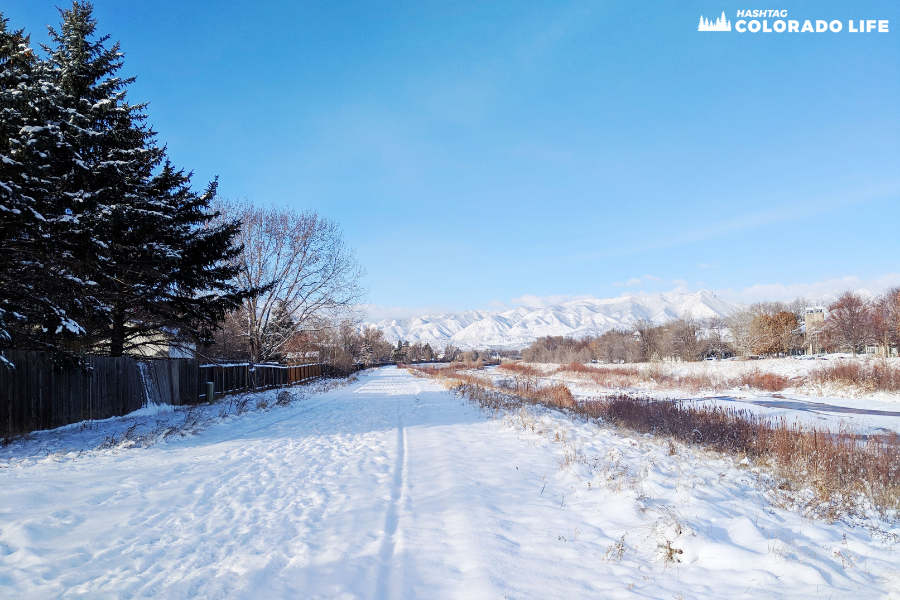 1. Switch out all-season tires for snow tires
If you are using basic summer or all-season tires, consider switching them out for snow tires.
All-season tires are perfect for states that don't have seasons, but aren't the best for Colorado winters.
Keep in mind that the rubber compound in all-season tires is not specifically designed for cold and could cause your car to slide more easily.
Snow tires may cost more than standard tires but they will save you time and money in the long run.
If you are planning to drive in the mountains a lot or explore the state during winter, snow tires really will make a difference.
2. Change your windshield wiper fluid
Beware of what kind of windshield wiper fluid your car is using.
Again, this is more of a tip for someone who's moving to Colorado from a warmer climate state.
When we first drove during a snowy day in Colorado, our windshield wiper fluid ended up freezing!
The reason for this, we found out, was because of the type of wiper fluid we were using.
Since we previously lived in a warmer state, like Texas, we had a water-based cleaner with soap for cleaning bugs off the windshield.
But for a colder climate you need an alcohol based wiper fluid to clean the window, so it doesn't freeze when temperatures get really low.
We had to pull off every few miles and use water from our water bottles to thaw and clean the windshield.
Be sure to check that you have the right type of wiper fluid in your car before visiting or moving to Colorado in the winter!
3. Buy waterproof and insulated boots
Snowfall in Colorado is no joke, and can sometimes come down really heavy. Once the sun comes out and melts the snow, the ground can become both muddy and icy.
For this reason, it's recommended to buy some high quality insulated and waterproof hiking boots or snow boots.
You will definitely need them!
The main thing is to make sure your feet stay both warm and dry.
Whether you are hiking on a snowy path, snowshoeing down a trail, or simply walking down a city street, high quality boots are a must.
4. Dress in warm layers
Colorado weather can be unpredictable. Some days it's cloudy, cold, and rainy and then the next day it can be sunny and warm.
As you explore more of Colorado in the winter be sure to dress in lots of warm layers. You want to stay warm but be able to add or remove articles of clothing as the weather dictates.
We like to have extra jackets, socks, hats, and gloves with us when we go on road trips or are visiting a ski town for the weekend.
In Colorado there is often a big contrast between inside temperatures and outside weather, and layering your clothing will ensure you stay the perfect temp.
5. Drive in second gear in the snow in town
Anytime you're driving in a city or town with frequent stopping and going in the snow, be sure to put your car into second gear and leave it. This applies whether you have a 4×4 vehicle or not.
Rather than simply relying on the brakes, which can lead to skidding, the engine will keep your car from going too fast and will help slow you down.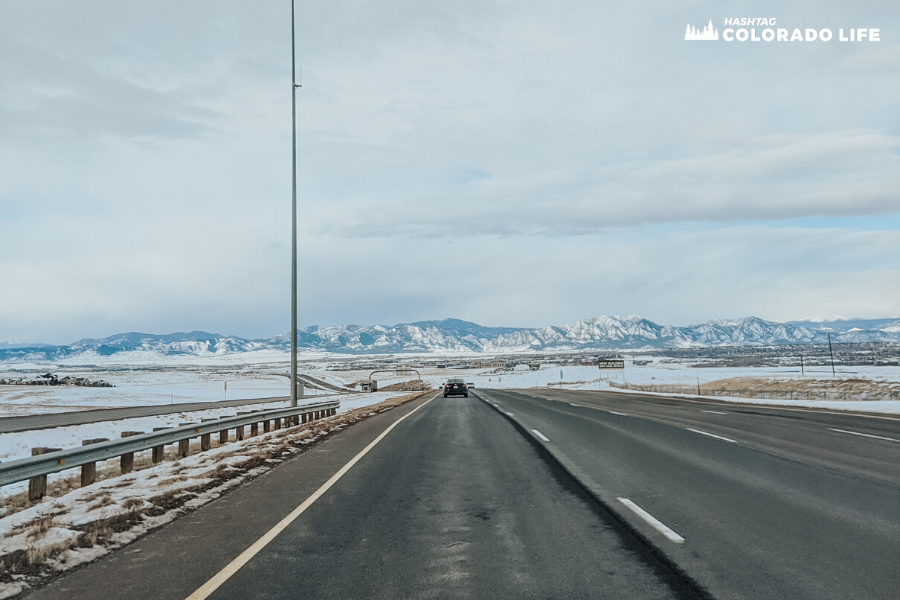 This tactic will also help get your car going if you're starting from a dead stop.
Putting your car in second gear means it won't have as much torque to spin the tires (like it does in first gear) so doing this will help avoid spinning out or slipping on icy snow.
Pro tip: Just because you have the ability to get going in a 4-wheel drive vehicle, does not necessary work when stopping.
Four-wheel drive doesn't mean 4-wheel stop!
Living in Colorado during the winter
As both a native and newcomer to the state of Colorado we can confidently say that we love the winters here.
The summers are mild and winters are cold but not too extreme. It's not like living in Alaska!
Colorado has plenty of sunny days mixed in with the cloudy snowy days that makes the winters bearable.
Of course, winter in Colorado is not like the winters I was used to growing up in Texas, but the snowy lifestyle has an appeal.
If you enjoy winter sports and colder outdoor activities, you will love the Colorado winter season.