8 Things to Do When Hiking Ute Valley Park in Colorado Springs
This website may contain affiliate links and we may be compensated (at no cost to you!).
In this guide we are sharing our personal hiking review of Ute Valley Park here in Colorado.
We have hiked Ute Valley Park numbers of times as it is located just a few minutes from our home in Colorado Springs.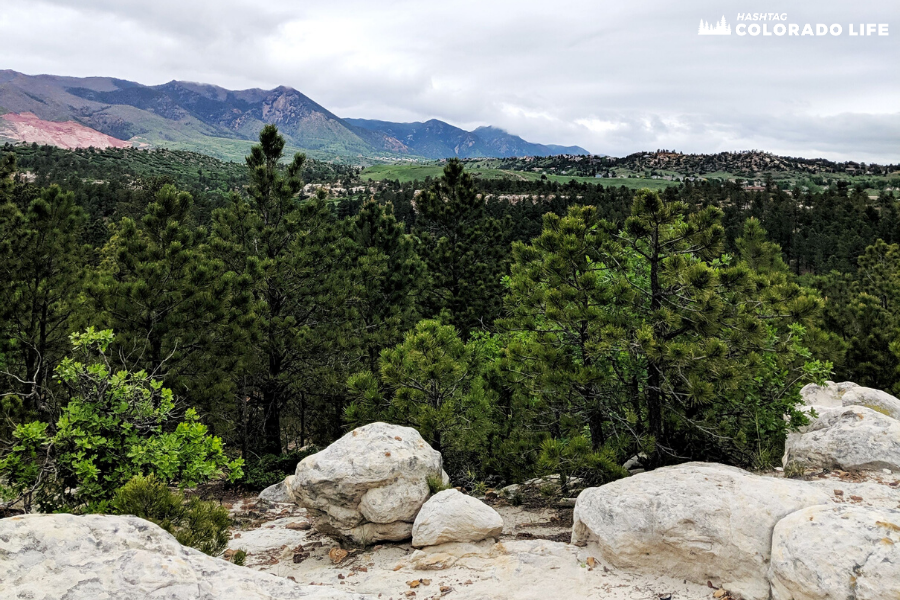 It is actually our favorite go-to hike any time of year.
If you are looking for unique hikes near the Denver or Colorado Springs area with views of Pikes Peak, add Ute Valley Park to your list.
What is the history of Ute Valley Park?
In 1969 Ute Valley Park was donated to the city of Colorado Springs.
It has grown and expanded over the years thanks to additional parcels being acquired or donated.
Today, it consists of over 338 acres of wooded mountains in the middle of Colorado Springs neighborhoods.
During the early 20th century, the coal mining industry was booming in Colorado and Ute Valley Park is said to have several abandoned mines on the property.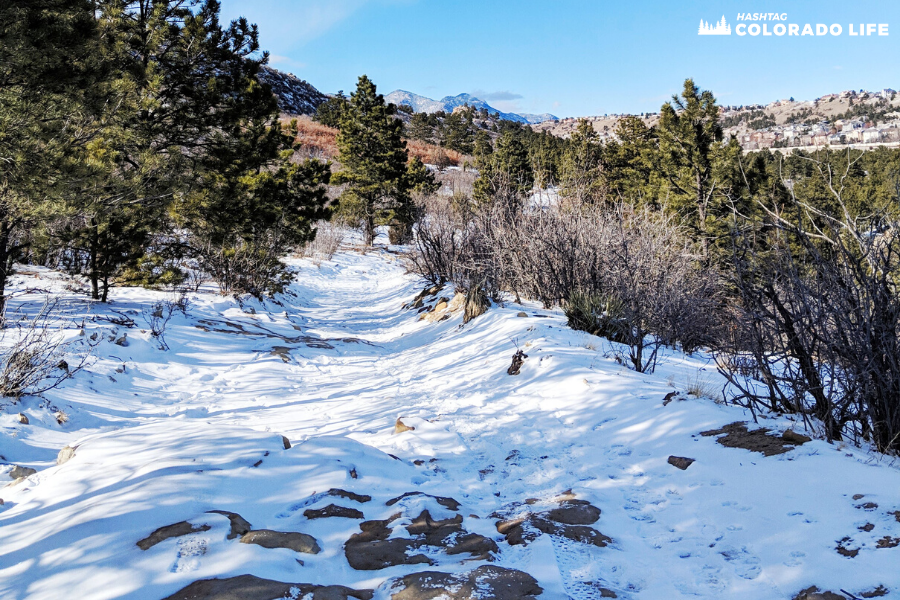 The last known mine to be shut down in Ute Valley Park was the Pikeview Mine in 1957.
Some remnants of the closed coal mine can still be seen at the Park and are located off Delmonico Dr.
Adjacent to Ute Valley Park you will find Rockrimmon Open Space, both of which are managed by the same Parks & Recreation division in the Springs.
Visit both Ute Valley Park and Rockrimmon Open Space and make it an entire day of hiking and enjoying nature.
Where is Ute Valley Park located?
The main entrance to Ute Valley Park is located in Colorado Springs via the north entrance at 1645 Vindicator Drive.
Or you can park in a nearby neighborhood and walk to Ute Valley Park from Centennial Blvd.
It is about a 15 minute drive from downtown Colorado Springs. Or if you are driving from Denver, it will take about 75 minutes.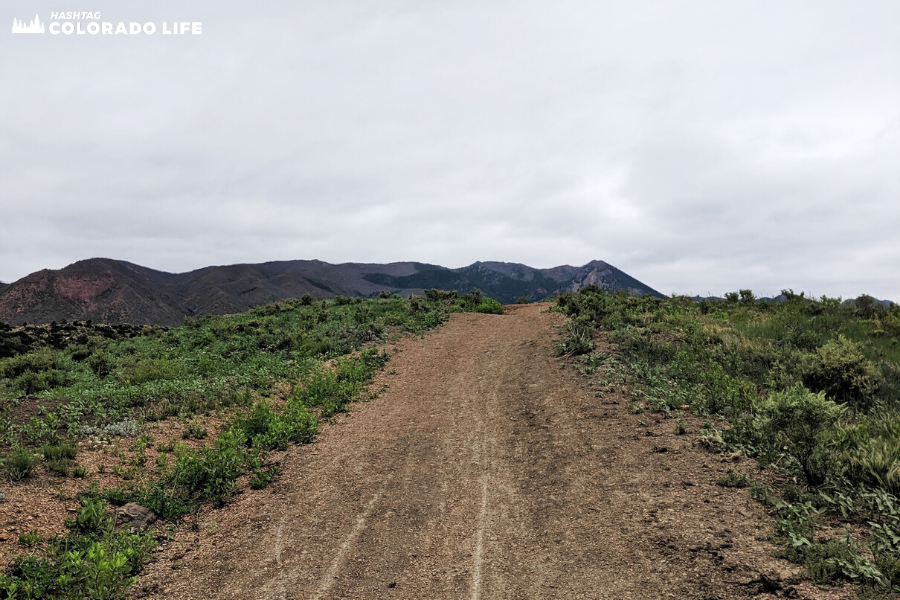 Just take I-25 South till you reach the East Woodmen turn off (exit 149).
This road will turn into Rockrimmon Road until it intersects with Vindicator Drive.
The location makes it a short daytime hike that's worth a visit anytime of year.
Ute Valley Park map and trails
Check out this map of the Ute Valley Park area, the main entrance and popular trails to hike.
This is a map from when we hiked the Ute Valley Park Loop Trail from our AllTrails app.
Hiking Ute Valley Park Loop Trail
Ute Valley Park's most popular trail is called Ute Valley Park Loop Trail which is about 3.4 miles with a shorter 2.5 mile hiking option.
The loop is considered easy to intermediate as the levels of terrain change, and can be repeated as often as you like.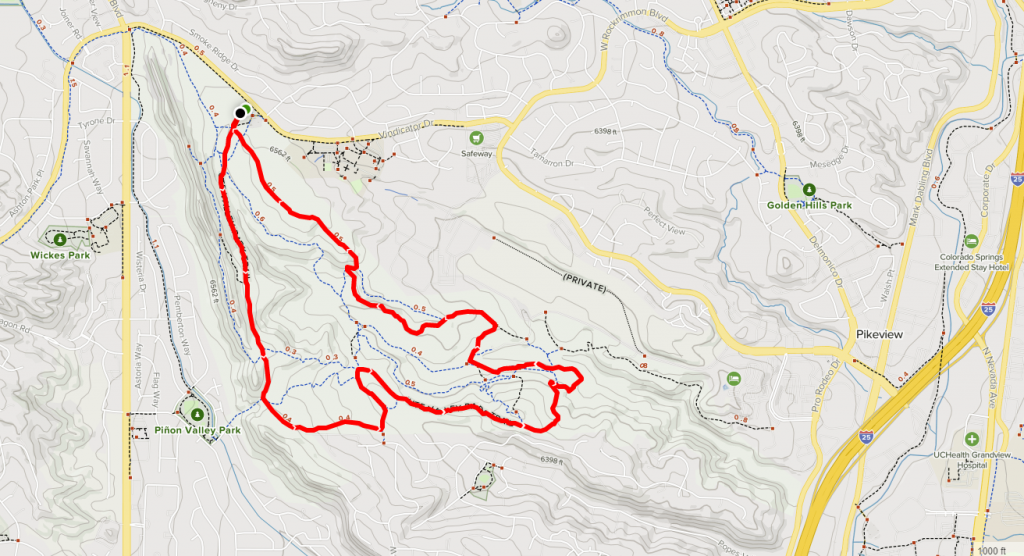 The Loop Trail is easily accessed via the main entrance from the parking lot.
Just continue hiking the trail until you come to several different markers.
Take the path to your right as you will come back on the trail to your left once you have completed the loop.
After this point there are many other paths you can take, so if you have never been to this hiking spot before, it's best to bring a map with you.
Or you can use an app like AllTrails to keep track of your hiking path.
Ute Valley Park Trail is open from dawn to dark, 7 days per week so you can plan a hike anytime of the week.
The Laramie Formation archway
A popular spot to stop and take photos at while hiking Ute Valley Park Loop Trail is what's called the Laramie Formation.
This is a unique archway right in the middle of the loop as you are heading back towards the parking lot.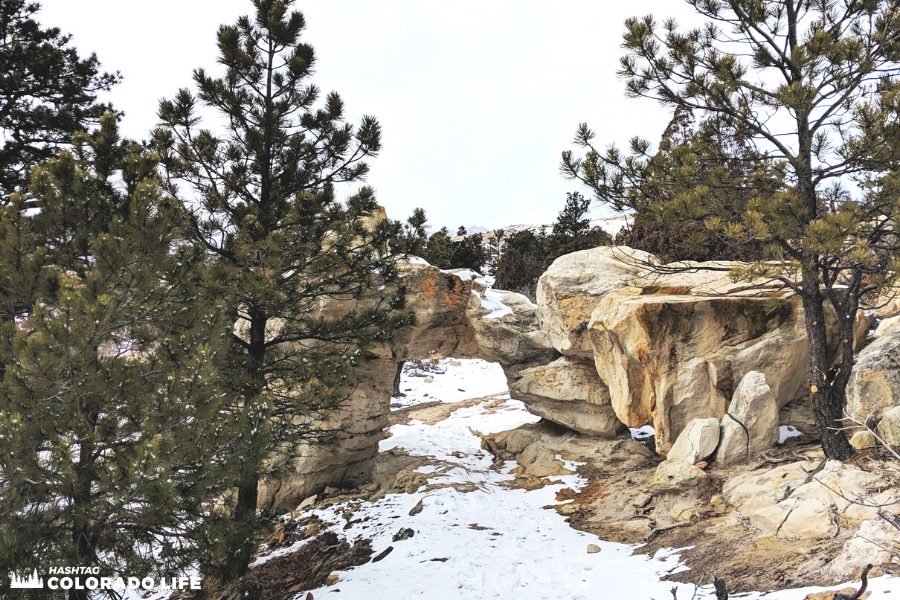 The archway is made up of a complex set of large sandstone and rock formations.
It is large enough for you to walk underneath or stand under for a unique photo opportunity.
What to know when visiting Ute Valley Park
Ute Valley Park is not your typical "park" as the landscape is rocky, mountainous, and full of wildlife.
You won't find any flat open spaces or playgrounds for kids here.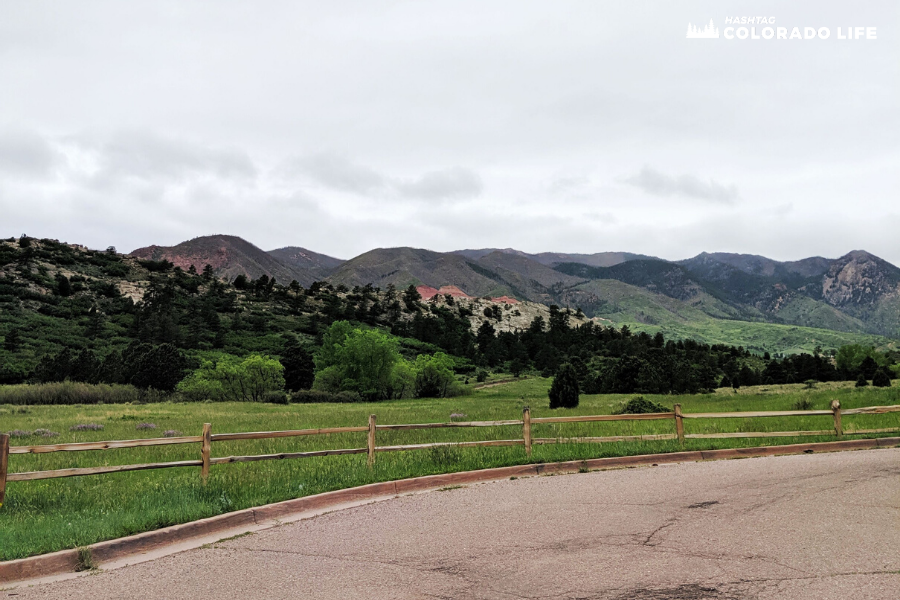 The area is heavily trafficked all year round by the Colorado community and is used for hiking, mountain biking, dog-walking, trail running, and sight-seeing.
Here is what you can expect when visiting Ute Valley Park.
1. Free parking
Parking at the main entrance is completely free, although there are only about 20 spaces available.
You may want to plan ahead for alternative parking if you plan to hike the area during peak times (like during afternoons or on weekends).
As mentioned, you can also park anywhere in the surrounding neighborhood and walk to Ute Valley Park from there.
2. Dogs allowed
Dogs are allowed in Ute Valley Park as long as they are on a leash.
You are also required to pick up after your dog uses the bathroom, and not leave any trash behind.
3. Kid friendly
The trails at Ute Valley Park are all relatively easy-to-moderate which makes it a very kid-friendly place to hike with the whole family.
It offers a good range of hiking terrain that is a great choice for kids of all ages.
And since dogs are allowed on leashes, this is a great family-friendly hike you can add to your list.
4. Ridge overlook
Once you are at the top of the main ridge trail, stop and take in the sights at the overlook area.
The views here are breathtaking, both in summer and in winter, as it overlooks the city from many different angles.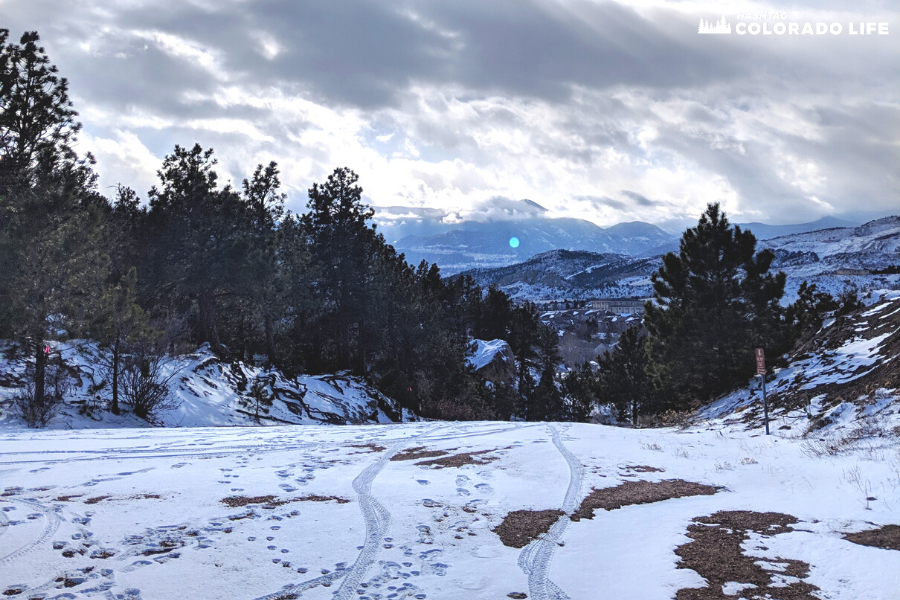 5. Portable bathrooms
Ute Valley Park does not have any formal restrooms and only provides two portable bathrooms for visitors.
It is recommended to take a bathroom break before visiting the Park.
There is also a Safeway just down the road, if you need to use the bathroom or grab any food or water before hiking.
6. Marked and unmarked trails
There are over 20 different trails in Ute Valley Park, some of them are approved trails and others are unmarked.
Throughout the Park you will find a few signs and several posts in the ground that mark the different trails and paths you can take.
Map out your hike beforehand and stop to evaluate where you are at the various check-points.
7. Abundant wildlife
Ute Valley Park is home to a diverse amount of wildlife and plantlife. Due to the thick woods and tall grasses, keep an eye out for snakes in the summertime.
You will see lots of ground animals and colorful birds, herds of mule deer, and maybe even a fox or two.
8. Archeological features
Much like other rocky regions in Colorado, Ute Valley Park is rich in archeological features and rock formations.
And don't forget to take in the beautiful sites of Pikes Peak that overlook this area.
Things to bring when hiking Ute Valley Park
Good hiking boots or shoes are recommended as the area does get muddy when it rains or snows.
Some of the trails are frequented by mountain bikes which make large ruts in the trail, so use caution when hiking.
Be sure to bring extra layers of clothing since some of the trail is shaded and it can be windy on top of the overlook spot.
While the area is very wooded, there are spots on the hike where there is no shade and the sun will be very hot.
You may want to put on sunscreen or bring a hat when exploring this area.
Have you hiked Ute Valley Park in Colorado Springs?