by Ryan Nicholson
|
Last Updated:
December 11, 2020
The content of this website may contain affiliate links and we may be compensated (at no cost to you!). Thank you for your support!
Packing the right ski essentials and planning a ski trip is no easy task.
The last thing you want when arriving at a ski resort is to realize that you left behind an important item for your trip.
Winter in Colorado is here and the snowy mountains are ready for a new ski adventure.
If you're ready to hit the winter slopes, here is how to pack for a Colorado ski trip like a pro and what ski essentials are the most important.
iTunes | Google Play | Stitcher | Spotify
How to pack for a ski trip like a pro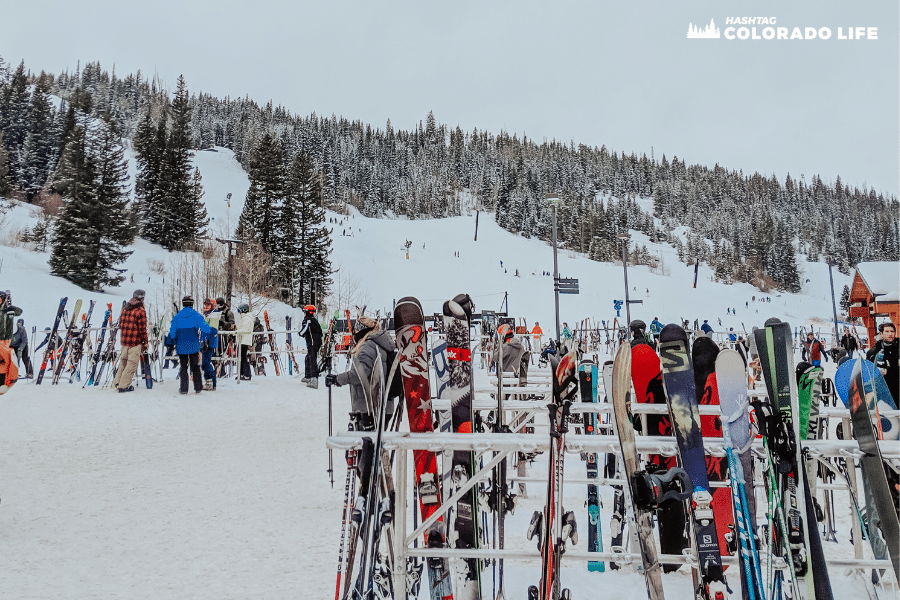 Before jumping into our top ski essentials recommendations, please note that we are NOT sharing the most obvious ski essentials to pack.
It's well-known that you need waterproof ski boots, a ski coat, and ski pants.
Since these are a given, we aren't going to cover those suggestions in this guide.
Instead, we are focusing on must-have ski essentials and accessories that are easy to forget.
1. Sunscreen
Winter UV rays are just as strong as the summer sun, if not more so.
Solar radiation increases with altitude, so you are more exposed to UV rays the higher up you go.
And when the sun reflects off the snowy landscape, you can easily get sunburned.
Having sunscreen on hand, that's easy to re-apply, is a must when you are skiing.


2. Lip Balm
Between sunburn and windburn, your lips, cheeks, and face can become dry and flaky fast.
The cold air and high-speed winds will dry out your skin and make your lips very chapped.
Having a medicated lip balm or Chapstick in your bag will be a lifesaver!
And you don't need anything fancy or expensive. Just a tub of Vaseline or Carmex will work wonders for keeping your lips and face moisturized.
We recommend trying to find a good lip balm or Chapstick with SPF in it. Protecting your lips from the sun is just as important as protecting your face.


3. Pain Reliever
A good ski essentials packing list is not complete without some sort of pain reliever or CBD lotion.
Whether you're a beginner skier or more advanced, a day on the slopes means getting a few bumps and bruises.
And your body probably isn't used to skiing all the time so it's going to be sore.
Be sure to bring pain reliever medication or use a topical pain reliever treatment like CBD lotion.
We recommend the Serious Relief Targeted Topical balm from Receptra Naturals.
This local Colorado company formulates all-natural CBD hemp topical treatments that help minimize swelling and inflammation.
Head over to the Receptra Naturals website and use code "coloradolife" to save 20% on your entire order!
4. Body Lotion or Cream
Skiing in the mountains is often very cold and very dry.
Being on the slopes all day means you aren't drinking a lot of water and this can lead to hydration problems, especially with your skin.
In addition, a favorite off-the-slopes activity is getting into a warm sauna or hot tub, which can dry out your skin even more.
We recommend packing a high quality hand cream or body lotion for your trip. You will definitely need it!
Grab something like Aquaphor or Gold Bond to really hydrate and seal in the moisture on your skin.


5. Healthy Snacks
Skiing is typically an all-day event which means you burn through a lot of energy.
Having healthy snacks in a backpack or pocket is a must for any ski essentials packing list.
Here are some top snack recommendations that are easy to grab and go:
Energy bars
Nuts and seeds
Jerky
Granola bars
Fruit leathers
Dark chocolate
6. Hydration
We can't say it enough, the mountains have very dry air which makes it really easy to get dehydrated throughout the day.
Drink lots of water and bring a small water bottle with you to refill while out skiing.
We also suggest bringing a few electrolytes or energy drink supplements to help keep your body replenished.
One of our favorites is the Revival Energy packets that are convenient and easy to travel with.
Use code 25REVIVAL on Amazon to save 25% on your entire Revival Energy order!
7. Thermals
The key to staying warm and comfortable while skiing is dressing in layers. You never know what the weather will be like so you want to be prepared.
It is the mountains after all and there is likely to be vast changes in temperature.
Having a thermal layer of clothing underneath all of your warmer clothes will ensure you stay warm and dry all day.
We recommend the HEATTECH thermals from Uniqlo (a store is located on 16th Street Mall in Denver).
This technology traps heat from your body to generate warmth all over. And the good news is that these thermals are very budget-friendly.


8. Ski Socks
Having cold feet or wet socks is one of the worst experiences when skiing or snowboarding.
This is why it's important to have high quality ski socks made from either wool or a synthetic material.
Wearing two pairs of socks will typically not be warm enough, and can cut off proper circulation to your feet.
Whereas a good pair of thick, high-quality ski socks will make sure your feet stay warm and comfortable all day.
We like the FoxRiver Telluride socks since they come in different lengths and are very warm while being lightweight. Plus, each pair is only about $10.
Or check out the HEATTECH socks from Uniqlo that come in a pack of two for $13.


9. Waterproof Gloves
When you're talking about snow, you're also talking about water. And it's easy to forget that you need waterproof gloves while skiing.
Traditional gloves will become wet and make your hands cold after spending time in the snow all day.
We recommend the Mountain Made Outdoor Gloves for both men and women. They aren't too expensive and keep your hands warm and dry.
You can even use these gloves while scrolling on your phone.
Plus, they come with zippers so they're easy to pull on and off, no matter how bulky your clothes get.


10. Beanie or Earmuffs
Cold weather can cause damage to your hearing and can lead to infections, increased bone growth (known as surfer's ear), and even hearing loss.
For these reasons it's super important to keep your ears warm and covered when skiing.
To avoid internal ear pain, make sure that blood flow is able to easily circulate in your ears.
A warm beanie or pair of earmuffs should do the trick to keep your ears warm so you can stay healthy all winter long.


11. Sunglasses or Goggles
High quality sunglasses or tinted ski goggles are a must for when the sun reflects off the snow on the mountains.
This is a vital ski essential to pack for your trip!
Sunny days on the slopes are frequent in Colorado, and protecting your eyes should be a top priority.
Most ski goggles or sunglasses can cost a pretty penny, but thankfully there are some budget-friendly options available.
Some goggles even come with anti-wind features or interchangeable lenses.
It's really about what you like and what is best eye protection for skiing.
Just make sure that the ski sunglasses or goggles you bring offer UV protection and are tinted enough for the intense sun.


12. Swimwear
Swimwear is one of the main ski essentials that is often forgotten when going on a ski trip.
Most ski resorts have built-in spas, hot tubs, and saunas that are available to guests at the resort.
These are very common amenities in Colorado ski resorts as well.
And after a long day of skiing there is nothing more relaxing and warming than spending an hour in the spa.
If you have kids then you're in luck too as a lot of ski resorts also feature heated pools and large spa centers for ultimate relaxation.
Don't forget to add a swimsuit to your ski essentials packing list!


13. Scarf or Neck Warmer
Keep your face and neck warm with a wool scarf or thick neck warmer.
Warm air can escape through the top of your ski coat, but having a scarf or neck warmer can help prevent this.
A scarf helps capture that heat and keep it close to your body.
A neck warmer also makes it easy to layer on more clothing or take some off if you are getting too warm.
A scarf or neck piece is a great layering item if you aren't sure what the weather will be during your ski trip.


14. Ski Backpack
When you're out skiing or snowboarding on trails all day, you don't want to think about making extra stops for snacks or drinks.
This is where investing in a good ski backpack comes in very handy.
A ski backpack allows you to pack everything you need for the day without returning to the lodge or stopping at a shop on top of the mountain.
It gives you ample space to store your gear, snacks, extra warm clothes and to safely hold your phone.
For the best support, look for a ski backpack that has comfortable straps across the chest, shoulders and waist.


15. Extra Charger or Power Bank
If you plan on taking photos or video of your ski trip vacation, you will need to pack an extra charger or power bank.
It's no secret that electronic devices and batteries do not like the cold weather.
Electronics are susceptible to having issues when it's very cold and batteries can be depleted much faster.
For these reasons, we recommend adding an extra charger or power bank to your ski essentials list.
And do your best to keep your phone or camera in a warm dry place while skiing.


Tips for packing the right ski essentials
Packing for a ski vacation is not the same as packing for a regular holiday trip. It requires a bit more preparation and planning ahead.
To make the most of your trip, there are lots of extra ski essentials that you don't want to forget.
It doesn't matter if you are a beginner or experienced skier, these ski essentials should be on everyone's list.
Be sure you bring the right equipment and pack the accessories you need to make your trip an epic experience.
Pack items that are high quality and keep you warm so you can have a comfortable and enjoyable ski trip.
Ryan Nicholson is a homegrown born and raised Colorado native. Being a rare unicorn to have grown up in CO, he has a unique perspective on the changes here and knows all the hidden spots to get outside in this state. Ryan's a classically French trained chef so he LOVES to try new foods and places to eat. When he's not experimenting in the kitchen or working as a personal chef along the Front Range, he loves to get outdoors and away from it all hiking, camping and backpacking.