12 Memorable Things to Do in Colorado in the Winter
The content of this website may contain affiliate links and we may be compensated (at no cost to you!). Thank you for your support!
There are so many memorable things to do in Colorado in the winter, it can be hard to choose just one.
The winter season is all about the snowy weather and beautiful lights, and nowhere does it more justice than Colorado.
It's the perfect time to enjoy the winter season with a glacial hike, snowshoeing adventure, or snow tubing hill.
If you're looking for the best things to do this winter, check out our top 8 favorite recommendations.
1. Glacier Hike & Geothermal Cave Tour
Have you ever wanted to hike a glacier? Now's your chance with this Glacier Hike and Geothermal Cave Tour.
Spend a day exploring the Rocky Mountains and venture to St. Mary's Glacier from Denver.
You'll travel through Idaho Springs, a historic mining town, eat pizza for lunch, and soak your troubles away in natural geothermal cave pools.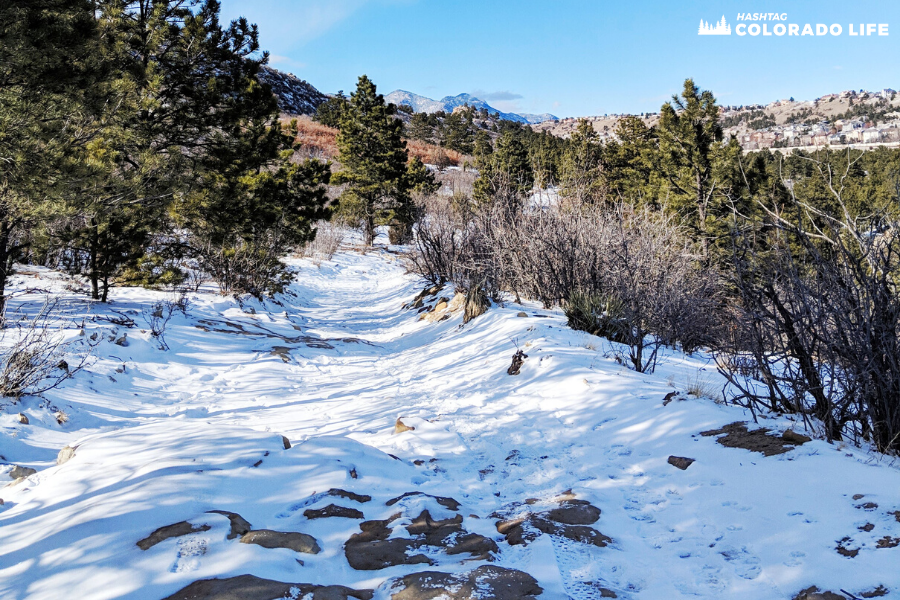 Plus, during the winter you can enjoy sledding and a 1.5 mile hike to a glacial lake at the top of a mountain.
This 8-hour tour includes all day transportation to and from Denver, plus all equipment, fees, water, light snacks, and even tour photos of your group.
Click here to learn more and book your tour today!
2. Hidden Valley Sledding Tour
Grab your warm clothes and enjoy a family day out to Rocky Mountain National Park on a snow sledding tour. 
This local Colorado company is the only one that provides this service!
You and your group can spend hours of fun sledding near Estes Park. A National Park Pass is included along with use of sleds and safety equipment.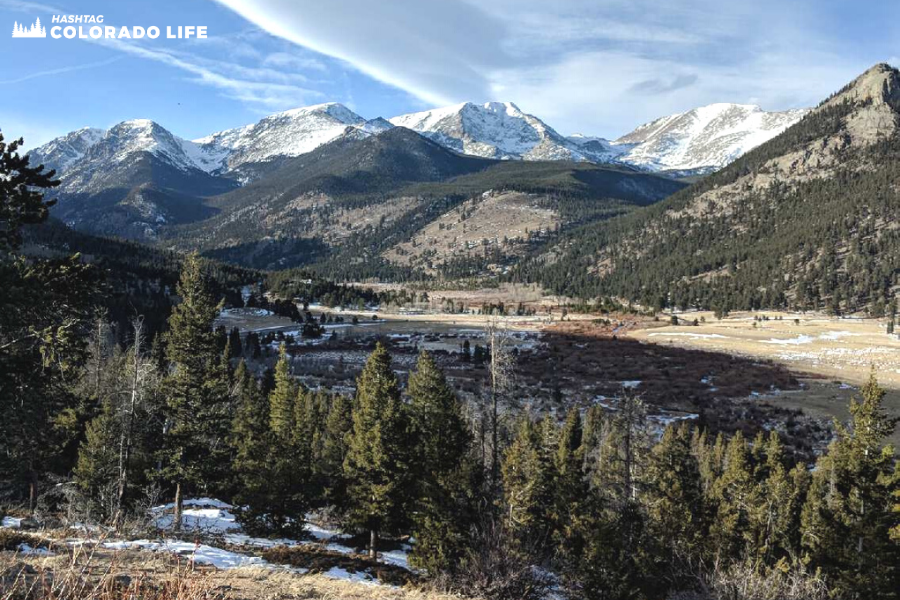 The area in Hidden valley is a designated sledding slope that used to be an old ski resort.
It's full of history and the perfect spot to capture the beauty of Rocky Mountain National Park.
Click here to book a day out sledding with your loved ones.
3. Ice Climbing
Tired of only having skiing as an option for Colorado winter activities? Join an experienced guide for a half-day of ice climbing in Telluride.
Your tour comes with all the ice tools, instruction, gear, boots, crampons, helmet and safety harness.
This is a great 6-hour adventure for families or first-time climbers who need instruction and quality safety equipment.
Book your ice climbing session in Telluride this winter and be prepared for an awesome time.
4. Winter Driving Tour
While the Colorado weather is cold and snowy, warm up on a Winter Driving Tour of Denver. 
Sit back and relax in a heated car while your tour guide takes you around Denver sharing haunted and historic tales of the city.
Bring your camera for a chance to capture some epic photos and maybe even see some paranormal activity!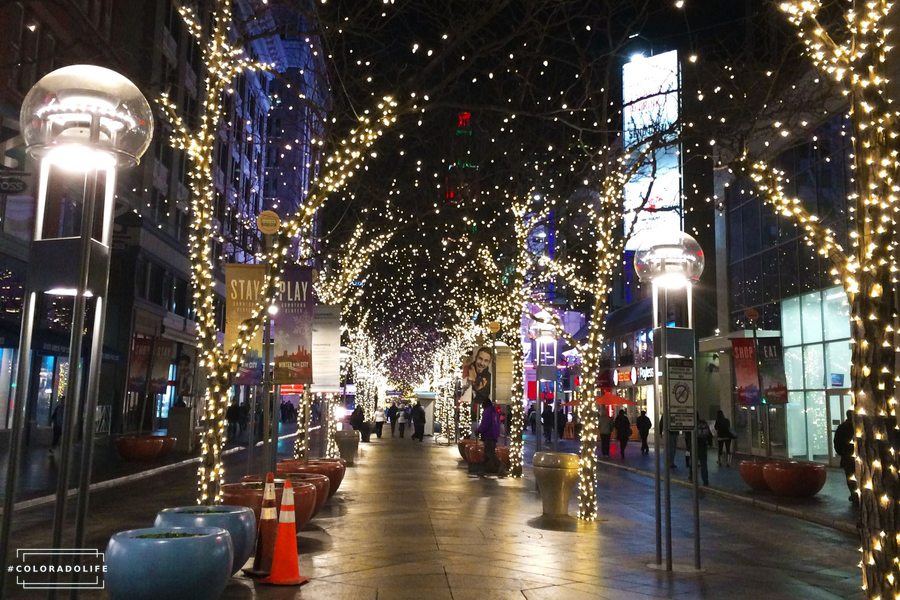 Enjoy a 2-hour ride in a comfy and private car through the historic and beautiful city of Denver.
You'll learn about the architecture, haunted history, and see gorgeous Christmas light displays.
This is a perfect thing to do in Colorado in December no matter if it's raining, snowing, or cloudy outside.
5. Snowshoeing Adventure
Colorado's rugged terrain and natural environment makes for some of the best winter hiking trails.
And one of our favorite ways to discover these trails is on snowshoes!
Go on a Guided Snowshoeing Tour and explore the winter wonder that Colorado has to offer. 
This 3-hour snowshoeing adventure includes snowshoe rentals, snacks, and bottled water.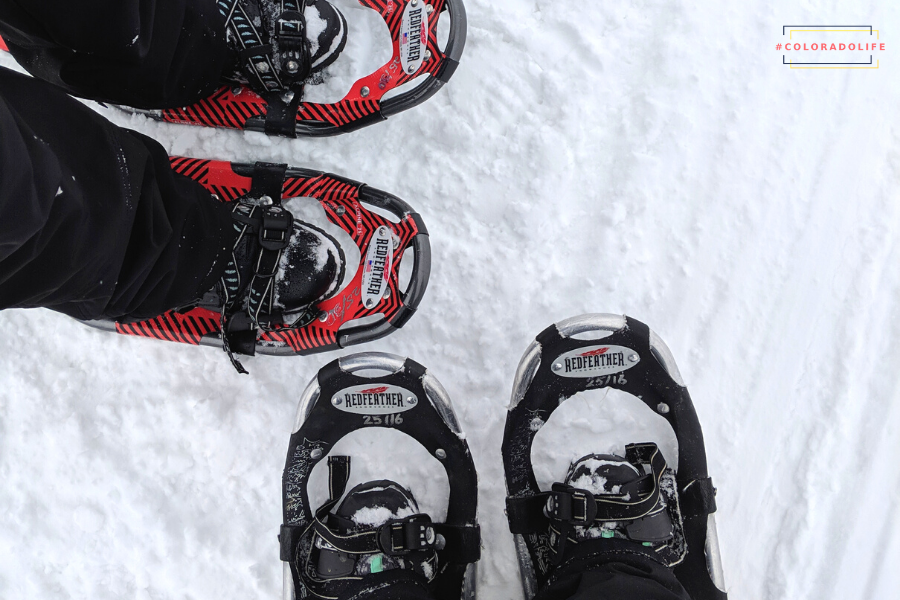 You'll venture out into the snow on a guided tour of the winter landscape, with blue skies and frozen lakes.
Be sure to wear comfortable shoes and warm clothes.
6. Soak in a Hot Springs
Colorado is home to some of the best hot springs in the country, many of which are just a few hours' drive from Denver.
One of the most scenic hot springs in the state is Glenwood Springs with the Hot Springs Resort & Spa.
In just 2.5 hours drive from Denver you can soak in the hot natural spring water as your holiday stress melts away.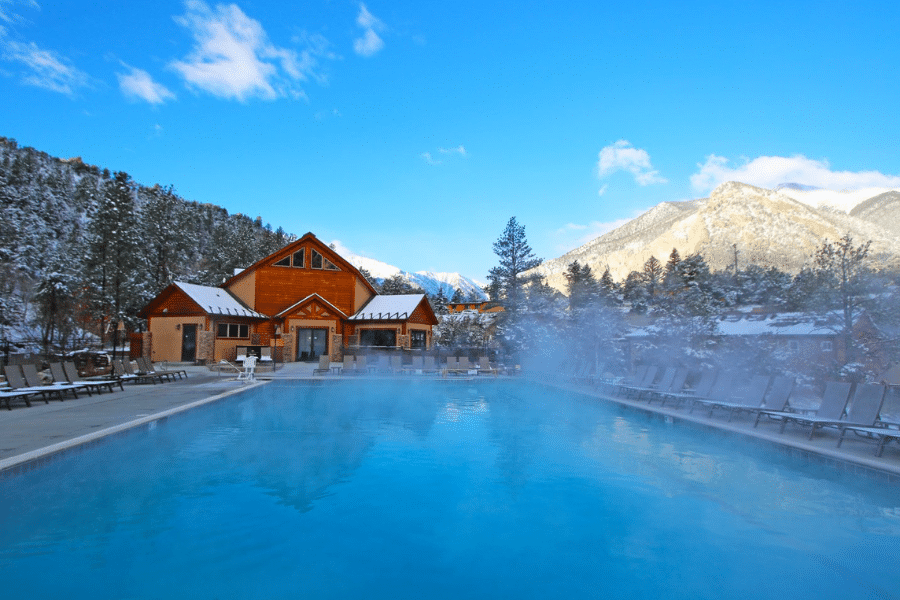 Take in the cool winter air and see the gorgeous Christmas light displays that surround the resort and hotel.
You'll also be able to visit the Glenwood Caverns Adventure Park which is just a few miles from the Glenwood Hot Springs Resort.
The resort is open all year-round but a visit during the holiday or winter season is our favorite time of year!
This activity is especially good for small groups or anyone who wants to avoid the crowds during the busy holiday season.
7. Skiing in Winter Park
Winter Park is one of our favorite ski and snowboard locations! It has a small ski town feel without the high prices of tourist towns like Vail or Beaver Creek.
And now you can avoid waiting in lines to rent equipment by grabbing a premium ski rental pass.
Skip the line and place your order for skis, snowboards, poles, boots, and helmets that will be ready before you arrive.
A custom in-room fitting will be done when your gear is conveniently delivered to your door, along with slope-side service.
Grab this quality ski equipment rental in Winter Park before it's gone.
8. Dog Sledding
Start your day in Denver and get picked up for a custom dog sledding tour. 
This full day excursion includes private transportation, ski or snowboard rentals, a day of dog sledding, snowmobiling or tubing.
You can sit back and relax on your winter vacation while letting a local book your tours and get the details together.
This concierge service includes tips on where to ski and how to book the best rentals.
Plus, your ride to the mountains in a private vehicle is included.
Find out more details about this winter ski tour or dog sledding adventure
9. Winter Roller Coaster
Glenwood Caverns Adventure Park sits atop Iron Mountain at 7,100 feet in elevation. Which makes it America's only mountain-top theme park.
This amusement park is home to the Mountain Coaster which is an awesome winter activity for any thrill-seeker.
During the holiday season the coaster track is decked out in thousands of fairy lights and makes for a memorable roller coaster experience!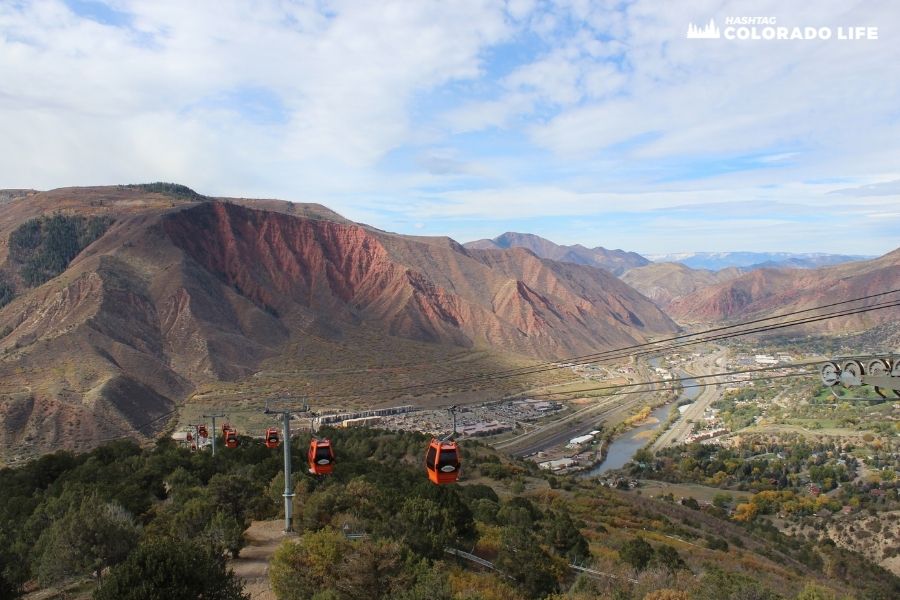 Plus, while you're here we recommend booking a tour of the historic Fairy Caves.
Not to mention the gondola ride up the mountain is an epic experience on its own.
This winter roller coaster ride is one you will remember for a long time!
Tickets are available online or you can book an all-inclusive tour that includes the gondola, all the rides, cave tours and more.
10. International Snow Sculpture Championships
Sadly, the Dillon Ice Castles won't be coming to Colorado this winter.
But you can still get your fill of beautiful ice formations at the International Snow Sculpture Championships.
Every year this event is held in Breckenridge and features epic snow sculptures from local ice artists.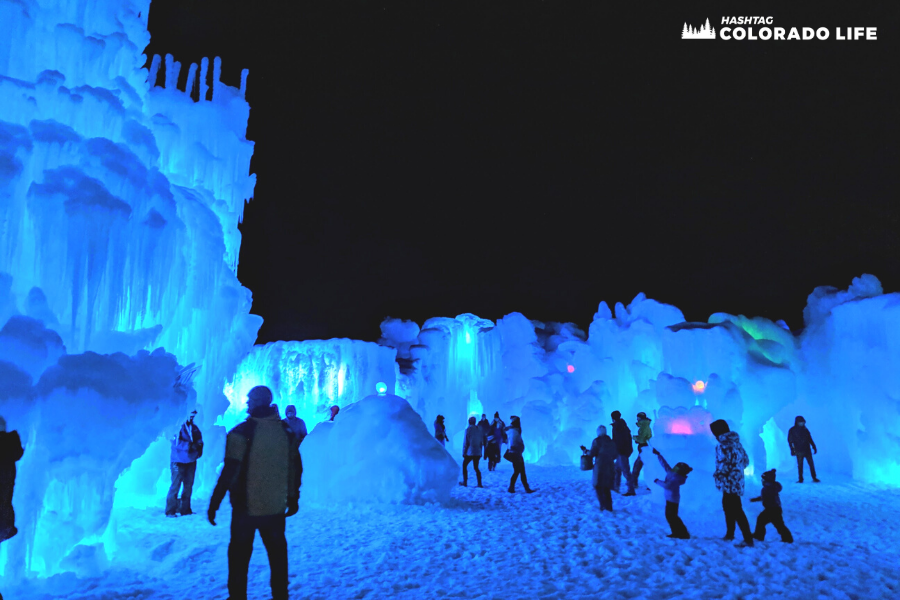 And you can walk through the sculpture garden during the day or night, as each one offers a different experience.
Plus, this event is completely free! Check out the International Snow Sculpture Championships in Breckenridge starting January 24th – Feb 2th, 2022.
11. Snow Tubing Hill
On busy ski days we recommend skipping the long ski lines and heading to the Tubing Hill at Frisco Adventure Park.
This winter activity is located in the heart of Frisco, a ski town just north of Breckenridge.
The Tubing Hill features multiple lanes for snow tubing, each one with a different experience. Some lanes are long and fast while others are slower with rolling terrain.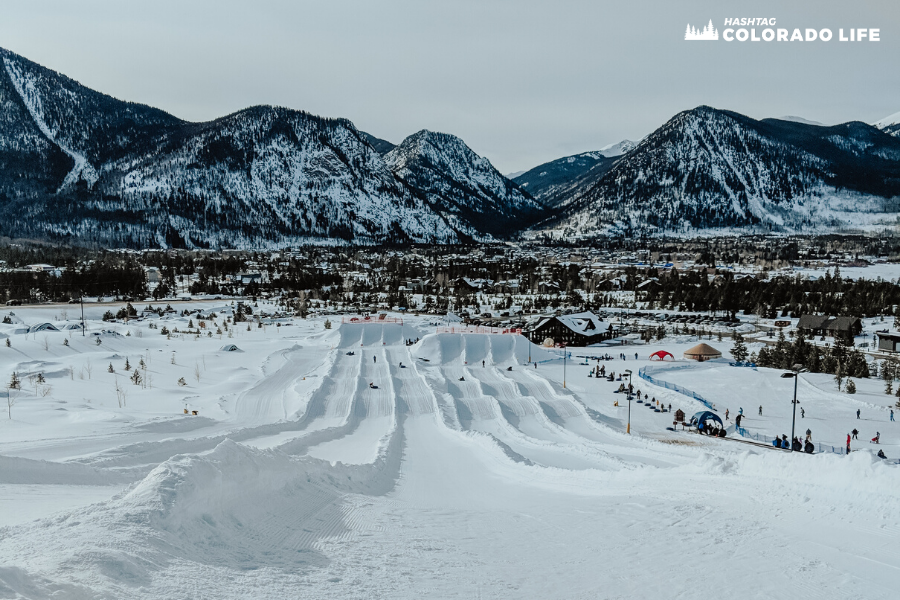 Once you're at the bottom of the hill, simply pull your tub onto the surface lift and get transported to the top of the mountain for another run.
Beginner ski & ride lessons are available for newcomers or kids who want to learn to safely ski or tube.
The snow tubing hill is closed on Tuesdays and Wednesdays for maintenance but is open the rest of the week and on weekends.
Tickets can be purchased online and start at $23 per hour.
12. Scenic Train Rides
Enjoy a wintery wonderland by taking a ride on one of Colorado's scenic holiday trains.
One of the most popular train rides is the Georgetown Loop Railroad which turns into a holiday express complete with hot chocolate and Santa Clause.
Make your way through the Colorado scenery, fun-filled lights, and synchronized music.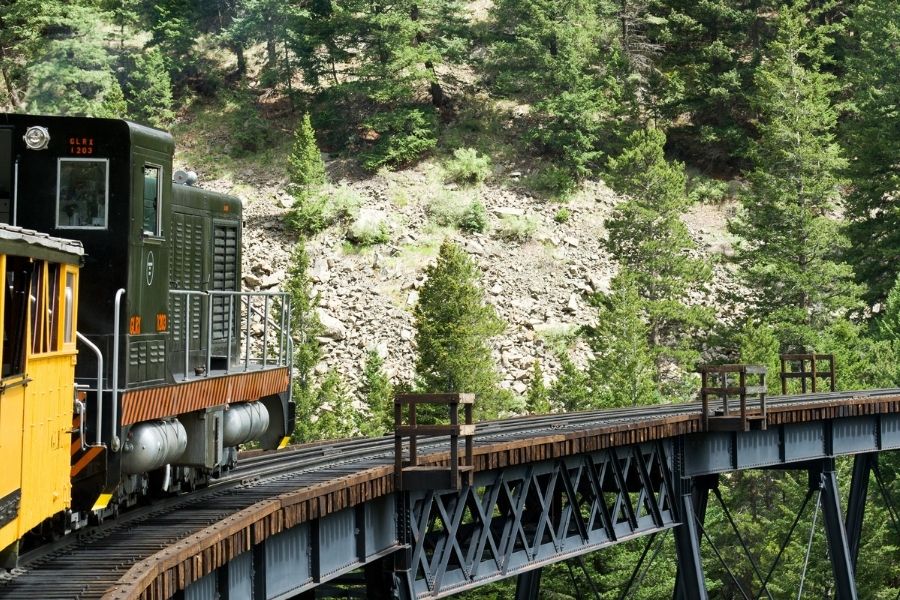 The train cars are heated and feature large windows for viewing the lights and wooded fantasyland outside.
This winter activity is family-friendly and great for small groups.
The Georgetown Loop Railroad opens November 7th – January 3rd, 2022.
We hope this guide gives you lots of ideas for things to do in Colorado in the winter, many of which do not include skiing.