31 Best Restaurants in Denver Ranked By a Local
This website may contain affiliate links and we may be compensated (at no cost to you!).
Narrowing down the best restaurants in Denver is no easy feat. Even as a Colorado local and chef myself, there are many great restaurants that are worthy of this list.
From special occasions to seasonal dishes and eating outside on an outdoor patio, these Denver restaurants don't disappoint.
All of the eateries listed, including some coffee and ice cream shops, offer the trifecta of fantastic food, relaxed atmosphere, and hospitable service.
These restaurants are perfect for a fun Denver date night out if you're looking for ideas and other food to try.
Read on to learn my recommendations for the top restaurants in Denver and what makes each one great.
1. Sushi Den
I love sushi. In fact, it's one of my favorite types of food to eat. So to say I'm picky about sushi is an understatement.
And even though the sushi that you eat in Colorado is not actually local, the fish served at Sushi Den is as fresh as it gets.
In fact, Sushi Den is regarded as one of the premier sushi restaurants in all of the country and has been open since 1984.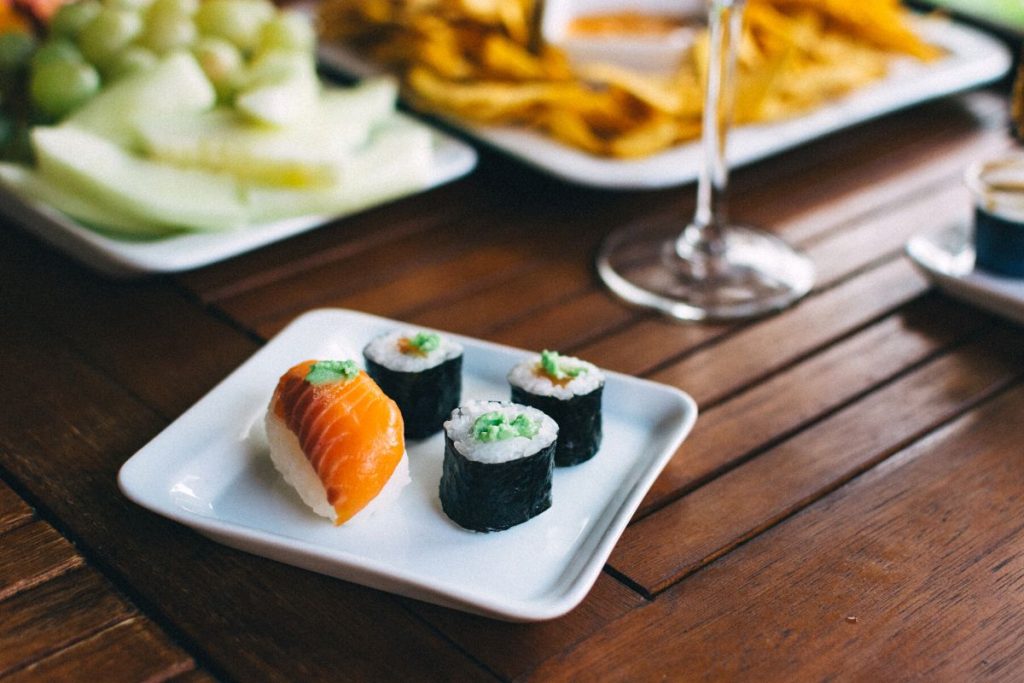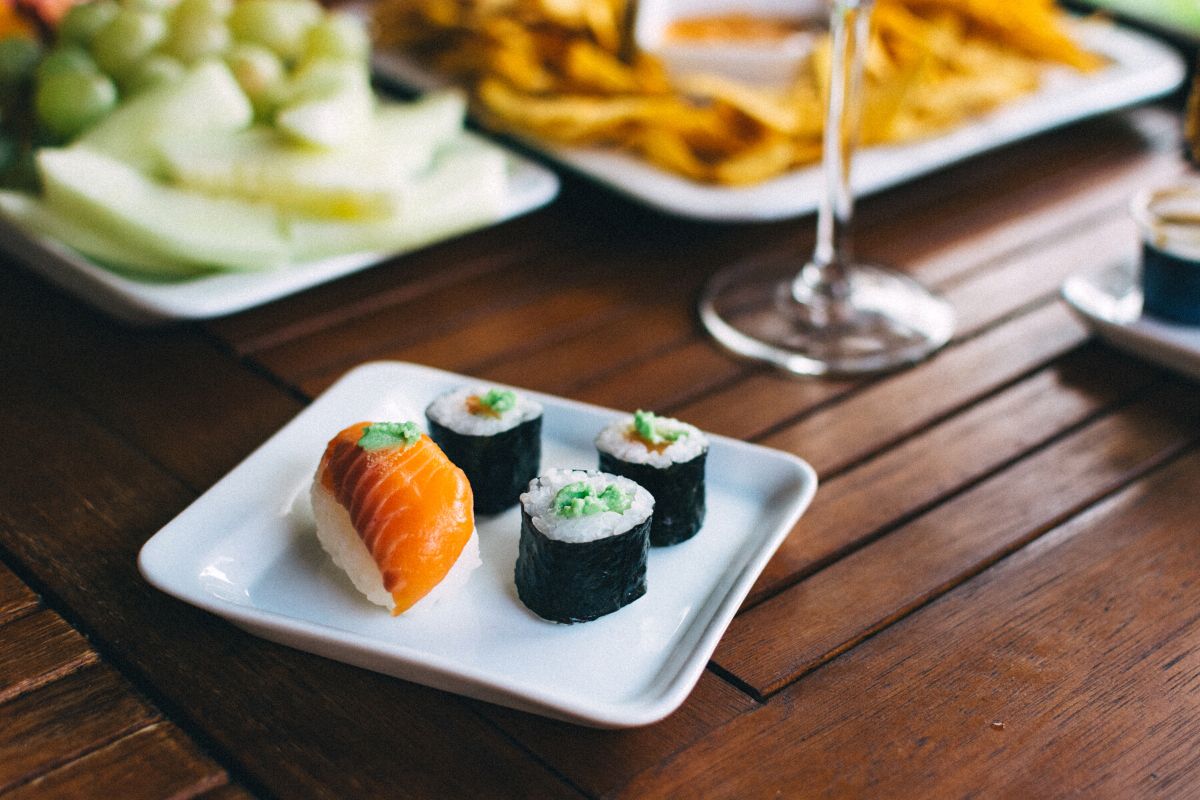 The fish is bought in the Japanese city of Fukuoka and delivered to Denver's Sushi Den within 24 hours.
And the menu is not just fried rolls (like you primarily get in Texas), instead there are plenty of daily specials that are unique and seasonal.
If sushi isn't your jam, their sizable kitchen menu is also full of cooked food as well.
Sushi Den is a great place for parties or small events as they have a nice list of libations and a unique bar that serves a variety of asian-inspired drinks.
2. Annette, Scratch to Table
Owner Chef Caroline Glover is down-to-earth with a love of cooking and hospitality. It's no wonder that her menu and restaurant, Annette, reflects this.
Located in the Stanley Marketplace in Aurora, Annette has a rotating menu that very much depends on the seasons and what is freshest.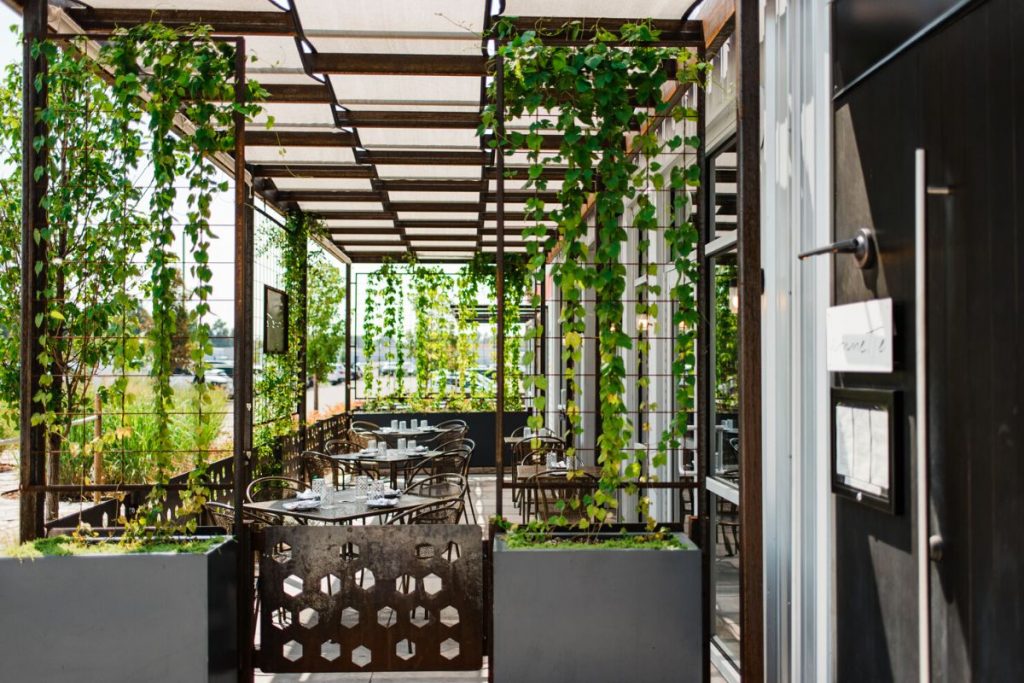 The mission of the restaurant is to make you feel at home while eating healthy and sophisticated food that's delicious.
Since opening in 2017 Annette has received three James Beard nominations thanks to signature dishes like grilled, sliced beef tongue with marrow toast.
It's as if you are eating in someone's home kitchen. The atmosphere is warm and inviting, but the food is top-notch and unlike anything you've eaten before.
3. Snooze Eatery
No Denver breakfast restaurant list would be complete without mentioning Snooze Eatery.
Now with multiple locations around Colorado and the first Snooze location in the U.S. was in Denver.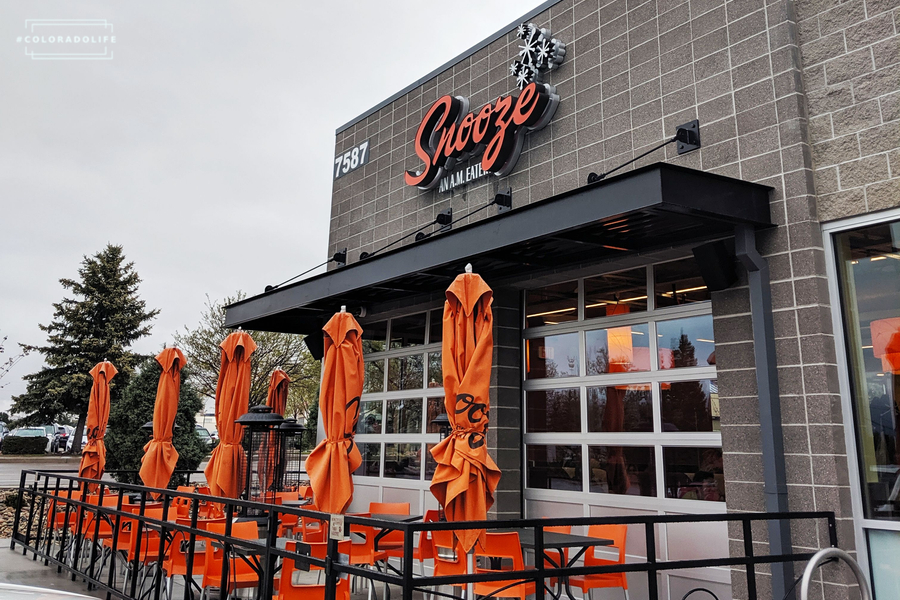 We recommend the pineapple upside down pancakes (which are almost always on the menu), but be sure to ask about their seasonal options too.
And the hollandaise sauce is always delicious, which is the hallmark of any good breakfast place!
4. The Denver Milk Market
The Denver Milk Market is a market-like atmosphere that brings together an all-local mix of restaurants and bars run by Colorado chef Frank Bonanno.
The market is just a few blocks from the Denver Union Station, and has an artsy feel with the cool 3D art installations along the walls and sidewalks.
You'll notice a milk theme throughout the market (which takes up a whole city block!) because in the early 1900s, there was a large dairy located there.
5. Hop Alley
A sister restaurant to Uncle Ramen (mentioned below), we love the relaxed and fun atmosphere at Hop Alley.
You'll find a nice selection of Chinese inspired dishes that are pretty high end but still with a casual vibe.
6. Monaco Inn
Monaco Inn has served Denver with homemade Greek food for over 30 years. We recommend the Greek lemon chicken, the avgolemono soup, and the Greek potatoes.
They are best known for their Greek food, but they also serve Mexican and American flavors too.
7. D Bar Denver
If you've just finished dinner, there's no better place to end the night than at D Bar Denver. You really can't go wrong.
D stands for dessert, and though they now serve dinner, we enjoy going to D Bar for their outstanding desserts.
We love their Milk and Cookies and their seasonal options.
Right now they are serving the Beach, Please! special which has coconut tapioca, passion fruit curd, mango pineapple chutney and lime yogurt sorbet.
8. Denver Biscuit Company
A list of the best restaurants in Denver is not complete without a mention of the Denver Biscuit Company.
This popular eatery started out as a food truck on Colfax Avenue and now has multiple locations in Colorado (including one in Colorado Springs!).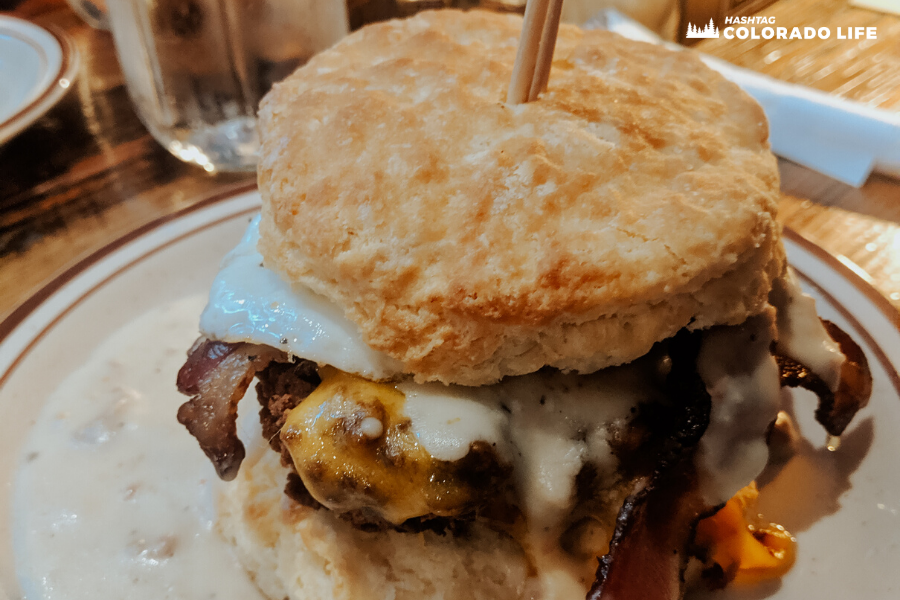 You really can't go wrong with their biscuits and gravy or a biscuit sandwich. They are over the top delicious.
And the vegetarian mushroom gravy rivals the regular sausage gravy in flavor.
But my absolute favorite item on the menu is the giant cinnamon rolls (you can even add bacon).
9. Uncle Ramen
Some of our friends from out of state will visit Denver just to visit Uncle Ramen.
With two locations in Denver, you'll find ramen and other Asian flavors featuring local, Colorado ingredients.
They describe themselves as a small, no brow neighborhood restaurant, but believe us, they take their ramen very seriously.
10. Moe's Original Bar B Que
We also enjoy Moe's Original BBQ for great barbecue!
Not to be confused with Moe's Bagels (mentioned later), Moe's Bar B Que has locations in Denver and Boulder.
They offer great southern soul food and serve up Alabama-style pit barbeque. Their smoked turkey is truly delicious.
And, in my personal opinion, if a barbeque restaurant can smoke their turkey correctly, it's worth a mention on this list.
11. Bamboo Sushi
I seriously love Bamboo Sushi. Not only because it's delicious (and it is!) but I like to support anything that is sustainably caught, humanely raised, and naturally grown.
They take a unique take on everything they serve, and the vibe is definitely a bit "chefy."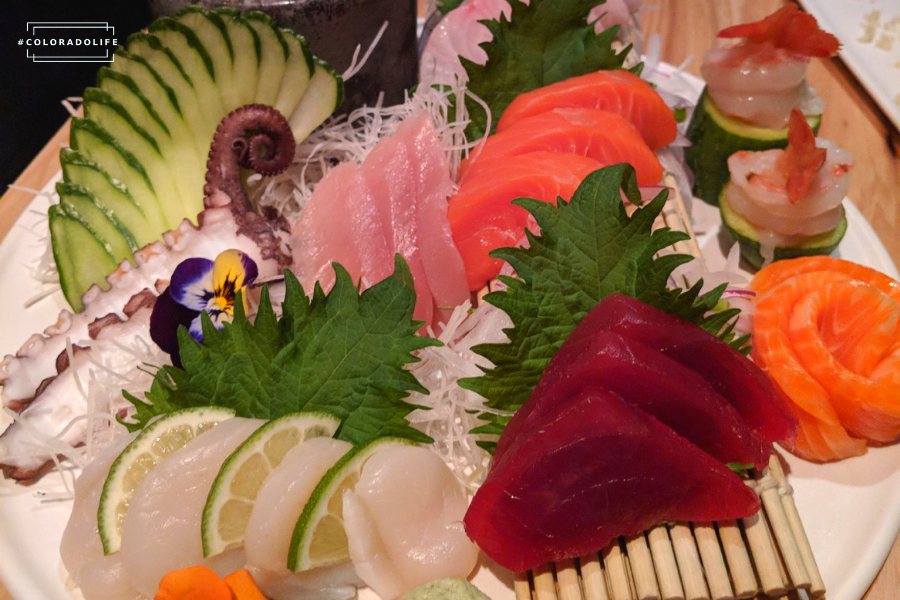 Many of their combinations are original, and the servers will come out to explain, in depth, what it is that you're eating on each plate served.
One of my favorite things about Bamboo Sushi is that you can come in with a budget and the chef will bring out a custom tasting platter to fit your budget.
If you're not that into seafood, you might enjoy the Wagyu Burger as an alternative.
12. Pigtrain Coffee
Located inside the historic Denver Union Station, Pigtrain Coffee is named for the trains that carry truck trailers on flatbed rail cars.
They serve locally roasted coffees (as well as coffee cocktails). Come for the delicious coffee and stay for the architecture and the historic atmosphere.
If you're staying at the Crawford Hotel, you'll get the full visit experience.
13. Avanti Food and Bev
Avanti Food and Beverage is an awesome place to go for a variety of food.
It's a collective eatery, so it's like going to a bunch of food trucks but all under one roof.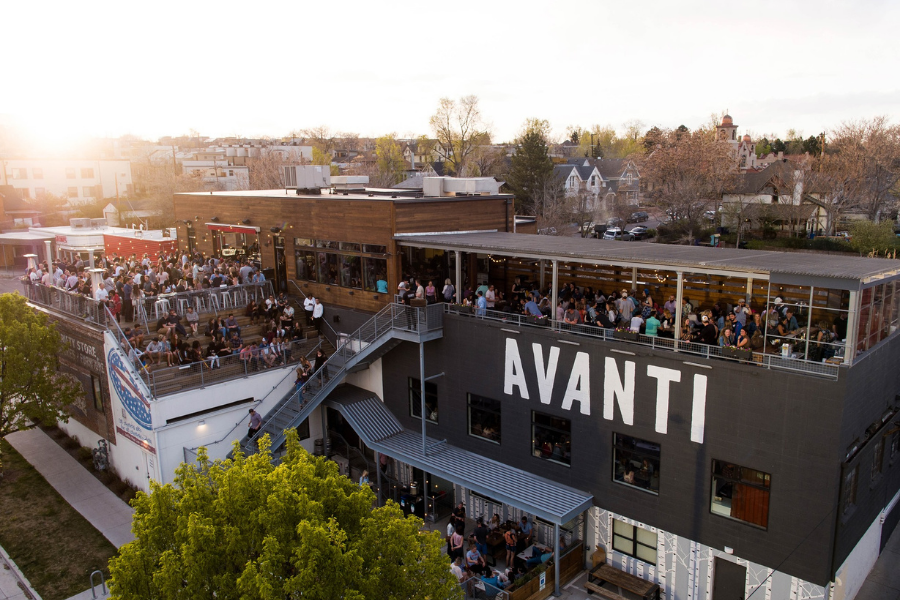 You'll get to sample foods from a rotating group of restaurants as they test their concepts.
Our current recommendations are Bistro Georgette (they have the best sugar chocolate chip cookie ever!) and Quickfish Poke Bar.
14. Hops and Pie
For a classic lunch of beer and pizza, we love Hops and Pie.
It's a little more upscale, and serves local beer and delicious handmade pizzas, salads, sandwiches, and shareable appetizers.
Everything on the menu is 100% from scratch and can be ordered online or by phone.
Located near downtown Denver, Hops and Pie is an artisan pizzeria & craft beer taproom.
It's the perfect spot to stop for a bite to eat and drink after a day of shopping on Tennyson St.
15. Teatulia Tea and Coffee Bar
After enjoying a tour around City Park, the zoo, or the museum, you may need a little afternoon pick-me-up from Teatulia Tea and Coffee Bar.
In addition to your standard teas and coffees, try one of their yummy tea sodas.
Tea sodas are carbonated teas, and they are made and produced right here in Denver.
They come in many fruit flavors and are an unexpected twist on your usual teas.
16. Brother's BBQ
Colorado has a pretty big meat and game scene, and I always enjoy some good barbecue. One of the best ones on this list is Brother's BBQ.
Started by two brothers (who were raised as vegetarians!), Brother's BBQ offers a wide variety of sauces to try.
We love the Burnt Ends, but you've got to come quick as they fly off the menu fast.
17. La Fillette Bakery
La Fillette Bakery is a French-inspired bakery on the east side of Denver.
Opened in 2014, they make their own croissants and macaroons in-house and offer a seasonal menu of delicious pastries.
You'll even find their pastries available at other coffee shops around Denver.
18. Blue Pan Pizza
At Blue Pan Pizza, they serve up Detroit style pizzas in blue pan dishes imported from Detroit.
With locations in the West Highlands and the Congress Park neighborhood in Denver, you can grab an award-winning slice of New York style, Chicago style, or classic Italian pizza.
Myself and Carrie have been several times and have never been disappointed.
19. New Saigon
Voted the best Vietnamese restaurant in Denver, New Saigon has been serving up authentic, delicious Vietnamese food since 1987.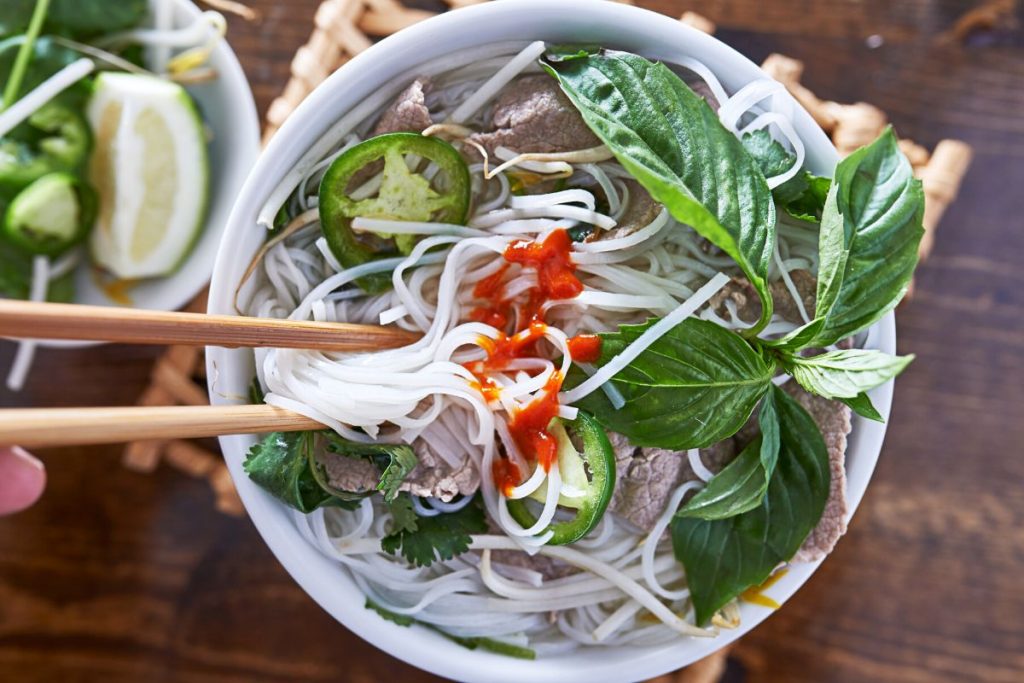 If you're a foodie, there's plenty of delicious things to try on the menu here. You'll find meat options like lamb, duck, and lobster.
If you want more exotic flavors, you'll find squid, frog legs, and snails.
20. Wooden Spoon Cafe & Bakery
Family-run with French cuisine, Wooden Spoon Cafe & Bakery offers seasonal pastries and delicious brunch options.
Although their emphasis is on breakfast and lunch sandwiches, they have a rotating menu of fresh breakfast and dessert pastries, coffee, and tea.
Get in early because they do sell out.
21. Amethyst Coffee
We love the welcoming and accepting environment at Amethyst Coffee.
With two locations in Denver, a great vibe, and great coffee, Amethyst Coffee is the perfect place for conversation.
They have created a space where anyone can feel safe, seen, and heard, and it's worth a stop to grab a cup.
22. Steuben's
For delicious, classic American food you've got to try Steuben's. I personally like eating mac and cheese, Nashville hot fried chicken, and meatloaf.
The owner is originally from Boston, and the restaurant is named after one opened in 1945 by the owner's great uncles.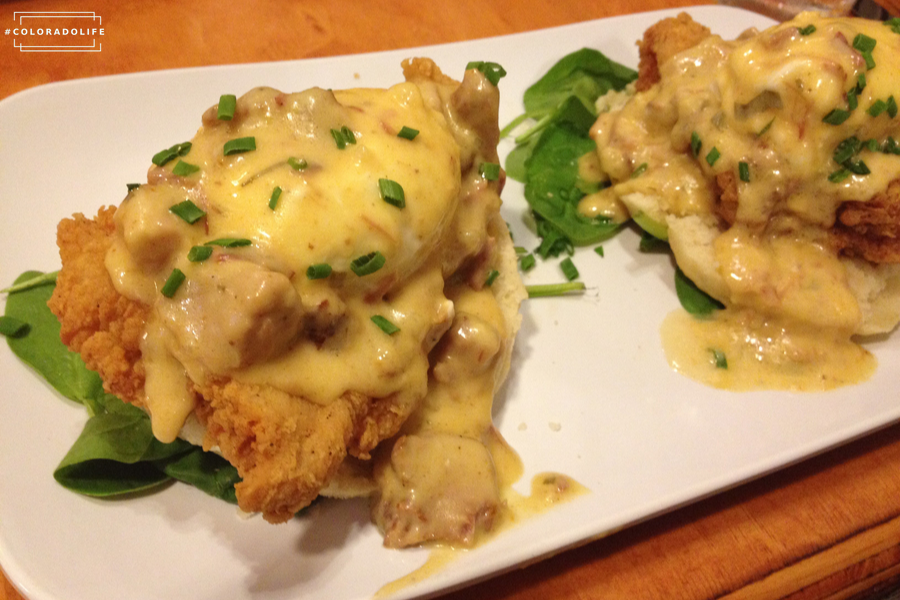 Back in the day, Steuben's was the center of the dining and nightlife scene through the 1960's and hosted big band, jazz and swing groups.
Today's Steuben's has a very Rat Pack vibe, though you'll find Kombucha and house-made black cherry soda on the menu.
23. Root Down
We haven't forgotten to include a vegetarian option on this list. Root Down is best known for their veggie-burger sliders, as well as carrot and Thai red curry soup.
At Root Down, they cater to all dietary restrictions including vegetarian, vegan, raw, and gluten-free.
And if you have an allergy or intolerance, just notify your server to make sure your food is prepared safely for you!
24. Sweet Cow Ice Cream
Your visit to Denver will not be complete without a scoop of ice cream from Sweet Cow Ice Cream.
We mention Sweet Cow frequently because it's just that delicious!
Sweet Cow is one of the most recommended ice cream parlors by anyone who visits or lives in Denver.
They offer a rotating menu of flavors, usually including a flavor inspired by a breakfast cereal. Try the hot fudge in dark chocolate and a waffle cone!
25. El Five
If you're looking for a delicious Mediterranean escape right here in Denver, check out El Five. Owned by the same company who created Root Down (mentioned above), El Five is a melting pot of culture and cuisine.
On the menu you'll enjoy tapas, meze, paellas, as well as custom cocktails and a large wine list worthy of the Mediterranean.
The atmosphere is exotic but warm and inviting thanks to the bright colors and gorgeous floor-to-ceiling windows.
The views from the dining room are unmatched, as you can basically see all of downtown Denver. Or sit outside on the large rooftop patio when the weather's nice.
26. Jovanina's Broken Italian
In the heart of Lower Downtown (LoDo) you'll find Jovanina's Broken Italian.
This fresh Italian restaurant was created through the scope of Colorado cooking. Serving up lots of classic Italian dishes with flavors you recognize but with many local ingredients coming seasonally and from local areas.
From fresh handmade pasta to wood fired pizza, there's something for everyone at Jovanina's.
Downstairs you'll find Sotto Voce, Jovanina's subterranean, prohibition-era-style lounge. Here guests enjoy carted craft cocktails, local beer, an extensive wine list and an innovative absinthe program.
27. ChoLon
In 1996, Chef Lon Symensma went to the Food Olympics and won a silver medal. Thus began his journey as a lover of food and sophistication.
Since then, he has worked all over the world from Europe to Asia and gathered quite a respectable pedigree.
With this background, he has been able to couple Eastern and Western cooking techniques from around the world.
At ChoLon he mixes classic ingredients to get a new take or spin on an iconic dish we all know. Like the ever-popular, French onion soup dumplings.
ChoLon is only a part of the greater whole of Denver restaurants all under the same executive chef. So be sure to check out ChoLon when you're in Denver.
28. El Taco de Mexico
A Denver favorite family-owned restaurant since 1985, El Taco de Mexico brings the culinary traditions and flavors of Mexico City to Denver.
While you can expect to see the typical Mexican fare, like enchiladas, chili rellenos, tacos, burritos, tamales, everything is crafted and cooked extremely well.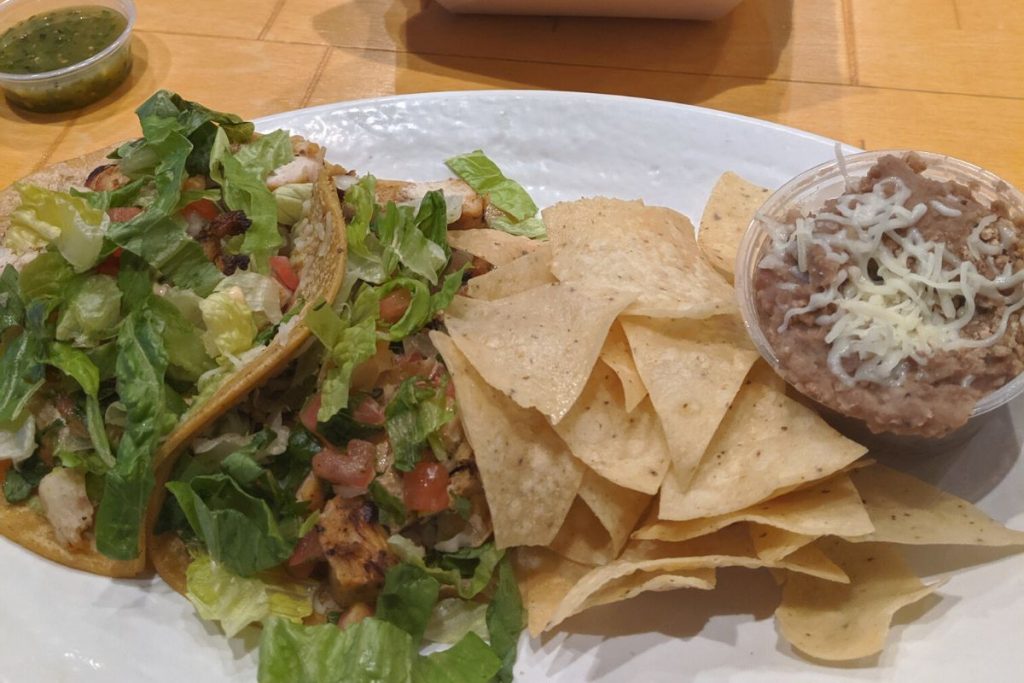 They also do some other popular Mexican specialty dishes on occasion too, like chilaquiles & sopes, and their famous menudo on the weekends.
The food, the service and the decor are all just like the food – no frills. When you have food this good, you don't need anything else!
Proof that just letting the food do the talking can net you an America's Classics Award from James Beard Foundation.
29. Tavernetta
Like all the Denver restaurants on this list, Tavernetta takes what they know about Italian cuisine and turns it up a notch.
This James Beard Award-winning restaurant serves recognizable and homey, Italian dishes with a twist.
Most of the dishes are not commonly served in Italian restaurants around the country. But Tavernetta puts the dishes through the unique Colorado scope of ingredients and many products from the region.
Daily made pastas, raviolis and gnocchi are served alongside modern renditions of Italian classics.
Enjoy a warm, modern atmosphere with tall ceilings, for a unique eating experience.
With top-notch hospitality and unique libations, comforting food has never tasted so good.
30. Safta
The Hebrew word for Safta means "grandmother". And everything at Safta, from the dining room to the staff and the food, all exist to make you feel at home.
Israeli food shares a lot of similarities with other foods throughout the Mediterranean.
At Safta you can find common main-stays on the menu like baba ganoush, tabbouleh, falafel, kabobs, kafta and dishes served in a traditional tagine.
This modern Israeli cuisine eatery is located north of downtown Denver in the River North Art (RiNo) District.
Alon Shaya is Israeli-born chef who was raised in America and has opened up a few restaurants with a similar concept.
As an accompaniment to Safta, you'll find Saba in New Orleans (Saba means "grandfather" in Hebrew).
31. Farmhouse Thai Eatery
At Farmhouse Thai Eatery you get the usual satay and pad Thai but that's not all there is.
In fact, you'll find vibrant salads, stews, and seasonal ingredients that make for unique Thai dishes.
And there's a reason part of their menu is labeled "Must Try". Thanks to seasonal favorites and regular specials there is always something fresh and delicious to try at Farmhouse Thai Eatery.
Located in Lakewood, Colorado this restaurant is a favorite of vegans and those with celiac disease as the kitchen prepares everything with this in mind.
Here, food is custom made to your food preferences and spice level.
Whether you're looking for fine dining or a casual eating experience, I hope you'll check out some of these delicious restaurants in Denver.