12 Best Colorado Beaches That Are Perfect for Swimming
The content of this website may contain affiliate links and we may be compensated (at no cost to you!). Thank you for your support!
Colorado is home to some of the most beautiful lakes, but not all of them allow for swimming and sunbathing.
While most people think of Colorado and start planning a ski trip, the state has some of the best beaches and swimming holes.
If you're looking for picturesque places to cool off during the hot summer months, keep reading.
Pack up your swimsuit and sunscreen, and get ready for a relaxing family summer vacation.
Here are the top nine Colorado beaches and swimmable lakes that you can enjoy all year long.
1. Boulder Reservoir
Boulder Reservoir is a 700-acre lake and recreation area that has a lot to do.
With the availability to rent kayaks, paddleboards, or canoes, it's easy to get out onto the water.
But the most popular activity is the sandy shore and swim area that gives the lake a beachy feel for being in a land-locked state.
The Boulder Reservoir Loop Trail is a 5.3 mile trek that surrounds the lake, and it offers stellar views of the mountains to the west and Boulder's iconic Flatirons to the southwest.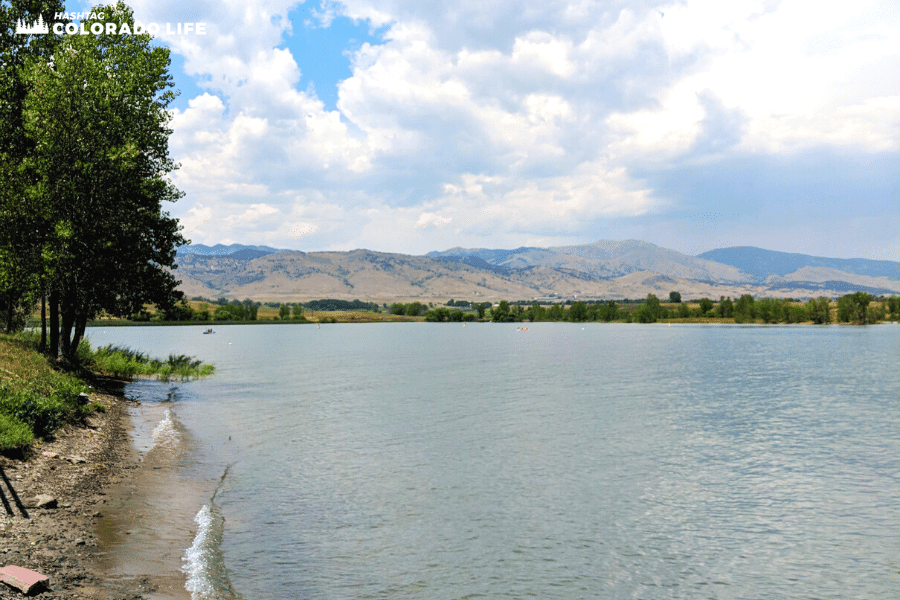 This lake also makes it easy to enjoy water sports or motorized boating. Do some wakeboarding, water skiing, or tubing with friends and family!
Or catch some early morning fish and reel in some local bass, catfish, trout, or walleye.
An outing to Boulder Reservoir starts at about $10 for the entry fee. And you can expect to pay extra for any rentals or boat permits you might want to get as well.
2. Blue Mesa Reservoir
Located near the Gunnison River, the Blue Mesa Reservoir is best known as Colorado's largest body of water. 
The lake was created in the 1960s by the Blue Mesa Dam, and offers more than 100 miles of shoreline. 
In fact, some of the most iconic scenery is located on the Blue Mesa Reservoir, thanks to gorgeous mesas and volcanic spires. 
This lake, in addition to several other lakes in the area, is part of the Curecanti National Recreation Area. Which makes it the perfect summer staycation spot in Colorado!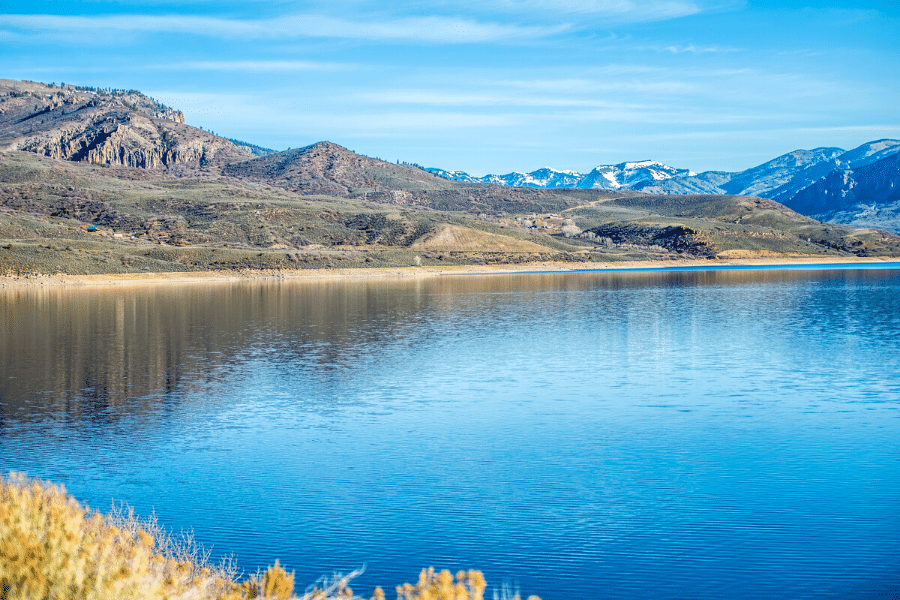 Families and friends alike will enjoy leisurely boating, paddleboarding, kayaking, waterskiing, swimming, camping, and hiking. If you don't have a boat, no worries, there is a marina available for boat rentals.
Not to mention, avid fishermen will love this destination as it's well-known for its salmon and trout fishing.
Not all of the shoreline is sandy beaches but there are a few spots that are perfect for swimming and sunbathing.
3. Grand Lake Beach
Grand Lake Beach is situated on the largest and deepest natural lake in Colorado.
It is located in the city of Grand Lake just northwest of Denver and Boulder.
The Lake is also within close proximity to Rocky Mountain National Park, making it a great day trip excursion during summer vacation.
Grand Lake Beach features soft, golden sand that's perfect for relaxing, sunbathing, or creating sandcastles.
It has a kid-friendly coastline and shallow waters with calm waves so kids can swim without fear.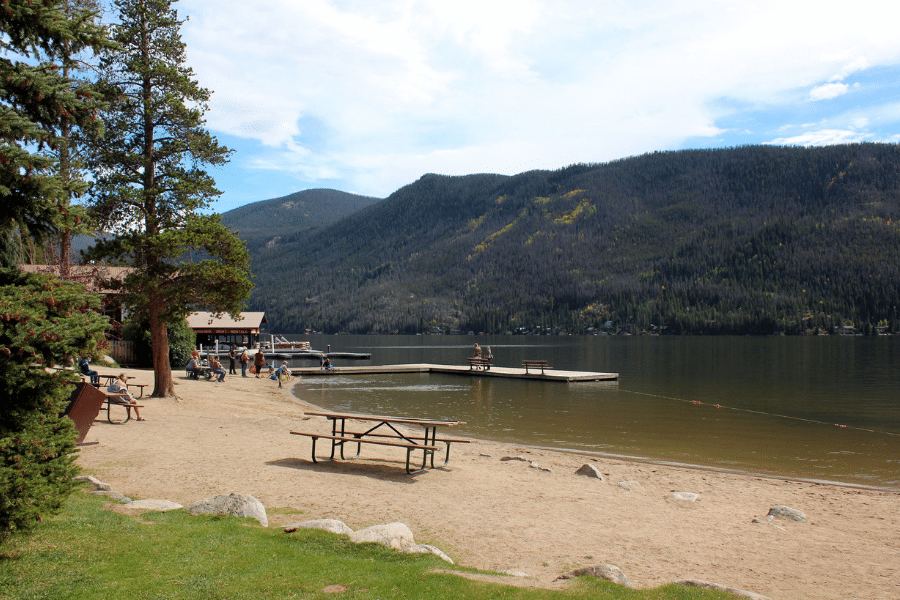 Photo credit: Wallyg 
On hot summer days, adults and kids can enjoy ice cream by the shore, or go for a stroll along the boardwalk nearby.
Grand Lake has an active marina that allows for watercraft rentals like paddleboards, fishing gear, and motorized boats.
You can expect to see lots of wildlife while taking in the expansive mountain views and relaxing in the sun.
Add onto your day trip excursion by exploring other parts of Rocky Mountain National Park nearby.
4. Cherry Creek State Park Beach
Located in the city of Aurora, in the heart of Denver, is Cherry Creek State Park Beach.
It's no secret that Denver is one of the warmest cities in Colorado, so Cherry Creek's Beach is a welcome reprieve in the summertime.
The swim area is located within Cherry Creek State Park & Reservoir, and covers 3,346 acres of water activities with green open spaces.
Due to the sheer size of the Park, the beach is a peaceful, quiet place away from the city and large crowds.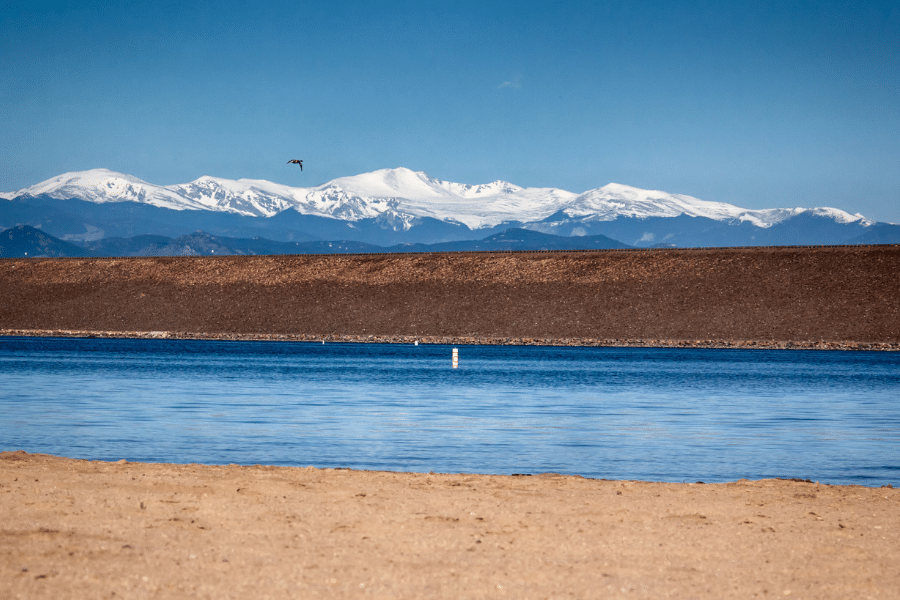 Adults and kids can enjoy the calm waves and gorgeous mountain views while swimming or floating in the water.
Or relax on the soft sandy beach with a good book and listen to some music. The shoreline and water activities are plentiful!
If you're looking for a fun but relaxing weekend getaway at the beach, we highly recommend Cherry Creek State Park Beach.
5. Lake Dillon Beach & Marina
Also known as Dillon Reservoir, Lake Dillon sits about 70 miles west of Denver, over Loveland pass.
The lake is sandwiched between the mountain towns of Dillon and Frisco. It is also where Denver gets most of its drinking water!
Lake Dillon is open year round and serves as the highest deep-water marina in the world, and sits at 9,017 feet in elevation.
With 25 miles of shoreline, there is plenty to do and even more places to disappear to.
Enjoy motorized or non-motorized boating out on the lake, or do some fishing from anywhere on the water.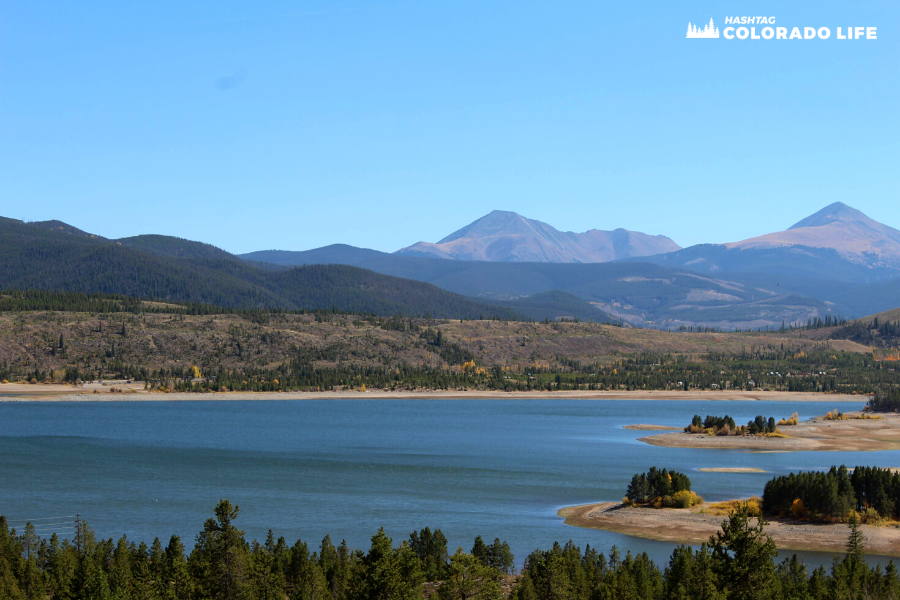 Lake Dillon has some stellar hiking in the area with the Meadow Loop and Ridge Trail or the Old Dillon Reservoir Trail nearby.
Both trails offer great views of the lake and outstanding sights of the mountains that surround the lake.
Visiting Lake Dillon will cost you nothing! But if you want to drop your boat into the marina or rent a watercraft, there is a fee.
6. Chatfield Reservoir & State Park
One of the most popular state parks near Denver is Chatfield Reservoir. 
In less than 30 minutes you and your family can enjoy a day of summer barbecues, swimming, sunbathing, and boating. 
As one of the main Colorado beaches, the park's designated shoreline is perfect for swimming.
And the beach area is a popular summer hangout, especially during Memorial Day through Labor Day every year.
The beach is well-equipped with picnic tables, grills and 197 campsites for avid campers and hikers.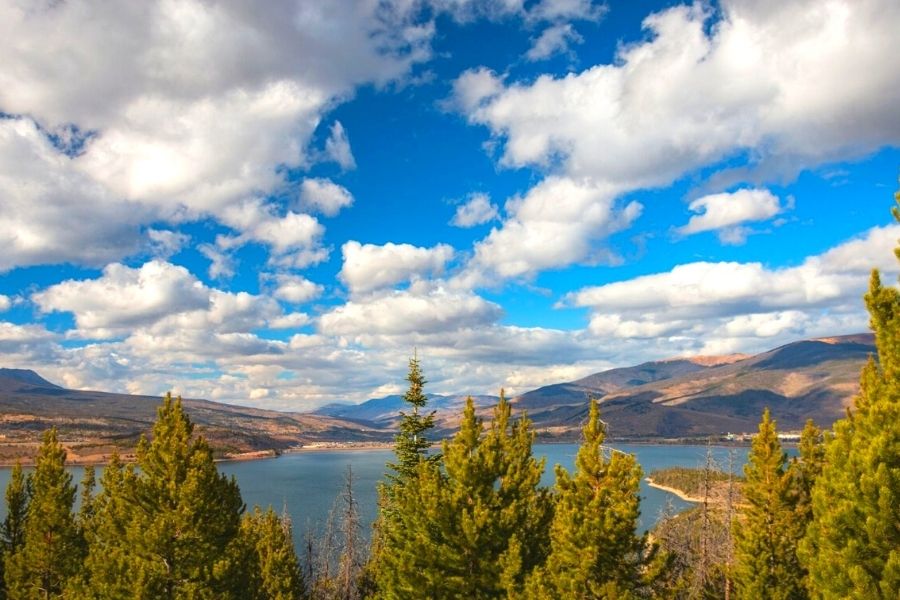 And with more than 1500 acres the Chatfield State Park is a massive body of water with plenty of room to escape the crowds.
Not to mention, the park is a nice getaway from the busy city life to enjoy nature and makes for great wildlife viewing.
Colorado locals won't have to travel far to enjoy a cool day in the warm sun thanks to the Chatfield Reservoir.
7. Ridgeway State Park Beach
Ridgeway State Park Beach & Reservoir is known for lush greenery, turquoise waters, exquisite campgrounds, and soft sandy beaches.
With the mountains as a backdrop and green space nearby, it's no wonder that Ridgeway State Park is a popular camping destination as well.
The State Park is located 15 miles from the town of Ouray in the heart of the San Juan mountains.
Kids will love the swimming beach, sandy shoreline, grassy area, and nearby playgrounds.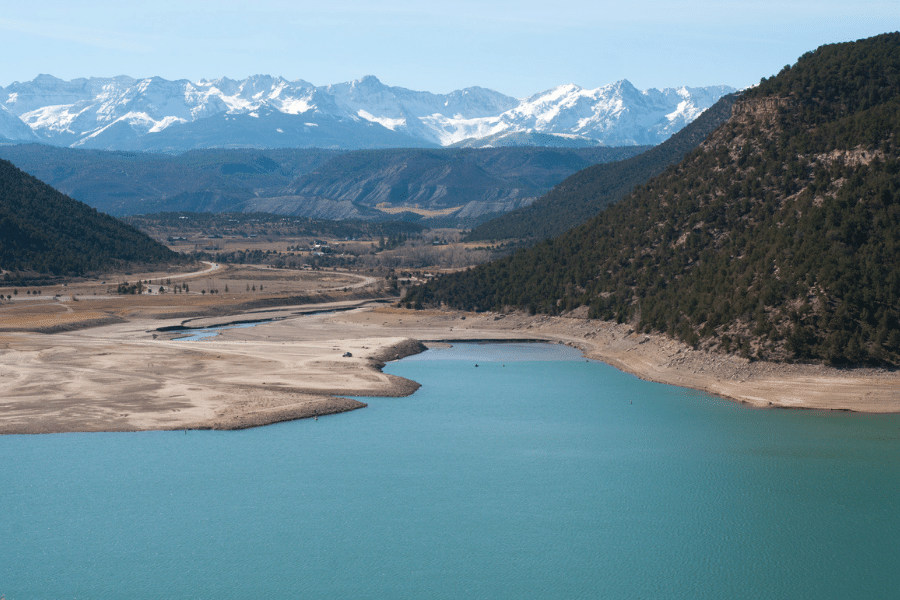 Adults can bask in the sun, relax on the beach, or hike any of the extensive trails nearby.
The water at Ridgeway Reservoir is quite calm and the depths near the swimming area is pretty shallow.
It's the perfect spot for toddlers, kids and adults to enjoy. So, bring your floaties and inflatable rafts or rent some from the Ridgeway State Park Beach.
Flotation devices are available to rent for kids of all ages, from infants to children.
8. Steamboat Lake State Park Beach
Steamboat Lake State Park has a gorgeous swimming beach. And it offers the most beautiful views of the water and the mountains.
Steamboat Lake is located 26 miles north of Steamboat Springs, near Hahn's Peak Village.
At 8,100 feet, the lake sits in a valley surrounded by the Continental Divide and other Colorado mountain ranges.
Families with kids will enjoy the beach's active marina for boating, plus all of the fantastic water sports available.
Get ready for water skiing, wakeboarding, kayaking, rafting, jet skiing, and even fishing.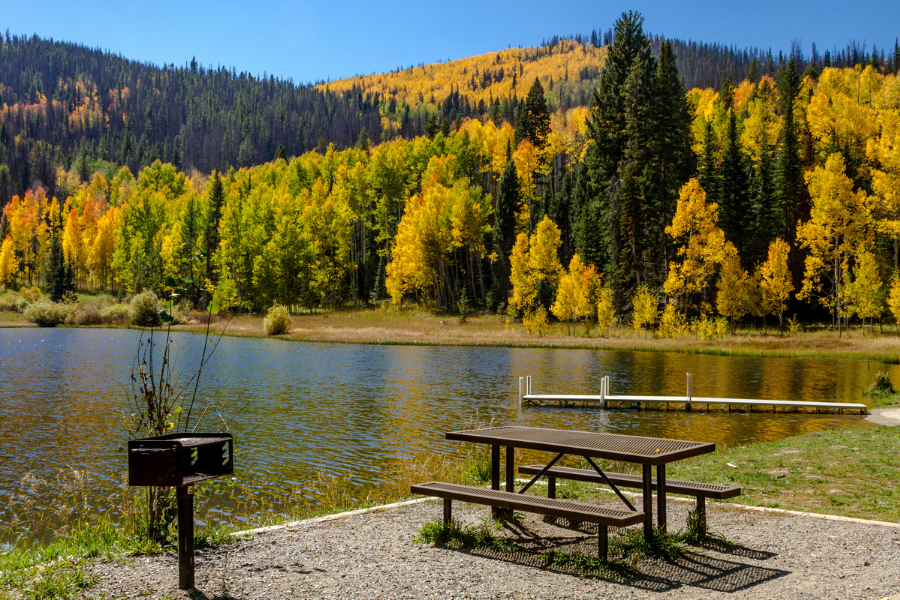 Boating on the lake is open from May 1st through November 1st every year, with weather permitting.
But best of all, you can enjoy a nice swim in the pristine blue waters of Steamboat Lake, surrounded by lush green landscape.
This beach is often less crowded and less busy than some of the other Colorado beaches on this list.
Make sure you keep a close eye on any young kids as there are no lifeguards or blocked off swimming areas.
Bring your camera and your swimsuit and get ready to enjoy a relaxing day swimming in the water and taking in the views of Hahn's Peak.
9. Medano Creek, Great Sand Dunes
A list of the best Colorado beaches isn't complete without a mention of Medano Creek. 
This unique body of water isn't a lake or a reservoir, but it's such a cool summer swimming spot it deserves a place on this list. 
Medano Creek is located in the Great Sand Dunes National Park and is one of the highlights in summer. 
It's an oasis of cool water in the middle of the hot desert!
The snowmelt from the Sangre de Cristo mountains melts in the spring and summer to form this beautiful natural beach alongside the Medano Creek. 
This makes it one of the best swimming beaches in the state. In fact, it's known to the locals as Colorado's most natural beach.
The sandy beach is perfect for building sandcastles, skimboarding, tubing, or simply splashing around in the refreshingly cool water.
But just as quickly as the Medano Creek fills up, the water is usually completely gone by August. 
10. Dream Lake
The name of Dream Lake isn't far off from how it looks; like something you would see in a fantasy novel or in a dream.
This large body of water sits deep inside Rocky Mountain National Park. It's one of the most spectacular destination hikes in all of the National Park's 415 square miles.
To swim in this lake, visitors can take the easy 2 mile hike along the Dream Lake Trail that rises in elevation as you hike.
The scenic trail is worth the trip, but is not for the faint of heart as the path ends at the lake at a whopping 9,900 feet.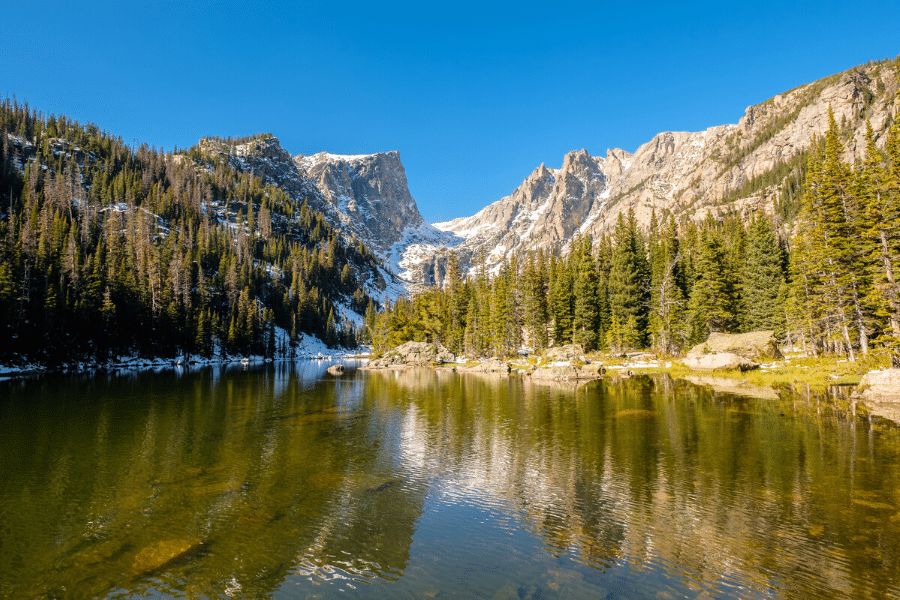 As access to this lake is only via hiking, you will not see any watercraft or other amenities available at your destination.
And since this lake's waters are fed exclusively by snowmelt, it is not necessarily a place you may want to take a dip, even in the depths of summer.
But it is swimmable if you choose to do so!
However, what Dream Lake lacks in offered amenities is made up for in the adventure of the outdoors.
Immerse yourself in the beautiful scenery of the surrounding area and calming, tranquil environment.
11. John Martin Reservoir Beach
About 90 miles east of Pueblo sits John Martin State Park & Reservoir. It is Colorado's second-largest body of water by capacity.
John Martin Reservoir is sometimes called a "sapphire on the plains" since it is a peaceful paradise for everyone to enjoy.
Water activities include boating, paddleboarding, and water skiing. Or just have fun swimming in the sandy beach area.
Then get ready to catch some local fish like saugeye, bass, crappie, perch, and bluegill.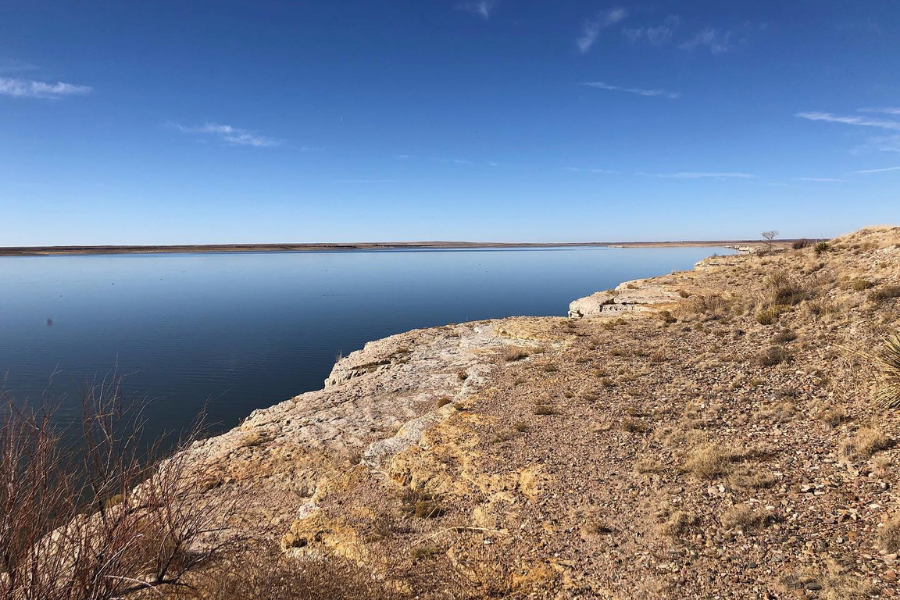 Land activities include hiking, hunting, camping, and horseback riding. Dogs are welcome too, as long as they are leashed.
The Red Shin Trail is an easy 7.6 mile trail that features unique wildlife and lots of birds.
In fact, John Martin State Park is home to more than 400 species of birds, and is considered one of the best bird watching locations in the state.
You may even see a bald eagle or two! Click here for a full check list of the birds in the area.
The closest town to John Martin Reservoir is Las Animas, which is also a popular spot for ghost town adventures.
12. Jackson Lake State Park
When looking for the best Colorado swimming, look no further than Jackson Lake State Park.
The park is home to the Jackson Reservoir which is a 2,411 acre lake that is fed by the nearby South Platte River.
The lake is located about 70 miles east of Fort Collins within Morgan County. The area is pretty secluded with the closest town being Orchard, Colorado.
Jackson Lake has been referred to as an "Oasis on the Plains" in eastern Colorado, which can be very hot and dry in the summer.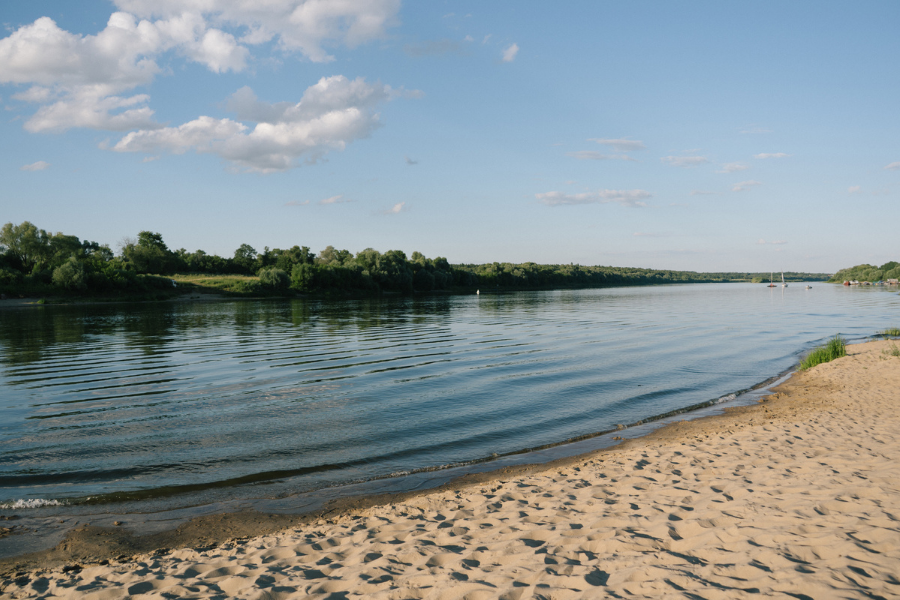 The designated swimming areas are on the west and south shores and are marked by wake buoys.
Jackson Lake's beach and shallow water warms up quickly in the summer, making it a favorite of toddlers and young kids.
And everyone will enjoy the sandy bottom beaches for sunbathing, building sandcastles, or relaxing with a good book.
In fact, Jackson Lake is ranked one of the Top 15 Park Beaches by Reserve America.
Other popular water sports include boating, sailing, fishing, jet skiing and water skiing.
Nearby outdoor activities include camping, hiking, hunting, bird watching and some nice picnic tables.