Manitou Lake Park & Trail Guide: Easy Hiking Near Woodland Park
This website may contain affiliate links and we may be compensated (at no cost to you!).
Manitou Lake is a 5-acre reservoir just north of Woodland Park in Teller County, Colorado.
It's one of the closest bodies of water to Colorado Springs and makes a great summertime getaway.
And there are so many things to do, from picnicking and hiking, to kayaking or canoeing.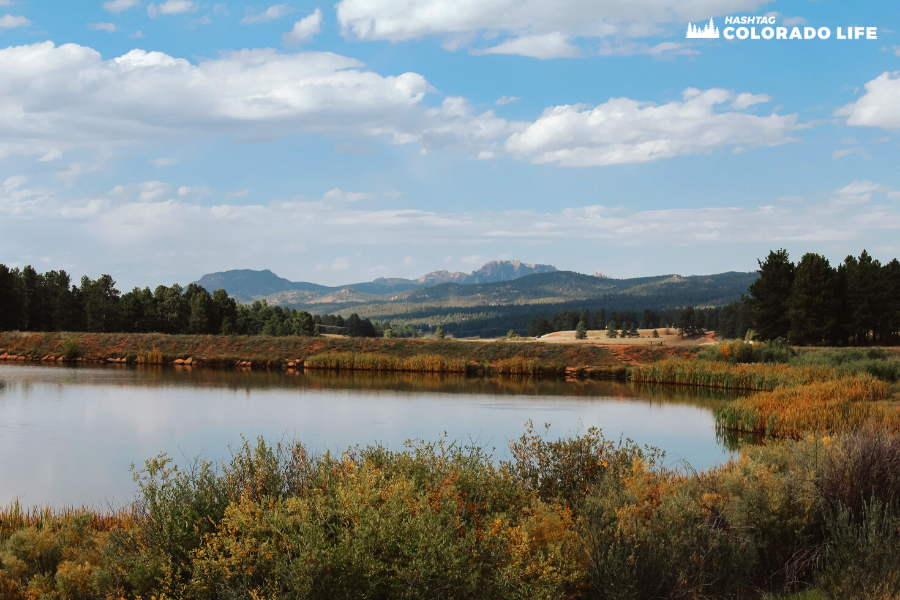 You and your family can enjoy a fun outdoor summer activity that's also budget-friendly.
If you're looking for a day hike near Colorado Springs, be sure to add Manitou Lake Park to your list.
Where is Manitou Lake Park?
Manitou Park Lake and Recreation Area is located about 7 miles north of Woodland Park, Colorado off Highway 67.
It is near Painted Rocks Road as well as several campgrounds and Sky High Ranch.
If you're visiting from Denver, it will take about 2 hours traveling south.
You can take the windy back roads through the Pike National Forest or get off on Highway 67 near Castle Rock.
Either way, there isn't a straight path since you have to travel through the mountains a bit.
If you're coming from downtown Colorado Springs, it's only about 30 minutes. The lake can be accessed on Highway 24 as if you're heading to Manitou Springs.
Is Manitou Lake open to the public?
Yes! Manitou Lake and the surrounding recreation area is open to the public from May 21, 2021 to September 20, 2021.
Dogs are also welcome at Manitou Lake as long as they are on a leash and are not allowed in the water.
In the summer Manitou Lake Park is very busy with locals and tourists who want to cool off.
Parking at Manitou Lake
The main parking lot at Manitou Lake Recreation Area is located at the main trailhead on Highway 67.
It is next to the Manitou Lake Pavilion and has limited spots during the summer.
Holidays and weekends are especially crowded and parking can be limited.
It is recommended to visit Manitou Lake during the off-season months or during the weekday if possible.
Manitou Lake Park day-use fees
There is a $7 per vehicle fee that must be paid on arrival when visiting Manitou Lake for the day.
For larger vehicles, such as passenger vans or busses, the day-use fee is $50.
An annual pass can be purchased for $40 and includes the Manitou Lake Picnic Area, Rampart Reservoir Recreation Area, and 11-Mile Canyon.
Bathrooms and picnic areas
There are two vault toilets available to the public. One bathroom is across from the main pavilion and one across from the main parking lot.
Since the lake is completely open with no wooded areas, it is recommended to use the bathroom facilities as needed.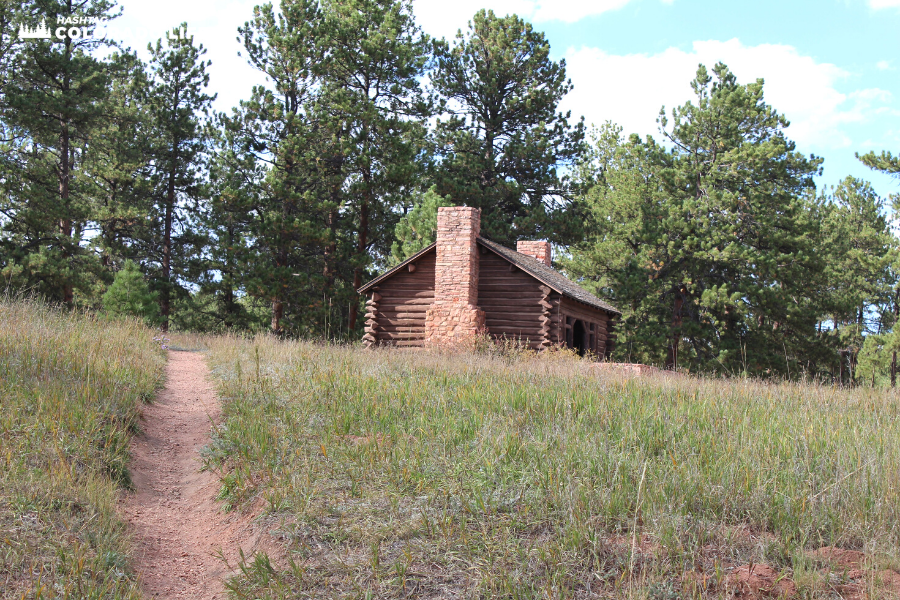 The Manitou Lake Picnic area is located near the pavilion and can house up to 50 people.
There is a fee to rent the pavilion and can be reserved on the recreation.gov website for $50.
Availability is limited depending on the weather and maintenance schedules.
Things to do at Manitou Lake Park & Recreation Area
Manitou Park consists of Manitou Lake, a large picnic area, recreation area, and hiking on the Manitou Park Lake Trail.
There are tons of outdoor activities and areas to explore at Manitou Lake. It's a great summer spot for families with young kids and dogs.
Here are the top things to do when visiting Manitou Lake Park.
Hiking Manitou Park Lake Trail
Manitou Park Lake Trail is a 2.4 mile loop that surrounds the entirety of the 5-acre lake.
The main activities available on the trial include walking, hiking, running, and biking. The trail is mostly flat and great for all skill levels.
The trail is the perfect hike for visitors who are not used to the altitude, as the elevation gain is only about 150 feet.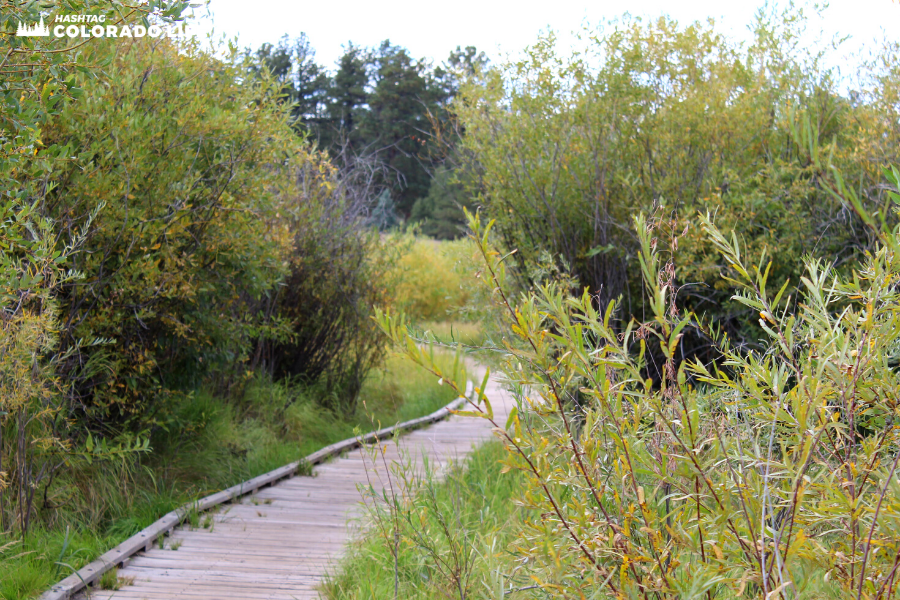 If you're planning a hike, check out this map of Manitou Park Lake trail.
To access the main trail, start at the Pavilion area and head toward the lake and pick up the trail near a small dock.
From here, head south and hike along the western shore of the lake. You will pass over a small footbridge near Trout Creek.
This area is home to lots of wild grasses, birds, and small wildlife. You will also find some of the best views of Pikes Peak from this angle!
We recommend hiking the loop counter clockwise so you can see the amazing views and take in the wildflowers in the summertime.
Due to the proximity to many Colorado campgrounds, Manitou Lake Park Trail offers several different entry and exit points.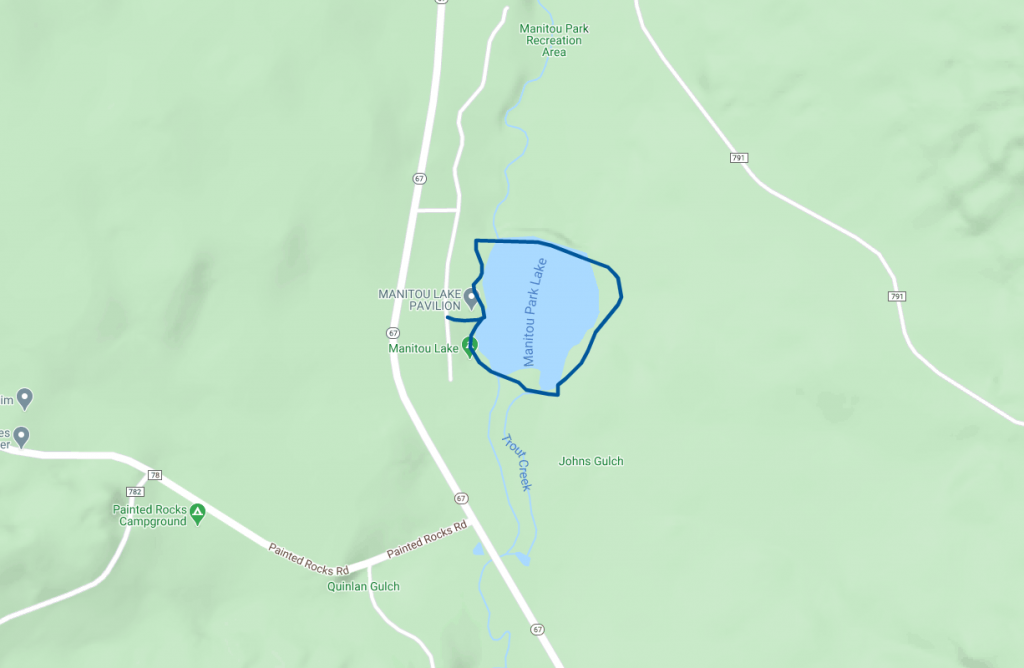 You can also explore nearby trails including Centennial Trail, Lower John's Gulch, and Red Rocks Trail.
All of the trails are pretty easy to relatively moderate and welcome dogs and young kids.
Mountain biking and running
If you're looking for an epic mountain biking or running trail, check out Centennial Trail. This is a 14.7 mile trail that starts in Woodland Park and ends at Manitou Lake.
Or you can choose to travel the trail one-way for 7.3 miles as it is lightly trafficked most times of year.
The best times to use the trail are from May to October, and it is good for all skill levels as the terrain is pretty flat.
It is common to see deer and other wildlife along the trail. And on the way back, be ready for a steady incline back to the city center.
Enjoying water activities
Water activities like fishing, paddleboarding, canoeing, and kayaking are popular activities at Manitou Lake.
The Department of Wildlife stocks Manitou Lake with both Rainbow Trout and Cutbow Trout.
If you're looking for a good fishing spot, check out the beaver ponds near the lake and along Trout Creek.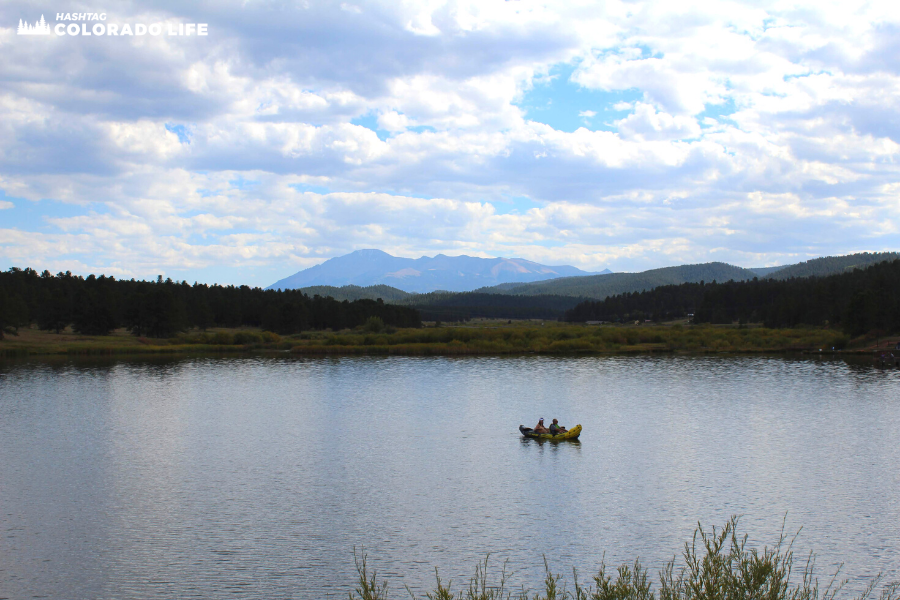 Bring your paddleboards, kayaks, and canoes and enjoy the views from the middle of the water.
The 5-acre lake makes a perfect recreation spot for some relaxing boating or canoeing.
Please note: Swimming and motorboats are NOT allowed on Manitou Lake and you could be fined a fee if caught.
Wildlife viewing and birdwatching
The lake is a popular spot for deer, elk, ground animals and water fowl. In fact, there are lots of different species of birds at Manitou Lake including:
Westener Tanagers
Bald Eagles
Red-naped Sapsuckers
White-faced Ibis
Red Crossbills
Ducks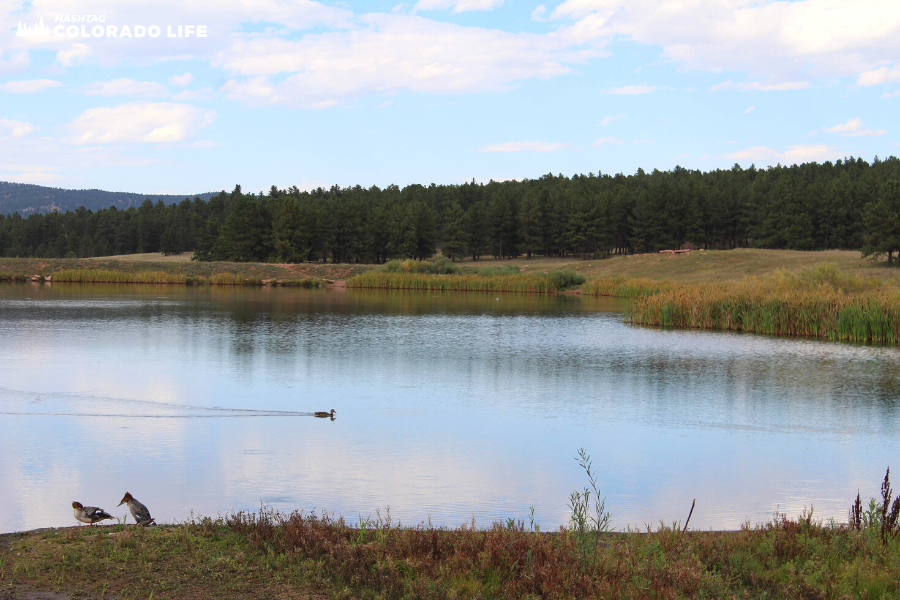 If you enjoy bird watching you will love the fowl and wildlife that the lake draws to it all year round.
You may even catch a glimpse of the beaver family who lives nearby.
Tips for visiting Manitou Lake
Planning a day trip to Manitou Lake is a fun summer activity for the whole family. Bring your kids, dogs, and bird-watching enthusiasts to enjoy a day at the lake.
Bring snacks and food for the picnic area or rent the Pavilion for a party with your friends and family.
Just remember that dogs must be kept on a leash and swimming is prohibited in the lake. But visitors are free to enjoy the other water activities or hiking nearby.
If you plan on visiting Manitou Lake Park often, we recommend buying an annual pass to save on the $7 per vehicle, day-use fee.