16 Things to Do in Winter Park: Colorado's Best Ski Resort
The content of this website may contain affiliate links and we may be compensated (at no cost to you!). Thank you for your support!
Planning a visit to Winter Park? Is it a good resort? In this guide, we're discussing the best things to do in Winter Park Resort in Colorado this ski season.
For two years, Winter Park Resort has been the Reader's Choice for the #1 best ski resort in North America by USA Today.
After personally having visited Winter Park and stayed in the Resort area for many years, it's one of our favorite ski destinations.
Here is how to make the most of your experience and the top things to do in Winter Park Resort in Colorado this winter.
Where is Winter Park, Colorado?
Winter Park Resort is located approximately 65 miles west of Denver and takes a little less than 90 minutes when driving through the mountains.
Start by heading up Loveland Pass and before Eisenhower Tunnel, you get off on Highway 40 and head north.
The road is somewhat winding so it's important to take it slow and be careful.
If you prefer to take the train to Winter Park from Denver, check out the Winter Park Express.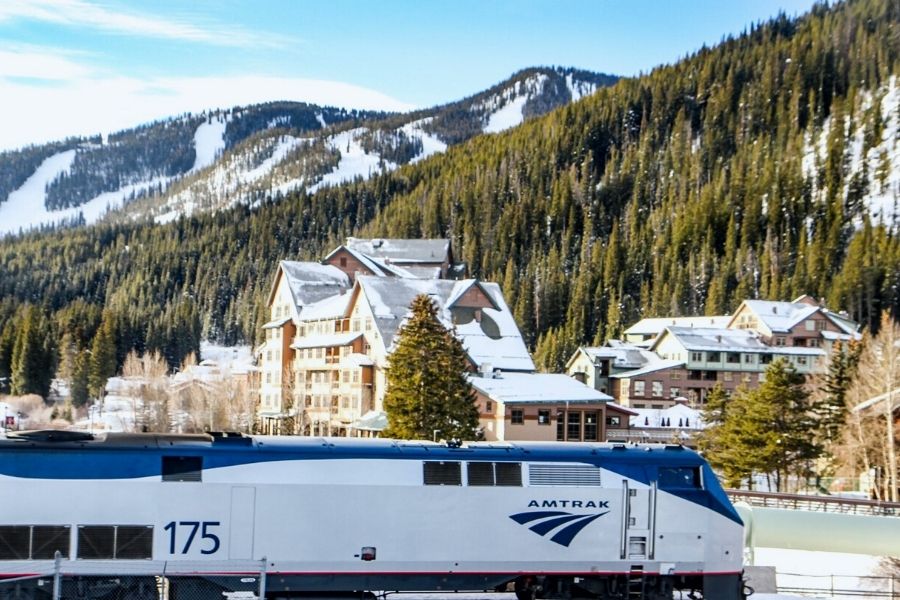 The Winter Park Express Ski Train transports skiers from Denver's Union Station all the way to the snowy slopes of Winter Park Resort.
The train departs in the morning at 7am and in the afternoon at 4:30pm and is a two-hour trip to Winter Park.
After departing the station, the train heads north and west into the Rocky Mountains. It offers a scenic and relaxing ride thanks to the new lounge car that opened in 2019.
The history of Winter Park Resort
Winter Park Resort first opened in the 1939-1940 ski season, known then as the Winter Park Ski Area.
By 1947 it had grown to be one of the biggest ski destinations in Colorado, consisting of 4 ski lifts and 8 ski trails.
Lift tickets are said to have cost just $1 in the first few years of opening. And by 1950 a ski lift ticket price increased to $2 with more than 100,000 skiers visiting annually.
Then, in 1961 the first chairlift was added and this ski destination has grown and expanded ever since.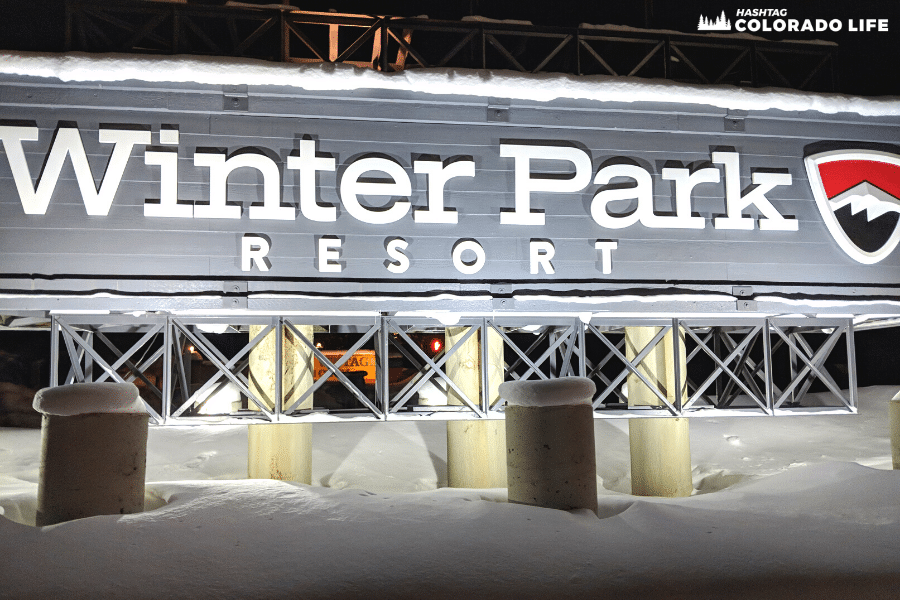 As of January 2021 the resort consists of 7 interconnected territories, aka mountain peaks, including Winter Park, Mary Jane, Parsenn Bowl, and Vasquez Ridge.
Winter Park and Mary Jane mountains make up the ski resorts most popular runs and trails, consisting of green, blue, and black-level ski trails.
Fun fact: Most of the ski area's acreage is still considered Forest Service land and operates under a special-use permit.
Winter Park Resort is also home to the National Sports Center for the Disabled (NSCD), one the world's largest and oldest disabled skiing programs.
Here are the best things to do in Winter Park and best places to eat this ski season.
1. The Village at Winter Park Resort
Located directly off Highway 40, the Village at Winter Park is the heart of Winter Park and really brings the idea of a "ski resort" together.
At the base of Winter Park mountain are the main ski lifts, ticket building, shops, restaurants, bars, and more.
This is the main hub for mountain activities like skiing, snowboarding, and snowshoeing.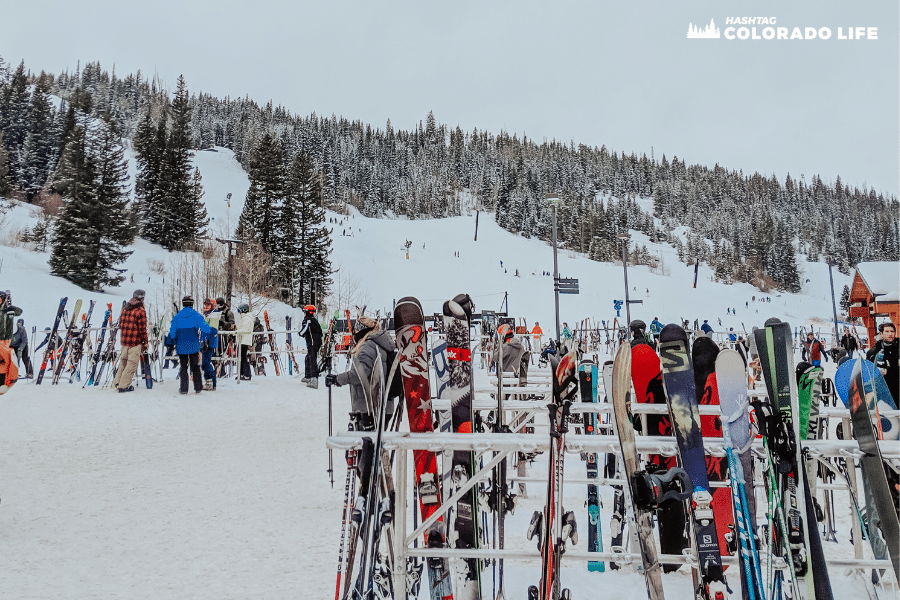 Here you will find access to lots of parking as well as ski rentals and ski lift tickets.
There are also lots of yummy restaurants, great places to shop, and an outdoor ice skating rink.
Plus, nearby lodging and resorts give quick access so you can ski-in and ski-out.
2. Iron Horse Condominiums
Winter Park Resort offers some fabulous places to stay during your summer or winter vacations.
Please note that these lodging options do not include places to stay in Winter Park or Fraser areas, as we are solely focusing on staying near or at the Resort at the base of the mountain.
The Iron Horse Condos are known best for top notch ski-in and ski-out access. And the views are absolutely breathtaking.
There are a total of 126 units with each condo individually owned!
It has a Ski Depot shop on site where you can rent ski gear, boards, clothing, and other equipment for your trip.
Guests who stay at the Iron Horse will receive a 25% discount on rentals at this shop.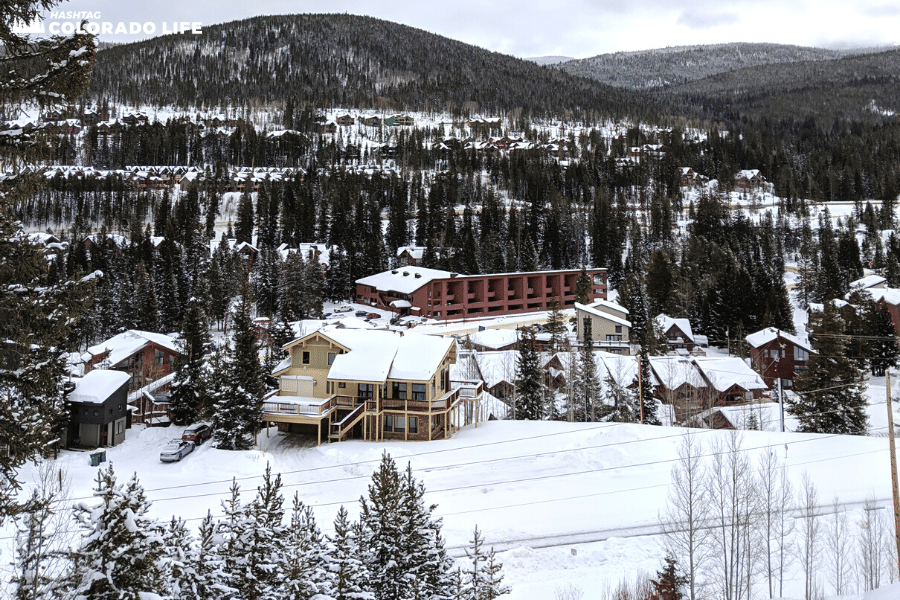 There is a wide variety of rooms to choose from, starting with studios all the way up to 2 bedroom, 3 bathroom units.
My family has stayed at the Iron Horse several different times over the years, and the condos are very large and spacious. They can sleep anywhere from 2-12 people!
Each condo comes with a full kitchen, dining and living spaces, separate bedrooms, pull out couches and Murphy beds.
Amenities that we enjoyed most are the heated swimming pools and outdoor hot tubs that are easily accessed from your room.
They also have heated parking garages!
3. Goodys Mountain Creperie
Open for breakfast and lunch, Goodys Mountain Creperie serves up delicious crepes, burritos, and sandwiches.
Choose from sweet or savory options as well as lattes, cappuccinos, mimosas, beer, wine, and irish coffee.
4. Waffle Cabin
Waffle Cabin is exactly how it sounds. It's a small store that serves up delicious waffles in both sweet and savory options.
The service is fast and the food is warm and satisfying!
There are actually three locations, one at Gemini Base, one at Olympia and Looking Glass lifts, and another in the Winter Park Village down south.
5. Zephyr Mountain Lodge
You can't get much closer to the slopes than when you stay at the Zephyr Mountain Lodge.
It is located at the very bottom of Winter Park mountain, just 100 feet from the gondola and allows you to ski-in, ski-out all day.
These accommodations offer one, two, and three-bedroom condos that are equipped with full kitchens and gas fireplaces.
The rooms are said to be comfy and spacious with great amenities, including a hot tub.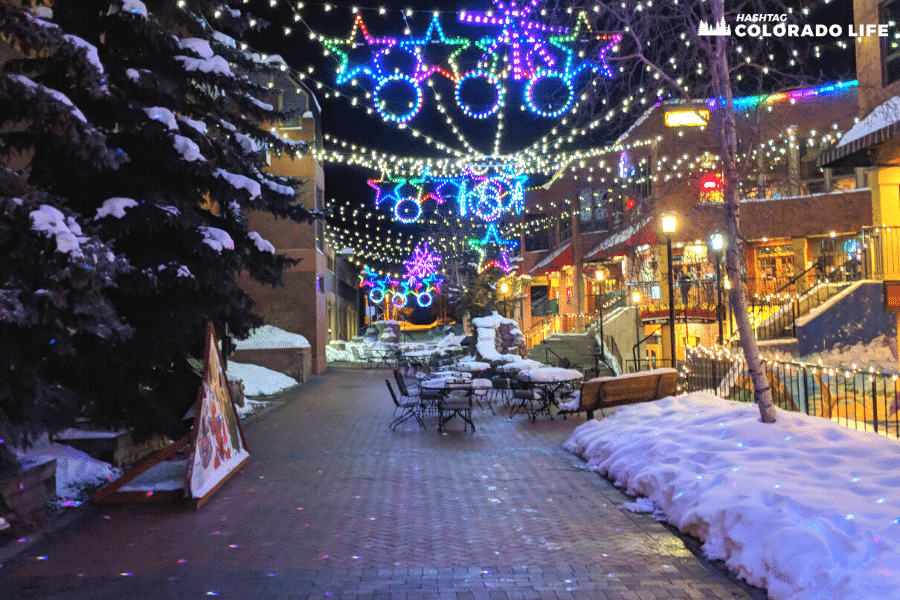 Along with slopeside views the lodge is just steps away from the Village shops, restaurants, bars, and ski rentals.
Onsite storage is available for skis and other equipment, as well as underground heated parking for about $18 per day.
If you want to be right in the middle of the action, with super easy access to the slopes all day, then you will like staying at the Zephyr Mountain Lodge.
6. Skiing or snowboarding
Obviously the number one thing to do when staying at Winter Park is to enjoy their award-winning trails, slopes, and ski lifts.
Whether you are skiing or snowboarding, there are over 166 designated ski trails with over 3,000 acres to explore.
In addition, you can enjoy doing tricks, jumps, and flips at the Winter Park Terrain Park.
Or take it down a notch with cross-country skiing or glade skiing along Vasquez Ridge.
7. Winter Park Mountain Lodge
Unlike the other accommodation options on this list, Winter Park Mountain Lodge is located across the street from the ski lifts and the Village shopping area.
A free public shuttle picks up and drops guests off right at the bottom of the mountain near the gondola.
Still, it's worth a stay due to the amazing views of the mountains to the west and forest views to the east.
The lodge offers 110 rooms each with a refrigerator, microwave and fireplace.
Room options include a king room, 2 queen-sized beds, a king studio, 2 double-bed ADA rooms, junior suites, and executive suites.
All of which are available with either mountain views or forest views!
A nice perk when staying at the Winter Park Mountain Lodge is that they are dog friendly! Two domestic dogs are allowed per room, with a max size of 80 lbs per animal.
A $25 per day fee is charged per pet each day, or a max of $150 per week.
The lodge includes an indoor swimming pool, two hot tubs, sauna, and a restaurant on site. The Beaver Sports shop is available for ski and equipment rentals.
Or check out the Grand Adventures Snowmobile Tours, which boasts the most popular snowmobile tour in the state!
8. Snowshoeing
The slopes aren't just for skiers and snowboarders. Enjoy an afternoon snowshoeing up and down the mountain thanks to miles of trails to explore.
The Resort offers a two-hour guided snowshoe tour, or you can follow your own path on nearby trails.
We recommend the easy Serenity Trail which is a popular hiking and biking trail during the summer.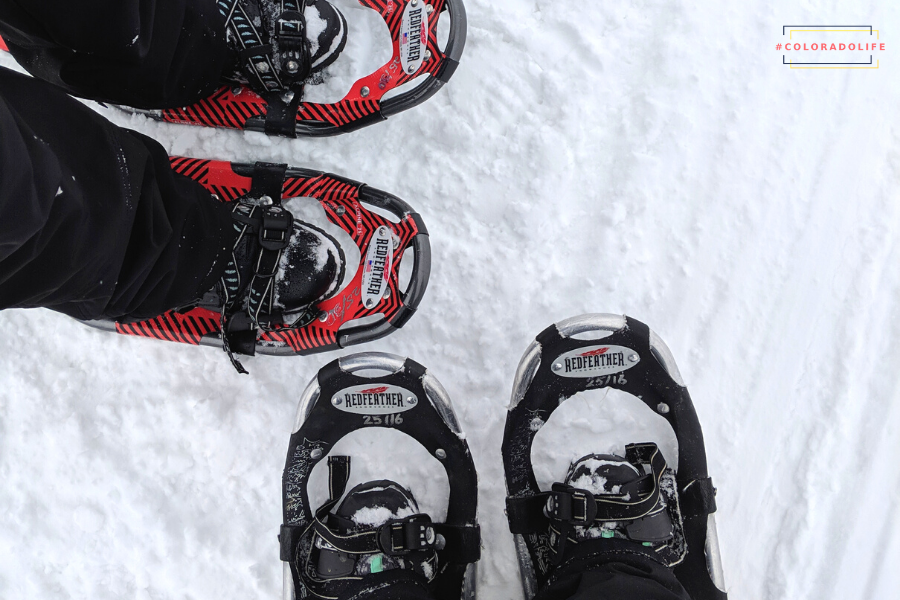 Just rent snowshoes from the Balcony House to get started, or bring our own.
The nearby Nordic Center at Snow Mountain Ranch also features more than 75 miles of terrain for snowshoeing or cross-country skiing.
9. Balcony House
Balcony House is located in the thick of all the action, inside the Winter Park Resort building, right across from the Arrow Lift.
While this isn't a restaurant, it does offer places to bring your own food and eat inside where it's warm.
Here you can also purchase lift tickets, grab snacks, use the bathroom, or generally take a break here.
10. Doc's Roadhouse
This casual American restaurant and bar has a rustic diner-style vibe with yummy comfort food.
Doc's Roadhouse is located right next to the Zephyr Mountain Lodge and Starbucks, making it easy to refuel or grab a drink to unwind.
11. Ice skating
At the base of the mountain is the Winter Park Resort outdoor ice skating rink.
There is no cost to use the rink, except if you want to rent ice skates which are available for a fee.
Or you can bring your own ice skates for free if you prefer.
They also offer free ice skating lessons and the rink is open daily from 10am to 10pm.
12. Starbucks
A warm cup of coffee or tea is always a favorite when you're cold from skiing on the slopes all day.
Starbucks is conveniently located with lots of customizable items on their menu all day.
13. Snow tubing
Just a minute or two south of the Winter Park Resort is the Coca Cola Tube Park and snow tubing hill.
This tubing destination offers a 4-lane snow tubing hill and is very family-friendly.
Tickets aren't too expensive and it is a great adventure for everyone. The staff here really take into consideration safety while still having a fun experience.
If you are planning to snow tube, be sure to reserve your tickets prior to your trip as they are usually sold out about two weeks in advance.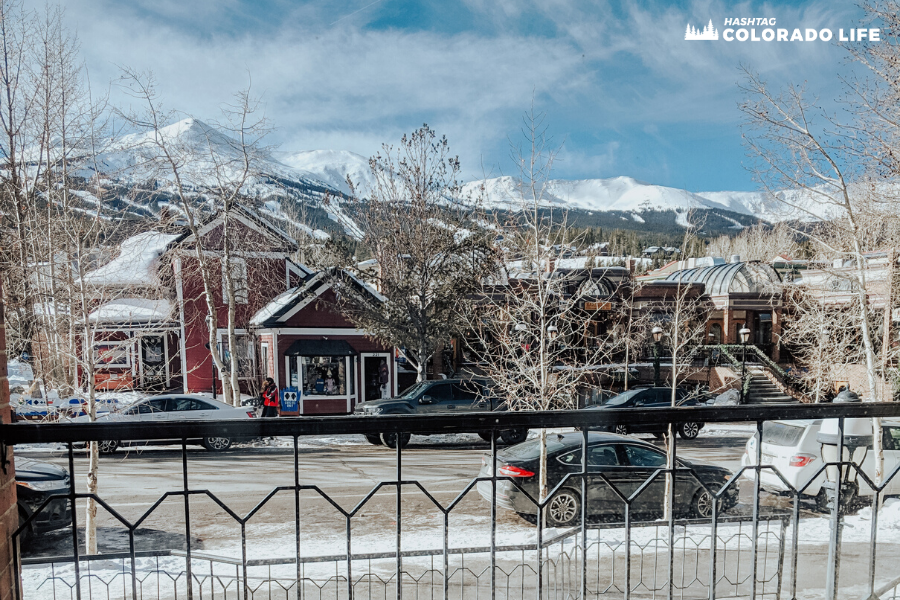 14. Pizza Pedal'r
If you're in the mood for hearty and delicious pizza, then check out Pizza Pedal'r. Get pizza by the slice or by the pie!
It's located next to Goodys Mountain Creperie, near the Village parking garage.
15. Mexicali Taco
Mexicali Taco offers amazing mexican comfort food like quesadillas and street tacos. Prices are very affordable and the food is high quality.
It's located right near the bus stop across from the parking garage and is a must-try!
16. Shopping
There are over 45 unique shops and local boutiques at the base of the Winter Park Resort.
Some of the most popular stores include shops selling clothing, art, jewelry, outdoor wear, equipment, as well as Colorado souvenirs and gifts.
You can find the perfect Winter Park sweatshirt, or take some time to relax at one of the salons or massage places.
Weather in Winter Park
The Resort boasts access to over 3,000 acres of land for recreational purposes, and averages 209 inches of snow per year.
For reference, the average snowfall in the U.S. is 28 inches per year.
Average temperatures in Winter Park, Colorado range from 4 degrees in January to about 75 degrees in July.
The best times to visit the Winter Park ski resort are from March to mid-April as there is still plenty of snow but the weather is much less frigid.
This is also when the major tourist season is over and the slopes are not as crowded during this time.
Planning a trip to Winter Park Resort
When it comes to planning a visit at the Winter Park Resort we can't say enough great things about this place.
The Village is like a second downtown area with endless things to do and food to enjoy.
The slopes are well-deserving of their Reader's Choice status, while the food and shopping experience is unique and memorable.
The Winter Park Resort is perfect for beginners as well as great for those who want a more advanced skiing experience.
No matter if you have small kids or adults who are beginners, or friends who are expert skiiers, there are trials and slopes for anyone.
And we haven't even left the resort to explore the rest of what the Winter Park and Fraser areas have to offer, which is even more amazing!