19 Fun Things to Do in Winter Park, Colorado That Are Family Friendly
This website may contain affiliate links and we may be compensated (at no cost to you!).
Planning a visit to Winter Park? Is it a good resort? In this guide, we're discussing the best things to do in Winter Park Resort in Colorado.
For two years, Winter Park Resort has been the Reader's Choice for the #1 best ski resort in North America by USA Today.
After personally having visited Winter Park and stayed in the Resort area for many years, it's one of our favorite ski destinations.
Here is how to make the most of your experience and the top things to do in Winter Park Resort in Colorado this winter.
Here are the best things to do in Winter Park, Colorado this season.
1. Snow Tubing at Coca Cola Tube Park
Just a minute or two south of the Winter Park Resort is the Coca Cola Tube Park and snow tubing hill.
This tubing destination offers a 4-lane snow tubing hill and is very family-friendly.
Tickets aren't too expensive and it is a great adventure for both kids and adults. The staff at the Coca Cola Tube Park really take into consideration safety while still having a fun experience.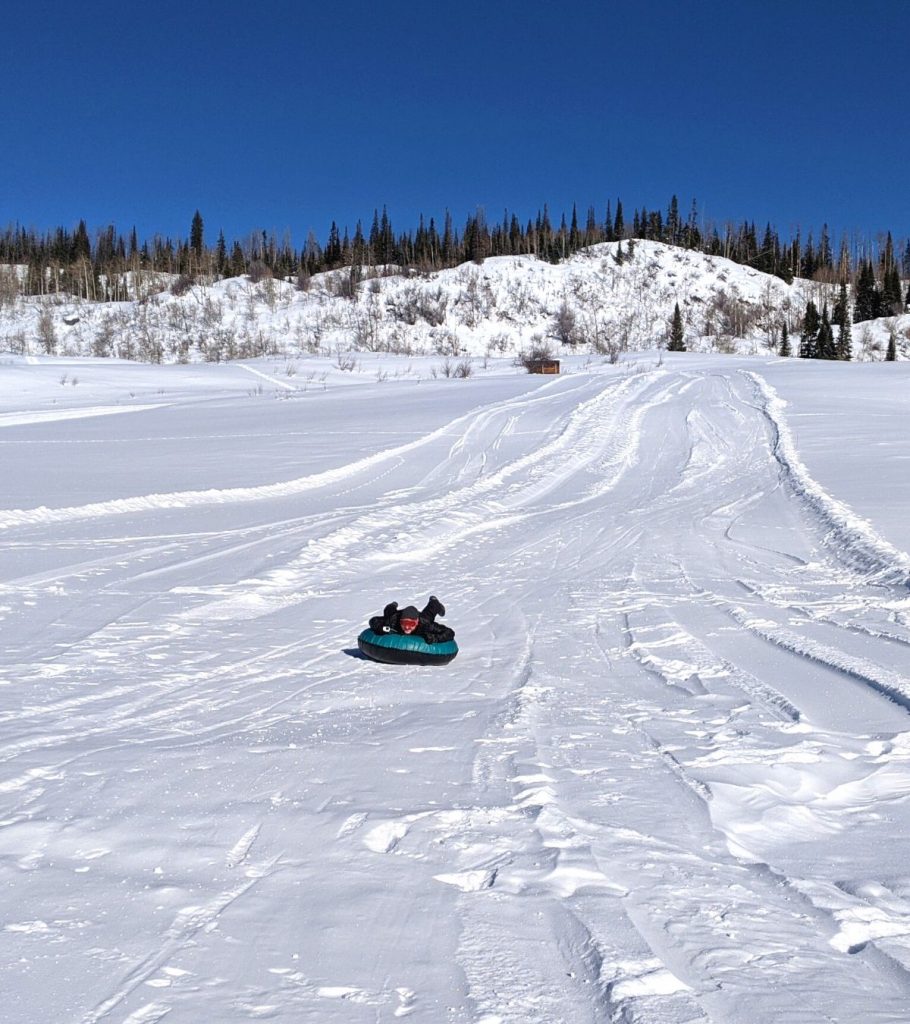 If you are planning to snow tube, be sure to reserve your tickets prior to your trip as they are usually sold out about two weeks in advance.
Then once your snow tubing adventures are complete, head up to the Hill House Lodge to warm up, sample some freshly baked cookies and hot cocoa.
2. Shopping in Downtown Winter Park
At the base of the Winter Park Resort you'll find over 45 unique shops and local boutiques.
Some of the most popular stores include shops selling clothing, art, jewelry, outdoor wear, equipment, as well as Colorado souvenirs and gifts.
Sign up for the Winter Park Experience Pass to get access to special deals and discounts including huge savings on restaurants and retail purchases.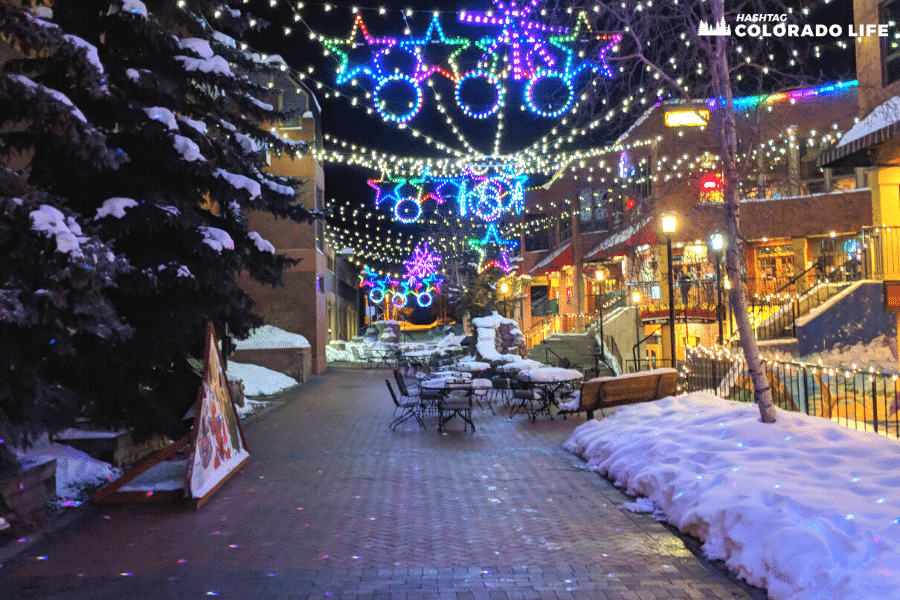 Shopping in downtown Winter Park means finding authentic Colorado gifts, the perfect Winter Park sweatshirt, or taking time to relax at one of the salons.
Free covered parking is available at The Village after 3pm in the winter or daily during the summer.
3. Winter Park Scenic Gondola
The Winter Park Scenic Gondola, or just "The Gondola", is one of the major lifts to get you up the mountain for winter or summer fun.
The Gondola connects to other chairlifts throughout the resort as well as the Sunspot Mountaintop Lodge. Here you can get a tasty snack to eat, a well-earned libation, or sit back in the many seating areas to watch the world go by.
This scenic Gondola offers gorgeous views of the area as you soar overhead up to 10,700 feet above sea level. From the top, you have breathtaking views on all sides.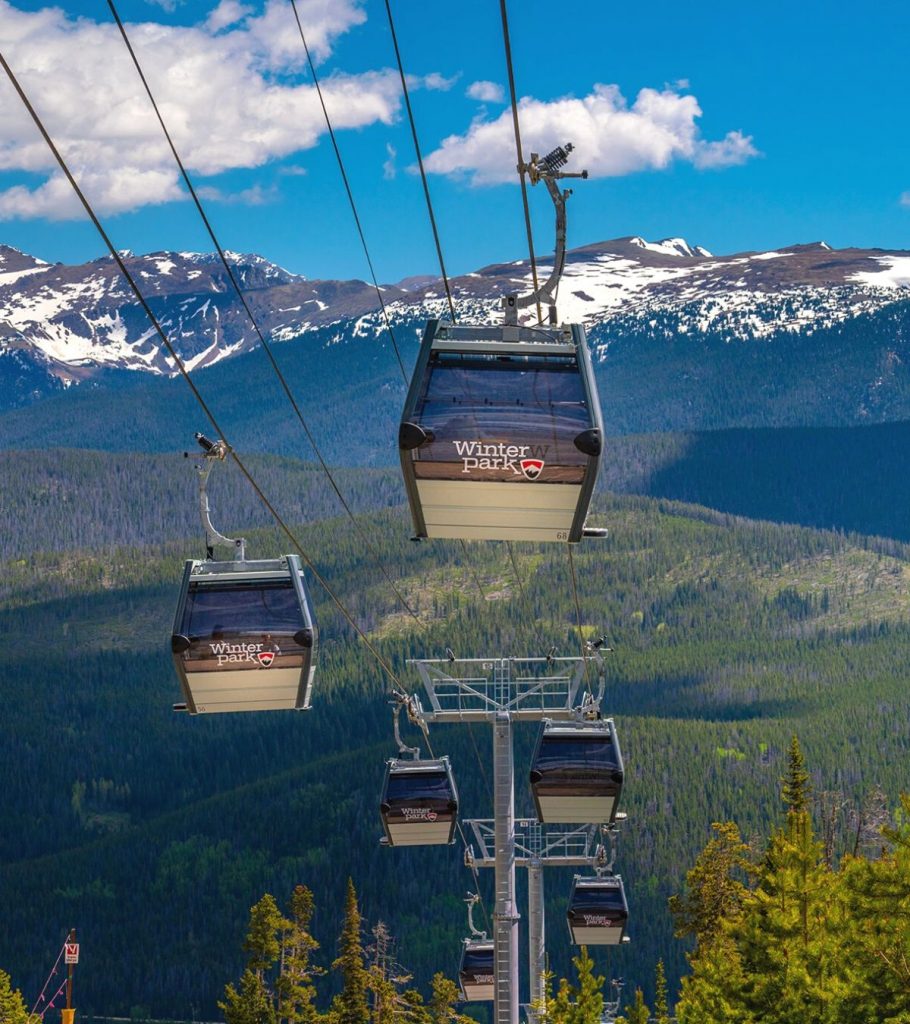 In the summer, a ride up the Winter Park Gondola can be bought in advance for a discounted price. While the winter prices can only be bought at the walk-up prices due to popularity.
Take in views of the Great Continental Divide and the National Forest that encompasses Winter Park Resort. You can even look back and see all of Winter Park and Fraser Valley below as well as the.
The hikes from The Gondolas drop off point lead to astounding vistas you can't normally access in the winter.
There are 4 hikes you can access from the Sunspot Mountaintop Lodge drop off. Each will take you on a one-of-a-kind journey and in a different direction so there is lots to explore.
Grab a beer from the Lodge and hop back on The Gondola for a ride down or hike the Ute Trail down to base camp.
4. The Village at Winter Park Resort
Located directly off Highway 40, the Village at Winter Park is the heart of Winter Park and really brings the idea of a "ski resort" together.
At the base of Winter Park mountain are the main ski lifts and ticket buildings as well as many shops and restaurants.
This is the main hub for mountain activities like skiing, snowboarding, and snowshoeing.
Here you will find access to lots of parking as well as ski rentals and ski lift tickets.
There are also lots of yummy restaurants and bars to eat at plus great boutiques to shop at as well as an outdoor ice skating rink.
Plus, nearby lodging and resorts give quick access so you can ski-in and ski-out.
The Village at Winter Park is a family-friendly ski resort with numerous activities happening all year long.
5. Trestle Bike Park
Winter Park is known for its skiing and other wintery outdoor activities. But it's not only in the colder months that you can enjoy a gravity-fueled speed-run down the mountainside.
The Trestle Bike Park is the summertime counterpart to Winter Park Resorts ski slopes.
Using the same slopes in the summer as in the winter, Trestle covers 40 miles with 50+ trails of varying degrees of difficulty to choose from.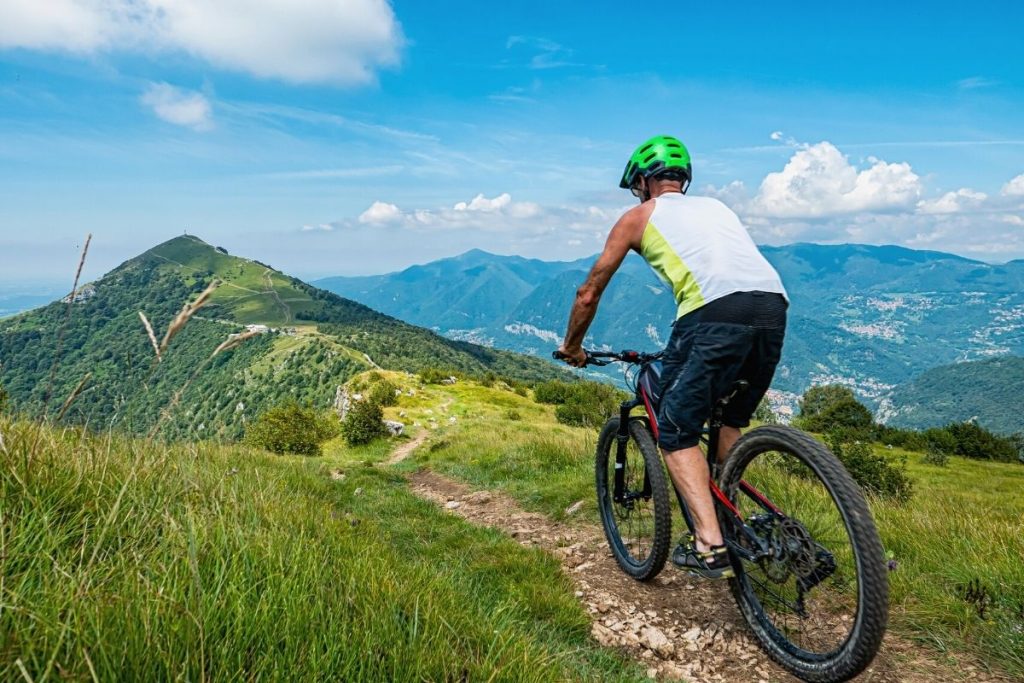 There are multiple chairlifts so you can easily spend more time cruising down the hillside.
Each trail was painstakingly etched out of the mountainside with all considerations given to environmental impact.
Every single inch of trails was green lit by the U.S. Forest Service to create truly one of a kind trails and courses. These paths were crafted into the mountainside, rather than just hacking through the landscape.
Just like the slopes of any ski resort, there is a plethora of runs to choose from for every level of mountain biking.
Or take lessons from experts or specific skill clinics to help develop some of the finer points of downhill biking, such as cornering and jumps.
But also very much like a winter ski slope, there are some trails that should only be tackled by a true expert (or maniac).
Being prepared with the right attire and knowing your limits is the best thing to help prepare for a day at Trestle Bike Park.
6. Cozens Ranch House and Museum
Along the banks of the Fraser River sits the Cozens Ranch House Museum. This area is dedicated to the preservation of what life was like in the pioneer times from the late 1800s.
Travel back in time of the first homestead in Fraser Valley that once spanned over 700 acres. Experience what pioneer ranching and stagecoach travel were like back then.
Explore over twelve rooms and exhibits in the museum that are dedicated to portraying the area's local history.
The Cozens Ranch House Museum is listed on the National Register of Historic Places and is the only museum in the entire Winter park region.
After you're finished exploring the museum, check out the gift shop for some unique souvenirs and trinkets.
7. Winter Park Alpine Slide
Another icon of the Winter Park summers is the Alpine Slide. This 3,000 foot chute of smooth concrete track is the longest alpine slide in Colorado.
It winds down the side of the mountain back to the base, all while allowing you to control the speed.
One really unique fact about this slide is that it's more like a rollercoaster than a slide.
After taking the scenic ride up the Arrow Chairlift, you'll grab a sled and take your pick of tracks; the beginner track or the advanced track.
Once on the track, you control the speed of your sled on your descent. Become a speed-demon and race your friends and family to the bottom.
Or do the exact opposite and meander down the mountainside, feeling the wind in your hair and taking in all the beautiful surroundings.
Either way, don't miss out on this summertime favorite and a different way to experience Winter Park in the warmer months!
8. Iron Horse Condominiums
Winter Park Resort offers some fabulous places to stay during your summer or winter vacations. And the Iron Horse Condos are one of the best.
The Iron Horse Condos are known for top notch ski-in and ski-out access with absolutely breathtaking views.
There are a total of 126 units with each condo being individually owned!
Inside the Iron Horse you'll find a Ski Depot shop on site where you can rent ski gear, boards, clothing, and other equipment for your trip.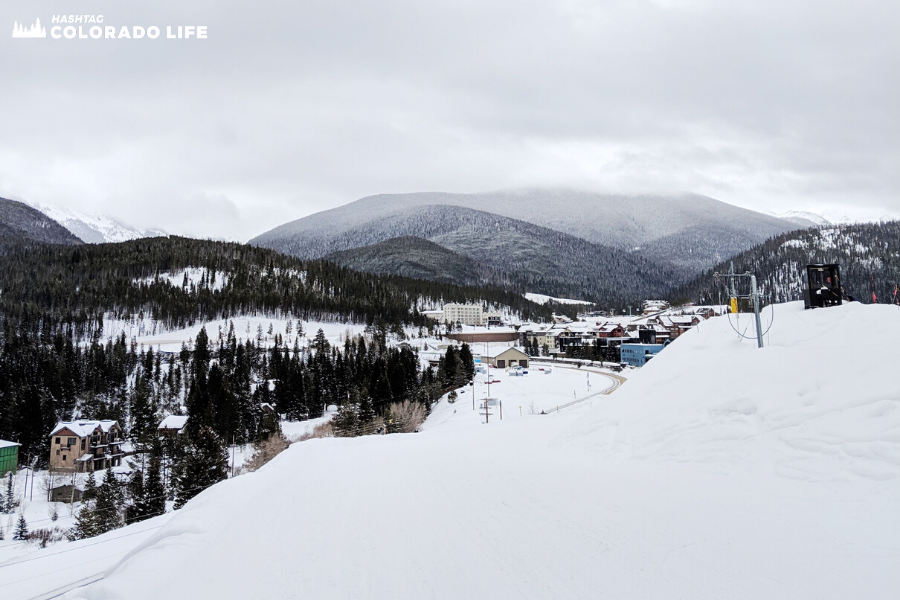 Guests who stay at the Iron Horse will receive a 25% discount on rentals at this shop.
There is a wide variety of rooms to choose from, starting with studios all the way up to 2 bedroom, 3 bathroom units.
My family has stayed at the Iron Horse several different times over the years, and the condos are very large and spacious. They can sleep anywhere from 2-12 people.
Each condo comes with a full kitchen, dining and living spaces, separate bedrooms, pull out couches and Murphy beds.
Amenities that we enjoyed most are the heated swimming pools and outdoor hot tubs that are easily accessed from your room.
They also have heated parking garages to keep you warm and dry during the winter.
9. Goodys Mountain Creperie
If you're looking for a delicious place to eat in the morning or an après slopeside tasting, check out Goodys Mountain Creperie.
Open for breakfast and lunch, Goodys serves up delicious crepes, burritos, and sandwiches.
Choose from sweet or savory options as well as lattes, cappuccinos, mimosas, beer, wine, and Irish coffee.
Since 2009 Goodys has served up fantastical food that's created from seasonal, regional ingredients. And all of it is cooked to order!
You'll find them located in the Winter Park Resort between the Cabriolet and the Gondola.
10. Berthoud Pass
Highway 40 through Colorado is the longest numbered route in the entire state. It connects Kansas to Utah via this 500 mile long road.
It travels through Denver, into the Rockies and over the Continental Divide, capping out at 11,307 feet on Berthoud Pass.
At the top of the pass you will find a parking lot and a U.S. Forest Service warming hut. From there, it's easy to access the peak of the nearby Colorado Mines Peak.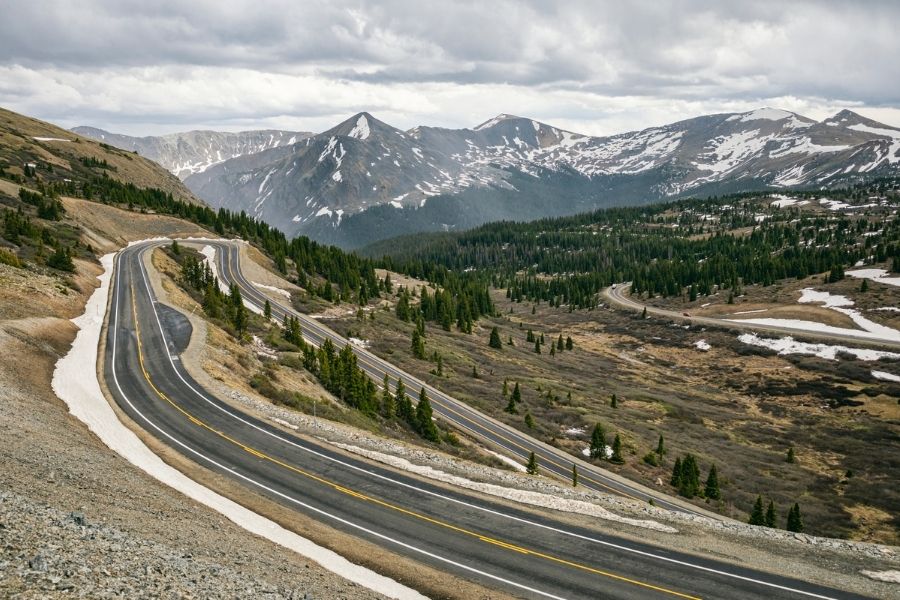 Often you will see people blazing down the side of the mountain doing some backcountry skiing (or at least the tracks in the snow).
From the 1930s until its closure in 2003, there even existed a ski resort there that shared the same name as the pass.
For a time, this ski resort was the crown jewel of Colorado ski resorts. They even boasted the first double-person chair lift in the state.
Berthoud Pass is a stunning route to take over the Rockies. From the more than 11,000 feet elevation vantage point, you can see the Continental Divide stretch below you for miles and miles.
Berthoud Pass is also famed for being one of the more difficult passes for motorists in the state.
With its steep grades of road on either side and a good number of switchbacks plus, more than +50 avalanche paths and its sheer height alone, it's best to set out prepared for it.
11. Waffle Cabin
For a quick but yummy bite to eat before hitting the slopes, Waffle Cabin is exactly how it sounds. It's a small store that serves up delicious waffles in both sweet and savory options.
The service is fast and the food is warm and satisfying! All of the waffles are made fresh, to order with the custom toppings of your choice.
Inside the Winter Park Ski Resort there are four different locations of Waffle Cabins.
Gemini Lift
Olympia and Looking Glass Lifts
Mary Jane, at the base of the Challenger Lift
Winter Park Village
So, no matter where you are on the mountain you can find a quick and satisfying bite to eat at Waffle Cabin.
Check out their shop for more goodies, as well as purchasing pre-packaged waffles by the dozen.
12. Zephyr Mountain Lodge
You can't get much closer to the slopes than when you stay at the Zephyr Mountain Lodge.
It is located at the very bottom of Winter Park mountain, just 100 feet from the gondola and allows you to ski-in, ski-out all day.
These accommodations offer one, two, and three-bedroom condos that are equipped with full kitchens and gas fireplaces.
The rooms are comfy and spacious with great amenities, including a hot tub.
Along with slopeside views the lodge is just steps away from the Village shops, restaurants, bars, and ski rentals.
Onsite storage is available for skis and other equipment, as well as underground heated parking for about $18 per day.
If you want to be right in the middle of the action, with super easy access to the slopes all day, then you will like staying at the Zephyr Mountain Lodge.
13. Skiing or snowboarding
Obviously the number one thing to do when staying at Winter Park is to enjoy their award-winning trails, slopes, and ski lifts.
Whether you are skiing or snowboarding, there are over 166 designated ski trails with over 3,000 acres to explore.
In addition, you can enjoy doing tricks, jumps, and flips at the Winter Park Terrain Park.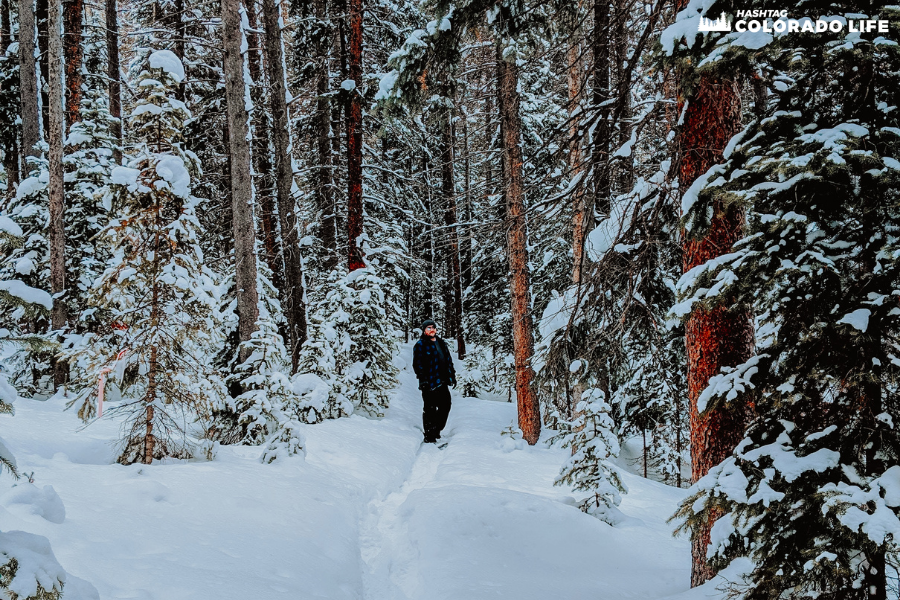 Or take it down a notch with cross-country skiing or glade skiing along Vasquez Ridge.
When asked which ski resort in Colorado is our favorite, we always mention Winter Park. It has so much to offer and is a very family-friendly place to ski and snowboard during the winter.
14. Balcony House
Balcony House is located in the thick of all the action, inside the Winter Park Resort building, right across from the Arrow Lift.
This area represents the early history and pioneering evolution of Denver's first Mountain Park.
The two-story building was designed by Stephen Bradley with mid-century modern architecture and offers panoramic views from each balcony.
In 2009 a Master Plan was set in motion to demolish the building but was met with advocates for preservation.
Since then the Winter Park Balcony House has been listed on Colorado's Most Endangered Places to help raise awareness.
While the building isn't a restaurant, it does offer places to bring your own food and eat inside where it's warm.
Here you can also purchase lift tickets, grab snacks, use the bathroom, or generally take a break.
15. Ice skating
At the base of the mountain is the Winter Park Resort outdoor ice skating rink.
Glide across the ice skating pond which is located in the hearth of The Village during the winter months.
There is no cost to use the rink, except if you want to rent ice skates which are available for a fee. Or you can bring your own ice skates for free if you prefer.
The Adventure & Supply company offers free ice skating lessons for visitors. And the rink is open daily from 10am to 10pm.
16. Winter Park Mountain Lodge
Unlike the other accommodation options on this list, Winter Park Mountain Lodge is located across the street from the ski lifts and The Village shopping area.
A free public shuttle picks up and drops guests off right at the bottom of the mountain near the gondola.
Still, it's worth a stay due to the amazing views of the mountains to the west and forest views to the east.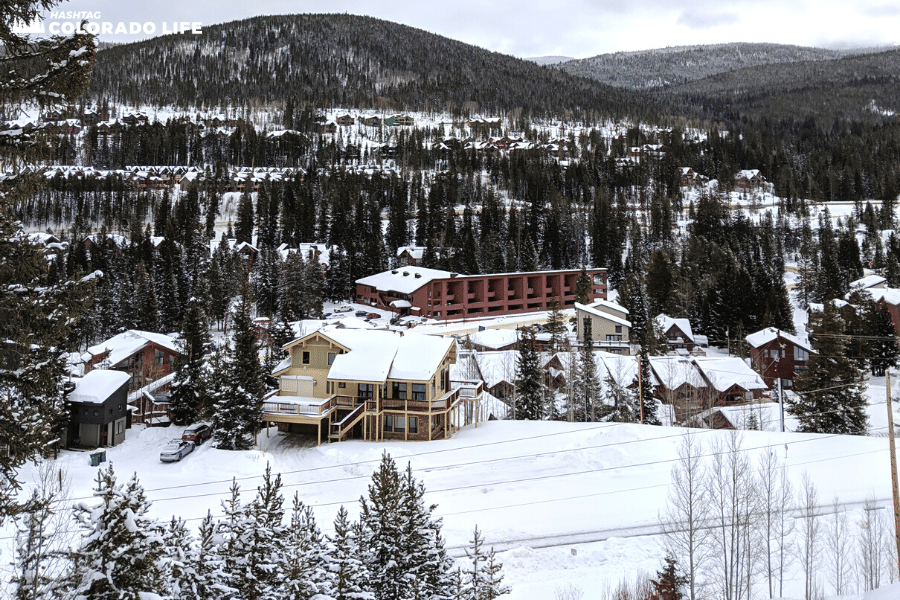 The lodge offers 110 rooms each with a refrigerator, microwave and fireplace.
Room options include a king room, 2 queen-sized beds, a king studio, 2 double-bed ADA rooms, junior suites, and executive suites.
All of which are available with either mountain views or forest views.
A nice perk when staying at the Winter Park Mountain Lodge is that they are dog friendly! Two domestic dogs are allowed per room, with a max size of 80 lbs per animal.
A $25 per day fee is charged per pet each day, or a max of $150 per week.
The lodge includes an indoor swimming pool, two hot tubs, sauna, and a restaurant on site. The Beaver Sports shop is available for ski and equipment rentals.
Or check out the Grand Adventures Snowmobile Tours, which boasts the most popular snowmobile tour in the state.
17. Snowshoeing
The slopes at Winter Park aren't just for skiers and snowboarders. Enjoy an afternoon snowshoeing up and down the mountain thanks to miles of trails to explore.
The Ski Resort offers a two-hour guided snowshoe tour, or you can follow your own path on nearby trails.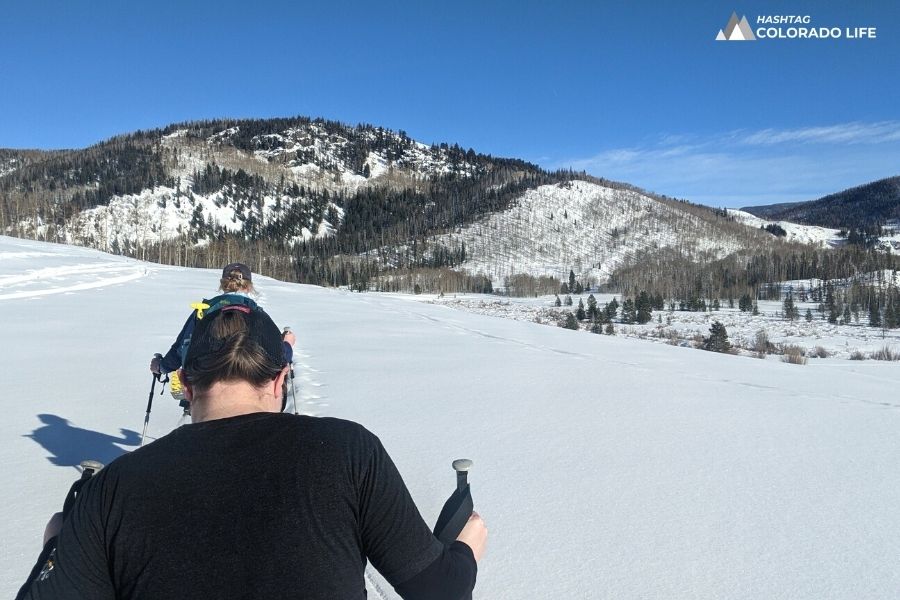 We recommend the easy Serenity Trail which is a popular hiking and biking trail during the summer.
Just rent snowshoes from the Balcony House to get started, or bring our own.
The nearby Nordic Center at Snow Mountain Ranch also features more than 75 miles of terrain for snowshoeing or cross-country skiing.
18. Doc's Roadhouse
If you're looking for a full bar for lunch or dinner, check out Doc's Roadhouse. It is considered the local hot spot for a social meal with friends or family.
This casual American restaurant and bar has a rustic diner-style vibe with yummy comfort food.
We recommend tasting their modern BBQ meats that are smoked in-house daily.
Doc's Roadhouse is located right next to the Zephyr Mountain Lodge and Starbucks, making it easy to refuel or grab a drink to unwind throughout the day.
19. Pizza Pedal'r
If you're in the mood for hearty and delicious pizza, then check out Pizza Pedal'r. Get pizza by the slice or by the pie!
This local, family-owned pizza place offers mountain style pizza with fresh, made-to-order ingredients.
If you're ordering a pizza for delivery, don't be surprised if it's delivered on the back of bicycle.
From the crust to the sauce and the toppings, everything at Pizza Pedal'r is handmade fresh when you order it.
Pizza Pedal'r has two locations in Colorado. One is in Winter Park next to Goodys Mountain Creperie, near the Village parking garage while the other is located in Denver.
Where is Winter Park, Colorado?
Winter Park Resort is located approximately 65 miles west of Denver and takes a little less than 90 minutes when driving through the mountains.
Start by heading up Loveland Pass and before Eisenhower Tunnel, you get off on Highway 40 and head north.
The road is somewhat winding so it's important to take it slow and be careful.
If you prefer to take the train to Winter Park from Denver, check out the Winter Park Express.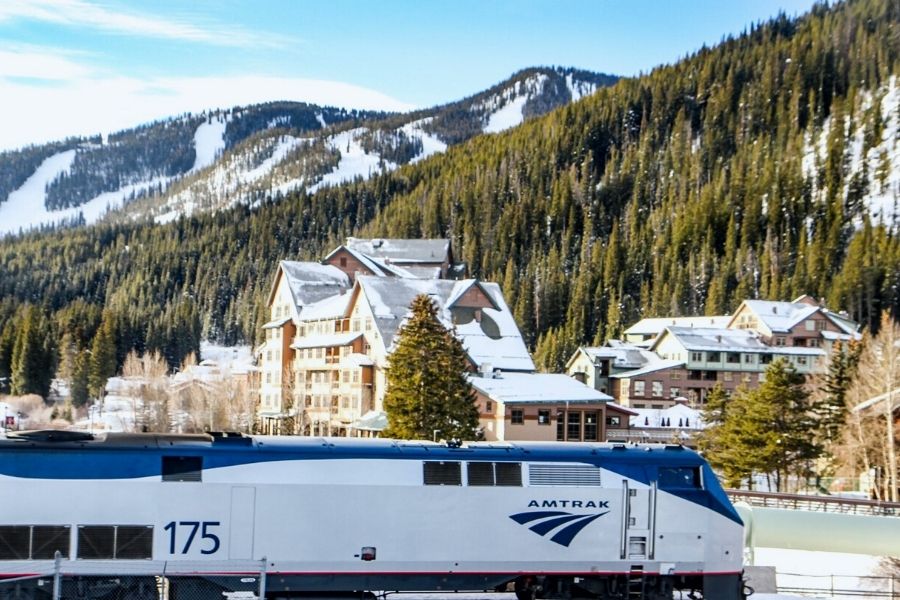 The Winter Park Express Ski Train transports skiers from Denver's Union Station all the way to the snowy slopes of Winter Park Resort.
The train departs in the morning at 7am and in the afternoon at 4:30pm and is a two-hour trip to Winter Park.
After departing the station, the train heads north and west into the Rocky Mountains. It offers a scenic and relaxing ride thanks to the new lounge car that opened in 2019.
The history of Winter Park Resort
Winter Park Resort first opened in the 1939-1940 ski season, known then as the Winter Park Ski Area.
By 1947 it had grown to be one of the biggest ski destinations in Colorado, consisting of 4 ski lifts and 8 ski trails.
Lift tickets are said to have cost just $1 in the first few years of opening. And by 1950 a ski lift ticket price increased to $2 with more than 100,000 skiers visiting annually.
Then, in 1961 the first chairlift was added and this ski destination has grown and expanded ever since.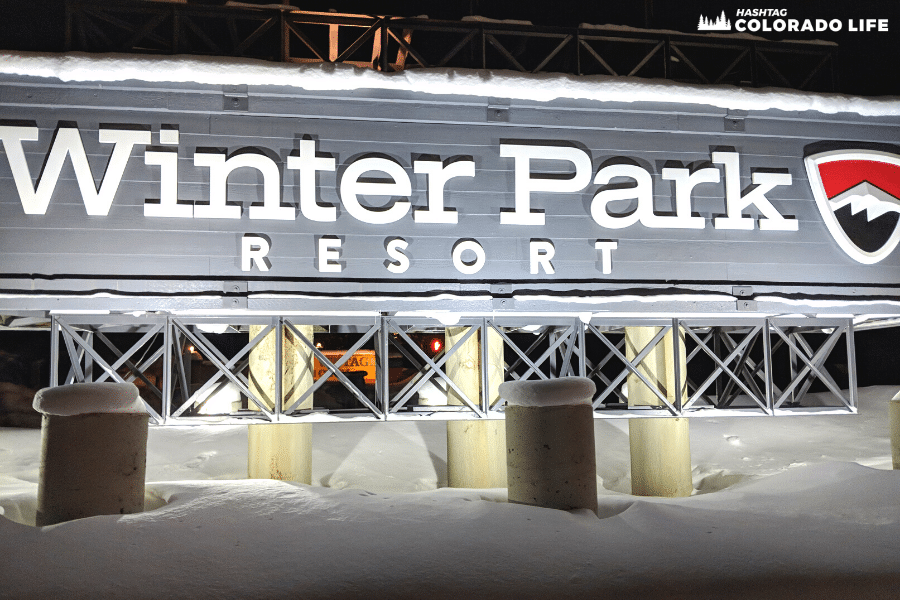 As of January 2021 the resort consists of 7 interconnected territories, aka mountain peaks, including Winter Park, Mary Jane, Parsenn Bowl, and Vasquez Ridge.
Winter Park and Mary Jane mountains make up the ski resorts most popular runs and trails, consisting of green, blue, and black-level ski trails.
Fun fact: Most of the ski area's acreage is still considered Forest Service land and operates under a special-use permit.
Winter Park Resort is also home to the National Sports Center for the Disabled (NSCD), one the world's largest and oldest disabled skiing programs.
Here are the best things to do in Winter Park and best places to eat this ski season.
Weather in Winter Park
The Resort boasts access to over 3,000 acres of land for recreational purposes, and averages 209 inches of snow per year.
For reference, the average snowfall in the U.S. is 28 inches per year.
Average temperatures in Winter Park, Colorado range from 4 degrees in January to about 75 degrees in July.
The best times to visit the Winter Park ski resort are from March to mid-April as there is still plenty of snow but the weather is much less frigid.
This is also when the major tourist season is over and the slopes are not as crowded during this time.
Planning a trip to Winter Park Resort
When it comes to the best things to do in Winter Park, CO we can't say enough great things about this place.
The Village is like a second downtown area with endless things to do and food to enjoy.
The slopes are well-deserving of their Reader's Choice status, while the food and shopping experience is unique and memorable.
The Winter Park Resort is perfect for beginners as well as great for those who want a more advanced skiing experience.
No matter if you have small kids or adults who are beginners, or friends who are expert skiers, there are trials and slopes for anyone.
And we haven't even left the resort to explore the rest of what the Winter Park and Fraser areas have to offer, which is even more amazing!