Top 12 Gifts for Adventure Lovers: DICK'S Sporting Goods Holiday Guide
This website may contain affiliate links and we may be compensated (at no cost to you!).
We spend a lot of time outdoors from camping to hiking, kayaking and swimming. Because of this we've tried and tested tons of outdoor gear and gadgets.
To help you find the best gift for someone who enjoys the outdoors, we put together a list of the top gift ideas for adventure lovers.
Here is our DICK'S Sporting Goods holiday gift guide for 2022. These are items we have personally checked out and purchased ourselves.
And the HUGE Black Friday sale is happening now, so head over to DICK'S Sporting Goods in-store or online to find amazing deals.
We started our Christmas shopping early this year and love shopping at DICK'S for everyone on our list.
Plus, the more you spend at DICK'S the more cash back you'll earn with the Scorecard Benefits.
Earn 1 point for every $1 spent online or in-store. For example 300 points is a $10 reward for you!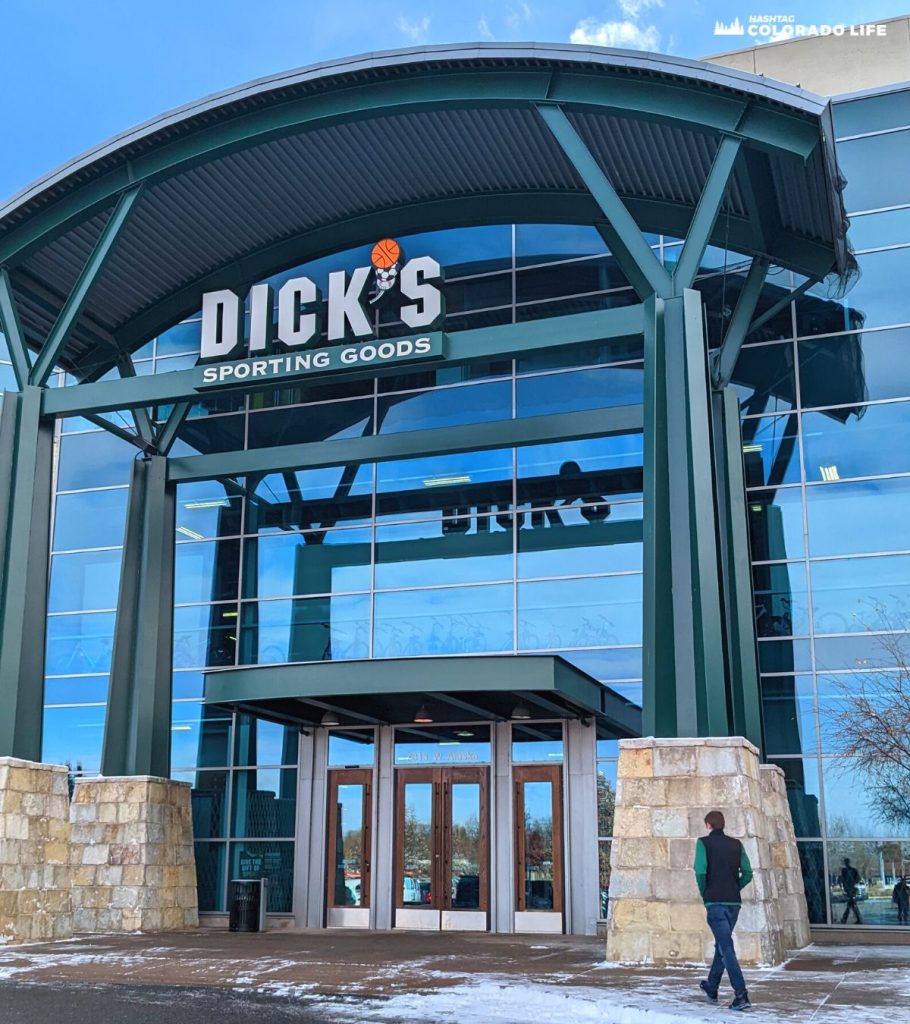 Best gifts for adventure lovers
One of the things we love the most about shopping at DICK'S Sporting Goods is that they focus on "giving the gift of experience".
Everything in the store, and online, reflects this mission of helping you and your family make awesome memories.
No matter if it's snowshoeing, camping, fishing, or simply lounging comfortably when it's cold outside, there's something for everyone.
1. Stanley Tumbler
It's no surprise that one of the most popular gifts this year is the Stanley Tumbler.
It's the perfect gift (or item to keep for yourself)! The tumbler holds 40 oz of liquids, hot or cold, and is dishwasher safe.
Plus, there are so many awesome colors and styles to choose from. It's a great gift for the men or women in your life.
And at $40 the price is also nice as this is a high quality Quencher tumbler you won't soon replace.
We've been using our Stanley Tumbler's non-stop since we picked them up at DICK'S Sporting Goods last week.
2. Textured Activewear
Activewear has been popular the past few years, but the pandemic skyrocketed this trend even more.
From kids to ladies and men, DICK'S Sporting Goods has comfy, cozy and long-lasting activewear for everyone.
Plus, 2022's holiday gifting trend is textured activewear from quilted vests to waffle sweaters and fluffy hats.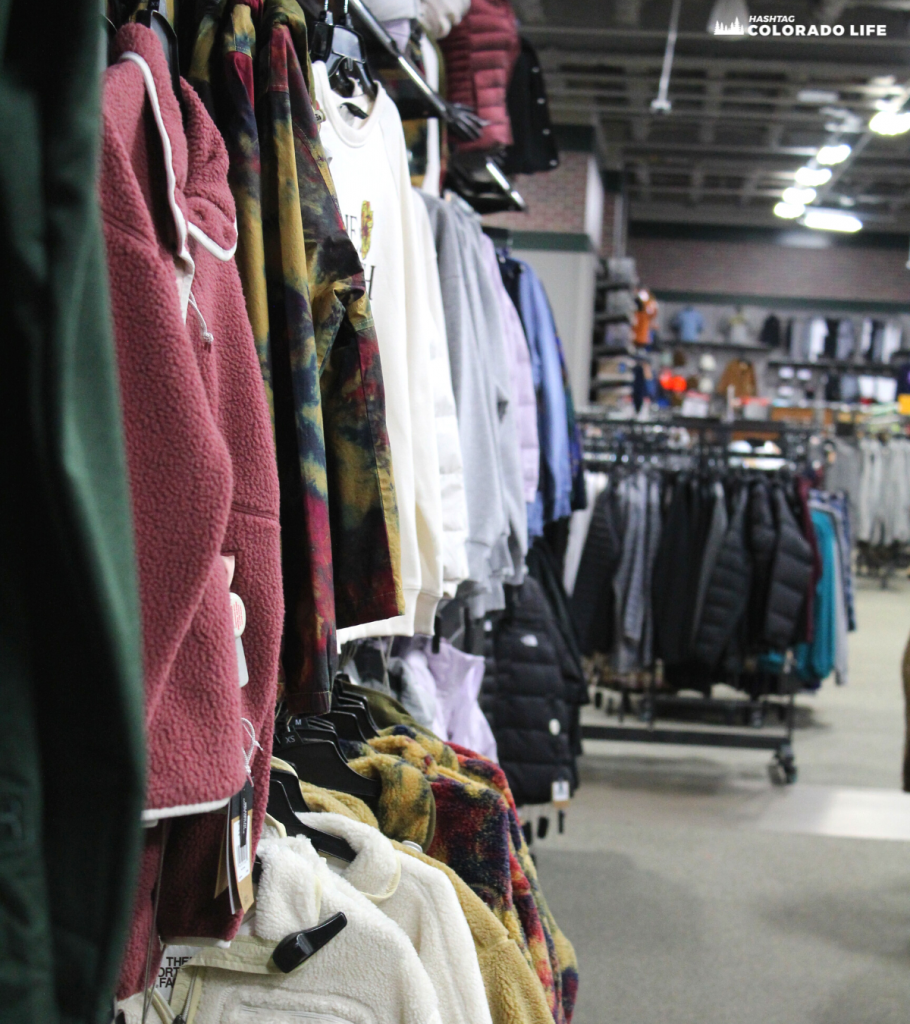 Grab a budget-friendly set of their CALIA branded leggings, tops, shirts, or sweaters for ladies.
We purchased some of the quilted vests and cozy sweaters for the girls in our life!
Or check out the store's own DSG branded loungewear and active wear that is perfect for all ages and sizes.
There are tons of fun styles, colors and unique items that you won't find anywhere else. And who doesn't love a matching holiday set for those fun "mommy and me" moments?
3. Mystery Tackle Box & Lure Kits
Another gift favorite for adventure lovers, especially fishermen, is the Mystery Tackle Boxes from DICK'S Sporting Goods.
These bait and lure kits are a fun and affordable way to test out new fishing products.
Each kit comes with a variety of different lures and baits from top brands in the outdoor world.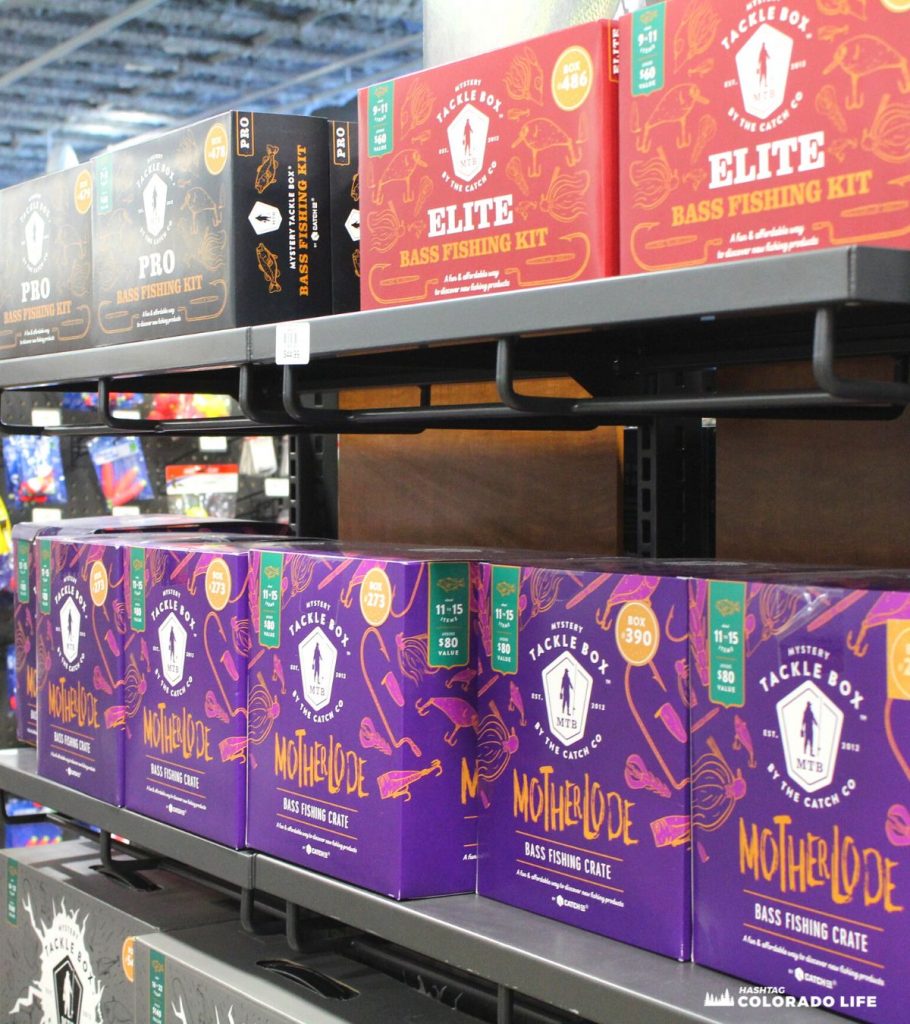 Get the Elite Bass Fishing Kit, the Walleye Fishing Kit, or even the Ice Fishing Set for the expert angler in your life.
Depending on the kit you choose, you'll get anywhere from 5-6 baits in each box to up to 40 different fishing products.
And with several pricing options to choose from, we grabbed two different Mystery Tackle Boxes for members of our family and friends who love to fish.
4. Hiking Boots
If you've ever tried to go hiking in the snow you know how difficult it can be if you don't have the right hiking boots.
We just purchased a pair of the Merrell Men's Moab Waterproof Hiking Boots in the color Earth.
They are $50+ off for the Black Friday sale and make an amazing gift for the outdoor lover in your life.
With all the snow that Colorado gets every winter, a waterproof pair of hiking boots is a must-have.
They are also easy to use with crampons for snowy and icy trails in the cold months.
A high quality pair of hiking will last you long through the winter and into the warm summer months as well.
5. Crocs
We all thought Crocs might have seen their best trending days come and go. But they're back and better than ever for 2022!
Crocs are an awesome gift for outdoor lovers because they come in many different styles and colors.
Kids love them too thanks to being easy to put on and easy to clean. They're waterproof and very long-lasting!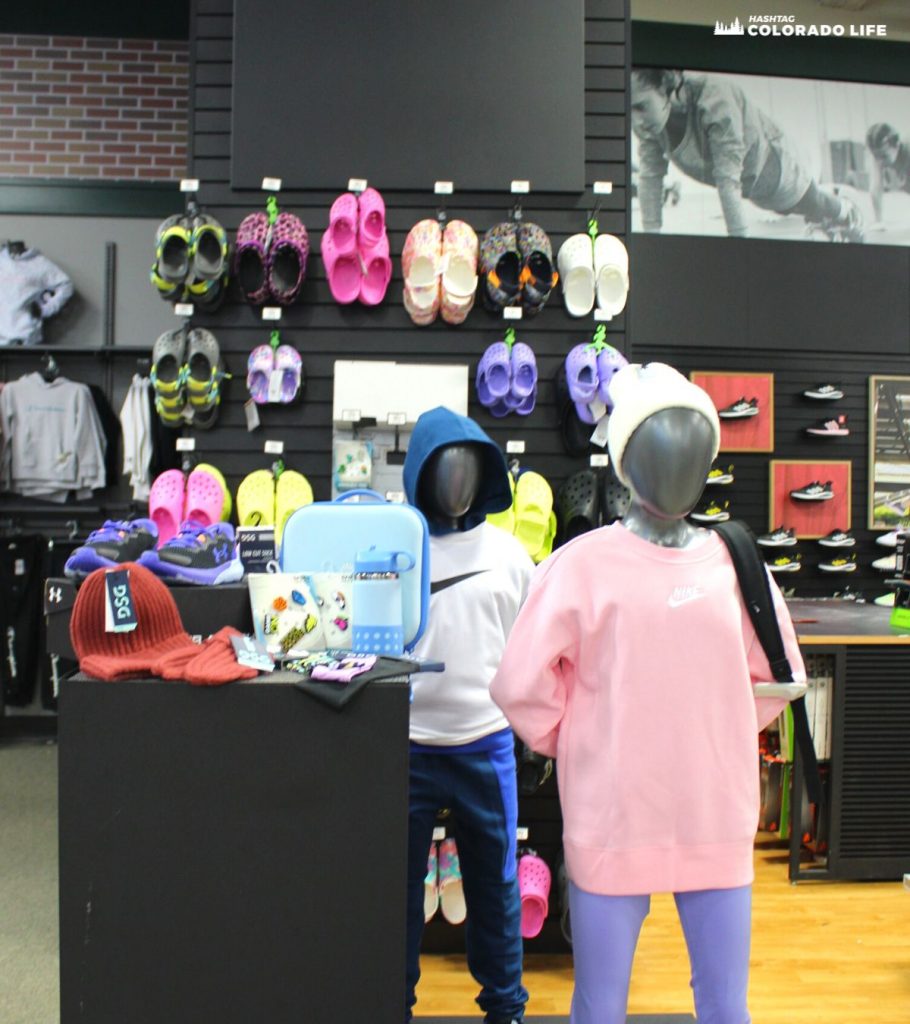 This year's must-have crocs are the fuzz-lined clogs or the puff boots. DICK'S even sells the classic Cozzzy sandals that are fluffy and warm.
Or check out the Hiker Clogs, yep you can wear your beloved Crocs even when hiking the snowy Colorado terrain.
And who doesn't love accessorizing your crocs with different charms. Grab a pair of Crocs, or several, for the friends in your life!
6. Theragun
A list of the top gifts for adventure lovers has to include a Theragun! This therapy device helps soothe sore muscles and release tightness.
If you don't have time to drive to a hot spring in Colorado and soak in the natural mineral water all day, a Theragun is an excellent alternative.
The ergonomic handle design of the Theragun makes it easy for big or small hands. And the Active Torque Control means you won't lose power while changing speeds during treatment.
It comes complete with Bluetooth connectivity so you can sync it with your phone and control the settings via the Therabody app.
If you have an active person in your life who loves the outdoors, gifting a Theragun will be a nice surprise they will use for a long time.
7. Rumpl Puffy Blanket
What's a Rumpl? Until last week, we had no idea what a Rumpl was but now we can't live without it!
From blankets to towels, this unique "sleeping bag style" cover has a puffy insulated material.
These blankets are very versatile and come with insulation technology to keep you warm no matter what the weather conditions.
They come in tons of colors and styles, with sizing perfect for one adult-sized person.
Our favorite is the Rumpl NanoLoft Travel Blanket which is perfect for traveling this winter season.
And unlike a normal sleeping bag, the Rumpl is machine washable. It's the best blanket for road trips, bonfires, camping trips and more.
8. Fuzzy Wool Socks
Nothing is more comfy than getting cozy next to a warm fire with fuzzy wool socks when it's cold outside.
Even if you don't live in a place that's super snowy, a pair of wool socks is always a great gift.
They make great stocking stuffers too, because you can never have too many warm, fuzzy socks.
DICK'S Sporting Goods offers so many different options for wool socks from ActionHeat battery-heated socks, to Smartwool men's crew socks.
We personally like the Columbia Ski Slope long socks which are excellent for skiers and snowboarders.
9. SpikeBrite for Spikeball
Another fantastic gift for the sport enthusiast is the SpikeBright set for playing Spikeball in the dark.
If you don't know what Spikeball is, it's another outdoor game that's becoming very popular with friends and family this year.
You only need two teams of two players to play and it's great for all ages.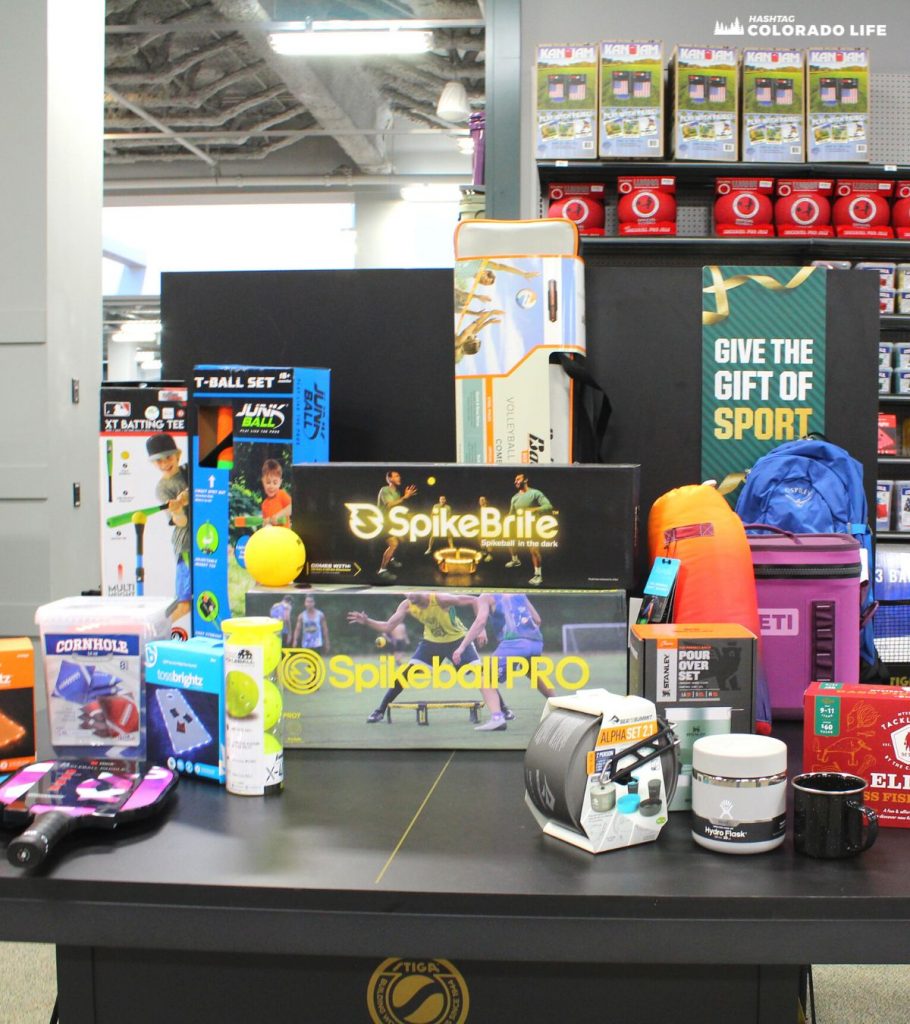 It's been referred to as a combination of four-square and volleyball. And the equipment is small enough that it's easy to transport anywhere.
The SpikeBrite set at DICK'S Sporting Goods comes with an LED Spikeball and 2 rechargeable LED balls and rim.
Choose from different colors so you can play during the day or night. Keep the fun times going all day, and night, long!
10. Pickleball
If you don't know already, the Pickleball game is fast-becoming a popular game to play.
It's a fun outdoor activity that combines many elements similar to tennis, badminton and ping-pong.
And DICK'S Sporting Goods has the Pickleball sport covered. With multiple Pickleball sets, paddles, shoes and other equipment, there are lots of options to get started.
Gifting this sport to any adventure lover, whether they're a child or an adult is a sure way to be one of their favorite gifts.
11. Portable Yeti Cooler
DICK'S Sporting Goods has a wide array of Yeti Coolers to choose from with many styles and colors. But we personally love our portable Yeti Hopper Cooler.
The Yeti brand is well-known for its heating and cooling abilities, and the Yeti Hopper is no different.
Perfect for those cold winter days or hot summer adventures, a portable Yeti Cooler is durable and easy for traveling.
It's great for day trips from Denver or weekend getaways to the mountains for skiing or snowboarding.
The Yeti Hopper comes with a flip top, sturdy zipper, and adjustable handle. There are also so many colors to choose from, you're bound to find the perfect one.
12. Carhartt Beanies (and everything else)
Who doesn't love a warm and cozy beanie during cooler days and cold nights? And the Carhartt brand of clothing and outdoor wear has been around for a long time.
It's a quality brand of clothing that offers well-insulated and well-tested items to keep you warm during cold weather.
And one of this year's hot gift items is the Carhartt Beanie which comes in many different styles and colors.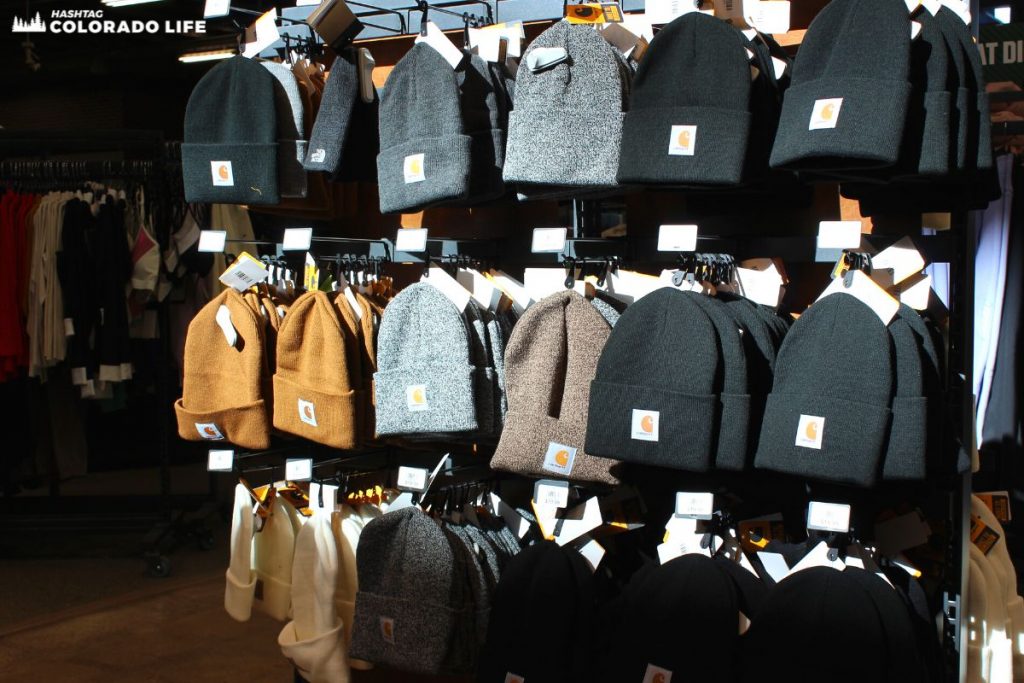 Sizes range from kids to teens and adults, and even those with extra large round heads (like myself).
A Carhartt Beanie, or any other kind of Carhartt item, makes a great stocking stuffer to gift anyone on your list.
Carhartt even has a collaboration with Rumpl, which rounds out our list of the best gifts for adventure lovers.
We hope this of the top gifts for adventure lovers from DICK'S Sporting Goods helps you give the gift of experience to everyone on your list!