Vista Verde Ranch: Our All-Inclusive Romantic Getaway in Colorado
The content of this website may contain affiliate links and we may be compensated (at no cost to you!). Thank you for your support!
Vista Verde Ranch is a luxury ranch vacation that will help you unplug and enjoy a bit of what the Old West is like in Colorado. 
And thanks to their Adult-Only Vacations you can book a romantic trip for two to rest, relax, and get away from it all.
This all-inclusive destination is perfect for Valentine's Day, an anniversary, or a private honeymoon.
The ranch was built in the early 1900's and is steeped in the history and ways of the old cowboys. But it's outfitted with every modern convenience of the 21st century. 
From horseback riding, to cross-country skiing, dog sledding, and wine tasting, there is something for everyone and nearly every age at Vista Verde Ranch. 
Here's our Vista Verde Ranch review based on our personal experience and what to expect when visiting this unique Colorado dude ranch.
Thank you Vista Verde for offering us a complimentary trip in exchange for this review. All opinions are our own. If you end up booking a stay at VVR, tell them Hashtag Colorado Life sent you!
Getting to Vista Verde Ranch
Vista Verde Ranch is a luxury all-inclusive dude ranch located about 40 minutes north of Steamboat Springs, Colorado. It sits at 7,720 feet in elevation and is open during the summer and winter months.
To get to the ranch, you'll head north west into the mountains via I-70 and then onto Highway 9 towards Steamboat Springs.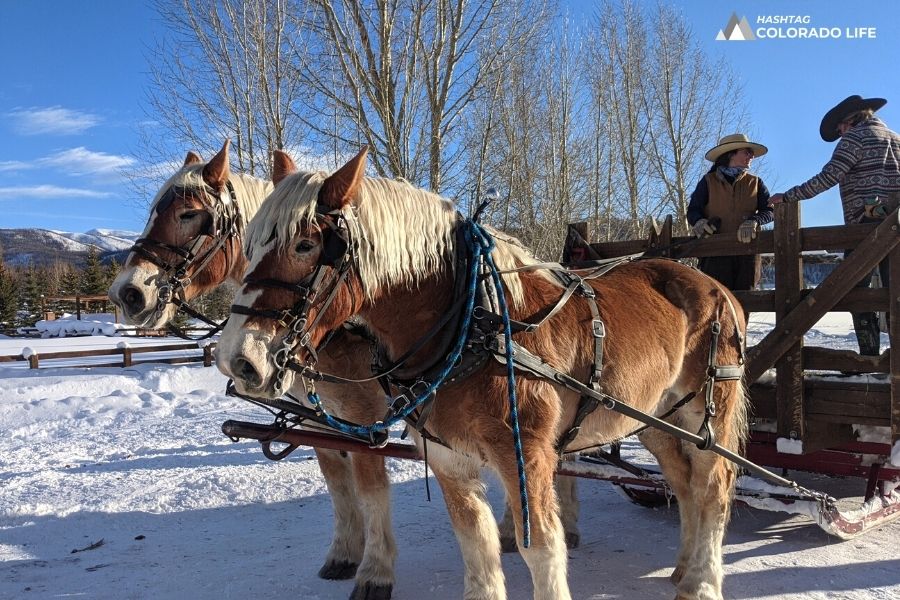 After turning onto Highway 40 and passing through Steamboat Springs, you'll continue north to Clark, Colorado. 
If you have friends and family visiting the ranch, they can fly in from Denver and take the same route, or fly into the local airfield in Steamboat Springs.
What is a dude ranch like in Colorado?
If you don't know what a dude ranch is, it just means "Guest Ranch". It's a ranch first and foremost. And the word "dude" pretty much means the same thing as it did 100 years ago: referring to a person.

In the late 1800s, there was a romanticized vision of the bygone days when the American West was The Wild West. There was less and less frontier to explore and urban/suburban areas became increasingly popular. 
Because of this, dude ranches popped up in response. They gained more traction by wars in America's history that would have made foreign travel unrealistic.
Visiting a dude ranch was a way for a "Greenhorn", "Tenderfoot", "City Slicker" or other urban dweller to come to rural areas to experience life as a cowboy.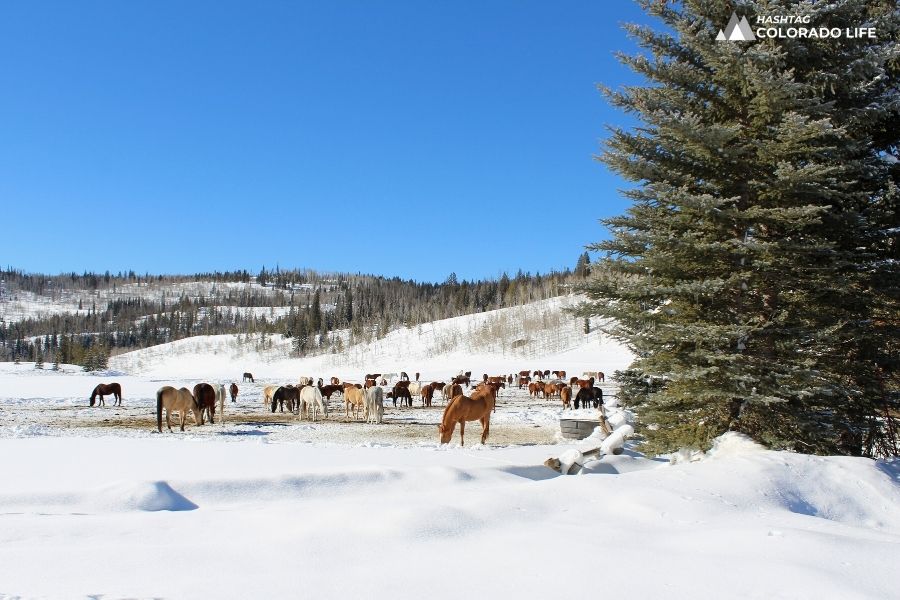 They could enjoy all the advantages of living a "western lifestyle" for a short while, without having to risk life or limb.
The name Vista Verde Ranch actually translates to Green View Ranch, which we believe accurately describes the property in the spring and summer months.
However, the winter months are just as magical thanks to an average snowfall of 350 inches. The snow-covered paths and trails make for beautiful scenery for snowshoeing, skiing, and tubing.
The main hub of the ranch was established in 1919 and since then it has grown to roughly 600 acres. 
It's surrounded by the Routt National Forest which contains more than 1.1 million acres. The ranch also has permitted access to the Mt. Zirkel Wilderness Area.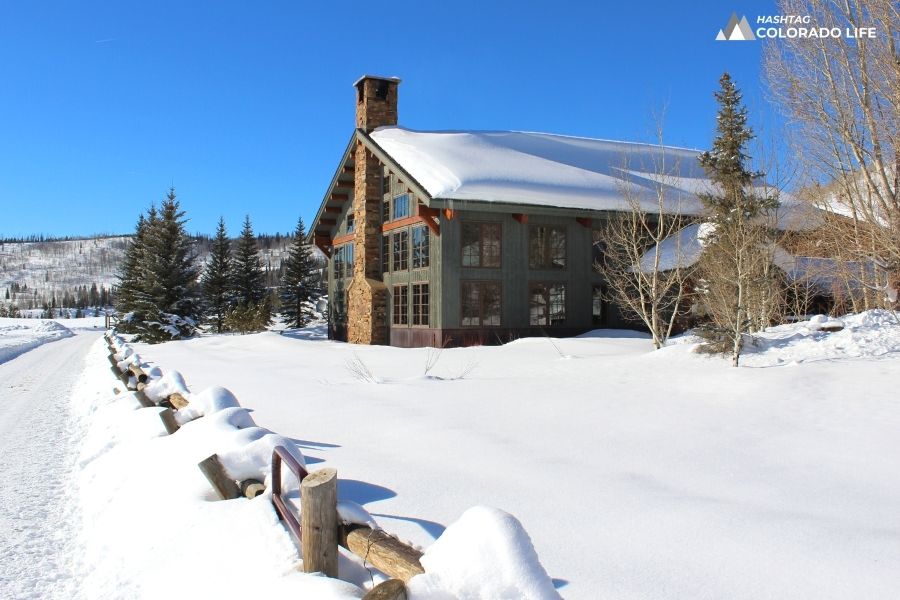 Vista Verde features several pastures for the horses, a private tubing hill, hiking trails, and even a lake for ice fishing in the winter.
You'll be amazed at how secluded this ranch is, with lots of wide open space. Because of this the wildlife is abundant, much like the peace and quiet.
Lodging and cabins at Vista Verde
Vista Verde Ranch makes it easy to live the cowboy life in style. The ranch can accommodate up to 50 guests thanks to about a dozen private cabins.
The cabins range from one-bedrooms up to four bedrooms, depending on the size of your family.
One of the cabins is even a duplex with two separate cabins attached, in case you and a large party are visiting for the week.
In addition there are several Lodge Rooms that are connected to the main guest lodge. These are just as nice and cozy as a cabin, but cost a bit less since only one of them comes with a hot tub.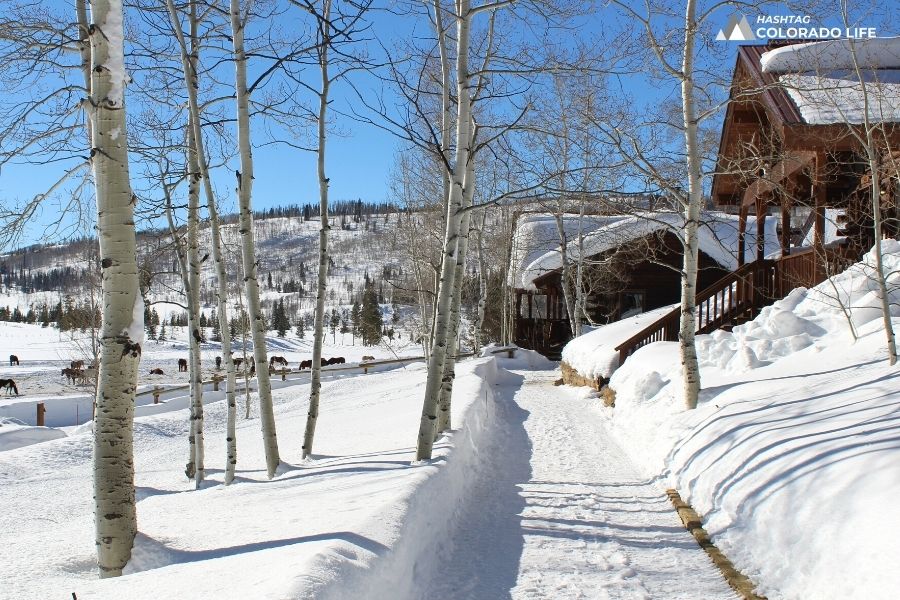 Each cabin, and lodge room, is comfortably decorated to give you a taste of cowboy living but with plenty of luxury.
And every one has a spacious living area with a wood-burning stove or gas fireplace.
When booking a cabin, you'll even get your own private hot tub on the deck. We looked forward to this every evening as a way to soak away our aches and pains from the day's many activities.
The authentic log cabins are spacious and come with lots of modern-day amenities such as coffee makers, electric kettles, hairdryers, robes.
Vista Verde is the perfect place to unplug and relax because there are no TVs or phones in the cabins.
If you need wifi or to get cell service for a phone call, you'll have to head up to the main lodge. But the idea of this vacation is to unplug and unwind, so don't expect to stream any movies or videos.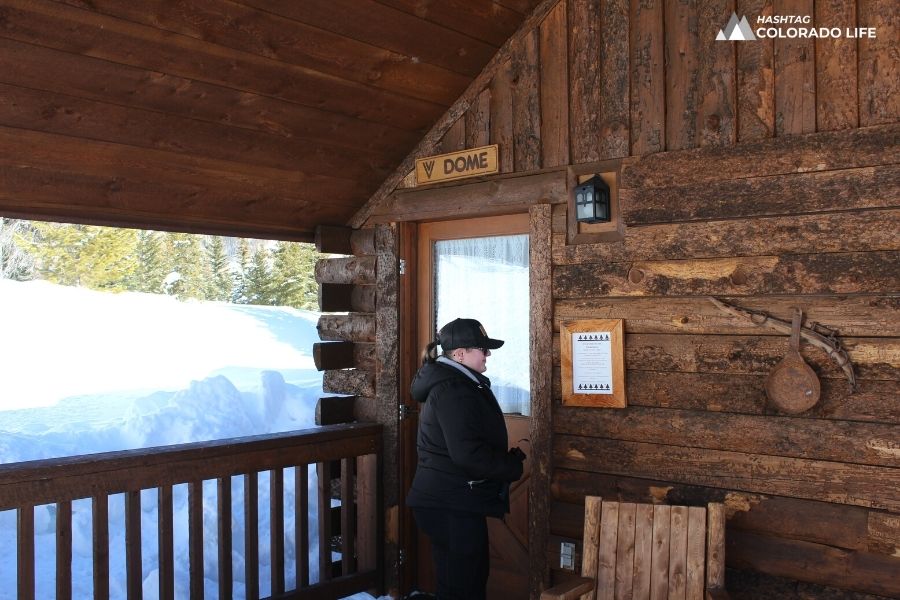 We stayed at the Dome Cabin which is named for Dome Peak, a mountain located within viewing distance of Vista Verde Ranch.
And this one-bedroom cabin was perfect for our romantic couple getaway!
It came with a giant king-sized bed, a beautiful bathroom with dual sinks, granite countertops, and heated floors.
The kitchenette was fully stocked with complimentary snacks, soda, sparkling water, wine, and local beer.
There wasn't a stove or a microwave but we found that wasn't needed as the ranch staff members kept us fed for every meal, plus plenty of snacks in-between.
Dining and drinks at Vista Verde
Vista Verde Guest Ranch is one of only 3 ranches in the U.S. to be awarded the AAA Four Diamond rating.
That is to say that their "cowboy cuisine" is expertly prepped and crafted by talented chefs to leave you full and satisfied over your entire trip.
Dining
As part of your vacation package you and your loved ones will get breakfast, lunch, and dinner everyday. Not to mention, snacks, drinks, and a free happy hour.
Breakfast, lunch, and dinner are served in the dining hall every day and are offered in a variety of ways. Some gourmet meals are made-to-order while others are buffet style.
In the winter, every Monday is Formal Dinner night where guests are treated to a formal 3-course meal that's served on white tablecloths with white-glove service.
Formal Dinner only refers to the style the meal is served. Mostly a slower, more relaxing night to enjoy the food and atmosphere. They do not require guests to dress up (but you can if you want to!).
Each dinner service is about an hour, excluding formal dinner nights when it will take about 2.5 hours.
For early risers, a nice continental breakfast is served at 7:30am with fruit, pastries as well as freshly squeezed juice and coffee.
It's followed by a hot made-to-order breakfast at 8am that features hot food made-to-order. Some menu items we loved were the omelet of the day, thick slabs of bacon, and pancakes hot off the griddle.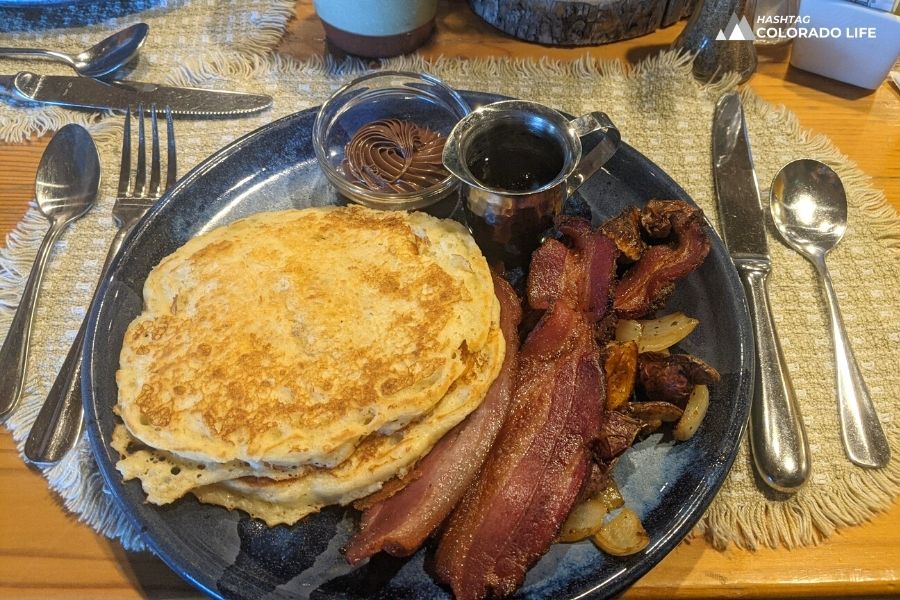 We were actually very surprised and delighted by the food. Being a chef I often have high expectations of the food, and this definitely did not disappoint. The culinary adventures never ceased to amaze!
My favorite meal was the Smoked Meats night, which featured smoked brisket, smoked chicken, BBQ ribs, and even King crab legs.
The sides of beans, coleslaw and potatoes were also delicious! Plus, a quartet of house-made BBQ sauces to go with your smoked tidbits.

Deserts were perfect for the end of the day. They were always light and never too sweet but decadent enough to remind you that you are on vacation and you earned this treat.
Drinks
The ranch is also popular for the different wines and local beer they serve. Vista Verde has over 150 wines that have been recognized by Wine Spectator with the Award of Excellence for the past several years.
Happy hour is daily from 5:30-6:30pm and includes all you can drink beer or wine, in addition to chef-made hors d'oeuvre.
Not only that but the fridge inside your cabin or lodge room is fully stocked with wine, local beer, soda and sparkling water. They will even refill everything in your fridge if needed.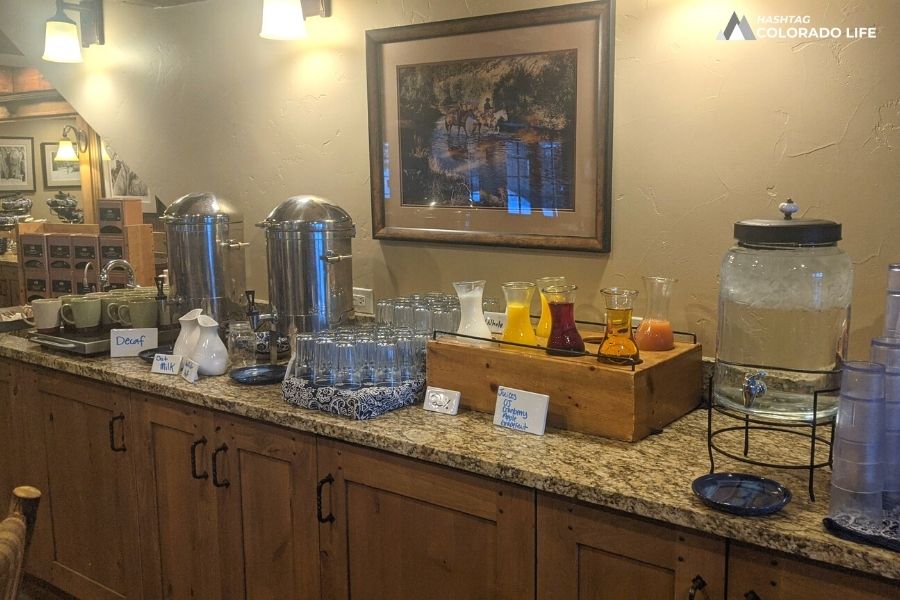 Snacks
Freshly made fruit-flavored water is available every day in the main lodge, along with a fresh batch of homemade cookies and snack bars.
In addition to this, there is a full snack basket available in your room upon checking in. It includes things to keep you energized throughout the day like fresh fruit, nuts, trail mix, pretzels, granola bars, fancy chocolates and more! 
And just like the drinks in the fridge, if you need a refill of snacks, they will do so without hesitation. 
Things to do at Vista Verde Ranch
There are so many things to do at Vista Verde Ranch you won't know what to choose first.
Once arriving at the ranch you will be able to sign up for activities every day in the guest lodge. Near the check-in desk is a large computer screen that displays the activities for the week.
Daily Activities 
Activities are hosted twice a day, typically guests will choose one morning activity and one evening activity. Although there are several different types of things to choose from at any given time.
The morning activities usually start at 9:30 or 10am, giving guests plenty of time before lunch is served at 12:30pm. 
Some premium morning activities like dog sledding, town visits, or skiing can start as early as 8am.
Due to the horses schedules, all of the activities involving horses, like horsemanship classes and trail riding, happen in the morning.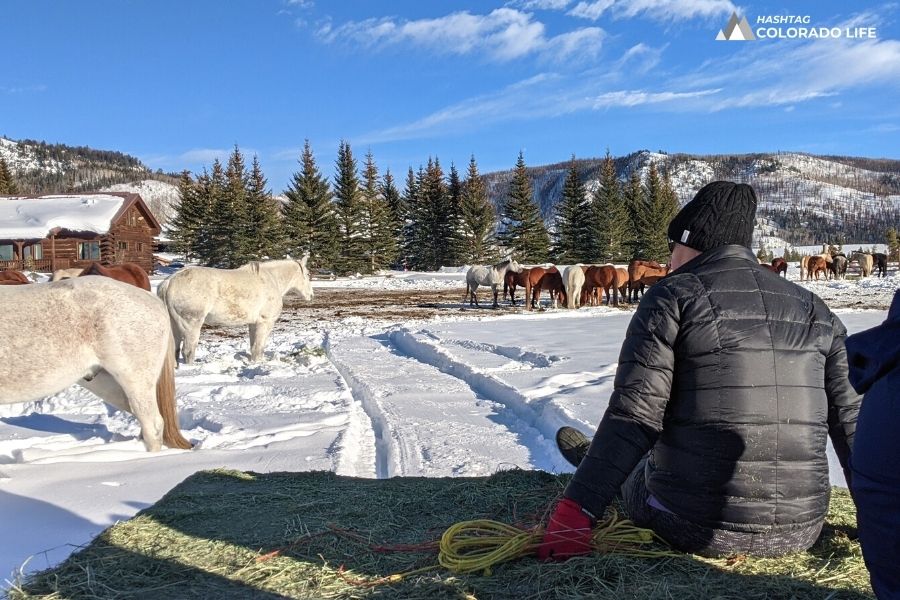 Except for the sleigh rides and feed sleigh activities as those are driven by the two Belgians that have their own special routine.
Afternoon activities can range from 2pm-3:30pm start times, depending on what it is. Many of the morning activities will also be available in the afternoon, like snowshoeing, tubing, and cross-country skiing.
Note that some activities are better suited for morning than afternoon and vice versa! 
Every day at 3:30pm guests are treated to a feed sleigh ride that allows you to help feed the horses in the pasture. It's one of the only activities that happens every single day so you can do it multiple times if you like!
And of course, you can head to the main guest lodge anytime of day to warm up next to the giant fireplace or sit in an oversized chair to read a book. 
In the evenings you can play chess, checkers, poker, or other card games with your loved ones.
Summer and winter activities at Vista Verde
During both the summer and winter, the horses at Vista Verde are one of the main attractions. I mean, it is a luxury dude ranch after all!
Horseback riding & sleigh rides
Vista Verde Ranch is home to nearly 100 horses, including 2 mustangs and 2 Belgians named Sitka and Kenai.
Horsemanship clinics and trail riding activities are offered daily, depending on how much experience you have with horses.
Classes are offered in the morning for anyone who is a beginner, or you can go straight to the more adventurous trail rides if you're more advanced.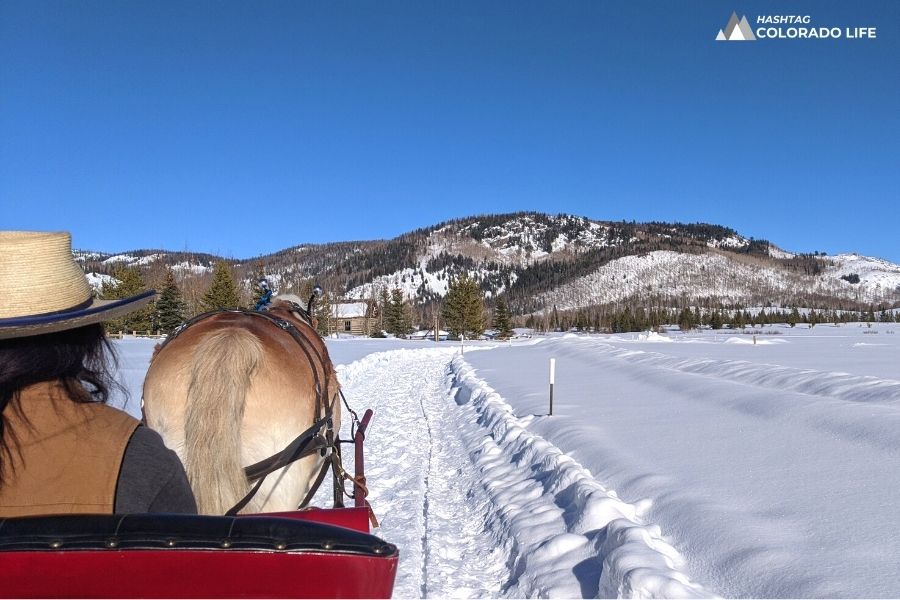 The horses are expertly matched based on your preferences and level of experience (you are asked to fill out a form before arriving at the ranch).
All of the horses are used to people riding them, and are pretty gentle and loving overall. 
I was matched with Rex, who is a gelding and Carrie was matched with Wynona (like Winona Ryder, get it?!) who is one of the herd's lead mares.
We absolutely loved horseback riding and wish we had more time to spend with the horses! It's easy to bond with them over just those 2 hours.
Cross-country skiing
Another favorite thing for guests to do at the ranch is cross-country skiing. There are actually two types of skiing tours available: Backcountry Touring and Classic/Skate Skiing.
For Backcountry Skiing & Touring you can customize your own trip with skis that come in different widths, weights, and lengths. 
Choose your own adventure with light cross-country skiing or heavier skis and boots for a more rustic tour.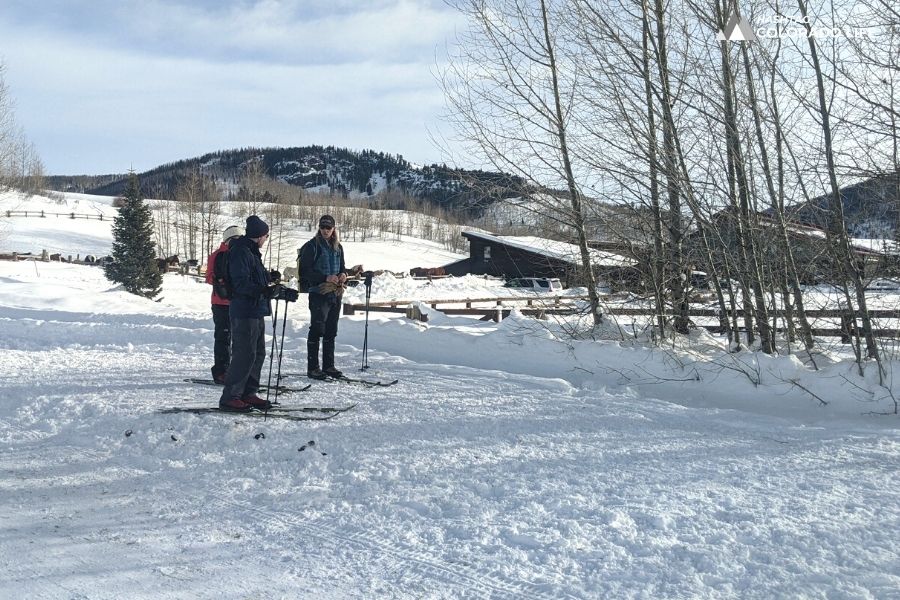 For classic skiing or skate skiing you can enjoy an easier time thanks to nearly 10 miles of groomed trails and open meadows.
Every ski trip comes with an expert guide who will do a quick intro to skiing, and help outfit you with all the gear you need. 
The Adventure Center, aka the Nordic Nook, is outfitted with first-class equipment for all different kinds of skiing and snow activities.
And all of the gear and safety equipment is included with your vacation package price!
Back-country snowshoeing
Back-country snowshoeing is one of our favorite activities so we were excited to sign up for this one. 
Our guide, Sarah, took us on a 1.5 hour snowshoeing tour, since we wanted to make the afternoon feed sleigh run too.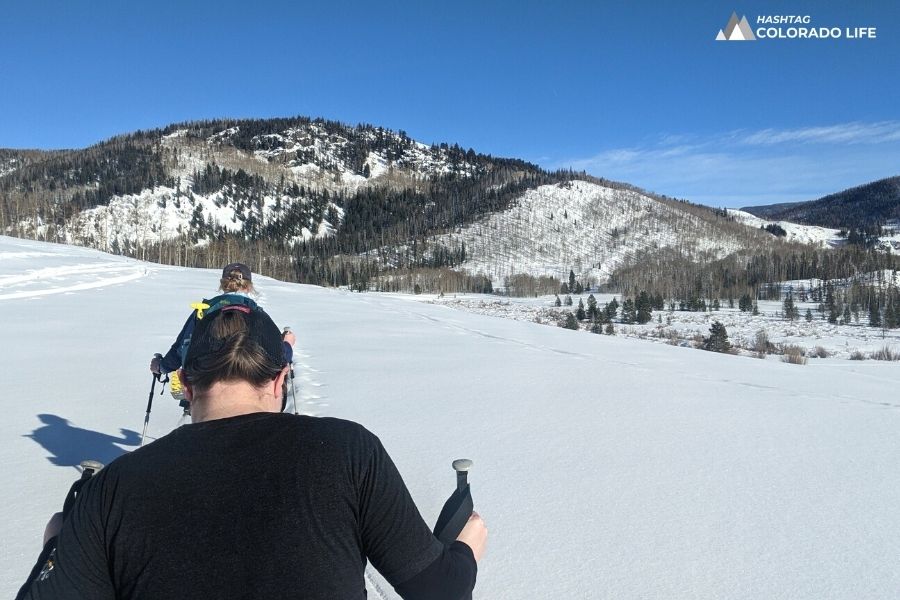 Our tour took us all over the ranch property up-and-down hills, past the Tubing hill and near Hinman Lake.
Sarah pointed out the tracks in the snow, and shared some of the history of the area and local mountains near Vista Verde.
We chose to go off the beaten-paths and even found ourselves up to our waists in deep snow. It was a really fun experience and an excellent workout!
Snow tubing
Who doesn't want to enjoy snow tubing on a private hill overlooking the Rocky Mountains? This too was one of our favorite activities, and we even got the tubing hill all to ourselves that day.
Grab your own tub and feel free to take one of the three tubing paths down the hill.
At the bottom, hook up your tub to the snowmobile and enjoy the ride back to the top to do it all over again.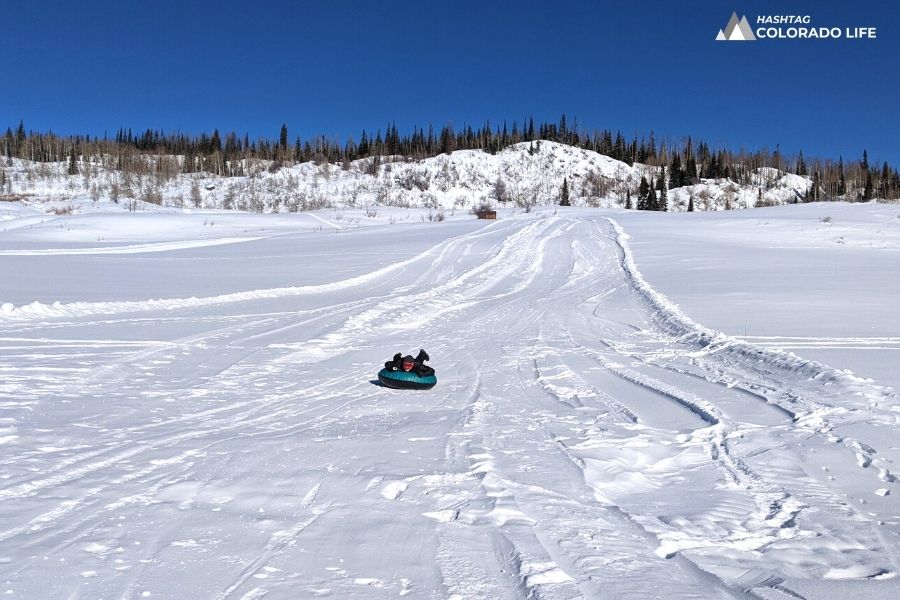 You can control the speed of how fast you want to go too! Grab a rubber-bottom and zoom as fast as you can, or use a standard tube for a slower time.
Fat biking
Vista Verde Ranch has a small fleet of fat bikes ready for adventuring. This is an especially popular sport for families with kids and teens. 
Fat bikes are bicycles with really big fat tires that allow you to easily ride around on the snow-packed trails during the winter months.
Go for a ride on the many trails on the ranch property, or go off site and enjoy the woods in the nearby Routt National Forest. Bring some snacks and go for several hours or customize your trip for a shorter ride. 
Snowmobiling
The ranch offers 2-hour or all-day snowmobiling excursions for everyone in your party. Vista Verde has an entire fleet set aside for guests to use with an expert tour guide.
And there are different types of snowmobiling tours available, depending on your skills and desires.
While nearly every activity available at Vista Verde is included with your package cost, dog sledding and snowmobiling are add-on charges and will cost extra.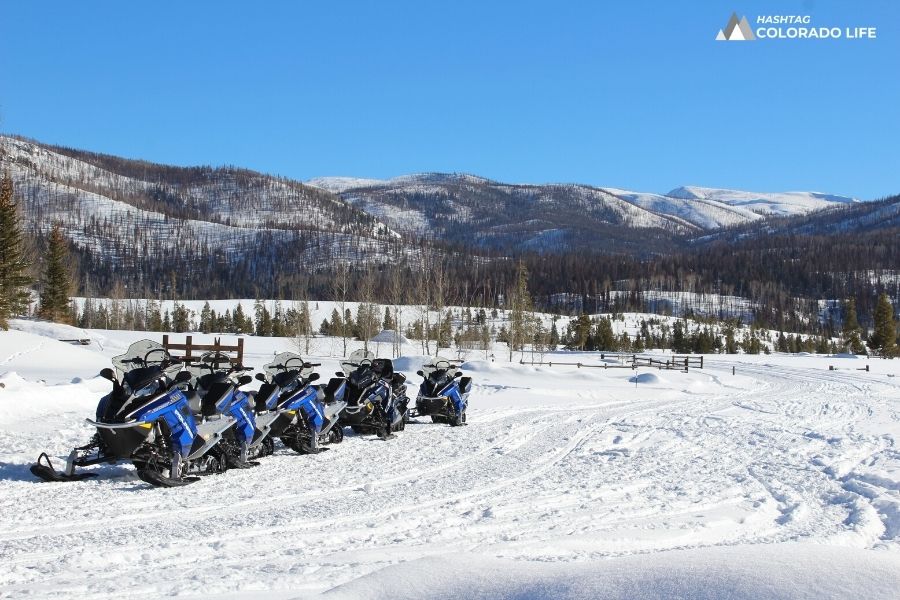 In addition to the activities we participated in, there are loads of other things to do at Vista Verde ranch in the winter.
Dog sledding (costs extra)
Ice fishing
Cooking classes
Archery
Beer tasting (winter only)
Leatherworking classes
Downhill skiing and snowboarding
Massages and spa
As expected, summertime activities are different at the ranch, but still just as awesome!
Trail hiking
Mountain biking
Photography workshop
Fly fishing
Paddle boarding
Rafting
Outdoor yoga
Wine tasting
Every evening during happy hour or dinner time, a staff member will come to your table and confirm the next day's activities. 
So, if you don't know what to choose, just ask! The staff at Vista Verde pride themselves on a 1:1 staff to guest ratio so you'll always find someone available to help or answer your questions.
If you're not sure about the next day's activity, you can change your mind. Even on the day of, they will accommodate most any request.
Booking a stay at Vista Verde Ranch
Vista Verde is open during the summer from June through late October and then as a winter guest ranch from mid-December through late March. They also have an awesome Spring Break season that's available at a small discount.
Generally, spring time is referred to as "mud seasons" so it's not the best time to visit the ranch.
During both of the shoulder seasons (autumn and spring) you will find the Vista Verde closed. 
If you're looking for a romantic vacation getaway, we highly recommend visiting during their Adult-Only. This timeframe is mostly during January and Feb or late summer, August through October.
Or if you have a family with kids, everyone is welcome to visit the ranch during the rest of the year. 
Please note that the minimum age for children is 6 years and older. The staff found that this is the best age to be able to truly enjoy all of the activities.
How much does Vista Verde cost?
The cost of your stay at Vista Verde Ranch varies based on the time of year. There is a 3-night minimum stay requirement, as well as a variety of minimum stays throughout the year.
However, the best guest experience is said to be a 7-night stay, from Saturday to Saturday. This gives everyone plenty of time to experience all of the activities, bond with the horses, and try some amazing food.
Winter and spring break rates are different from summer and autumn rates, due to the varying activities available. 
Here is a breakdown of the current cost to stay at Vista Verde Ranch.
Summer & Autumn 2022 Rates
May 27-31, or June 1-5, 2022

Lodge – $2,495/person 
Cabin – $2,695/person

June 5-11, 2022

Lodge – $4,495/person 
Cabin – $5,195/person

June 11-August 20, 2022

Lodge – $5,395/person
Cabin – $5,995/person

August 21-September 24, 2022 (Adult only)

Lodge – $5,195/person
Cabin – $4,695/person 

September 25-October 23, 2022 (Adult only)

Lodge – $4,395/person
Cabin – $3,895/person 

4-Nights, Sun-Thurs stays Oct 19-13, 16-20, 2022 (Adult only)

Lodge – $2,695/person
Cabin – $2,495/person 

3-Nights, Thurs-Sun stays Oct 13-16, 20-23, 2021 (Adult only)

Lodge – $1,995/person 
Cabin – $2,095/person 

For children 6-13 years old deduct $100/night
Winter & Spring Break 2022 Rates
3-Nights 

Lodge – $1,895/person 
Cabin – $2,095/person 

4-Nights

Lodge – $2,395/person 
Cabin – $2,625/person

5-Nights 

Lodge – $2,795/person
Cabin – $3,095/person

6-Nights

Lodge – $3,195/person 
Cabin – $3,495/person

7-Nights

Lodge – $3,795/person (Best Value)
Cabin – $3,495/person (Best Value)

For children 6-13 years old deduct $100/night
While these rates can look pricey, the cost to stay at Vista Verde in Colorado really is all-inclusive. You won't have to spend another dime on your vacation (unless you want to stay longer!). 
A vacation package at Vista Verde includes:
A private cabin or lodge room
All meals
Unlimited snacks & drinks
Happy hour
Gear rentals
Private hot tub
Daily tours and activities
After checking out you don't have to worry about any service charges or gratuities being added to your bill. The price really is the final price you'll pay!
Our Vista Verde Ranch review
Vista Verde Ranch really took us by surprise, in a great way! We didn't know what to expect, but a 3-day trip was definitely not long enough. We are already planning our next stay!
This private vacation spot is very secluded, but has so many amenities and modern conveniences you don't miss anything. 
Everyday you are treated like family, from the staff to the guests. Everyone is so nice and genuinely interested in how your day was, and the activities you enjoyed.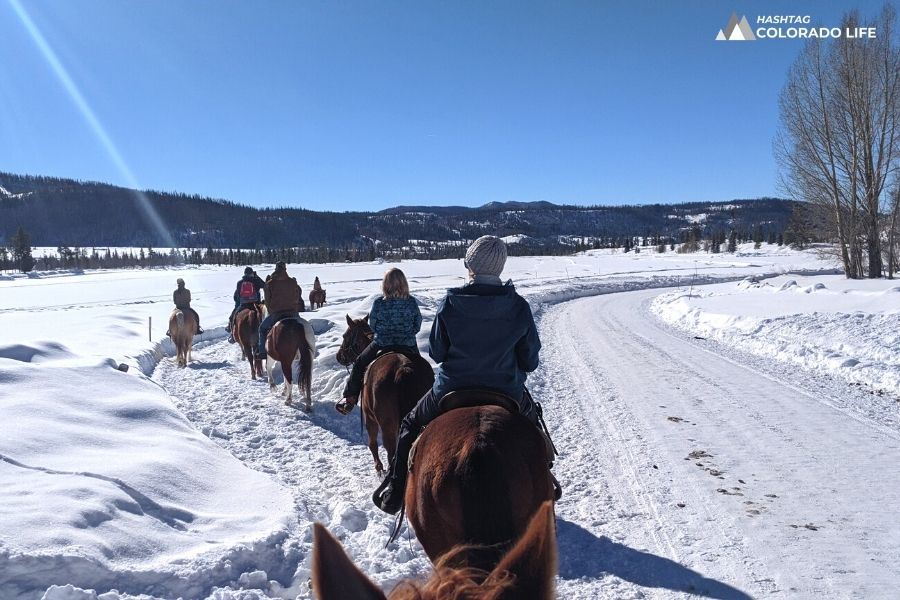 The accommodations were very clean but warm and cozy. And we returned home refreshed and excited to come back after our amazing experience!
Is it worth the price? Yes! And with a 50% guest return rate to the ranch, we think you'll agree.
We want to give a HUGE thank you to Vista Verde Ranch for offering us a complimentary trip in exchange for this review. 
It really is one of the best vacations we've had! And it's the standard going forward for all our other Colorado getaways.
To learn more about Vista Verde for your next vacation, check out their website at vistaverde.com or call 970-879-3858.
And remember if you end up booking a stay at VVR, tell them Hashtag Colorado Life sent you!