9 BEST White Water Rafting Trips in Colorado for Summer 2023
This website may contain affiliate links and we may be compensated (at no cost to you!).
For an unforgettable outdoor adventure in Colorado, whitewater rafting is a must-try experience.
This adventure is perfect for families and first-time rafters who want to enjoy one of Colorado's most popular outdoor activities.
No matter what your skill level or what type of white water raft trip you're looking for, you'll find it here.
There are options for half-day trips, full-day trips, and even overnight white water rafting excursions that include camping.
1. Royal Gorge Half-Day Rafting Trip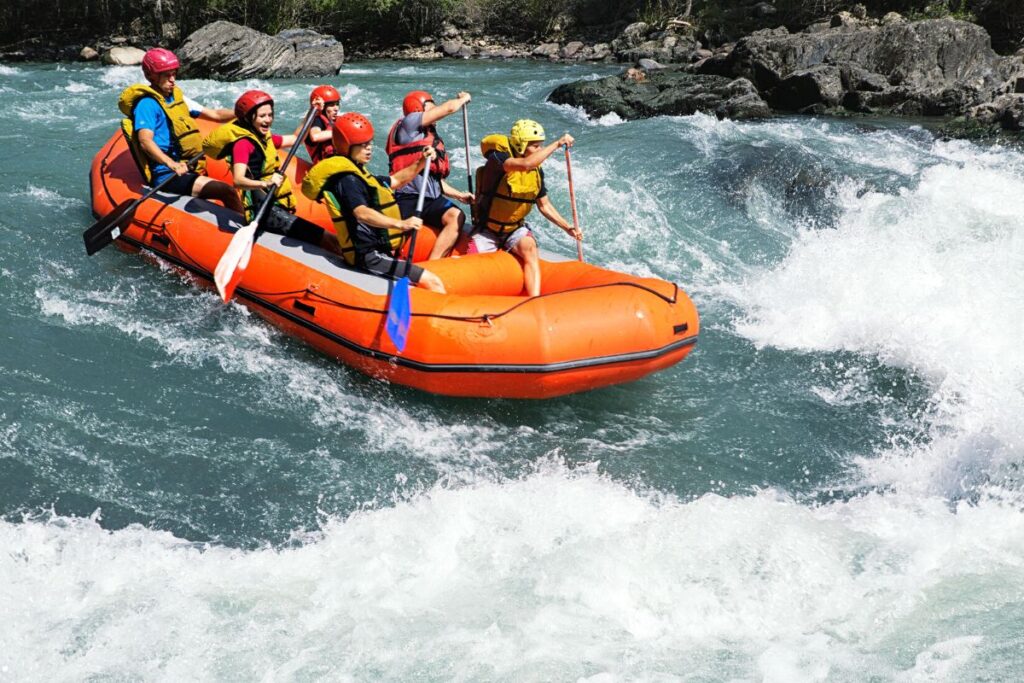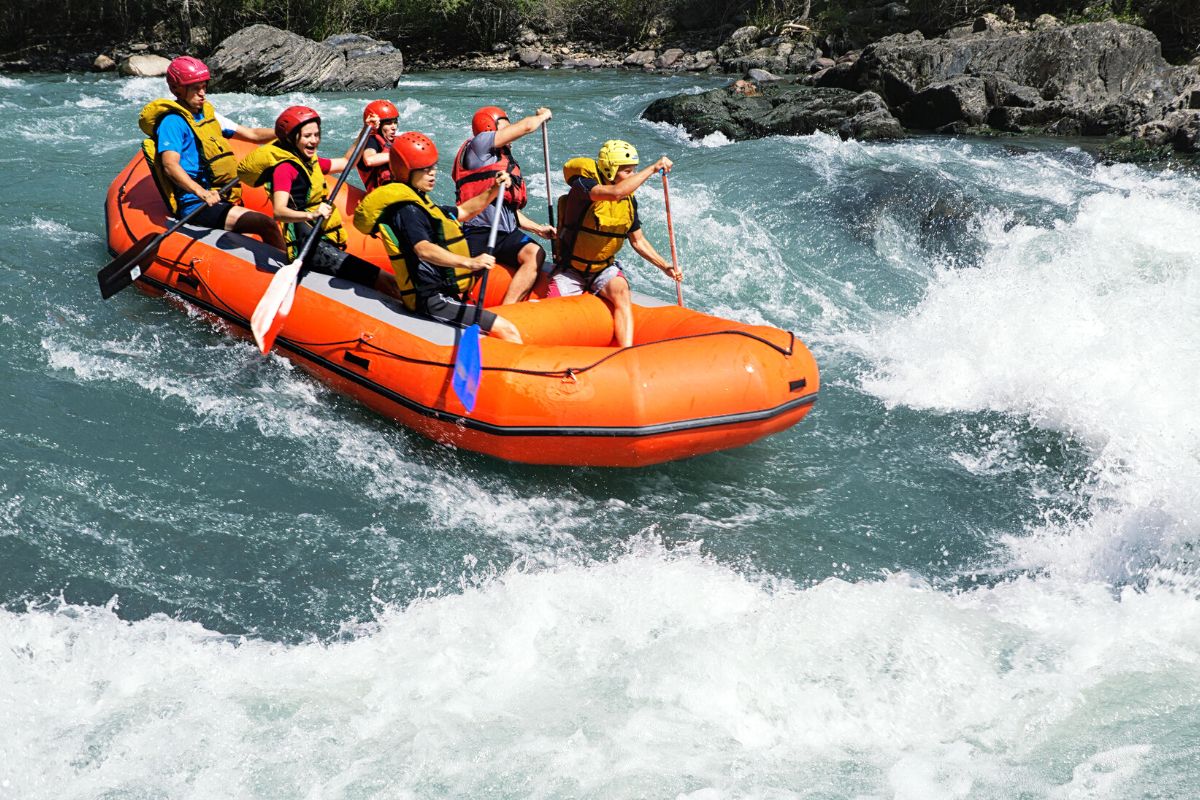 It's no secret that we love visiting this gorgeous area and this 3-hour Royal Gorge whitewater trip is an exhilarating experience.
From riding the Royal Gorge Train to crossing the Royal Gorge Bridge, we've done it all.
So, this half-day rafting trip on the Arkansas River through the Royal Gorge is an easy top pick for us.
As you navigate through a narrow canyon that towers 1,200 feet high and is only 26 feet wide, you'll realize why this location is called the Royal Gorge.
This Colorado rafting trip includes splashing down rapids with names like Sledgehammer Falls while enjoying the beautiful scenery from the comfort of your own whitewater raft.
The journey will also take you under the world-famous Royal Gorge Bridge, offering a unique and unforgettable view of the stunning Colorado scenery.
A professional guide will prioritize your safety and share the history of the gorge as you navigate through it.
Plus, you and your group can choose from multiple departure times to fit your schedule.
This is the perfect way to spend half a day on the water after visiting Canon City. During this white water rafting trip, you may even have the opportunity to spot native wildlife along the riverbank.
Whitewater rafting through the Royal Gorge is an adventure you don't want to miss!
2. Half-Day Family Float in Durango
Experience a fun-filled family-friendly adventure as you float down the Lower Animas River on this half-day Durango whitewater rafting trip.
With the help of an experienced rafting guide, you'll glide over mild rapids and rolling waters of the Animas River.
This half-day Durango rafting tour is suitable for ages 4 and up, making it a perfect option for families.
When booking, you can select a morning or afternoon departure time to fit your schedule.
During this rafting trip, you'll stop on the riverside for a snack and learn about the history and traditions of the area.
The tour includes snacks, river and land access fees, and highly trained trip leaders who have an average of 2,000 river miles under their belts. So, you can be sure that they have your safety and enjoyment in mind.
The rafting equipment is well-maintained and free parking is provided for guests. In addition, a pre-trip safety orientation and free splash jackets and helmets are available if desired.
Don't miss out on this opportunity to enjoy a mild and family-friendly rafting adventure down the Lower Animas River.
Take in picturesque views of Durango from the water and admire the natural beauty of the region south of town.
3. Browns Canyon Whitewater Rafting
Join this exciting whitewater tour from the town of Buena Vista as you raft through the stunning Browns Canyon.
This white water tour offers the perfect combination of alpine scenery, thrilling rapids, and calm stretches for some family-friendly fun.
Plus, it's only located in Buena Vista so it's only about 2 hours west of Colorado Springs, making it an easy and fun day trip.
With the guidance of an experienced rafting guide, you'll navigate through boulders and rapids with names like Toilet Bowl and Big Drop.
During the tour, you'll float down the Arkansas River and zoom through the best whitewater rapids.
Plus, there's plenty of time to admire the breathtaking mountain scenery of Browns Canyon National Monument during the calm stretches.
To ensure your comfort and safety, this 3-hour water tour includes:
Colorado Parks use & access fees
a professional guide
a rafting helmet
free splash jacket
wetsuit use
river shoes
When booking, you can select a morning or afternoon tour time that best fits your schedule.
Don't wait any longer to experience the thrill of white water rafting in Colorado.
This Browns Canyon rafting tour is the quintessential summertime activity in Colorado you won't want to miss.
4. Bighorn Sheep Canyon Rafting Trip
Another popular destination for white water rafting in Colorado is Bighorn Sheep Canyon.
This 10-mile journey down Bighorn Sheep Canyon begins at the Cañon City outpost, located just one hour southwest of Colorado Springs.
With an experienced guide, you'll navigate Class I and II whitewater rapids making this the perfect whitewater rafting introduction for beginners.
No rafting experience is required, and young children starting at six years old are welcome to join.
Before hitting the rapids, your friendly river guide will provide you with all the necessary rafting equipment, including a life vest and helmet. You and your group will also be briefed on safety and paddling techniques.
Then, set off on the currents and navigate through exciting rapids such as Five Points, Double Dip, and Spike Buck.
During quieter stretches, stop to swim in calm river pools and look for herds of wild bighorn sheep, Colorado's official state animal.
At the end of the trip, you will be transported back to the outpost where you can purchase souvenir photos to remember this awesome adventure.
Remember to bring sunscreen, sunglasses, and quick-drying clothes as you will get wet!
Everyone will love the thrill of paddling down the Arkansas River on this half-day rafting trip through Bighorn Sheep Canyon.
5. River Rafting in Glenwood Springs
Glenwood Canyon continues to be a favorite destination for us! We visit this area every year for hiking, whitewater rafting, and soaking in the hot springs.
This guided 3-hour river rafting excursion in Glenwood Springs is a must-do for anyone over the age of five.
Choose between a morning or afternoon departure time and experience the rush of Shoshone Rapids in Glenwood Canyon on the Colorado River.
This rafting trip includes tackling Class III-IV rapids that are a bit more advanced than the beginner level. With such names as Baptism, Tuttle's Tumble, The Wall, Tombstone, Superstition, and more.
Once you arrive at the meeting point, you'll head upriver for about nine miles until you reach the Shoshone Rapids in Glenwood Canyon.
The rafting experience starts with a bang as we navigate the challenging rapids, but the river gradually becomes calmer.
Your knowledgeable guide will share fascinating information about the history of Glenwood Canyon and the mighty Colorado River.
During lower flows, we might even take a break to soak in the natural hot springs that flow directly into the river.
No need to worry about bringing any equipment as it will be provided for you, along with the necessary rafting gear including a life jacket and helmet.
Book this whitewater rafting adventure in the Colorado River and challenge yourself with Class III-IV rapids.
6. Upper Clear Creek White Water Rafting
If you're visiting the town of Idaho Springs for some fun adventures, we recommend booking this whitewater rafting trip on Upper Clear Creek.
This adrenaline-pumping adventure on Upper Clear Creek is just a short drive from Denver, Boulder, Summit County, and Winter Park.
This is an excellent excursion for experienced rafters or adventurous beginners, but only for those 15 years and older.
On this exciting 8-mile rafting trip you will travel through continuous, steep, and technical rapids such as Nomad, Phoenix Holes, and Outer Limits.
While maneuvering through Class III-IV rapids, keep an eye out for Bighorn Sheep, river otters, and deer, which are frequently spotted in the area.
All necessary gear such as a wetsuit, splash jacket, and helmet are included, so you can focus on enjoying the ride.
Don't miss out on adding some wet and wild thrills to your Colorado vacation with this unforgettable white-water paddle in Clear Creek Canyon.
7. Beginner White Water Rafting in Idaho Springs
For a perfect beginner white water rafting experience, try this excursion of the Clear Creek Park.
This guided 3-hour tour is suitable for beginners and families with children and is provided by Downstream Adventures.
After checking in, you'll be able to meet your guides and receive all of the equipment for the journey.
Everything you need including wetsuits, life vests, paddles, and personal drybags are provided, and instruction on basic river safety is included.
Then you'll board the free shuttle vehicle for a short ride to the put-in spot for a fun half-day rafting excursion.
Throughout the white water rafting journey, your guide will provide navigation and fun commentary. They will also share recommendations for other local activities and restaurants.
After cruising through several miles of family-friendly whitewater, the group will reach the take-out point where the shuttle will be waiting.
While this beginner whitewater rafting trip is relatively short, you may want to bring snacks, water, and sunscreen for the adventure.
8. Half-Day Roaring Fork Rafting
Who doesn't enjoy a day out in Colorado's Roaring Fork Valley? And this serene rafting adventure along the Crystal River has it all.
This outdoor adventure tour caters to all adventure seekers, including beginners and families.
You'll join a small group led by a professional guide and navigate gentle Class II and III rapids.
Soak in panoramic vistas while enjoying close-up views of towering Mount Sopris and wildlife sightings.
Throughout the journey, spend time relaxing in the pools for swimming or lounging between thrilling Class II and low Class III rapids. Get ready to experience the infamous Cemetery rapid, which is exhilarating but safe.
All necessary whitewater rafting equipment such as self-bailing rafts, lifejackets, and paddles are provided. Plus, transportation to and from the river is included.
This whitewater rafting tour in Colorado promises a personalized experience with your guide's attention entirely on your small group.
Don't forget to capture your unforgettable memories through photos available for purchase at the end of the excursion.
9. Telluride Half-Day Rafting Trip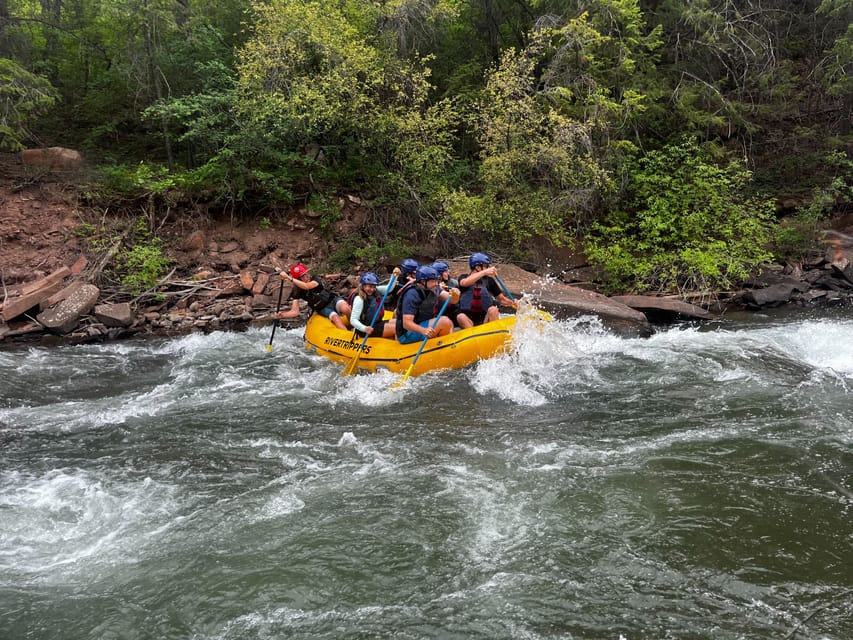 Finally, check out this thrilling half-day rafting excursion down the San Miguel River near Telluride.
Experience the stunning natural scenery as you glide down 10 miles of winding river with expert guides.
This snow-melt-fed river flows through San Miguel and Norwood canyons, providing a unique contrast between lush ecosystems and brilliant red sandstone canyons.
This 4.5 hour rafting tour covers the most dynamic section of the river. The trip starts just 5 miles northwest of Telluride and covers approximately 10 river miles, featuring Class I-III whitewater rapids.
You will be provided with personal flotation devices, safety orientation, and transportation to and from the river. Plus, enjoy complimentary water and snacks during your adventure.
Get inspired by the breathtaking narrow twisting waterway and towering red-rock walls of this Colorado gem!
Is white water rafting in Colorado safe?
Yes, a white water rafting trip in Colorado is relatively safe thanks to several factors. Companies will provide all necessary equipment, and the rivers cater to all levels of experience.
Just be sure to choose the best river for your personal experience and what you're most comfortable with.
Plus, you'll be paired with expert guides who will provide all the safety training you need so you don't have to worry about being safe on the water.
Some whitewater trips in Colorado have minimum age requirements for families with young children. Be sure to adhere to them when booking your tour.
Where is the best spot for white water rafting in Colorado?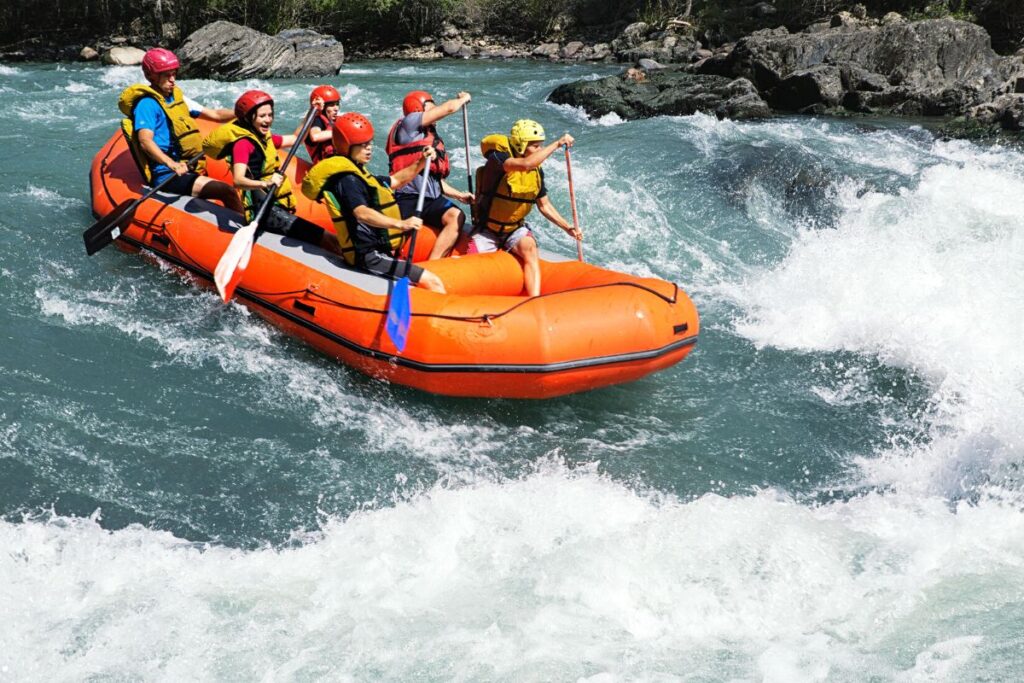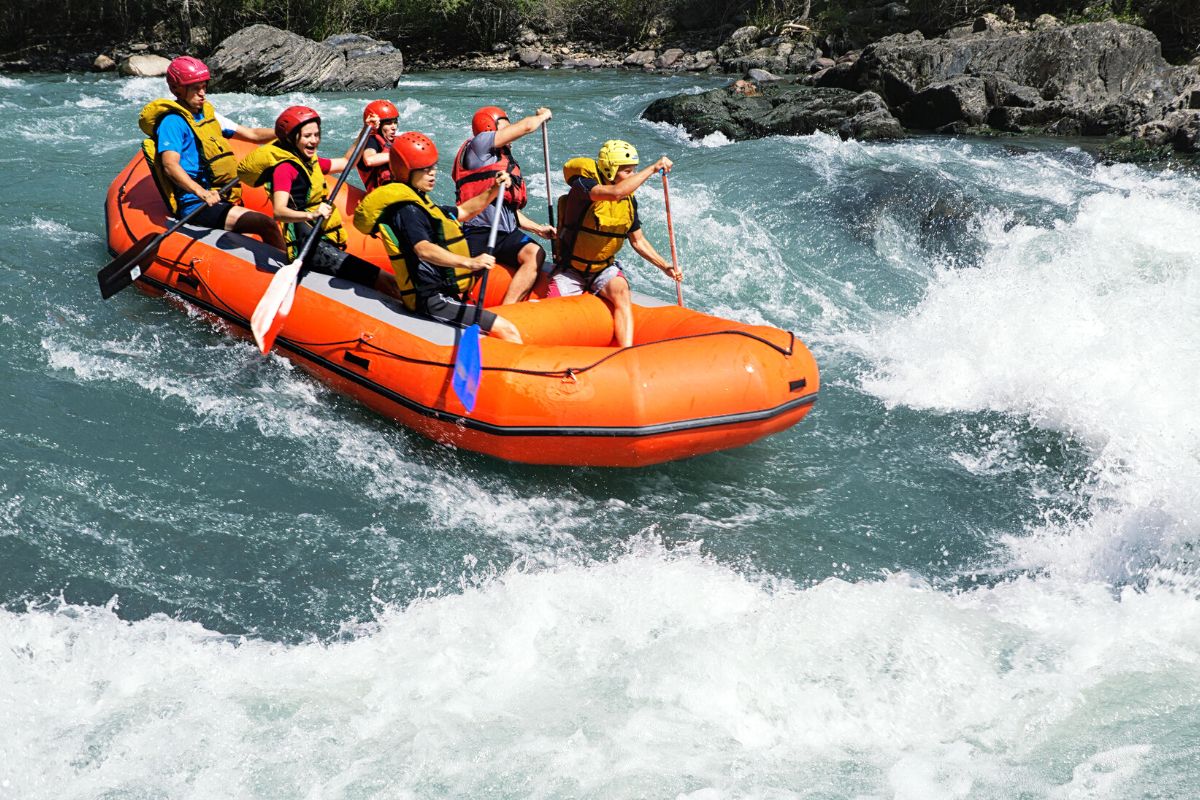 Colorado is home to several popular and thrilling whitewater rivers, which are a result of the epic Rocky Mountains.
These commercially rafted rivers include the Arkansas River, the Animas River, Clear Creek, the Colorado River and many others.
But the best spot is probably Clear Creek in Idaho Springs as it's only about 30 minutes from Denver and perfect for beginners and families.
However, it also caters to experts who want to enjoy a fun day out on the river, and it's much less touristy than some of the other tours on this list.
Colorado's most popular rivers offer an unforgettable experience and variety of classes of rapids. It's perfect for beginners to adrenaline junkies and families looking for a thrill.
When is the best month to go white water rafting in Colorado?
The primary season for whitewater rafting in Colorado is from June to September, depending on the weather conditions.
While this can be a busy tourist season, this is when the water level is the best for kayaking and rafting.
Going whitewater rafting too early in the season could result in fierce conditions due to rapid snowmelt.
Additionally, the Colorado snowmelt runoff creates quite cold river waters so it's best to go whitewater rafting on a hot summer day.
For the summer adventure of a lifetime you can't go wrong with white water rafting in Colorado. This is a great trip for anyone looking to spend a full day on a scenic river float in central Colorado.