19 Fantastic Things to Do in Vail This Summer
The content of this website may contain affiliate links and we may be compensated (at no cost to you!). Thank you for your support!
While Vail is famous for its snow skiing, there's much more to do in this beautiful mountain town than just hitting the slopes.
Discover the best things to do in Vail, whether you are looking for a staycation or visiting from out of town. 
The beautiful Colorado ski town of Vail has something for everyone to enjoy.
Whether you are looking for great vacation options that the whole family can enjoy or just want the perfect staycation located conveniently close to home. 
Vail offers many outdoor recreation options beyond skiing and snowboarding, including whitewater rafting, fly fishing, and more.
Love local art? Discover Vail's best and most inspirational museums. Here are some of the best things to do in Vail in the summer or winter.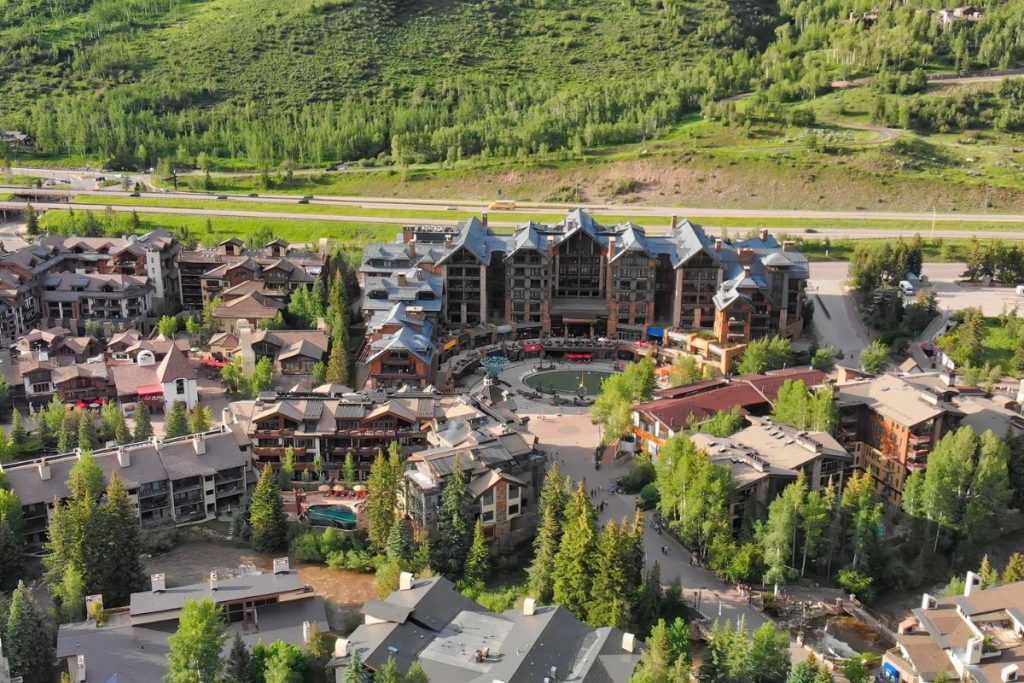 1. Segway Tours at Vail Village
Start your adventure in Vail with a fun Segway tour of Vail Village. Learn from a local guide on how to navigate your personal transporter and then set off to see some of Vail's best attractions.
This 90-minute tour includes a circuit around Vail and learning about the history of the area. Vail Village is a uniquely different place compared to other Colorado ski resorts.
Local stops on your Segway tour include:
Ford Park
The Betty Ford Alpine Gardens
Gore Creek Path
Historic Vail Village
Plus, you'll find some insider tips, discover hidden sights, and scope for commentary and photo opportunities.
This Segway tour of Vail Village is great fun for the whole family!
2. Vail Scavenger Hunt
For around $12 per person you and your family can explore the city of Vail with a fun and interactive scavenger hunt.
This 2-hour will help you get to know the hidden corners of Vail while taking in the gorgeous scenery.
Solve challenge clues, work on puzzles, and check out the town's popular landmarks as well as lesser-known spots.
You can pause the game for a bite to eat, or take a break any time. Then just restart at your own pace.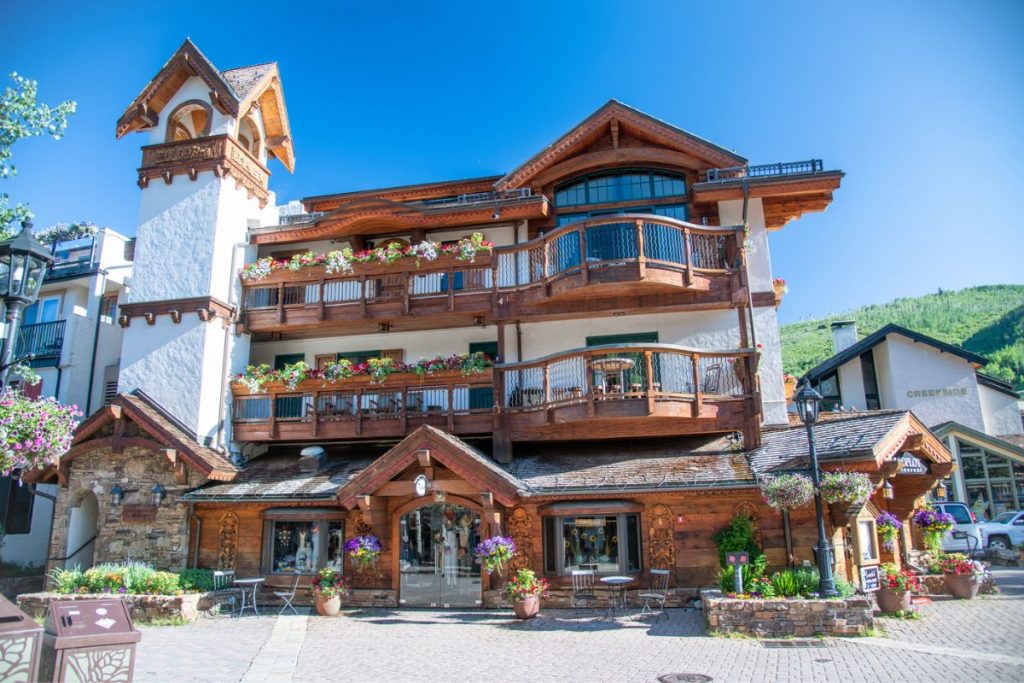 This is a great summer activity in Vail that offers skill levels for the whole family to enjoy. Plus, it's great for small groups of friends. 
After the scavenger hunt is over you'll get digital copies of your hunt photos to keep forever.
Click the link to book your Vail Scavenger Hunt adventure.
3. Betty Ford Alpine Gardens
Situated at over 8200 feet, the Betty Ford Alpine Gardens is considered the highest elevated botanical garden in the world. 
This gorgeous garden specializes in high altitude and mountain plants native to alpine areas. These are plants that can be found nowhere else in the world. 
The garden boasts a wide variety of botanical displays and beautiful arrangements which showcase the natural splendor of Colorado's magnificent landscape.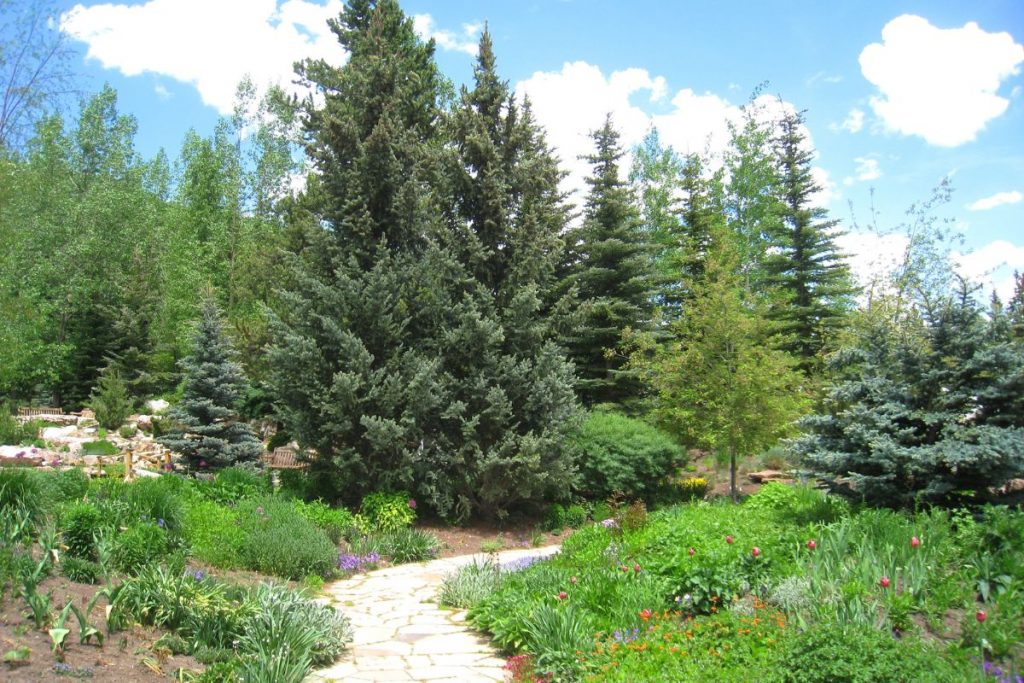 It is also home to many nearly extinct alpine plants. The Betty Ford Alpine Gardens propagates endangered plants from seed to reintroduce them to the landscape. 
Plus, it's also dog friendly, so feel free to bring your four-legged friend along for the trip!
4. Lionshead Village
If shopping is more your style, you'll want to visit Lionshead Village in Vail. This is where many boutiques and upscale shops are waiting to be explored. 
Lionshead Village is very pedestrian friendly, so you can walk around this quaint little village and explore the many shops and restaurants. 
Are you an architecture lover? If so, you must visit Lionshead Village and see the many Swiss-style buildings.
You'll feel like you've been magically transported to Europe without boarding an international flight.
5. Eagle Bahn Gondola
After strolling through Lionshead Village, take the Eagle Bahn Gondola up the mountain. It is one of the best things to do in Vail during summer. 
This gondola ride takes you and your group up over 10,000 feet as you ascend from the bottom of the beautiful Lionshead Village. 
Once you reach the top of the mountain, you'll enjoy a breathtaking bird's eye view of Vail.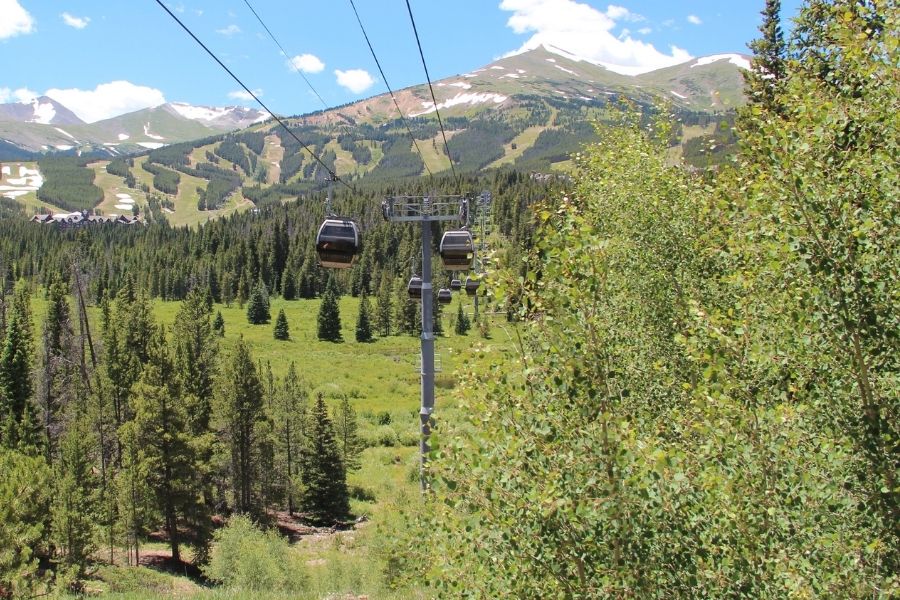 Allow yourself a few moments to take in the beautiful scenery once you've reached the top, and then enjoy the rest of what this mountain peak has to offer. 
At the summit, you can explore one of the many popular hiking trails or enjoy a delicious meal at one of several excellent restaurants.
6. Vail Brewing Company
There's nothing better than an ice cold brew after a long day of hitting the ski slopes or hiking the trails. 
Vail Brewing Company is a small independent veteran-owned brewing company that has been serving the local community since 2014. 
Vail Brewing Company consists of two venues; the Eagle Vail Brewery and the Vail Village Tap Room.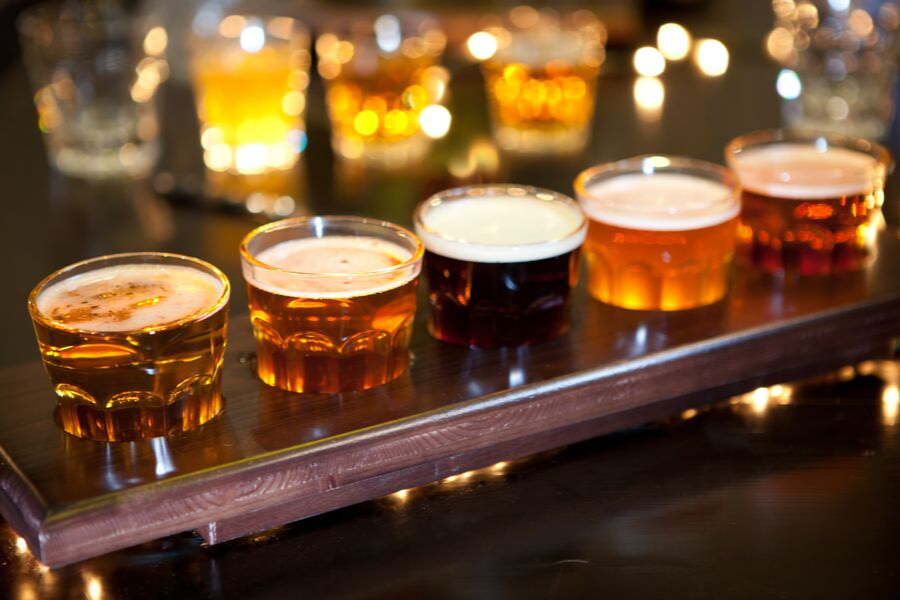 Stop by and check out their great selection of on-tap brews and "by the can" craft beers.
Be sure to take a peek at their event calendar, as they regularly feature great live music and entertainment from local performers.
This is also a dog-friendly establishment so dogs are allowed outside on the patios with leashes. 
7. Ice Skating in Vail Village
Are you looking for other fun outdoor activities near Vail mountain that don't involve skiing or hitting the slopes?
Why not go for an afternoon of good old-fashioned ice skating at Vail Village? There are several quaint ice skating rinks in the village. 
The Alderhof Ice Skating Rink, located at the Arrabelle at Vail Square, is perfect for families and is open all winter long. 
Other great ice skating options in Vail include the Solaris Ice Rink and the Dobson Ice Arena.
8. Vail Ski Resort
Like many visitors to Colorado, you're here to experience some of the best skiing opportunities this country has to offer. 
Vail Ski Resort is the second-largest ski resort in the United States.
It is considered one of the premier ski resorts in the world and hosts thousands of international tourists every year.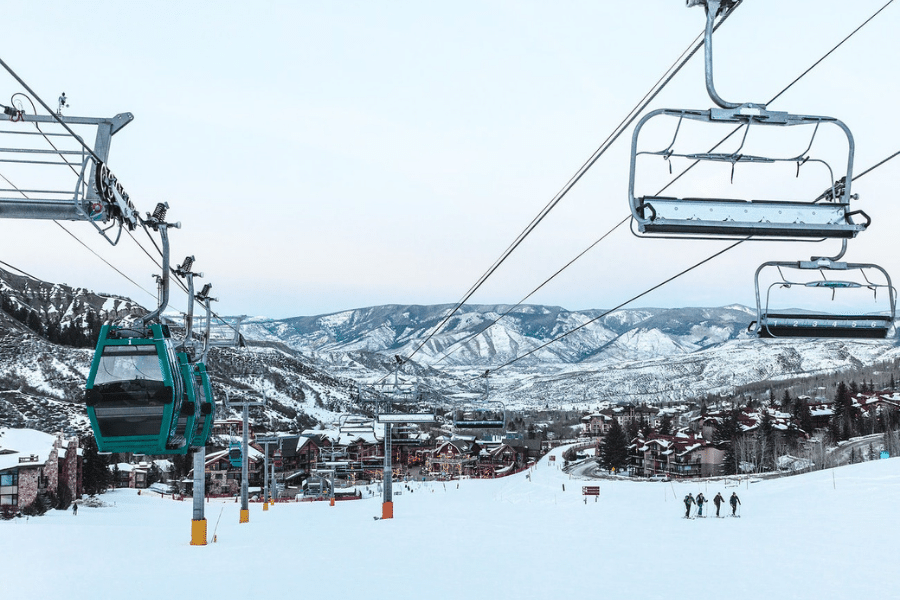 Whether you consider yourself a seasoned pro or have never set foot on a ski slope, there is something for everyone to enjoy at this Vail ski resort. 
It is perfect for almost all budgets, thanks to the array of options. This resort is a beautiful destination for families looking for a fun staycation. 
9. Vail Nordic Center
For another great skiing or snowshoeing opportunity, stop by Vail Nordic Center. 
Located at Vail Golf Club during the winter, Vail Nordic Center is your one-stop destination for breathtaking views of the Gore Mountains. 
Here you can also get rental gear for all of your winter outdoor activities. And be sure to grab a bite to eat before you hit the slopes at Grill On the Gore.
10. Historic Vail Nature Center
If you're in the mood for a leisurely backcountry hike, swing by Vail Nature Center during your trip to Colorado. 
Their knowledgeable and friendly staff offers free guided nature inside the 7- acre property. Plus there are additional nature activities for kids of all ages all day. 
If you're a local, check out their early childhood programs and summer camp opportunities to enrich your child's mind and instill a love for nature conservation.
11. Colorado Snowsports Museum
Colorado has long had a reputation as the premier destination for extreme winter sports.
But it is also home to several excellent museums and family-friendly activities too. 
Learn all about Colorado's winter sports history and the trailblazers who paved the way for today's professional athletes when you visit the Colorado Snowsports Museum.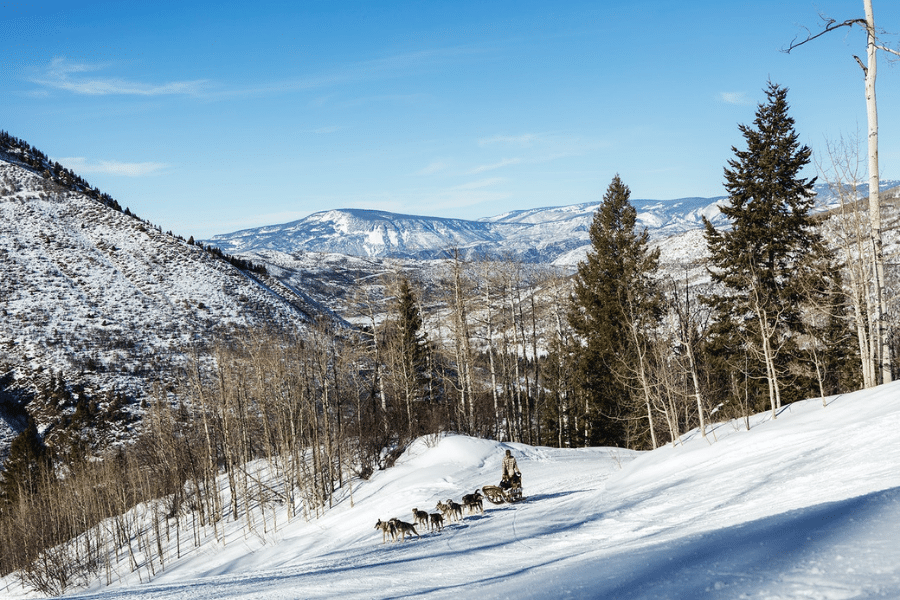 Explore a timeline of Colorado's geography and the vital role it plays today.
Starting from the rugged mountain terrain that keeps the 10th Mountain Division battle-ready to the awe-inspiring elevation of Colorado's highest peaks. 
You'll enjoy a walk through time when you spend an afternoon at this incredible museum with your family.
12. Art in Vail (art walk)
Vail Valley is not only known as the premier destination for winter sports, but it's also home to some of the region's best modern art. 
Between hitting the slopes and grabbing a pint, be sure to stroll through the streets of Vail.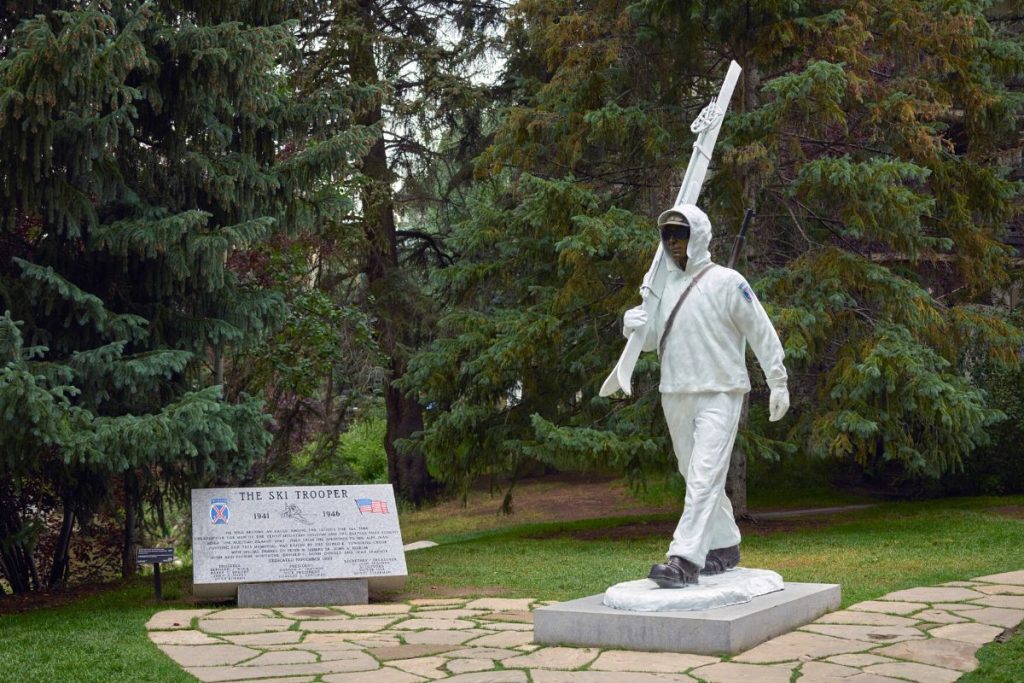 Check out over 60 works of art scattered throughout the village. 
Whether you enjoy murals, sidewalk art, or other mediums, you'll find something for everyone during this free one-hour walking tour.
13. Gerald R. Ford Amphitheater
Enjoy memorable summer concerts and other special events all year round. 
Check out Vail Dance Festival in July and August, where you'll experience awe-inspiring performances from world-renowned dance companies. 
If you're in Vail and in the mood to enjoy world-class entertainment against a beautiful Rocky Mountain backdrop, then be sure to check out Gerald R. Ford Amphitheater.
14. Gore Valley Bike Trail
Vail is home to some spectacular bike riding trails that riders of all ages will surely enjoy. 
Enjoy Colorado's natural beauty and splendor when you take a twelve-mile bike ride alongside sparkling streams and rolling hills at Gore Valley Bike Trail.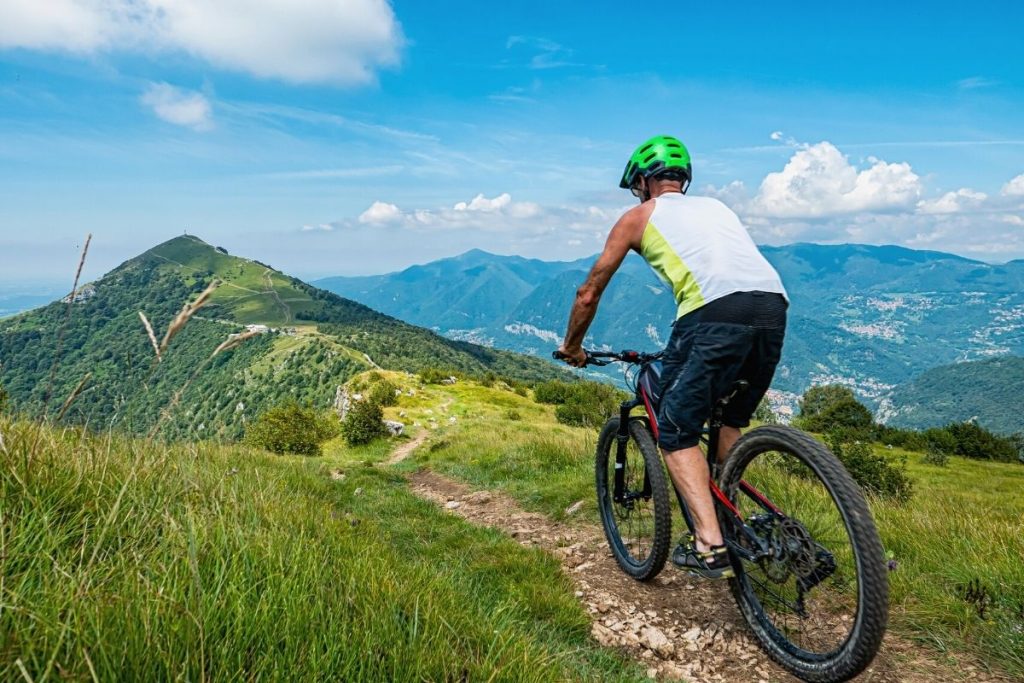 You'll also wind through recreational areas and enjoy a scenic view of the village.
This easy-to-navigate trail is the perfect way to start your morning or end your day of shopping and sightseeing. 
If you're in the mood for a more challenging option, then you're in luck. Gore Valley Bike Trail eventually connects with Vail Pass Trail, considered a moderate to advanced route.
15. Vail Whitewater Rafting
Lie back and enjoy a leisurely float down the river, or grab a few oars and some buddies for a heart-pounding whitewater rafting adventure.
Does your family enjoy floating the river and whitewater rafting? 
If so, stop by Lakota Guides and choose from a wide variety of river rafting experiences on the Eagle River, Arkansas River, Glenwood Canyon, or Upper Colorado.
16. Vail Farmers' Market
One of the best things to do in Vail in summer is to explore homegrown foods and unique handmade finds at Vail Farmers' Market. 
This farmer's market is open during the weekends from June through October and boasts over 148 tents and 40 food vendors. 
Here you can sample locally-sourced honey, handmade leather goods, or find new accessories for your furry friends.
At Vail's Food Market you'll find everything you need and more. The Vail Farmers Market is the perfect place to pick up some last-minute souvenirs and gifts too!
17. Booth Falls Trail
Hiking in Vail is a popular activity in the summer for good reason. Some of the best hikes in Vail include Deluge Lake and Booth Falls, which are both moderate hikes with gorgeous scenery.
Along the Booth Falls Trail is the aptly named Booth Creek Falls, which is a 60-foot waterfall along the banks of Booth Creek. 
The journey to see the waterfall requires a strenuous 2 mile hike but is very rewarding once complete.
The trailhead begins at Booth Falls Road and provides a small parking lot that typically fills up early in the day.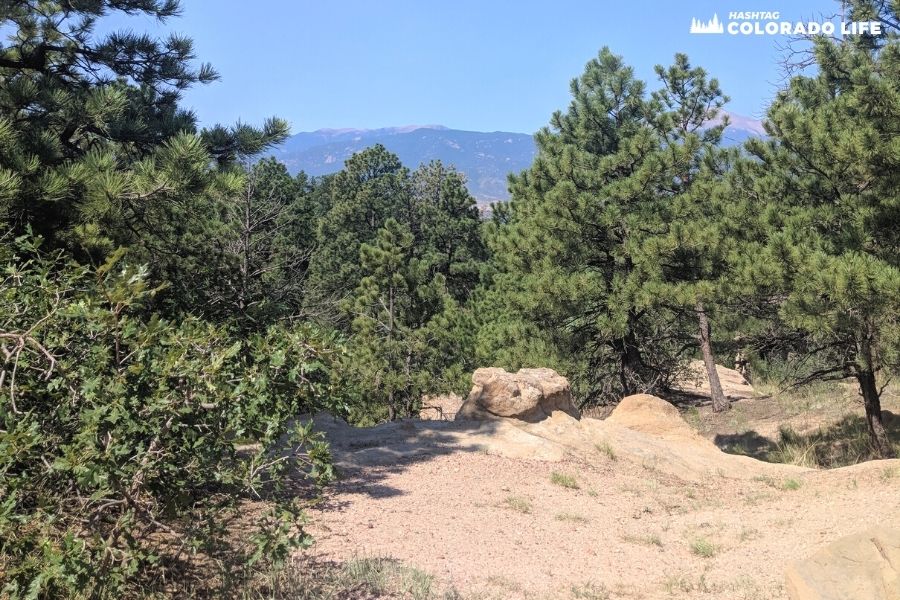 After a steep start, the trail follows alongside Booth Creek while passing through aspen forests and fields of Colorado wildflowers.
Due to the elevation and the steady climb of this trail for the first mile, it's recommended only for individuals who are moderately fit and comfortable with steep hikes.
The Booth Falls Trail is about a 1.8 mile hike, but making the trek to see Booth Lake and the Falls will add another 2.4 miles round trip.
18. Forest Flyer Mountain Coaster
Another fun summer activity to do in Vail is to ride the Forest Flyer mountain coaster. Kids and adults will love riding inside an individual car where you control the brakes and speed. 
Then zip down the mountainside 3,400 feet while winding in and around beautiful trees and rocks.
Riders must be at least 38 inches tall to ride the Forest Flyer, so your kids may need to ride along with you.
Once at the bottom, the coaster motors you back to top where you can view even more epic Rocky Mountain scenery.
19. Piney River Ranch
Located on the edge of Piney Lake within the Gore Range, sits the picturesque Piney River Ranch.
This 40-acre retreat offers spectacular views and gorgeous scenery that's unmatched anywhere else in the state.
The nearby Piney Lake makes a beautiful palace to visit for the day and includes activities like canoeing, fly fishing, and paddleboarding. 
Or enjoy an easy hike along Upper Piney Lake Trail with your friends and family. Not to mention there is an on-site restaurant and a communal fire pit available for visitors.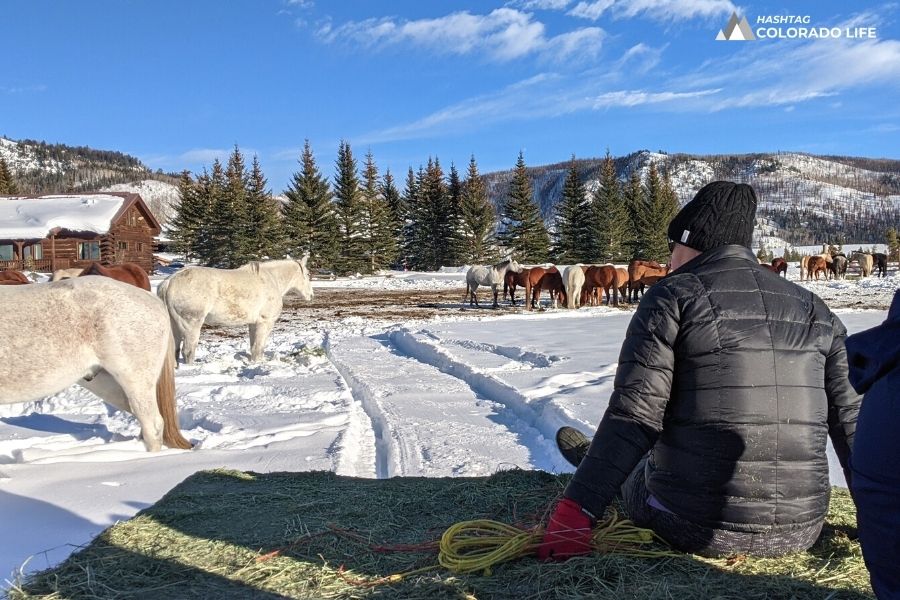 A popular roundtrip hike is the Piney River Falls trail which is a family favorite. This 6-mile hike showcases incredible views of the Colorado Rockies.
Plus, you'll enjoy an alpine mountain lake, aspen forest, and be rewarded with a beautiful waterfall at the end.
And if you're looking for one of the most beautiful wedding venues in Colorado, check out Piney River Ranch. 
Things to do in Vail all year long
With beautiful weather, breathtaking scenery, and friendly local communities, it's easy to see why Vail, Colorado is one of the best places to vacation in the country. 
Colorado is home to world-class ski resorts, unique shopping experiences, breathtaking artwork, and fabulous live entertainment. 
No matter what you like to do, you'll find an endless array of options to enjoy in Vail for your next annual vacation. 
If you're looking for a fun new vacation destination to enjoy with your family this year, consider a memorable trip to Vail.