9 Best Colorado Winter Vacations for Non-Skiers
This website may contain affiliate links and we may be compensated (at no cost to you!).
Yes, Colorado is known for incredible skiing and snowboarding resorts. But what if you don't want to ski? Not everyone who visits the state ends up hitting the slopes.
So, what are some of the best Colorado winter vacations for non-skiers? Colorado's mountain towns have plenty of fantastic activities to offer that aren't just skiing.
From ice fishing over a frozen lake to natural hot springs coming out of the ground, there are no shortage of things to do in Colorado if you don't want to ski.
Use this guide of the best ski resorts to plan your next Colorado winter vacation that's both fun and memorable.
1. Keystone Resort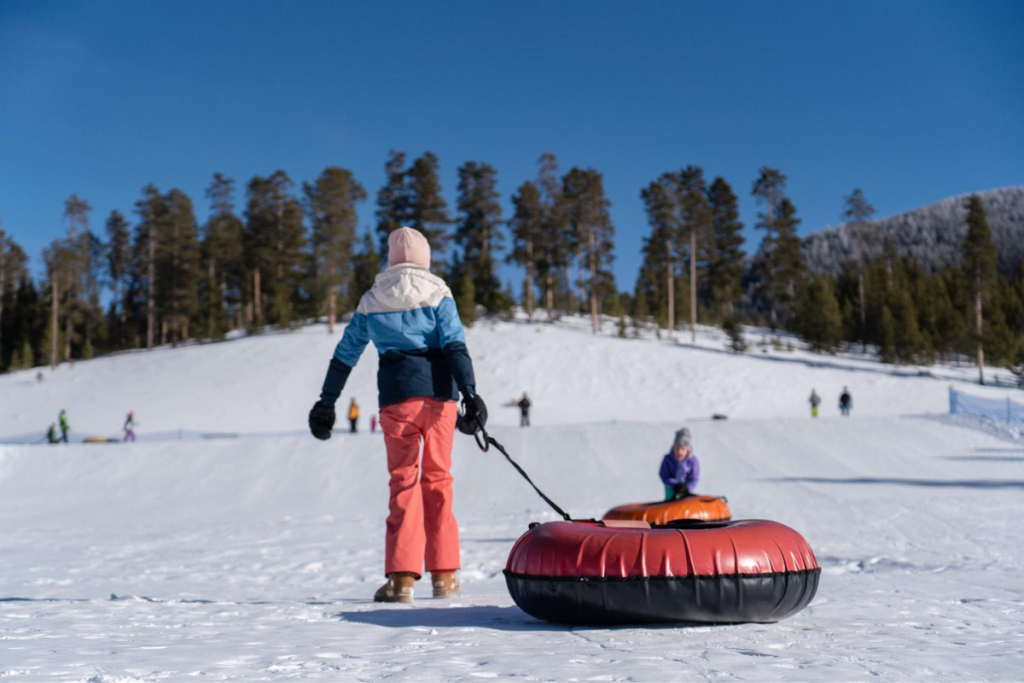 While the Keystone Ski Resort is a winter destination known for skiing and snowboarding, it also offers access to other fun winter activities.
In fact, many consider Keystone to be a playground for winter vacations and outdoor activities. It even has some of the best snowmobiling trails in Colorado.
At the Dercum Ice Skating Rink, visitors can spend a fun day on the ice. Keystone itself offers dining options like a fondue restaurant, soup bistro, and the Four-Diamond Alpenglow Stube.
Or to relax and indulge, head to the Keystone Spa & Salon for massages, scrubs, micro-treatments, and more.
Enjoy a scenic sleigh ride through Soda Creek Valley, or take a gondola ride to 11,640 feet for breathtaking mountain views.
Kids will love visiting the snow fort on Dercum Mountain while adults will enjoy elevated dining. The Family Adventure Tour offers a heated snowcat ride to the Erickson and Bergman bowls at Keystone.
And if you need even more winter entertainment, take a short drive to Frisco for more excitement. The Frisco Adventure Park has snow tubing, a brewery, sushi restaurant, and shopping.
2. Breckenridge
It's no secret that Breckenridge is one of our favorite Colorado vacations for non-skiers. The town offers a unique blend of fun, history, cultural offerings, bars, and restaurants that attract both locals and visitors.
In the winter months, Breckenridge snow tubing is a popular activity, as well as DIY sledding or snowshoeing. This ski town is a winter wonderland with so many things to do, you won't know where to start.
Breckenridge has a lively dining and nightlife scene, with many bars and restaurants featuring live music.
For a taste of history, visit the Gold Pan Restaurant & Bar, established in 1879 during the Civil War.
Breck has its own Arts District, featuring drop-in classes, musical performances, and events in ceramics, drawing, printmaking, metal-smithing, textiles, and painting.
This small mountain town is home to the Western Slope's oldest year-round theater company, Backstage Theatre. This venue stages productions such as A Christmas Carol and The Great Gatsby.
The town's Historic District, one of the largest in Colorado, offers walking tours and museums with views of the Tenmile Range.
And don't miss the annual Breckenridge International Snow Sculpture Championships. This is where skilled snow sculptors from around the world come to create stunning works of art, all made from snow and ice.
If you're in town early, join in the winter festival of Ullr Fest, one of the wildest parties in the Rocky Mountains.
3. Steamboat Springs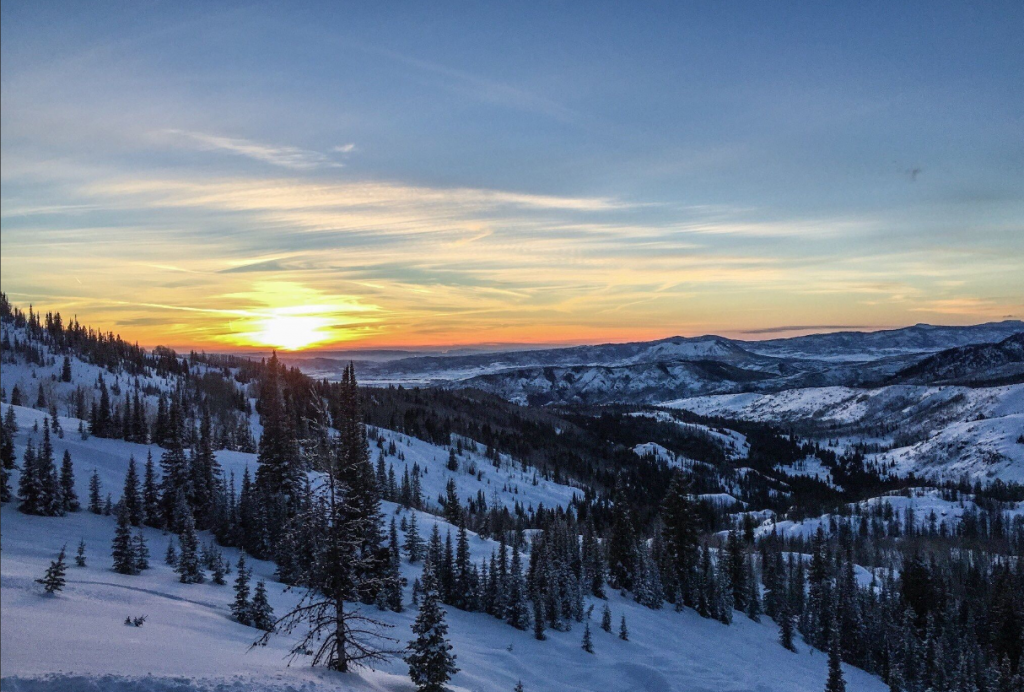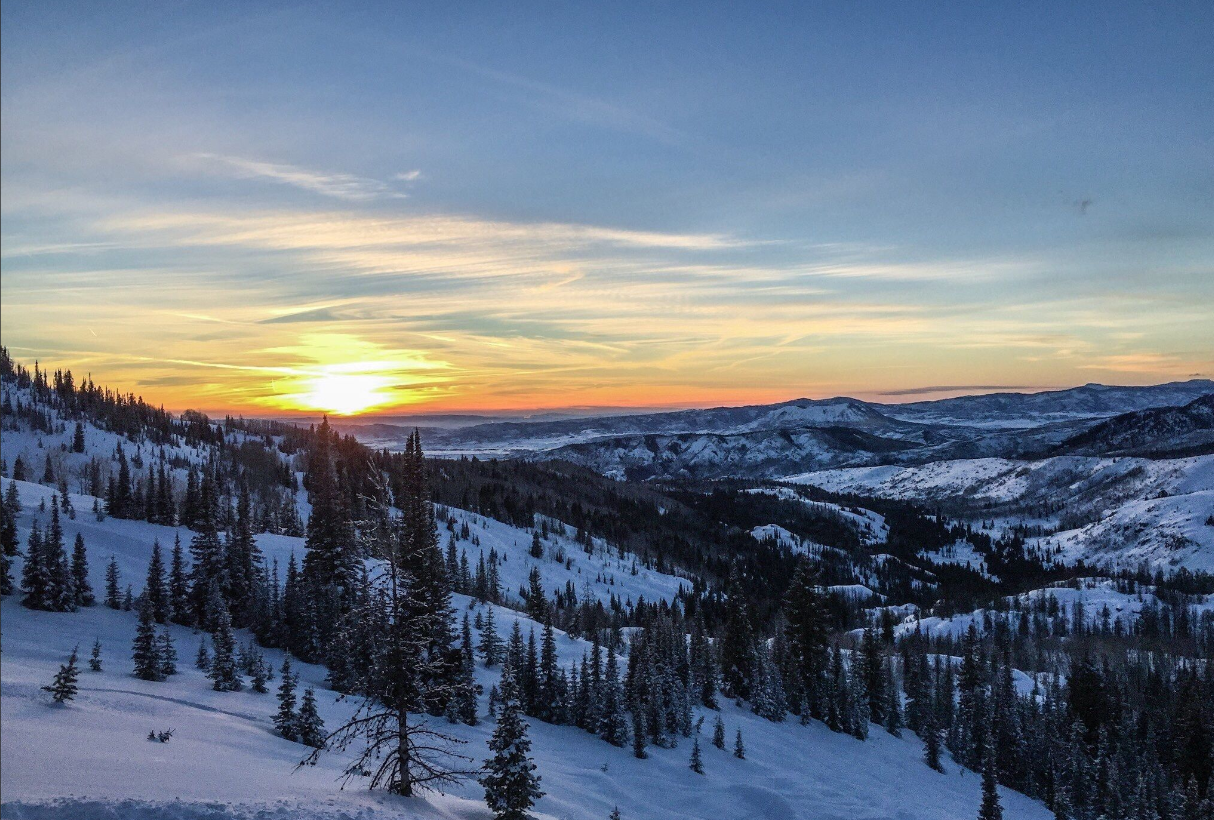 Aside from skiing, Steamboat Springs has many different winter vacation activities to offer. Unlike some ski towns with a reputation for being snobbish, Steamboat Springs is known for being friendly and inviting.
One of the main things to do near Steamboat Springs is soak in the naturally hot mineral spring waters. Head up to Strawberry Park Hot Springs, just 20 minutes from Steamboat Springs.
While Colorado has many hot springs, Strawberry Park is especially notable for its location in a forest surrounded by trees.
After soaking in the natural beauty of Strawberry Park Hot Springs, check out Storm Peak Brewing Company. Here you'll find locally and globally loved beers, served in two locations in town.
Another non-skiing winter activity available in Steamboat Springs is horse-drawn sleigh rides.
The area is known specifically for fun and exciting cowboy sleigh rides, complete with delicious home-cooked meals. Enjoy sleigh rides and dinner just like the cowboys used to do it!
Get a once-in-a-lifetime adventure by trying dogsledding. Local companies offer authentic dog sledding experiences where you can even learn to "Mush your own team" of Alaskan Huskies.
If you're in Steamboat Springs during the annual Winter Carnival, be prepared for a blast of fun. The event, founded over a century ago as a way for locals to cope with winter boredom.
The Winter Carnival features fireworks, a parade, and horses pulling people on shovels down the main street, along with skiers jumping through fiery hoops.
4. Winter Park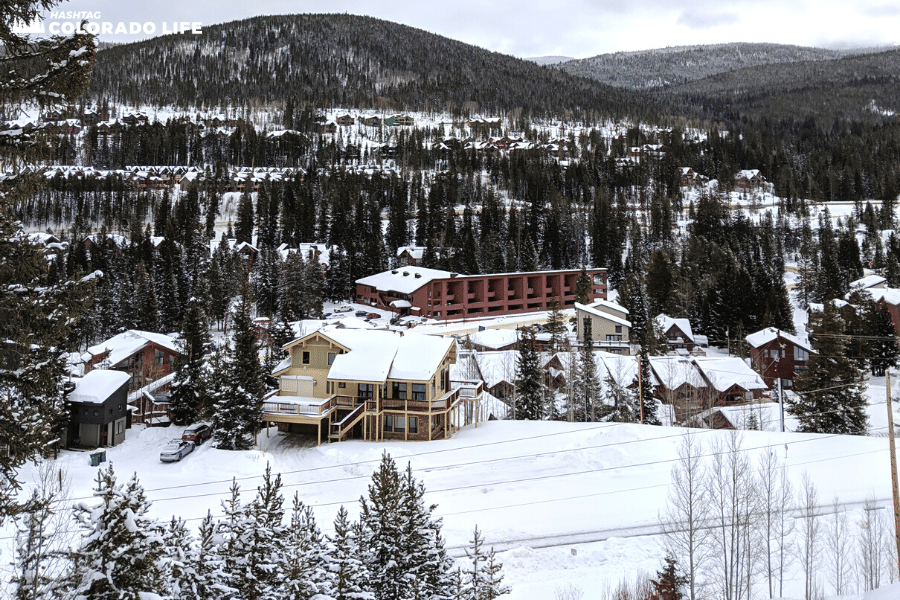 Winter Park Resort has been voted America's Best Ski Resort for two consecutive years. But the fun doesn't have to stop if you're not a skier.
Adventurous non-skiers will love taking a scenic snowcat tour through the Arapaho National Forest. Or indulge in a unique winter mountain experience by going snowshoeing.
Arapaho Forest has over 1.7 million acres available for exploring. You can also enjoy an exciting experience by going on a snowmobiling tour through the area.
After your adventure, take a gondola ride up Winter Park Mountain for lunch, drinks, and live music. The Sunspot Mountaintop Lounge, located at an elevation of 10,700 feet, offers stunning views of the Continental Divide.
And if you love craft beer and cozy spaces, visit the Hideaway Park Brewery taproom. If you happen to be in Winter Park for the Venture Out Fest, you'll find live music, ax throwing, dog sledding, and fireworks to enjoy.
History lovers will enjoy visiting the Cozens Ranch Museum to learn about pioneer life in Colorado in the late 1800s.
For some local cuisine, head to Fraser Valley Hot Dog, a local favorite for gourmet hot dogs and other meats.
5. Crested Butte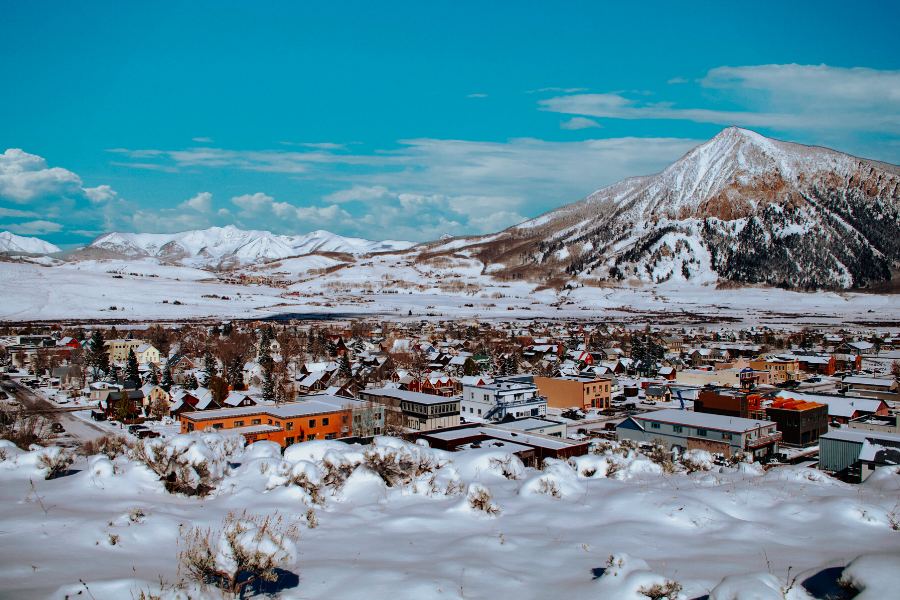 Crested Butte is often considered one of the most scenic spots in both Colorado and North America. This quaint mountain town is great for spending time with family, both on and off the slopes.
Elk Avenue is a colorful and fun-filled main street thanks to charming shops, local art galleries, and unique boutiques. This area has been designated by Colorado as one of the 17 Creative Arts Districts in the state.
Get a captivating window into the past by visiting the Crested Butte Mountain Heritage Museum.
Uncover the history of coal mining, railroad life, and Colorado's wild west. It's one of the best museums in Colorado!
A stop at Townie Books is a must for adventurous readers who want to share in a passion for the love of literature.
Crested Butte features many different winter vacation ideas for non-skiers, including cross-country skiing, ice skating, snowshoeing, fat biking, and sleigh rides. It offers fantastic things to do for the whole family, all year long.
6. Vail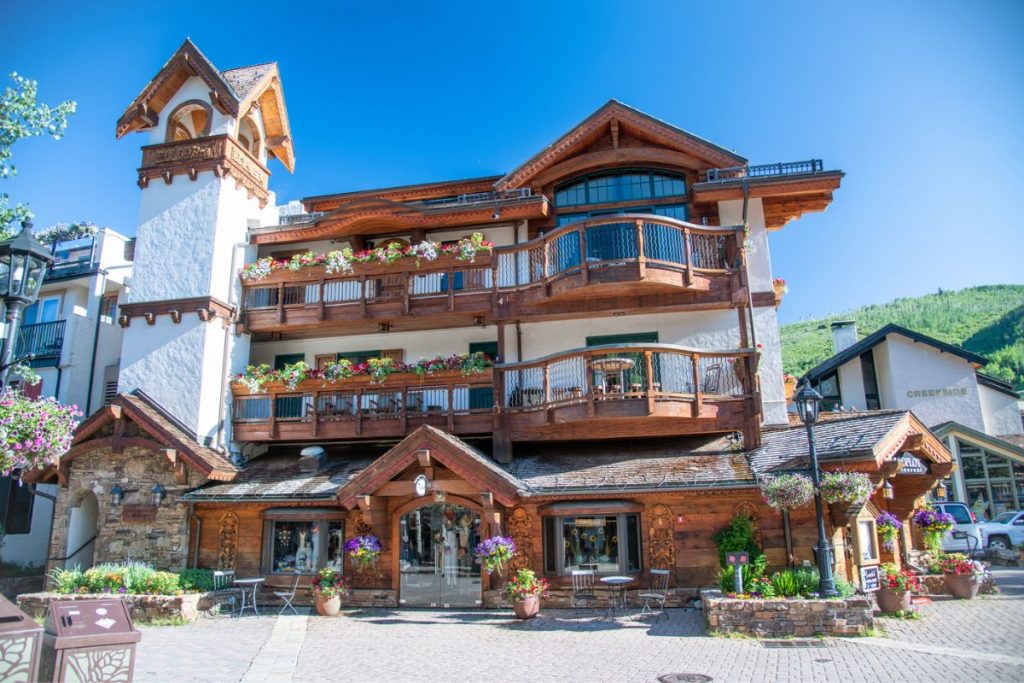 In addition to Vail Mountain being one of the top ski resorts in the country, the town offers a plethora of non-ski activities. It's one of the top Colorado winter vacations for non-skiers!
The town is divided into two areas, Vail Village and Lionshead, the latter having a feel like you're walking through a Swiss Disney World.
It offers exceptional shopping, not to mention that the dining here is unparalleled.
With options like lunch at Sweet Basil with a river view, and dinner at La Tour, a French restaurant with a wine cellar that will leave you impressed.
Throughout the season, Vail hosts numerous exciting events, such as cooking classes and huge live concerts, including Snow Days events.
Art enthusiasts can visit multiple galleries in Vail's three villages, showcasing a range of art from paintings to contemporary works.
Shoppers will find hundreds of stores and boutiques, with an even wider variety than towns like Beaver Creek. And there are plenty of spas for those looking for a little pampering.
For a fun and thrilling experience, Vail offers plenty of outdoor activities, like scenic gondola rides and snowshoeing. Plus, snowboarding fans will love watching the best in the world compete at the Burton U.S. Open.
Bistro Fourteen, provides diners with stunning views of Mount of the Holy Cross and both casual and fine dining options.
During the warm months, head to the top of the mountain for amusement park attractions, such as zip lines, roller coasters, and summer tubing, as well as guided hikes.
7. Telluride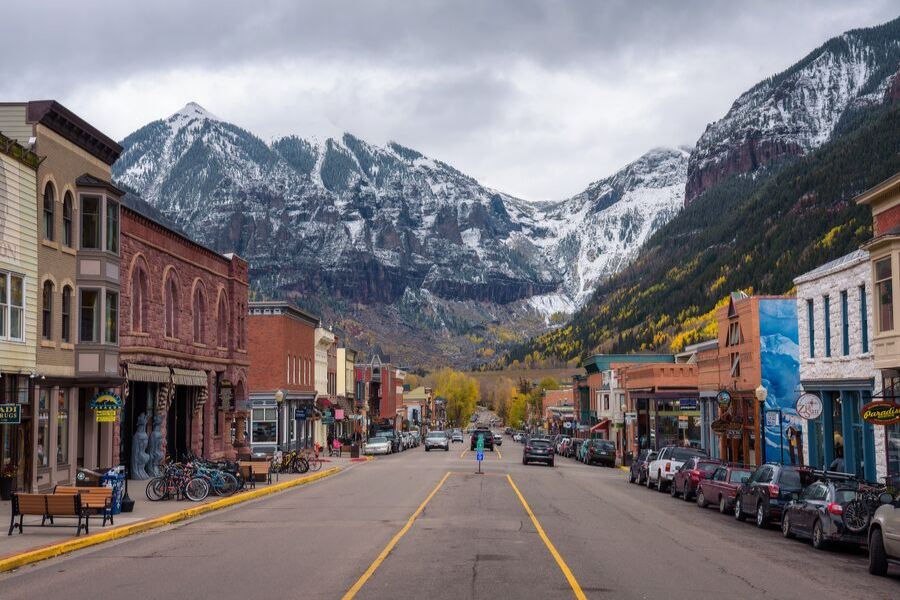 Located about 330 miles from Denver, Telluride is a charming mountain town with fewer crowds and plenty to offer. It's a great Colorado winter vacation for non-skiers for many reasons.
During the snowy months of the year, Telluride offers a range of outdoor recreation options including horseback riding, ice skating, snowmobiling, and ice climbing.
You can even ice climb the challenging Bridal Veil Falls, Colorado's highest free-falling waterfall.
Or plan for an afternoon exploring the city by starting with the Sheridan Opera House for a show. Then explore the shops downtown and take the free gondola to Mountain Village for delicious food.
Speaking of eating, foodies will love the options in Telluride. The town offers a range of farm-to-table and gourmet dining options that will leave you with a full belly and happy taste buds.
With its authentic charm and stately historic buildings, Telluride offers a more affordable option compared to places like Aspen. The town has a thriving nightlife, excellent restaurants, and top-notch spas and shopping, ensuring you'll never be bored.
Plus, art lovers will enjoy a visit to Gallery 81435, featuring works from contemporary artists in the region.
If you're looking for a lively spot to grab a snack and drink, head to Black Iron Kitchen and Bar, known for its stylish wooden interior and warm ambiance.
For a unique experience, drive one hour outside of town to visit Orvis Hot Springs, where you can enjoy 112 degree pools both indoors and outdoors.
8. Aspen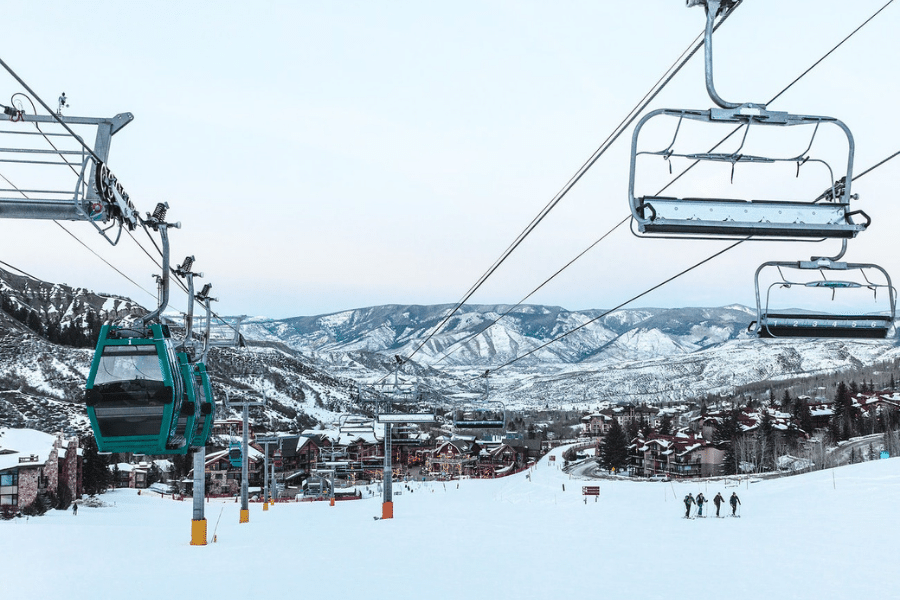 Experience the beauty of a Colorado winter vacation for non-skiers while visiting the popular mountain town of Aspen.
Explore the city without hitting the slopes by going on a hike or a picnic in the John Denver Sanctuary and memorial gardens. With gentle trails, it's a perfect spot for a leisurely walk or a romantic lunch in a secluded spot.
Aspen is much more than just a ski destination, it's a town rich in political and cultural significance. It's home to the Aspen Institute, Aspen Music Festival & School, and the Aspen Art Museum.
Beer lovers shouldn't miss Aspen Brewery for its seasonal and barrel-aged selections. After a few drinks, pamper yourself with a massage at one of Aspen's world-renowned spas.
History buffs will appreciate the charming Hotel Jerome, which opened in 1889. It's now open for tours by the Aspen Historical Society on Tuesdays and Thursdays.
Music fans should check out the Belly Up music venue that has hosted a variety of famous artists since 2005. The venue might be relatively small but it brings some of the best artists around, often having sold-out shows.
For lodging in Aspen, stay in luxury at the St. Regis in the fall and enjoy watching snow fall while lounging by the pool or ordering room service with their Bloody Mary cart.
Or if you're looking for a change of pace, take a short shuttle to the nearby ski area, Snowmass, known for its great restaurants.
9. Copper Mountain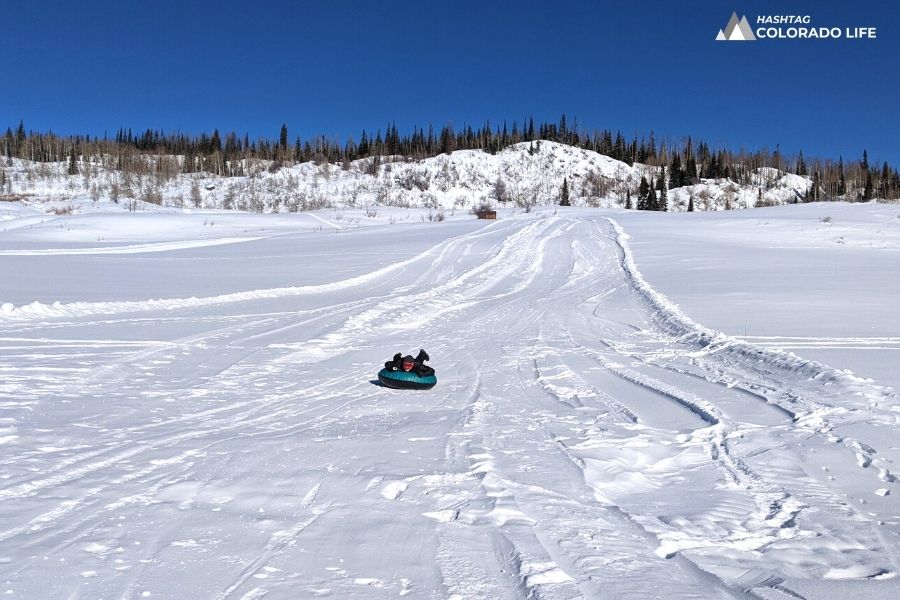 Copper Mountain offers a variety of activities for adventure seekers who prefer to avoid the ski slopes.
Hit the tubing hill for an exhilarating experience, or head to the skating rink to rent skates, play hockey, curling or broomball for free.
In the pedestrian-friendly village, older kids can enjoy the tubing hill. Younger guests can play at Critterland with a tubing carousel, snow den with tunnels, and mini tubing slope, the squeal hill.
Other non-ski options include zip-lining, dog sledding, snowmobiling, and sleigh rides.
And after a day of adventure outdoors, unwind at the resort's full-service spa, with a lap pool, sauna, and steam rooms.
Copper Mountain's dining scene offers a diverse range of international cuisine.
If you're looking for the perfect place for Colorado winter vacations for non-skiers, I hope this list helps you give some great ideas.
The state is full of luxurious spas, ice slides, snowmobile tours, and gondolas with breathtaking views.