by Ryan Nicholson
|
Last Updated:
May 7, 2021
The content of this website may contain affiliate links and we may be compensated (at no cost to you!). Thank you for your support!
If you're looking for the best day trips from Colorado Springs that are less than an hour away, keep reading.
These destinations offer lots of things to do, many of which are free to visit and are great for young kids or couples.
And you can make a plan to have to visit multiple destinations, or make a fun weekend excursion out of it.
How? All of the day trips from Colorado Springs listed below can also be considered half-day adventures.
1. Garden of the Gods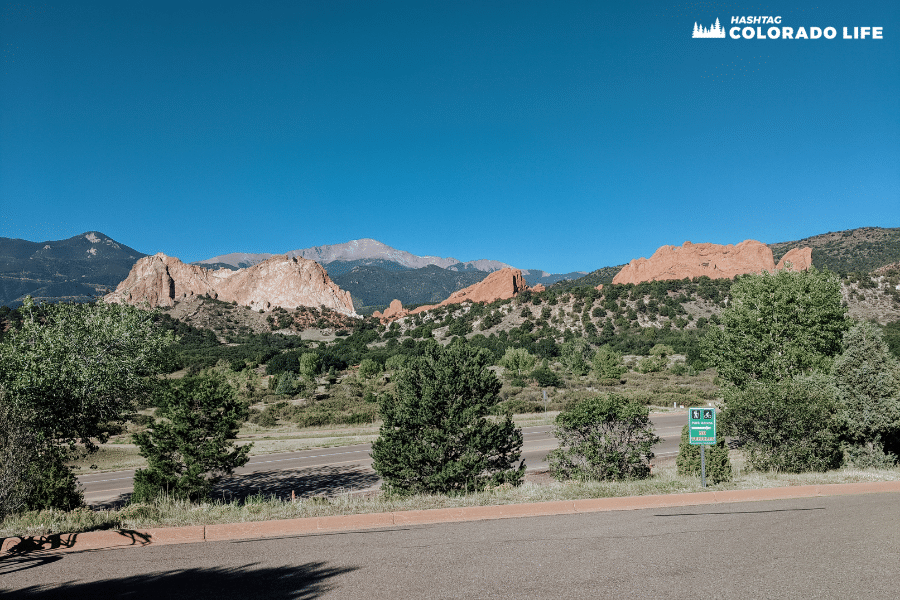 The absolutely best day trip from Colorado Springs is going to be Garden of the Gods.
Whether you are a frequent visitor (like we are!) or are visiting for the first time, Garden of the Gods is no less than stunning.
The park covers more than 1,300 acres but is unlike any city park you have ever visited.
The main attractions are the towering red rock spires that showcase breathtaking views of the nearby Rocky Mountains.
The rock formations are thousands of years old, and come in a wide variety of shapes and colors.
Because of the unique geology at Garden of the Gods, many visitors and locals alike will agree that it's the prettiest place in Colorado.
There are 21 miles of trails for hiking and biking, endless rock climbing spots, and several main scenic drives.
And the best part of all is that Garden of the Gods is open for free to visitors year-round.
The Visitor and Nature Center at Garden of the Gods is also a fun and free attraction! It has a gift shop, a scenic overlook, a free museum, and free parking.
Did I mention it's free?! A day trip to Garden of the Gods will cost you nothing and will offer priceless memories.
Distance from Colorado Springs: 5 miles
Travel time from Colorado Springs: 14 minutes
2. Paint Mines Park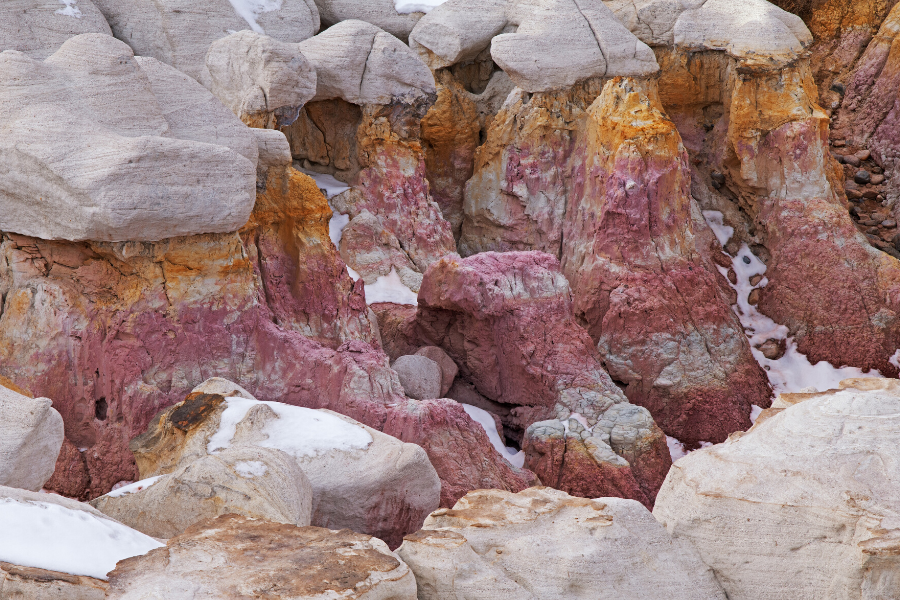 The Paint Mines Interpretive Park is another local gem that is within a short drive from Colorado Springs.
Located in Calhan, Colorado this is one of the more unique hiking spots in the state.
Instead of traveling west into the mountains, the Paint Mines Park is located east on the Colorado plains.
It features bulbous rock formations, called Hoodoos, that are made out of sandstone.
Over the many thousands of years, the wind and weather has worked to peel back the layers of rock revealing many different colorful layers.
History states that many Native Americans used the colors of the sandstone to create beautiful pottery and other items.
This site is popular for the wealth of geological discoveries found here, as well as bird watching and unique wildlife.
Visiting the Paint Mines Interpretive Park is completely free with parking available at no cost.
You can also hike the Paint Mines Trail which is a 3.5 mile path that loops throughout the park and is a very easy walk.
Distance from Colorado Springs: 37 miles
Travel time from Colorado Springs: 48 minutes
3. Woodland Park
The drive up to Woodland Park is almost as grand as the destination itself.
Located less than 30 minutes northwest of Colorado Springs, is the small but pristine town of Woodland Park.
To locals who know it well, the town is also called "The City Above the Clouds" due to an elevation of nearly 8,500 feet.
It is one of our favorite mountain towns to visit and it's a perfect day trip from Colorado Springs. There are so many things to do here!
Try some delicious food at the Friday Farmers Market, discover local artists at the Annual Arts Festivals, or learn about dinosaurs at the Rocky Mountain Dinosaur Resource Center.
Pike National Forest is also on the doorstep of Woodland Park! It offers 1.1 million acres of trails, hiking, camping, fishing, biking, and outdoor recreation.
One of our favorite trails is the Red Rocks Trail which is an easy 3 mile loop that displays large red sandstone rock formations.
Or enjoy a day at Manitou Lake fishing, picnicking, or hiking around the lake with gorgeous views of Pikes Peak.
The Colorado Wolf & Wildlife Center is also located in the Woodland Park area, which is a kid and tourist favorite.
Distance from Colorado Springs: 19 miles
Travel time from Colorado Springs: 28 minutes
4. Cheyenne Mountain Zoo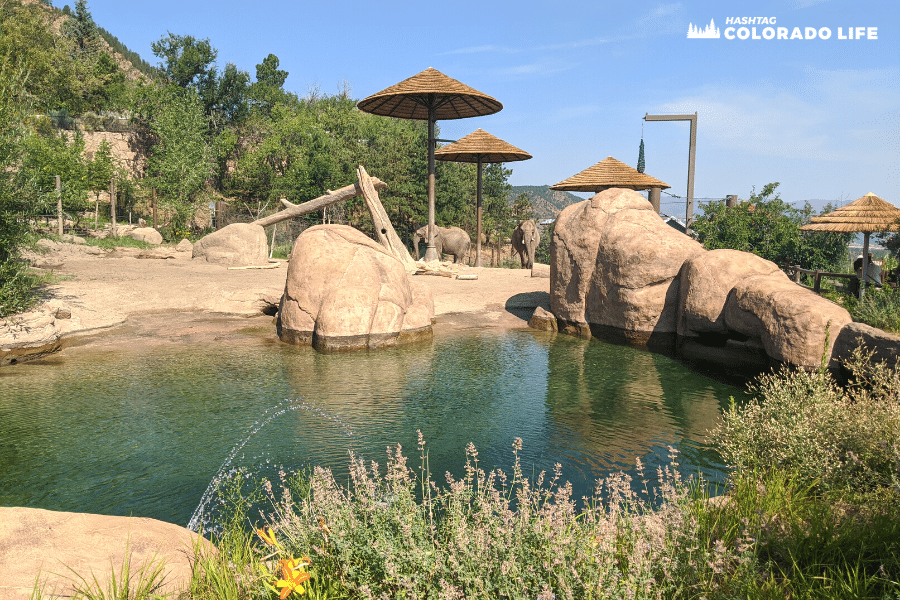 If you're looking to visit one of the top 4 best zoos in North America, check out Cheyenne Mountain Zoo.
Nestled into Cheyenne Mountain the zoo is just southwest of Colorado Springs and is one of the most unique zoos you will ever visit.
The zoo is open to the public 365 days a year and is solely supported by admissions, special events, membership costs, grants, and donations from citizens and guests.
Some of the special events that we enjoy visiting are Boo at the Zoo in October and the Electric Safari in December.
You can also feed the giraffes, check out the new Water's Edge exhibit, or take a ride on the Mountaineer Sky Ride.
The Sky Ride is only accessible when purchasing admission to Cheyenne Mountain Zoo but we promise it's a worthwhile venture.
Slowly ascend up Cheyenne Mountain with a short stop at the top to take in the expansive views of Colorado Springs below.
Distance from Colorado Springs: 6 miles
Travel time from Colorado Springs: 18 minutes
5. Royal Gorge Bridge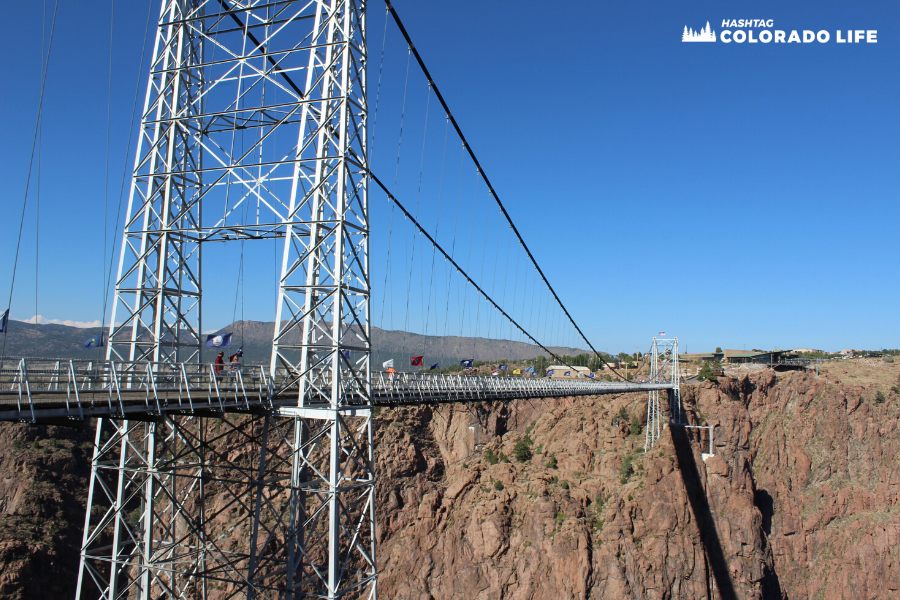 For our last day trip adventure from Colorado Springs, the Royal Gorge Bridge is a must-visit.
The Royal Gorge Bridge & Park is located in Canon City and sits about 1,200 feet off the canyon floor.
It is the highest suspension bridge in the country and makes an amazing day trip from Colorado Springs!
It is also home to the highest Zip Line and a Skycoaster that can be quite hair-raising, if I do say so myself.
Tickets to visit the Royal Gorge Bridge cost about between $20-29 for children and adults. For kids under 5 years old admission is free.
Or you can get a free ticket by booking a Colorado Jeep Tour, which is the only vehicle allowed to drive across the bridge, aside from maintenance vehicles.
The gorge is in a valley so you're surrounded by the Sangre De Cristo mountains, and the Arkansas River below.
Some nearby attractions include hiking the Royal Gorge Overlook Loop or Arkansas River Canyon Rim Trail for free.
Or visit the famous Skyline Drive which is a historic and narrow one-way road.
It rises about 800 feet in elevation from the surrounding valley and does not have any guardrails or safety railings.
When visiting the Royal Gorge, get ready for some gorgeous views and sites that may literally take your breath away.
Distance from Colorado Springs: 58 miles
Travel time from Colorado Springs: 65 minutes
These are just a few of the best day trip destinations that you can visit near Colorado Springs.
And all of them are perfect half-day trips that can be combined into full weekend excursions if you choose.
Plus, check out some of our other favorite day trips from Denver that include cities like Cripple Creek and Manitou Springs.
There is always something historic to explore or adventure to discover near Colorado Springs.
Ryan Nicholson is a homegrown born and raised Colorado native. Being a rare unicorn to have grown up in CO, he has a unique perspective on the changes here and knows all the hidden spots to get outside in this state. Ryan's a classically French trained chef so he LOVES to try new foods and places to eat. When he's not experimenting in the kitchen or working as a personal chef along the Front Range, he loves to get outdoors and away from it all hiking, camping and backpacking.