by Ryan Nicholson
|
Last Updated:
January 31, 2021
The content of this website may contain affiliate links and we may be compensated (at no cost to you!). Thank you for your support!
Planning a visit to Colorado Springs? What are the top things to do and best places to eat?
We're sharing our ideal weekend itinerary for exploring "The Springs" from a local's perspective.
You will discover the top indoor and outdoor activities, the best restaurants, and fun night-time spots.
If you could only pick the top 52 things to do and explore, we hope this inspires you to enjoy everything that this bustling mountain city has to offer!
iTunes | Google Play | Stitcher | Spotify
This is part of our 48 hours series, where we offer our best tips for exploring a single city in Colorado. Be sure to check out our 48 hours in Denver and 48 hours in Boulder episodes, too!
Colorado Springs can be a bit of a mouthful, so many Colorado locals call it "COS" or simply, "The Springs."
This is actually the city where we live, so we better get this one right!
Living in Colorado Springs as locals
Colorado Springs is the city where I was born and raised.
And, after living in many places all around the country, we ultimately decided to move back to The Springs when we were buying our house.
Colorado Springs is the 2nd largest city in the state and is about 60 miles south of Denver.
Among the Front Range cities, Colorado Springs is the highest in elevation at just over 6,000 feet.
It sits at the base of America's mountain (yes, that purple mountain's majesty!), Pikes Peak.
The Springs has a strong military presence with the U.S. Air Force Academy, Fort Carson Army Base, Peterson Air Force Base, and the Schriever Air Force Base, all located in and around Colorado Springs and El Paso County.
It is home to the Cheyenne Mountain Complex, where the North American Aerospace Defense Command (NORAD) was stationed during the Cold War.
Colorado Springs is also well-known for the flagship U.S. Olympic & Paralympic Complex, where American athletes can live, eat, and train for their sports in a high-tech facility.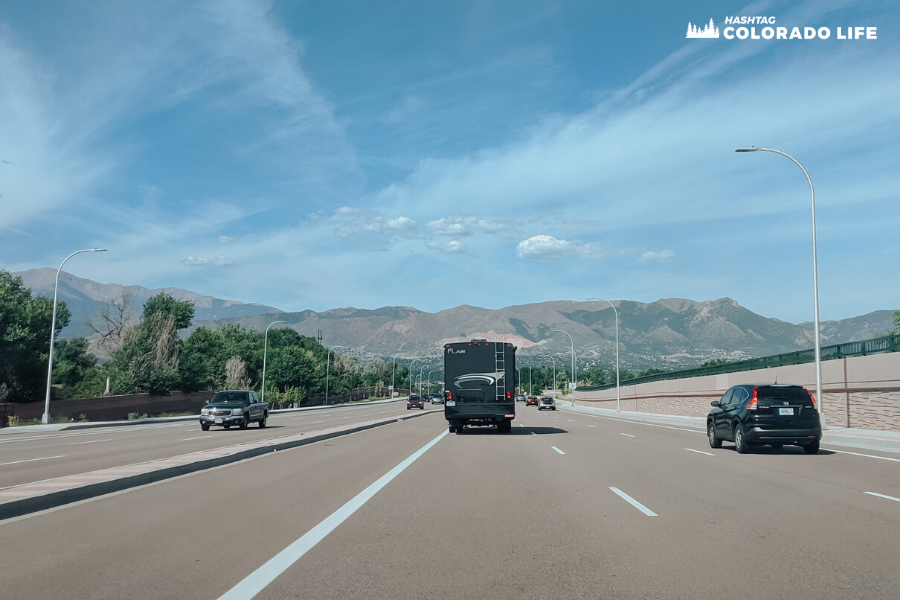 How to get to Colorado Springs
Colorado Springs has its own regional airport that is well updated and easy to navigate.
Because it is not an international airport, there is only one terminal.
This makes it a quick option for travelers arriving from or returning to many midwest cities or locations like Los Angeles or Las Vegas.
Depending on where you're coming from, it may actually be more affordable to fly into Denver International Airport and rent a car to drive down to Colorado Springs.
So, be sure to compare your options when driving versus flying.
Colorado Springs is a very family-friendly city, and a great destination for road trippers!
Even if you are just passing through on your route north or south on I-25 or east or west on highway 24, Colorado Springs is a fabulous place to stop over for a your short visit!
How to explore Colorado Springs
Colorado Springs is a pretty geographically large city and the public transportation system is limited.
Because of the distance, options like Uber, Lyft, or taxi services can get expensive fast.
Plus, if you're headed into the mountains, you may not have great cell reception at your final destination.
So, if you're relying on a smart phone to call your ride, you may be stranded without a connection!
That's why we recommend driving your own vehicle or renting a car for your visit to The Springs.
This is the most cost-effective option (and will be the least likely to leave you stuck on the side of the mountain!).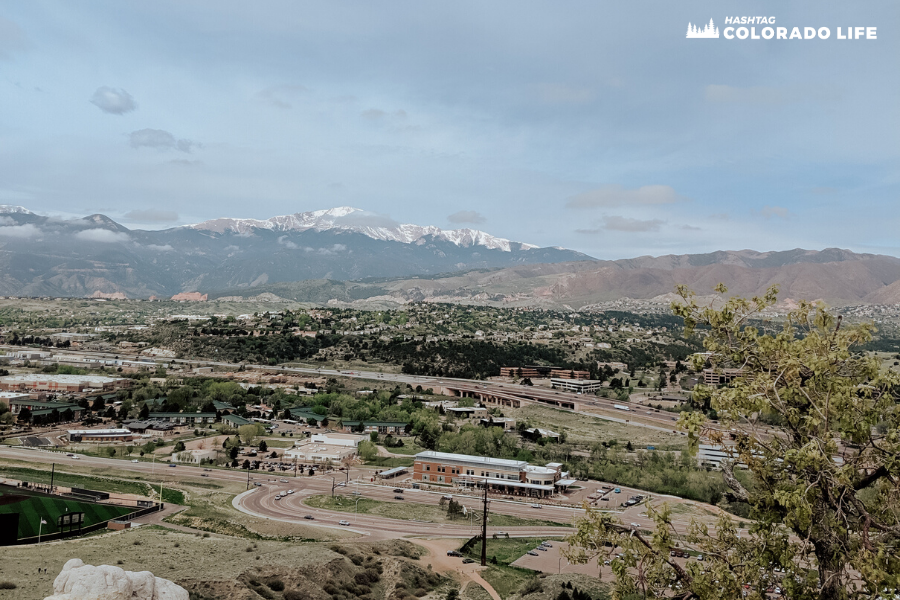 Best places to stay in Colorado Springs
When looking for things to do in Colorado Springs, downtown is a great place to start your visit.
It's an especially good choice if you have don't have a full week to spend here, or you are not bringing or renting a vehicle.
Many COS destinations and attractions are within walking distance from downtown.
With the mountains nearby, you'll get all the beautiful views and have plenty to do and see even if you never leave the downtown area!
The Mining Exchange
Built in 1902, The Mining Exchange was the first building in downtown Colorado Springs that rose to the staggering height of 4 stories tall!
While that may not sound so remarkable today, at the turn of the century, this building was an important fixture in town.
This hotel housed the Colorado Springs Mining Exchange to promote regional mining companies and their stock.
With such close proximity to the mountains where the mining happened, you can see why this The Mining Exchange was such an integral part of the early days of Colorado Springs.
Today, The Mining Exchange successfully intertwines historic charm and modern-day comforts in these 117 luxury guest rooms and suites.
The Broadmoor
Based at the foot of Cheyenne Mountain, The Broadmoor Resort could be considered a destination in its own right!
This sprawling resort was designed to look like a European lakeside village, complete with its own (man-made) lake.
It offers a truly luxurious experience! Visitors will love touring the grounds or perusing the incomparable collection of Western art and historical features around the hotel.
We love to visit The Broadmoor around Christmas time for a walk around the lake to enjoy the incredible light displays.
Every year, The Broadmoor hosts a life-sized rendition of something made of gingerbread and other edible items — one year it was a full-size locomotive with Santa Clause!
Holiday Inn Express
For more affordable options, there are many standard chain hotels around Colorado Springs.
We recommend any of the Holiday Inn Express locations for a great night sleep.
All Holiday Inn Express locations in Colorado Springs offer nice perks like free parking, wifi, and breakfast, an indoor pool, and are generally a dependable and clean option for any visit.
Great Wolf Lodge
The Great Wolf Lodge is a super family-friendly resort hotel with an indoor water park, bowling lanes, rock climbing wall, mini golf, an arcade, and multiple restaurants inside the hotel.
They also offer plenty of free family activities, like Wake Up with Wiley and the Forest Friends Show.
I wish that the Great Wolf Lodge in north Colorado Springs had been open when I was a kid!
The Cliff House
A little further out of town is the historic Colorado retreat, The Cliff House. This Victorian hotel is nestled at the foot of Pikes Peak, and dates back nearly 150 years.
The building has been through its share of tough times — including flash floods and fires, as well as challenging economic periods.
The Cliff House now provides all of the most modern amenities and top notch service that you would expect at such a lovely estate.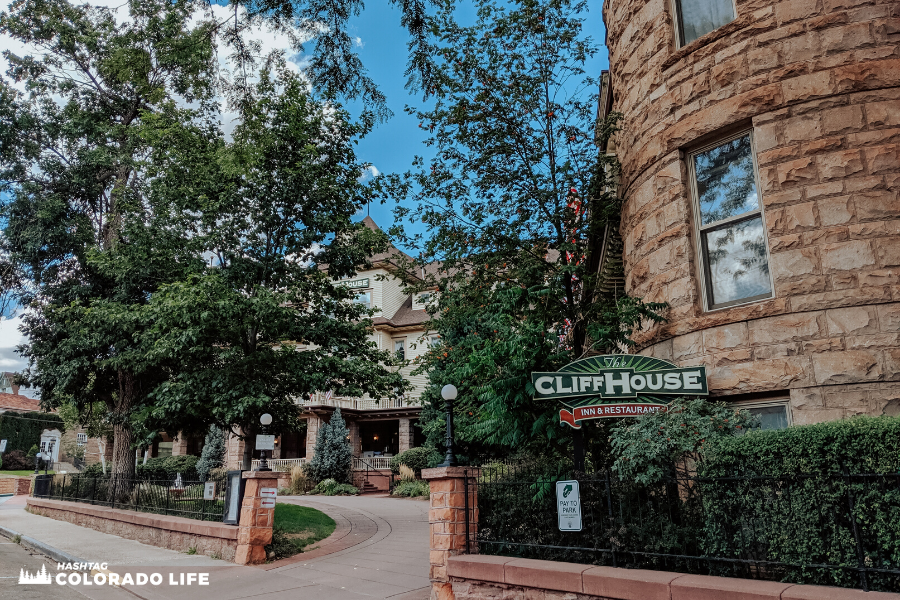 52 best restaurants & things to do in Colorado Springs
One thing you will NOT find on this list is the Manitou Incline.
Though the Manitou Incline is a super popular destination for visitors to Colorado Springs, you won't be finding it on this itinerary.
Why?
The Manitou Incline is an extremely physically demanding hike and not for the inexperienced or untrained.
Unless you are very well adjusted to the altitude and have trained specifically for this hike, we do NOT recommend that you attempt it on a weekend visit to Colorado Springs.
Safety, and fun, first!
With many opportunities to get outside and enjoy nature in and around Colorado Springs, we're sure you'll find plenty of other places to soak up all the outdoorsy goodness that COS has to offer.
(And hey, you can always come back and tackle the Manitou Incline on another, longer visit!)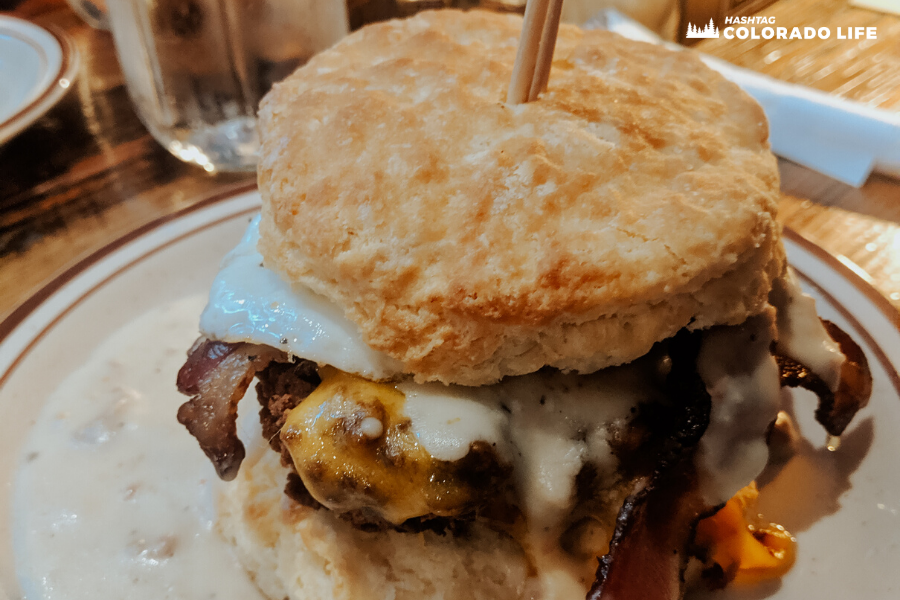 1. Denver Biscuit CO
We can't pass up an opportunity to gush about one of our true favorite breakfast places in The Springs! Denver Biscuit Co is soon to be your favorite, too.
First opened as a food truck, Denver Biscuit Co now has multiple locations around Colorado, including one brick and mortar restaurant right here in COS!
Their sandwiches are so large, you will definitely need to unhinge your jaw to eat them (or use the fork and knife provided).
But if we're talking breakfast, we must call out their unbelievable biscuits and gravy.
Their sausage gravy is rivaled only by their vegetarian mushroom gravy.
And when you've got biscuit in the name, you KNOW they will be good!
2. Odyssey Gastropub
You may not think "gastropub" when you think breakfast and brunch, but we are sure you'll love the off-beat vibe and delicious fare at Odyssey Gastropub on Tejon Street.
We definitely recommend swinging by Odyssey for affordable and delicious food and libations any day.
On weekend visits, hit up their brunch menu!
Brunch is served at 9 am on Saturdays and Sundays. And while you won't find anything out of the ordinary on the menu, you will find some delicious options.
They have items like corned beef hash topped with hollandaise, delectable eggs benedict, and chicken and waffles!
Come for that hollandaise, stay for the desk lamps hanging from the ceiling.
3. Urban Egg
This daytime eatery, Urban Egg, has multiple locations along the Front Range, but we enjoy the Downtown COS location.
We love their rich and buttery hollandaise sauce and the many dishes and ingredients sourced in and inspired by Colorado.
Their sage biscuits and gravy are award-winning
(We love them just the same as Denver Biscuit CO — don't make us choose between them!)
Urban Egg's menu offers seasonal favorites, so there is always something new to try.
The menu is rolling deep in options, including many things on the lighter side, such as their really tasty avocado toast.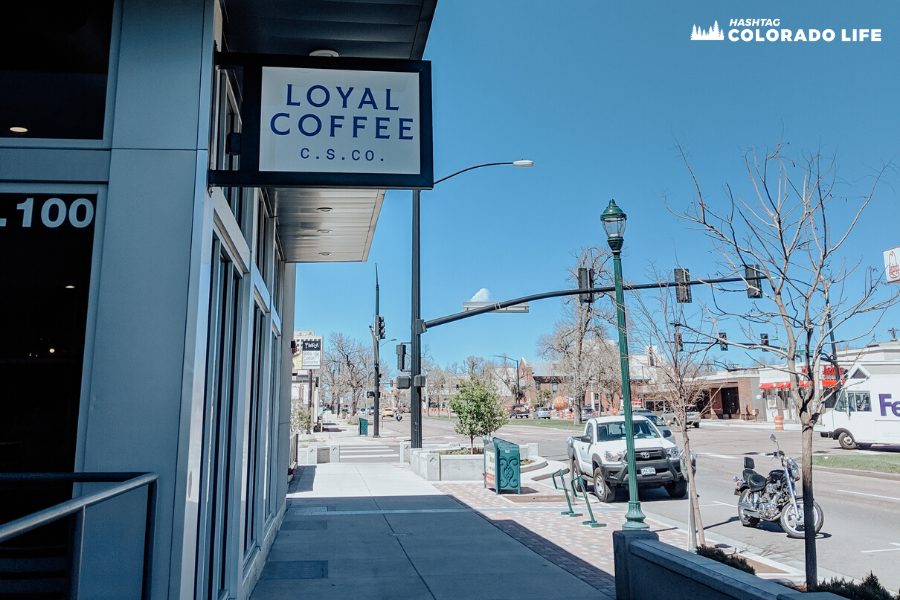 After breakfast, we recommend grabbing a cup of tea or coffee before touring the city. Here are our favorite options for where to find the perfect cup!
4. Loyal Coffee
Nestled right downtown is Loyal Coffee. We love this barista-owned shop!
It's perfect for grabbing a cup to go or propping up in a corner with a laptop to get some work done.
The vibe is relaxed, and you'll often see the owner and his family around the shop. Carrie loves the chai tea lattes!
Pick up a cup now, and bring a bag of beans home with you to remember your time in COS.
5. The Perk Downtown
The Perk Downtown describes itself as "the authentic coffee house" and we have to agree.
This two-story shop is a great place to grab a bite or a bag of loose-leaf tea, or just hang out and watch the town from the second floor windows.
We love the giant cinnamon rolls, which are as big as your head (even if you have a big head!), and they offer many milk options for your lattes.
6. Yellow Mountain Tea House
For a unique experience that's more fun than your typical grab-and-go coffee shop, visit the Yellow Mountain Tea House.
Located in Old Colorado City, this traditional Chinese tea house has over 300 organic teas to choose from.
Buy loose teas by the ounce, or ask for the traditional tea experience!
For just $5 per person, you can enjoy a traditional Chinese tea ceremony right at your table.
7. Olympic Training Center
Colorado Springs is home to one of only two Olympic & Paralympic Training Centers in the country.
And this massive facility is a great stop for a morning tour.
This training center is ideal for American athletes because the high altitude and thinner air thickens their blood and increases the oxygen in their blood.
This helps them to perform better at lower altitudes.
Take the free guided Bronze tour, or pay per person for a Silver or Gold tour of the complex. Groups over 10 people can even request a private, athlete-guided tour!
8. Rocky Mountain Chocolate Factory
A hit with kids and parents alike is the Rocky Mountain Chocolate Factory. It is a great stop while cruising Colorado Ave in Old Colorado City.
In fact, we love many of the shops and restaurants along Colorado Ave.
You can browse the local art galleries and studios on the first Friday art walks each month from April through December.
Old Colorado City is a very historic city, and a great place to take a walking tour of the many local landmarks from the city's founding.
There is so much to see and to do in Old Colorado City, that we have a whole episode about it!
9. Red Rock Canyon Open Space
If you are into Colorado's nature scene, Red Rock Canyon Open Space is a great way to get some exercise and fresh air.
This family-friendly park has a little something for everyone (even dogs and horses!), from casual walking to biking and climbing, all through some of our favorite mountain views.
Depending on the season, the trails can be a little muddy, so be sure to bring good footwear!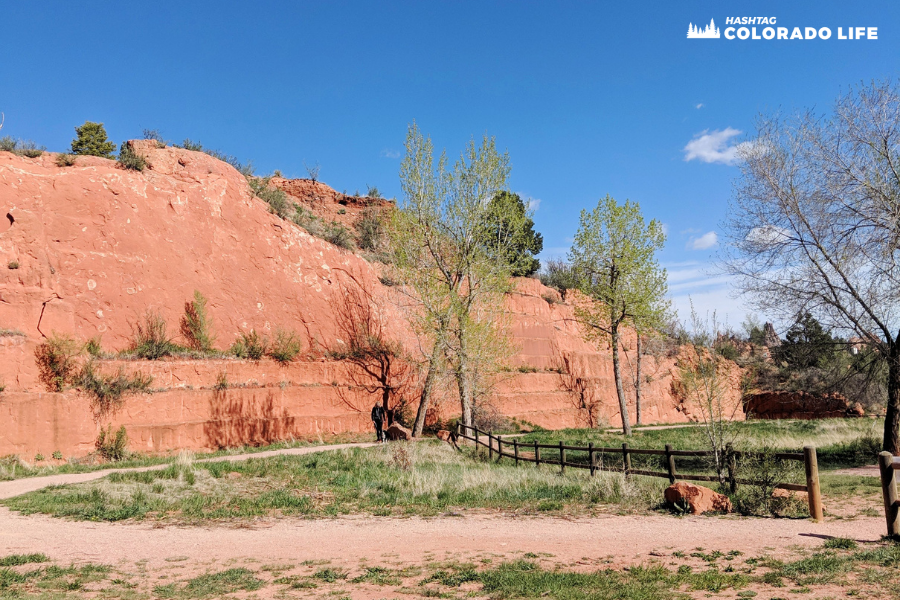 If you're hanging out on Tejon Street in downtown Colorado Springs, you will find a wealth of great restaurant options.
One of our favorite things about this city is that most of these restaurants are mere blocks from each other.
If you don't love what you see on the menu in one place, it's easy to find exactly what will satisfy your cravings.
Or you've got a big crowd in tow and everyone wants something different, it's super easy to accommodate a large crew and grab a little something from everywhere!
10. Lucky Dumpling
If you love dumplings, there is simply no better place to go than Lucky Dumpling.
Chef Brother Luck fell in love with Chinese dumplings as a child.
This love turned into what Luck calls his "obsession."
He spent twenty years traveling through Asia and competing multiple times on Top Chef, refining his knowledge and technique in creating excellent dumplings.
11. Dos Santos
Dos Santos is known for their incredible elevated taco menu. These authentic and delicious tacos will blow you away!
The menu options include vegetarian tacos filled with roasted cauliflower or crimini mushrooms, seafood tacos, or a dessert choco taco.
Sip on a fresh tea or limeade, or stop by on Taco Tuesdays for the $3 taco of the day!
12. Streetcar520
This worldly pub offers a great brunch menu as well as the more standard lunch and dinner fare.
Streetcar520 has a wide variety of flavors, and can cater to vegetarian, vegan, or gluten-free diets.
If you have many dietary needs to serve and want to taste a bit of something from all around the world, Streetcar520 is a great stop!
13. Jax Fish House & Oyster Bar
Jax Fish House & Oyster Bar has multiple locations around Colorado, and recently opened a location right here in Colorado Springs on Tejon Street.
They do a great job bringing sustainable and delicious seafood to our coastless community, with a raw bar of fresh oysters that are flown in daily.
Sample their caviars, fish n' chips, or crab cakes at lunch or dinner!
14. Leon Gessi New York Pizza
Pizza was meant to be eaten fresh out of the oven at Leon Gessi New York Pizza!
Pick up a giant slice of New York-style pizza, a sub, or salad for lunch, or order a whole pie to go.
Leon Gessi is in central COS on Palmer Park Boulevard, so it will take you out of the downtown area.
But with a casual atmosphere and gluten-free and vegan options, this is a quick stop for an affordable and delicious lunch.
15. The Money Museum
At The Edward C. Rochette Money Museum you will learn all about the history of money.
The three galleries and many exhibits tell the story of numismatics — the study or collection of coins, paper currency, and medals. (Who knew, right?)
This is an interesting museum to learn more about the history of money and how it was made throughout the ages, with lots of hands-on opportunities for kids!
Kids under 12 get in free, and admission is free for everyone on the 3rd Saturday of every month.
16. Memorial Park
After a big lunch, there's no better way to spend the afternoon than at Memorial Park.
Conveniently located downtown, it is just a 5 minutes drive from Tejon Street.
This expansive park has a nice, big lake, lots of open space and places to sit and enjoy nature. It also has an indoor ice skating rink that is open year round.
And it was the site for Tesla's experimental station, so check out the historic marker here!
Fun fact: By the end of the 1890's, Nikola Tesla had come to the conclusion that it might be possible to transmit electricity without wires in a high altitude environment.
Thus he moved to Colorado Springs in 1899, becoming one of the city's most famous residents.
The El Paso County Power Company provided him with free electricity to pursue his ideas and inventions.
He built a Tesla Coil that operated in megavolts — one megavolt is 1 million volts. He inadvertently burned out the generator at the power company and caused a power outage!
17. United States Air Force Academy Visitors Center
The 35,000-square-foot Barry Goldwater Visitors Center offers information about the US Air Force Academy, including films and exhibits on cadet life and the history of the Academy.
The grounds are very picturesque nestled next to the mountains, and it makes a great stop for those interested in our military history.
The Visitors Center is open for free from 9 am to 5 pm daily.

18. Four by Brother Luck
In addition to Lucky Dumpling, Chef Brother Luck also owns and operates Four by Brother Luck, a restaurant just four blocks north.
It is inspired by the hunters, fishers, farmers, and gatherers that bring the food to the table. It's a great fine-dining spot in the evening.
Their southwest-inspired menu rotates, so you're sure to find something unique and special here.
19. Rasta Pasta
At Rasta Pasta, you'll find creative Caribbean pasta, fresh salads, and ridiculously good desserts. Check out their full bar featuring Jamaican beer and rums.
They can also cater to vegetarian, vegan, and gluten-free diets.
Be sure to request your comfortable spice level! Each pasta dish is made to order, but some items are hotter than others.
20. Oskar Blues Grill
For fabulous Cajun fare, we like Oskar Blues Grill. Founded by owner Dale, Oskar Blues' menu takes their inspiration from the South.
The menu features lots of crawdads, shrimp, blackened chicken and burgers available.
Their crawdaddy jalapenos and fried pickles are popular appetizers. And Oskar Blues is best known for their signature Dale's Pale Ale.
21. Fat Sully's
If you visited Denver Biscuit CO for breakfast, then you already know where to find Fat Sully's Pizza!
When breakfast service wraps up, Fat Sully's rolls out the dough in the same location and kitchen. Buy these straightforward and delicious pizzas by the slice or the pie.
And if you're more of a late-night nibbler, get a $5 slice with a beer when you dine after 9pm on weekends!

22. Cork & Cask
Located in an antique trolley warehouse, Cork & Cask is a great place to finish off a great night in the city.
If you just had a meal at Dos Santos or Fat Sully's, you can head over to Cork & Cask without ever leaving the building — they are all connected!
At this upscale whiskey bar, you'll find a huge array of whiskies and scotches from Scotland, America, Ireland, Japan, India, France, Taiwan, Canada and of course, Colorado.
Cleanse your palette with some snacks and sweets or a charcuterie board.
23. Walk down Tejon Street
With so much to see and sample on Tejon Street, a great way to end your day about town in COS is with a night stroll.
You can window shop, grab a nightcap, or just soak up the ambience of The Springs!
The weather is generally nice all year round, but if you happen to visit during the fall or winter, do dress in layers!
24. Black Sheep Concert Hall
If live music is your thing, you'll love the standing-room-only concert hall at The Black Sheep.
With shows happening every night, you can step in for some local musicians, smaller bands, and sometimes, some bigger celebrities!
Shows start around 7 or 8 pm, and tickets are in the $15 – $25 per person range.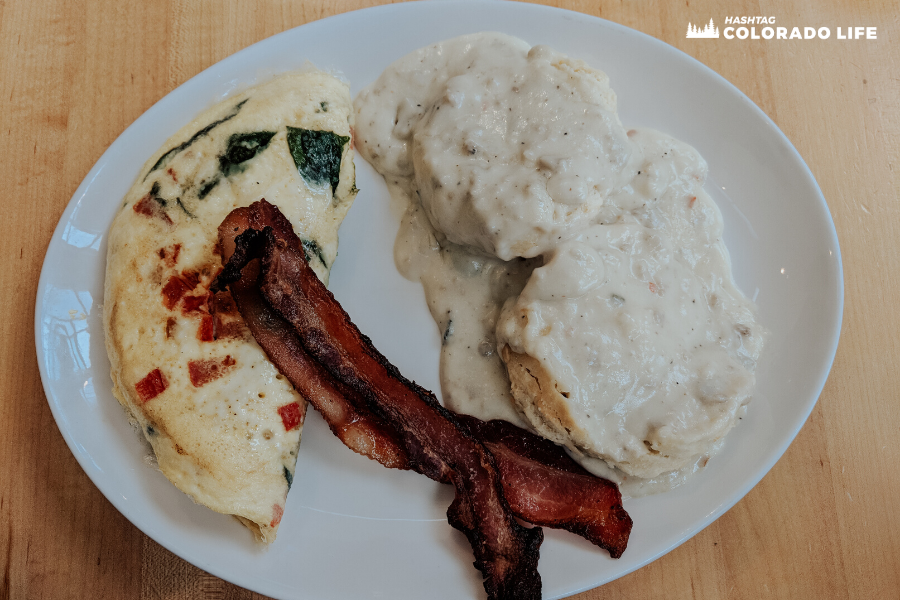 On day one, we stayed close to downtown so you could hit up the most activities in the shortest geographic distance.
But Colorado Springs is a big city with many suburbs and lots of other attractions outside of the downtown area.
Load up your crew for day two in COS!
25. Mountain Shadows Restaurant
In the nearby suburb of Old Colorado City is the Mountain Shadows Restaurant. Mountain Shadows has been a staple in the community since I lived here as a kid.
You will find huge portions of southwest-inspired diner classics, including chili rellenos and chili smothered burritos.
With a friendly atmosphere and an incredible selection of pies, cakes, and treats made daily, this totally cute diner will make you want to stay for a refill on that mimosa!
26. First Watch
You won't need to fork over a million dollars for their million dollar bacon… But at First Watch in either of their two COS locations, you are sure to find something to raise a fork for!
With everything from power bowls to frittatas to a juice bar and lemon ricotta pancakes, your whole group is sure to find something to love.
We enjoy their seasonal dishes, and look forward to the fall harvest pancakes every year!
27. Garden of the Gods Market and Cafe
As you are planning a day of adventure, a great place to fuel up is the Garden of the Gods Market and Cafe.
Just a 5-minute drive from the Garden of the Gods itself, this daytime eatery is open from 7 am to 3 pm daily.
The attached market stays open til 6pm, so you can grab some mountain man hash for breakfast and pick up some provisions to carry with you on the trail later!
We suggest their selection of local pickles, sodas, sauces, and fresh-made pastries.
28. Dutch Bros Coffee
We consider Dutch Bros Coffee a must-try coffee shop while in Colorado!
Stop into one of 9 locations around Colorado Springs to get the caffeinated creation you need to tackle any COS adventure.
Drive through or walk up, and try something out of the ordinary! Not a coffee fan?
No problem: their teas and lemonades are great too! It may help to check out the menu online before you get to the counter, and be sure to explore all that the secret menu has to offer.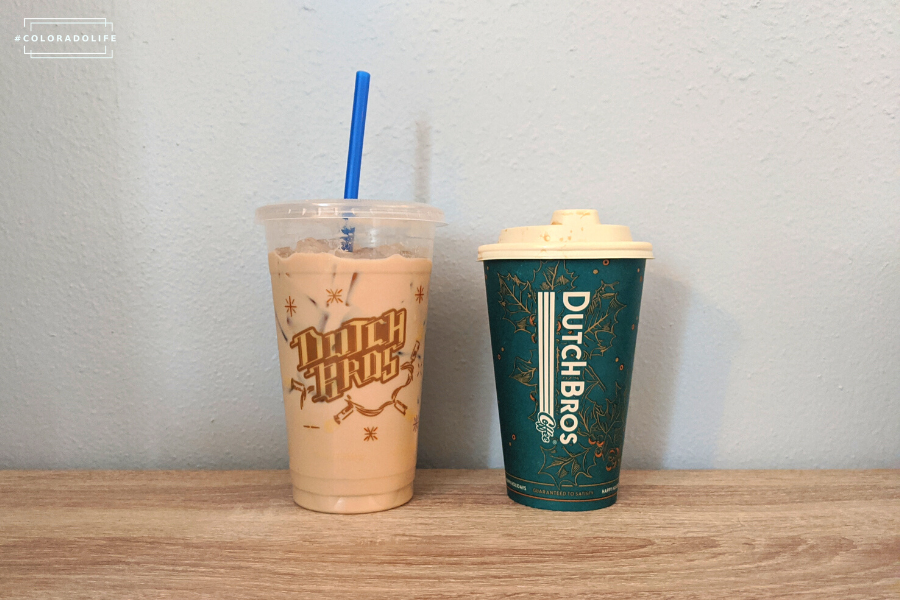 29. Cheyenne Mountain Zoo
An ideal time to visit our favorite zoo in the country, the Cheyenne Mountain Zoo, is early in the day.
Not only will you catch more feedings, animal trainings, and zoo keeper demonstrations in the morning, you'll also catch more of the sun's rays!
As a zoo on a mountain, the shade hits pretty early in the afternoon and can get chilly later in the day.
Bring your walking shoes and come feed the giraffes!
30. Garden of the Gods
After a filling breakfast, a great way to work off those pancake calories is with a gorgeous hike at the Garden of the Gods.
We recommend that you first drive around the loop to find the picturesque viewpoint or hiking trail that speaks to you, then bail out of the car to go explore!
The Garden of the Gods is a sensible outdoor option for out-of-towners who aren't used to the altitude, as most walks are fairly flat and paved or well graded with gravel.
You can also stop at the museum in the visitor's center to learn about the wildlife before heading out to go see it for yourself!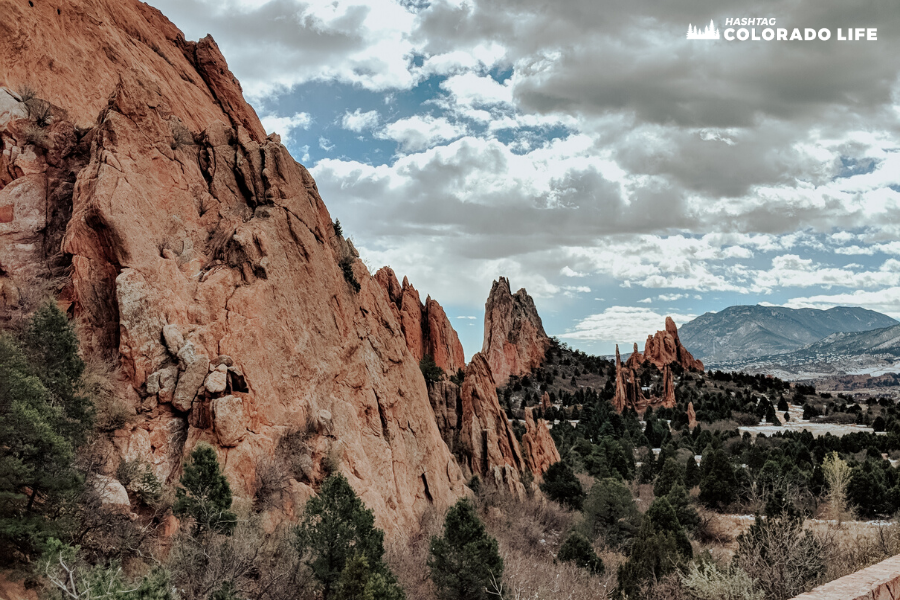 31. Helen Hunt Falls
For a more strenuous hiking experience, head to the top of North Cheyenne Canyon for the Helen Hunt Falls trailhead.
It's a short hike that wends its way up beside the falls for a final view of Colorado Springs that just can't be beat.
We consider this hike more strenuous because it is composed almost completely of stairs. You may want to skip the hike and hit up the history museum and gift shop at the trailhead.
32. Starr Kempf's Metal Sculptures
Artist Starr Kempf created some monumentally magnificent, metallurgically mindful metal masterpieces that are still viewable in the front lawn of his former home.
These whimsical pieces often resemble birds or weathervanes, and many move or make music in the wind.
As the sculptures are on display on private property, visitors are asked to be respectful when coming to see the sculptures.
Though you can't tour the property, it's pretty hard to miss these giant works of art, as many are over 50 feet tall!
To see the sculptures, go to 2057 Pine Grove St. near Cheyenne Mountain, about ten minutes from the interstate north on Cheyenne Mountain.
33. La Baguette
If you are still in the west Colorado Springs area come lunch time, we recommend stopping into La Baguette for lunch!
This quaint French bakery also serves lunch in their cafe and an upstairs wine bar after 6 pm Thursdays through Sundays.
They are best known for their cups of French onion soup — which are truly delicious! We also enjoy buying a baguette to go.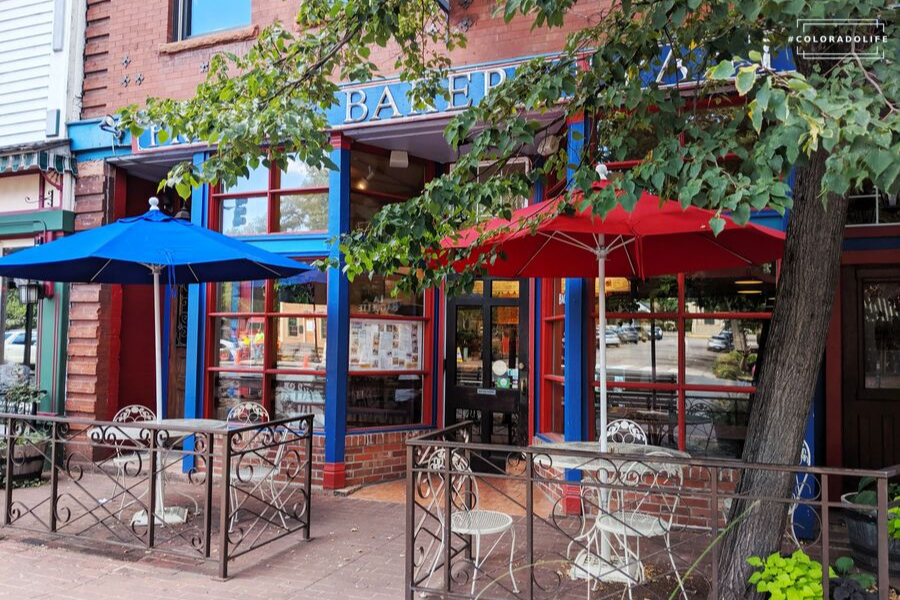 34. L&L BBQ
With such a strong military presence in Colorado Springs, it's not surprising that many service members have been stationed in Hawaii or spent time there during their careers.
Because of this, many residents now have a taste for island food here in The Springs!
Since I lived in Hawaii after high school, I recommend the authentic flavors at L&L Barbecue. Their food is all served to-go and is very affordable and delicious.
35. PigLatin Cocina
The Springs is a budding food truck hot spot, and for day two of your COS adventure, we highly recommend that you check one out for your lunch!
Download the WTF Where's the Foodtruck? app on iOS or Android to find these food truck favorites and more around Colorado Springs.
PigLatin Cocina serves up Caribbean and latin food at their food truck and now at their brick and mortar location on Dublin Boulevard in north central COS.
Our fave is the PigLatin plate, piled high with pork, rice, beans, and served with platano maduro. Another option is their nachos which are served on plantain chips.
And if you happen to visit the storefront, you will be just a few blocks away from Hashtag Colorado Life headquarters!
36. Go Fish Food Truck
At Go Fish food truck, you can grab hot and ready fish or shrimp tacos with a Cajun twist, or southern favorites like shrimp po' boys.
They recently added beignets to their menu, and these New Orleans-style donuts are light, fluffy, and covered in powdered sugar.
Their truck is not open every day, so check their schedule on their website or the app to find them!
37. Lucy I'm Home
With a name inspired by the classic show I Love Lucy, Lucy I'm Home takes all their culinary inspiration straight from Ricky.
Their Cubano is fantastic, and their empanadas are filled with beef picadillo or mango chicken, and make great leftovers.
You will find the stall on N. Circle Drive in east COS.
38. Frozen Gold
Just next door to Dos Santos is a fabulous ice cream shop called Frozen Gold. This is not your ordinary soft serve ice cream.
Their surprise is inside: they fill the cones with a softcore of something delicious — like fudge, caramel, or cereal milk!
39. BJ's Velvet Freez
In central COS and next door to Leon Gessi is BJ's Velvet Freez.
This retro drive-thru ice cream and burger stand has plenty of food on the menu, but we love their delicious ice cream cones!
This stand has been serving up cones, waffle bowls, sundaes, and shakes with all the fixins since the 1950s.
You'll know you're at the right place when you see the outrageous line, especially during the spring and summer!
40. Spend an afternoon in Manitou Springs
Just east of Colorado Springs is the city of Manitou Springs. This hippie haven and off-beat town is a perfect way to spend an afternoon in the greater COS area.
We've listed some of the best things to do in Manitou Springs on another episode, but there are a few spots we can't help but mention here.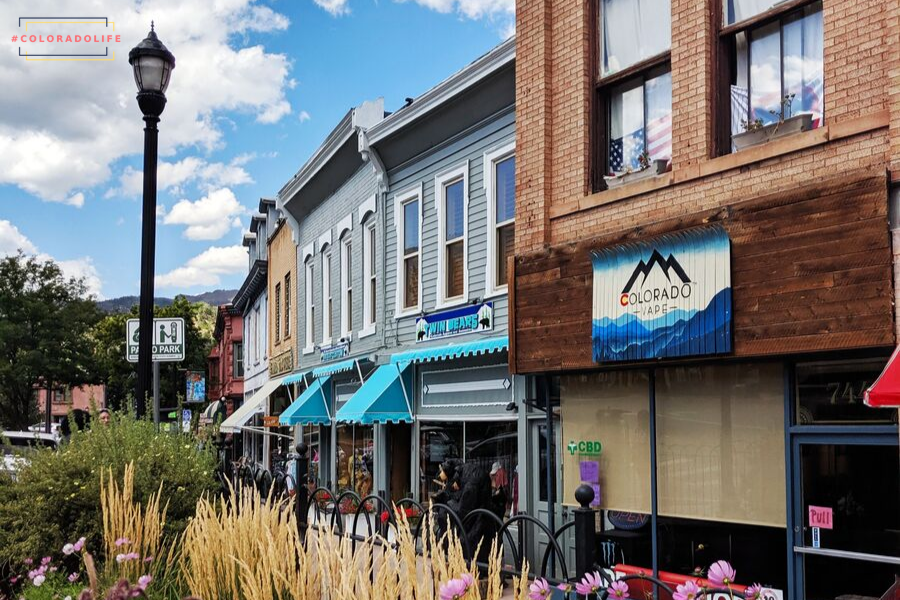 41. The Manitou Springs Penny Arcade
For a real throw-back experience, head to the Manitou Springs Penny Arcade.
Check out all the retro games you (or your parents!) remember from way back when, such as skeeball, pinball machines, boxing machines, pool tables, and air hockey.
And in true retro style, games really do cost just pennies per game to play!
42. SALUS Bath & Body
One stop Carrie would never miss in Manitou Springs is a trip into SALUS.
This bath and body shop sells all sorts of lovely smelling treats for your body, from their incredible bath bombs to the many collections of soaps, lotions, and scrubs.
You can make your own bath bombs in store, too!
43. Walk downtown Manitou Springs
We definitely recommend taking a stroll down Manitou Avenue to window shop, and see the historic and adorable downtown.
Between the chocolate shop and comic book store, there's sure to be something for everyone in Manitou.
And for those who partake, Manitou Springs is the only place in Colorado Springs where you can buy recreational marijuana.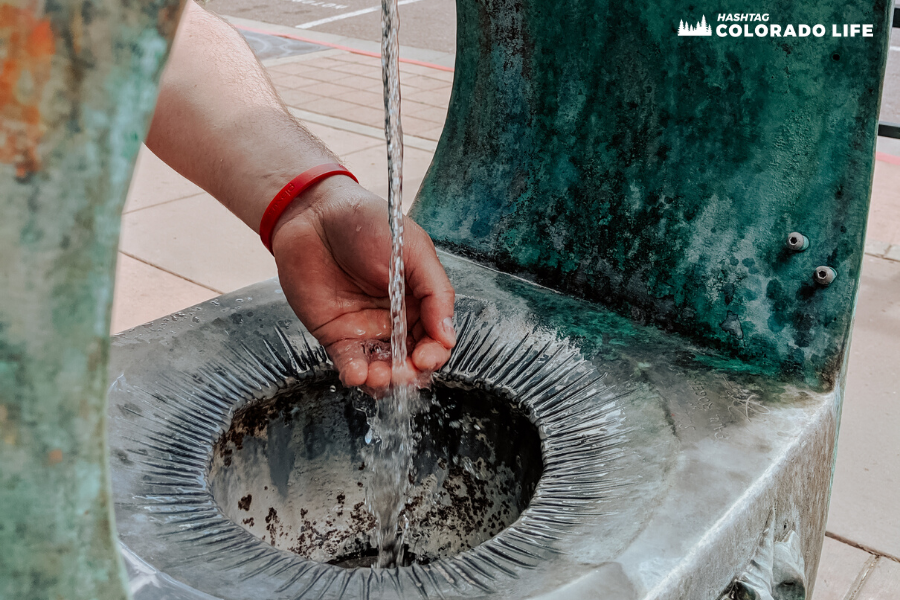 44. May Natural History Museum
Head south out of Colorado Springs to the May Natural History Museum, which boasts the world's largest private insect collection!
With nearly 8,000 bug specimens from around the world, this museum may help you to overcome your fear of bugs.
The collection includes beetles, centipedes, spiders, scorpions, and butterflies. It certainly reminds you of just how many bugs there are in the world!
45. Cliff Dwellings Museum
In the early 1900s, the ruins of an ancient Anasazi cliff dwelling was carefully transported from its ancestral home in the Four Corners area to Colorado by railroad.
That's how the Manitou Cliff Dwellings Museum was born.
The carefully recreated dwellings reveal what it was really like for people 1,000 or more years ago who lived in the American southwest — on the face of a cliff.
You can walk through the dwellings and also tour the museum and gift shop to learn more about the native peoples who lived in these dwellings.
46. Cave of the Winds Mountain Park
In 1881, two brothers found a cave with a mysterious breeze blowing.
Upon further exploration, an entire network of caves were discovered, with wind blowing throughout, and sometimes a whistling noise.
Now, the Cave of the Winds Mountain Park offers tours of the caves.
Tours range from the paved Discovery Tour to the down-and-dirty Caving 101 tour, where you can walk, climb, and crawl through the caves.
Not a fan of crawling through claustrophobic caves? There are plenty of thrill-seeking opportunities at the mountain park!
Test yourself on the Wind Walker Challenge course, or get that adrenaline pumping on the Bat-A-Pult, Terror-Dactyl, or zip line over the cliff and canyon below.
47. FH Beerworks Downtown
We received a recommendation from Instagram for the FH Beerworks Downtown. Visit the tap house on Tejon Street for a fun and friendly craft brewery!
Their beer lineup includes 14 beers on tap, a variety of gluten-free options, and housemade rootbeer.
Feel free to bring food in, or grab food from a food truck outside!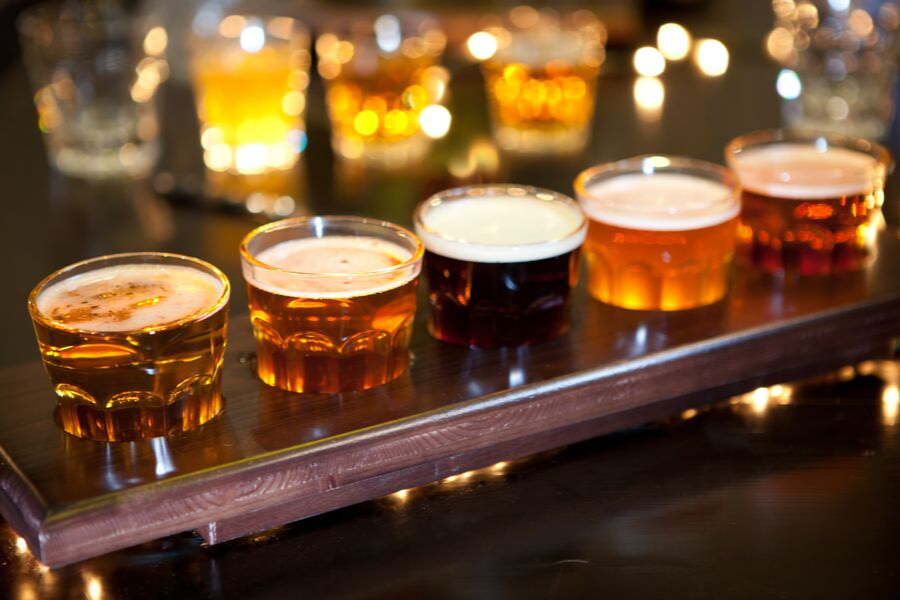 48. Gold Camp Brewing Company
Another recommendation from Instagram, the Gold Camp Brewing Company is a fun place to play some bar games, enjoy live music, and pick up a growler of local beers on tap!
49. Kohnami Sushi
We feel a little guilty sharing our favorite hole-in-the-wall restaurant… But Kohnami Sushi on N. Union Boulevard is so fantastic, we can't keep it all to ourselves!
This very small sushi place seats just a few people, but the owner and chef is well-trained and so good at what he does.
The fish is fresh and the sushi rolls and sashimi are all incredible. Just promise us that you'll help keep our secret!
50. The Airplane Restaurant
If you're an aviation buff, you'll love dining inside a Boeing KC-97 tanker at The Airplane Restaurant!
The KC-97 tanker began its career in the 1950s as one of the largest propeller-driven aircraft ever made, and it served other aircraft with mid-air fuel deliveries.
In 2002, this aircraft was retired from active duty and started a new career as a restaurant. The "crew" thanks you for flying with them for your dinner.
Feel free to walk around, sit in the cockpit of the plane, and learn how the tanker fueled up planes before or after your dinner!
51. Restaurant 1858
Situated at the banks of the Seven Falls, Restaurant 1858, operated by the Broadmoor, is a unique dining experience and definitely a fancy way to finish a visit to Colorado Springs.
You get incredible views of Seven Falls, the only waterfall in Colorado to earn a place on National Geographic's list of International Waterfalls.
You can also enjoy cuisine that reflects the rich diversity of immigrants who sought their fortunes during the gold rush.
A ticket to the Seven Falls is required to access Restaurant 1858, and we recommend dining al fresco on the patio beside the falls!
52. Gold Camp Road Tunnels
Up for a spooky adventure? If you're feeling brave, head up to the Gold Camp Road Tunnels in North Cheyenne Canyon.
Depending on the story you hear, the tunnels are haunted by the workers who constructed the tunnels in the late 1800s, or by the school bus of children killed when Tunnel 3 collapsed in the 1980s.
Visitors have reported seeing cloaked figures, hearing children laugh, and finding small hand prints in the dust on your car.
To get there, take a truck or 4 wheel drive vehicle up Gold Camp Road, and when it turns to dirt, keep going.
———
That's all for our top 52 best restaurants and things to do in Colorado Springs! We hope you found some awesome ideas to add to your itinerary.
Need help narrowing down your activities? Or want to tell us how your trip went? Hit us up on Instagram @hashtagcoloradolife.
Ryan Nicholson is a homegrown born and raised Colorado native. Being a rare unicorn to have grown up in CO, he has a unique perspective on the changes here and knows all the hidden spots to get outside in this state. Ryan's a classically French trained chef so he LOVES to try new foods and places to eat. When he's not experimenting in the kitchen or working as a personal chef along the Front Range, he loves to get outdoors and away from it all hiking, camping and backpacking.