12 Best Hot Springs Near Boulder, Colorado [2023]
This website may contain affiliate links and we may be compensated (at no cost to you!).
Colorado is home to some of the country's best hot springs, known for their beauty and restorative nature.
While there are many hot springs around Denver, some of the state's most unforgettable are located only a short 30-minute drive away from Boulder.
As a couple who lived in Boulder for several years, we've discovered some of the closest hot springs destinations that are open year-round.
Get ready for an unforgettable day or weekend away at these hot spring locations near Boulder, Colorado.
1. Indian Hot Springs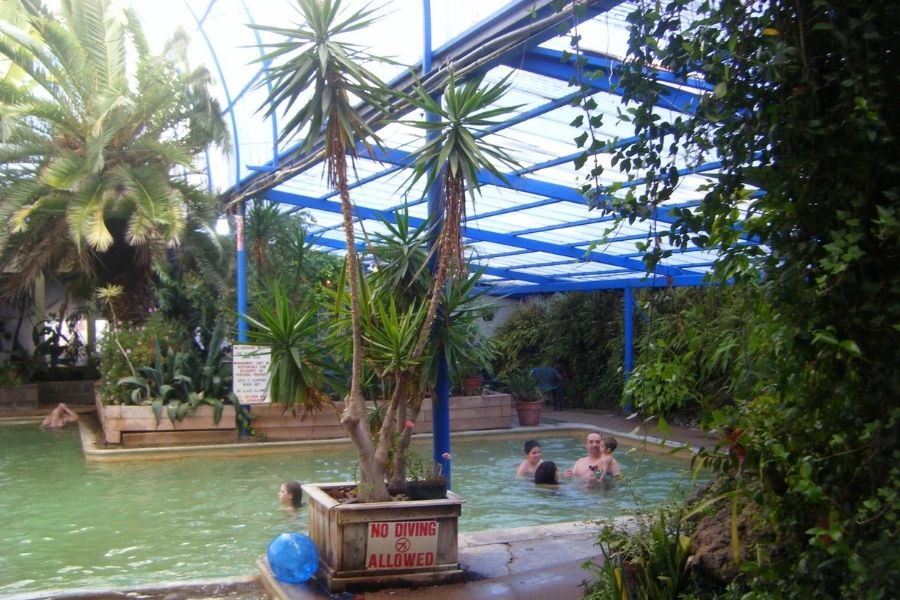 One of the best hot springs near Boulder is the unforgettable Indian Hot Springs.
At this historic resort, you can leave the hustle and bustle of the world behind and immerse yourself in the peace and quiet that surrounds you.
Meander through the small town of Idaho Springs. This quaint town, with a big heart, is full of smiling faces and locals who are happy to welcome you into their little corner of paradise.
Take time to sample the food as it's spectacular! And you can shop at the mom-and-pop stores that line the main street or hike some of the beautiful natural spaces outside the town.
Of course, you're here for the natural mineral water from the hot springs, and they won't disappoint. Take a dip in the geothermal swimming pool, or if you're feeling adventurous, soak in the geothermal caves.
Here, you will find a dedicated quiet zone meant for meditation and relaxation while you reconnect with nature in this breathtaking setting.
Whether you're looking to unwind in an outdoor jacuzzi or experience a mud spa treatment, you can't go wrong at this small-town resort near Boulder.
Address: 302 Soda Creek Road, Idaho Springs, CO 80452
Distance: 44 miles
Travel Time: 58 minutes
2. Hot Sulphur Springs Resort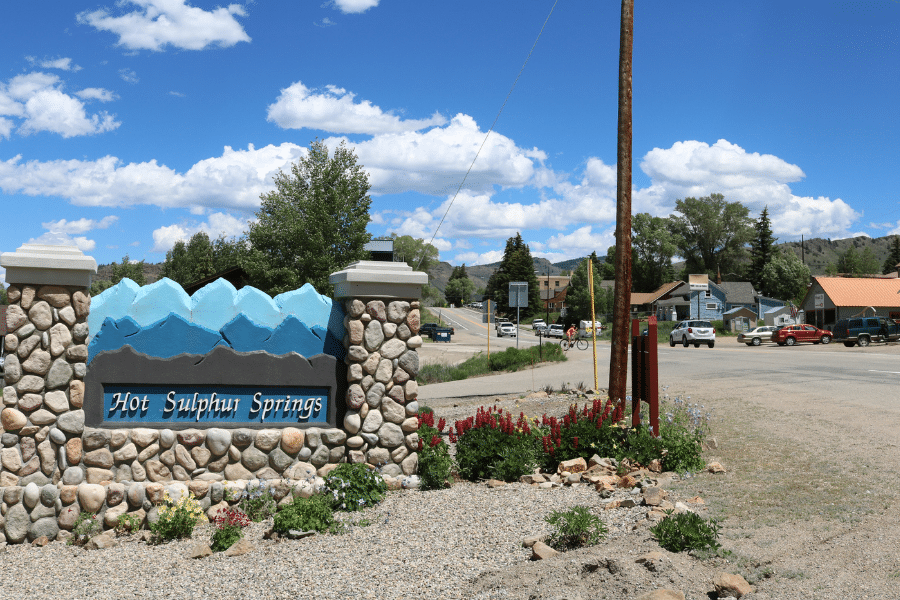 If you're searching for a private location, the Hot Sulphur Springs Resort has you covered.
Nestled within the Rocky Mountains, it offers on and off-site lodging as well as fun activities for the whole family.
The area is an outdoor lovers' dream, with horseback riding, hiking, biking, and more available during the summer months.
There are a variety of pools to choose from, with the option to book a private one for you and your party.
The mineral content in the springs has remained constant since 1946, and no chemicals are added, making it great for those with skin sensitivities.
If you want to take your restful weekend a step further, be sure to book a message, which includes a complimentary full-day pass to the springs.
It's no wonder why so many adventure lovers choose this remote hot spring location.
Address: 5609 Spring Rd, Hot Sulphur Springs, CO 80451
Distance: 108 miles
Travel Time: 2 hours 18 minutes
3. Sunwater Spa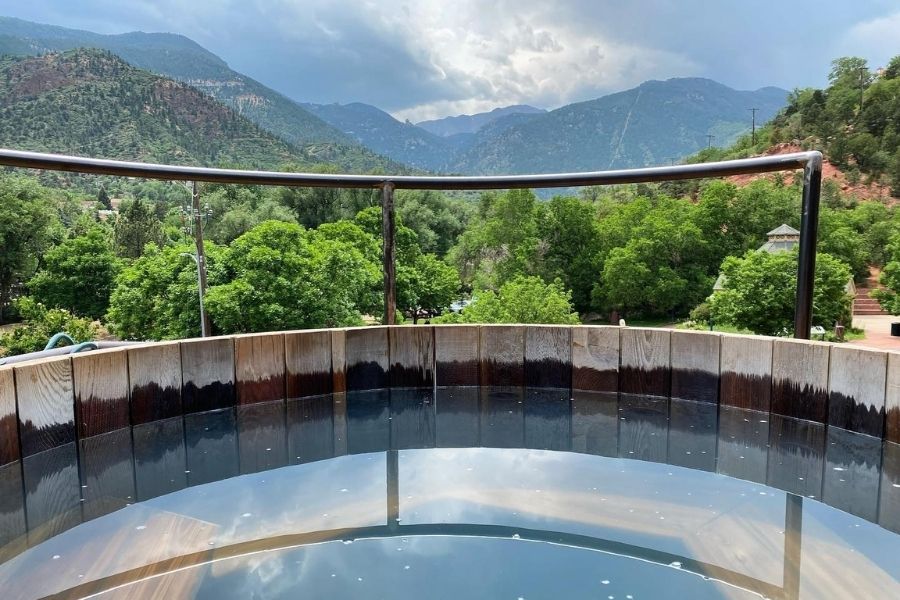 Sunwater Spa is located in the artsy town of Manitou Springs and focuses on whole-body wellness.
And it's one of our favorite hot springs destinations since it's only a few minutes from where we live in Colorado Springs.
However, it's also a great day trip from Boulder when you're looking to relax and get away from it all.
The town is unique in offering spring-fed public water fountains, which were considered sacred for their healing properties by the Native Americans.
This same water, which comes from 7 Minute Spring, is found in the Sunwater Spa's springs.
The water is ultra-filtered through underground rock faults, crevasses, and cracks, infusing it with minerals for an unparalleled experience.
Once you're done soaking at this upscale getaway, check out the spa for a massage. Or go through the historic town, which offers delicious restaurants, unique shops, and adventures like caving and hiking.
Address: 514 El Paso Blvd, Manitou Springs, CO 80829
Distance: 102 miles
Travel Time: 1 hour 40 minutes
4. Glenwood Hot Springs Resort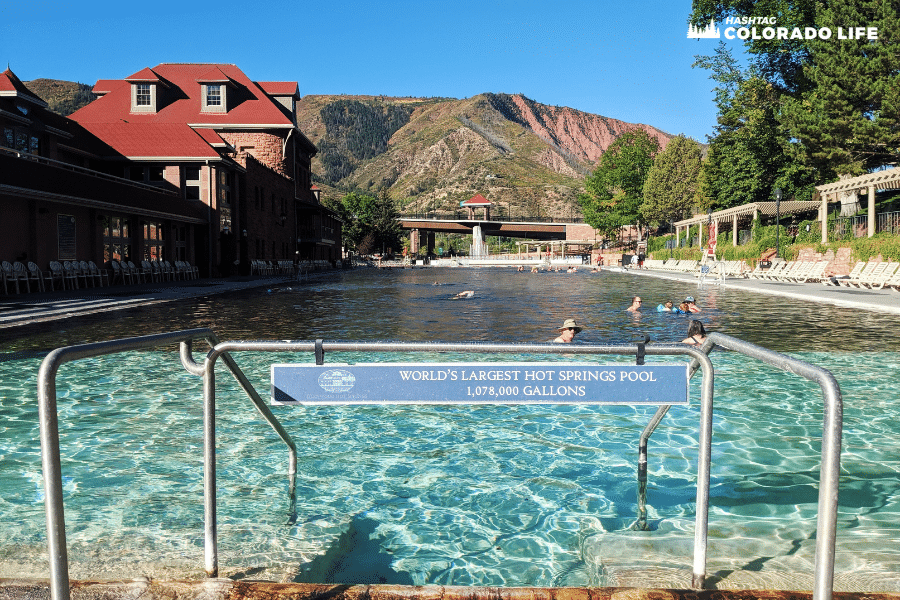 A favorite with locals as well as our favorite annual destination, Glenwood Hot Springs Resort, offers the perfect mix of relaxation and adrenaline.
For over 130 years, guests have enjoyed the beauty of nature at this rustic location.
Take a stroll around historic Glenwood Springs and enjoy the historic buildings and delicious local food.
And be sure to walk over the famous pedestrian bridge, which offers breathtaking views of the Colorado River as it winds through the majestic Rockies.
Back at the resort, you will enjoy yummy food, which you can eat as you sit by the world's largest hot springs pool.
It includes a large lap pool, with diving board, a therapy pool and a kid area that's open during the day for kids to splash around in.
For those who enjoy going out after dark, there are plenty of places to enjoy the nightlife, or stop at the full-service spa.
Be sure to check out the white water rafting, kayaking, hiking, and biking after you melt your cares away in the mineral hot springs at this historic spa resort.
Address: 415 E 6th St, Glenwood Springs, CO 81601
Distance: 168 miles
Travel Time: 2 hours 52 minutes
5. Iron Mountain Hot Springs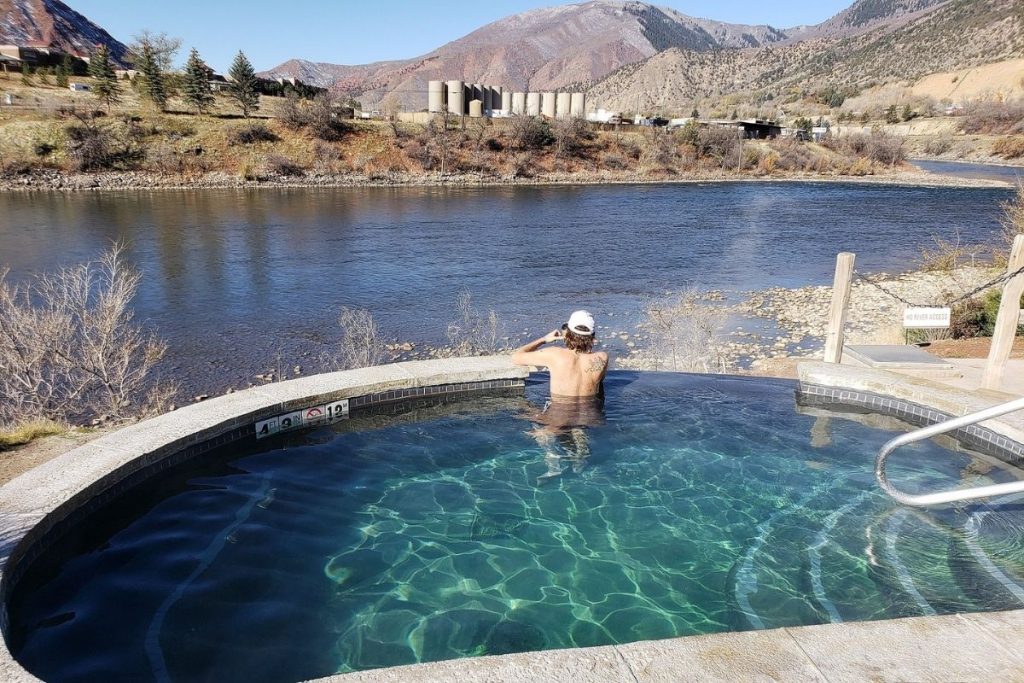 Another incredible hot spring located in Glenwood Springs, you won't want to miss the natural landscape that makes Iron Mountain Hot Springs stand out from the rest.
Located on the edge of the Colorado River, there are 32 small spring-fed pools scattered throughout the property, making it easy to find the perfect spot to relax.
Bring the whole family and enjoy the general access pools, or keep it 18+ at the adults-only locations.
Iron Mountain stands out as one of the only resorts to formulate its mineral spring pools to replicate famous hot springs from around the world. It mimics ones in Hokkaido, Japan, and Blue Lagoon, Iceland.
The food nearby Iron Mountain Hot Springs is delicious, and the accommodations are first-class at this stand-out resort spa.
Address: 281 Centennial St, Glenwood Springs, CO 81601
Distance: 170 miles
Travel Time: 2 hours 57 minutes
6. Mount Princeton Hot Springs Resort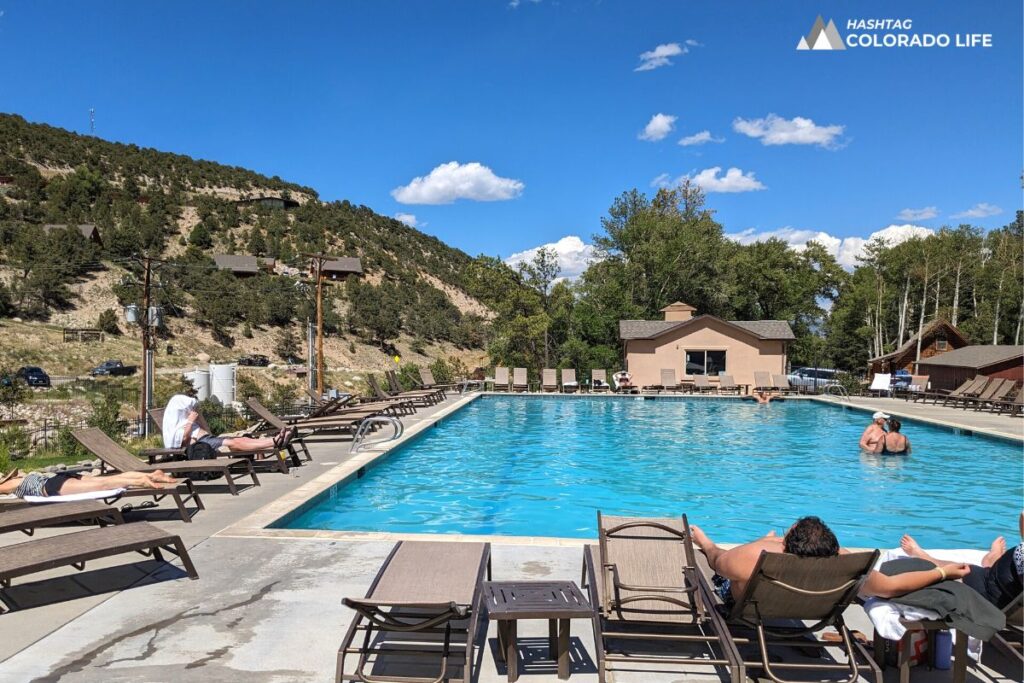 Spend a day or the entire weekend surrounding yourself with nature at the Mount Princeton Hot Springs Resort.
The geothermal hot spring pools are open to the public daily, while the spa and resort are perfect for those looking for a peaceful getaway.
The pools range in water temperature from 70 to 114 degrees, making them perfect for the entire family, and there are plenty of activities to enjoy once you're done.
Kids and adults will love the large soaking pool, infinity pool, and the giant water slides in the summer.
During summer, rent a bike, take a hike, or enjoy a massage in the spa, while the winter is the perfect time for cross-country skiing or snowshoeing.
No matter the time, you'll want to experience the warm waters and natural surroundings at this exciting resort spa.
Address: 15870 Co Rd 162, Nathrop, CO 81236
Distance: 141 miles
Travel Time: 2 hours 46 minutes
7. Cottonwood Hot Springs Inn & Spa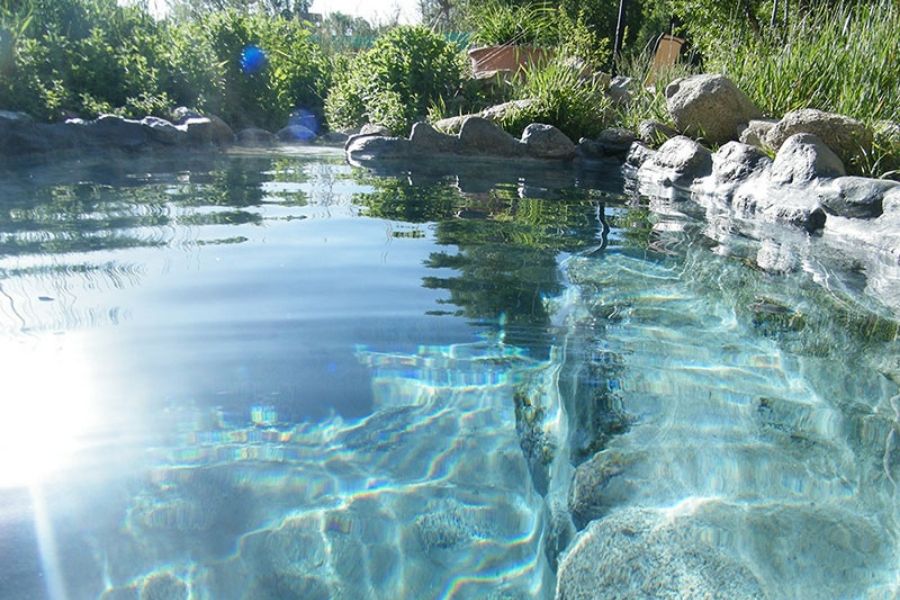 Another best natural hot springs near Boulder are the crystal clear gravity-fed, mineral hot springs pools at the Cottonwood Hot Spring Inn & Spa.
These natural waters have been used by the Ute Indians for centuries and are known for their healing and therapeutic properties.
Known as Colorado's purest hot spring, the waters are still used to promote healing of the body and mind.
If you're staying for the weekend, you'll enjoy the quaint creekside cabins and shopping, as well as the world-class spa.
The smaller size of the resort makes it perfect for those seeking to get away from the fast-paced city lifestyle and reconnect with nature.
See what the artesian waters can do for you at this healing spa getaway.
Address: 18999 Co Rd 306, Buena Vista, CO 81211
Distance: 139 miles
Travel Time: 2 hours 45 minutes
8. Radium Hot Springs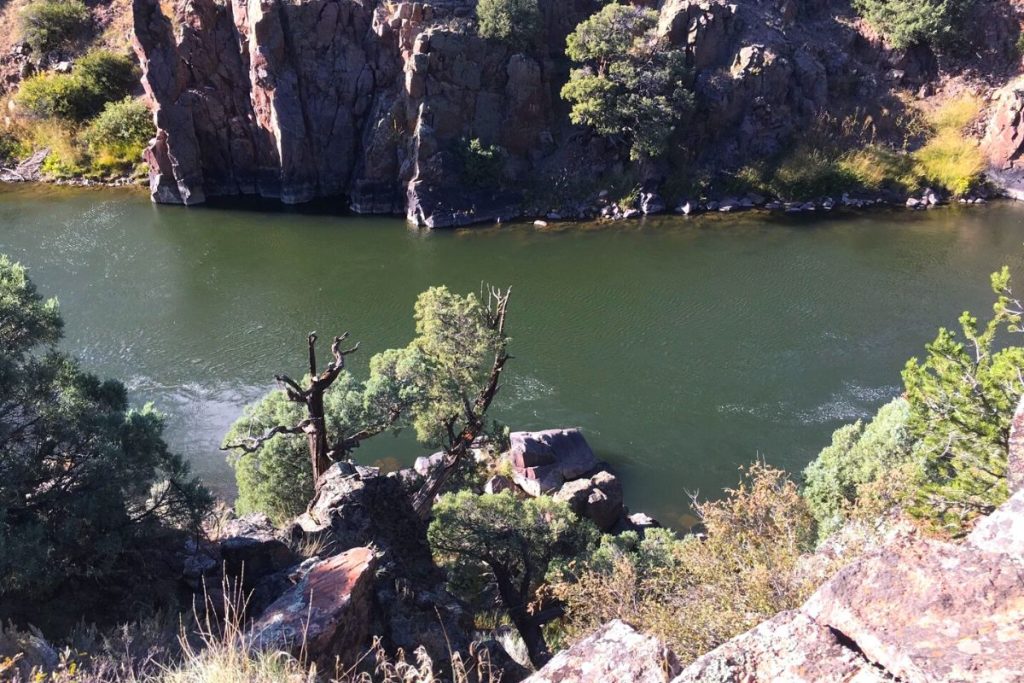 If you're looking to reconnect with nature without the resort, Radium Hot Springs is the place to go. This primitive location is situated on the banks of the mighty Colorado River and nestled beneath towering cliffs.
It is a unique location because it is simply a natural pool riverside, but it offers users the ability to connect with nature like never before.
Depending on the height of the river, the springs may drop as low as 80 degrees, making them chillier than other hot spring locations. But their uniqueness makes them more than worth the cooler temperatures.
Nature lovers who want an immersive hot spring experience won't want to miss this wild location.
Address: Radium Hot Spring, Kremmling, CO 80459
Distance: 127 miles
Travel Time: 2 hours 32 minutes
9. Pagosa Springs Resort & Spa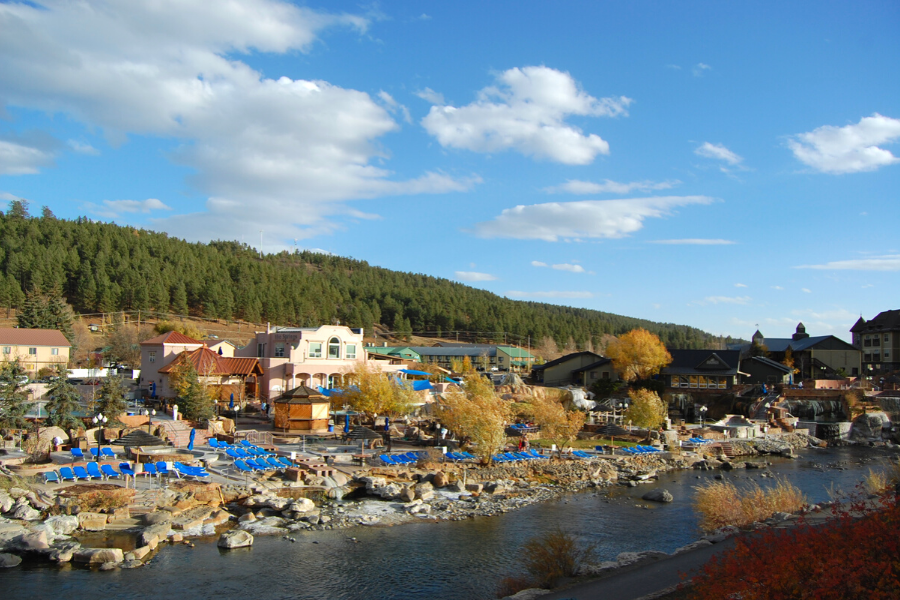 Pagosa Springs in Colorado is one of the most picturesque towns in the state, which is why the Springs Resort & Spa is a favorite among locals and travelers worldwide.
Designed to promote relaxation, the geothermal waters are scattered throughout the property in all shapes and sizes.
Day trippers will enjoy soaking in the numerous pools, while those staying at the resort will appreciate the 24-7 pool access along with Aqua Yoga and Bathing Hikes.
Thirteen minerals like Manganese, iron, and Lithium in the springs help promote healing and wellness, making this ancient location a favorite destination for those seeking to rejuvenate their mind and body.
Address: 323 Hot Springs Blvd, Pagosa Springs, CO 81147
Distance: 288 miles
Travel Time: 5 hours 20 minutes
10. Strawberry Park Hot Springs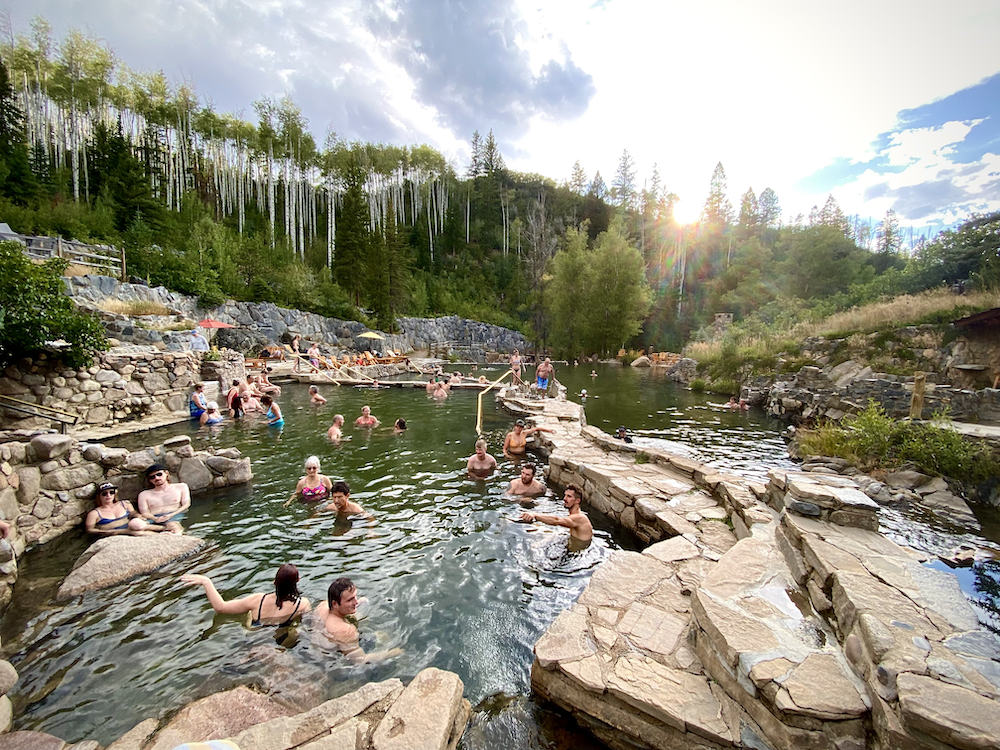 If you're looking for a way to leave civilization behind at a hot springs near Boulder, check out the remote Strawberry Park Natural Hot Springs.
Each hot springs pool is surrounded by stunning stone masonry, connecting it with the forest and mountain surroundings.
The remote location requires four-wheel drive from November to May, highlighting the privacy you can expect during your visit.
Clothing is optional after dark, so children are only allowed on the premises during the daytime.
If you're looking for an experience unlike any other, you will love this freeing hot spring spot in Steamboat Springs.
Address: Co Rd 36, Steamboat Springs, CO 80487
Distance: 170 miles
Travel Time: 3 hours 21 minutes
11. Desert Reef Hot Springs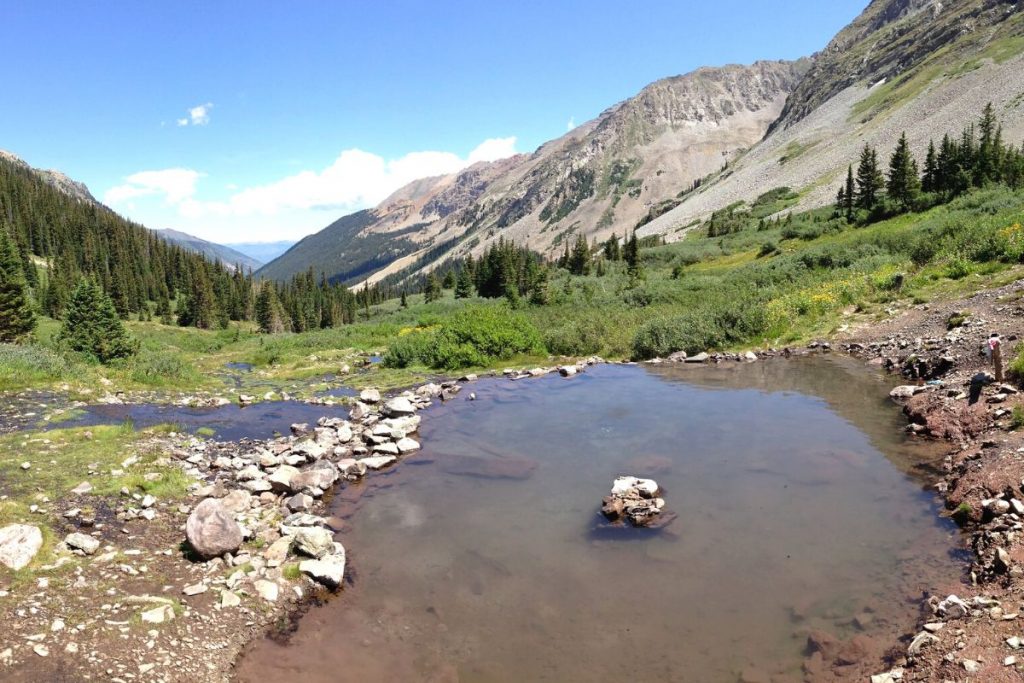 If you're looking for a desert getaway without leaving Colorado, the Desert Reef Hot Spring is for you.
Choose to soak in the main pool or book a private hot tub for a more intimate experience. But whichever you choose, you'll enjoy water temperatures between 125 and 135 degrees in these mineral-rich waters.
The blue hue that makes the pools so majestic is due to the high Travertine content, which makes it a beautiful place to unwind.
Be sure to check out this desert oasis nestled within the Colorado mountains.
Address: 1194 Co Rd 110, Florence, CO 81226
Distance: 137 miles
Travel Time: 2 hours 26 minutes
12. Old Town Hot Springs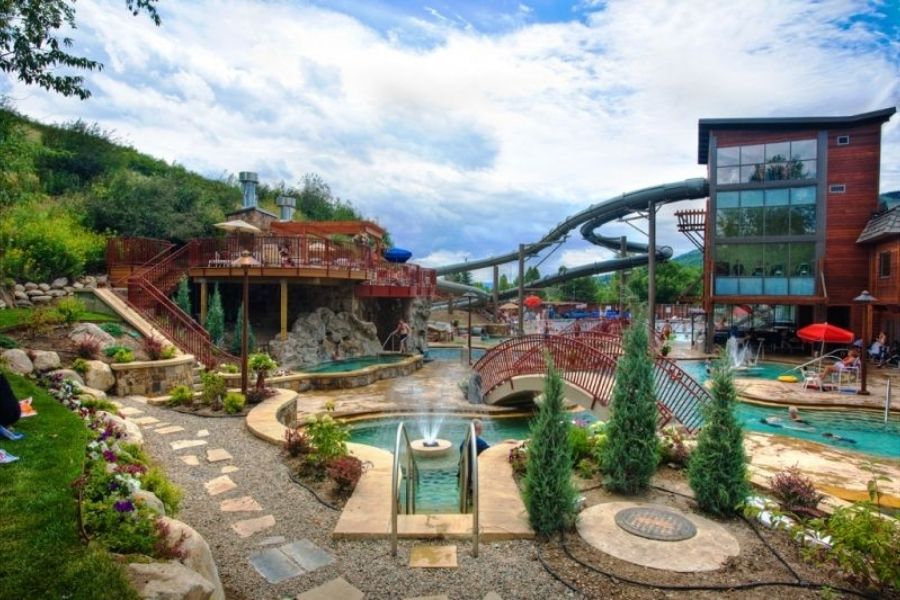 For the perfect getaway for the entire family to escape to a hot springs near Boulder is Old Town Hot Springs, which has something for everyone to enjoy.
From rock climbing and waterslides to a spa, dining, and shopping, it's a must-see for any family getaway.
The natural mineral springs are gravity-fed, pumping over 220 gallons of 100 degree-water every minute.
The mineral content is never diluted, making it perfect for those seeking spiritual and physical healing.
Check out this exciting vacation stop with hot springs pools and a large outdoor pool for the whole family.
Address: 136 Lincoln Ave, Steamboat Springs, CO 80487
Distance: 167 miles
Travel Time: 3 hours 14 minutes
Whether you're looking to unwind and relax with your partner or make memories with the whole family, these unforgettable hot springs near Boulder, Colorado are sure to deliver!