A Complete Guide for Visiting Cheyenne Mountain Zoo in 2022
This website may contain affiliate links and we may be compensated (at no cost to you!).
Cheyenne Mountain Zoo is the most unique zoo in America. We like it so much we've added to our Colorado bucket list this year.
If you are looking for a fun place to explore on your vacation to Colorado Springs, be sure to add this destination to your list.
It's a fun and educational experience that you and your family won't soon forget.
Plus, there are some one-of-a kind events that are perfect for special occasions and holidays.
The history of Cheyenne Mountain Zoo
Spencer Penrose is the founder of the Cheyenne Mountain Zoo which opened in 1926.
Mr. Penrose was a wealthy resident of Colorado Springs who had a passion for exotic animals.
In 1916 he received a bear as a gift and over the years began adding other animals to his collection.
He acquired an elephant, a 12-foot boa constrictor, fox, deer and elk.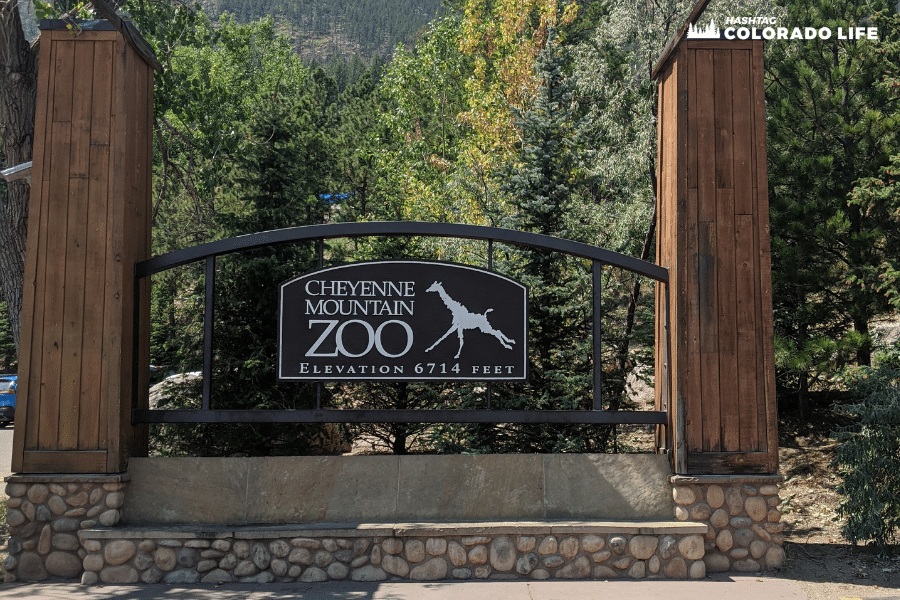 During this time he also invested a lot of money into some of the area's most popular destinations, like the Broadmoor Hotel and Pikes Peak Highway.
By 1925 Mr. Penrose's collection of animals had become quite extensive and they needed a new home.
This is when he relocated the animals to Cheyenne Mountain and founded the zoo in 1926.
Later in 1938 the zoo was incorporated as a nonprofit public trust and deeded to the people of Colorado Springs.
His request was that it be "for the sole purpose of establishing and maintaining a zoological park to provide recreation, education, conservation and scientific facilities in the field of zoology and related subjects, and to preserve the zoo in perpetuity for the people of the Pikes Peak region."
Because of this, the Cheyenne Mountain Zoo is one of only a few accredited zoos in the country that does not receive tax support for operations.
The zoo is solely supported by admissions to the Zoo and its special events, membership costs, grants, and donations from citizens and guests.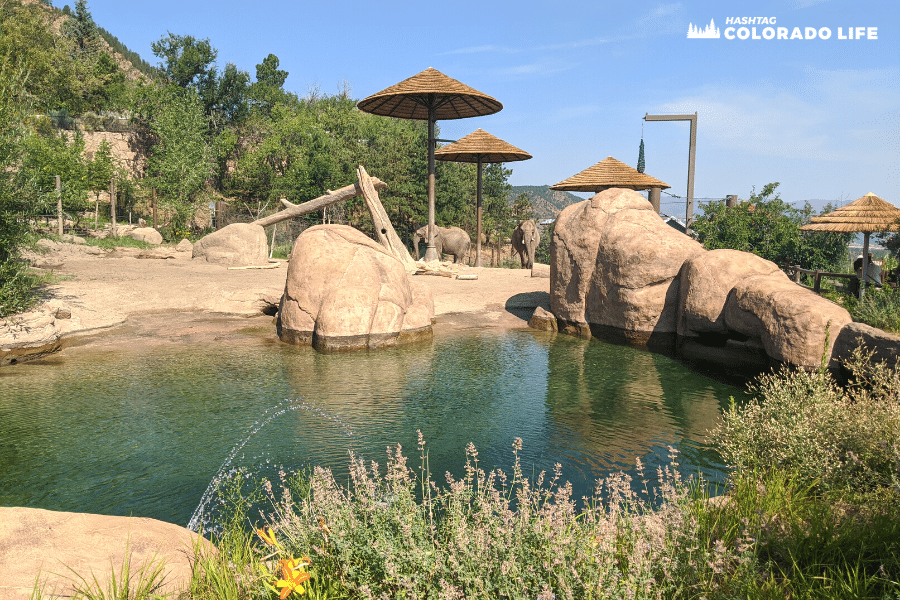 What to expect when visiting Cheyenne Mountain Zoo
At an elevation of 6,714 feet above sea level, Cheyenne Mountain Zoo is the highest zoo in America.
And it's fairly large too, covering 146 acres of which 40 acres are in use for the zoo and its furry inhabitants.
The zoo is home to hundreds of animals, including:
Grizzly bears
Giraffes
African lions
African elephanse
An Alaska moose
Leopards
Amur tigers
Sloths
Hippos
Penguins
Gorillas
Orangutans
A rhino
And more
Due to its unique history, conservation contributions, animal care standards, and location, Cheyenne Mountain Zoo was named the #4 best zoo in North America in USA Today's 10 Best Reader's Choice.
If you have never visited a zoo on the side of a mountain, here's your chance!
And as a couple who lives in Colorado Springs, we highly recommend the Cheyenne Mountain Zoo as a must-visit destination.
Where is Cheyenne Mountain Zoo?
The Cheyenne Mountain Zoo is located at 4250 Cheyenne Mountain Zoo Rd in Colorado Springs.
It is nestled into Cheyenne Mountain just southwest of the city.
If you're looking for directions to the zoo from Denver, head south on I-25 through Larkspur and Monument.
Once you arrive in Colorado Springs continue south and take Exit 140 towards South Tejon Street.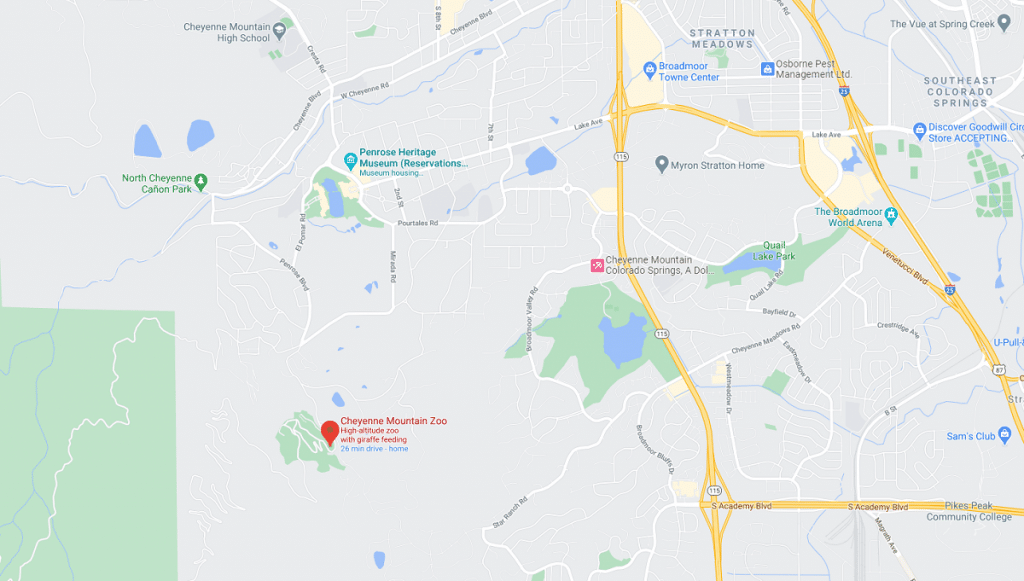 At the light, veer right onto Cheyenne Blvd then take a left onto Cresta Road. Continue following the signs to Cheyenne Mountain Zoo.
On your way up the mountain, you will pass the famous Broadmoor Hotel with gorgeous grounds and unique architecture.
Driving through the zoo for about 1.4 miles on Cheyenne Mountain Highway will bring you to the Will Rogers Shrine of the Sun.
Admission to Shrine of the Sun is included in your admission to the Zoo.
This shrine has an elevation of 8,136 feet high! It offers picturesque views of Colorado Springs, Pikes Peak and across the Eastern Plains.
What time does Cheyenne Mountain Zoo open?
The Cheyenne Mountain Zoo is open 365 days a year typically between 9am to 5pm daily.
However, the hours change depending on whether or not there are special events happening.
At times capacity is limited, so be sure to purchase tickets in advance to save your spot.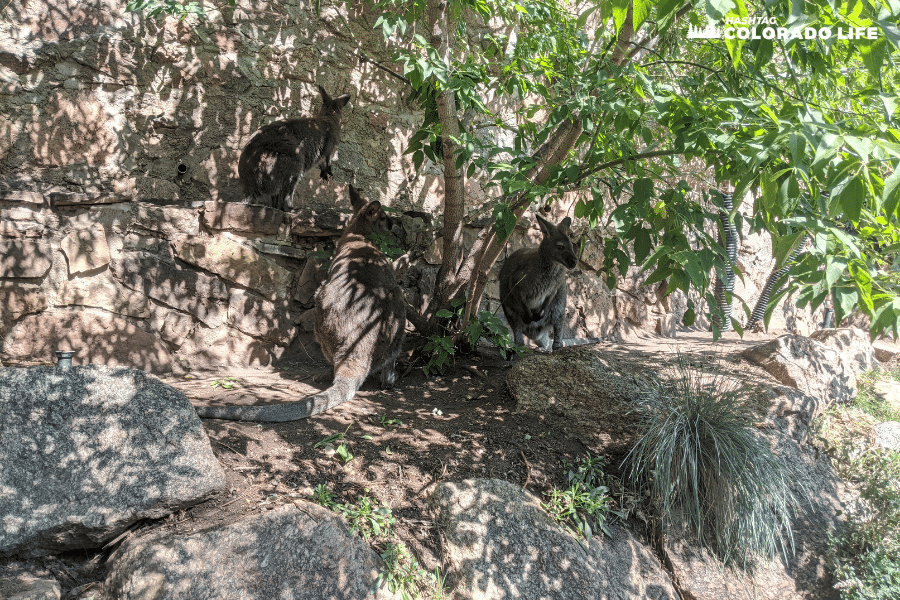 Check out the zoo's website for more information to plan your visit today.
The Will Rogers Shrine of the Sun is open from 10am to 4pm daily with the last car admission at 3pm.
Due to the pandemic, capacity is limited at Shrine of the Sun, too.
Also, if you are planning to take the Mountaineer Sky Ride, hours may vary.
May 1 – Labor Day: daily from 9am-5pm (last ride at 4:30pm)
September – April: weekends only from from 10am-4pm (last ride at 3:30pm)
Parking at Cheyenne Mountain Zoo
Cheyenne Mountain Zoo offers free parking for visitors in the parking lot across from the zoo entrance.
But it's recommended to get to the zoo early since the parking lot does fill up quickly.
Parking is more readily available in the morning, and this is when the animals are most active as well.
During peak season or busy days when the zoo parking lot is full, you can find free parking off-site.
Information about shuttles and off-site parking locations will be provided on signs as guests approach the Zoo.
While the Zoo is still under limited capacity restrictions, all guests will find parking in the Zoo's parking lot.
Once restrictions start to the lift, parking may fill up, and you may be directed to a free off-site parking area, where you'll be shuttled back to up to the Zoo.
If shuttles are running, you'll find pertinent information on signs as you drive up to the Zoo entrance.
Once inside the zoo, watch for signs for the golf cart shuttle to ride within the park for $2 each.
Special events & exhibits at Cheyenne Mountain Zoo
One of the reasons we love visiting the Cheyenne Mountain Zoo is for the special events that are hosted every year.
As you are exploring the Cheyenne Mountain Zoo and all the things to do and to see, click here to download a free map of the zoo.
Here is a list of the best events and special exhibits at the zoo.
1. Electric Safari
Every year starting in December, the Cheyenne Mountain Zoo hosts an event called the Electric Safari.
During this month, the zoo is lit up with tons of sparkling lights and bright displays.
The walkways are decorated with twinkling Christmas lights while the exhibits and animal areas have fun light sculptures.
In fact, the zoo features over 85 unique light displays and thousands of sparkling lights.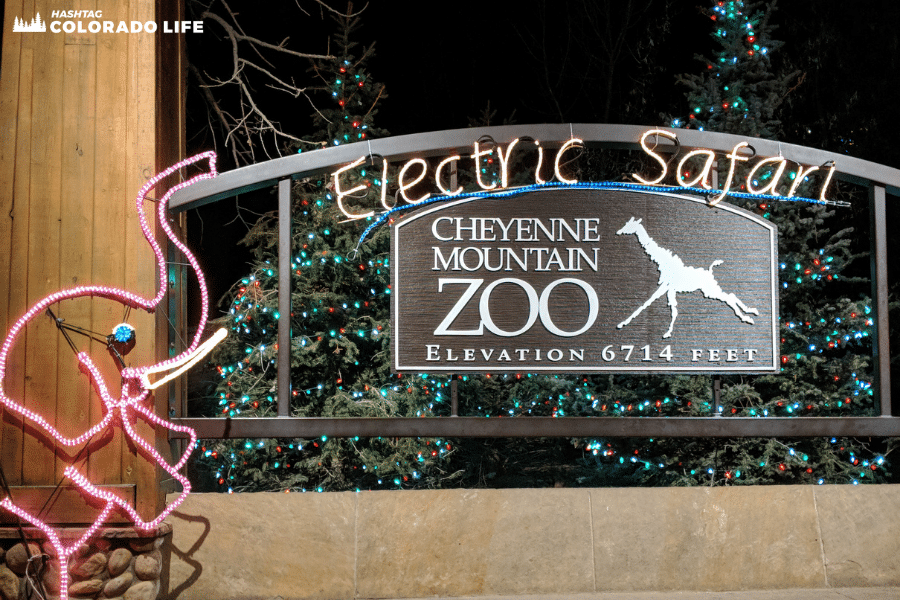 Early entry starts between 4:20pm and 5:20pm and is for members only. General admission tickets open at 5:20pm and 7:20pm with the event closing at 8:30pm.
Electric Safari is closed on Christmas Eve.
Santa and his elves are available for photos through December 23rd, and to share details of what's on your Christmas list.
Dusk and nighttime Sky Ride tickets are available, weather permitting.
And hot cocoa stands are located throughout the zoo to help you stay warm and cozy.
This is hands down our favorite event to attend every year!
You don't often get to see the animals at night, since the zoo is only open during daytime hours, except for special events and evening programs.
And the best part is that the Electric Safari event is free for members, as long as you reserve tickets in advance.
It's a fun and unique experience to enjoy during the holiday season!
2. Boo at the Zoo
Every October the Cheyenne Mountain Zoo celebrates with a special event called, Boo at the Zoo.
Tickets are on sale 7 days a week during mid-to-late October and all ages are welcome.
The event starts at 3:40pm and goes until 8:30pm with the last entry being at 7:20pm.
Employees and volunteers decorate the Zoo with festive lights, a lighted pumpkin patch, a kid-friendly haunted house, and candy of course!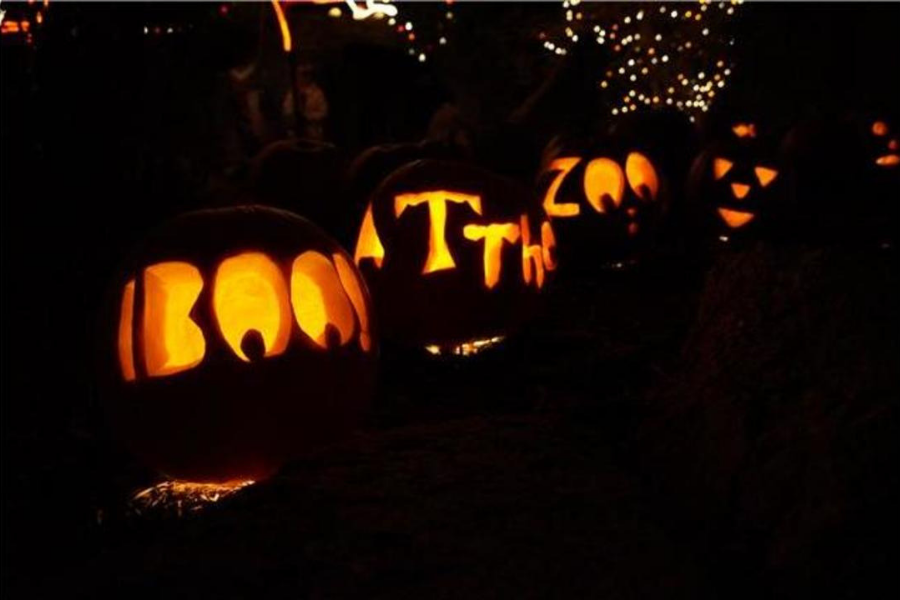 Kids under the age of 12 are welcome to wear costumes or masks while touring the zoo. However, anyone over 12 years old is not allowed to wear entire face-covering masks.
All are welcome to wear costumes and get into the spirit of the season.
Bring your own trick-or-treat bag to be filled with candy from the Spooky Treat Stations.
The candy is made with sustainable palm oil so it supports conservation of wild orangutan habitats.
In addition to the activities listed above, the zoo also has a Spooky Graveyard and a Pirates Cove for kids to enjoy.
And there are lots of photo opportunities throughout.
Boo at the Zoo is a paid event with pricing details being released as the event date gets closer.
3. Giraffe encounters
When you first walk into the zoo you will likely end up at the African Rift Valley exhibit.
This is where the Zoo houses one of North America's largest giraffe herds and is their most popular exhibit.
Since 1954 there have been more than 200 births of giraffes at the zoo, thanks to their successful breeding program.
Here you will also see African lions, zebras, vultures, Red River hogs, meerkats, Colobus monkeys and more.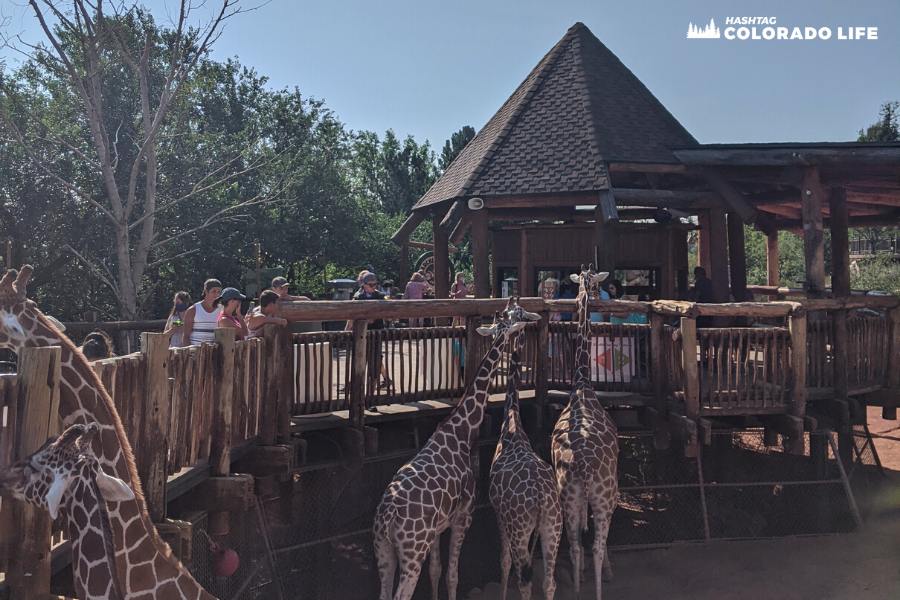 One of the most popular things to do at the Cheyenne Mountain Zoo is to feed the giraffes. This activity is available daily during open zoo hours from 9am to 5pm.
Thanks to the elevated boardwalk that borders the giraffe exhibit, you or your kids can reach the giraffes easily.
They eat lettuce that is available for purchase. This is a very popular activity that kids especially love doing!
In addition to feeding the giraffes, the zoo also offers daily schedules for feeding other animals with the park.
Feed the Parakeets and Parrots in the Budgie Australia Walkabout or kids can feed the goat and chickens at the Petting area.
Rhinos and elephants also have daily feedings from March to October, weather permitting.
Elephant feedings are from 11-11:30am and 2:30-3pm. Rhino feedings are from 12-12:30pm. No need to register in advance, just hop in line in Encounter Africa.
4. Water's Edge: Africa exhibit
The newest exhibit at the Cheyenne Mountain Zoo is called Water's Edge: Africa and is the home for the Nile hippos and African penguins.
It is located on the southwest side of the zoo near the Primate World exhibits.
This new environment allows for successful breeding programs for both species to thrive.
You will also find a variety of animals like pelicans, lemur, and warthogs in this exhibit.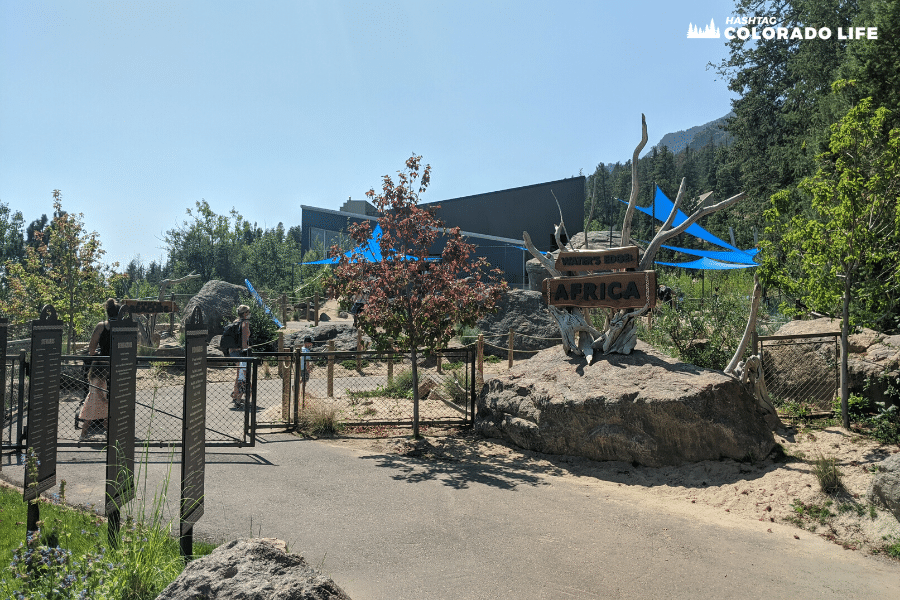 Exploring the Water's Edge exhibit will take you to the nature trail which leads to a rope bridge that's suspended 8 feet above the outdoor hippo yard.
You will also find many living plants inside here including Sumawon's Fan Palm. This tree stands out thanks to its dramatic look and massive leaves.
This is a rare palm that can reach up to 10 feet in height, with perfectly round 4 foot fronds.
Kids can also get hands on with the small conservation interpretation and outdoor area.
Water's Edge area is open all year long, or unless otherwise stated.
5. Silent Night at the Zoo
Silent Night at the Cheyenne Mountain Zoo is hosted monthly on the first Wednesday, May through August and on Saturday September 11th, between 5:30 and 7:30pm.
During this night each summer month the Zoo invites you to silently enjoy the full zoo experience, excluding the Sky Ride or carousel attractions.
This unique experience allows you to connect with the animals in a peaceful and quiet atmosphere.
Enjoy the tranquil sounds of the animals and surrounding nature by turning off your phone and lowering your voices.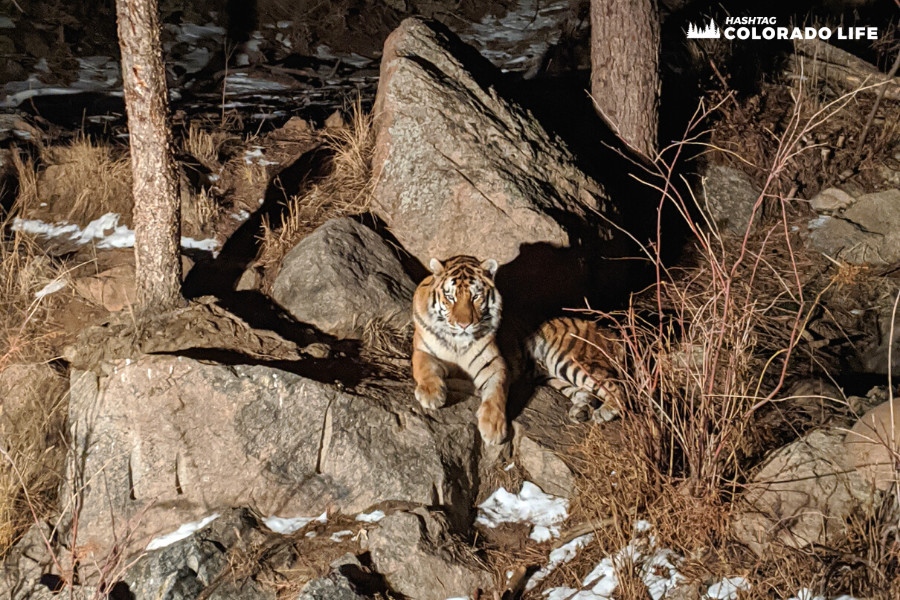 Cheyenne Mountain Zoo requests that phones be turned off and that there are no conversations or loud disruptions.
If you need to make a phone call or talk to a family member, designated sound-friendly areas are available.
All ages are welcome, but be sure to consider that this is completely silent and may not be the best place for small children or babies.
Unlike Electric Safari, Silent Night costs about $15 for adults and $10 for children who are members.
If you are not a member, you can expect to pay between $13-18 per person for this event. Discounts are offered for seniors and military personnel.
Children under 2 years old cost $0.75 each whether you are a member or non-member, as $0.75 from every admission goes to the Zoo's Quarters for Conservation program.
6. Mountaineer Sky Ride
The Mountaineer Sky Ride is an open-air chair lift ride that takes you on a short slow ride up and back down the mountain.
Its hours vary depending on the time of year.
May 1 – Labor Day: daily from 9am-5pm (last ride at 4:30pm)
September – April: weekends only from from 10am-4pm (last ride at 3:30pm)
The Sky Ride requires Zoo admission in order to access.
Thankfully though, you can purchase a ticket combo package when you get your zoo admission tickets that includes the Sky Ride.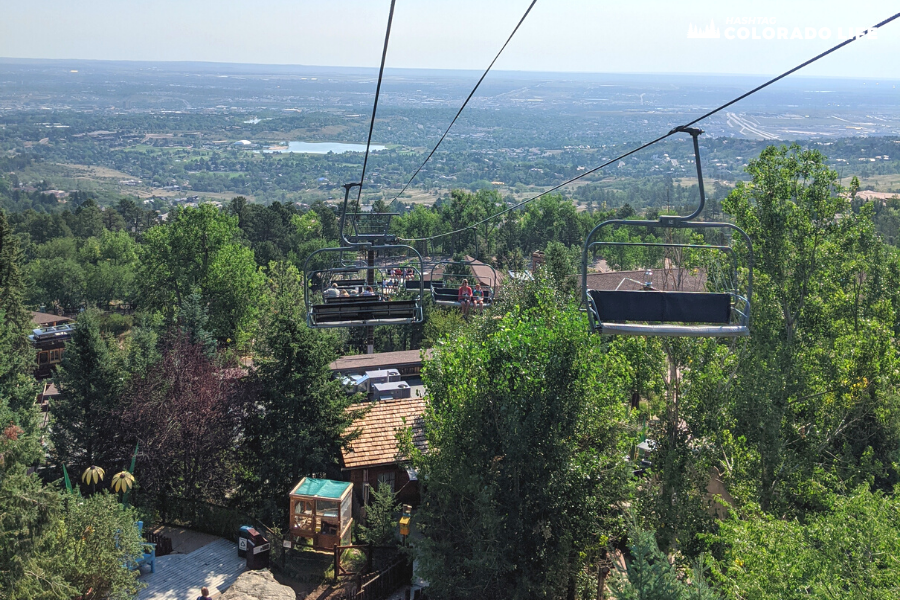 Otherwise you can expect to pay an additional $4-5 per non-member to ride the lift.
Members, however, get access to Sky Ride Day Passes which include unlimited FREE Sky Rides during regular zoo hours.
The Day Pass costs $35 per year but is another great reason to become a zoo member!
The Sky Ride can only be boarded from the bottom of the Zoo. It's located between the giraffe area and the goat yard.
Under capacity restrictions, only members of the same household are permitted to share the same seat, with a maximum of 4 people per chair.
You are required to ride the chair lift up and down the mountain in both directions. The time it takes to ascend up the chair lift is about 7 minutes, or about 15 minutes round trip.
Children under 12 years old must be accompanied by another rider who is 12+ years and older.
Once at the top of the Sky Ride you can get off to enjoy the beautiful views of Colorado Springs and surrounding areas.
Or stop to take a bathroom break and let your kids play in the playground area.
How much does Cheyenne Mountain Zoo cost?
Tickets for visiting Cheyenne Mountain Zoo are not free and the cost varies for members versus non-members.
Non-members pay a higher price than zoo members do. Although, prices also vary depending on the weekdays versus the weekends.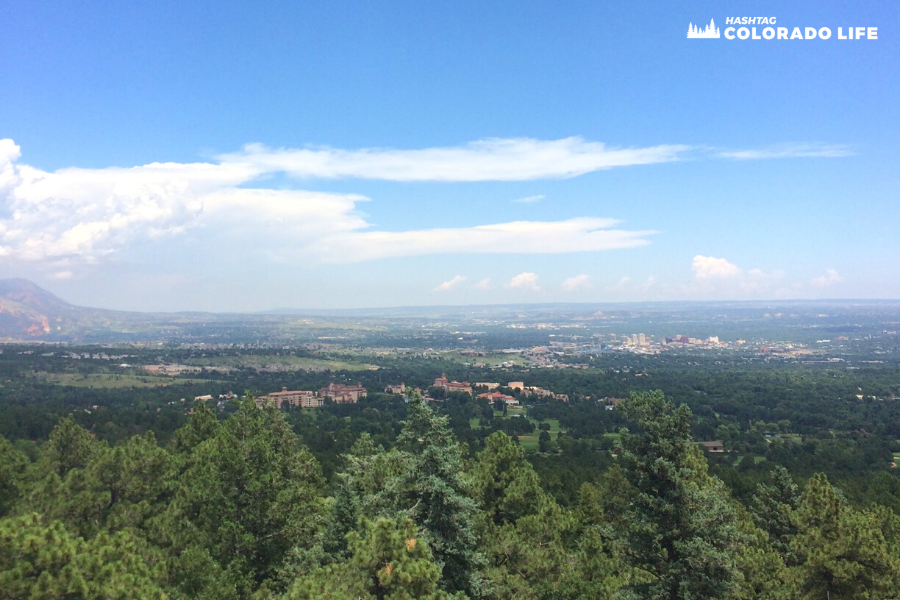 Non-member adult ages 12-64: $19
Non-member child ages 3-11: $14
Non-member senior ages +65: $17
Admission prices for members are usually free, except for special events.
Your zoo admission is included with your membership cost. See membership costs breakdown below.
Member adult – $0
Member child – $0
Member senior – $0
Children 2 and under get admission to the zoo for free!
How to get a zoo membership
The most popular membership packages offered by the Cheyenne Mountain Zoo are as follows.
Individual Plus ($119.50 a year) – Includes unlimited daytime admission for one adult. Plus, includes free admission for one additional guest each visit.
Family ($199 a year) – Includes unlimited daytime admission for two adults who are living in the same household, and their children who are ages 18 and younger.
Grandparent ($199 a year) – Includes unlimited daytime admission for two adults who are living in the same household, and any children or grandchildren who are 18 or younger.
Family Plus ($259 a year) – Includes unlimited daytime admission for two adults who are living in the same household, and any children or grandchildren who are 18 or younger.
You will also receive free admission for one additional guest each visit.
Conservator ($500 a year) – Includes unlimited daytime admission for two adults who are living in the same household, and any children or grandchildren who are 18 or younger.
Free admission for two additional guests is also included, along with free shuttle rides and an invitation to the Conservator Breakfast with the Zoo President.
Military discounts for zoo memberships are available and give $25 off any membership level.
Additional memberships are available for Patrons or Patron Gold packages and start at $1,000 and $1,500 respectively.
Please note that membership costs are not refundable and can not be downgraded after purchase.
Depending on the size of your family, it may be cheaper to purchase a Family or Family Plus membership versus buying non-member tickets.
To become a member of the Cheyenne Mountain Zoo, check out their website for more details.
Visiting Cheyenne Mountain Zoo in 2021
Currently, the Cheyenne Mountain Zoo is open with limited capacity available.
To ensure the safety of the zoo crew and staff, new guidelines for visiting have been put in place.
Here is what you need to know when visiting the Zoo in 2021.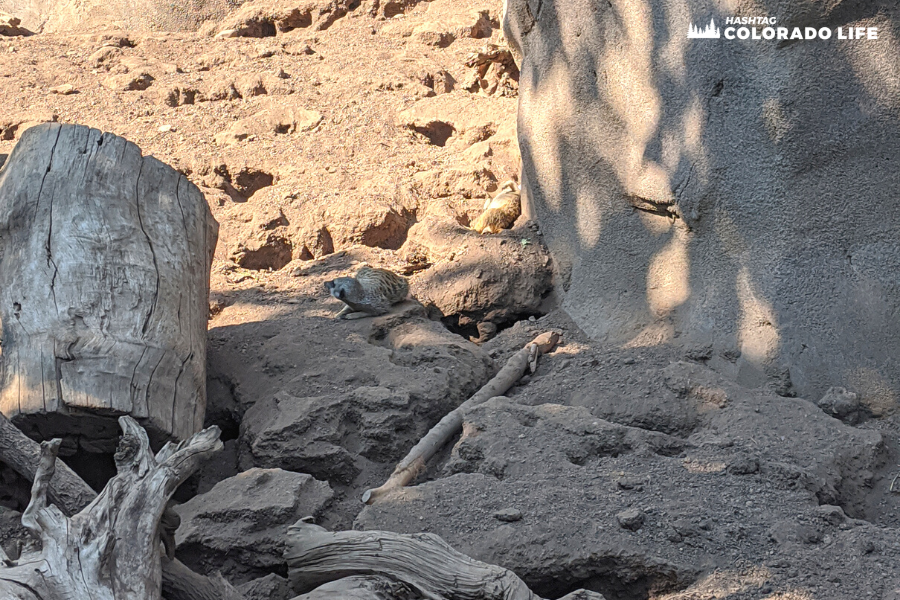 Tickets must be purchased in advance – Advance timed e-tickets are required and are limited. Additional times and openings will be released on a weekly basis, each Tuesday at 10pm MST.
Masks are required when inside – When going indoors to a building, masks are required to enter. However, if you would like to take off your mask while outdoors you can.
Buildings have limited capacity or are closed – Due to maintenance or the safety of visitors, not all buildings or exhibits are open during this time.
Restaurants and shops are open – There are many restaurants and shops within the zoo's grounds. Enjoy everything from pizza to BBQ or stop for some hot coffee at the Cozy Goat.
Visiting the Cheyenne Mountain Zoo is an epic experience you won't soon forget.
We personally love exploring the zoo on a regular basis, and feel that it is worthy of being one of the best zoos in North America.
We hope this guide will help you make the most of your experience and enjoy your trip to this unique activity in Colorado Springs.