7 Best Winter Sleigh Rides in Colorado For All Ages
This website may contain affiliate links and we may be compensated (at no cost to you!).
Enjoying horse-drawn sleigh rides in Colorado is like a dream come true! Imagine being able to view snow-covered mountain peaks while nestled in a cozy blanket with a mug of hot cocoa.
Spend time with your family and friends on a daytime sleigh ride through Colorado's gorgeous winter forests.
Or enjoy a home-cooked meal after stargazing with your significant other while surrounded by the quiet sounds of nature.
Whether it's a romantic winter sleigh ride, yummy sleigh ride dinners, or public sleigh rides with friends, the options are endless.
Here is our list of the best sleigh rides in Colorado and which ones are top choice for kids, adults, friends and even special occasions.
1. Keystone Sleigh Rides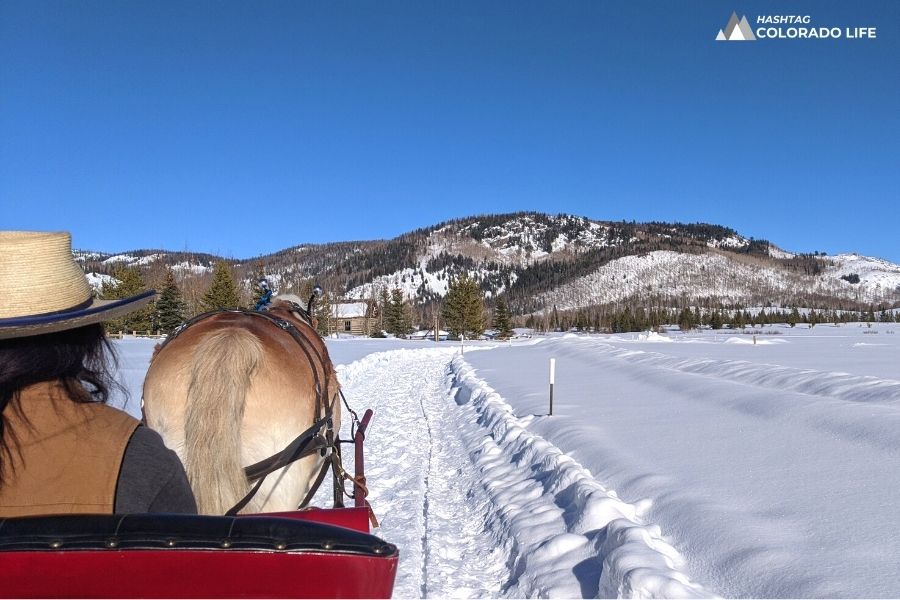 Keystone Resort offers two different types of horse-drawn sleigh rides, one that can be done during the day and the other in the evening.
Both activities are located in the Lakeside Village area and are manned by professional but friendly coachmen.
Dinner Sleigh Rides
One of our favorite things to do in Colorado in winter is go on a dinner sleigh ride. After enjoying a warm and hearty dinner, you and your loved ones will have fun on an evening out on horse-drawn sleighs.
The lighted sleighs are warm and cozy, and a great way to enjoy a slow evening after a delicious meal.
Scenic Sleigh Rides
Spend quality time with your family on a daytime adventure with this 2-hour scenic ride that is perfect for kids and adults.
Enjoy the stunning beauty of Summit County as a horse-drawn sleigh pulls you through a winter wonderland. Hot cider and cozy blankets are provided to ensure everyone stays nice and warm.
2. Breckenridge Sleigh Rides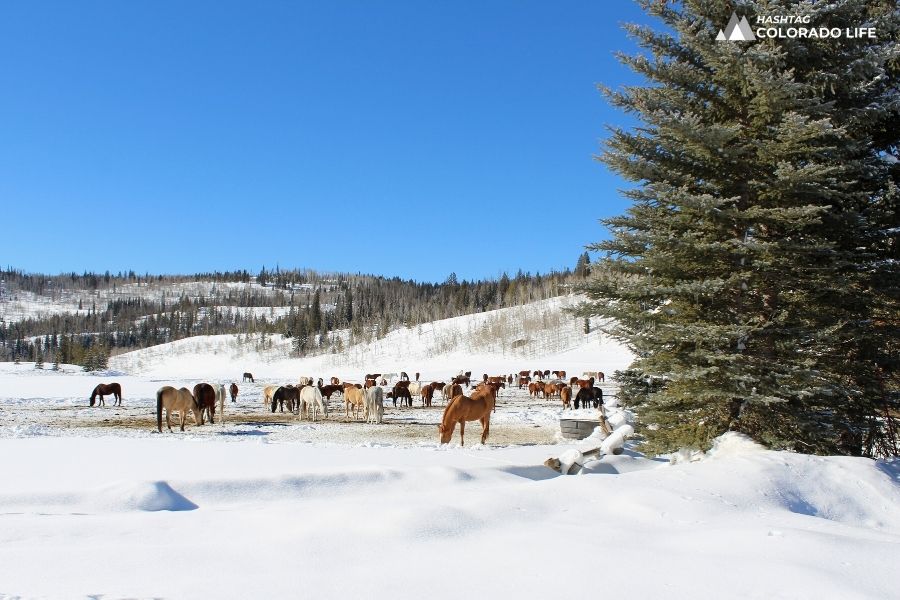 The Stables in Breckenridge offer sleigh ride tours in multiple locations throughout late November to mid-April.
Peak 9 is open throughout this time frame but the Breckenridge Golf Club is only open from mid-December through the end of March.
Like Keystone, Breckenridge Stables offers both scenic daytime sleigh rides and evening dinner rides during the winter.
There are also sleighs available that vary by capacity, seating 6-14 people and one with up to 28 seats.
Both types of rides usually last for about 35-45 minutes and come with complimentary drinks and warm blankets.
The sleigh rides at Peak 9 in Breck go up in elevation and provide views of the Continental Divide and 10-Mile Range.
3. Vail Star-Gazing Sleigh Rides
If you and your family are looking for an authentic western experience then check out the sleigh rides available at Eagle Ranch near Vail.
Located 20 miles west of Vail, this sleigh-ride excursion offers incredible star-gazing thanks to being far from any city lights.
Cozy up under a warm blanket and sip on a hot drink while taking in the breathtaking scenery and wide open skies.
After the sleigh ride ends, you'll be rewarded with an authentic Colorado-style ranch dinner.
Then wrap up the night with cowboy entertainment and roasting marshmallows over an open-hearth fire.
4. Secluded Winter Park Sleigh Rides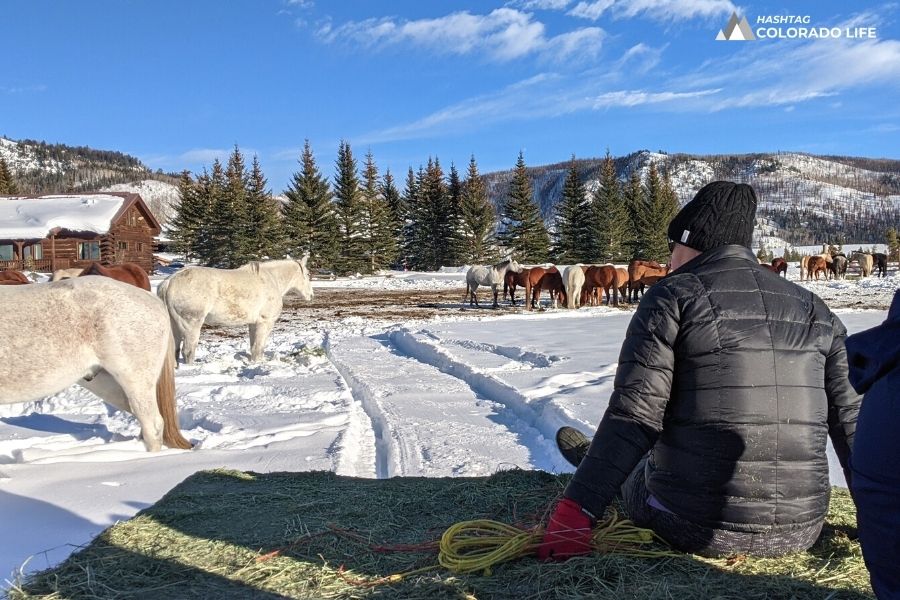 If you're ready to go Dashing Thru the Snow, then you'll love the secluded sleigh rides near Winter Park.
Located in Fraser on County Road 85, you'll be able to relax with your family or friends on a scenic horse-drawn sleigh.
For approximately 45 minutes you'll be able to take in the gorgeous views of the woods, meadows, and mountains of the Continental Divide.
After the ride, kids can play on the tubing hill while adults warm up by the fire. Plus, Winter Park sleigh rides have a couple unique amenities compared to other sleigh rides in Colorado.
You and your party will be able to stop trail-side to sip on a cup of hot cocoa while roasting marshmallows over an open fire.
A sleigh ride is a great activity to add to your itinerary when looking for things to do in Winter Park this season.
5. Steamboat Springs Cowboy Sleigh Rides
Book an adult-only vacation at Vista Verde Ranch and enjoy a fun sleigh ride drawn by gorgeous Belgian horses.
This choose-your-own-adventure style of a dude ranch has so many winter activities. Go for an open sleigh ride across the 600-acre property every day if you choose.
Or get ready for an authentic cowboy sleigh ride at the Saddleback Ranch in Steamboat Springs. Enjoy a horse-drawn ride under the stars along with hot chocolate or apple cider.
After a delicious home-cooked meal cowboys and cowgirls will enjoy a roping lesson and even some after-dinner dancing!
6. Aspen Carriage & Sleigh
From peaceful carriage rides to horse-drawn sleighs, Aspen Carriage & Sleigh offers memorable experiences.
Choose from public carriage rides, or private sleigh rides customized just for you and your whole family.
The average sleigh ride is about 45-minutes is booked by the size of the sleigh you need, seating between 4-6 adults.
You can also choose between a fun daytime sleigh ride, or the more popular, starlit skies sleighs.
Enjoy the beautiful horse-drawn sleigh ride along the Roaring Fork River through the forest while being surrounded by the magical winter scenery.
Aspen offers some of one of the most scenic sleigh rides in Colorado, so be sure to check these out.
7. Frisco Sleigh Rides with Santa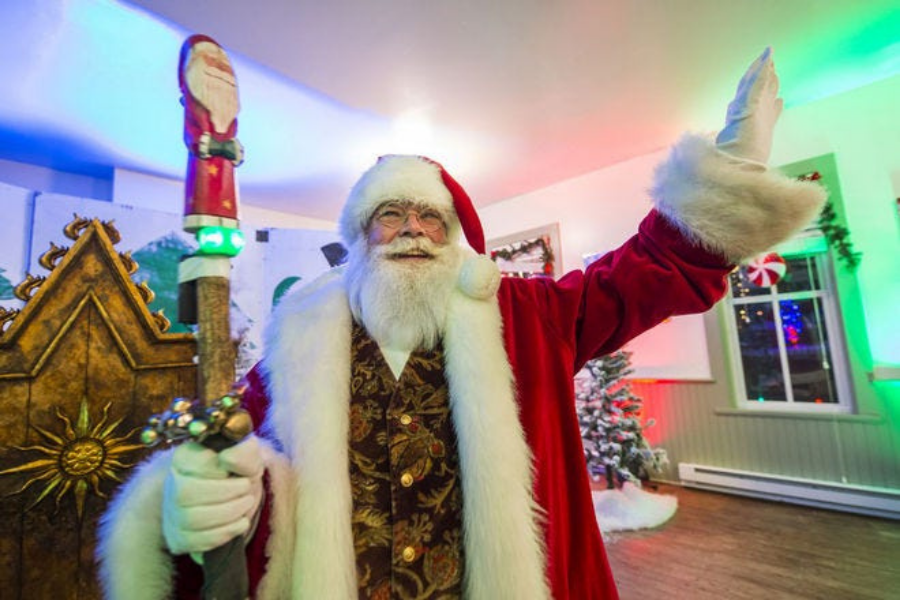 Referred to as one of the best sleigh rides in Colorado, the Frisco Sleigh Ride Dinner provided by Two Below Zero is a must-do.
Visitors can choose between several sleigh ride options, each featuring vegetarian and gluten free meals as well.
Santa Sleigh Rides are back for the 2023 holiday season. Grab a breakfast sleigh ride with Santa on Sundays in December!
Kids and adults will love the Hot Cocoa Sleigh Ride aboard one of their popular buckboard sleighs. After the nearly one-hour trip, dinner and hot chocolate are waiting.
The Dinner Sleigh Ride begins with a 20-minute sleigh ride through towering pines with snow-capped mountain views and starry skies.
Then it's time to warm up inside a lantern-lit, heated tent to enjoy a 3-course dinner and live entertainment.
Or book your own Private Sleigh Ride adventure for a romantic night out for you and your loved one.
This 45-minute journey feels like being transported to a fairy-tale. Get picked up in a red horse-drawn carriage with complimentary hot cocoa.
If you're looking to enjoy the crisp mountain air, a hearty meal and a night under the stars, look no further.
We hope this list of the best sleigh rides in Colorado allows you to have a magical experience this winter season.