18 Charming & Historic Things to Do in Old Colorado City
This website may contain affiliate links and we may be compensated (at no cost to you!).
Colorado was built on the back of the gold rush and mining days. And nothing epitomizes the wild west like the charming town of Old Colorado City.
Unlike any other top Colorado destination, historic Old Colorado City (aka OCC), is a suburb nestled inside of the city of Colorado Springs.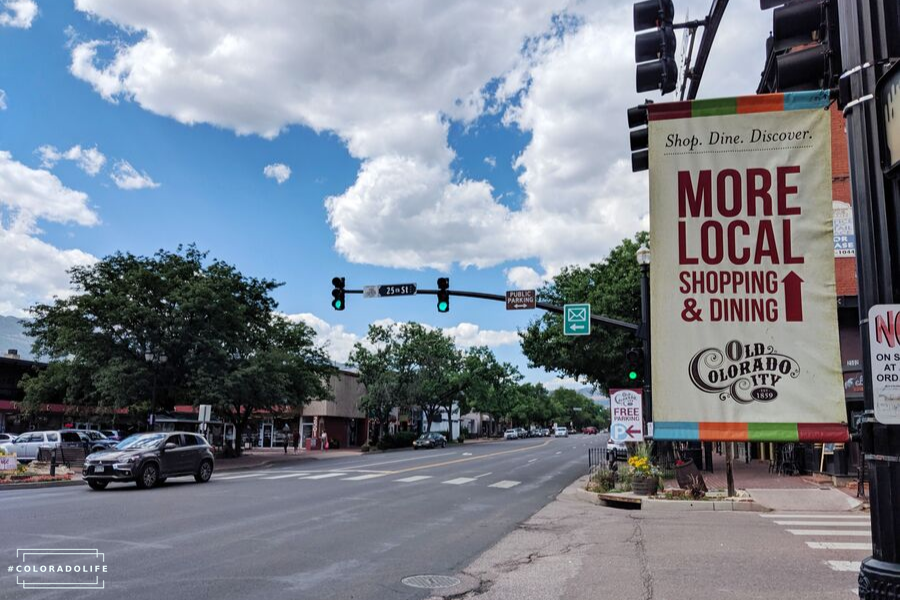 The small town is known for hosting many seasonal events for hours of entertainment for all ages.
In this guide, we share our favorite activities from caramel apples to fine dining spots, then enjoy charming shops and cute candy stores.
There are so many awesome things to do in Old Colorado City, you will never get bored.
Where is Old Colorado City?
Located just west of Colorado Springs and nestled at the base of Pikes Peak, Old Colorado City is considered a neighborhood of Colorado Springs.
It is no longer its own independent city like it was in the early 1900s.
Old Colorado City is super easy to find: whether you're coming from Denver to the north or Pueblo to the south, take I-25 to Cimmaron Street or Highway 24 (same street, different names).
Just head toward the mountains.
The History of Colorado City
Old Colorado City was listed in the National Register of Historic Places in 1982, but its history is much older than that.
Before it was "old," Colorado City was established in 1859 during the Pikes Peak Gold Rush and it was the county seat of El Paso County until 1873.
Miners would buy supplies in town then head up the Ute Pass to mine for gold.
It had a bit of a seedy reputation back then. This was due to the high number of saloons and "entertainment" that often follows large groups of miners.
Colorado City became the Capital of Colorado Territory before it was moved to Denver (where it remains today now that Colorado is a state).
Apparently, legislators who visited the state's capital for meetings had no place to stay the night in Colorado City, and would have to camp out.
Despite being legislators in the wild west state of Colorado, they swiftly voted to move the capital to Denver instead (where they could get a hotel). Ha!
What is the vibe of Old Colorado City?
When you visit, you might notice that OCC feels like uptown. Due to its history and all the efforts to revitalize the neighborhood, it has a great vibe.
Throughout Old Colorado City are old stone buildings with tons of character, narrower streets, and big trees that have stood the test of time.
The surrounding neighborhood stands in very stark contrast. While everywhere else in the state has become modern, OCC holds on to its turn-of-the-century look.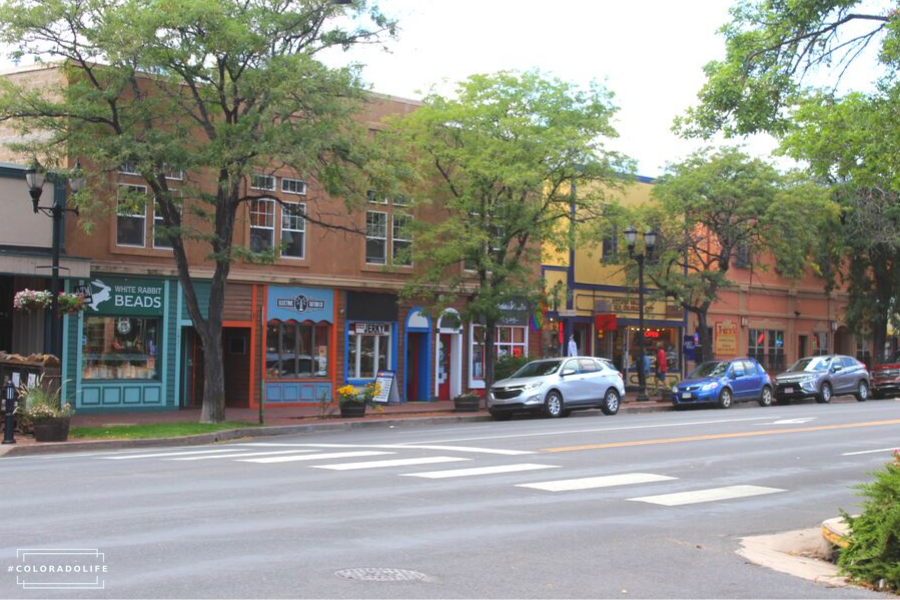 Set on a basic grid pattern, it's super easy to navigate in Old Colorado City. You will find almost everything you want to find somewhere along Colorado Avenue.
(But don't be afraid to dive off the main drag, too! There are plenty of kitchy shops further off the beaten path.)
1. Territory Days
Anyone who grew up in Colorado will have fond memories of Territory Days.
In Old Colorado City every Memorial Day weekend, the community hosts live music, a kids' petting zoo, and over 180 food and craft vendors.
This year the event dates are May 28-30, 2022.
You will also find blacksmith demonstrations and gun-slinging reenactments!
2. Thunder and Buttons
Want to step back in time with some yummy food and drinks? Check out the historic Thunder and Buttons II bar on Colorado Ave.
The bar got the name from the local lore about Prairie Dog O'Bryne (yep, that's what they called him!).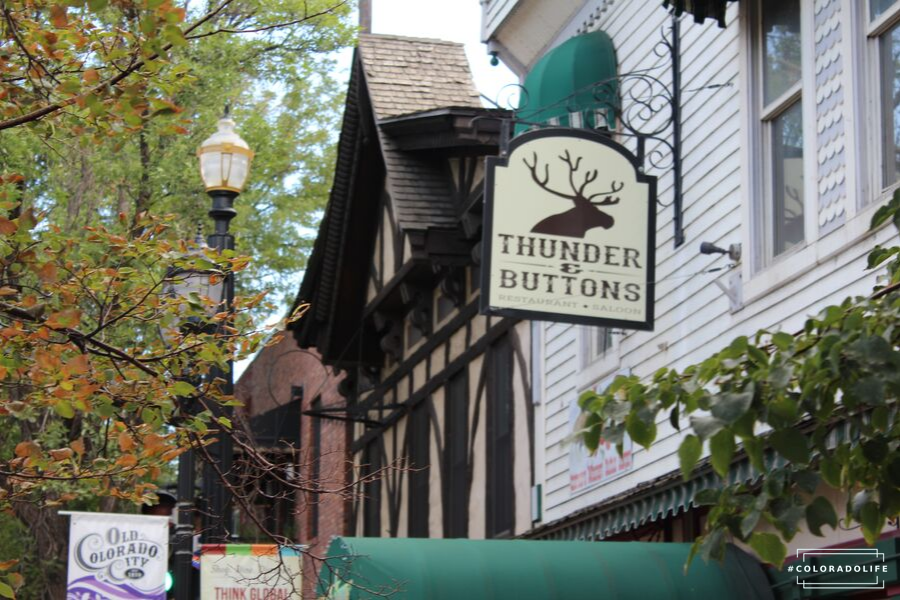 He hitched up two bull elk to his carriage and rode around in Old Colorado City.
A bar was created in his honor in 1978 and sadly burnt down ten years later.
Thunder and Buttons II restored the legend in 2004 and remains open today.
3. Historic shopping
Old Colorado City has really revitalized the downtown area, and has become a very popular destination for shopping, eating, and socializing.
Walking down the main street offers a fun mix of antique shops, cafes, and off-beat mom and pop shops, all within a close walking distance.
4. Mineral Springs at Manitou Springs
If you're visiting Old Colorado City, you're a short drive away from the area of Manitou Springs and the Cliff Dwellings Museum.
In fact, Old Colorado City is on the way to Manitou Springs, so it's a quick ride up the highway to see some more of our favorite sights.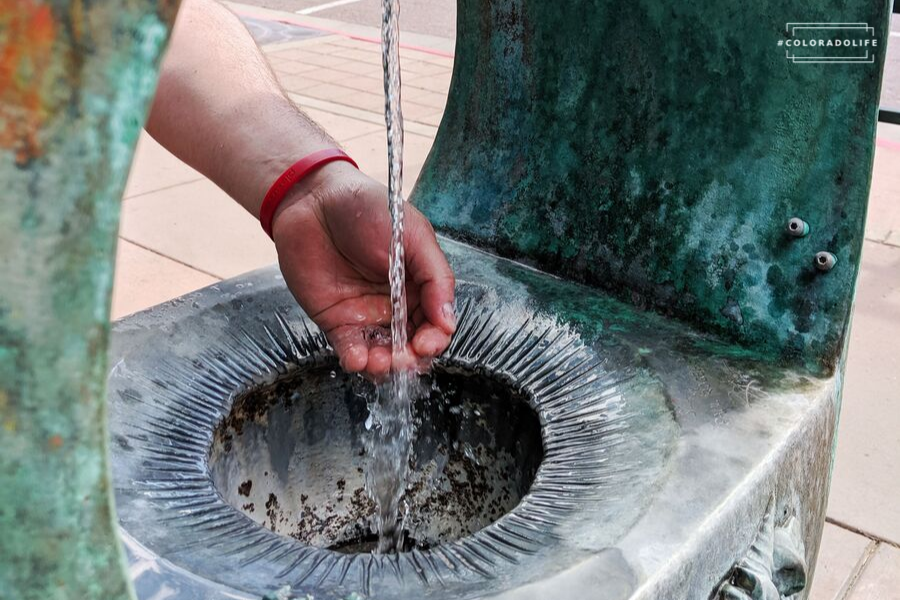 While you're here check out the 8 different mineral springs that naturally come out of the ground here. Go on the free walking to tour to see each one.
5. Garden of the Gods
Another one of our favorite stops, just outside of Old Colorado City proper, is Garden of the Gods Park.
A registered National Natural Landmark, the Garden of the Gods is nestled at the base of Pikes Peak.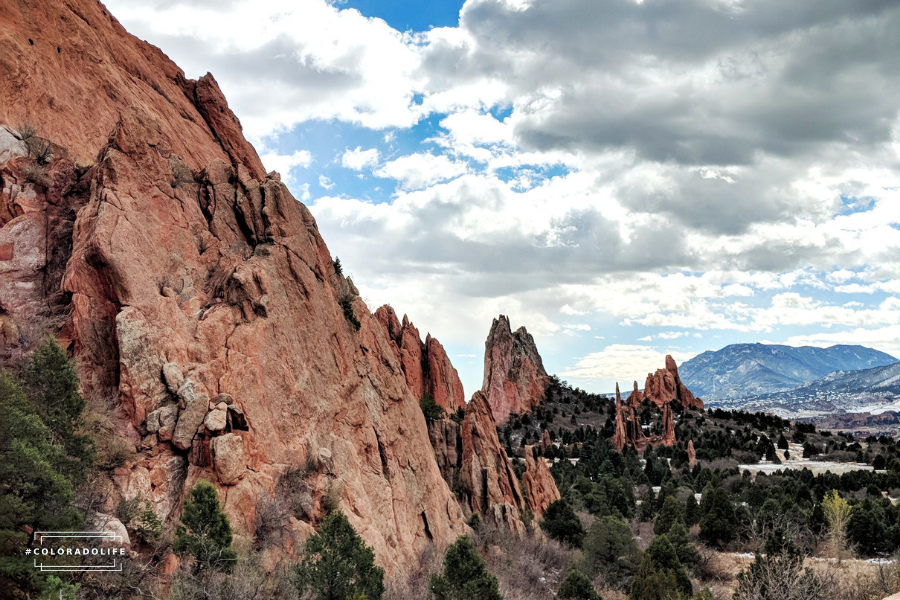 And this destination alone offers plenty of fun things to do!
From Jeep rides and bike rentals to the museum's Visitor and Nature Center, there's something for everyone to enjoy in this beautiful park!
You can also just drive through the one-way road through the park and take in the sights without ever leaving your vehicle.
6. Farmers markets
From June through October, you can't miss the Old Colorado City Farmers Markets. The OCC farmers market has been open for more than 20 years.
You can visit between 7am-1pm in Bancroft Park every Saturday during these months. With 24 full-time vendors and many more temporary booths.
You'll find a great mix of local options like corn, squash, cantaloupe, honey, cheese, bread, and fresh herbs.
Come back week after week and build a relationship with your favorite farmers!
7. Artwalks every first Friday
Every first Friday from April through December, walk down Colorado Ave for the Artwalks in Old Colorado City.
Get your creative juices flowing as you view beautiful art pieces and explore the local art galleries.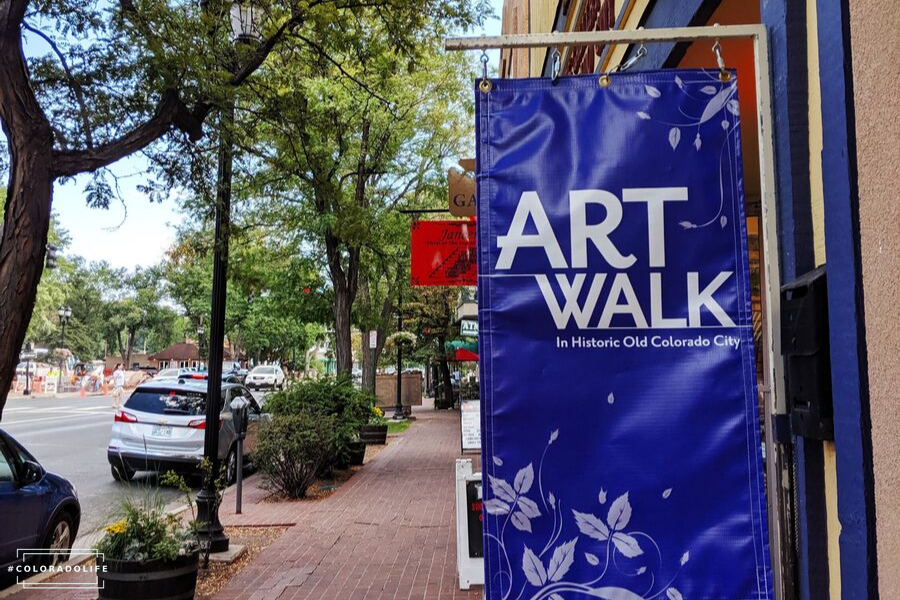 The event is free to attend and you'll find plenty to see (and buy, if you're looking!). Food and craft vendors are also available.
8. Historical Society
In the fall, there's nothing more fun than a good ghost story! Stop by the Old Colorado City Historical Society.
Take a haunted history cemetery tour through the Colorado Springs Fairview Cemetery.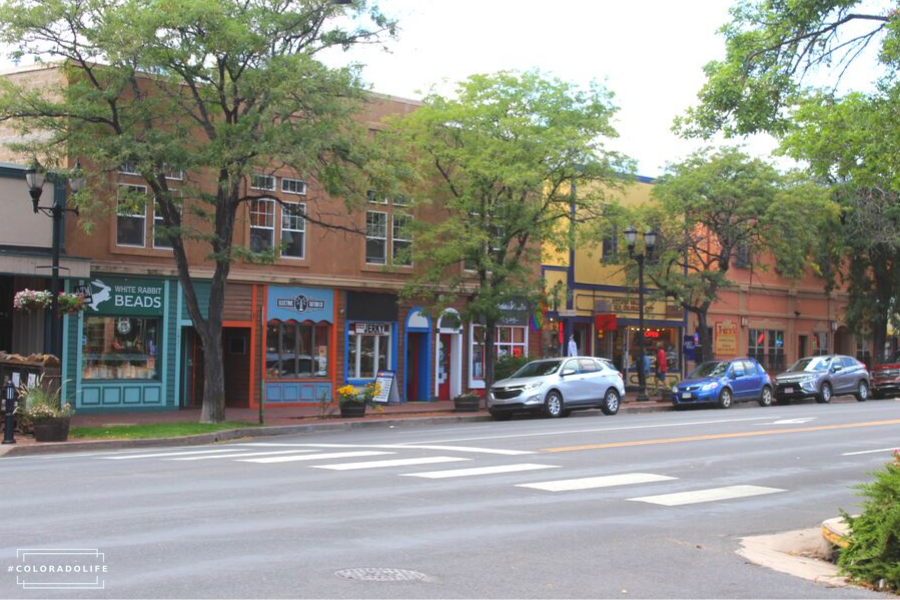 You'll learn about many spooky things that happened in OCC way back when, including the underground tunnels where townspeople once traveled beneath the streets.
9. Fall Harvest Festival
Old Colorado City is located right at the base of the mountains, and the feeling of fall is in the air in September and October.
That's why we love attending the Fall Harvest Festival in this quirky Colorado town.
For 2021 the event will be held on October 16 from 11am-3pm.
And this family friendly event includes a pumpkin patch, kids zone, face painting and pumpkin decorating, as well as a beer garden and food vendors.
Looking for more events in Old Colorado City? Check out their events calendar for the latest on all things OCC.
10. La Baguette French Bakery
If you're looking for the best Old Colorado City restaurants then you're in luck.
Many of the town's eateries feature flavors from around the world. In fact, many of our favorites listed here come from many regions of Europe.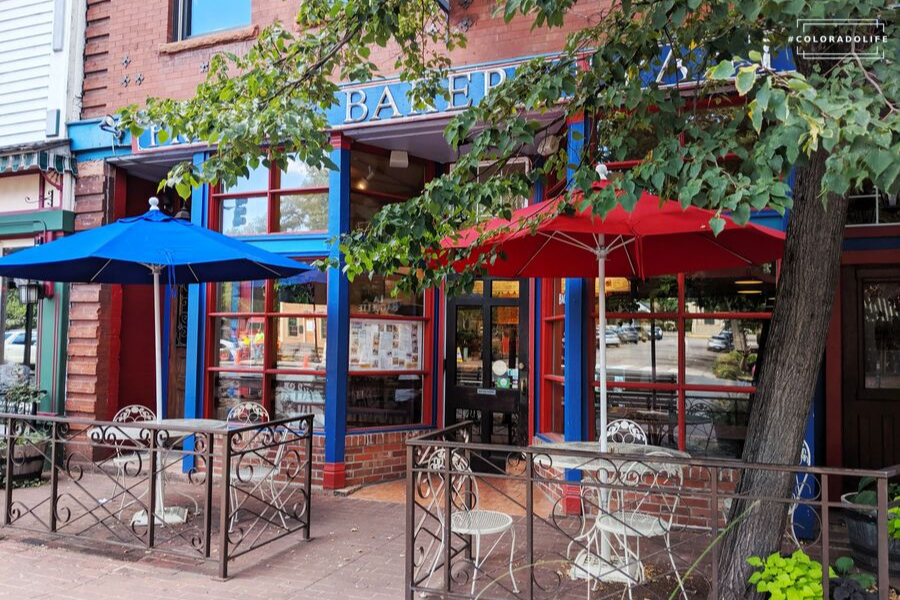 We love La Baguette! Open daily, La Baguette has been in business for nearly 30 years.
Offering a wonderfully European bakery experience, La Baguette is perfect for breakfast, lunch, or an early dinner.
Their award-winning French onion soup is super delicious.
11. Paravicini's Italian Bistro
Paravicini's offers the city's best Italian, and we have to agree! They have won many awards since it opened in 2003.
And it has even been featured on The Food Network's Diners, Drive-Ins, and Dives.
In addition to the incredible food, Paravicini's also has an awesome patio space where you can enjoy the ambiance of nearby Pikes Peak while you dine.
12. Alchemy Pub
We also like Alchemy Pub, which describes itself as an Irish influenced gastropub.
Offering an array of craft microbrews on tap, a seasonally rotated menu, and a handcrafted specialty drink menu.
You'll find a lot to enjoy at Alchemy! It is a bit of a hipster place, but it has a great atmosphere and a nice patio for those late summer, early fall days.
13. Wimberger's Old World Bakery
In case you haven't gotten your fill of delicious European breads, you must stop into Wimberger's Old World Bakery and Delicatessen.
Wimberger's has served up bread, pretzels, and meats and cheeses from the delicatessen since the 1970s.
It is worth the detour off Colorado Ave to stop in.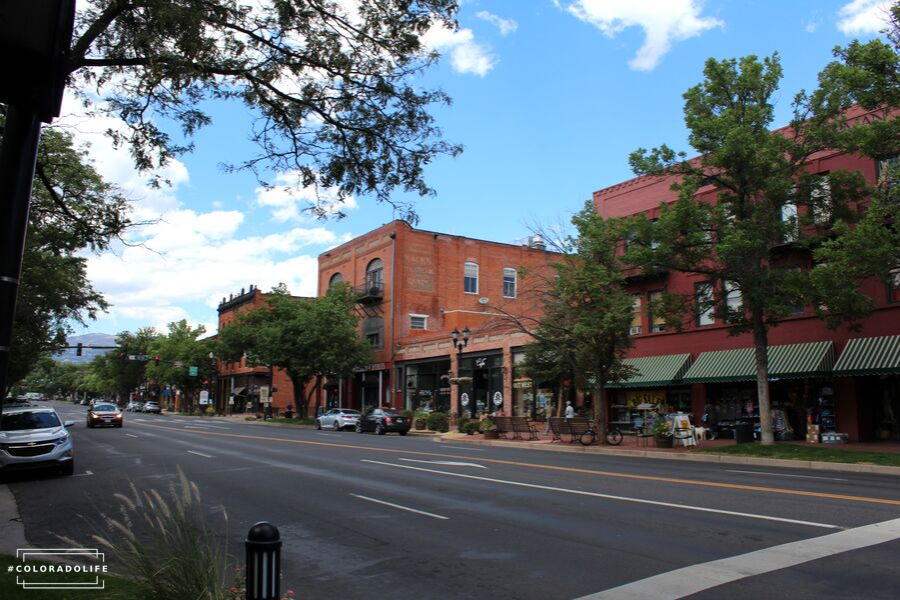 14. The British Pantry and Tea Room
After a day of walking and shopping, you'll need no excuse to stop into The British Pantry and Tea Room for some afternoon tea.
Tempt yourself with a selection of teas and finger sandwiches at High Tea.
Or shop for English, Welsh, Scottish, and Irish gifts, groceries, and other goodies in the gift shop.
It's owned and operated by an expat from Surrey, England.
15. Rocky Mountain Chocolate Factory
You'll find plenty of places to shop when you cruise down Colorado Avenue, but in case you need a recommendation in the sweets department, we have you covered.
A Colorado-based company and staple of nearly every kid's agenda in OCC is the Rocky Mountain Chocolate Factory.
You'll find the shop on the corner of Colorado Avenue and S 25th Street, just down the block from La Baguette.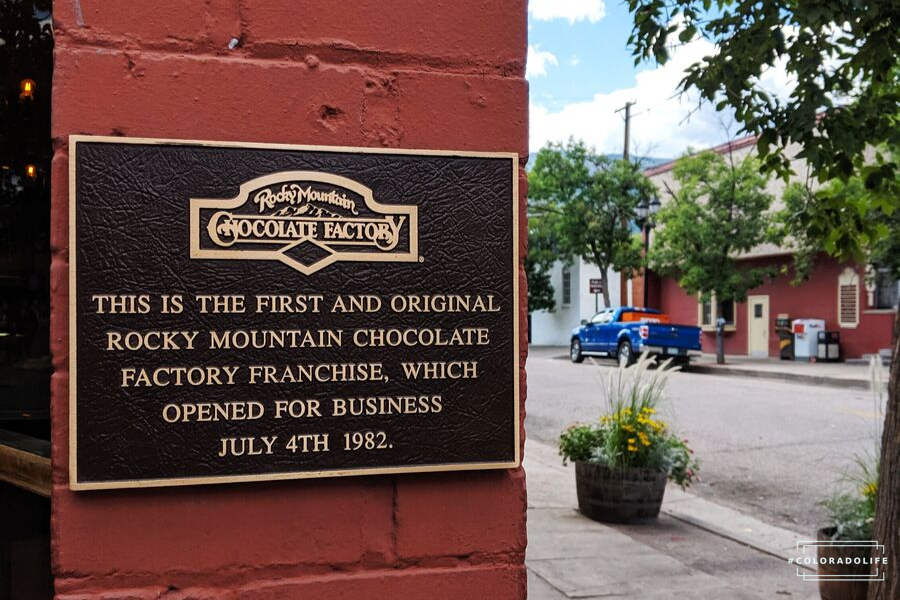 Though Rocky Mountain Chocolate Factory has become an international chocolate sensation, it's still a stop you just can't miss.
We highly recommend the caramel apples, that come in many different flavors or even customize your own.
This is the very first Rocky Mountain Chocolate Factory franchise and is still operational today.
16. ABC Candy and Designs
For that quintessential candy store experience, you've got to check out ABC Candy and Designs. Feel like a kid and grab a bag as the candy is sold by weight.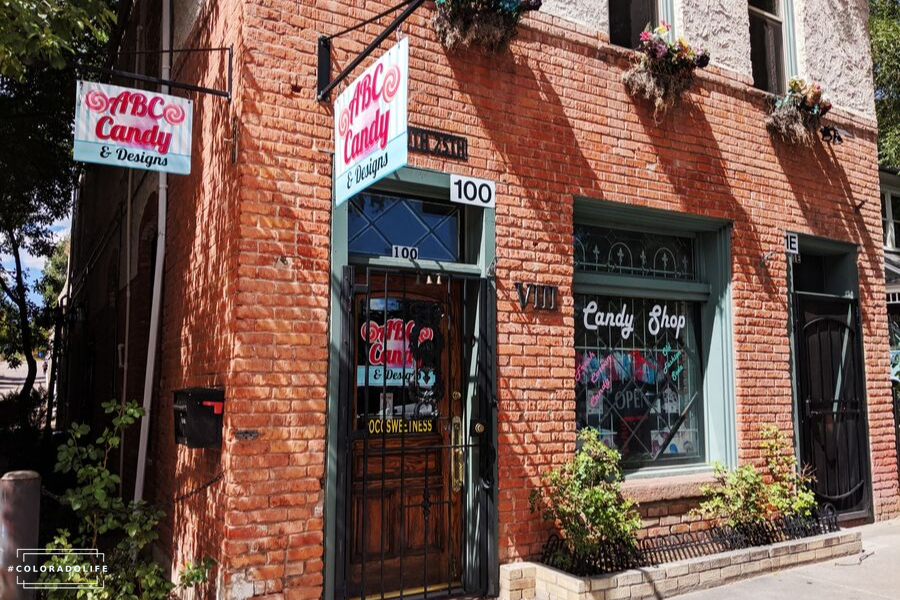 Get old-fashioned favorites, new candies, cotton candy, even candy baskets and candy grams.
Host a party here and have your guests enjoy a candy buffet.
17. Old Colorado History Center
Looking for free things to while in Old Colorado City? There are plenty of ways to enjoy this historic town without spending a dime.
The Old Colorado Historic Center is a great place to visit for free any time of year.
The history center is dedicated to the preservation of Old Colorado City.
It is home to a research library containing artifacts, photographs, and the written, oral, and electronic history of OCC.
18. Free walking tour
A fun way to get to know the rich history of Old Colorado City is with the Walking Tour app.
Download for free on iOS or Android, and dive deeper into the stories and sensations that helped to create this incredible neighborhood.
Take self-guided tours to visit historic buildings, churches, and saloons!
There's so much to see and do in Old Colorado City, and you'll feel like you're stepping back in time as you walk down the streets.
We hope you enjoy the exploration of this historic neighborhood of Colorado Springs.