Doc Holliday in Colorado: Visiting His Grave in Glenwood Springs
This website may contain affiliate links and we may be compensated (at no cost to you!).
Doc Holliday is well-known for being a dentist, gambler and gunfighter in the late 1800's.
Did you know that visiting his grave is one of the top attractions in Glenwood Springs?
As you may already know, fans of history will find plenty of wild west stories right here in Colorado.
From our gold rush ghost towns to the fables of famed gunslingers, cowboy campfire stories run throughout Colorado's colorful history.
And Doc Holliday is no different.
In this guide, you will learn more about Colorado and the iconic story of Doc Holliday, how he died, and how to visit his tombstone.
Who was Doc Holliday?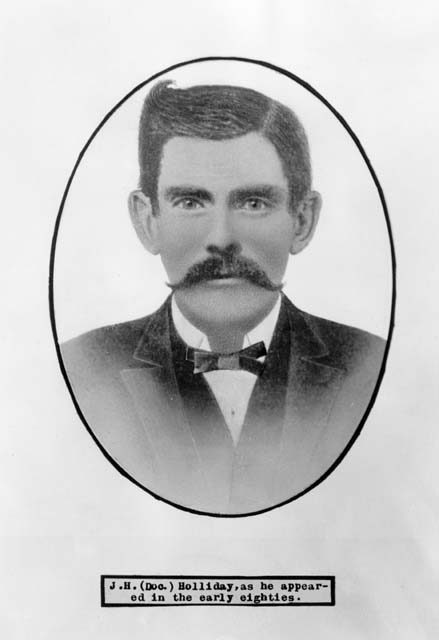 John Henry Holliday was born in Griffin, Georgia in 1851.
He was born with a cleft palate and underwent surgery early in his life to correct it.
His mother, a proper Southern belle, worked with him to perfect his speech and his manners.
In 1870, he moved to Philadelphia to attend what is now called the University of Pennsylvania Dental School, where he graduated in 1872.
Fun fact: His title as a dentist earned him the nickname "Doc".
Doc first returned to Georgia to open his dental practice, but was diagnosed with tuberculosis soon after.
To help his condition, he was advised to move to a drier climate so Doc transplanted himself and his practice to Dallas.
(Which is not much drier than Georgia, if you have ever lived in Texas you can totally relate to this!)
Though Doc Holliday did practice dentistry for a while in Dallas, the pull of the card tables eventually drove him further west into the frontier.
After being fined from gambling in Texas, in 1875 Doc relocated to Denver under the alias Tom Mackey.
He moved around frequently during this period of his life, due to his gambling ways catching up with him.
Along the way, he met Mary Katharine "Big Nose Kate" Horony, a dance hall woman (and occasional prostitute!).
She is Holliday's only known female companion.
How Doc Holliday got his reputation
John Henry "Doc" Holliday was a gambler, gunfighter, and dentist, and best known as an associate of Wyatt Earp.
Due to his failing health he could no longer make a living as an honest dentist and focused more on earning a living as a card player and dealer.
While hanging out with other gamblers, gunfighters, and known gangs, he was among the gunslingers at the shootout at the O.K. Corral.
On October 26th, 1881, in Tombstone, Arizona, Doc Holliday and Wyatt Earp were among the deputized marshals who participated in the 30-second gun battle on Fremont Street, best known as the Gunfight at the O.K. Corral.
The gunfight led to many more shootouts, and Holliday and Earp continued to ride together until they parted company a year later.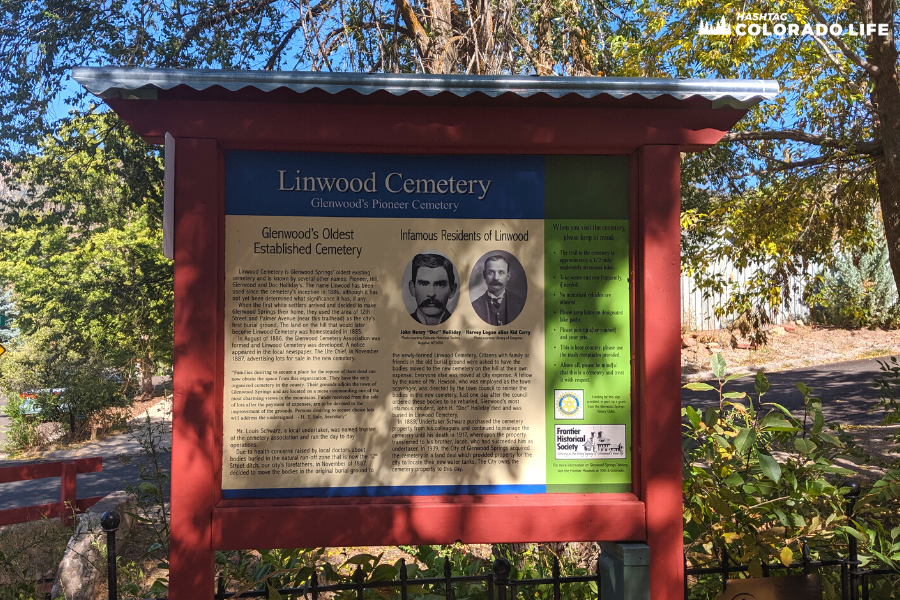 In 1878, while serving as a local dentist in Dodge City, Kansas, Doc is said to have saved Wyatt Earp from a shootout with a gang of cowboys who had come to kill him.
The story is part of the legend, because no one knows for sure whether it happened.
But by all accounts, Wyatt Earp and Doc Holliday became close friends, and rode all over the American southwest together.
Their exploits are often recorded in books and movies about the wild west, and it's sometimes hard to know fact from fiction!
Holliday lived out the rest of his life in Colorado. Doc Holliday's tombstone is in Glenwood Springs, Colorado.
How did Doc Holliday die?
By 1887, Holliday's health was deteriorating. So, he sought out the healing powers of the hot spring waters in Colorado.
He then took up residence at the Hotel Glenwood in Glenwood Springs.
By this time, he was so sick that he couldn't keep up his work as a card dealer, and was in fact, quite poor.
As he lay dying, his longtime girlfriend, Big Nose Kate Horony is said to have attended to him.
Doc Holliday died on November 8th, 1887 in Glenwood Springs, at just 36 years old.
Where is Doc Holliday buried?
Doc Holliday's is buried in Linwood Cemetery overlooking the city of Glenwood Springs, Colorado.
Linwood Cemetery is the oldest existing cemetery in Glenwood Springs, and was the city's first burial ground in 1886.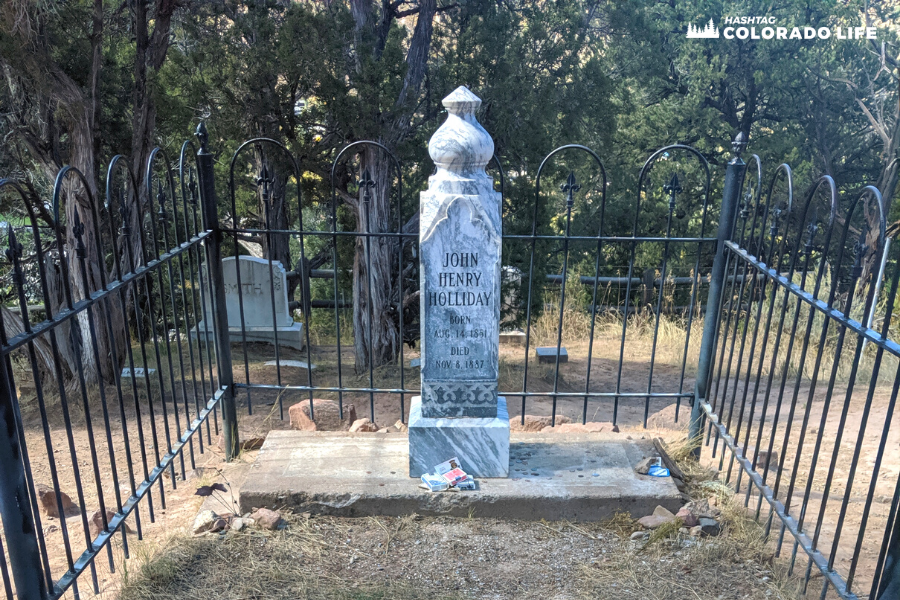 After his passing in 1887, he was laid to rest somewhere in Linwood Cemetery (though no one knows the exact location!).
But there is a tombstone and grave marker for visitors to hike up and pay their respects.
Was Doc Holliday a good guy?
Despite his lawless ways and rough character, his reputation as a Southern gentleman earned him some kind words upon his passing.
At the time, the Denver Republican wrote, "Few men have been better known to a certain class of sporting people, and few men of his character had more friends or stronger companions.
"He represented a class of men who are disappearing in the new West."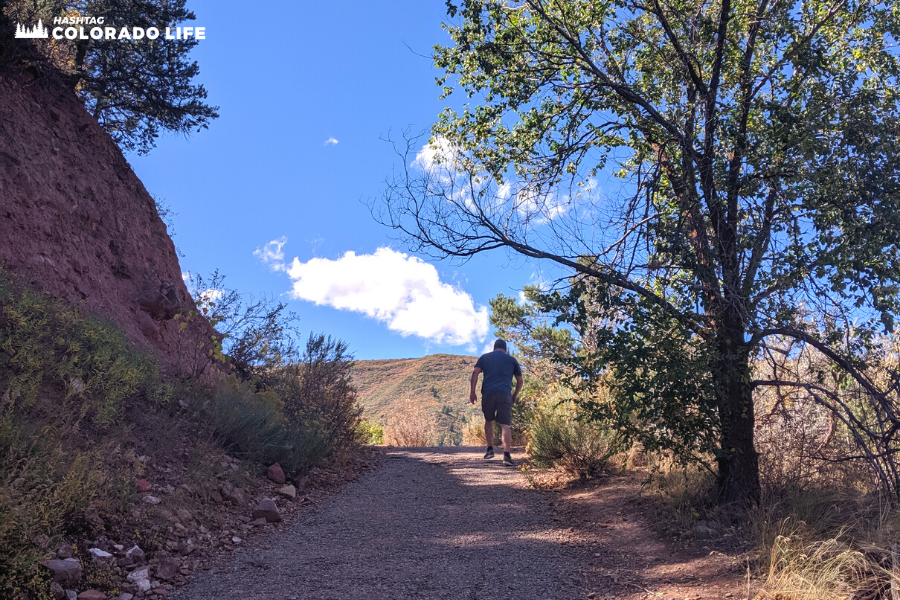 "He had the reputation of being a bunco man, desperado, and bad-man generally, yet he was a very mild-mannered man, was genial and companiable, and had many excellent qualities."
However, things were pretty rough out on the frontier, and Doc Holliday did his share of gambling, drinking, carousing and carrying on.
He's become a historical figure, portrayed in many books and movies about the times.
Details of his life have been romanticized, and in many ways, it's hard to know fact from fiction.
Was he a good guy? Well, you may just have to decide for yourself.
How to visit Doc Holliday's grave
If you want to visit Doc Holliday's grave when visiting Glenwood Springs, you can follow these simple steps.
This is a fun afternoon outing where the entire family can learn more about history and see what life might have been like back in the late 1800's.
Hiking to the Doc Holliday grave marker is a must-do activity.
1. Hike up Pioneer Cemetery Trailhead
The Pioneer Cemetery Trailhead is located at the corner of Bennett Avenue and 12th Street in Glenwood Springs.
Street parking is available for free in the residential neighborhood.
You'll see a memorial plaque at the bottom of the trailhead that details some of the history of Doc Holliday and his life here in Colorado.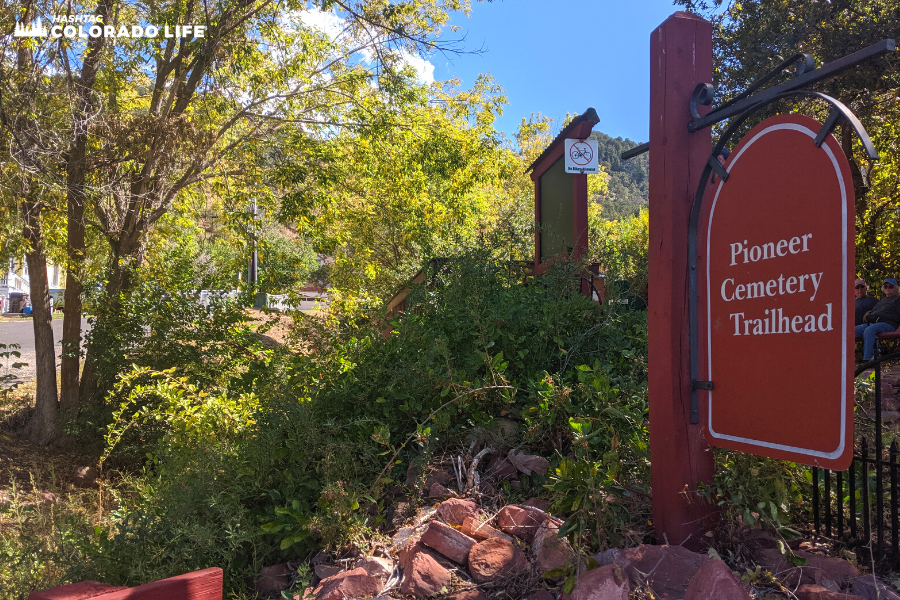 The trail up to Doc Holliday's grave is less than three-quarters of a mile round trip, but it is a very intense hike.
If you are not used to the altitude or the mountainous terrain in Colorado, it is recommended to hike this trail slowly.
2. Know the rules of the trail
Dogs are permitted on this trail as long as they are on a leash.
And you must pick up after you pet as well as not leave any trash behind.
No motorized vehicles are allowed and bikes are to stay on the designated biking paths.
Dispose of any trash in the proper receptacles as the cemetery is located in bear country.
Be sure to drink a lot of water and rest as often as you need, as this trail is short but very steep.
3. See the Wishing Tree
Along the way up the trail you will also see a large tree full of colorful ribbons and pieces of cloth.
This tree is known as Annie's Wishing Tree started by local resident Annie Zancanella while going through cancer treatments.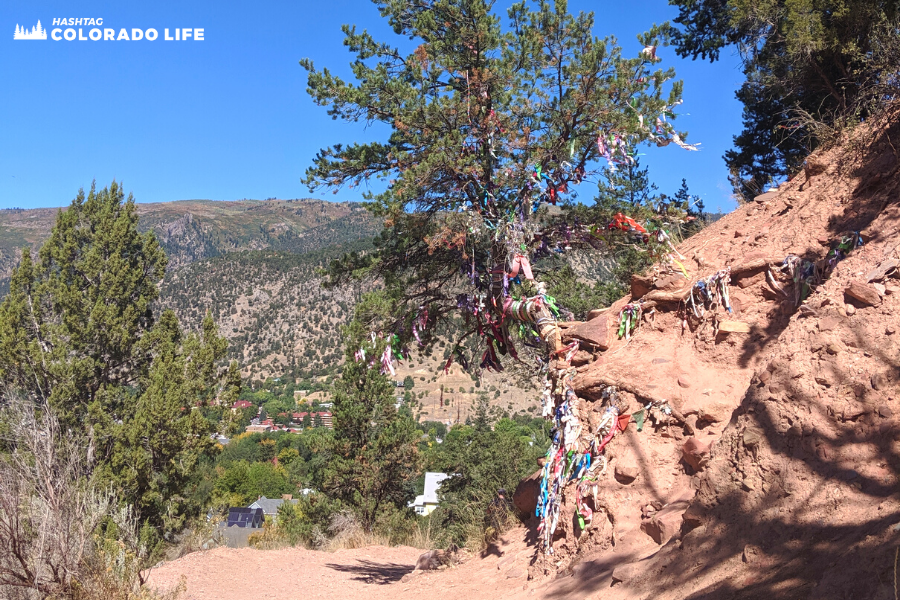 The tree has ribbons tied to it with written wishes and prayers along with names of loved ones with cancer. Be respectful of the tree and the ribbons left here.
4. Visit other famous criminals
Continue following the signs and well-worn path up to the top of the cemetery.
Here you will see Doc Holliday's grave marker.
Other famous desperados are also buried at the Linwood Cemetery, so be on the lookout for the grave of bandit Harvey "Kid Curry" Logan.
Bring coins or playing cards to leave at Doc's grave marker!
5. Enjoy views overlooking the entire town
As you start heading back down the trail, take a minute to enjoy the beautiful views overlooking the valley below.
Linwood Cemetery is not only historic because of Doc Holliday's grave, but also because many other locals who were buried here.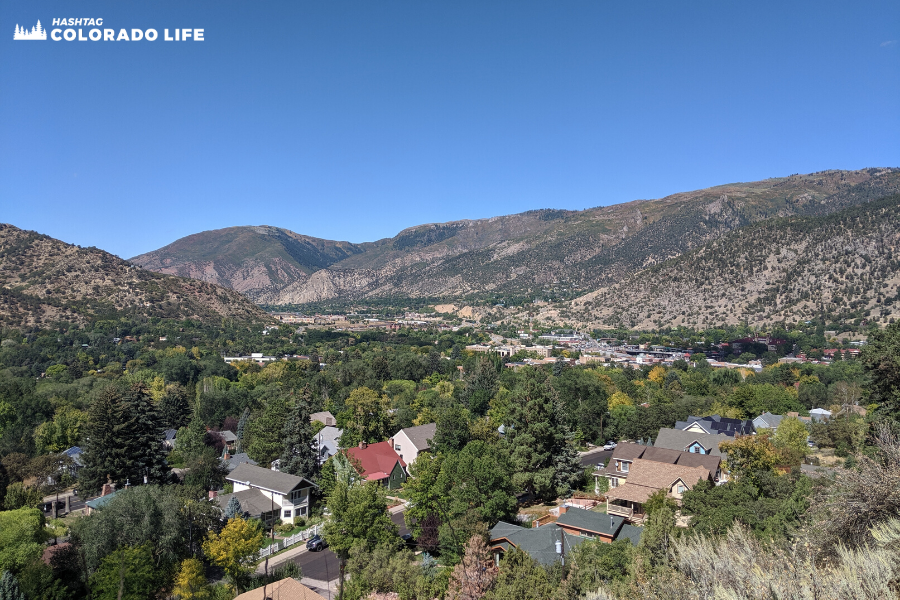 Check out the Doc Holliday Museum
While in Glenwood Springs learning about Doc Holliday's life, check out the Doc Holliday Museum.
This is a standalone museum dedicated to the life and artifacts of Doc Holliday.
Here, you can view the derringer that Big Nose Kate Horony gave to Holliday, as well as the only remaining beam and stone wall from the Hotel Glenwood (which burnt to the ground in 1945).
The museum is in the heart of downtown Glenwood Springs, right where the Hotel once stood.
After you tour the museum, head upstairs into Bullock's Western Store to outfit yourself or your home in modern western wear and furniture.
Bullock's also stocks Zapotec Indian rugs, made in the Navajo tradition by the Zapotec Indians in Oaxaca City, Mexico.
Life on the frontier in Colorado
Separate from the Doc Holliday Museum, a visit to the Glenwood Springs Historical Society Frontier Museum is a must-see.
It is located on Colorado Ave in downtown Glenwood Springs and highlights the colorful history that this area has to offer.
From stories about the early settlers to the rugged life on the frontier, this museum is well worth a visit.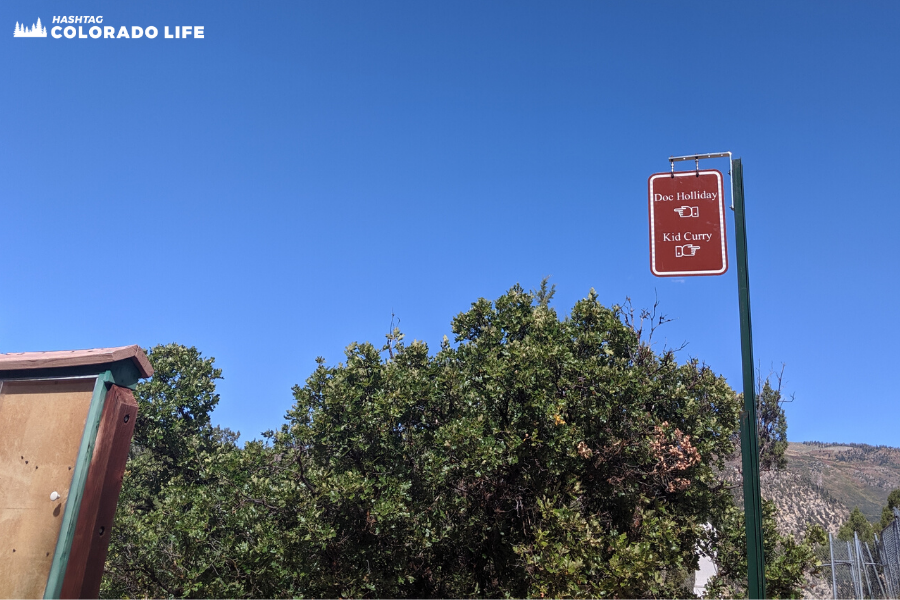 You can wander through a replica pioneer house, learn more about ranching and mining, and explore the deep roots of the Ute Indians native to this area.
If you happen to visit in the fall, be sure to check out the Ghost Walk, hosted by the Historical Society every October!
Doc Holliday's life in Colorado
Doc Holliday visited Colorado many times during his life before he died.
He is first known to have visited Colorado when he arrived in Denver after closing his dental practice in Texas in 1874.
Doc left Colorado for the promise of a gold boomtown in Cheyenne, Wyoming, where he went to deal cards.
He moved around often, and is known to have returned to Denver before departing again for Wyoming, Kansas, and eventually Texas.
Until they parted ways in 1882, Doc Holliday rode with Wyatt Earp, and it is not known whether they visited Colorado together.
However, after leaving Earp's gang, Holliday headed for the healing waters of Glenwood Springs, Colorado.
This is where he died and you can hike to his tombstone at the Linwood Cemetery in the center of town.