Snowshoeing in Colorado: 7 Best Trails to Hike This Winter
The content of this website may contain affiliate links and we may be compensated (at no cost to you!). Thank you for your support!
Snowshoeing in Colorado is one of the most fun and rewarding ways to stay active in the winter. In fact, it's one of our favorite winter activities!
Many of the popular hiking trails turn into snowshoeing trails in the winter, thanks to layers of fresh snow. It makes even the most boring trails sparkle and shine in the Colorado sun.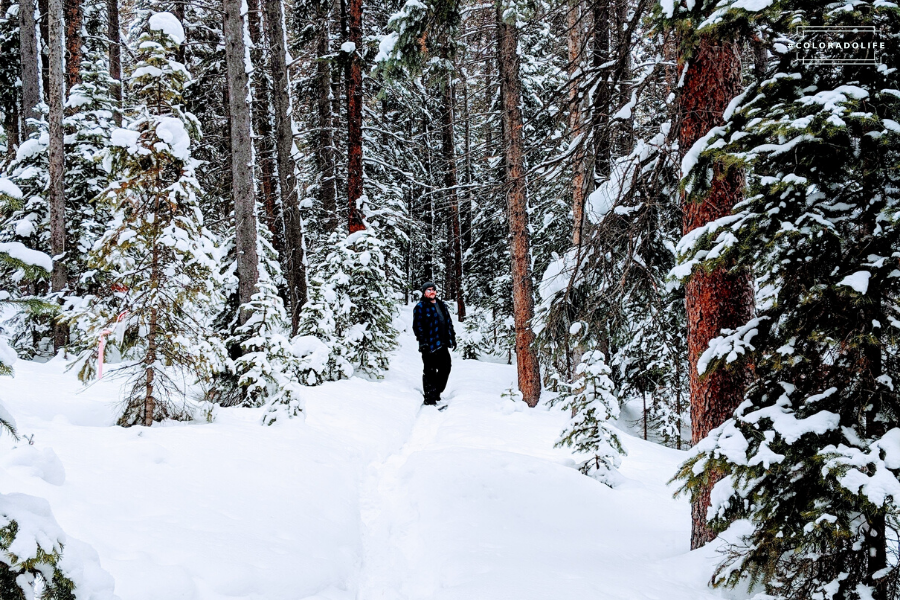 And the state has so many national forests, parks, and protected areas that are open to the public, there's no shortage of places to explore.
Here are our top recommendations for snowshoeing trails to hike in the winter in Colorado. They include trails for beginners, intermediate, and even more advanced hikers.
1. St. Mary's Glacier, Idaho Springs
No matter what time of year, St. Mary's Glacier is a popular hiking spot. But it's especially breathtaking for snowshoeing in the winter when the lake is a frozen wonderland.
St. Mary's Glacier is about an hour's drive from Denver and is one of the largest perennial snowfields in the state (which means there is ice/snow all year round).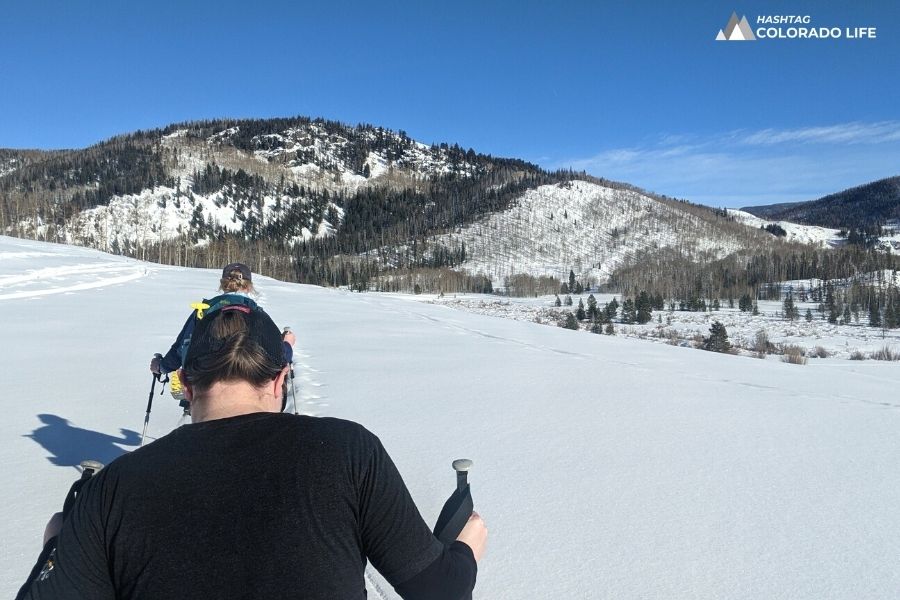 A round trip snowshoeing hike to St. Mary's Glacier is a fairly easy 1.5 miles. Once at the top you'll be at an elevation of 11,236 feet, high enough to see amazing views of James Peak and Mount Bancroft.
The landscape around and near St. Mary's Glacier can be very windy, and you will not be protected from the elements.
Be sure to bring warm layers, and wear sunscreen and sunglasses to protect from being snow blinded. Then, once your hike is done you can warm up in the hot thermal spring waters of the Indian Hot Springs nearby.
Difficulty: Easy
Distance: 1.5 miles
2. Emerald Lake Trail, Rocky Mountain National Park
Emerald Lake Trail is a widely-popular and rewarding snowshoeing trail in Colorado.
It's an easy 3.1 mile trek located inside Rocky Mountain National Park. There is even a free park shuttle during busy tourist seasons.
The trail starts at Bear Lake trailhead and continues to Emerald Lake, which is in a valley surrounded by towering mountain peaks.
Bring your camera because you won't want to miss these photographic views!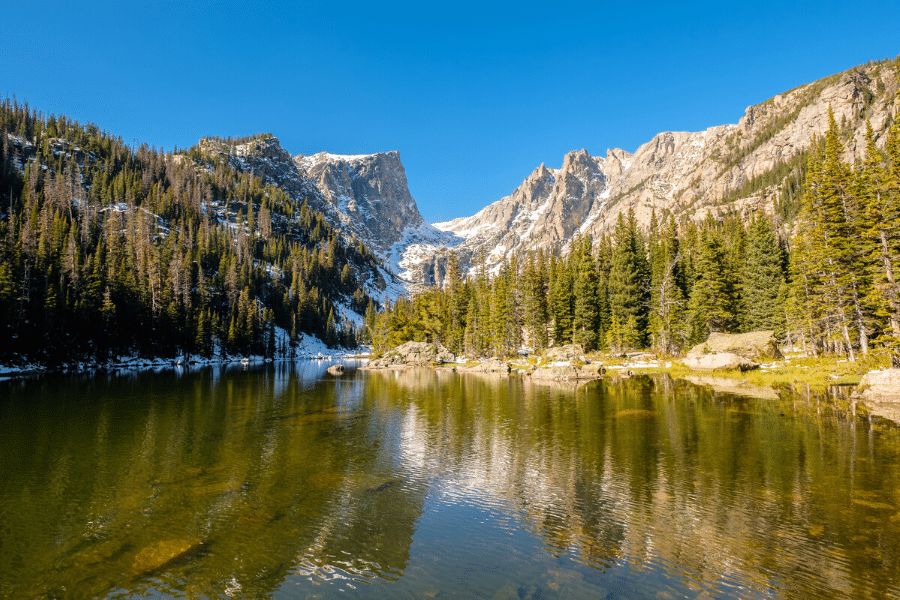 Along the way you'll pass two extraordinary lakes, Nymph Lake and Dream Lake. And yes, they are as magical as their names make them sound!
This is a perfect snowshoeing trail for beginners as it's pretty easy with very little elevation gain. Plus, along the way you'll see some of the state's most rugged but gorgeous landscapes, wildlife, and lakes.
Once you're done with your snowshoeing hike in RMNP, it's a short 20 minute drive to Estes Park. Stop here for some delicious food, local shopping, and fun entertainment.
Difficulty: Easy
Distance: 3.1 miles
3. Royal Arch Trail, Chautauqua Park
Located in Boulder within Chautauqua Park is one of the most scenic and beautiful snowshoeing trails. But the hike is one of the more challenging ones on this list.
However, the scenery as you pass through Bluebell Canyon, and views of the city of Boulder below, make it worth the hike.
The trail is only 3 miles long but includes constant changes in elevation as well as plenty of stairs.
The best times to hike this often-populated trail are during off-peak times, like early mornings or weekdays.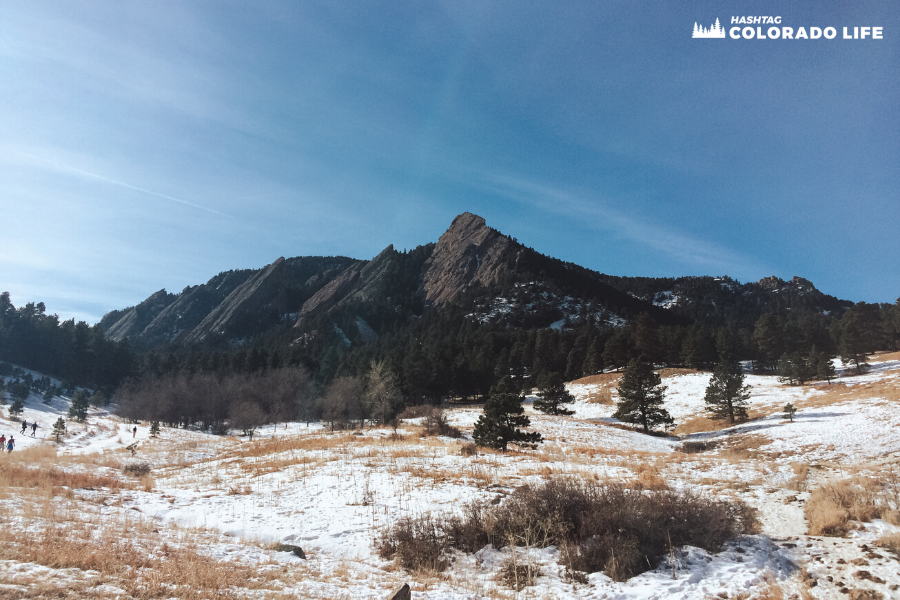 Once you're at the top, you'll see the beautiful Royal Archway where you can walk around it and through it.
On the way down, taking the Bluebell Mesa Trail will showcase views of Boulder, which are incredible. And on a clear day you can even see as far as Denver.
Due to the intensity of this hike and uneven terrain in certain areas, we recommend bringing along some quality hiking poles in addition to your snowshoes.
Difficulty: Moderate
Distance: 3.3 miles
4. Jim Creek Trail, Winter Park
One of our favorite snowshoeing spots in Colorado is located in Winter Park. This 5 mile out-and-back snowshoe trail meanders through the trees deep into the James Peak Protection Area.
The trailhead starts right off Highway 40 and continues southeast. Along the path you'll pass a small stream as well as a cascading water until you reach the Jim Creek Falls at the end.
This is a beautiful snowshoeing trail but different from the other trails on this list, thanks to the large forest of trees with several waterfalls.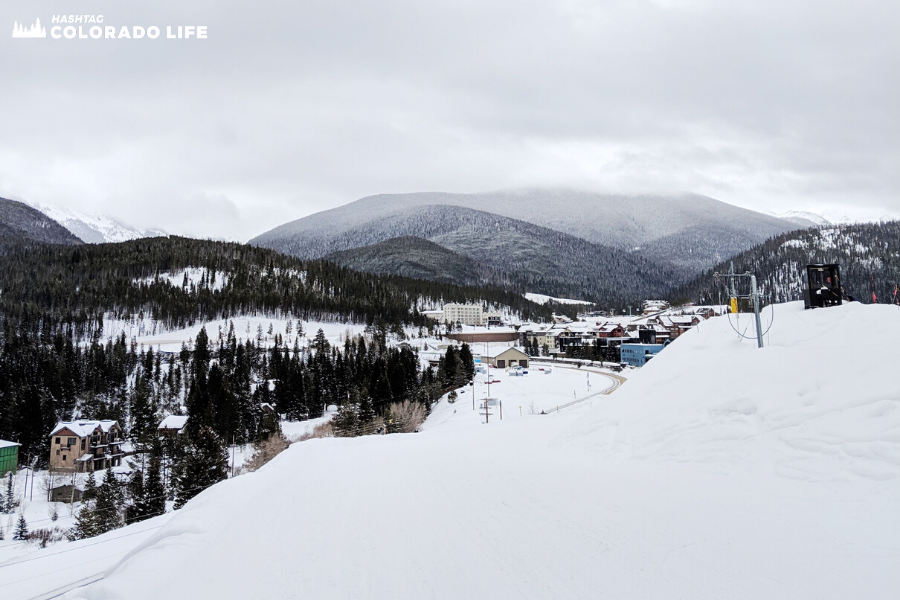 If you've never seen a frozen waterfall, you're missing out. It's truly spectacular in the winter!
If you don't want to hike the entire 5 miles, as some areas can be quite challenging, you can turn around at any point.
Upon finishing up your hike, we recommend heading over to Winter Park for some fun shopping or delicious food. There are so many amazing places to eat and drink at, so you can refuel after a long hike.
Difficulty: Moderate
Distance: 5 miles
5. Seven Bridges Trail, Colorado Springs
Seven Bridges Trail is a fun and easy hike within a short distance from downtown Colorado Springs. It used to be an old railroad track that would carry ore down from the mountains.
The trail is named for the 7 wooden bridges that hikers will cross during their hike, and is covered in snow in the winter. The bridges are in great shape and well-maintained, perfect for snowshoeing adventures.
Along the way you'll also pass by a mountain stream as well as beautiful, scenic overlooks. Bring your camera!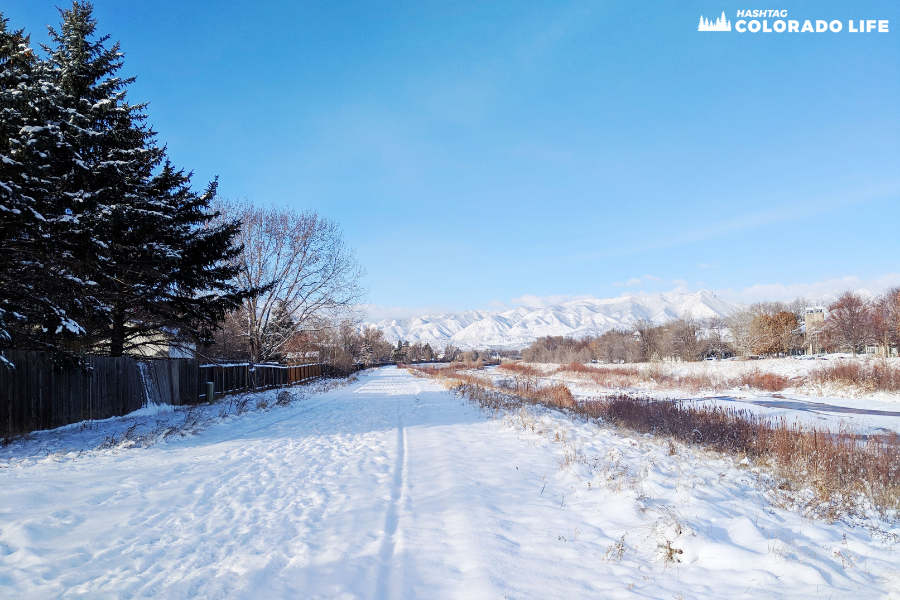 Seven Bridges Trail is a nearly 6 mile hike that goes out-and-back for several hours. So, it's a great day trip excursion for snowshoeing in the winter, or hiking in the summer.
Just be careful to wear warm layers of clothes and bring the right equipment, as the trail is fairly shaded by trees. This makes the trail icy and snow packed in the cold winter months.
Difficulty: Moderate
Distance: 5.78 miles
6. Rampart Reservoir, Woodland Park
Another one of our favorite spots for snowshoeing in Colorado is Rampart Reservoir. This hike is located near Woodland Park (which also makes its own destination for a day trip near Colorado Springs).
Rampart Reservoir is a large open space with beautiful views of the backside of Pikes Peak. The trails in the area are abundant, but less crowded and more secluded than the other snowshoeing trails on this list.
Taking the Rampart Reservoir Trail circles the entire lake for 13.8 miles and is a moderately difficult hike.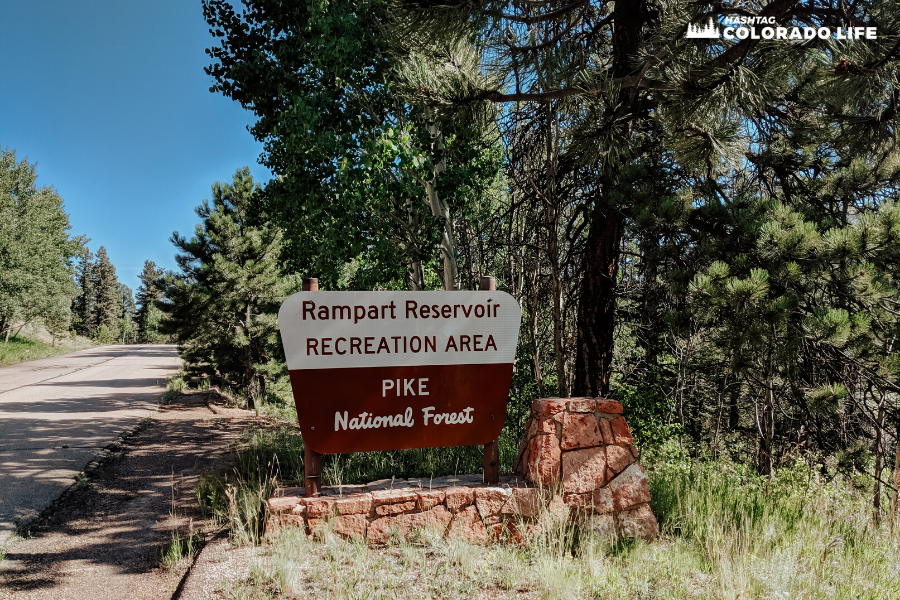 However, thanks to the lack of elevation gain, it's still an easy hike for most any Colorado hiker.
Or you can choose to stay in the large open space near the lake, and forge your own path. This is more akin to back-country snowshoeing since the snow is less traveled and can be uneven.
It's a great spot for beginners to learn how to snowshoe or to explore with your family of small kids.
Then, once you've completed your snowshoeing hike for the day, stop off in Woodland Park for a yummy snack, drink or fun shopping.
Difficulty: Easy to moderate
Distance: Open space or 13.8 mile loop
7. Cheesman Ranch Trail, Mueller State Park
If you haven't been to Mueller State Park in the winter, it's just a short drive from Colorado Springs, near Divide.
There are dozens of amazing trails located in the park, but if we could pick just one trail to hike, it would be the Cheesman Ranch Trail.
This trail is a classic but still moderately difficult and covers 8.5 miles. It's perfect for a family outing as you will see lots of different wildlife, scenery, and fauna.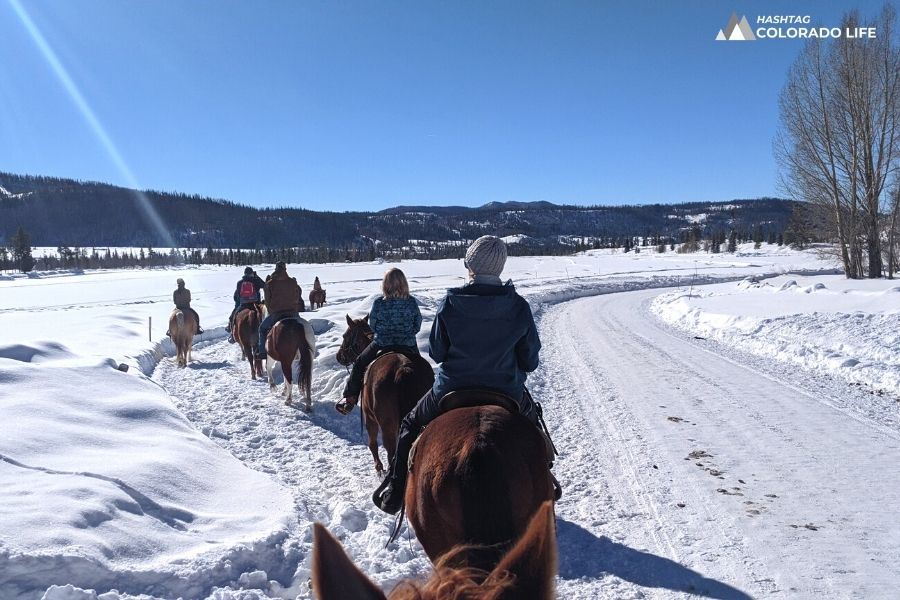 Plus, you and your family can dive into some history thanks to the remains of an old ranch homestead. See what life might have been like for the state's early settlers.
The trail is a fairly popular trail and is open to horses, mountain bikers, and snowshoeing enthusiasts.
There is a state park fee to enter the area, with entrance fees costing per vehicle, not per person. Annual passes are also available if you find that fits your needs better.
Difficulty: Moderate
Distance: 8.5 miles
Snowshoeing is one of our favorite sports in the winter in Colorado. It takes hiking to a whole new level, and is especially fun if you have the right equipment.
We hope you take some time to check out these snowshoeing trails for yourself this winter.