A Local's Guide to Visiting Mount Princeton Hot Springs Near Denver
This website may contain affiliate links and we may be compensated (at no cost to you!).
Since 1897 Mount Princeton Hot Springs has been welcoming locals and tourists alike to soak in the naturally hot mineral water.
And it's a top destination for visiting hot springs in Colorado thanks to the odorless water. Most spring water that bubbles up in the state comes with a strong sulfur smell.
But not at Mount Princeton Hot Springs!
This family-friendly hot springs resort is within a two-hour drive of Denver or Colorado Springs. So, it makes for a fun day trip or a relaxing weekend getaway.
Here's our experience visiting Mount Princeton Hot Springs Resort for some relaxation.
How to get to Mount Princeton Hot Springs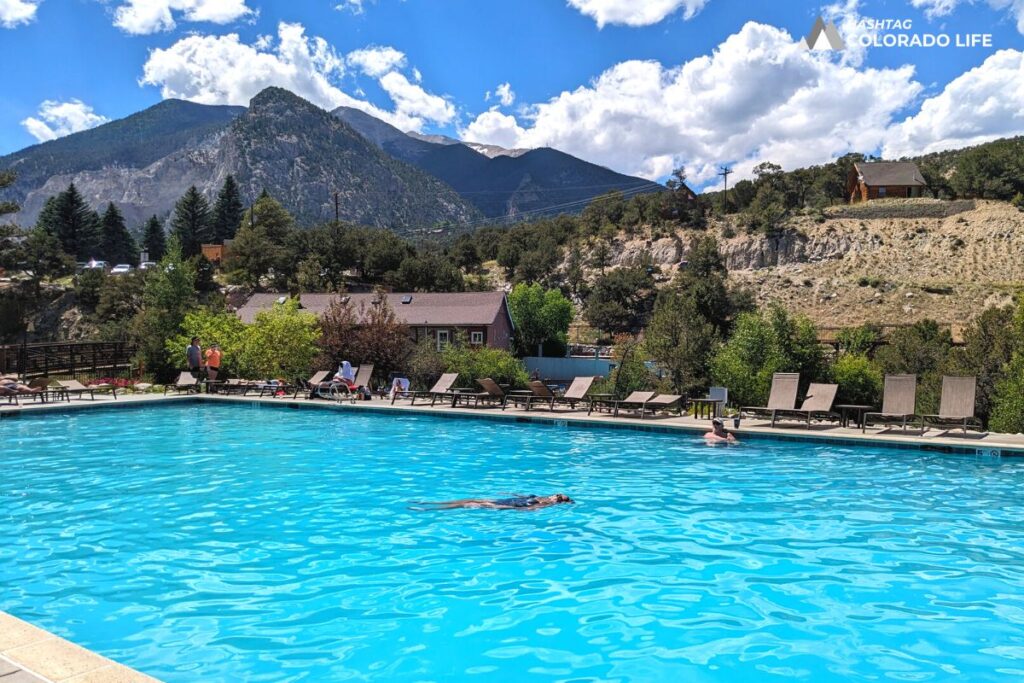 Mt Princeton Hot Springs Resort is a true resort getaway in Colorado. The location is secluded and covers 70 acres of land.
It features several large pools, rustic creekside hot springs, and a full spa. If you want to relax in the mineral hot springs water that bubbles naturally out of the ground you're going to love this destination.
Mt Princeton Hot Springs is within a relatively short distance as it's less than 2.5 hours from Denver and about 2 hours from Colorado Springs.
The hot springs resort is conveniently located in Nathrop, between the small mountain towns of Salida and Buena Vista.
This means there's plenty of lodging, sightseeing, hiking, eating, and drinking options nearby at these other two quintessential Colorado towns.
Health benefits of Mount Princeton Hot Springs
Nestled at the base of Mount Princeton, a Colorado fourteener for which the resort is named. The beautiful landscape is perfect for soaking in the hot springs at the base of one of Colorado's collegiate peaks.
The natural hot springs water at Mount Princeton Hot Springs consists of 5 main minerals with varying degrees of potency.
Some of the purported health benefits include relieving muscle aches and joint pain, improving circulation and blood pressure, speeding up the healing of wounds, increasing nutrient absorption, and many more.
The dissolved minerals found in the geothermal water are absorbed into your body through a process called transdermal absorption.
This is why spending a day or two in the hot springs waters can make you and your body feel better than before the soak.
What to expect when visiting Mount Princeton Hot Springs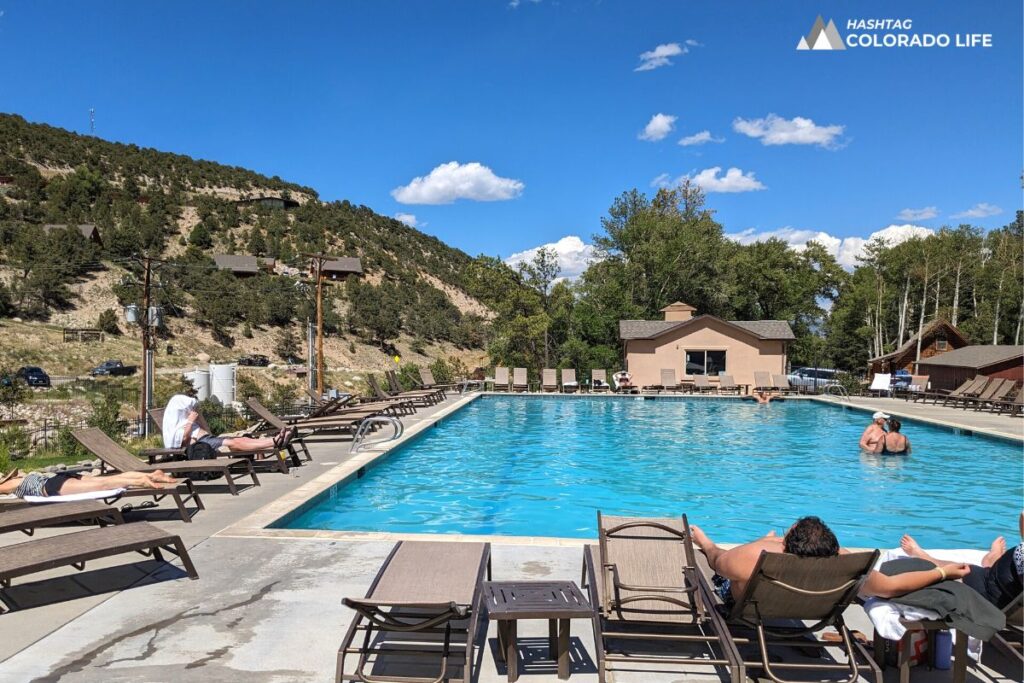 The main Soaking Pool is located right next to the Historic Bath House with pool temperatures that hover around 105 degrees F.
Next to the Soaking Pool is the Exercise Pool which is great for doing laps or joining in a fitness class. The Exercise Pool is kept around 90 degrees making it a favorite of anyone with young children who don't want the water too hot.
For a more primitive soaking experience, you can make your way down to Chalk Creek to soak in any of the natural rock pools.
These are multiple small DIY pools that fit about 5-8 people comfortably. This is likely the most authentic way to experience these hot springs and the way native peoples enjoyed them for generations.
The creekside pools all vary in temperatures. The hot springs water bubbling out of the creekbed at 140 degrees and mixing with the Chalk Creek waters.
This creates the perfect balance of temperature in your little pool right in the river. Simply move around the rocks to adjust the hot and cold water.
Summer fun at Mount Princeton Hot Springs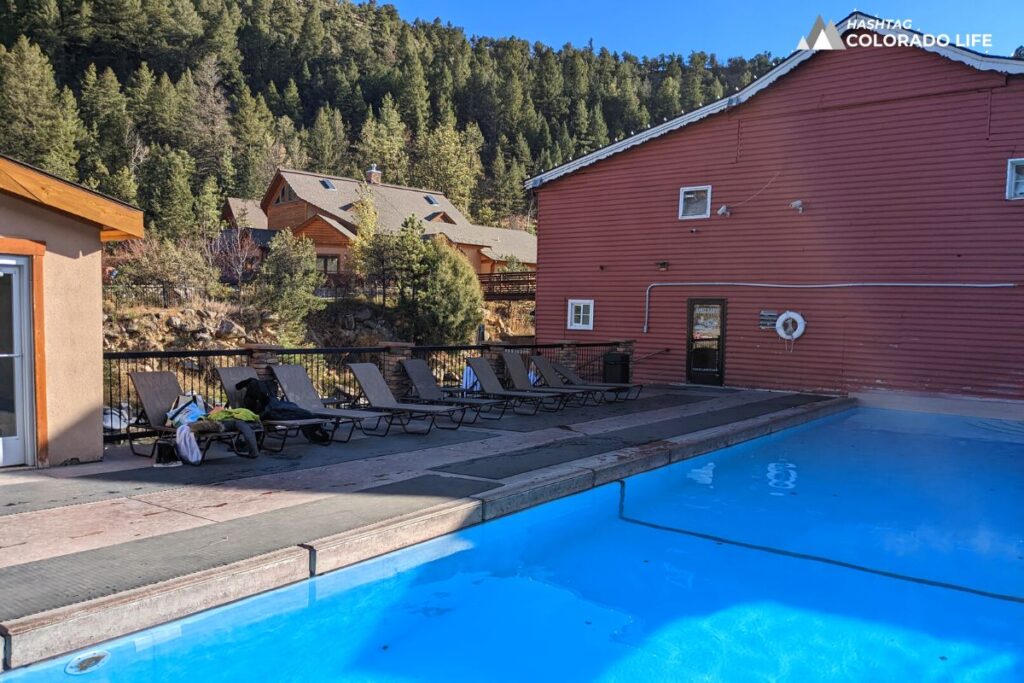 In the summer, it's fun to take a cold plunge into the creek if you're feeling too hot as the creek's waters are fed by snowmelt and water runoff from the nearby collegiate peaks.
On the other side of Chalk Creek, after crossing the bridge, you'll find a large Relaxation Pool and hot springs tubs. This is an adult-only zone with no kids allowed, and is also known as the Quiet Zone.
The nearby spa and club is the perfect place for getting away from it all while enjoying the quiet space.
Across from the historic bath house, you'll find the Upper level which is the perfect family-friendly fun zone in the summer. The Upper hot springs pools include a 400-foot water slide, lazy river, and an infinity pool.
The Infinity Pool is a local favorite as it's kept at a toasty 104 degrees and is one of the warmest pools Mount Princeton Hot Springs offers.
And let me tell you it feels very HOT in the heights of summer with 90 degree heat and the Colorado sun beaming down on you.
Near the Upper Pools you'll also find the sport courts which includes a basketball court and tennis courts.
Mount Princeton Hot Springs Cabins & Lodging
For anyone looking to stay overnight, there are several types of lodging accommodations on the property. Choose from private cabins to lodge rooms, creekside cabins, and hillside rooms.
You can even stay in a cliffside room overlooking the beautiful Rocky Mountains, inside the San Isabel National Forest. There is also a large lodge and country store on site for overnight guests.
An overnight stay at one of these private cabins or creekside suites comes with lots of benefits like:
2-day 24hr access to any and ALL of the hot springs pools
spa discounts
2 days access to complimentary fitness center
2 days access to free bike rentals
2 days access to free cross-country skiing & snowshoe rentals in the winter
Mount Princeton Hot Springs Prices & Hours
The historic Mount Princeton Hot Springs is open seven days a week, including holidays with prices ranging from $30-45 for day passes.
If you visit the hot springs Monday-Thursday you'll save about $5 per ticket and have fewer crowds to deal with. Friday-Sunday are the most expensive days as well as the busiest for the resort.
Additional costs include unlimited access to the 400 foot water slide, towel rentals, and locker rentals. So, you'll want to bring your own towels in order to avoid renting any from the resort.
We also recommend bringing your own food and snacks to save money on purchasing food from the market, lodge, or beer garden.
A day pass includes access to the hot springs pools at the historic bathhouse and the Upper pools and Infinity pool, as well as the custom-made pools inside Chalk Creek.
Or you and your family can pay for a night's stay at one of the creek side cabins, or hillside lodges, and get access to all of the hot springs pools and creek side water for free for the next 48 hours.
Day trip to Mount Princeton Hot Springs
The hot springs pools and creek side soaks at Mount Princeton Hot Springs are open to the public all year-round.
It's the perfect destination for romantic getaways, family vacations, and anyone who is looking to unwind and enjoy the rugged beauty of Colorado.
If you're planning a summer or winter trip to this historic hot springs experience, I hope this video helps you craft the perfect itinerary.