17 Tips and Things to Do in Colorado With Kids [Checklist]
The content of this website may contain affiliate links and we may be compensated (at no cost to you!). Thank you for your support!
In this guide, you'll learn the best things to do with kids in Colorado so you can enjoy your family time the most.
If you are trying to be more active with your kids, or are looking for recommendations on must-have outdoor gear for toddlers, this guide has the answers.
Today, I'm sitting down for a special interview with Esther Davy of ColoradoWithKids.co.
An adventure mindset with kids is key
It's easy to find an excuse to stay inside all day and rarely leave the house.
But Colorado has so much to offer families, if you're open to the adventure!
Having an "adventure mindset" means seeking out opportunities to make things happen.
It means making a decision to create adventure rather than do what may be most comfortable.
Keeping your adventure mindset as a parent means being open to opportunities, both outdoors and in the city.
It means saying "yes" more often!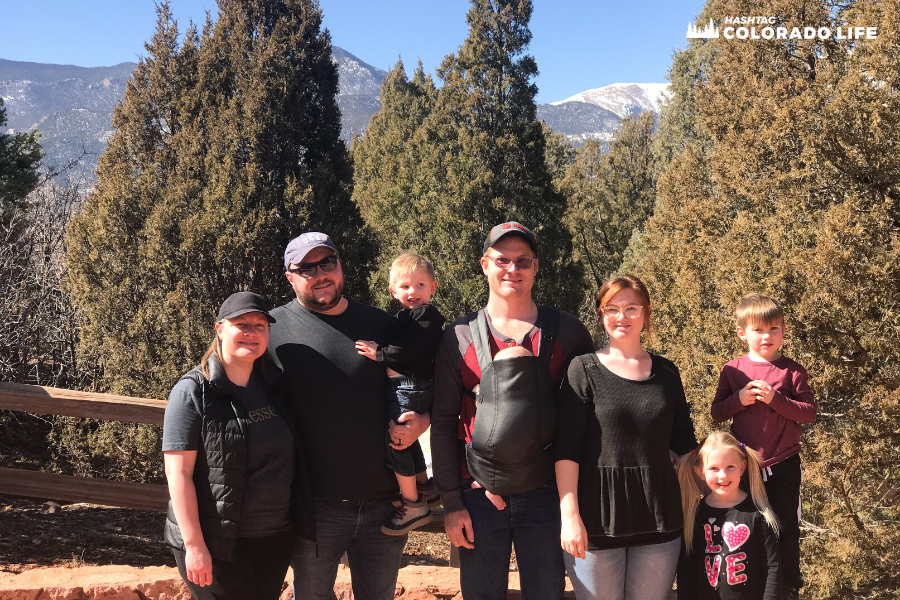 Plus, it sets an example for your kids.
Not only does it teach your values, and instill a similar love of adventure in your children, it's also a way to connect with the values of the state of Colorado.
Here in Colorado, health and wellness are a big priority!
And when you're outdoors and active, it's easy to keep your well-being and health at the top of your mind.
We also take our environmental responsibility very seriously.
If you spend a lot of time outside in nature, it makes you — and your kids! — so much more appreciative of our natural wonders.
When you're out in it a lot, taking care of nature just becomes second nature!
Top things to do in Colorado with kids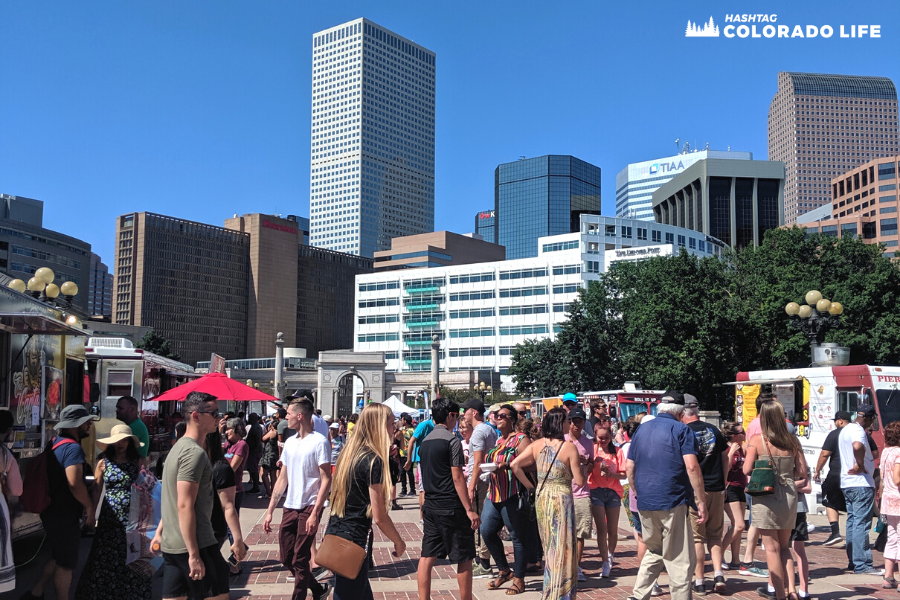 Esther and her family live in the Denver metro area, so they have plenty of recommendations for where to go and what to do in the city and outside!
1. Denver Zoo
At the top of our list is the Denver Zoo. The Denver Zoo is home to more than 4,000 animals, representing 615 species.
Boasting a 4-D theater and train and carousel, there is so much to do and see at the Denver Zoo. The Denver Zoo is open year-round, with many free days during the off-peak season October through April.
2. Denver Children's Museum
For hands-on experiences for kids of all ages, we highly recommend the Children's Museum of Denver!
This is a wonderful indoor opportunity to explore science and nature in a place that is really focused on kids.
The Children's Museum offers family and grandparent memberships, and on the first Tuesday of every month, the whole family can visit for free from 4 pm – 8 pm.
3. Denver Aquarium
Located in the heart of downtown Denver is the Downtown Aquarium! This aquarium is a one-stop-shop for all your underwater themed adventures.
Including a restaurant and gift shop, the aquarium is also host to mermaids — and a few tigers! The aquarium is a great place to have kids' birthday parties.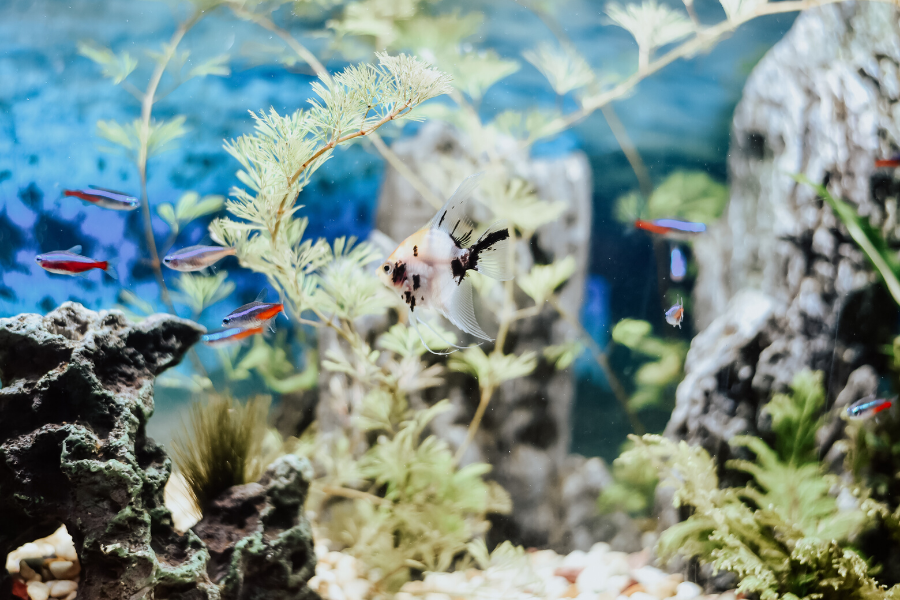 4. Skatepark in the Commons Park
Whether you're a skater yourself or raising one, the Denver Skatepark is a fun and easy way to enjoy being active outside without leaving the city.
With over 60,000 feet of skatable concrete terrain, the park is great for boarders, bladers, and bikers of all levels.
Bring your own gear and a picnic lunch and enjoy this totally free park!
Especially on sunny days, the skatepark is an ideal activity for older kids and great entertainment for younger kids, too.
5. Hike to the Breckenridge Troll
One hike that Esther loves to recommend for families with kids is the trail to find the Breckenridge troll!
Head up Trollstigen Trail to see the wooden troll who hides among the trees near Breckenridge.
Some children may find him scary, but most are delighted by Isak Heartstone, the whimsical wooden troll.
6. River tubing with Adventure West River
A fun summer activity is to rent an inner tube and go for a float down river!
Available in both Clear Creek Canyon in Golden and on the South Platte River in Littleton, renting tubes is affordable and a fun way to get kids out in the water on a hot day.
You can rent a tube or bring one with you, float for a few hours or the whole day.
Then, pull out or catch the shuttle back to where you started.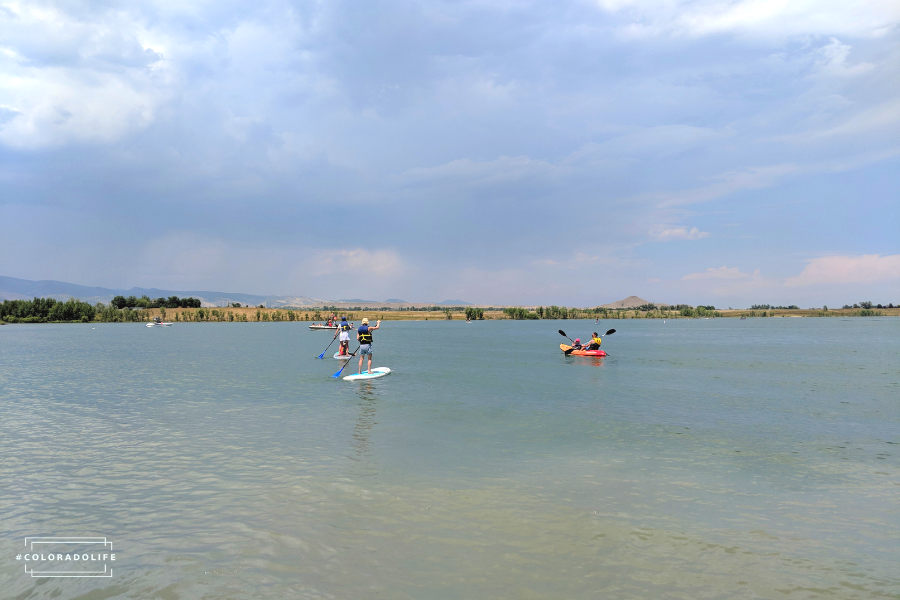 7. Stand up paddle boarding
With so many beautiful lakes and reservoirs in Colorado, stand up paddleboarding, is another fun way to get out on the water with kids!
Your child can ride on the front of your paddle board while you paddle around.
Many reservoirs around the state offer affordable paddle board rentals, but bring your own life jackets as they are not always available.
If you plan to paddle board with small kids, make sure you've got a life jacket approved for their size and weight.
8. Go to the splash park
This is one of Esther's favorite free activities to do with kids in the summer.
Denver has several great splash parks around the city, and many are free.
Splash parks at Central Park in Denver and at Union Station, have amenities like ice cream and coffee are right at hand.
Many cities have free or affordable splash parks, so look for one near you!
9. The Kitchen's Next Door American Eatery
Not all family-friendly restaurants are actually that family-friendly.
Look out for places that have plenty of room for high chairs, menu options that picky-eaters like, and a pleasant atmosphere for adults, too.
With locations across the Front Range, Next Door American Eatery is an informal restaurant with great sustainable options to choose from.
You'll find plenty of grown-up shareable appetizers, burgers and salads, and tasty bites for kids, like mac & cheese and sliders.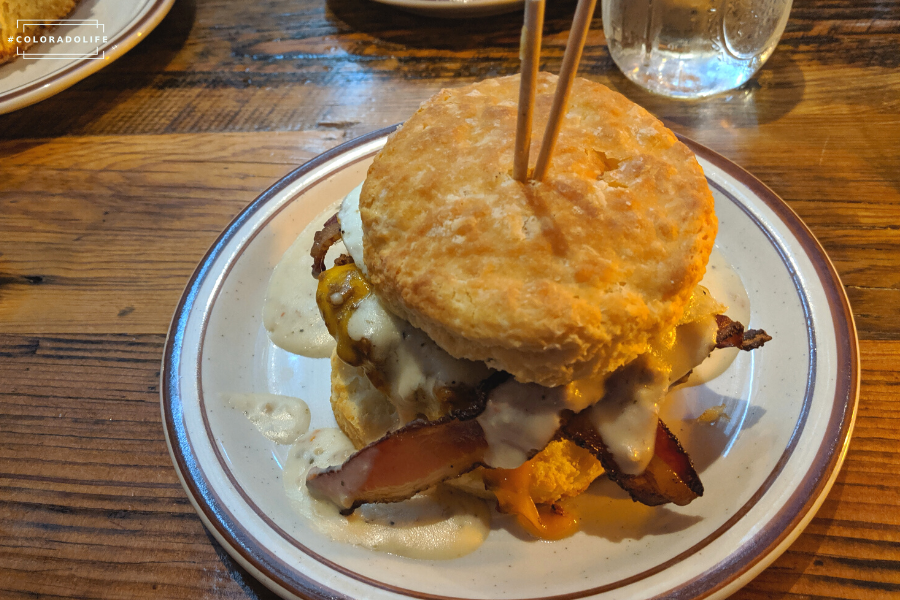 10. Denver Biscuit Co
We couldn't write a list of great restaurants without mentioning the Denver Biscuit Co.
Luckily for families with kids, this restaurant is great for those with littles in tow!
There's nothing more family-friendly than some good ol' comfort food.
And from their biscuits and gravy to their enormous biscuit sandwiches, Denbisco is some seriously delicious comfort food.
11. El Amigo in Golden
For weeknight meals and a sure-bet, check out El Amigo in Golden. The restaurant has been serving the Golden area for over 29 years.
You'll find big plates of pretty standard Mexican food fare in a comfortable environment.
There's a reason why this is a family favorite for everyone!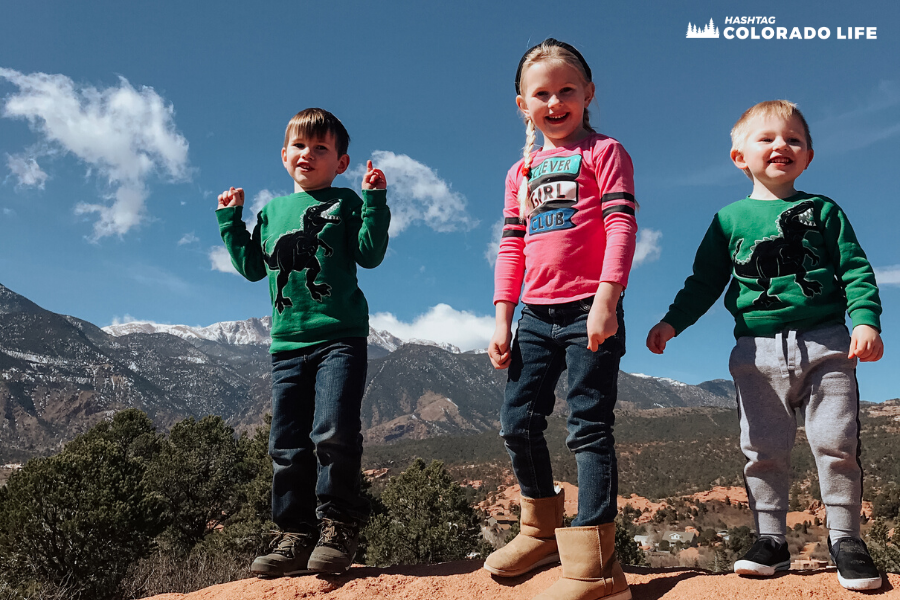 12. Prepare for high altitude adventures
The altitude in Colorado can take a toll on both kids and adults.
This is especially important if you are visiting from a lower elevation, or if you have not lived in Colorado for long.
Take extra precautions to protect yourself and your kids from the effects of altitude sickness.
Get lots of rest and stay hydrated.
13. Find family-friendly hikes
Some important things to consider when finding the right hike for your crew include:
Are there bathrooms available?
What is the sun exposure level?
What is the difficulty level (for little legs) and the distance?
Are there lots of dogs?
You may choose to skip a popular trail in favor of one with more amenities, depending on your family's needs and preferences.
There are plenty of ways to create even more adventure out of a simple hike!
We recommend buying or borrowing a nature book from your local library to make hikes more engaging and educational.
Or make your hike into a scavenger hunt. Review the local plants and animals before your hike and keep your eyes peeled to find them while you're walking.
14. Connect with other Colorado families
Most kids love visiting the library! "Libraries are transforming to be more than just a place to borrow books," says Esther.
Colorado, in particular, has a wonderful network of libraries.
They are putting a greater emphasis on being a gathering place for communities.
Many free activities are hosted at your local library, from crafting days to dance parties and movie nights.
A big benefit of libraries is the ability to connect with other parents in your immediate area.
Most parents go to the library nearest to them, so you're sure to meet other families who live in your neighborhood who you can meet up with outside the library, too.
Libraries are also great resources for planning trips and visits around the state!
Pick up some nature books or borrow a book of local hikes to find your next destination or prep for your upcoming excursion.
Denver has a great library system, as does Jefferson County and other counties around the state! Stop by your local branch and see what they have to offer.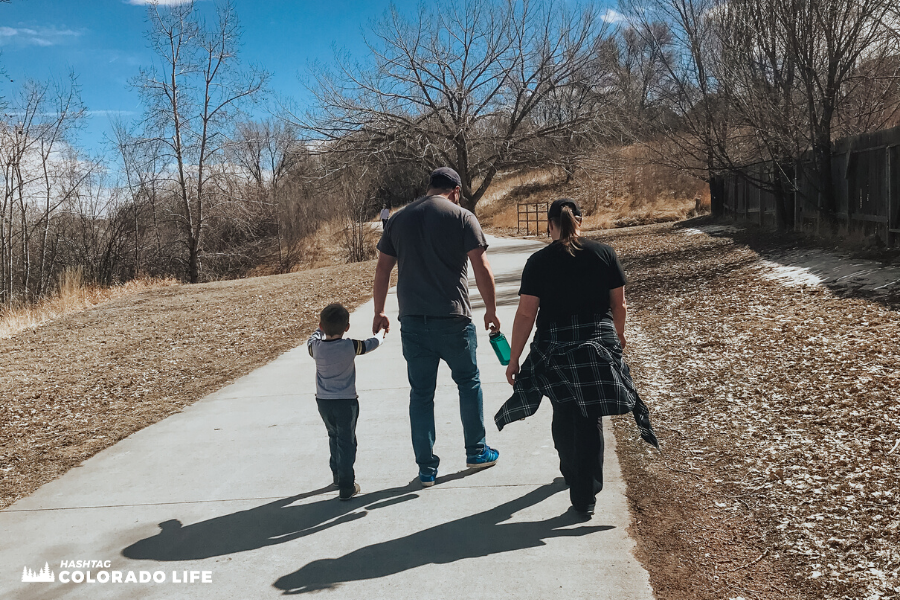 As a parent, you know how much of a hassle it can be to prepare to leave the house spontaneously with kids.
A big barrier to adventure is the time and effort it would take to leave the house with kids and all their gear!
Here are some must-have baby and toddler gear recommendations when exploring Colorado with kids.
15. Stock and prep a "bug out bag"
A life-changing secret to adventuring with kids is a "bug out bag"-style kit for kids.
Many outdoor enthusiasts and preparedness experts recommend having a bug out bag stocked and ready in the event that you need to quickly leave your house for a period of time.
To cultivate an adventure mindset, you need to be ready to say "yes" to spontaneous adventures.
If you've already got your gear together to make adventure happen, it's a whole lot easier to jump on the opportunity!
Spend an hour or two building your kid kit, and keep it in your car or some other convenient place.
Prep it once, and you know you have what you need in the car all the time.
What goes in an adventure bug out bag?
For most families with kids, your bug out bag will have some or all of the following:
Diaper bag essentials which includes things like diapers, wipes, and diaper rash cream.
Feeding supplies like bottles, sippy cups, plates, and baby spoons.
Shelf stable foods such as jars of baby food, granola bars, Goldfish crackers, and cereal.
A portable crib and sleeping supplies, with blankets and a stuffed animal. Esther's kids love the PeaPod Travel Bed by KidCo because it's lightweight, packs down small, and can be used indoors and outdoors.
At least one full change of clothes, plus an extra coat and other-season gear like sunglasses or mittens. Other necessities include socks, shoes, underwear, and pajamas.
Anything else that your child would meltdown if they had to go without — get a duplicate and add it to the bag!
You don't have to go out and buy a duplicate of every single thing your kid might need while adventuring.
You can spend less than $20 at the dollar store getting some cheap duplicates of your must-have items.
Or swing by Goodwill to grab a spare outfit or two. It doesn't have to be expensive!
If you want to keep up your adventurous spirit after kids, staying mobile is key.
16. Get a good front pack carrier for babies
For newborns and babies, she recommends investing in a good quality, adjustable front carrier.
Being flexible is important if both mom and dad want to be able to wear the baby while on the go.
Many carriers also flip around to be worn as backpacks, so you can often get extra time from them as babies become toddlers.
If you're looking for a durable carrier, we recommend the carriers created by Lille Baby or Ergo Baby.
There are many benefits of wearing your baby on a front pack for adventuring. You will be hands free while the baby is in the carrier, leaving you available for other things.
Plus, your warmth can make it easier for little babies to get some sleep while you're out and about.
And when they are awake, having a baby so close to you enables you to engage with nature together — pointing out things and seeing what each other sees!
It can be physically demanding to wear your baby on your body, so bear that in mind when choosing a carrier and deciding who wears it while on the go.
And if you're a breast-feeding mama, many carriers are now designed to make nursing possible without ever taking the baby out of the pack!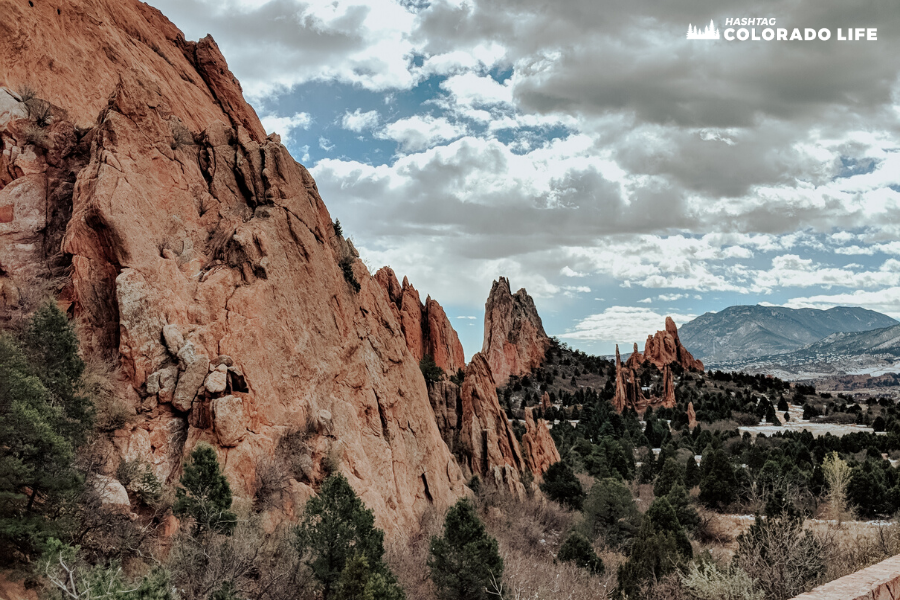 17. Find a stroller that suits your active lifestyle
As kids outgrow the chest pack, but still have legs too little for long journeys, you'll likely be ready to make the switch to a stroller.
You may want to have more than one stroller, depending on the situation.
For crowded places and indoor events, it can be handy to have a cheaper, folding umbrella stroller stowed in the trunk.
Some event spaces and places with large crowds will be much easier to navigate with a light and small stroller.
On the other hand, many full-size "standard" strollers have small, hard plastic wheels, low clearances, and are not super maneuverable when going outside.
If you plan to take your stroller off-roading on trails or outdoors, look for the same qualities you would in a rugged vehicle.
A good stroller option comes with big, rubber wheels, high clearance, and good handling for going over bumps and uneven terrain.
Another factor to consider is the weight and ease of folding and packing your stroller in the car.
You'll be a lot more likely to bring your stroller on your adventure if it's easy to get it in and out of your car!
We recommend the BOB Gear Revolution Flex 3.0 jogging stroller, but there are other great models by Thule, too.
Adventures in Colorado with kids
If you want to continue to adventure as a family, you have to find a solution that works for everybody.
Make sure that whatever gear you buy is comfortable, durable, and meets the needs of you and your family.
Especially with little kids and babies who nap every two hours, it can be helpful to teach your children how to fall asleep while traveling.
There are many schools of thought on sleep training your kids, but for adventurous families, you may find that a nap on the go is the best way to stay active and avoid meltdowns.
And if you're considering bringing your kids when you head out with friends who don't have any, bring them!
Kids bring more magic to a normal hike with their fresh perspective and natural sense of wonder.
Colorado is a state full of adventure and opportunity for everyone.
So if your friends without kids invite you on a hike, don't feel guilty bringing your brood along, too!