Dude Ranch Vacations: 9 Reasons to Visit a Colorado Guest Ranch
This website may contain affiliate links and we may be compensated (at no cost to you!).
Colorado makes it easy to feel like you're on vacation every day. But what if you want to get away, unplug, and experience what life is like on a real dude ranch?
We recently went on a 3-day trip to Vista Verde Ranch near Steamboat Springs and had one of the most amazing vacations of our lives. It's actually the vacation standard for all other trips going forward.
Here are nine reasons why your next Colorado vacation should be a dude ranch.
9. All-inclusive vacation
Normal vacation planning can be stressful and usually takes a lot of time to research and book. But a dude ranch vacation is all inclusive, making it a pretty hassle-free experience.
And all inclusive really is exactly how it sounds. Everything that you could need or want on your vacation is included in the price.
From lodging, activities, meals, snacks and entertainment it's all included in the cost of your trip.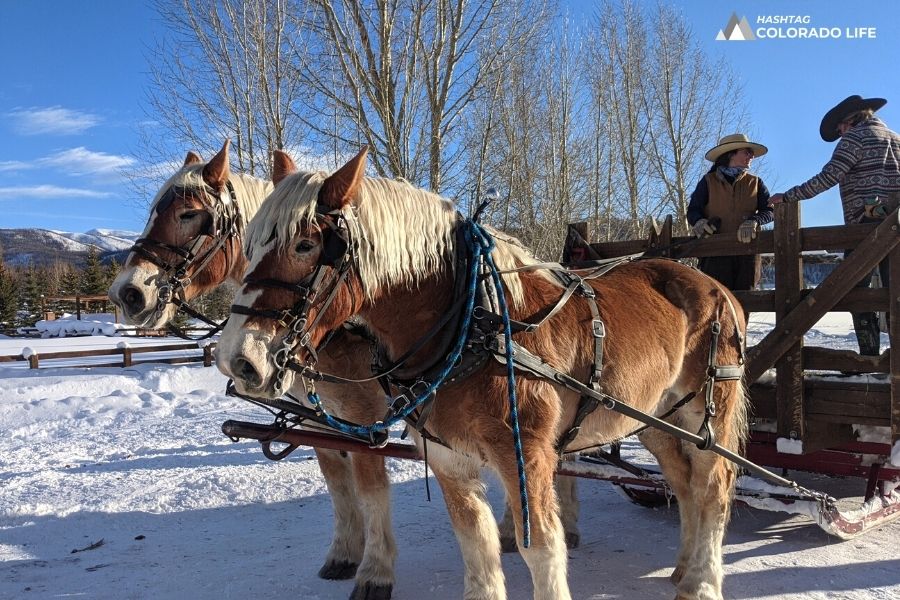 This takes the stress out of planning so you can actually sit back and enjoy the vacation.
Plus, with an all-inclusive trip it's easier to budget since you know the price all-in and you won't be surprised with a big credit card bill when you get back home.
Each evening, we would take five minutes and plan out our upcoming day. And at dinner we'd find out that night's planned activities, from dancing to playing poker.
8. Unplug from technology
Normal life these days means lots of screen time, from phones to TVs and other electronics.
A dude ranch vacation is the perfect place for the whole family to slow down, unplug from modern life, and unwind from the day-to-day hustle.
Since ranches are often located in relatively remote locations there's often limited internet and cell service available.
And while most guest ranches have luxury cabins and lodging, nearly all of them are missing one thing: a television.
However, when we were visiting there was a TV in the guest lodge over in a secluded corner. This is where some die-hard football fans were watching a game.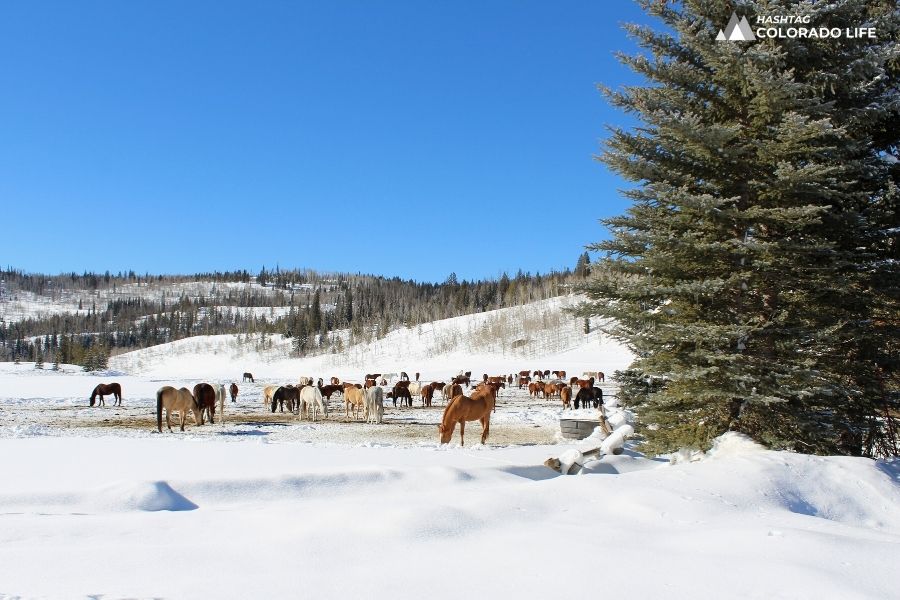 So, a Colorado dude ranch is not without complete disconnection from the world. In fact, going there, we half expected our nights to be somewhat boring without our normal internet connection and being able to watch TV.
But that was not the case. Both our days and nights were filled with stuff to do. Plus, we were pretty exhausted at the end of the day thanks to all of the fun activities and things to do.
Vacations like this are a great way to reconnect with your kids, your spouse, and your loved ones because of the time together away from distractions.
Get ready to relax, away from technology, and enjoy the great outdoors.
7. Horseback riding
You can't go to a Colorado dude ranch without getting in some horseback riding.
Most guest ranches have classes or trail rides scheduled once or twice a day, and this is no doubt the most popular activity.
Horsemanship classes are available for beginners to get to know their horse and learn how to properly handle them. Then it's off on a fun but straightforward trail ride.
In the afternoon and early evenings there's feeding time for the animals and horses, which guests can often join in on.
And during the winter, you can even enjoy a slow sleigh ride around the ranch with that special someone.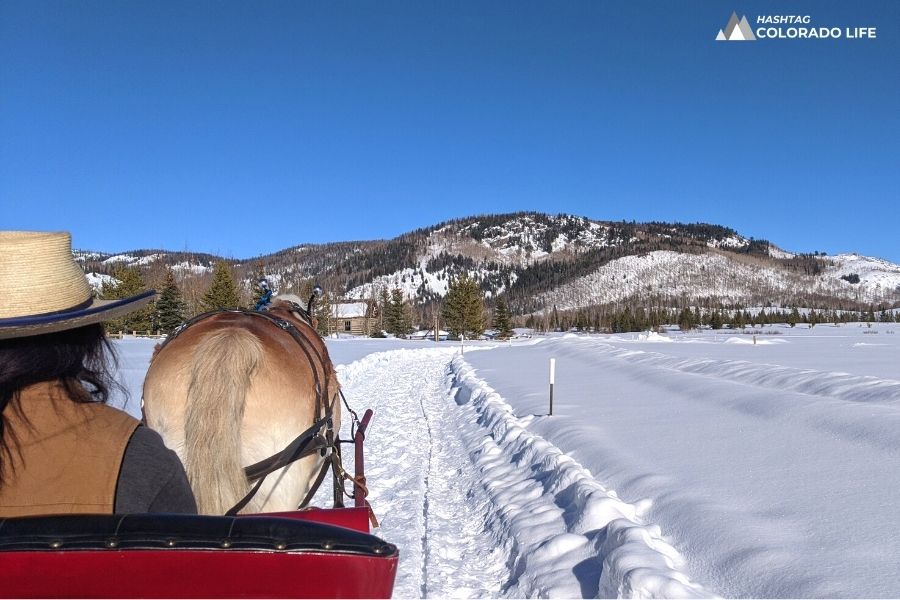 Horseback riding is a great way to enjoy the beautiful landscape and take in the sights of Colorado's gorgeous Rocky Mountains.
But if you're not comfortable riding a horse, no worries! You do not have to go on any activities you're not really excited about.
However, we highly recommend trying out horseback riding as the riders are expertly matched to their horse based on experience and comfort level.
Plus, the horses are very tame and patient, due to being around lots of different people all the time.
6. Unique indoor & outdoor experiences
There are so many different outdoor activities at a Colorado dude ranch. And even more variety thanks to different seasons.
During the summer you can enjoy things like:
Fly fishing
Hiking
Mountain biking
Paddle boarding
Rafting
Outdoor yoga
And in the winter there is:
Snow shoeing
Cross-country skiing
Snowmobiling
Snow tubing
Ice fishing
Fat biking
There is no lack of things to do on a dude ranch vacation so you and your family will always be entertained. Plus, there are activities for nearly every age and every fitness level.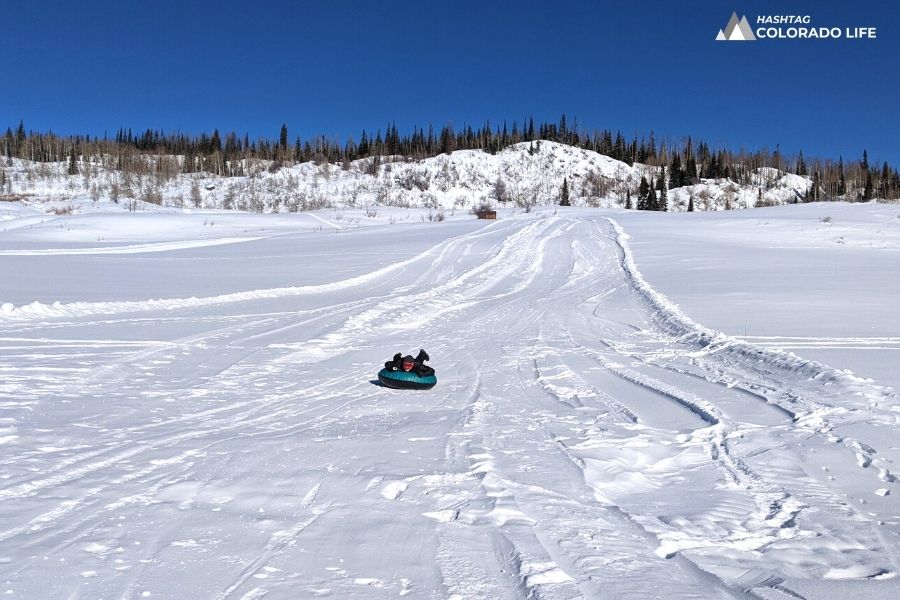 However, babies and toddlers may not have as much fun at all Colorado guest ranches. Some have an age requirement of 6 years or older, as this is the age when kids can get the most out of the activities.
In addition to all of the outdoor activities at a dude ranch, there are tons of things to do indoors as well.
Some popular indoor activities include:
Archery
Photography workshops
Cooking classes
Beer and wine tastings
Board games & card games
Massages and spa
5. Meet new people
Colorado dude ranches bring people from all over the country to experience luxury cowboy living.
You'll meet people from all walks of life and different ages. Or if you value quieter company of adults, most dude ranches have Adult Only vacations for mom and dad to enjoy a break.
In the evenings you will meet up with everyone to enjoy dinner in the dining hall. Here you can eat at the communal tables or secure your own private table.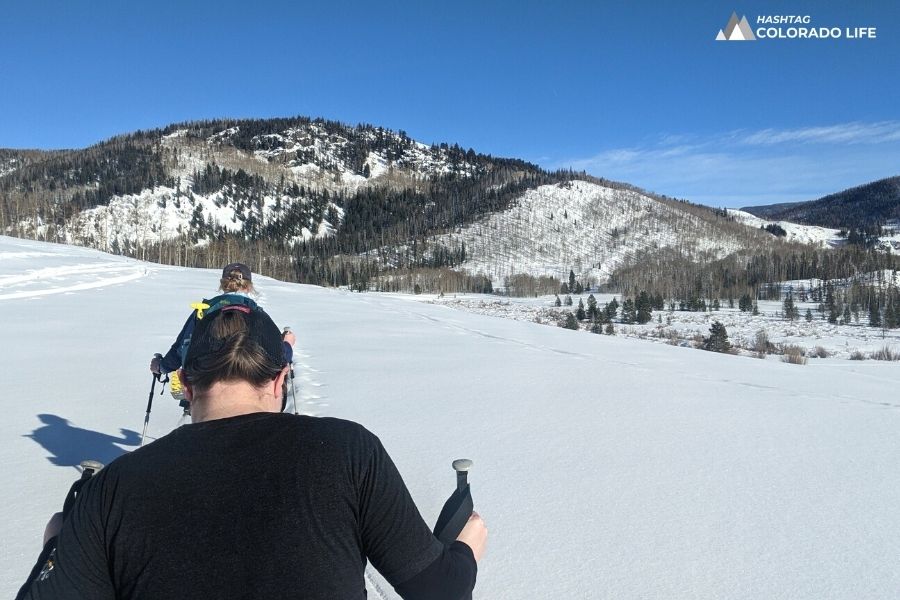 After dinner, play some poker or other board games together while sharing adventure stories and talking about that day's activities.
A dude ranch vacation is a chill and relaxed place where people are welcoming and genuinely interested in your life.
It's times like these that these shared experiences really bring everyone together, and you could even meet some life-long friends.
4. Fully customizable trip
An all-inclusive vacation to a Colorado guest ranch allows for a super customizable trip.
Here you can choose to sit back, relax, and take in nature every day. Or live out your deepest cowboy fantasies on horseback. (Seriously, we met someone who was thinking of retiring and taking up ranch life with horses!)
Animal lovers will feel at home next to the horses, and sometimes goats, pigs, cows and other animals on the ranch.
And depending on your ranch's location, you may see some real Colorado wildlife like elk, deer, moose, bear and even mountain lions.
At a dude ranch you can be as laid back or as active as you want, or even a little bit of both. It's up to you to design your trip to fit you and your family's wants.
You can even change your mind in the middle of your trip if you desire. Especially if you're not used to the altitude, you can take it easy the first few days and then ramp up your activity list before heading home.
3. Chef-prepared food & snacks
After a long day trail riding or on the tubing hill, there's nothing better than the sound of the dinner bell.
Dude ranches come with an entire kitchen brigade to keep everyone from the guests to the employees full and happy.
Breakfast, lunch, and dinner are served every day with made-to-order meals or buffet style.
These hearty meals are chef-prepared to leave you stuffed so you are energized for your next activity.
The menu changes daily with plenty of options for everyone in your family, even the pickiest of eaters.
One night it's Smoked Meats and the next it's a more formal 3-course meal followed by Two-Step dancing.
And every dinner ends with a delicious and decadent dessert. You earned it!
Plus, there's often plenty of snacks, drinks and a free happy hour with wine and local craft beer for everyone to enjoy.
2. No alarm clocks
One of the best things about a vacation getaway like this is the fact that you don't have to wake up to an alarm every day.
A Colorado dude ranch vacation is stress-free and relaxing. Here you can easily fall into your body's normal waking and sleeping rhythms, with no alarm clocks needed.
With 3 chef-prepared meals a day, daily activities that wear you out, no phones and no internet distractions, you can easily hit the reset button.
You'll sleep well every night and feel rested every day. At a dude ranch there's nothing but time and space to relax.
1. Lifetime memories
The best thing about visiting a Colorado dude ranch are the memories you'll make with your loved ones.
Whether it's a romantic couple vacation or a fun trip for the family, this will be a trip that everyone will remember for a long time.
Dude ranches are designed to fill your days and nights with wholesome fun and epic experiences that you will cherish for a lifetime.
This type of vacation is perfect for an anniversary, Valentine's Day, birthday milestone, or just to unplug from it all.
It's a trip that everyone will look forward to again next year. I know we are!