Hiking Blodgett Peak Mountain & Open Space in Colorado Springs
This website may contain affiliate links and we may be compensated (at no cost to you!).
Blodgett Peak is a very challenging but beautiful hike located in Colorado Springs.
This is a local favorite due to the wide open space, expansive landscape views, and intensity of the hiking trails.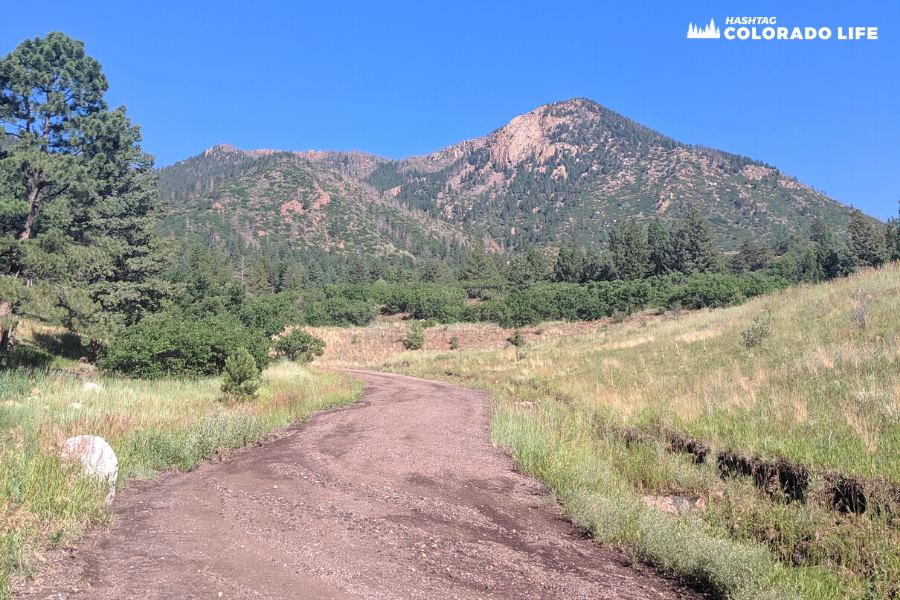 The trails within the Open Space area are considered easy to moderate while the ascent to the Peak is very difficult to climb.
At the top of Blodgett Peak you will see stunning views of the city as well as incredible views of the Rocky Mountains.
If you are looking for a challenging hike near the Colorado Springs, we highly recommend hiking Blodgett Peak Open Space.
The history of Blodgett Peak
Blodgett Peak is located within the 238-acre Blodgett Peak Open Space that is nestled along the Rampart Range section of the Rocky Mountains.
The area was originally named for a family who owned the peak and the surrounding land in the mid to late-1800s.
The U.S. Air Force Academy, which is located nearby, now owns the property and the open space.
In 1956, the North American Air Defense Command (NORAD) started searching for places to set up its headquarters in Colorado Springs.
And they were scouting two mountain locations, Blodgett Peak and Cheyenne Mountain.
After performing several geological site studies, NORAD decided to set up shop at Cheyenne Mountain which was determined to be a better location than Blodgett Peak.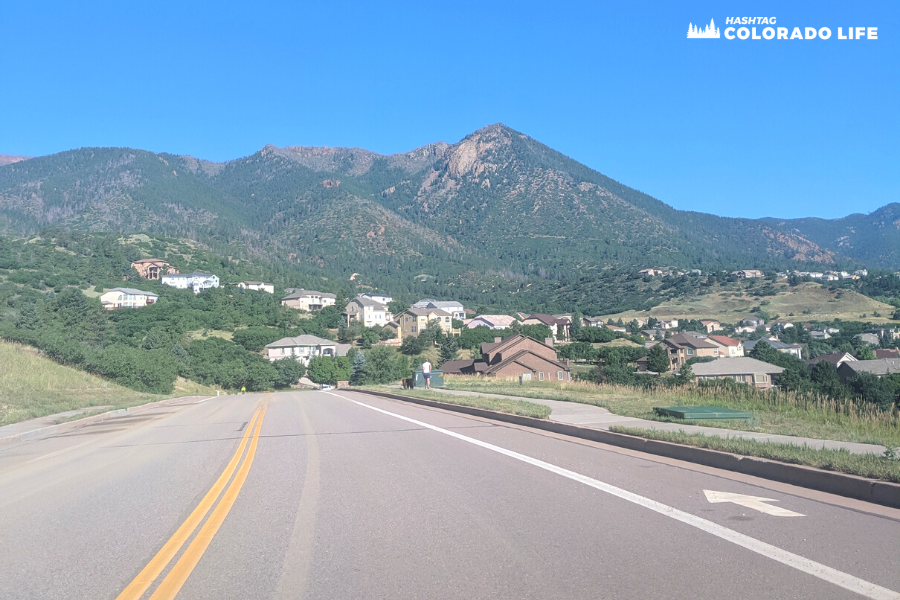 Initially, Blodgett and the surrounding open space included 167.2 acres of land that the city purchased in March 2001.
Later in August 2018, Colorado Springs purchased an additional 64 acres, expanding to the south and east. This brings up the total current acreage to just over 238 acres.
Visitors can enjoy hiking the approximately 6.5 miles of trails and taking in the expansive views of the city below.
In June 2012, Blodgett Peak Open Space was devastated by the Waldo Canyon Fire. More than 340 homes and 18,240 acres, including Blodgett Peak, were burned.
Since that date, the city and other organizations have worked to preserve and rebuild the trails and surrounding landscape.
Where is Blodgett Peak in Colorado?
Blodgett Peak Open Space is located at 3786 West Woodman Road in Colorado Springs, Colorado.
It is about 11 miles from downtown Colorado Springs and is approximately a 20-minute drive.
From Denver, take I-25 south for about 55 miles then exit west onto Exit 149 Woodmen Road.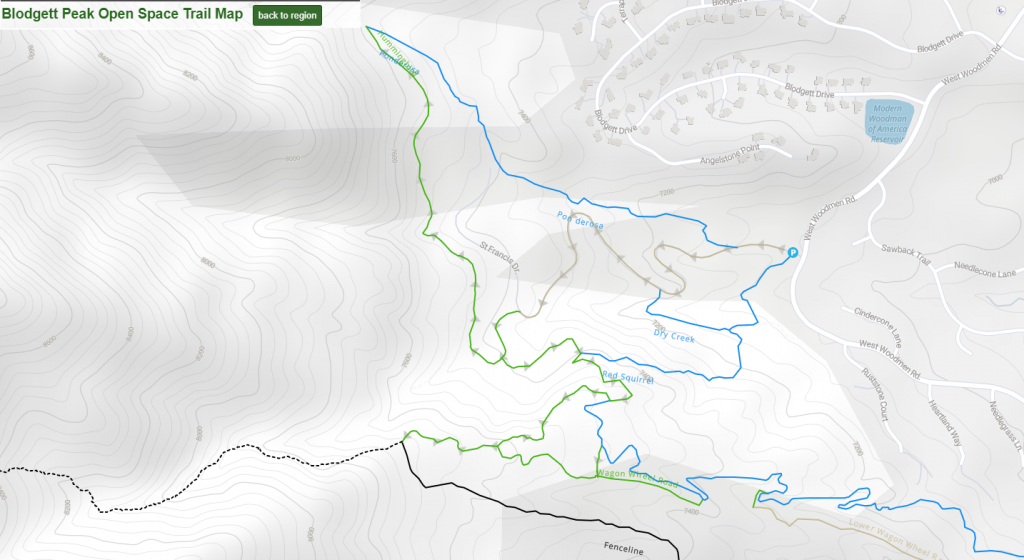 Continue traveling west on West Woodman Road for about 2.4 miles then take a left onto Orchard Valley Road. Follow the signs to Blodgett Peak Open Space.
The main parking lot will be located on the west side of the road. However, the lot is small and spots fill up fast, especially on the weekends.
Blodgett Peak trail map and Open Space
Here is a map of all the trails in the Blodgett Peak Open Space area so you can easily plan your next hike!
You can see at the bottom of the trails they converge near the main parking lot located off of West Woodmen Road.
Create your own out and back hiking adventure or choose to create a loop using several of the connecting trails.
Tips for hiking Blodgett Peak
Blodgett Peak makes for a unique day hiking experience in that it offers 360 degree views of the mountains and cityscape near Colorado Springs.
And since this area is mostly known to the locals, not many tourists visit or hike Blodgett Peak.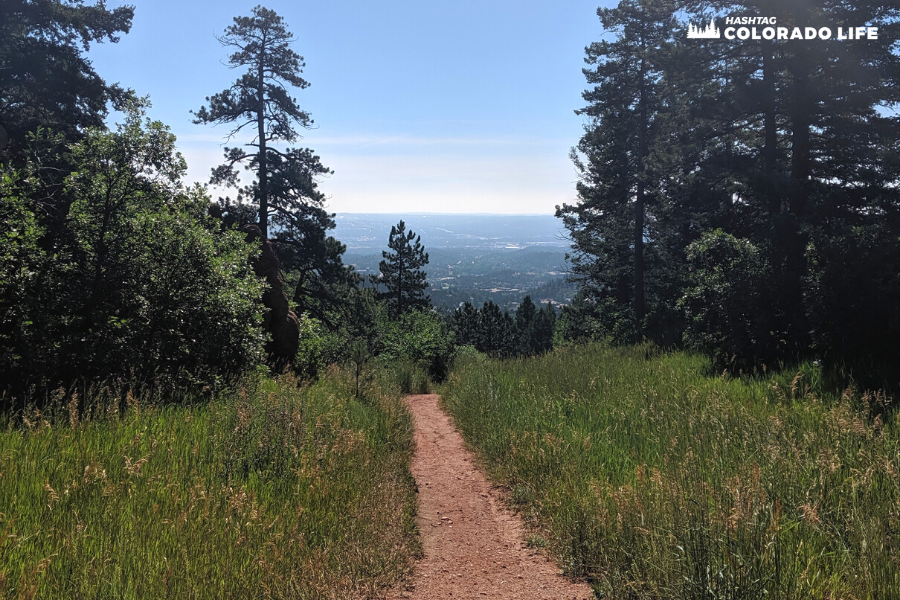 Because of this, there are fewer people on the trails and more nature for you to enjoy.
Here is what you can expect when planning to hike the Blodgett Peak area.
Blodgett Peak Trailhead: difficult and intense hiking
Blodgett Peak area is made up of two main sections, Blodgett Peak Trailhead and Blodgett Peak Open Space.
Blodgett Peak Trailhead is black level hiking trail that is considered challenging for more advanced hikers.
This 3.2 mile hike ascends from the base of the mountain and back down again.
It features wildflowers, birds and many varieties of wildlife. Due to the steep nature of this hike, the best times to climb this trail are from May through September.
Due to the rocky and uneven terrain, dogs can make this climb but only if they are in good shape.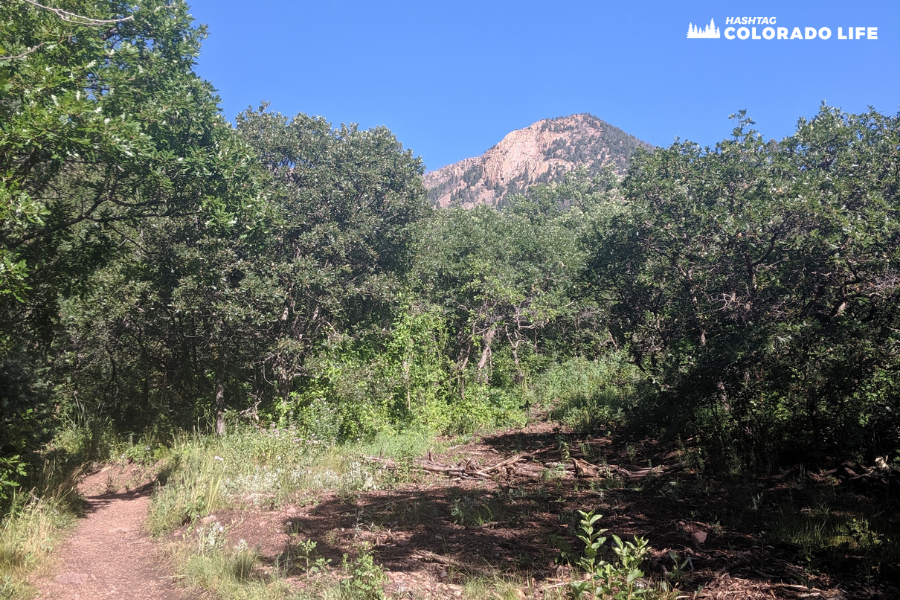 The trail up to the peak is not recommended for young kids or older adults who are not used to the altitude.
If you are training to hike the Manitou Incline, we recommend adding Blodgett Peak to your hiking list.
It's the perfect challenge to get you in shape for an intense Colorado hike.
Blodgett Peak Open Space: easy to moderate hiking
The Blodgett Peak Open Space Loop is a 1.3 mile trail that is considered a moderate level of difficulty. It is primarily used for hiking, running, and relaxing nature trips.
The main trail from the parking lot for Blodgett Peak Open Space starts with a wide gravel road that heads west into the mountains.
This trail is called Ponderosa and is moderately difficult due to the uphill switchbacks and the altitude gain.
At the top of this short but fun climb the trail connects to Hummingbird Trail which is an easy gradual climb.
You can choose to head uphill into the mountains or a bit more south and connect to the easy Douglas Fir Trail.
Locals enjoy using both the Hummingbird and Douglas Fir trails for excellent mountain biking!
The Douglas Fir Trail then connects to the Red Squirrel Trail and can be hiked back down the mountain to end at the main parking lot.
On these trails dogs are welcomed as long as they are on a leash. And the hikes aren't too strenuous if you want to bring kids along.
Trekking poles and traction
If you are planning to scale the trail up to Blodgett Peak you will encounter steep terrain, uneven ground, and narrow trail sections.
Some spots may even be icy or muddy depending on what time of year you are hiking.
We recommend bringing quality Trekking poles to make your climb a bit safer and easier.
Trekking poles will help take the pressure of your knees and allow you to safely navigate more demanding terrain.
During the winter, it's a good idea to hike with traction hiking devices which can easily be attached to your shoes or hiking boots.
Free parking and hours
As mentioned, parking is limited at the small parking lot at Blodgett Peak Open Space. There are less than 15 parking spots available.
However, additional parking is available on the street and in nearby neighborhoods if the parking lot is full.
The city of Colorado Springs is developing additional parking to the south of the main parking area.
The park is open all year-round, seven days a week although you should check the weather before heading out for a hike.
Bird watching & nature reserve
The wildlife in Blodgett Peak Open Space is abundant as this area is considered a nature preserve.
It is an especially great place for nature lovers and bird watchers. Keep an eye out for the Peregrine falcons that were once on the endangered species list!
Most of the flora you will find here includes Douglas fir trees, Scrub oak bushes, and Ponderosa pines.
There are also a few water sources and creeks that run throughout the property.
During heavy rains or snowstorms, you can even find several waterfalls within the property.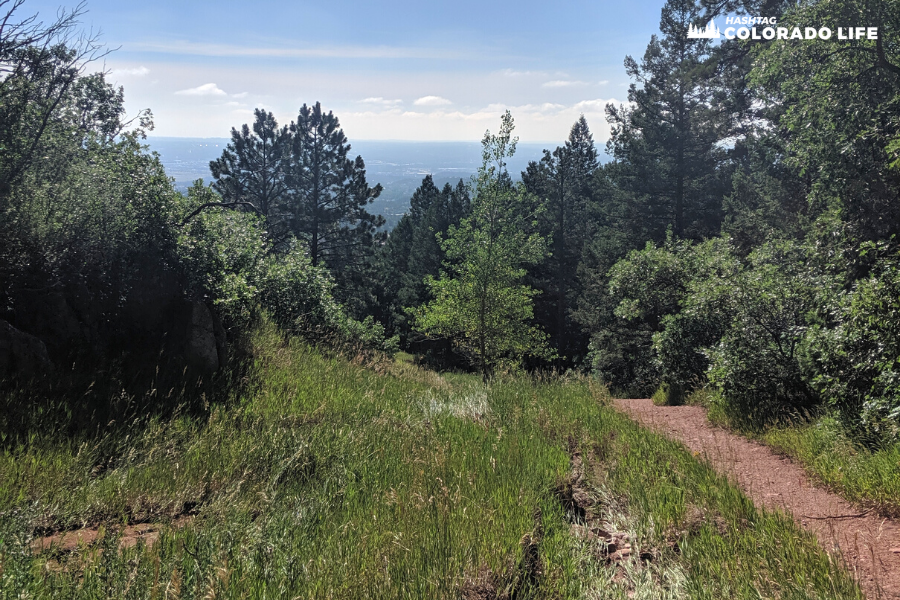 Not dog or kid friendly
As mentioned, dogs are allowed on the lower trails in Blodgett Peak Open Space but must be on a leash.
Kids will also find these trails fun but a bit of a challenge if they're not used to hiking.
However, the hike up the peak is not considered a dog-friendly or kid-friendly hike.
So it's recommended to leave your kids and pets at home if you plan to ascend to Blodgett Peak.
Restrooms & picnic areas
Port-a-Potties are located at the main parking lot and can be used before starting out on your hike.
Please note there is nowhere to stop for a bathroom break on the trails. So, go before you start hiking.
There are also no official picnic areas if you want to stop for lunch on your hike.
We suggest bringing your own food, drinks and snacks to enjoy before or after your hike. The only places to stop for a break will be on the trails or within the wooded areas.
Hiking Blodgett Peak in Colorado Springs
Whether you are a local or just visiting Colorado Springs, this is a hike we highly recommend adding to your bucket list.
Visiting Blodgett Peak and the Open Space nearby promises to be nothing like any other hiking experience.
The trails are intense and rugged so bring the proper hiking equipment if you are not a regular hiker.
Or if you are training for a more intense climb in Colorado, such as hiking a fourteener, this trail is a perfect training hike.
The ascent up Blodgett Peak offers views that are stunning from all angles!