Hiking to the Top of Pulpit Rock Park in Colorado Springs
This website may contain affiliate links and we may be compensated (at no cost to you!).
Pulpit Rock Park is an amazing hike in Colorado Springs thanks to its unique history and stunning views.
Not only is this one of our favorite hikes, but it's a local favorite too. And because of this there the traffic along the trails is not overly crowded.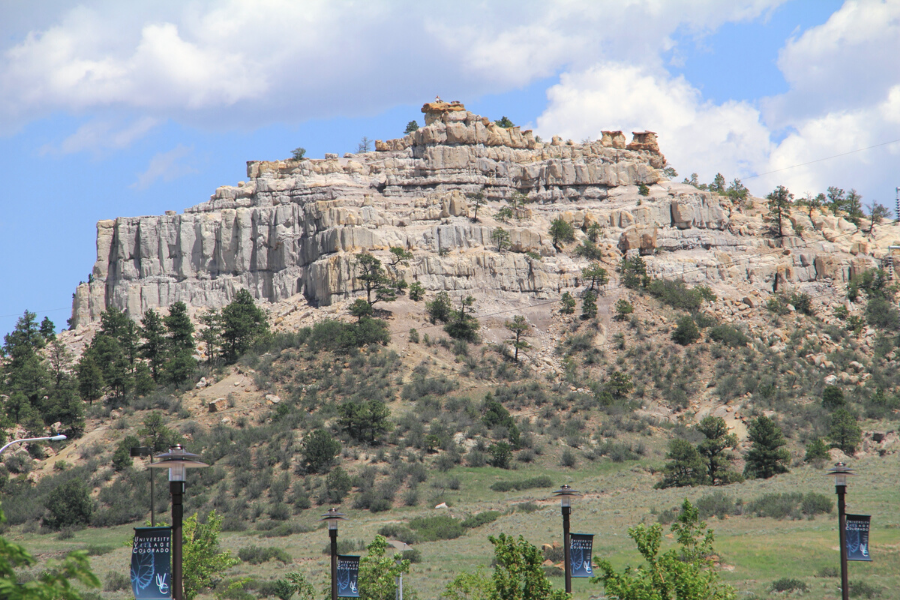 You can enjoy hiking to the top of Pulpit Rock or simply enjoy the surrounding park and open space nearby.
There is no fee to park or access the hiking trails, so you can escape the hustle and bustle of the city, without ever leaving it.
Here's how to see stunning views of Colorado Springs while hiking Pulpit Rock Park.
The history of Pulpit Rock Park
At 6621 feet in elevation, Pulpit Rock Park is one of the highest altitude destinations to hike in Colorado Springs.
It is easily seen when driving along I-25 when passing through Colorado Springs.
The formation known as Pulpit Rock is located within the 584-acre Austin Bluffs Open Space that is in the heart of the city.
The U.S. Forest Services has ranked this open space as a unique landscape thanks to the distinct rock formations.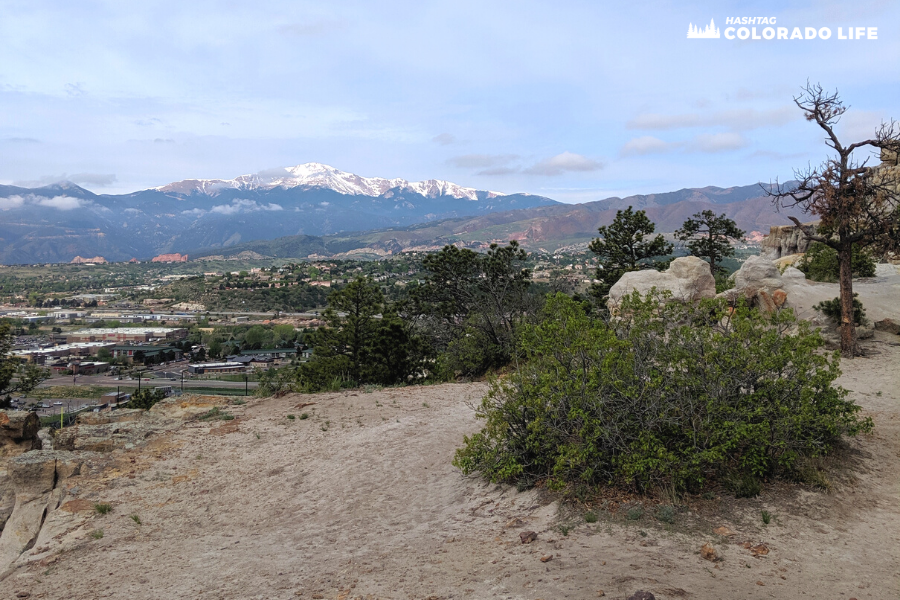 There is archaeological evidence that Native Americans lived in the Austin Bluffs area as far back as 10,000 years. And many artifacts and stone tools have been discovered here.
If you want to enjoy a short hike within the city limits, Pulpit Rock Park and the surrounding open space is a perfect hike.
Visitors will enjoy hiking many of the small, unmarked trails leading up to the base of Pulpit Rock. The ascent is short and will only take a few minutes.
The climb to the top is steep but worth it as it offers expansive views of the city, Pikes Peak, and the Rocky Mountain range.
Even though Pulpit Rock Park is open all year round, the best times to visit are in spring, summer, and fall.
The snowy or icy weather during the winter can make many of the trails unsafe to climb.
Where is Pulpit Rock Park?
Pulpit Rock Park is located inside Austin Bluffs Open Space at 6411 N Nevada Avenue in Colorado Springs, Colorado.
Driving from downtown Colorado Springs will take approximately 10-12 minutes depending on traffic.
Or if coming from Denver, Pulpit Rock Park is 65 miles south or just over an hour drive.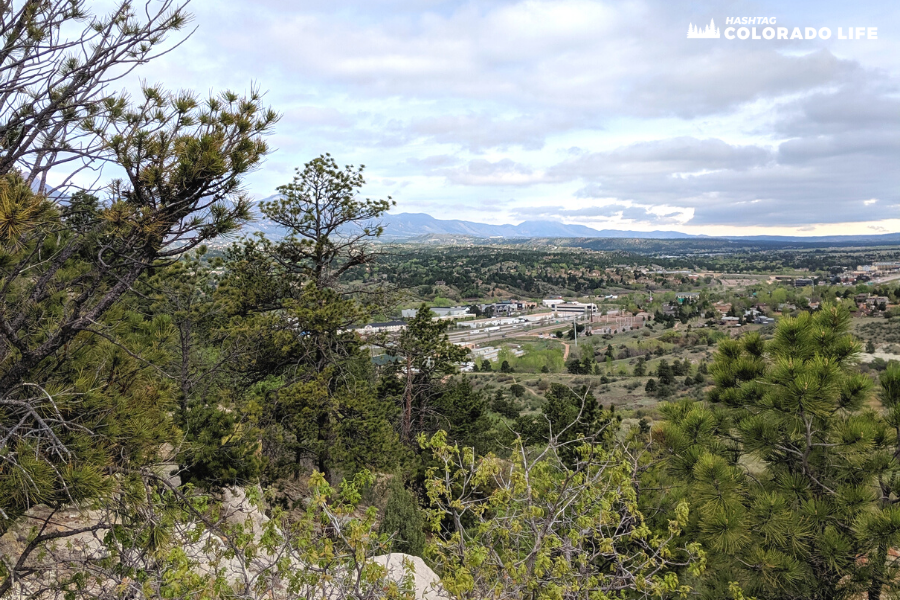 Due to the park's location being so close to Interstate 25, it's a relatively easy drive no matter where you are traveling from in the state.
The Pulpit Rock Trail parking lot is located on the east side of the interstate off North Nevada Avenue.
Parking here is free anytime and the lot is a decent size. But spots do fill up quickly, especially on the weekends.
If the main parking lot is full, there is free street parking available. Or you can park in the various lots available in the nearby strip mall business center.
Pulpit Rock trail map
Here is a map of Pulpit Rock Park and the trails surrounding it.
Many of the trails are unmarked but you can quickly identify the larger more trafficked trail that is a gradual climb up to the peak.
As you can see it connects to Austin Bluffs Open Space to make up an expansive and beautiful park inside the city limits.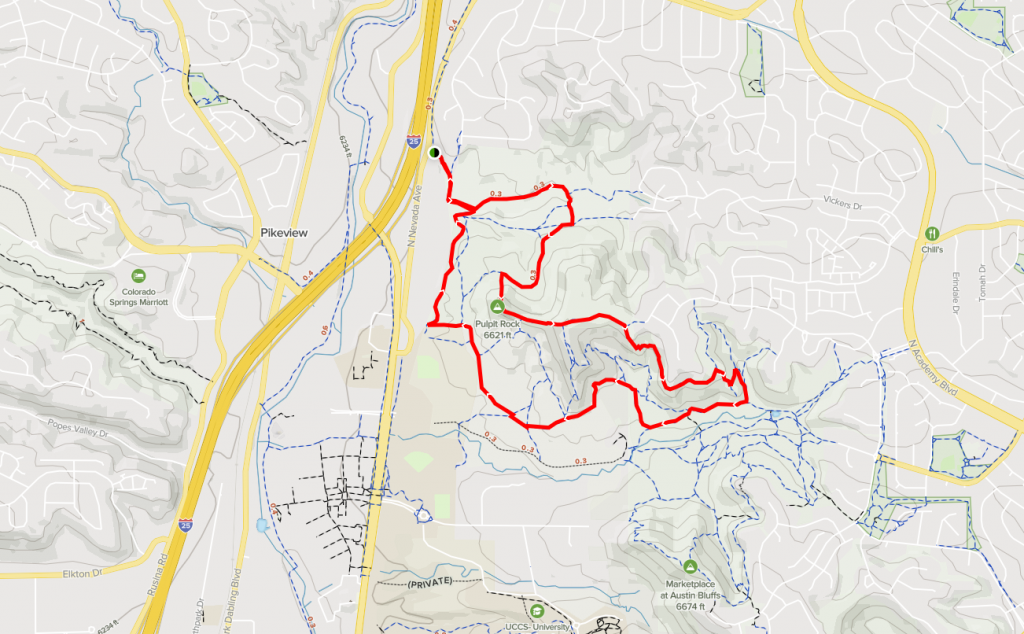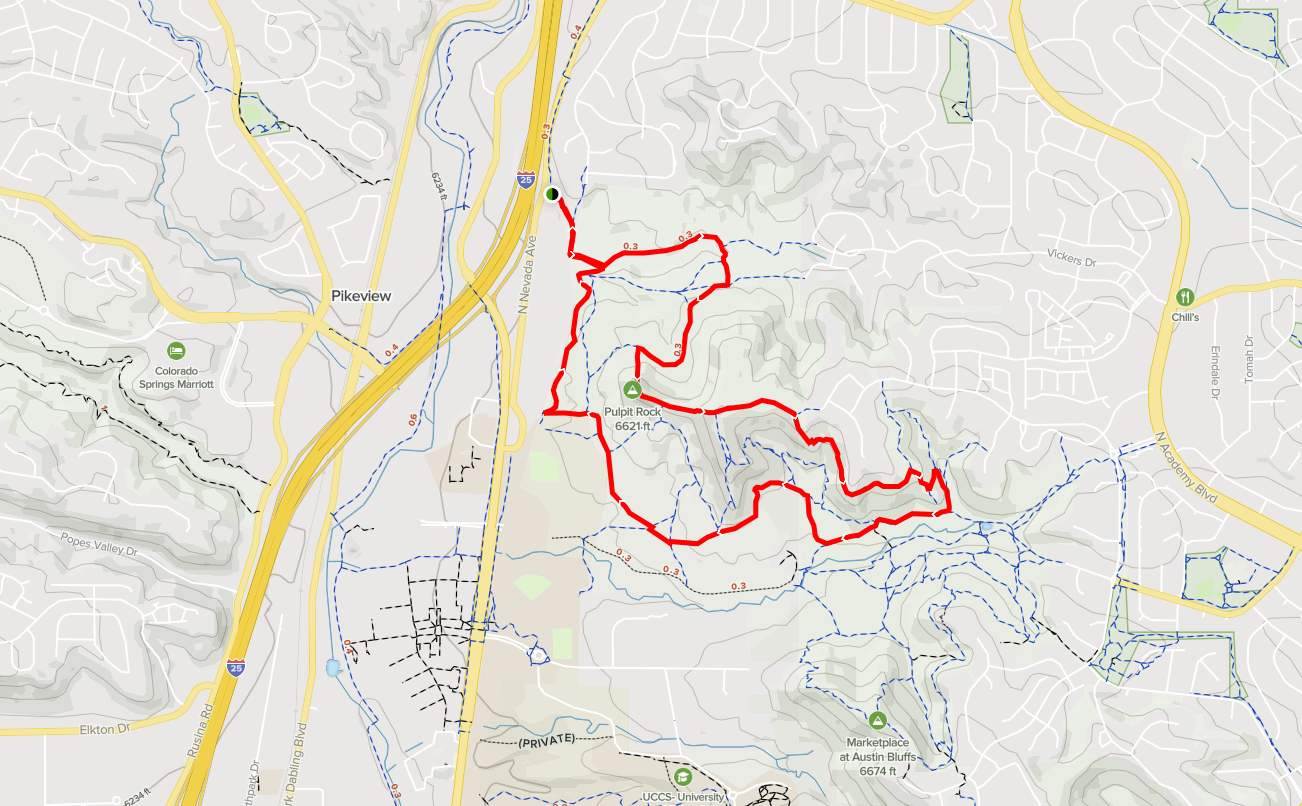 We like to start our hike with the Pulpit Rock Trail Loop, which is a 4.2 mile trail that is open all year round.
It is a perfect hike for walking, climbing, running, and mountain biking.
Or if you want to climb to the top of Pulpit Rock you can do so easily as it's a relatively short hike.
The out and back hike is about 1.2 miles but can be very rugged with an intense climb at the end.
You should reach the top of Pulpit Rock in about 30-40 minutes depending on which side you choose to climb.
Tips for hiking Pulpit Rock Park
Although Pulpit Rock Park is in the heart of Colorado Springs, it feels like a world away when you start hiking.
Here is what you can expect when hiking to the top of Pulpit Rock.
How to get to the top of Pulpit Rock
There are actually several trails leading from the main parking lot, to the base of Pulpit Rock.
These "social trails" are unmarked but you can't go wrong with any of them as they all lead to the summit!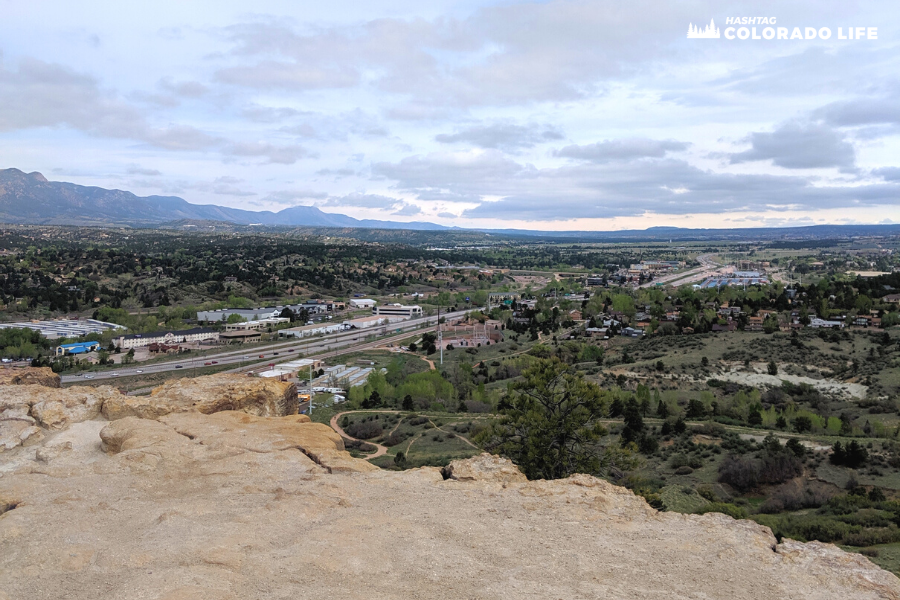 The top of Pulpit Rock is mostly flat and level, making it fairly easy to walk around or sit and enjoy the views.
The rock and sandstone that make up Pulpit Rock does easily erode over time and can be somewhat soft when trying to climb.
As you look to the west, you will see gorgeous views of Pikes Peak, as well as the length of the Rockies.
Continue looking southwest and on a clear day you can even see the Spanish Peaks!
Safety tip: beware when at the top as there are no guard rails or anything to keep your kids or dogs from dropping off the steep edges.
Explore less crowded trails
The short summit to the top starts with a walkable path from the parking lot.
And since this hike is mostly a local favorite, it's not a super busy hike with lots of tourists.
Instead, the hike features wildflowers and a variety of foliage, native plants, and cacti.
We have also seen wildlife and birds including bears, deer, foxes, owls, hawks, and other ground animals.
Also keep your eyes out for any snakes during the warmer summer months.
If you are looking for a hike that is not super busy but is a quick escape to nature and offers amazing views, then you will like Pulpit Rock.
Best times to hike: sunrise & sunset
Due to its mostly unobstructed view of the mountains, Pulpit Rock is absolutely stunning during the early morning and late evening hours.
You can get up early for a morning hike and see the sunrise, or enjoy a late evening climb to watch the sunset.
This hike also features one of the best views of the city of Colorado Springs that you will find anywhere.
Bring Trekking poles & hiking boots
As you plan your hike up to the top of Pulpit Rock, you will come across unmarked trails, steep terrain and uneven ground.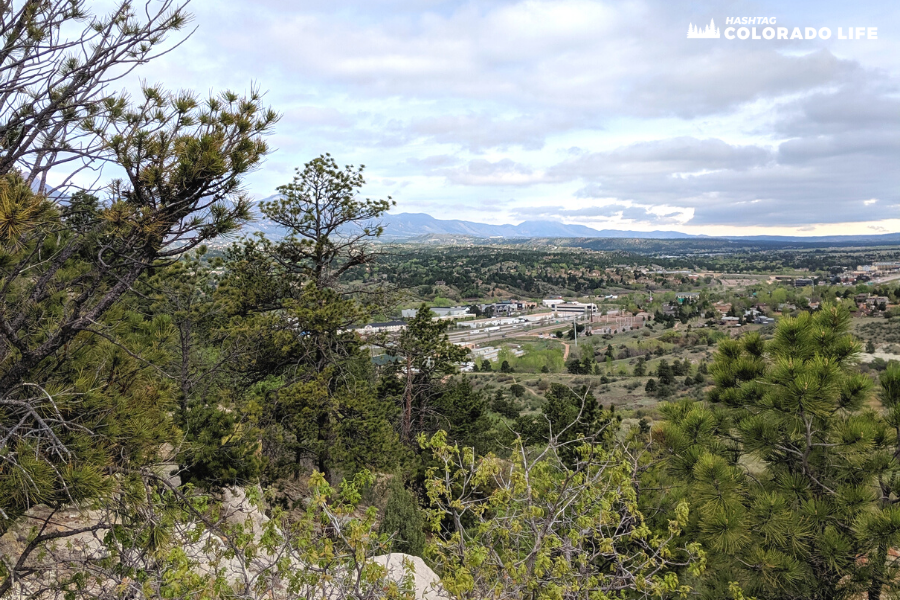 Some spots may even be icy or muddy depending on what time of year you visit.
We recommend bringing a set of Trekking poles or at least wear high quality hiking boots to make your climb safer.
Since the terrain can be steep, Trekking poles reduce the pressure on your knees and help you safely navigate the unmarked trails.
During the winter, it's a good idea to hike with traction devices or microspikes that can be attached to your hiking boots.
Available hours & free parking
As mentioned, there is free parking available at the small parking lot located on the north side of the park off I-25.
If the lot is full, which is often during the spring and summer months, you can choose street parking or park at any of the nearby businesses.
In addition, there is parking available from the south side of the park in the large UCCS parking lot, number 580.
It is located directly across from Trader Joe's in the University Village Shopping Center.
Pulpit Rock Park is open all year-round, seven days a week but we do recommend visiting on a weekday, as it will be less busy.
Dog friendly trails
The Pulpit Rock Park Loop is the most popular trail at the park that is dog friendly.
The other trails within the park also welcome canine companions.
Due to the rocky and steep terrain, dogs can hike many of the trails and make this climb.
But it's only recommended if your dog is in decent shape.
No restrooms or picnic areas
There are no public restrooms or Port-a-Potties available at Pulpit Rock Park.
And there are no benches or any picnic areas within the park, so prepare before you visit.
We recommend stopping for a bathroom break and refueling with a snack before tackling this hike.
The only places to stop will be on some of the trails or at the top of Pulpit Rock itself.
A fun tip: if you climb to the top of Pulpit Rock on 4th of July you can watch the different firework displays that happen along the Front Range.
Visiting Pulpit Rock in Colorado Springs
If you are just visiting Colorado Springs for the weekend, we highly recommend adding Pulpit Rock to your list of best places to hike.
Visiting Pulpit Rock and the adjacent Austin Bluffs Open Space is one of our all-time favorite hikes.
We enjoy escaping to nature here since it's not overly crowded and it's only a short drive from our home in The Springs.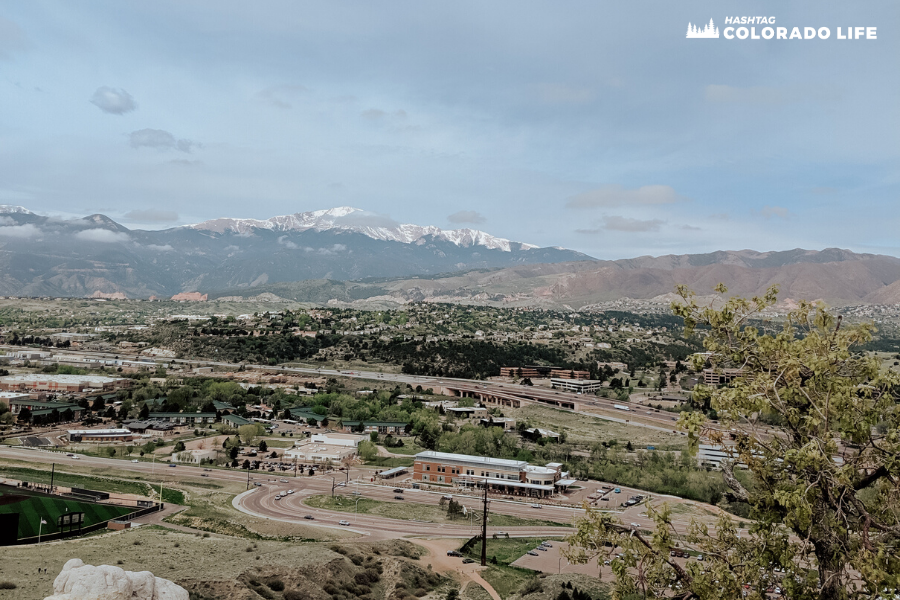 The trails aren't too intense and the climb up to the peak is steep but short.
As long as you visit when it's not too icy, and wear the proper equipment this hike is an awesome experience.
Or if you are training for more intense climbing in Colorado, Pulpit Rock Park is a perfect training hike.
Once at the top of Pulpit Rock you will be rewarded with miles of stunning views of the city and the Colorado mountains.