Hiking Austin Bluffs Open Space in Colorado Springs: A Local's Guide
This website may contain affiliate links and we may be compensated (at no cost to you!).
Austin Bluffs Open Space is one of the most unique and underutilized public parks in Colorado Springs.
It has a rich geological history along with stunning views and impressive landscape. It's one of our favorite hikes in Colorado Springs because it's not overly crowded and has gorgeous views.
Due to its large size, the Open Space features a variety of wildlife, a small lake, geological formations, many multi-use trails, and local wildflowers.
The park is situated near the northern border of the University of Colorado at COS campus.
Here's how to explore the many hiking trails and vast landscape of Austin Bluffs Open Space in Colorado Springs.
The history of Austin Bluffs Open Space
Austin Bluffs Open Space is a 584-acre parcel of land that includes University Park Open Space, Pulpit Rock Park, and Austin Bluffs Park.
These three tracts were combined to create a large open space inside the city limits of Colorado Springs.
It is considered a nature preserve with approximately 10 miles of paved and gravel trails for hiking, running, and biking.
The area offers spectacular views of Pikes Peak and the Rocky Mountains, as well as access to the top of Pulpit Rock from many directions.
Austin Bluffs Open Space is one of the earliest spaces to be preserved through the Colorado Springs TOPS (Trail and Open Space Coalition) Program.
Due to the distinct rock formations, the U.S. Forest Services has even ranked Austin Bluffs Open Space (ABOS) and Pulpit Rock Park as a unique landscape in the National Feature Inventory.
Hikers will enjoy this large and flat oasis in the middle of Colorado Springs' neighborhoods.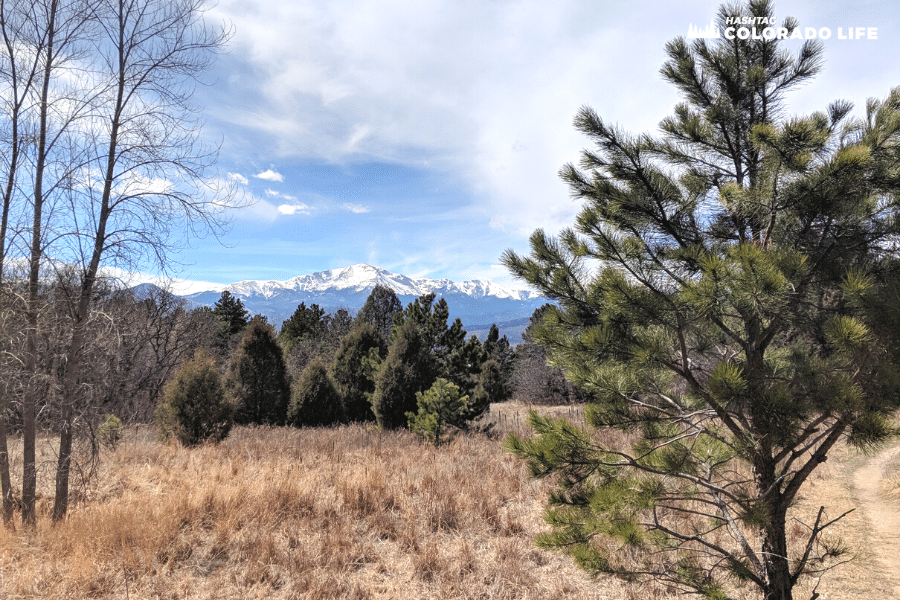 The area is a great habitat for wildlife with many wooded areas, hiking paths, biking trails, and incredible rock formations.
And since the ABOS is so closely intertwined with Pulpit Rock Park, nearly every trail showcases expansive views of the city and nearby mountains.
The best times to visit Austin Bluffs Open Space are in spring, summer, and fall as you will see gorgeous fall colors and summer wildflowers.
Winter is also a decent time to hike and explore here, just beware of snowy and icy trails.
The cold weather during the winter can make many of these trails unsafe to bike or hike, especially for dogs or small children.
Where is Austin Bluffs Open Space?
Austin Bluffs Open Space is located near Pulpit Rock Park at 6411 North Nevada Avenue in Colorado Springs, Colorado.
When coming from downtown Colorado Springs you can expect to spend approximately 10-12 minutes driving, depending on traffic.
If visiting from Denver, ABOS is 65 miles south on Interstate 25 and is just over an hour drive.
Thankfully though, since the Open Space is so close to Interstate 25 it's a relatively quick and easy drive.
The park is open to visitors and hikers year-round, seven days a week.
4 popular Austin Bluffs Open Space trails & maps
As you can see from the map, Austin Bluffs Open Space is massive and combines many acres of diverse landscape and foliage.
Most of the trails are unmarked so it's best to use a GPS tracker or a free trail map service like AllTrails.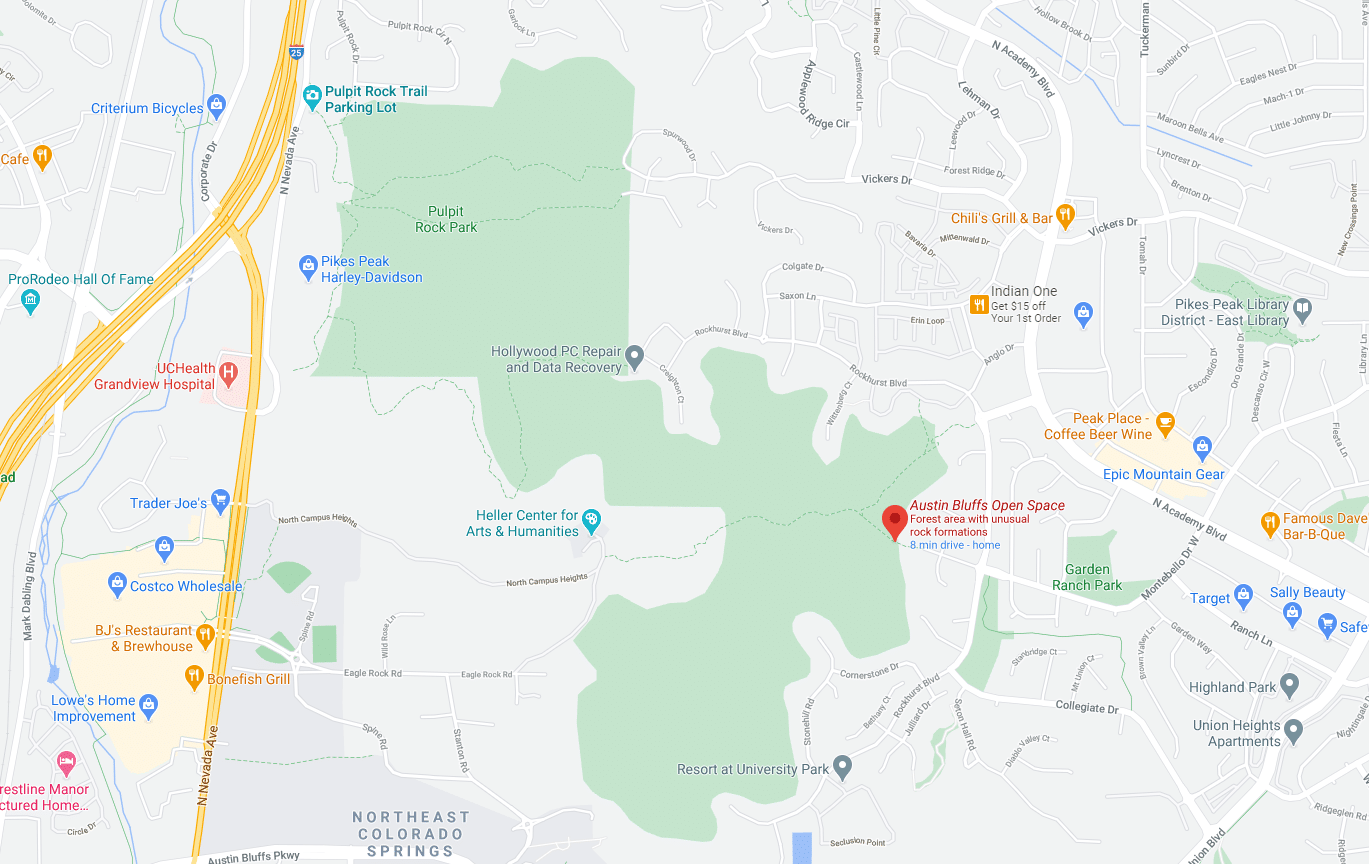 There are four main multi-use trails available for hiking, biking, running, and exploring.
Please note that dogs are allowed on these trails as long as they are leashed.
1. Pulpit Rock Peak Loop
The first trail is the Pulpit Rock Peak Loop which is a 2.4 mile trail that is a moderately hard hike.
The trailhead begins at the Pulpit Rock Parking lot on North Nevada Avenue and heads south in a large loop.
Stop at the top of Pulpit Rock at 6,621 feet in elevation and take in the magnificent views of Pikes Peak and the entire city!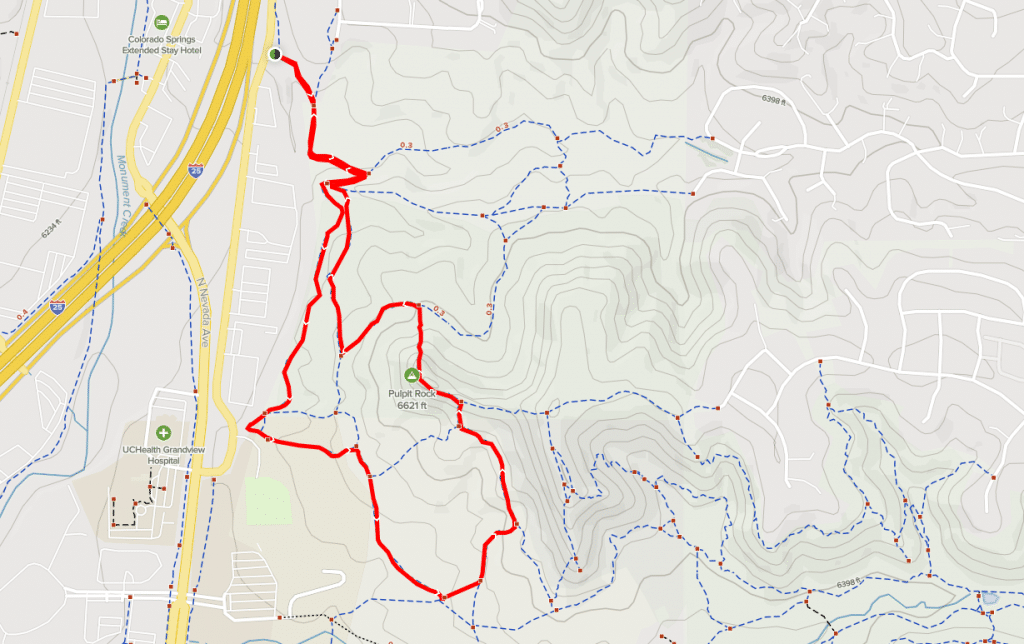 Continue on the trail until it loops back towards the parking lot area. Refer to the trail map below for the exact path.
For good weather and clear views, this trail is best used between April through September every year.
We recommend that you avoid hiking this trail in the winter when it's snowy as the trails can become icy and muddy.
2. Pulpit Rock Via Wittenberg
Another locale favorite is the Pulpit Rock via Wittenberg path, which is a 2.8 mile out-and-back hiking trail.
This trail is a bit harder to hike in some areas with an overall moderate level of difficulty required.
The trail starts in a neighborhood subdivision near Wittenberg Court and ends at the top of Pulpit Rock.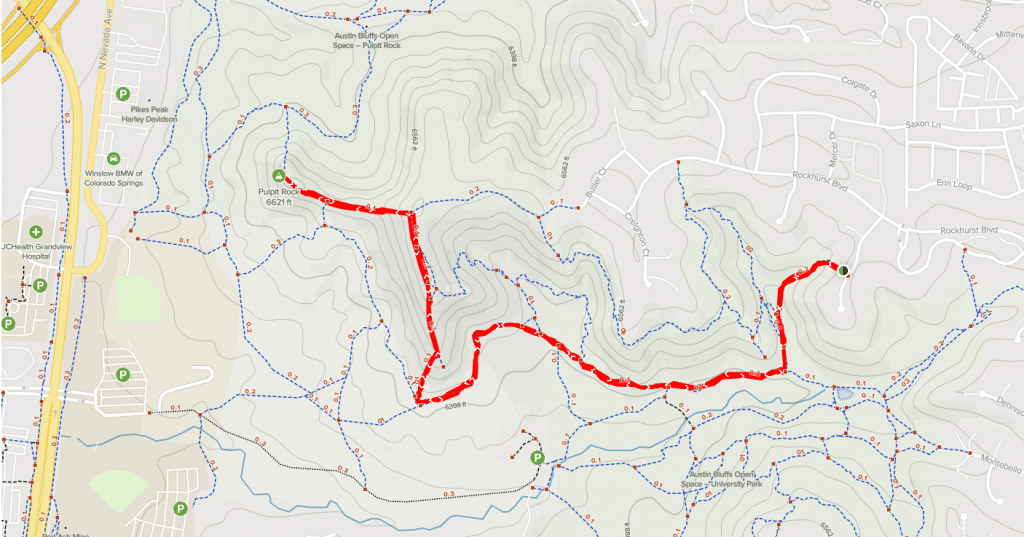 Then it's an easy path pack the way you came to the trailhead. Parking is available for free within the neighborhood and surrounding community.
Since there are no markers on the trail, refer to the trail map below for directions.
Take care when hiking this trail as some places can become rocky and uneven, especially if they are snowy or muddy.
3. Angry Squirrel and South Hill Loop
Another fantastic trail is the Angry Squirrel and South Hill Loop. This trail is located in the southeast part of the Open Space and is 2.6 miles long.
The path features a lake and requires a moderate level of difficulty for hiking, walking, running, or mountain biking.
Unlike the previous two trails, the Angry Squirrel and South Hill Loop path features a completely different angle of city and mountain views.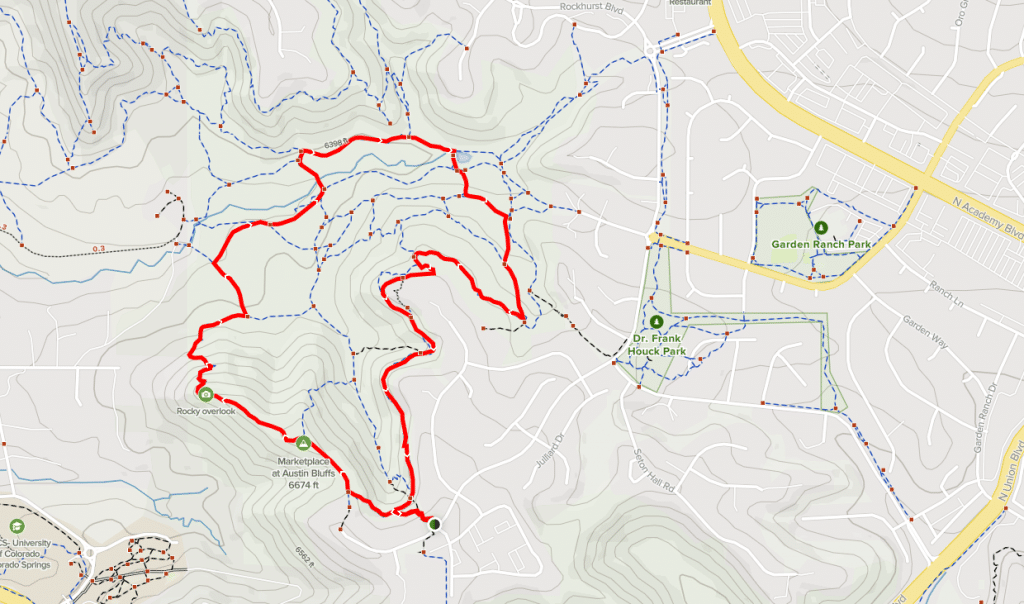 Stop at the Rocky Overlook area for photos and panoramic views of the mountains to the west.
Parking at the trailhead can be a bit tricky as there is limited space within the neighboring community.
A good spot for free parking is located at the roundabout between Rockhurst Blvd and Whistler Point.
This trail is best used from May until October every year and is suitable for all ages.
Dogs are also welcomed as long as they are on a leash.
4. Austin Bluffs Main and Pulpit Ridge Trail
The final hiking trail on our list is the Austin Bluffs Main and Pulpit Ridge Trail.
This lesser-known trail is about a 3.6 mile loop that also features a lake and picturesque views.
It stretches across the entire expanse of Austin Bluffs Open Space all the way to the top of Pulpit Rock.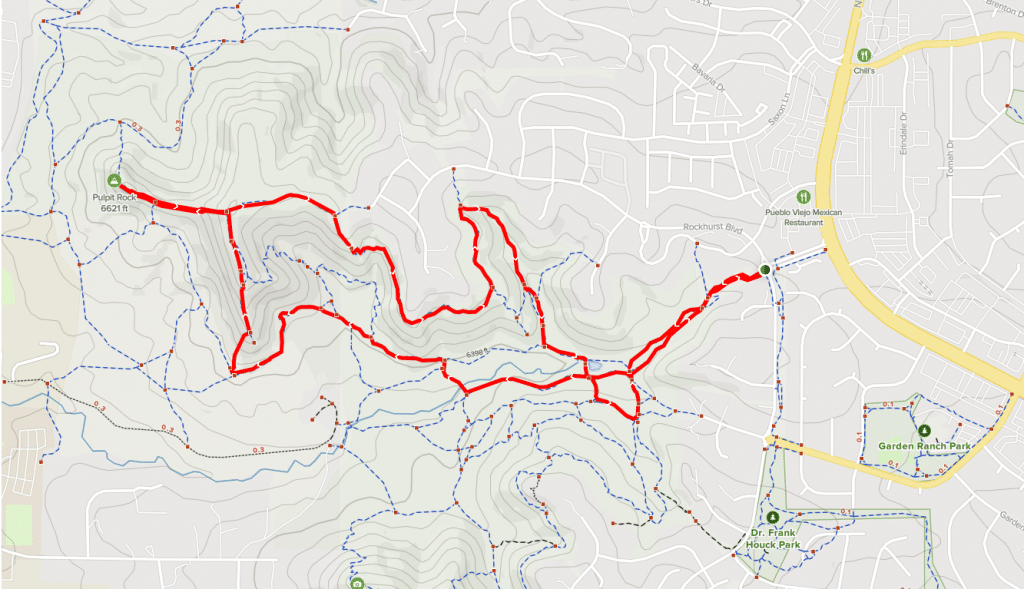 The trail starts off easy and then turns into a more difficult hike as you approach the Pulpit Rock area.
The trails are not marked so be careful to watch any turns and crossings.
Some parts of the trail are rocky while others are covered with gravel or sand.
Parking is free within the nearby neighborhood at University Park Blvd and is usually not too busy.
Tips for Hiking Austin Bluffs Open Space
Even though Austin Bluffs Open Space is in the middle of the city, it's so large that it truly feels like an oasis in Colorado Springs.
That being said, the area is not without a few issues.
Here are some tips so you know what exactly to expect when exploring ABOS.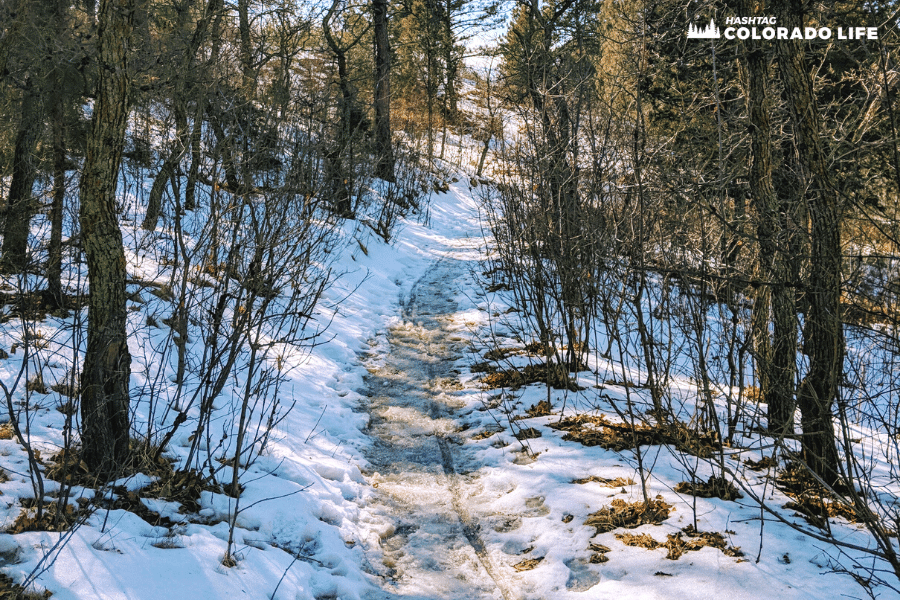 Parking problems
The main issue that locals and visitors have is that there are no clear parking lots available.
Many of the access points are located within neighborhoods or on side streets near the Open Space.
If you are visiting from out of town, the best parking lot is the main Pulpit Rock parking lot located off North Nevada Ave.
All of the parking available near ABOS is completely free.
Not very touristy
As mentioned, this area is a favorite of locals and one that not a lot of tourists know about.
If you are just visiting Colorado Springs for a short time, we highly recommend adding Austin Bluffs Open Space to your list.
With so many trails and a variety of difficulty levels, Pulpit Rock and ABOS offers a lot of options for adults, kids, and dogs!
We enjoy escaping to nature here since it's not overly crowded and it's only a short drive from our home in The Springs.
No restrooms or picnic areas
Much like Pulpit Rock park, there are no public restrooms or portable bathrooms available at this hiking location.
So, be sure to stop for a bathroom break before going out hiking for the day.
There are also no public picnic areas or benches within the Open Space area.
Although, you can stop for a break and sit to eat anywhere along the path or in the woods.
We do recommend bringing your own food and water, and taking a pit stop before tackling this hike.