Black Forest, Colorado: Things to Do and Where to Live
The content of this website may contain affiliate links and we may be compensated (at no cost to you!). Thank you for your support!
Black Forest is a quiet, secluded place to live in El Paso, Colorado. It's made up of 64,447 acres of land and almost feels like you're in an enchanted forest.
In 2010 the population of Black Forest was 13,116 and has seen steady growth since with just over 14,000 residents to date.
The area was named Black Forest for the dense amount of Ponderosa Pine trees that cover the landscape.
Overlook areas within Black Forest offer spectacular views of Pikes Peak.
And they do not disappoint!
The rolling hills and wooded forests make this a private place to explore, buy a home, and raise a family.
Here is everything you need to know about Black Forest and the best things to do.
Where is Black Forest in Colorado?
Black Forest is a rural, suburban community located in northeast Colorado Springs. 
When driving from downtown Colorado Springs, Black Forest is 19 miles north, or about a 30-minute drive. 
Or if you're coming from Denver, you'll travel south on I-25 then take exit 153, near the United States Air Force Academy.
The elevation of Black Forest is 7,575 or roughly 1,500 feet higher than the city of Colorado Springs.
But since the city is located west of the mountains, the landscape is made up of mostly rolling hills and lush green landscape. 
So, it doesn't feel too high in the mountains.
Hiking trails and parks in Black Forest
Due to the size of Black Forest, Colorado there are numerous trails and parks to enjoy.
And many of the trails are very easy to hike. You will find some rolling hills but nothing too steep or difficult.
Thanks to the abundance of trees, the best time of year to hike Black Forest is during the summer. 
Hikers can enjoy the shaded trails and get a reprieve from the hot sun.
The spring and summer landscape is also dotted with wildflowers. And keep your eyes open for wildlife too! 
During the winter the shade makes for icy and snow-covered paths, so this is a less desirable time to explore. 
There are two main parks in Black Forest. Here's how to find them and how they compare.
1. Fox Run Regional Park
Fox Run Park is the most popular park in Black Forest thanks to numerous hiking trails, playgrounds, picnic areas, and pavilions.
It's open year-round from 5am to 9pm daily with reservation season starting April 1st through October 31st.
Visitors will also love the two small lakes and gazebo that are open to the public.
The main hiking trail is the Fox Run Loop Trail which is an easy 3.1 mile path that features wildflowers and two small lakes.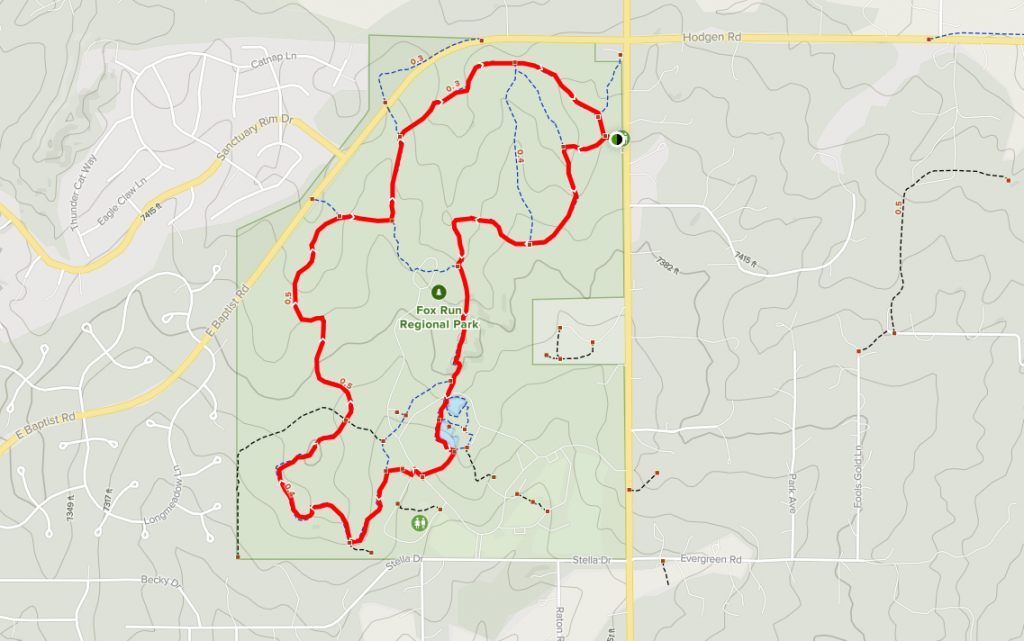 In addition to the trail, the hike features a gazebo on the water, 2 large pavilions, picnic tables, and two playgrounds for kids.
Dogs will enjoy a good time in the Fox Run Dog Park, and are welcome on the trails as long as they are kept on a leash.
There are several other shorter trails that are available for hiking including the Fallen Timbers Trail and the Fox Run Southern Loop.
These trails are about 1.5 miles each and are a great alternative to the more popular Loop Trail. 
All of the hikes in this park are mostly flat and great for all skill levels.
The trailhead starts at the Fox Run Park entrance located at 2110 Stella Dr, Colorado Springs, CO 80921.
There is ample free parking here as well as spots available along the private roads and nearby neighborhoods.
2. Black Forest Regional Park
Black Forest Regional Park is a bit southeast of Fox Run Park, near the Cathedral Pines Trailhead. 
The park and the 145 acres of Cathedral Pines Open Space is available to the public year-round from 5am to 11pm daily.
There are four main access points to Black Forest Park, with three main trailheads and parking areas located off Milam Road.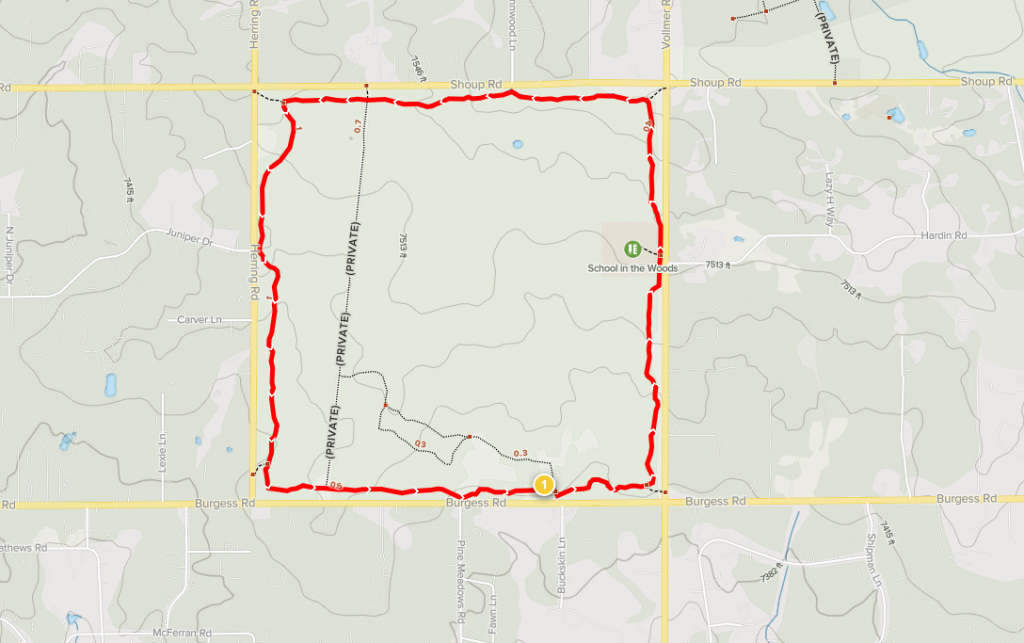 The onsite maps and trail markers guide hikers to the white, orange and yellow loops. 
All of which can all be hiked separately or combined to form a 4-mile long loop.
The most popular hike is the Black Forest Section 16 Loop trail which is an easy 3.8 mile square-shaped loop.
The dirt parking lot can be accessed off Burgess Road or there is a small amount of parking on Herring Road.
There is ample free parking here as well as spots available along the private roads and nearby neighborhoods.
Is Black Forest a good place to live?
Aside from the hiking, biking, and nature trails in the area Black Forest is well-known for offering secluded places to live in Colorado.
Homes in the area are well-sought after and can be some of the most expensive in the Colorado Springs metro.
Black Forest homes are typically no less than 5-acre lots, which makes them very equestrian-friendly. 
The properties are perfect for ranchers and farmers who want to house horses and other animals.
According to Niche.com, Black Forest is considered the fifth best place to live in the Colorado Springs region.
With a livability score of 68, Black Forest ranks high for the public school systems, diversity, and how accessible it is for families.
Crime rates are 60% lower in Black Forest than the Colorado average. 
But the cost of living is about 29% higher and real estate prices are about 71% higher than the state average.
The median real estate price in Black Forest is $735,740 with the average apartment rental price being $3,111.
Black Forest Colorado is a great destination, whether you're planning to live here or simply want to hike for a day.
The native Ponderosa Pines provide amazing shade from the hot Colorado sun. It's nothing short of a rural oasis north of Colorado Springs.
Bring your hiking shoes, horses, dogs, or bicycles and enjoy a day outdoors in the rolling hills.
With such a family-friendly vibe and plenty of things to do, Black Forest is the perfect place to raise kids or enjoy a family outing for the day.