Hiking Helen Hunt Falls: 5 Things You Need to Know
This website may contain affiliate links and we may be compensated (at no cost to you!).
0In this guide we are sharing a personal hiking review of Helen Hunt Falls in Colorado Springs.
Ryan and I have hiked Helen Hunt Falls several times, since it is located about 20 minutes from our house in North Cheyenne Canon Park.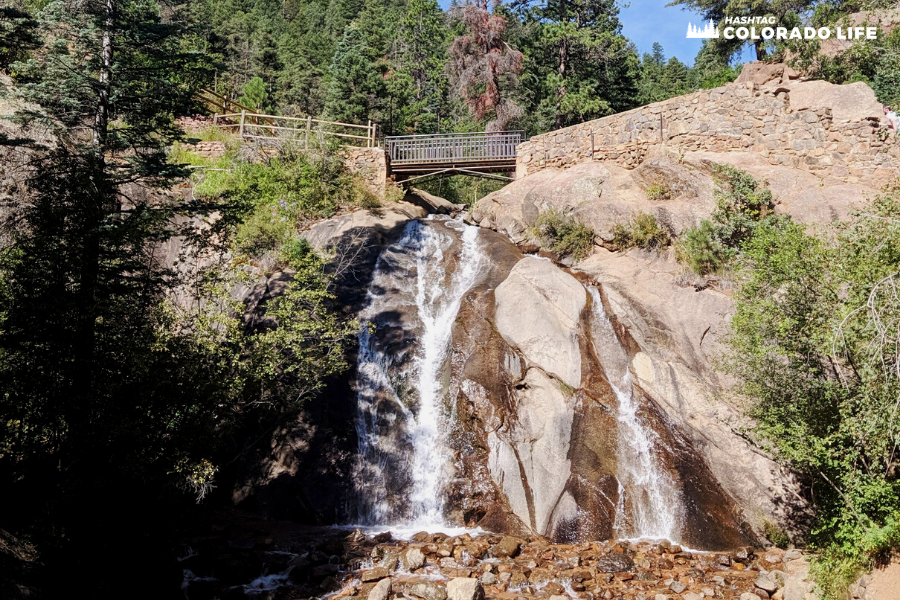 If you are looking for a unique hiking spot, with a visitor center, near Denver or Colorado Springs, be sure to add this destination to your list!
Note: Helen Hunt Falls is one of the training hikes I used when preparing to climb the Manitou Incline. It is a very steep but pretty short trail, so hike at your own risk.
How to get to Helen Hunt Falls
Helen Hunt Falls is a 35 foot waterfall located at the top of North Cheyenne Canon Park in Colorado Springs, Colorado.
If you are driving from Denver, head south on Interstate 25 and then go west on West Cheyenne Road for about 2.5 miles.
Continue following the winding drive up the mountain until you reach the main parking lot.
Free parking is available for about 30 vehicles in the parking lot.
But you will also find parking on the side of the road on your drive up the mountain.
You can actually see the waterfall as you drive up or by taking a short walk from the parking area.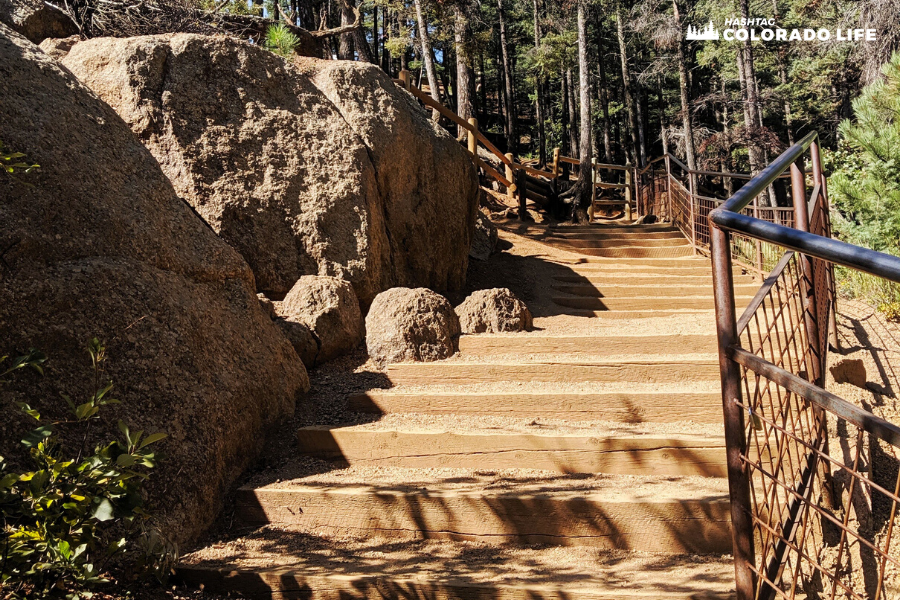 Summertime is a very busy season for this outdoor getaway so it's recommended to come early in order to find a close parking spot.
Additionally, you can continue following the road up until you come to Gold Camp Road where there is parking for the Seven Bridges Trail.
How did Helen Hunt Falls get its name?
Helen Hunt Falls received its name in 1966 in honor of Helen Maria Hunt Jackson, who is buried in Colorado Springs.
She was a United States poet and writer who is famous for being an activist for the treatment of Native Americans at the hands of the U.S. government.
You can read all about her life and history, as well as read some of her poems at the Helen Hunt Falls visitor center and small museum that is located at the entrance of the trail.
Touring the museum & visitor center
At 3440 North Cheyenne Canyon Road you will find the Helen Hunt Falls visitor center and museum.
Nestled at the bottom of the falls you will find a rustic but cozy place to learn the history of the area.
The visitor center offers interpretive exhibits, books, videos, and other historical items that detail how the falls received their name.
There is also a small gift shop where you can purchase a nature book or grab a drink.
Don't forget to take a local map and book a scheduled hike or walk thanks to the informative staff.
The visitor center is open daily during the summer from 9am – 5pm from Memorial Day to Labor Day every year.
Hiking the Helen Hunt Falls Trail
The waterfall and surrounding trail is open all year round and is completely free to access. There is no fee to visit or hike this area.
Check out this map of Helen Hunt Falls Trail, the visitor center and how to get to North Cheyenne Canon Park.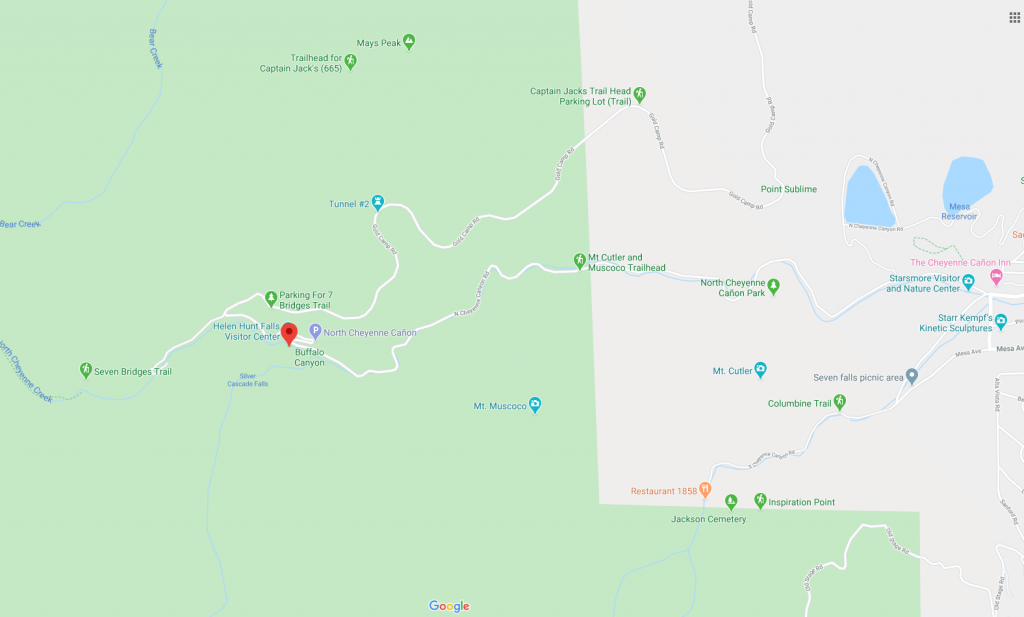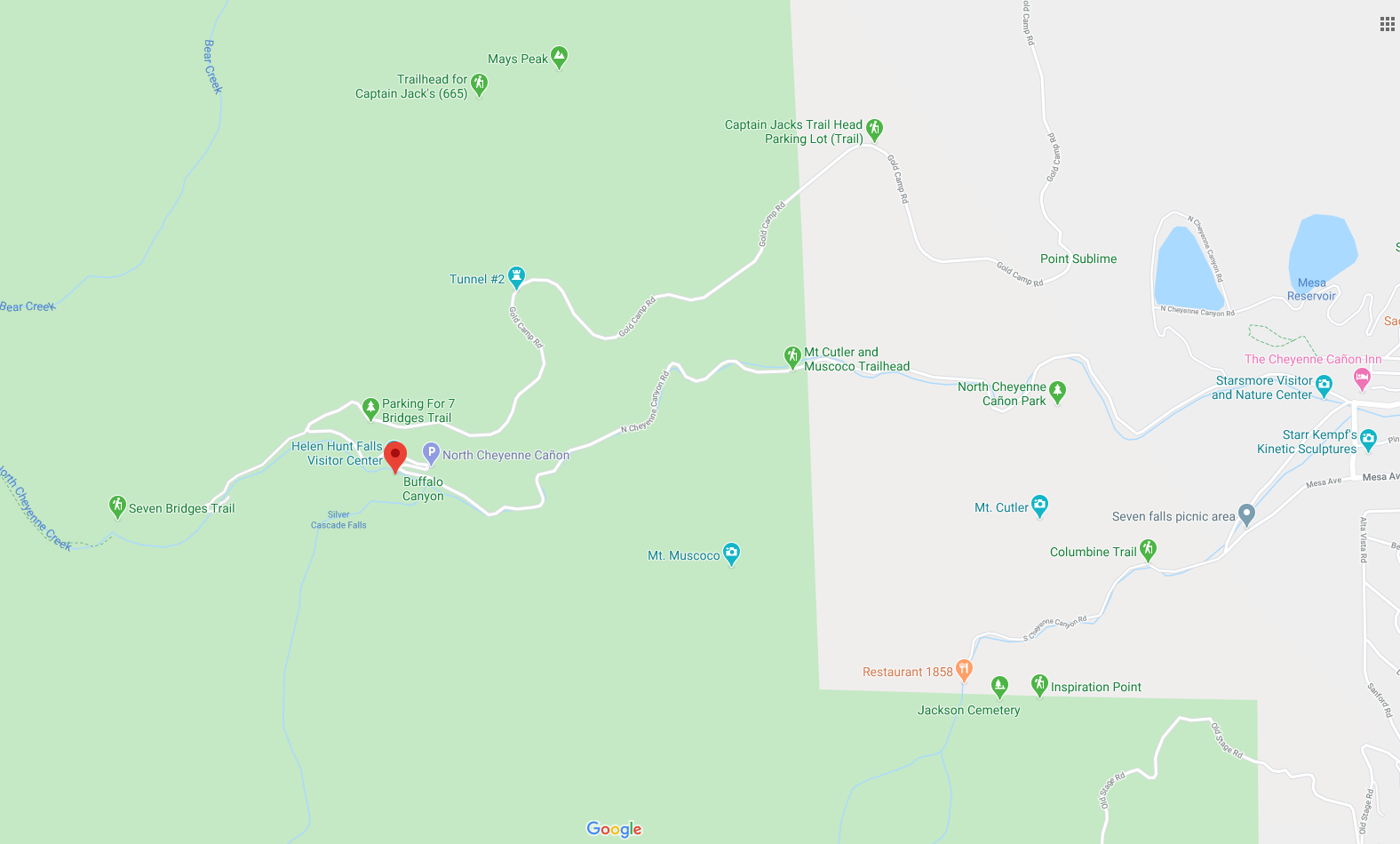 The climb up past the Helen Hunt Falls is a short but very strenuous hike.
It can be accessed just to the left of the waterfall and intersects with the Silver Cascade Trail.
The trail is manmade with over 100 steps built into the side of the canyon mountain.
The climb is about a 0.50 mile hike with an elevation gain of 200 feet, and can be very steep at times.
Dogs are welcome to hike with you as long as they are on a leash.
Good hiking boots or comfy shoes are recommended as the stairs are steep and covered with small rocks.
You may also want to bring walking or hiking poles for added stability.
The hike is not particularly kid-friendly or for anyone who has issues with the altitude.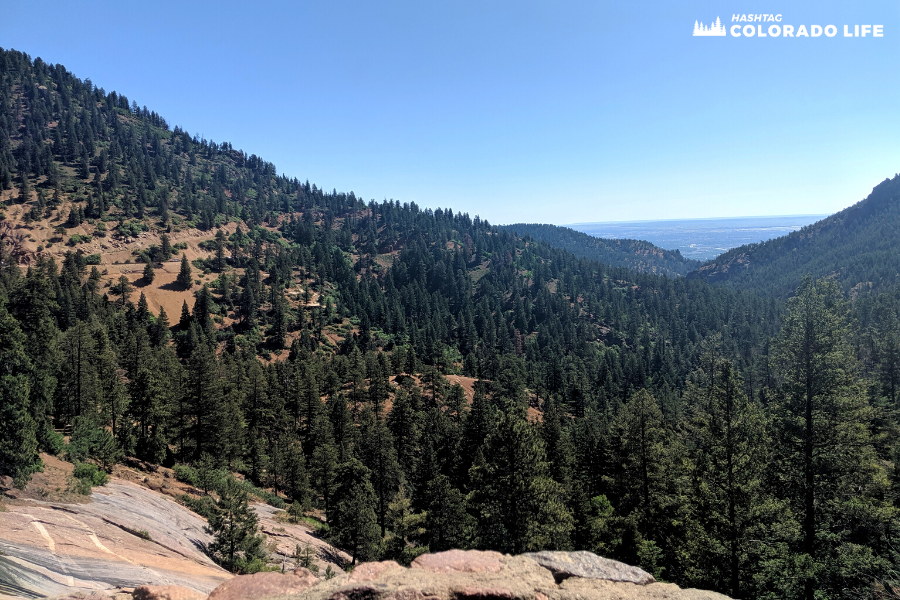 However, you can view the waterfall area from the parking lot!
This makes it easy to go for a drive and take pictures of the falls with your whole family.
The waterfall and trail access is open year-round and there is no fee to explore!
Reaching the Silver Cascade Falls
Once you arrive at the top of the hike, you will see Silver Cascade Falls which overlooks the canyon and Helen Hunt Falls below.
This is a popular spot to take photos or videos, and enjoy the breathtaking views of the Colorado landscape.
During the winter, both Helen Hunt Falls and Silver Cascade Falls are completely frozen over.
This makes for beautiful but rugged nature shots!
Beware that hiking the stairs and the surrounding trails in the winter can be icy and slippery.
Climb at your own risk.